Texas BBQ Brisket Meatballs. Enjoy the flavor of Texas BBQ in these amazingly tender Brisket Meatballs! Simmered in a homemade Texas style BBQ sauce!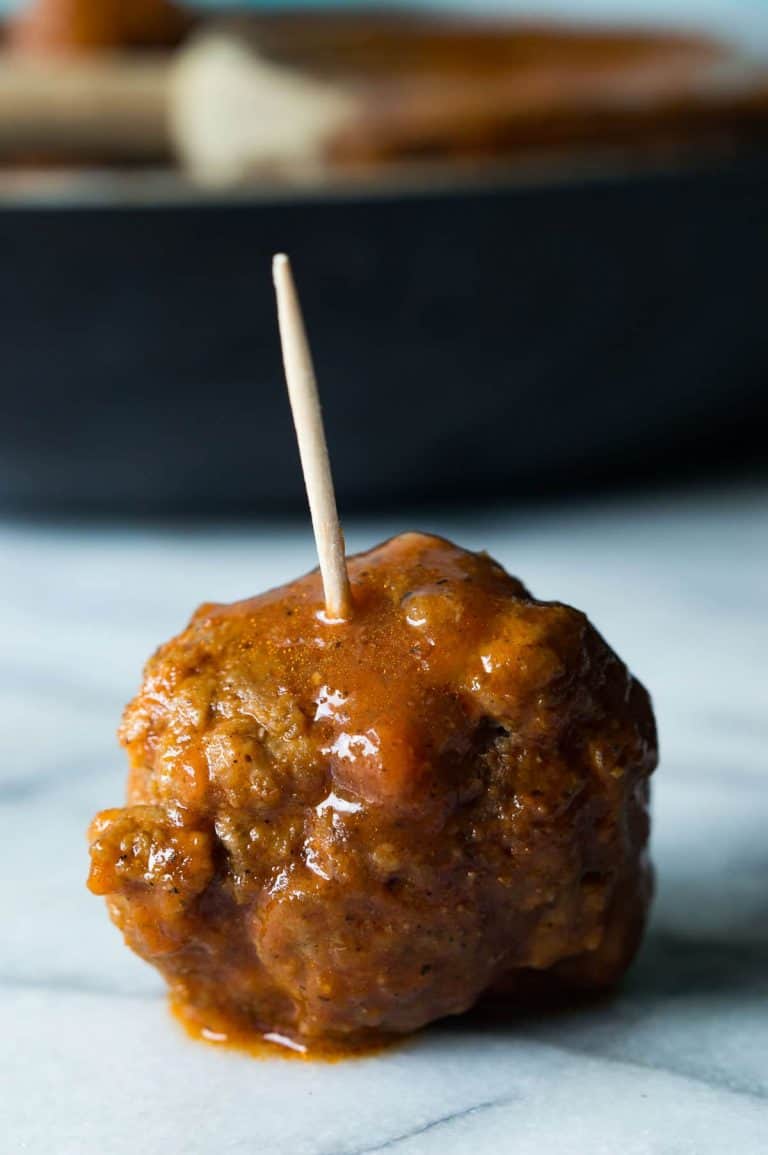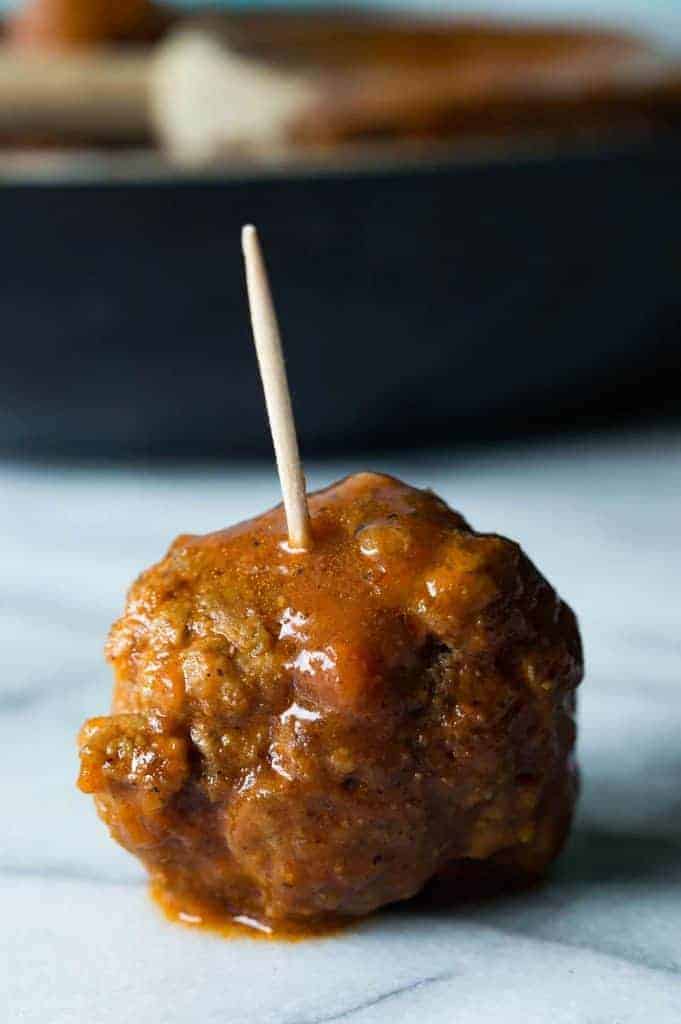 Who's down for some Texas BBQ?! I always am.
Texas BBQ is unlike BBQ anywhere else. And I always feel the need to explain, yes.. I know what Texas BBQ is. I'm aware. Smokey, charred, tender falling apart brisket. No sauce, because none is needed. I'm not claiming that these Texas BBQ Brisket Meatballs are the equivalent of hitting up Lockhart's Smokehouse in Dallas, or whatever your fave BBQ spot is. BUT, they are tender, and tasty, and just a little bite of good meat, in a spicy BBQ sauce.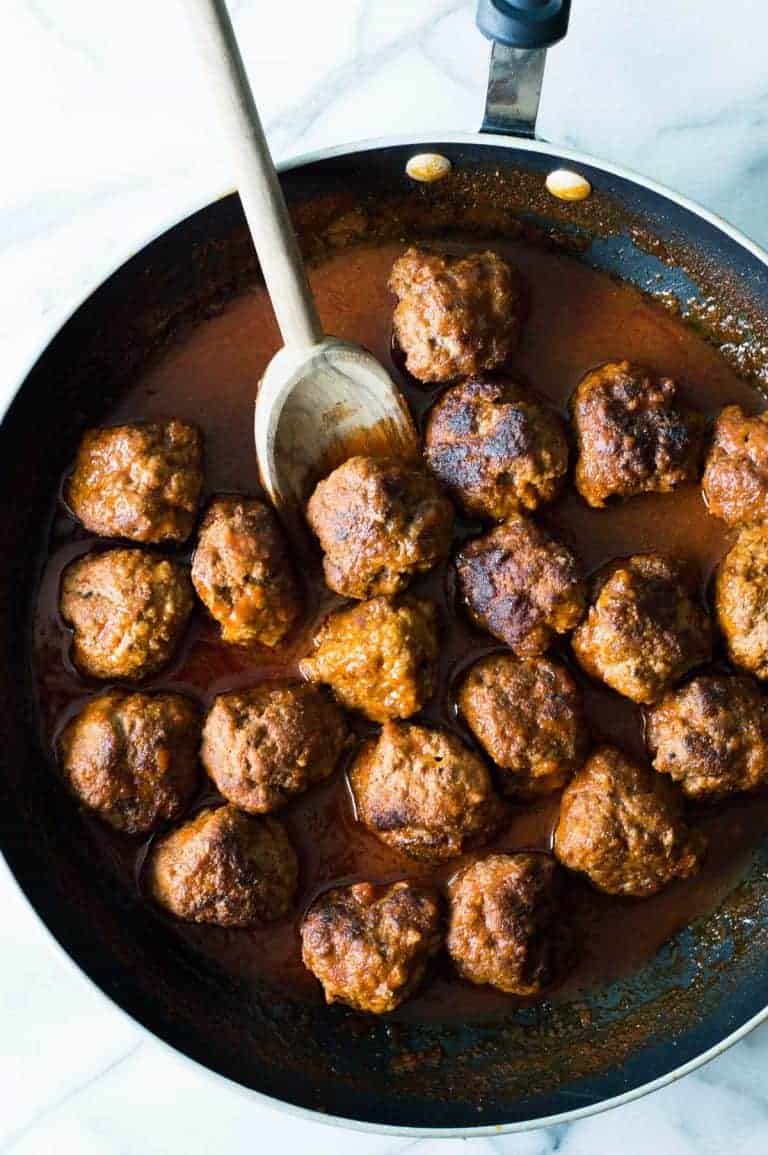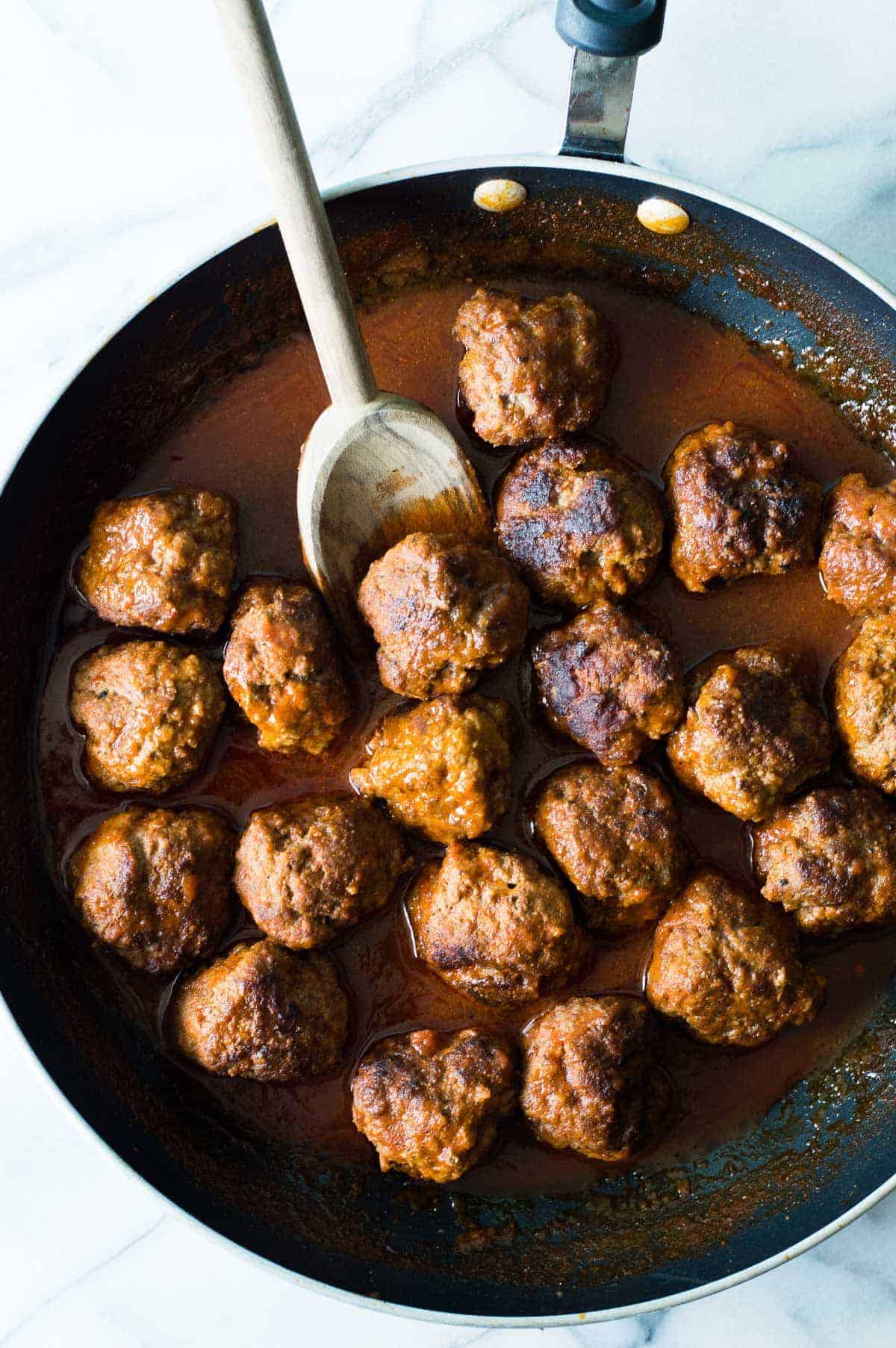 Besides, y'all have been blowing up the recipe for these Bacon Bourbon Meatballs. So I figured another meatball recipe needed to happen. Apparently we all love new meatball creations. Which is why we get along so well!
Quick chat about the recipe. Ground brisket. You should be able to get this from the market. Most markets should have brisket on hand, and the gentlemen at the butcher counter were happy to grind it up for me.
Now, I'm not going to lie.. brisket is pricier than regular ground beef. So yes. These meatballs can be made with ground beef if you just can't bring yourself to spend that amount on meat. BUT! Having said that, the brisket is so tender, and so flavorful. And it really does make a difference in the taste and experience.
The seasonings that are used in the meatball come from the seasonings that you would find in a typical dry rub that would be used in BBQ. A little spicy mixed with just a bit of brown sugar.
The same with the sauce. These brisket meatballs are simmered in a sauce that is reminiscent of the sauce you would find in a BBQ joint. The recipe shows using beef stock, you can substitute for a different type of stock, or even do half stock and half beer if you want. Yumm!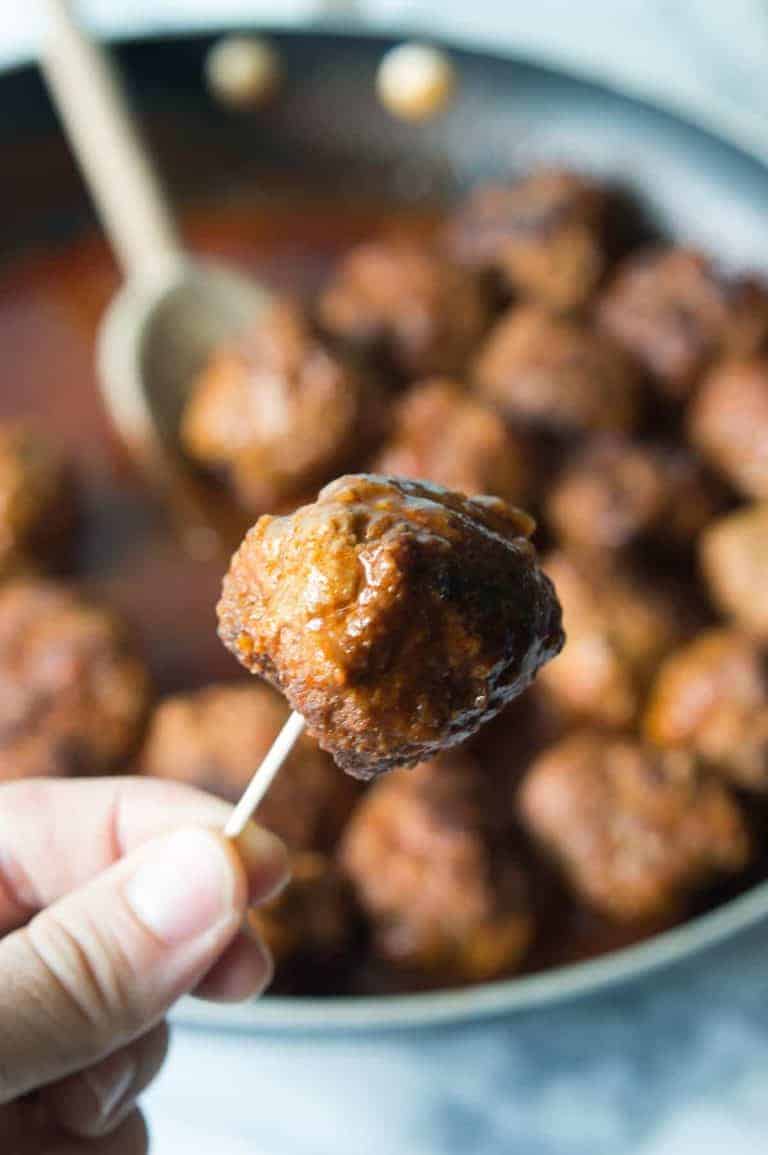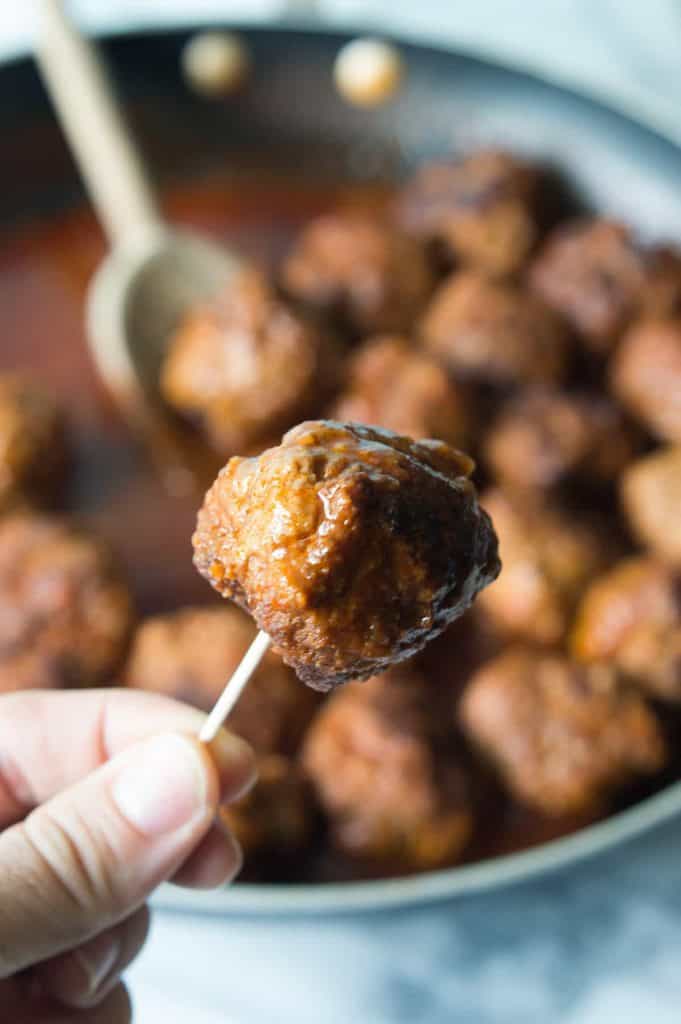 What can we eat these with? Some of my favorite sides with any type of BBQ include Blue Cheese Coleslaw, and Jalapeño Bacon Hominy.
And while you're here you must check out those Bacon Bourbon Meatballs too!
Texas BBQ Brisket Meatballs
Texas BBQ Brisket Meatballs. Enjoy the flavor of Texas BBQ in these amazingly tender Brisket Meatballs! Simmered in a homemade Texas style BBQ sauce!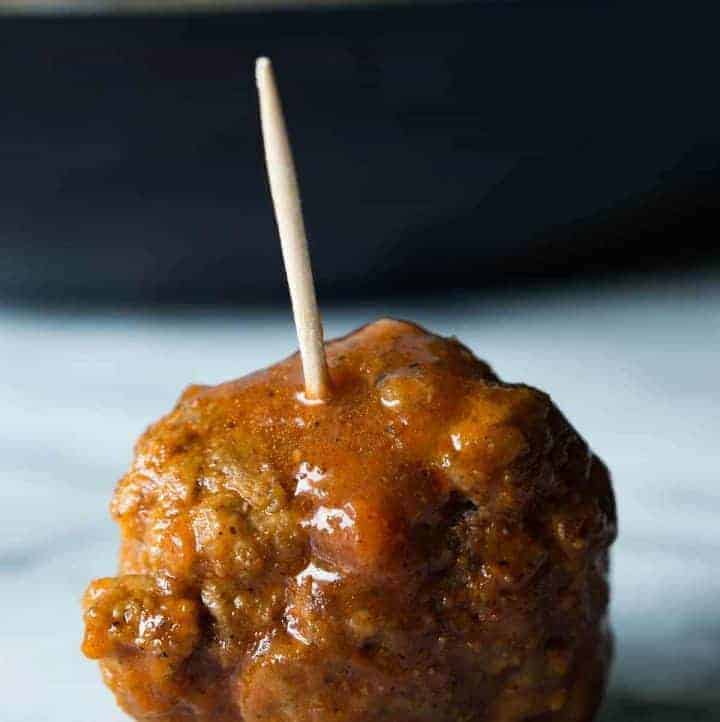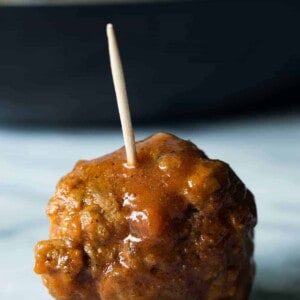 Instructions
Place the ground brisket to a medium size mixing bowl.

Add the bread crumbs, egg, brown sugar, chili powder, ground mustard, ground cumin, salt, and liquid smoke. Stir until well combined. Easiest to completely mix with your hands.

Form the meat into meatballs by taking about 2-3 tablespoons of meat mixture and rolling between your hands to form a round ball shape. Set aside until all meat is formed into meatballs.

Heat the cooking oil in a large skillet over medium heat. Carefully add the meatballs and cook for about 2 minutes then carefully roll the balls. Continue until the meatballs are cooked and browned on all sides.

Remove the meatballs from the skillet and place on a plate. Pour out the grease from the pan and return to stove.

Add the ingredients for the sauce to the skillet. Stir to combine.

Carefully add the meatballs back to the skillet and simmer in the sauce for about 15-20 minutes while turning the meatballs about every 5 minutes to coat all sides.

Serve meatballs warm with sauce and enjoy!
Nutrition
Calories:
87
kcal
|
Carbohydrates:
2
g
|
Protein:
10
g
|
Fat:
4
g
|
Saturated Fat:
1
g
|
Cholesterol:
36
mg
|
Sodium:
231
mg
|
Potassium:
176
mg
|
Fiber:
1
g
|
Sugar:
1
g
|
Vitamin A:
163
IU
|
Vitamin C:
1
mg
|
Calcium:
9
mg
|
Iron:
1
mg
Nutrition information is automatically calculated, so should only be used as an approximation.
Like this? Leave a comment below!