Mexican Street Corn Nachos! Chips loaded up with all the flavors of a classic mexican street corn and smothered with a creamy, spicy queso blanco.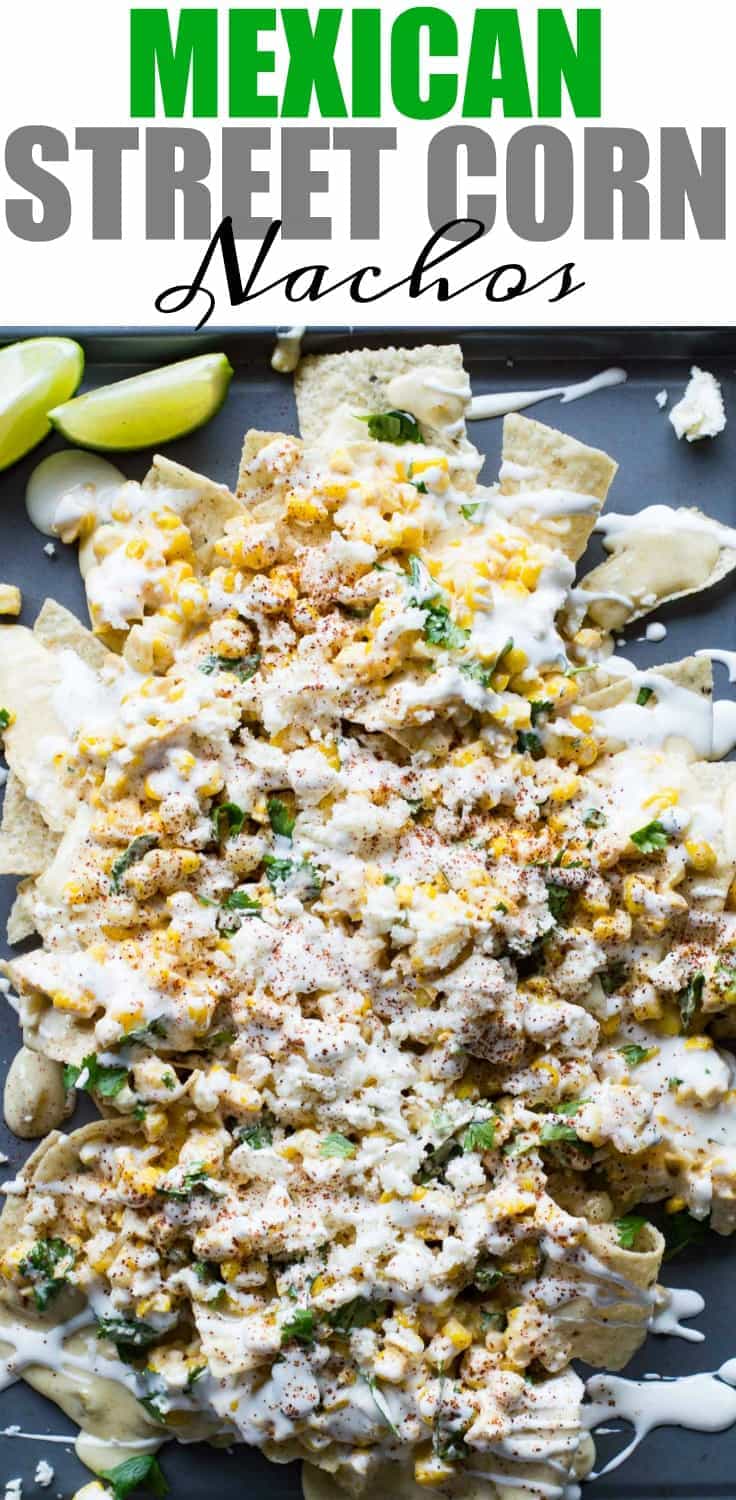 Mexican Street Corn Nachos. Possibly the best nachos I've ever had in my life! Have you had Mexican street corn, or elotes, before? It's a very common snack that is sold from Mexican food vendors.
I know in LA over by Gramma's house even the ice cream trucks will sell elotes. It's corn that is boiled, covered in mayonnaise, cotija cheese, and sprinkled with chili powder and a squeeze of lime juice. It's usually served on sticks which makes it perfect to snack on while walking around.
You can also have it with the corn kernels cut off the cob and all the ingredients mixed together, similar to this Sriracha Mexican Street Corn Dip.
Now what does this all have to do with these nachos?? These nachos are loaded up with Mexican street corn!! Plus a creamy, spicy queso blanco. And let me tell you..these are so good!
They will disappear pretty much as soon as you're done making them. The mexican street corn topping is made like a traditional street corn.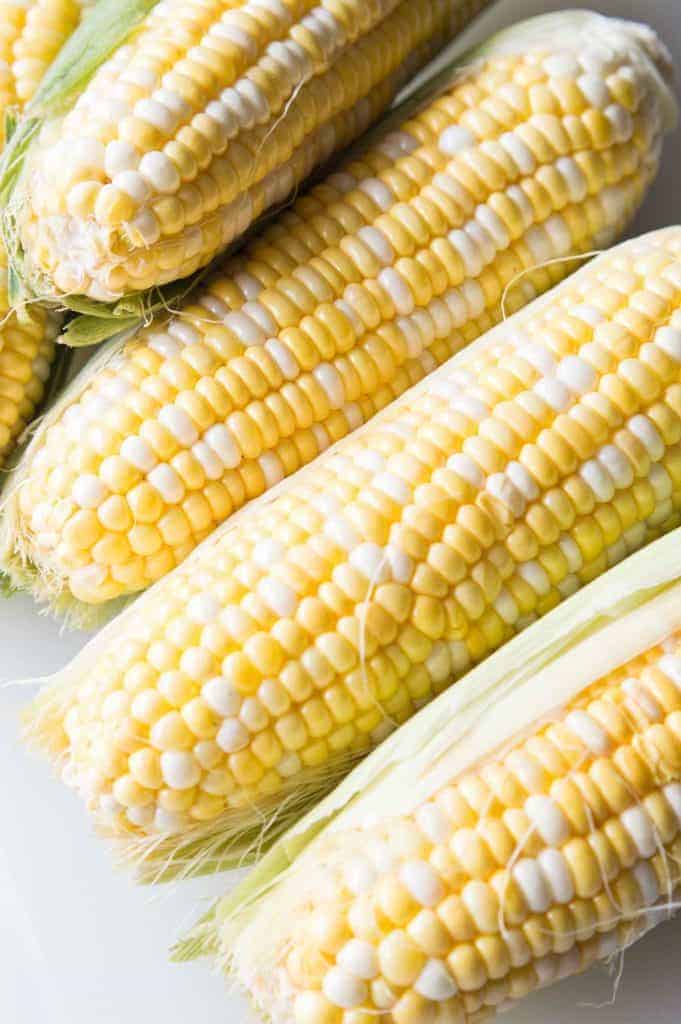 Cut off the cob after being boiled, it's mixed with mayonnaise, cotjia (which is a Mexican cheese that crumbles, it can usually be found in the cheese section of the market), chili powder and a little lime juice. I also add cilantro just because I love the flavor and color it brings.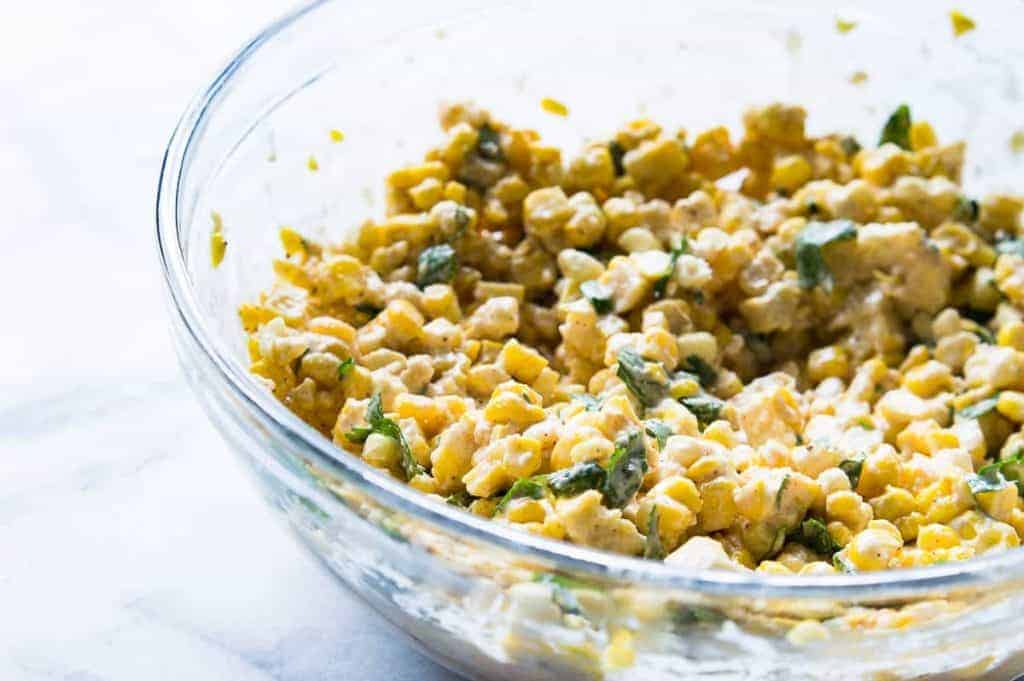 The queso blanco is super easy to make. It's made with white Velveeta, and before you get anxious about using Velveeta and start wondering if there's another cheese you could use. The answer is no. Not really. The Velveeta melts to perfection. The only other cheese that you could try to use is a white American cheese. But it's a bit more temperamental when it comes to melting. So my recommendation is to just go for it with the Velveeta. If you're opposed then you can definitely make these without the queso blanco and just load up the chips with the Mexican street corn.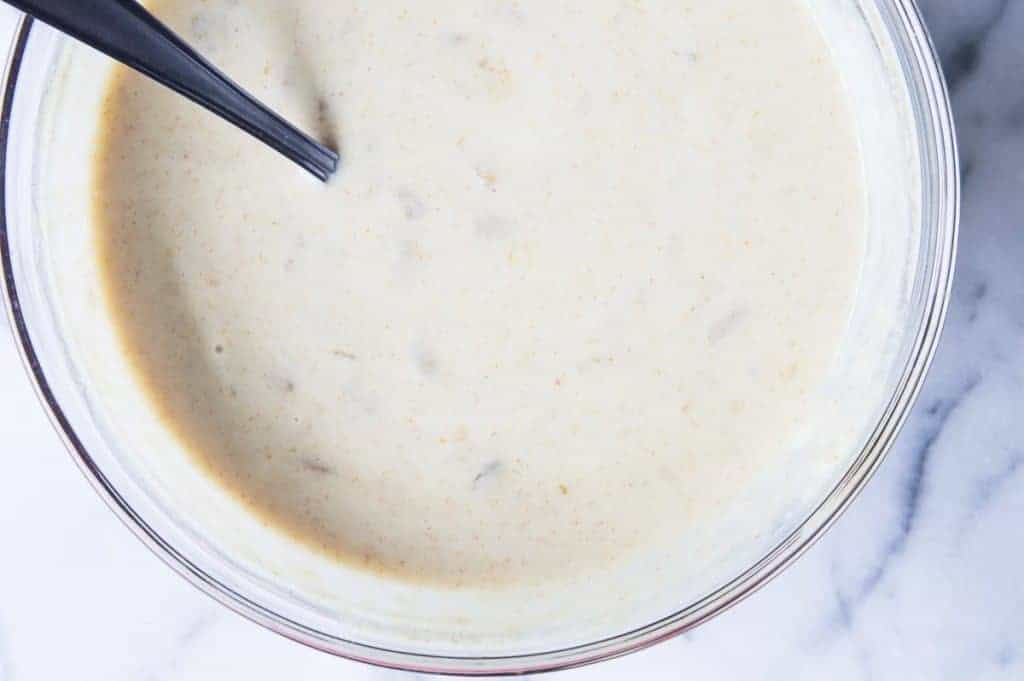 I do add some seasonings and green chiles to the Velveeta to give a little heat and flavor. A quick trip to the microwave will give you creamy queso blanco.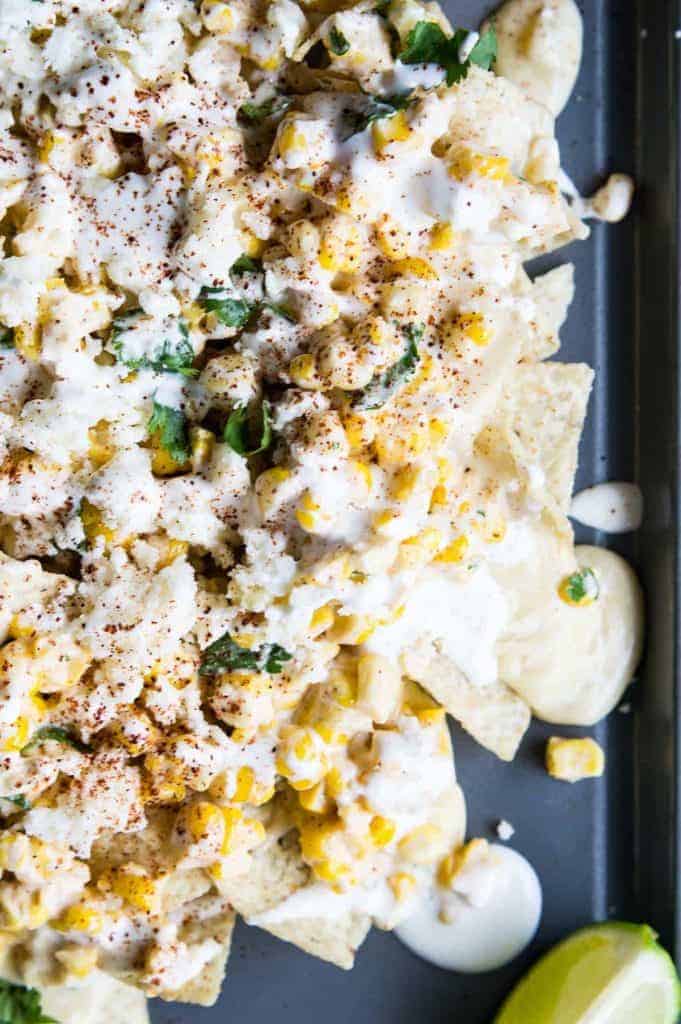 Then you get to load up your nachos! Tortilla chips, queso, Mexican street corn, more cotija of course, more cilantro is definitely necessary, some extra chili powder for fun. And a drizzle of crema. Which is almost like sour cream, except it's texture is more of a thick cream that actually drizzles as opposed to the solid form that sour cream comes in. Again, this can be found in the cheese section and is usually next to the Mexican cheeses like the cotija and queso fresco.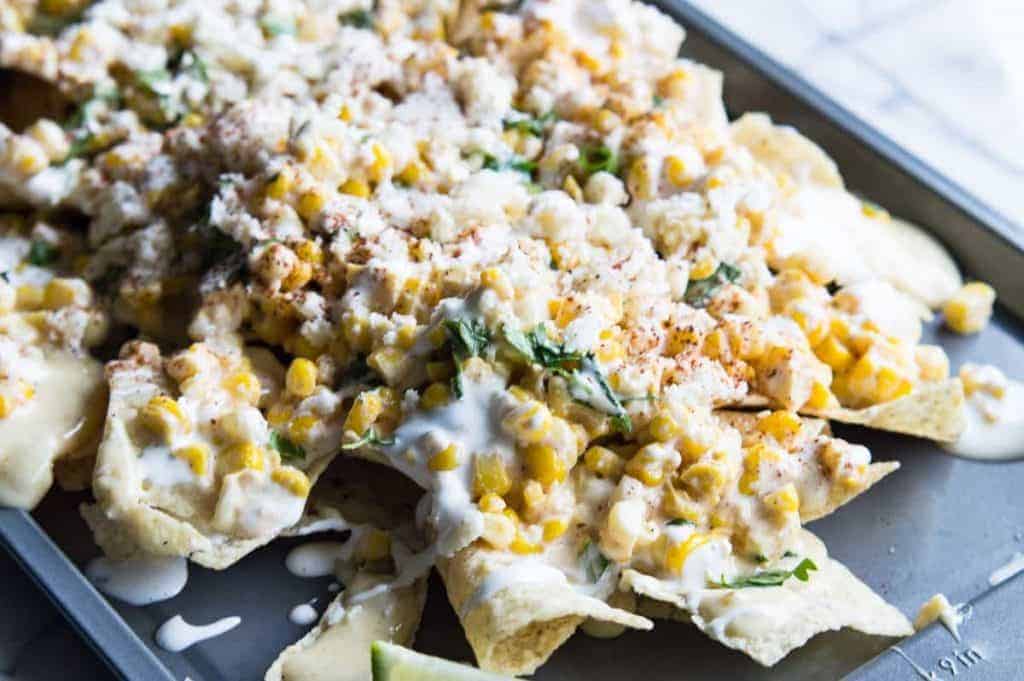 Now make sure you enjoy every moment of these Mexican street corn nachos. Because like I said, they won't be around for long!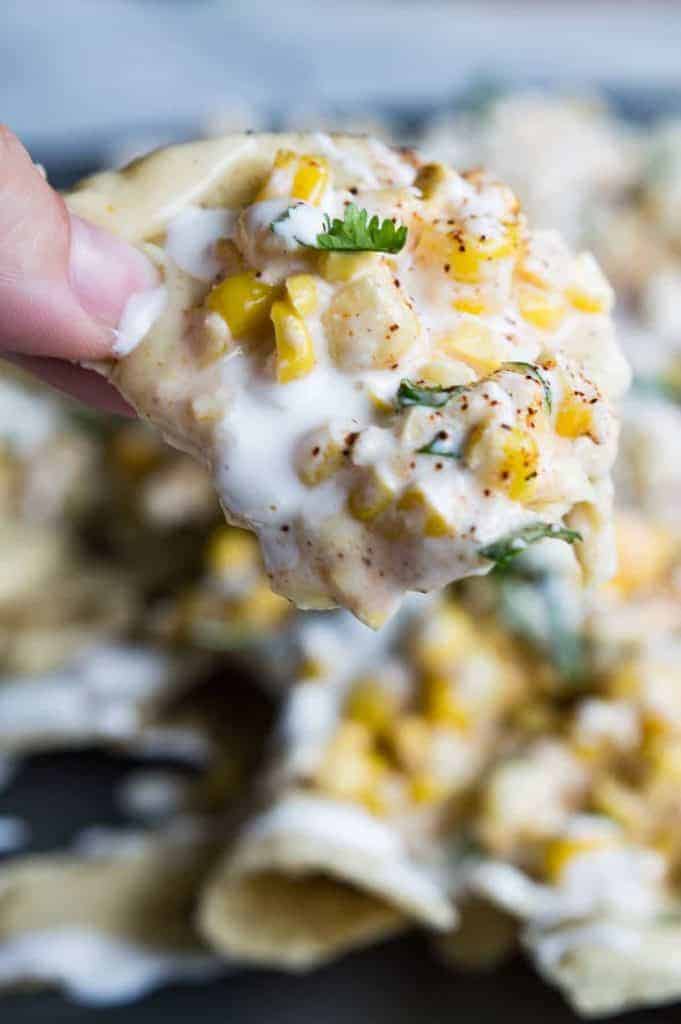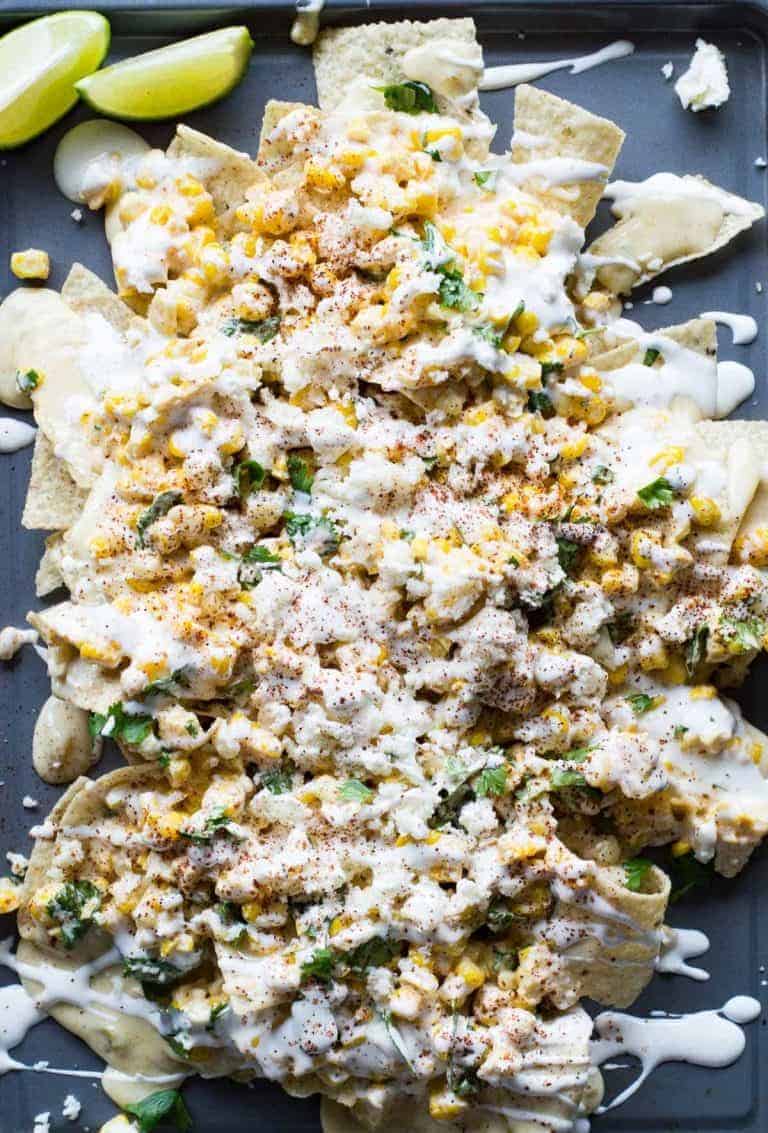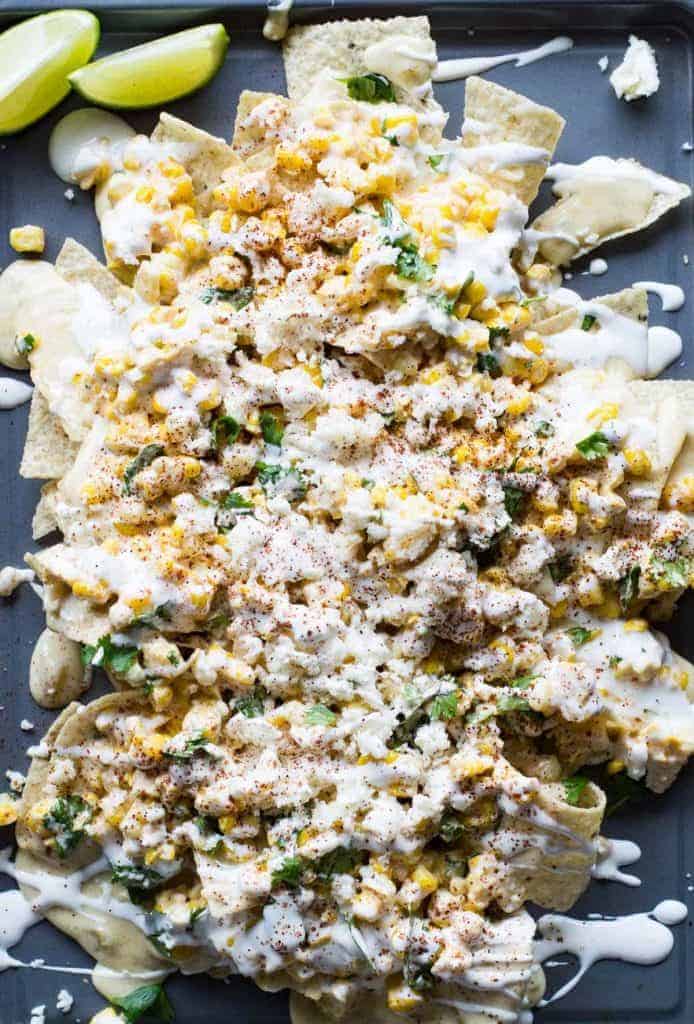 Need some more Tex Mex inspiration?!
Products I Recommend for this Recipe:
Mexican Street Corn Recipe first appeared on Food Fanatic July 18, 2016.