A dressed up version of the traditional Sopa De Letras  this Mexican ABC soup has a little bacon and green bell pepper added for extra flavor and spice.  Perfect recipe for family dinner!  The kids always ask for this soup!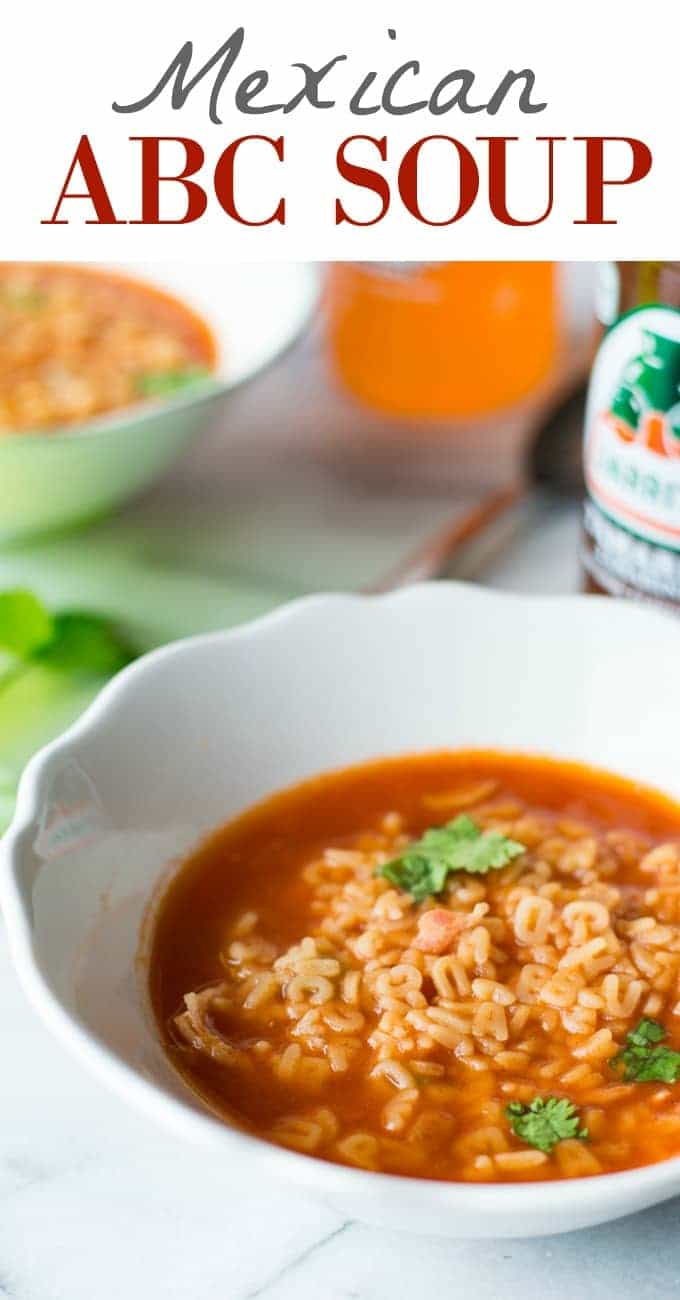 Mexican ABC Soup!  I know most of us have had ABC soup growing up.  My memories of it consist of someone opening up a can and pouring the contents into a bowl and placing that bowl in a microwave.  Don't get me wrong, they aren't bad memories.  And I'm definitely not saying I don't enjoy a good canned ABC soup.  I find it quite comforting actually, and just thinking about it makes me smile.  However, the hubs has quite a different memory of ABC soup from his childhood.  One that he wanted to re-create for our own children.  So of course, I had to help out!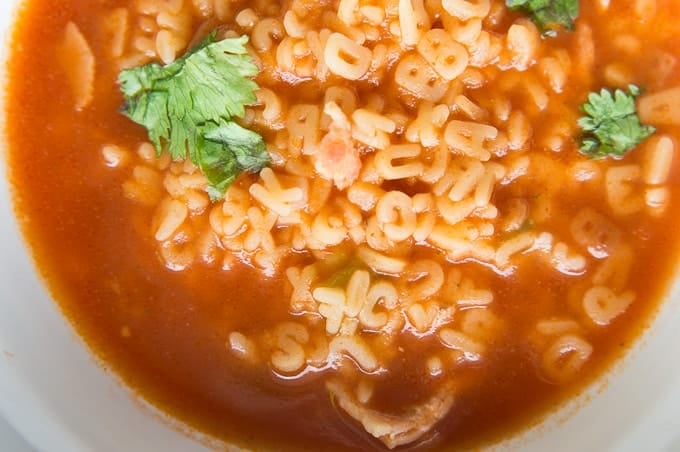 The hubs grew up with this Mexican ABC Soup, or Sopa De Letras.  And it is so easy and simple to make!  The hubs was able to find a recipe here, that we used the first time we made this ourselves.  Since then we've made it many, many times and often play around adding different things. We make this Mexican ABC Soup for the kids all the time.  Ourselves too of course.  It's definitely been added to my list of comfort foods.  You can dress it up as much as you want, or as little.  The base of the soup is just the pasta, tomato sauce, and chicken bouillon.  It's that simple.  We added a little bacon and green peppers to ours for some extra flavor.  You could add any kind of meat you want, or leave it meatless.  And of course it would be good topped with cheese too!  But, isn't everything?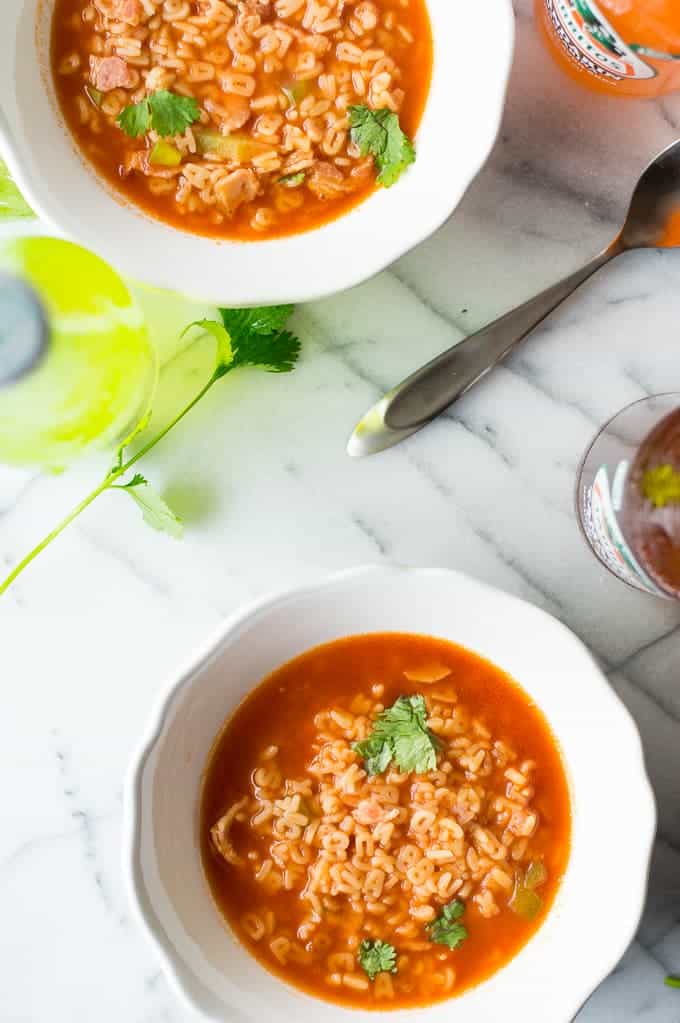 Tips for making Mexican ABC Soup
Can use any pasta, we use the alphabet pasta which can be found in most hispanic food aisles at the grocery store.
Fry the pasta in oil prior to making the soup, keep stirring until the pasta turns slightly golden.
The pasta will soak up the liquid super fast.  To keep it more soup like serve immediately after pasta is thoroughly cooked, as it sits the pasta will absorb the liquid and it will be thicker and more actually pasta like than soup like.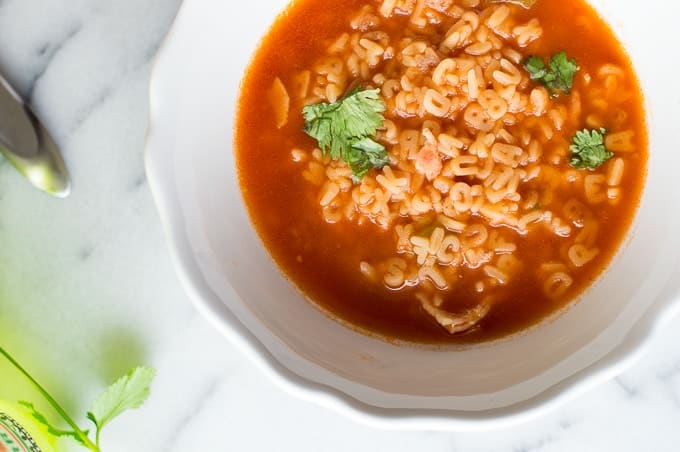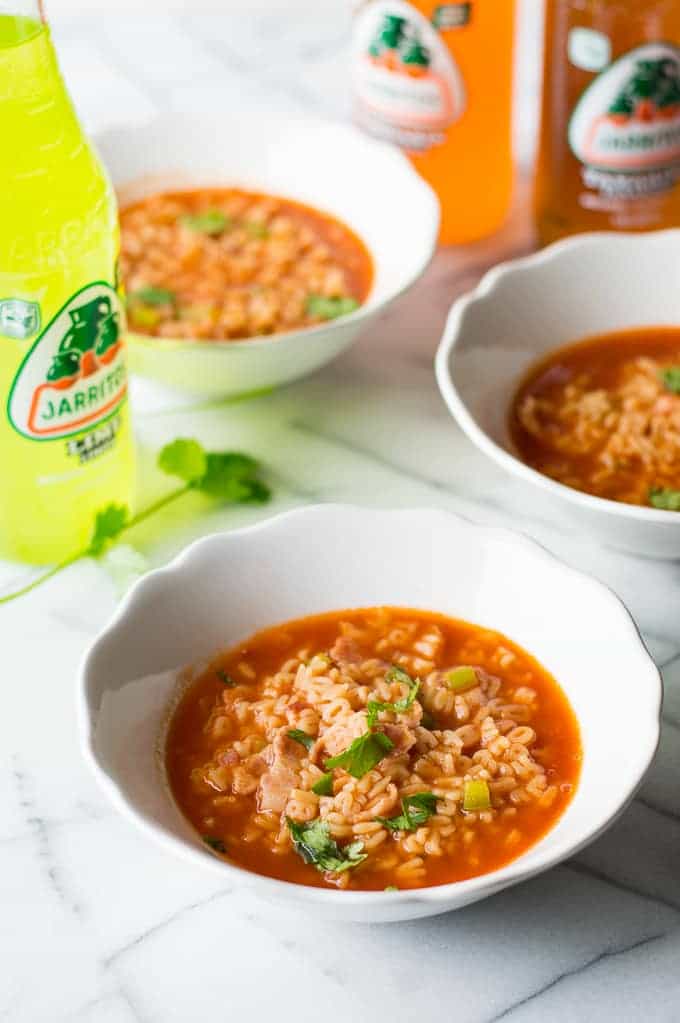 I hope you enjoy the recipe!  You can follow along with me and never miss a recipe by signing up for my newsletter.  Follow me on Instagram and tag #houseofyumm so I can see all the recipes you make.  Plus follow me on snapchat! @houseofyumm 💜
Print
Mexican ABC Soup (Sopa De Letras)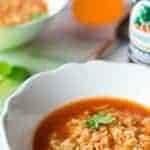 A dressed up version of the traditional Sopa De Tetras this Mexican ABC soup has a little bacon and green bell pepper added for extra flavor and spice. Perfect recipe for family dinner! The kids always ask for this soup!
Author:
Prep Time:

5 minutes

Cook Time:

20 minutes

Total Time:

25 minutes

Yield:

6
Ingredients
chopped 6 slices of bacon
14 ounces alphabet pasta
16 ounces tomato sauce
48 ounces of water (6 cups)
4 tablespoons chicken bouillon
1/2 cup diced green bell pepper
Instructions
Chop the bacon while it is uncooked, place in large pan and cook to desired done-ness. Remove the bacon from the pan, place it on a plate covered with a paper towel to capture any left on grease.
Pour out the bacon grease from the pan, set aside 2 tablespoons.
With the 2 tablespoons of reserved bacon grease in the pan, fry the alphabet pasta over medium heat. Keep stirring so that the noodles don't burn. Once the pasta is turning golden pour in the tomato sauce and water. Stir to combine.
Bring to a boil. Add in the chicken bouillon. Stir until completely dissolved and mixed in.
Reduce the heat to medium low and allow to simmer.
Add the green bell pepper and the bacon into the soup. Allow to simmer until the pasta is tender, about 5 minutes.
Remove from heat. Serve and enjoy!
Notes
**If you're not using bacon in yours just fry the pasta up in olive oil or vegetable oil instead.
*Recipe adapted from Sopa de Fideo at Laugh with Us Blog
Love Soup? Make sure to follow my Soup Board on Pinterest where I gather all the BEST soups around!
Follow House of Yumm's board Soup on Pinterest.
35