Mexican Alphabet Soup (Sopa De Letras)
Mexican Alphabet Soup. This beyond simple alphabet soup recipe is always a huge hit! Only 3 ingredients needed, this recipe only takes 20 minutes and is perfect as a quick, weeknight meal for the family.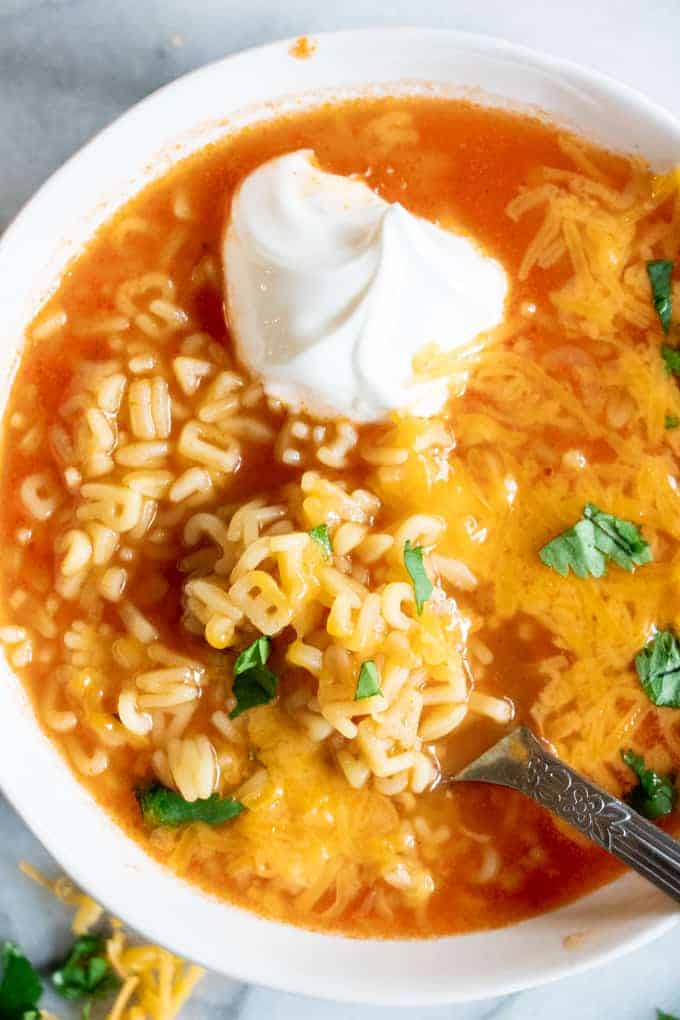 This Mexican Alphabet Soup is my kids all time favorite meal. All of them. From the oldest to the baby. Which means that this is the recipe that I make most often. This ABC soup makes my meal plan most weeks. Especially during busy seasons, when we have soccer practices or if we have lots of plans going on during the holidays..this is my go to easy meal. 
The recipe for this Mexican Alphabet soup is thanks to my husband. He grew up eating this, it's also known as Sopa de Letras. When we had our own kids he made sure that this was a meal that we made at home for them.
How to Make Mexican Alphabet Soup:
The base of the soup is just the pasta, tomato sauce, and chicken bouillon.  It's that simple.
Fry the pasta in a bit of oil. I typically use extra virgin olive oil, you can also use vegetable oil or canola oil.
Add the tomato sauce, water, and chicken bouillon. My favorite brand for this is Goya. Either the packets, or cubes. The packets of the seasoning are easier to stir in. The cubes need to be broken up to incorporate into the soup.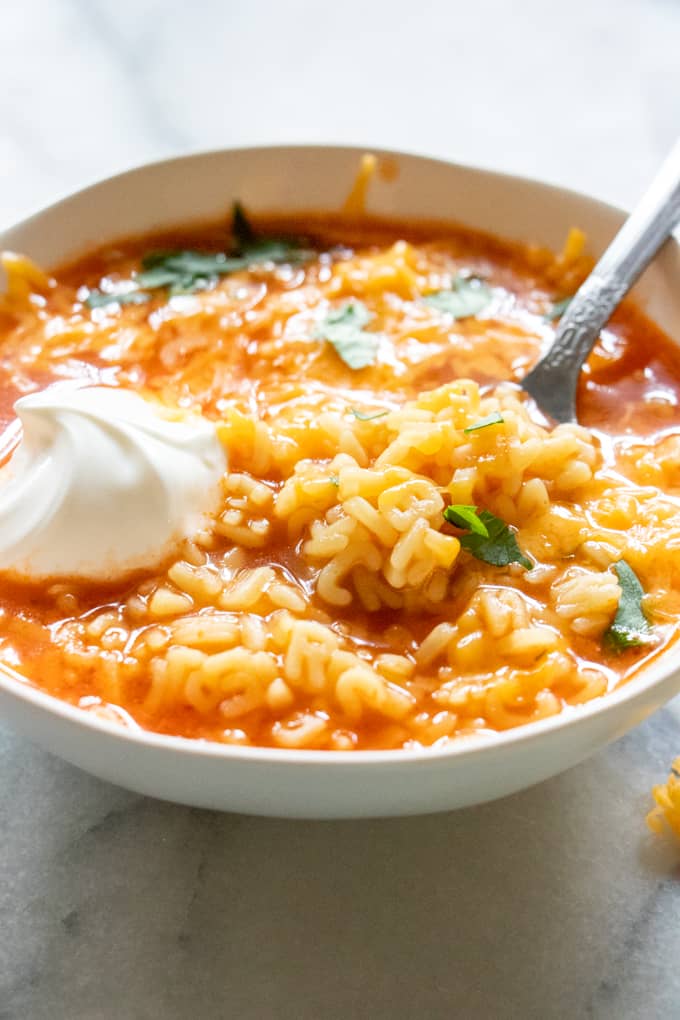 What pasta do I use for Alphabet Soup?
My personal favorite is the brand La Moderna. I find the alphabet letters one at Target typically. They also have a star version, the past just looks like little stars instead of letters, and those are easier to find, I can find the stars at Walmart and at Target. The same recipe that I use for this Alphabet Soup makes Star Soup as well. It's just a difference in the shape of the pasta. (NOT SPONSORED, Just sharing info with you). You can also buy this type of pasta on Amazon. Here's a link! (affiliate link)


Plus! You can dress this sopa de letras up as much as you want, or as little. Some ideas would be to add a little bacon and green peppers for some extra flavor.
Tips for making Mexican ABC Soup
Can use any pasta, we use the alphabet pasta which can be found in most hispanic food aisles at the grocery store.
Fry the pasta in oil prior to making the soup, keep stirring until the pasta turns slightly golden.
The pasta will soak up the liquid super fast.  To keep it more soup like serve immediately after pasta is thoroughly cooked. The recipe calls for 8 cups of water, which is enough to make this soupy. IF you want it more pasta like, which I like to do with the little kids (it's so much easier for them to eat) then cut it back to 6 cups.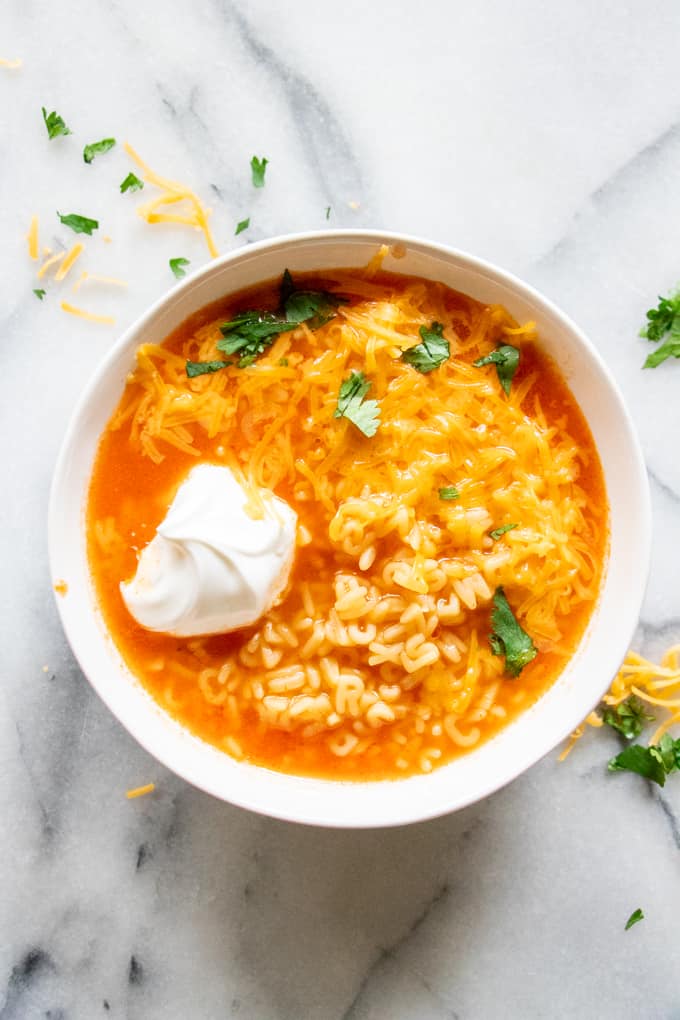 More Soup Recipes:
WANT TO TRY THIS MEXICAN ALPHABET SOUP?
PIN IT NOW! 
FIND ME ON PINTEREST FOR MORE GREAT RECIPES!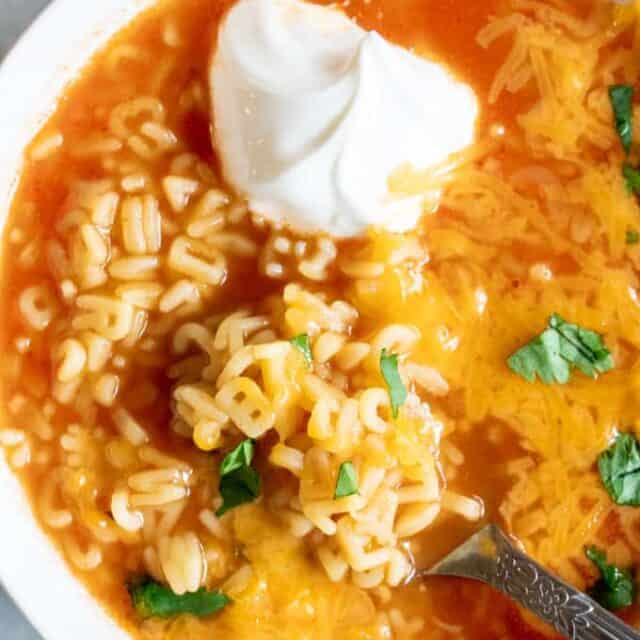 Mexican Alphabet Soup
Mexican Alphabet Soup. This beyond simple alphabet soup recipe is always a huge hit! Only 3 ingredients needed, this recipe only takes 20 minutes and is perfect as a quick, weeknight meal for the family.
Ingredients
1 tbsp oil, (extra virgin olive oil, avocado, or vegetable)
2 (14 ounce) alphabet pasta , (or other la moderna noodles)
2 (8 ounce) tomato sauce
8 cups water
1 tbsp chicken bouillon
Instructions
Add 1 tablespoons olive oil to a large skillet, fry the alphabet pasta over medium heat. Keep stirring so that the noodles don't burn.

Once the pasta is turning golden pour in the tomato sauce and water. Stir to combine. Add in the chicken bouillon. Stir until completely dissolved and mixed in. Bring to a boil.

Reduce the heat to medium low and allow to simmer. Allow to simmer until the pasta is tender, about 5-10 minutes.

Remove from heat. Serve and enjoy!
Notes
*If you want to make this more of a pasta consistency, which is what I do for my littlest kids (it's easier to eat) simply reduce the amount of water to 6 cups. As the noodles cooks it will soak up the liquid and be more of a pasta.
Nutrition
Serving: 1g, Calories: 202kcal, Carbohydrates: 42g, Protein: 7g, Fat: 1g, Fiber: 3g, Sugar: 3g
*Recipe adapted from Sopa de Fideo at Laugh with Us Blog
House of Yumm is a participant in the Amazon Services LLC Associates Program, an affiliate advertising program designed to provide a means for us to earn fees by linking to Amazon.com and affiliated sites.