A warm inviting vanilla tres leches drink made by combining three milks, topped with whipped cream and a cherry!  A perfect warm drink to enjoy on a cold day that doesn't include coffee.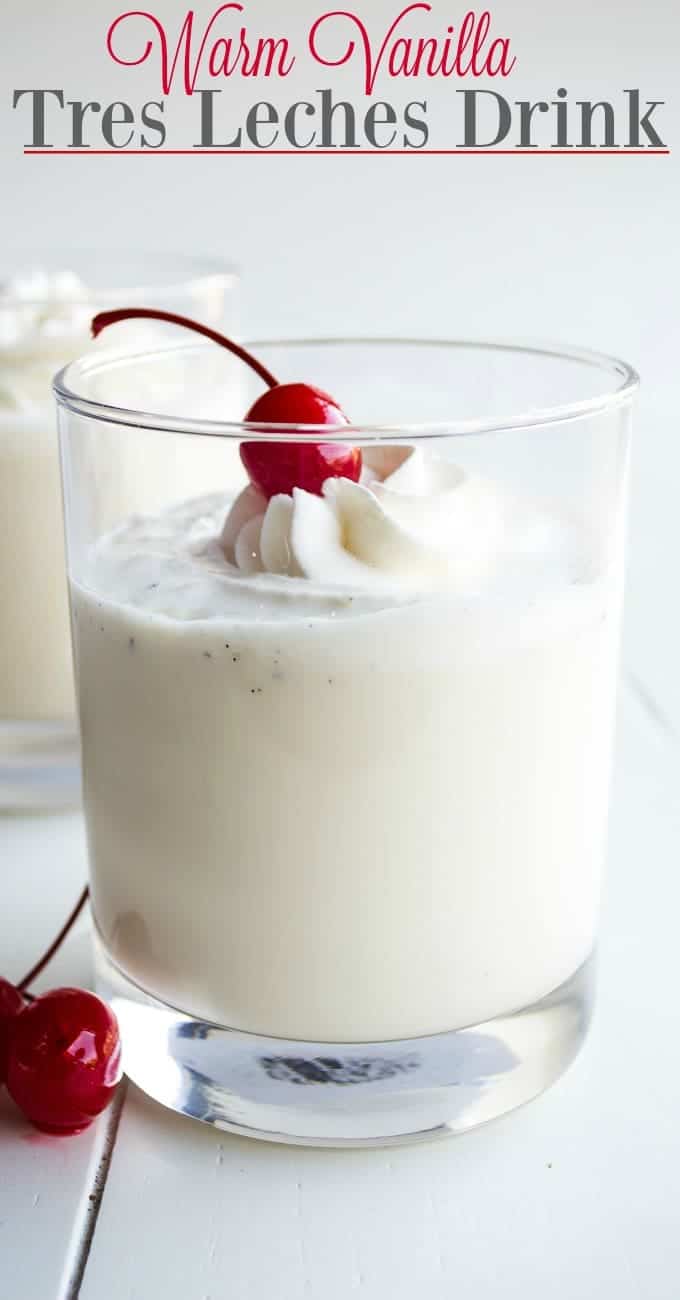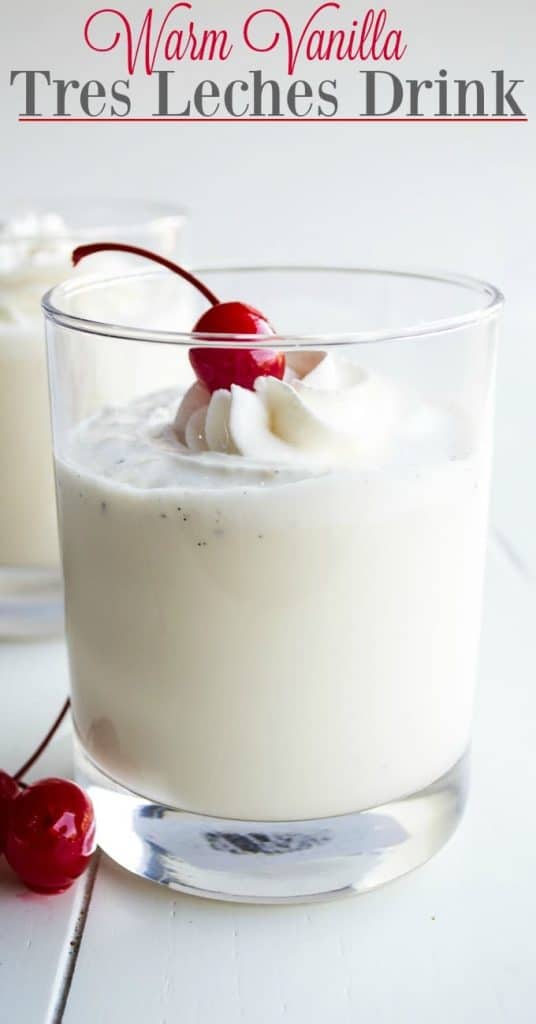 Cool weather makes me want all things warm and comforting.  Which is where this Warm Vanilla Tres Leches drink comes in.  Tres Leches is typically a cake.  I know.  A wonderfully spongy cake covered with three milks that get soaked up making it incredibly moist and decadent.  A classic favorite in Latin cultures which has seeped into us southern states!   Weelll.. this drink basically is all of that.  Minus the cake!  Three milks simmered with some vanilla bean, topped with whipped cream and of course the cherry on top ❤️❤️
I consider this basically to be like a milk steamer, minus the froth, which I guess means it's just a warm milk?  Or milks?  Ultra comforting warm milk.  I seriously was so relaxed and ready for a nap after a glass of this.  But I'm pretty much ready for a nap at any time of the day.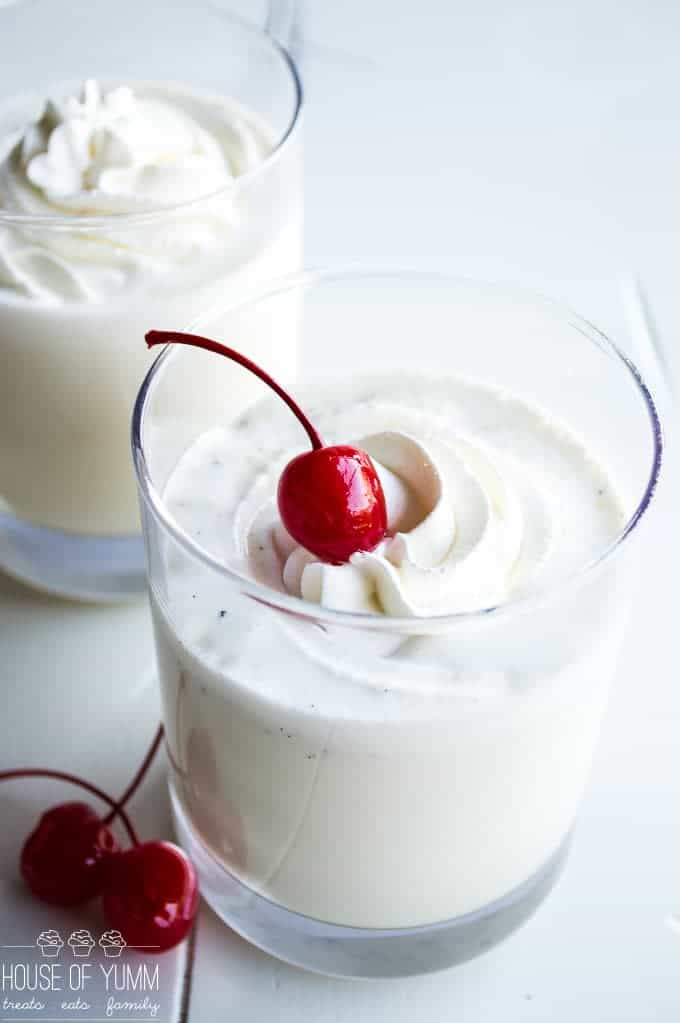 This is such a simple recipe with such great results.  Aren't those the best?  And what I consider to be my specialty.  Too many steps and ingredients and I get flustered. That and a lack of time.  This is one of those recipes you can make with a baby on your hip and little ones underfoot.
I thought about making a classic eggnog.  But instead wanted to make something a little different.  And that didn't include raw eggs.  So I started thinking about milk steamers and all the varieties of those.  And then decided to make this Tres Leches version.  It really couldn't be any easier.  Three milks, and I just used what I had on hand, half and half, 2% milk, and the sweetened condensed milk.  You can make this using any other milks, I recommend keeping the sweetened milk though.  That's where the sweetness for the drink is coming from.  But you could substitute the milk with evaporated milk, whole milk, even coconut milk for a slightly coconut flavor.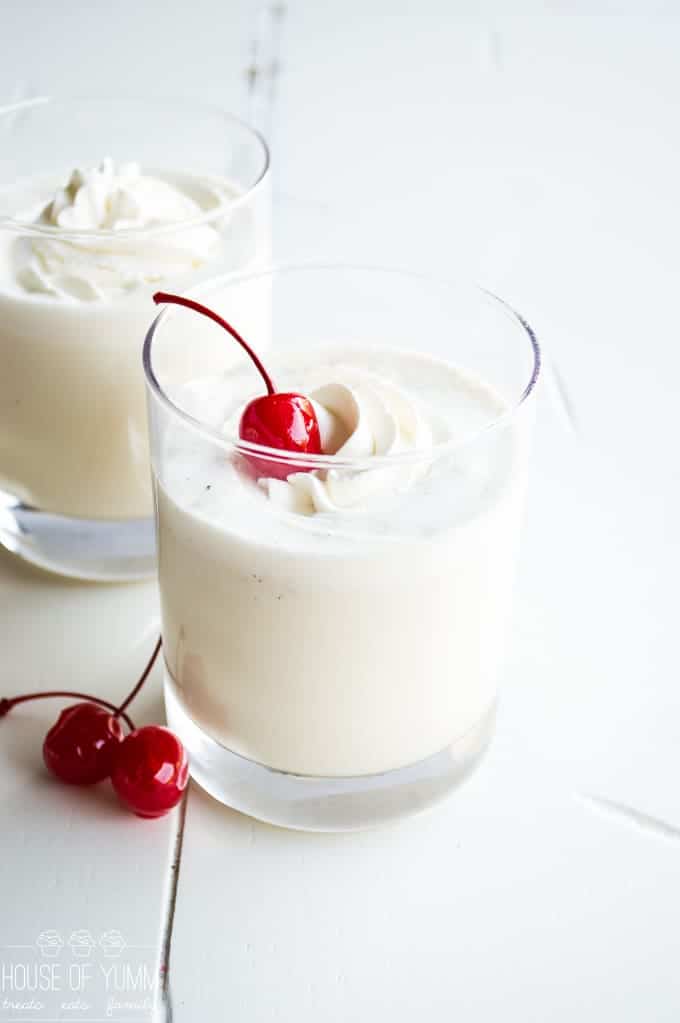 This recipe is also my first experience with an actual vanilla bean.  I try to avoid them.  First of all because of their price.  Second of all because of their price.  I bought one though, since it's really all I had to buy to attempt this recipe.  The rest of the things I had on hand (yes I keep maraschino cherries in my fridge at all times😉).  And it came in this fancy little tube.  I felt so important buying it.  It's the little things in life that make me happy.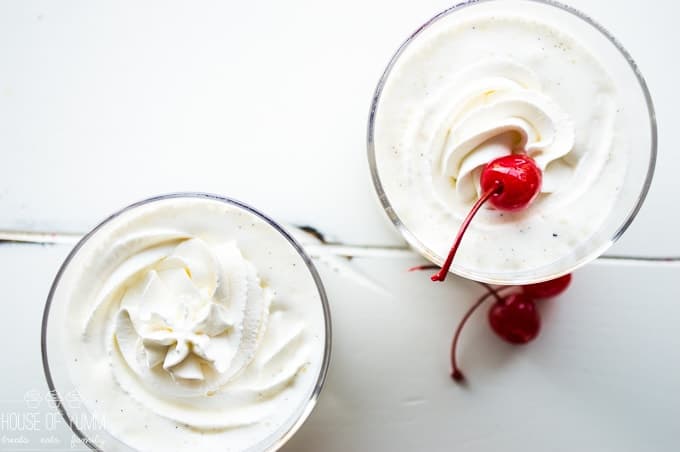 I gotta say, they make it look so easy to slice them open in half and scrape out all that scrumptious vanilla bean caviar.  Well..my experience didn't go so smoothly.  They're a lot stiffer than I thought they would be.  And when I sliced mine in half I didn't do a good job getting it in half and I ended up with four different pieces… Hmm.  I was able to scrape the caviar out.  Mostly.. Again, that didn't come out as smoothly for me as it does for the people on Food Network.  Guess I need some more practice🤔.  Any tips on using vanilla beans? Please leave them in the comments below for me!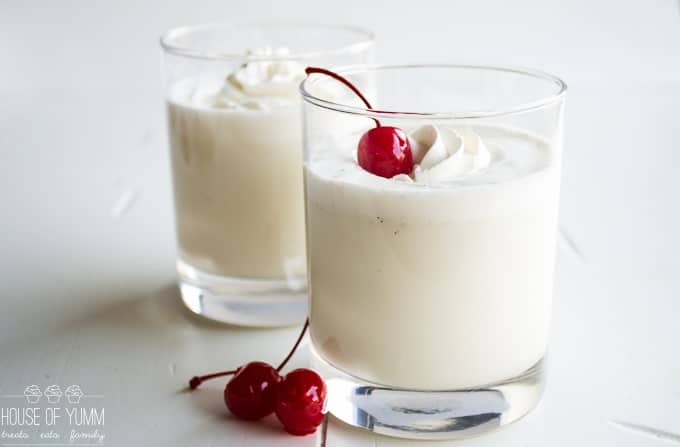 I hope you enjoy the recipe!  You can follow along with me and never miss a recipe by signing up for my newsletter.  Follow me on Instagram and tag #houseofyumm so I can see all the HOY recipes you make.  And  if you want to follow along in my everyday life on snapchat (username: houseofyumm) 💜
Print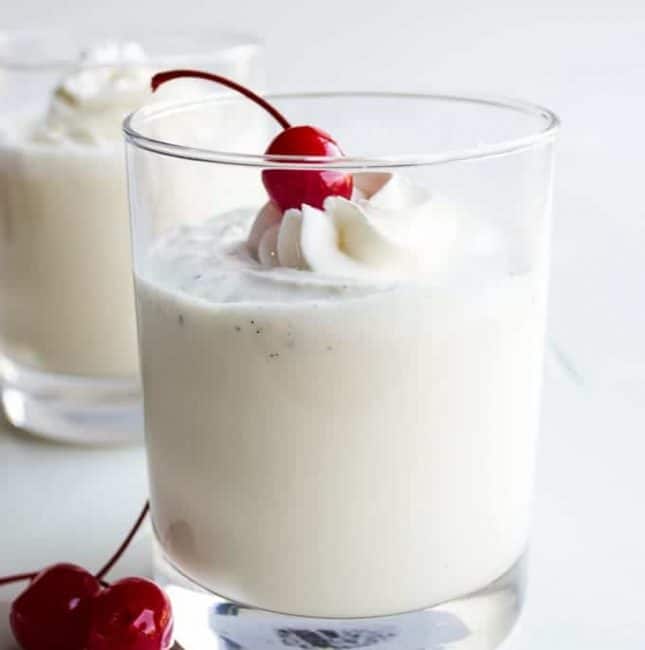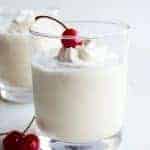 Tres Leches Drink
Author:

Prep Time:

2 minutes

Cook Time:

10 minutes

Total Time:

12 minutes

Yield:

5

1

x
---
Description
A warm inviting tres leches drink. Perfect drink for a cold day. A fun and EASY to make alternative to eggnog this Christmas!
---
Scale
Ingredients
1

14 ounce can sweetened condensed milk

2 cup

s half and half

1

and 1/2 cup milk (I used 2%)

1

vanilla bean
Whipped Cream
1 cup

heavy cream

1 tablespoon

powdered sugar

1/2 teaspoon

vanilla extract
Optional Topping
---
Instructions
Combine the sweetened condensed milk, half and half and milk of choice into a medium size saucepan. Cut the vanilla bean in half and scrape the inside. Place both the vanilla bean caviar and the bean into the milk mixture.
Heat over medium heat until just simmering.
Remove from heat and allow to cool for a few minutes, remove the vanilla bean prior to pouring into glasses.
Whipped Cream
Pour the heavy cream into mixing bowl and beat over medium speed until cream starts to thicken.
Add in the powdered sugar and vanilla extract.
Continue to beat over medium to high speed until cream is thick and forming into stiff peaks.
Pipe onto tres leches drink. Serve the drink warm. Enjoy!
---
66