Crispy deep fried dill pickles are the ultimate appetizer! Dill pickles are coated in an easy, flavorful batter and deep fried to make them crunchy, crispy, and better than any restaurant.
One of my favorite things about eating out is the appetizers. And fried pickles are a classic southern treat! They're one of our favorites at Texas Roadhouse. Crisp and salty these dill pickles are covered in a thin, lightly spiced batter. Serve with your favorite dipping sauce for a snack or appetizer.
Ingredients Needed: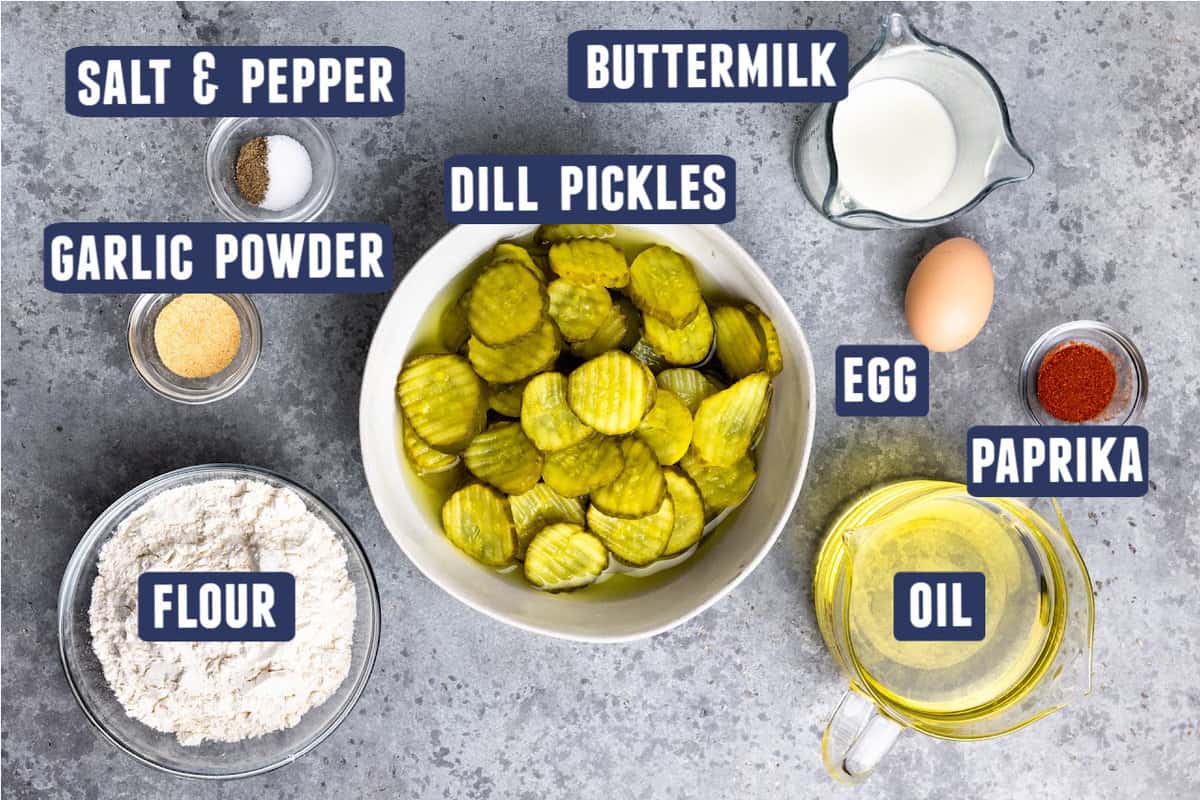 Notes on Some ingredients:
Pickles: sliced dill pickles are the most commonly used. You could use any pickle you prefer, and also slice the pickles into spears instead of chips. Or cut into a french fry shape like at Sonic!
Flour: all purpose flour was used for testing this recipe.
Oil: choose an oil with a high smoke point such as vegetable or peanut oil.
How to make Homemade Crispy Fried Pickles: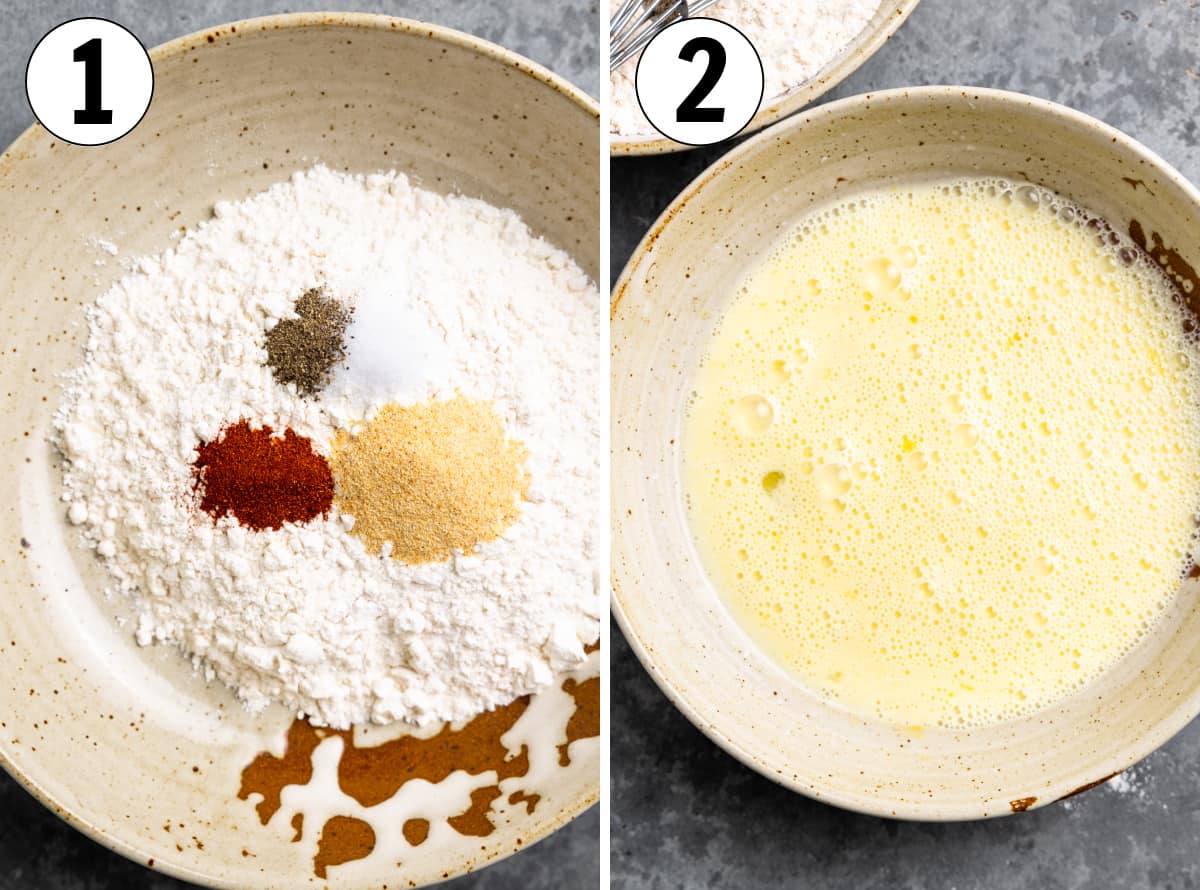 Heat Oil: pour oil into a large heavy bottomed saucepan. My preference is to use a 5 qt enameled cast iron dutch oven. The oil needs to reach a temperature of 375℉, so let it heat while preparing the pickles.
Mix flour & egg mixture: in separate bowls combine the flour mixture and the egg & buttermilk mixture.
Slice & Dry Pickles: can use pre-sliced pickles, or you can slice your own dill pickles to 1/4 inch slices. Pat them completely dry using a clean towel or paper towels.
Dip pickles: working in batches dip the pickles in the flour first, then the egg mixture, then back into the flour.
Lay the pickles out on a large baking sheet while working until all pickles have been battered.
Fry: working in batches fry 6-7 pickles at a time in the oil. Fry about 90 seconds or until the batter on the pickles is crisp and browned. Remove and lay on a paper towel lined baking sheet.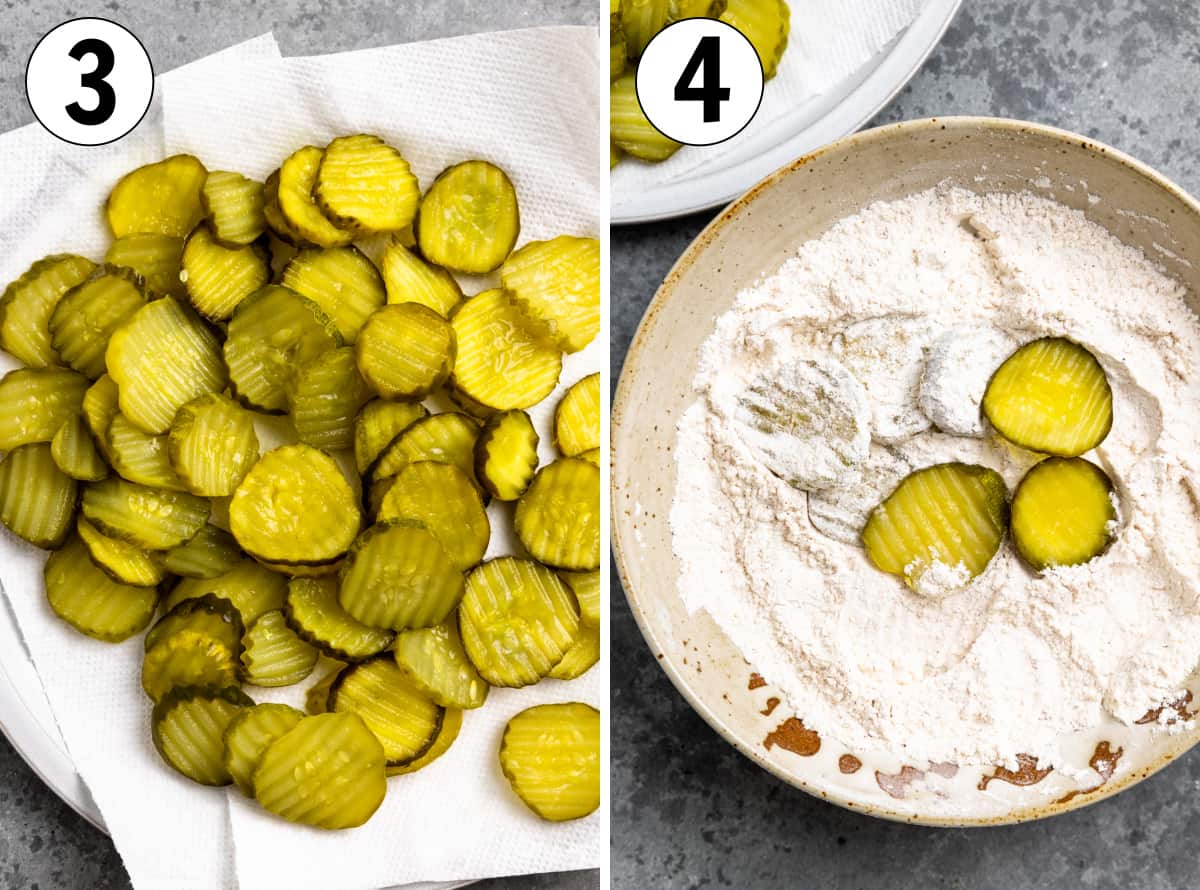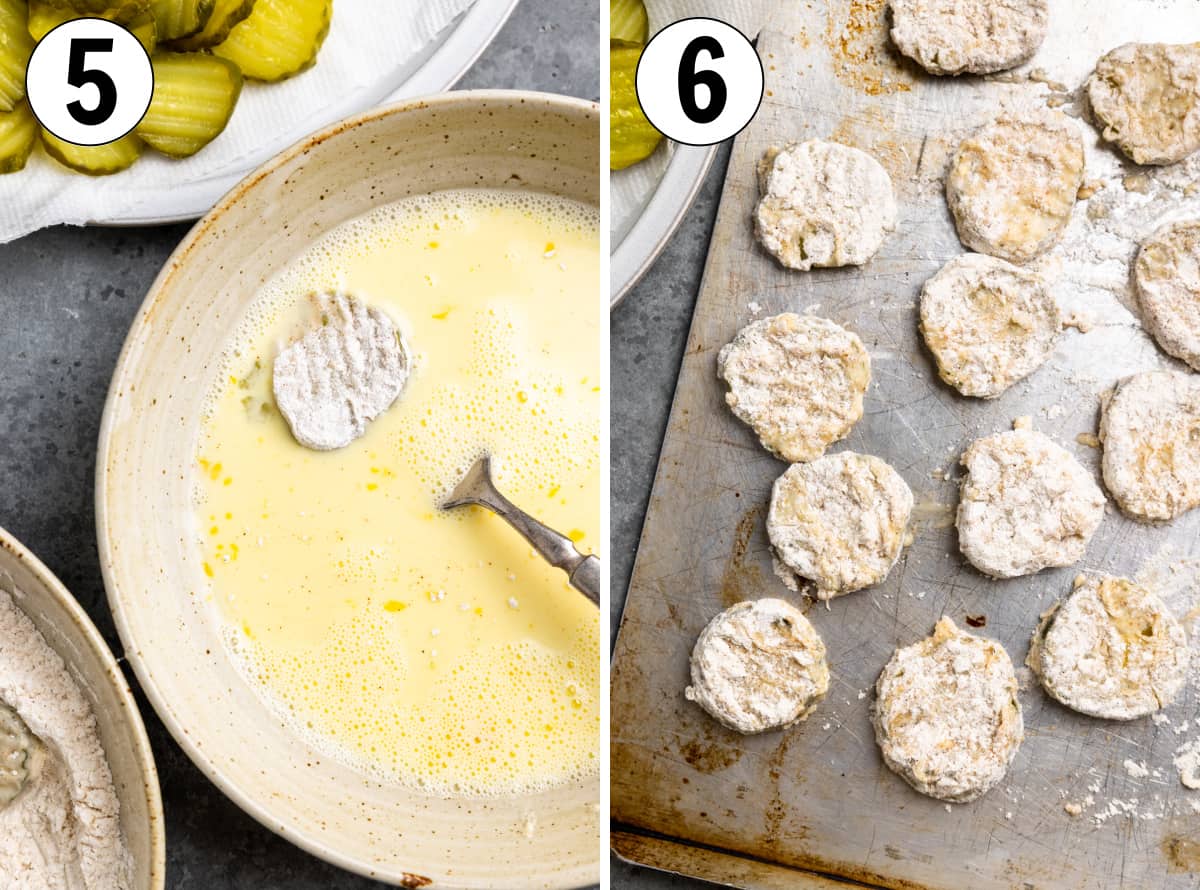 What sauce to serve with fried pickles:
Pro Tips:
Dry the pickles. Pat the pickle slices as dry as possible with a clean towel or paper towels. This helps ensure the batter sticks to the pickles.
Monitor oil heat: use a thermometer to check the temperature of the oil. If the oil isn't hot enough the batter will become soggy and won't crisp up in the oil.
Allow temperature to come back up after each batch: as you fry the pickles in batches, the temperature can drop. Allow the heat to work back up before adding the next batch.
Add some jalapeños: a quick and easy addition is to add some sliced, pickled jalapeños with the pickles when making this recipe. When ordering this appetizer at restaurants in Texas, this is how they are typically served.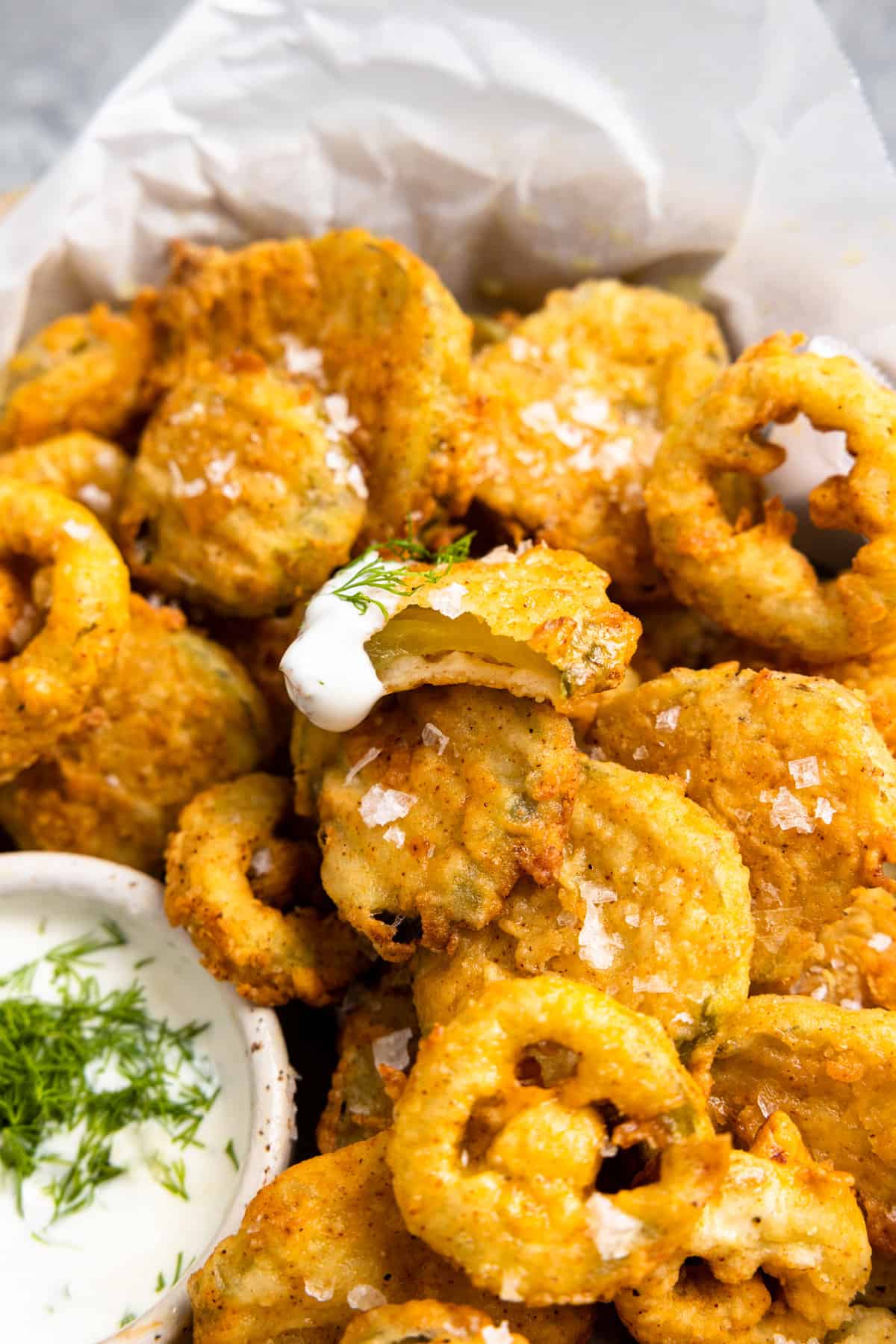 Commonly Asked Questions:
How do you make fried pickle spears?
This recipe can easily be made using pickle spears. Follow the instructions on patting them dry, dipping in the seasoned flour and egg, buttermilk mixture to batter them and then deep fry until golden and crispy.
How do I make fried pickles crisp?
To ensure you make extra crispy fried pickles the most important thing is to get the oil to the proper temperature. Get the oil to 375 degrees F and make sure the temperature comes back up in between batches also. If the oil is not hot enough the batter won't fry up nice and crispy and will instead remain soggy.
How do I reheat fried pickles?
To reheat fried pickles lay them on a wire rack set on top of a baking sheet. Bake them in the oven at 350 degrees F for 10-15 minutes until heated through and crispy.
More snack recipes to enjoy: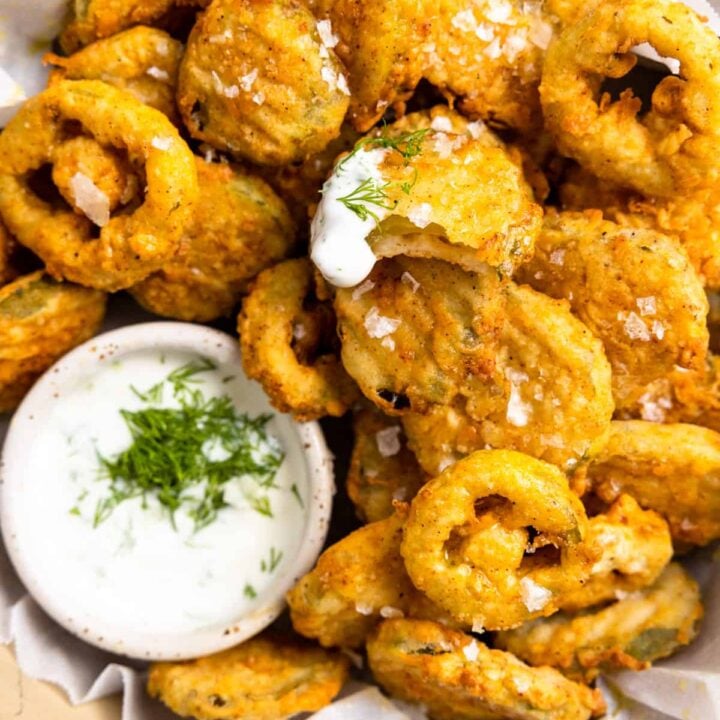 Fried Pickles
Perfect salty, fried snack! Don't forget the ranch!
Ingredients
1 cup all purpose flour
½ tsp salt
¼ tsp ground black pepper
¾ tsp garlic powder
½ tsp paprika
½ cup buttermilk
1 large egg
cooking oil, vegetable or canola oil
16 ounces dill pickle chips
Instructions
Fill a large heavy bottom pot with 2 inches of cooking oil. Heat over medium heat until oil reaches 375℉.

In medium bowl combine the flour, salt, pepper, garlic powder, and paprika. Whisk together. Set aside

In separate medium bowl beat the egg and add the buttermilk.

Drain the pickles and lay on paper towels or clean towels. Pat dry. If using whole pickles, slice the pickles to ¼ inch thick. Pat dry.

Working in batches of 6-7 add pickles to the flour coating both sides. Tap off excess flour. Then dip into the egg mixture coating both sides. Then dip back into the flour to coat the pickles. Tap to remove excess and place battered pickles on a large baking sheet. Continue until all pickles are battered.

Check the temperature of the oil to ensure it has reached 375℉. Working in batches add 6-7 pickles into the oil carefully using tongs or a skimmer. Cook for about 1.5-2 minutes. Remove once golden brown on both sides. Place onto a large baking sheet that is covered with a paper towel.

Repeat the process until all pickles are fried! Serve with ranch or other dipping sauce of choice and enjoy!
Notes
Pickles: sliced dill pickles are the most commonly used. You could use any pickle you prefer, and also slice the pickles into spears instead of chips.
Flour: all purpose flour was used for testing this recipe.
Oil: choose an oil with a high smoke point such as vegetable or peanut oil.
Storage:
Store leftovers in a sealed container in the refrigerator for up to 3 days.
Reheat on a wire rack over a baking sheet at 350 degrees F for 10 minutes.
Nutrition
Calories: 92kcal, Carbohydrates: 15g, Protein: 4g, Fat: 2g, Saturated Fat: 1g, Cholesterol: 24mg, Sodium: 539mg, Potassium: 117mg, Fiber: 1g, Sugar: 2g, Vitamin A: 233IU, Vitamin C: 1mg, Calcium: 64mg, Iron: 1mg
Recipe first published September 26, 2014. Updated January 11, 2023 with new images and information.
Photography by the talented @ModernFarmhouseEats
House of Yumm is a participant in the Amazon Services LLC Associates Program, an affiliate advertising program designed to provide a means for us to earn fees by linking to Amazon.com and affiliated sites.