Fried Pickles. Crispy fried dill pickles are the ultimate appetizer!
One of my favorite things about eating out is the appetizers. And fried pickles are a classic southern treat! Crisp and salty these dill pickles are covered in a thin, lightly spiced batter. Serve with your favorite dipping sauce for a snack or appetizer.
How to make Homemade Crispy Fried Pickles:
Heat Oil: pour oil into a large heavy bottomed saucepan. My preference is to use a 5 qt enameled cast iron dutch oven. The oil needs to reach a temperature of 375℉, so let it heat while preparing the pickles.
Slice & Dry Pickles: can use pre-sliced pickles, or you can slice your own dill pickles to 1/4 inch slices. Pat them completely dry using a clean towel or paper towels.
Mix flour & egg mixture: in separate bowls combine the flour mixture and the egg & buttermilk mixture.
Dip pickles: working in batches dip the pickles in the flour first, then the egg mixture, then back into the flour. Lay the pickles out on a large baking sheet while working until all pickles have been battered.
Fry: working in batches fry 6-7 pickles at a time in the oil. Fry about 90 seconds or until the batter on the pickles is crisp and browned. Remove and lay on a paper towel lined baking sheet.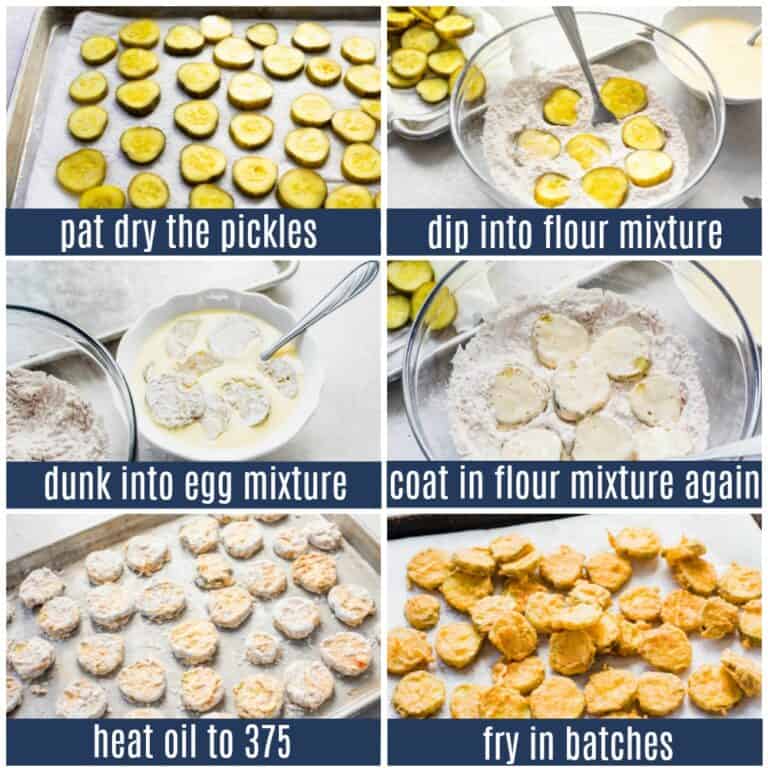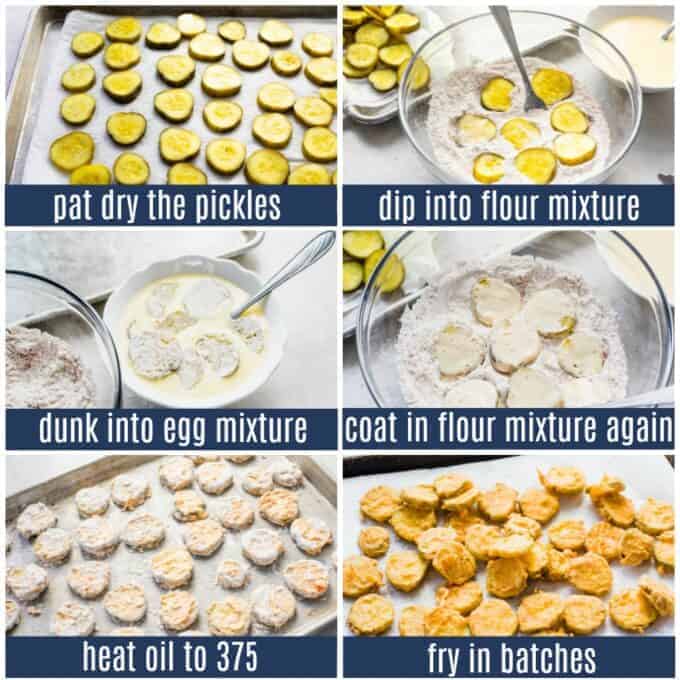 What sauce to serve with fried pickles:
Pro Tips
Dry the pickles. Pat the pickle slices as dry as possible with a clean towel or paper towels. This helps ensure the batter sticks to the pickles.
Monitor oil heat: use a thermometer to check the temperature of the oil. If the oil isn't hot enough the batter will become soggy and won't crisp up in the oil.
Allow temperature to come back up after each batch: as you fry the pickles in batches, the temperature can drop. Allow the heat to work back up before adding the next batch.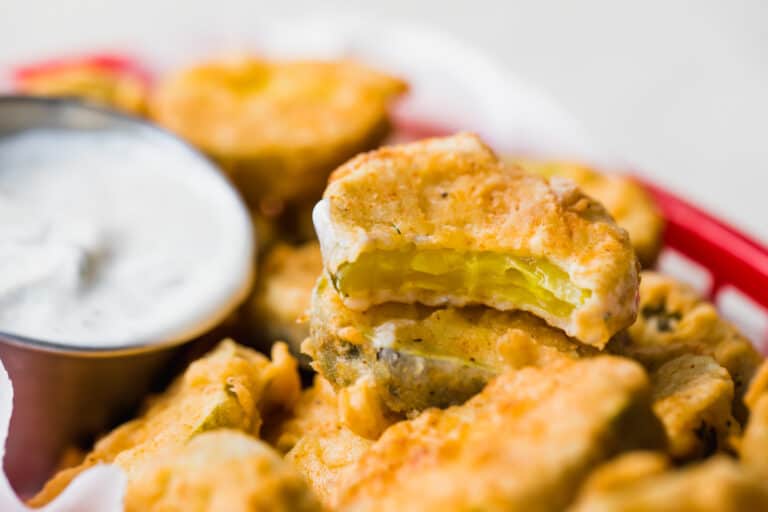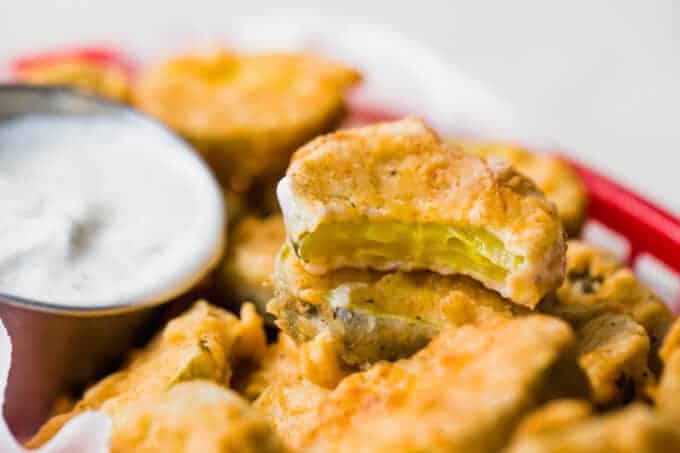 More recipes to enjoy: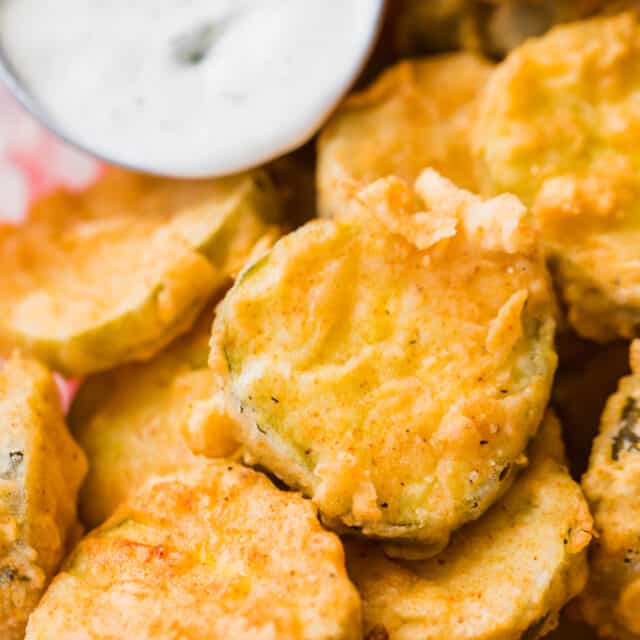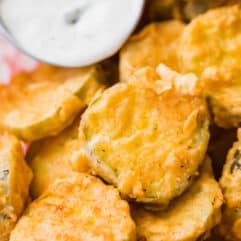 Fried Pickles
Perfect salty, fried snack! Don't forget the ranch!
Ingredients
1 cup all purpose flour
½ tsp salt
¼ tsp ground black pepper
¾ tsp garlic powder
½ tsp paprika
½ cup buttermilk
1 large egg
cooking oil, vegetable or canola oil
16 ounces dill pickle chips
Instructions
Fill a large heavy bottom pot with 2 inches of cooking oil. Heat over medium heat until oil reaches 375℉.

In medium bowl combine the flour, salt, pepper, garlic powder, and paprika. Whisk together. Set aside

In separate medium bowl beat the egg and add the buttermilk.

Drain the pickles and lay on paper towels or clean towels. Pat dry. If using whole pickles, slice the pickles to ¼ inch thick. Pat dry.

Working in batches of 6-7 add pickles to the flour coating both sides. Tap off excess flour. Then dip into the egg mixture coating both sides. Then dip back into the flour to coat the pickles. Tap to remove excess and place battered pickles on a large baking sheet. Continue until all pickles are battered.

Check the temperature of the oil to ensure it has reached 375℉. Working in batches add 6-7 pickles into the oil carefully using tongs or a skimmer. Cook for about 1.5-2 minutes. Remove once golden brown on both sides. Place onto a large baking sheet that is covered with a paper towel.

Repeat the process until all pickles are fried! Serve with ranch or other dipping sauce of choice and enjoy!
Equipment
Nutrition
Calories: 92kcal, Carbohydrates: 15g, Protein: 4g, Fat: 2g, Saturated Fat: 1g, Cholesterol: 24mg, Sodium: 539mg, Potassium: 117mg, Fiber: 1g, Sugar: 2g, Vitamin A: 233IU, Vitamin C: 1mg, Calcium: 64mg, Iron: 1mg
Recipe first published September 26, 2014. Updated May 30, 2020 with new images and information.
House of Yumm is a participant in the Amazon Services LLC Associates Program, an affiliate advertising program designed to provide a means for us to earn fees by linking to Amazon.com and affiliated sites.