Burger Bowls. This low carb burger bowl/salad is a quick and easy way to enjoy all the flavors of a burger!
Burger bowls or burger salads are a fun and easy dinner that the entire family will love! Made with a salad base of fresh green lettuce, juicy tomatoes, avocados, and red onions. Top with some flavorful ground beef that cooks up quick and easy! Add dill pickles and shredded cheese to complete the dish. Use either a homemade burger sauce or homemade ranch dressing to finish it off!
Burger Bowl Ingredients Breakdown:
Ground beef: this recipe comes together quick and easy thanks to just cooking the meat in a skillet. No need to form burger patties and cook them. However, if you are cooking burgers anyway and just need a low carb way to enjoy them, just chop up the burger patty after cooking and add to the bowl.
Salt, Pepper & Garlic Powder: seasonings for the ground beef.
Worcestershire & Dijon Mustard: adds extra flavor to the meat.
Shredded Cheddar Cheese: mix a little bit in with the cooked meat for a melty cheese. Then add some extra to the bowl!
Green Lettuce: use either green leaf lettuce or iceberg lettuce.
Tomatoes: dice up some tomatoes. Either Roma tomatoes, grape, or cherry tomatoes are good options.
Red onion
Dill pickles
Avocado
Burger Sauce: this creamy and tangy burger sauce is perfect for slathering on burgers or using as a dressing for this burger bowl/salad.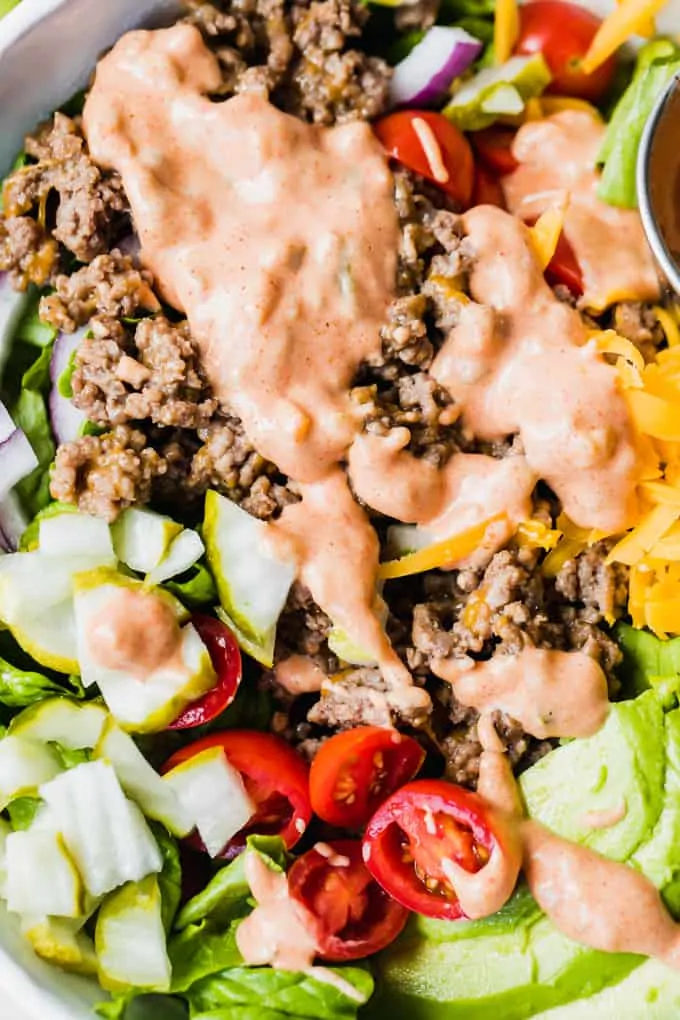 More Salad Recipes: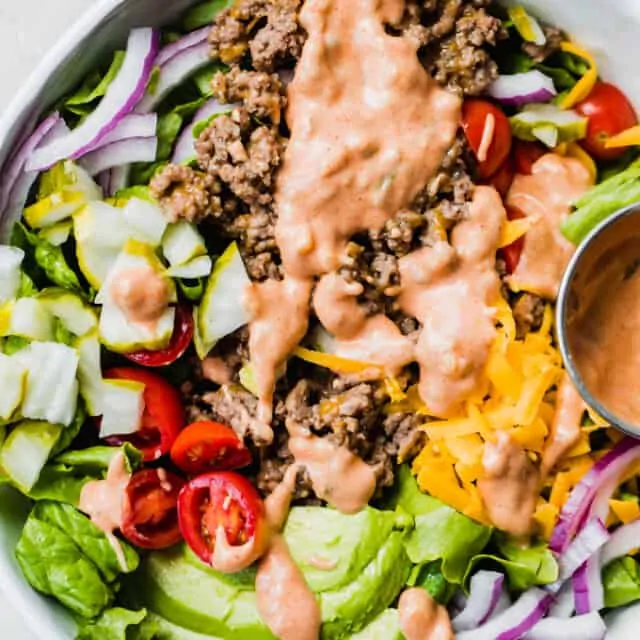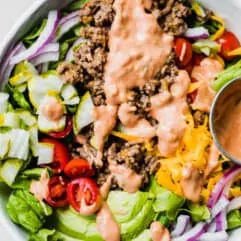 Burger Bowls
Burger Bowls. This low carb burger bowl/salad is a quick and easy way to enjoy all the flavors of a burger!
Ingredients
Burger Bowl
4 cups green lettuce, chopped
½ cup grape tomatoes, sliced
¼ cup dill pickle, chopped
¼ cup red onion , diced or sliced
½ cup cheddar cheese, shredded
1 avocado, sliced
½ cup burger sauce
Instructions
Cook ground beef in a medium size skillet over medium heat. Break up meat while it cooks.

Add salt, garlic powder, and pepper to the meat while it cooks. Continue cooking until meat is browned and no longer pink.

Remove the meat from the heat. Drain excess grease from the meat.

Add the worcestershire, dijon and cheddar cheese to the cooked meat. Stir to combine and allow the cheese to melt.

In a medium size bowl or plate layer the lettuce, cooked meat, tomatoes, pickles, red onion, avocado, and shredded cheese. Drizzle with burger sauce, or ranch dressing, or salad dressing of choice.
Nutrition
Calories: 470kcal, Carbohydrates: 8g, Protein: 27g, Fat: 37g, Saturated Fat: 14g, Cholesterol: 103mg, Sodium: 606mg, Potassium: 692mg, Fiber: 4g, Sugar: 2g, Vitamin A: 3123IU, Vitamin C: 12mg, Calcium: 196mg, Iron: 3mg
House of Yumm is a participant in the Amazon Services LLC Associates Program, an affiliate advertising program designed to provide a means for us to earn fees by linking to Amazon.com and affiliated sites.