Texas Roadhouse Rolls with Cinnamon Honey Butter. These fluffy rolls are lightly sweetened and perfect for slathering with whipped Cinnamon Honey Butter! Be prepared for these rolls to disappear quickly!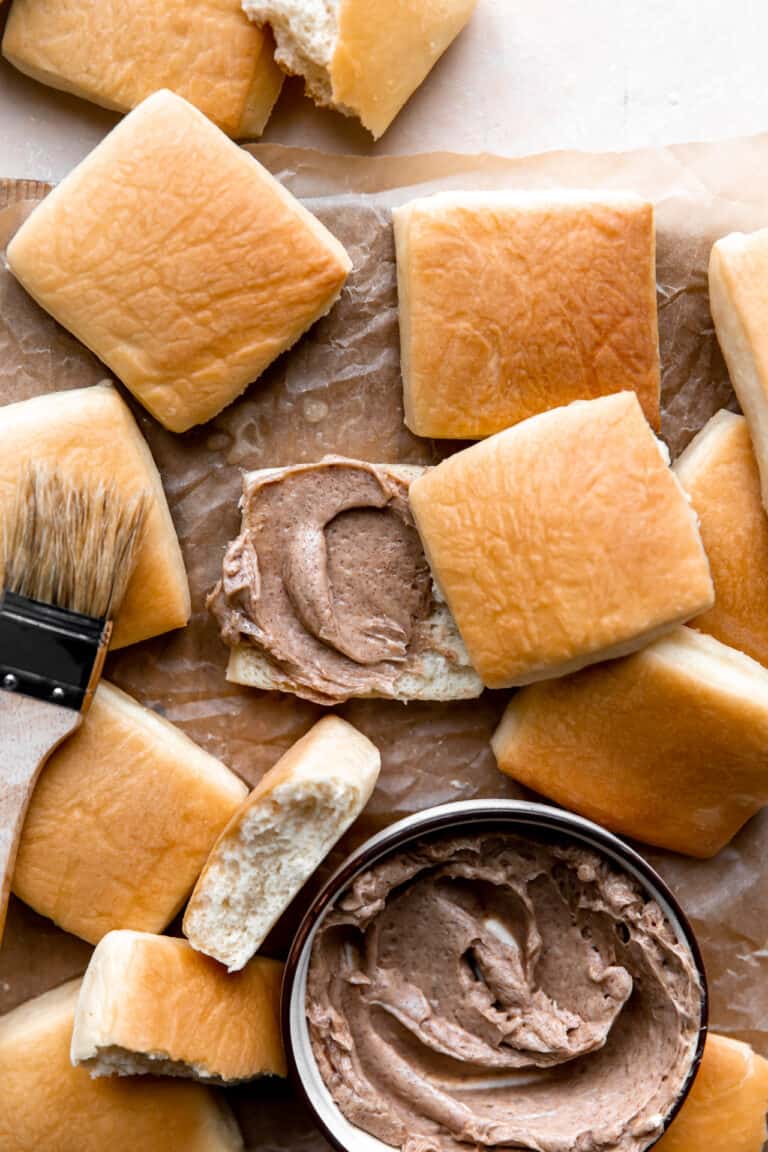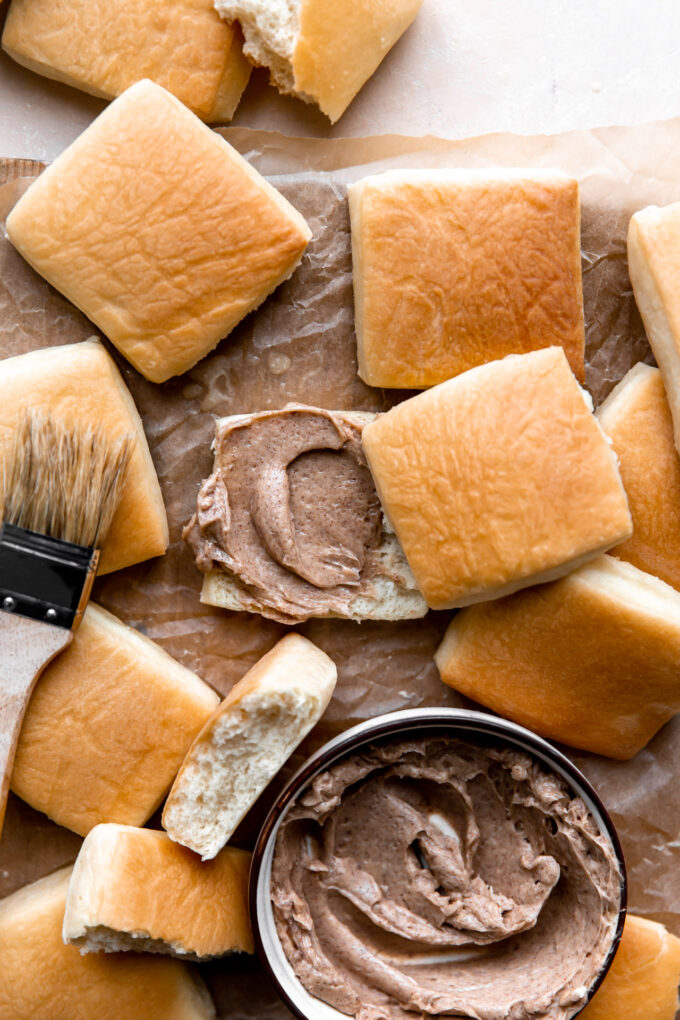 One of the best parts of going out to eat is always the appetizers! Especially when it comes to Texas Roadhouse. Their rolls and cinnamon honey butter are always a highlight! Luckily they're easy to copy at home! These rolls are lightly sweetened, fluffy and buttery. And the cinnamon honey butter?! I recommend making a double batch and smearing it on all the things.
Ingredients Needed:
Active Dry Yeast: can be subbed for instant yeast if needed. Instant yeast doesn't need to be activated and can be added directly into the other ingredients to form the dough. 
Warm Water: the temperature should be between 90-100℉ to help the yeast activate. 
Sugar: this helps feed the yeast to activate it. 
Milk
Butter
Honey: adds a light sweetness to the rolls.
Salt
Egg: adds a richness to the rolls. 
Flour: this recipe is written using all purpose flour. I haven't attempting using other flours so can't comment on the results. 
How to make Copycat Texas Roadhouse Rolls:
Activate the Yeast: dissolve sugar with warm water and pour over the yeast in the bowl of a stand mixer. After sitting for 5 minutes, there will be a foam on the top of the liquid. IF there's no foam, the yeast is most likely dead and you will need to start over.
Scald the Milk: heat the milk in a saucepan just until the edges start to bubble. Remove from the heat and add in the butter and honey. Then let this cool until it's down to 100℉. Adding it in too hot to the yeast can kill the yeast.
Mix Dough: add the milk mixture to the yeast, then add the remaining ingredients. Knead the dough using a dough hook attachment. The dough should form into a ball. Then continue to knead with your hands until dough is soft and supple, no longer sticky.
Let Rise: Pour a small amount of oil into a bowl, just enough to coat the ball of dough. Cover the bowl with a clean towel and let rise until dough is twice the size.
Roll dough: punch the dough down, then place on a clean, lightly floured work surface. Roll out the dough into a rectangular shape about 1/2 inch thick.
Cut dough: cut into squares and place on a prepared baking sheet.
Second Rise: Cover the baking sheet with another clean towel and let the rolls rise a second time for an additional 45 minutes.
Bake: bake the rolls until nice and golden on the top.
Tip: To help your dough rise, heat your oven to 150℉, then turn it off, place your covered bowl of dough in the oven with the door cracked. After 30 minutes close the door and allow it to continue rising.
Why Scald the Milk?
The whey protein in milk can weaken gluten and prevent the dough from rising properly. Scalding the milk deactivates the protein so this doesn't happen.
How to make Cinnamon Honey Butter:
The butter is possibly the best part of this recipe. I highly recommend making a double batch.. just because.
Add room temperature butter to a bowl and add the honey, cinnamon, powdered sugar and a pinch of salt.
Use a stand mixer or hand mixer to mix the butter, this ensures that the butter is throughly combined and gives a whipped texture.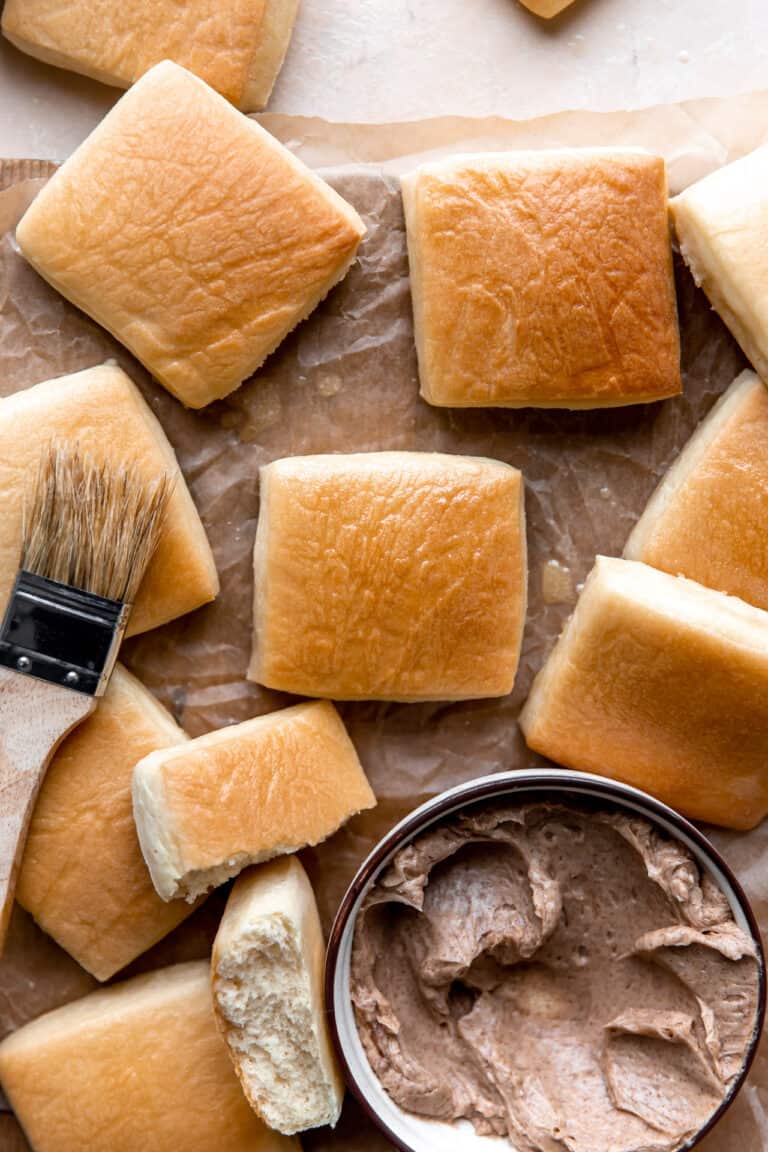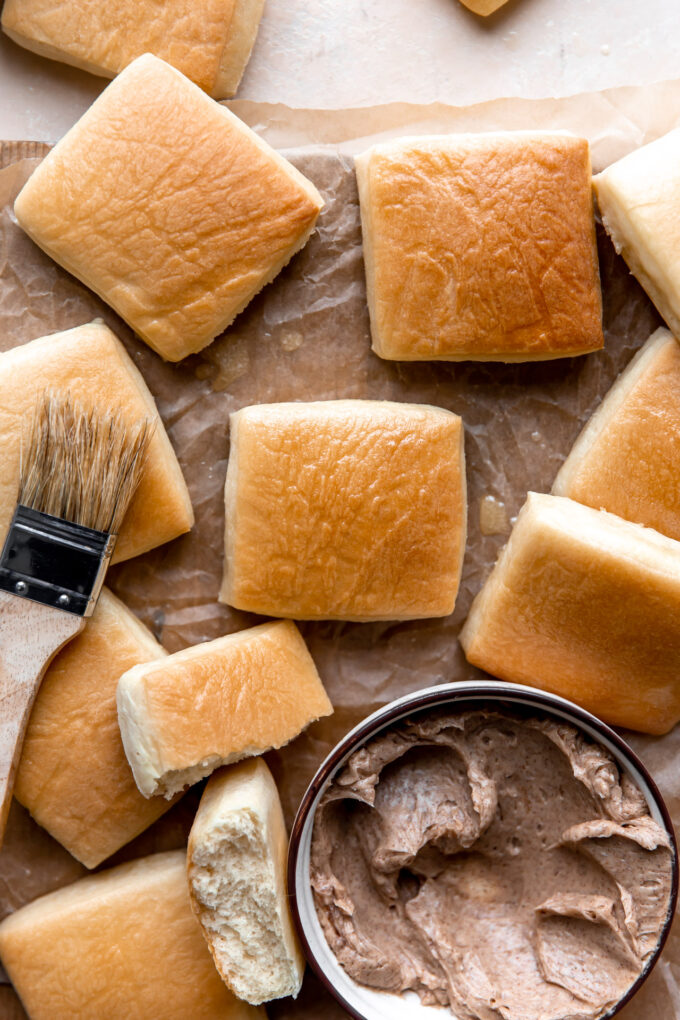 More Breads and Rolls to enjoy: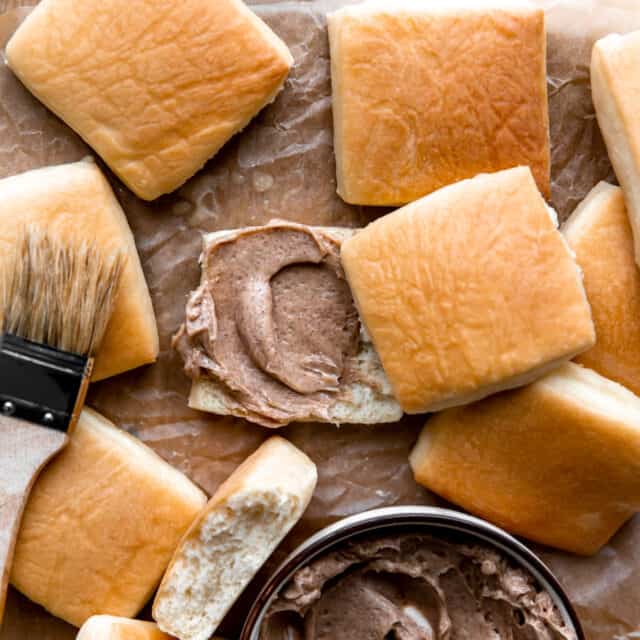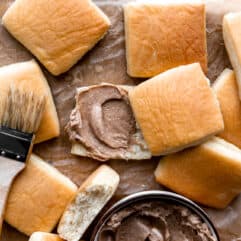 Copycat Texas Roadhouse Rolls
Copycat Texas Roadhouse Rolls. Fluffy and buttery these rolls will melt in your mouth! Slather with some Cinnamon Honey Butter for the ultimate treat. 
Ingredients
1 tsp sugar
2¼ tsp active dry yeast
¼ cup warm water
1 cup milk
6 tbsp butter, unsalted
¼ cup honey
1 tsp salt
1 large egg, beaten
4¼ cup all purpose flour
Cinnamon Honey Butter
½ cup butter, softened to room temperature
¼ cup powdered sugar
2 tbsp honey
½ tsp vanilla extract
1 tsp ground cinnamon
⅛ tsp salt
Instructions
Scald the milk: heat milk in a small saucepan until small bubbles form on the edge of the pot. Remove from heat, add butter and honey to let it melt, and allow to cool to 90-100 degrees.

Stir sugar into warm water (90-100℉) until it dissolves, pour into a large mixing bowl of stand mixer. Add in the yeast and stir together. Let sit for 5 minutes until foamy.

After the milk mixture has cooled to at least 100℉, add to the yeast mixture, stir to combine. Add in the egg, stir to combine. 

Add in 2 cups of flour. Use dough hook attachment of stand mixer to mix dough together.

Add an additional 2 cups of flour and the salt. 

Knead with dough hook on a stand mixer (or knead by hand) until dough starts to come together, gradually add in the remaining 1/4 cup of flour as needed until dough forms into a ball. Knead for about 6-8 mins on stand mixer with dough hook. Sprinkle a light dusting of flour on a clean work surface and knead with hands until dough is smooth, should not be sticky.

Drizzle a small amount of oil (1/2 tsp) into a large mixing bowl, just enough for a light coating. Then place the dough ball into the bowl, give it a spin to coat the dough ball with a small amount of oil.

Cover with a clean towel and place in a warm place to let rise for an hour. (My favorite method is to bring a cup of water to a boil inside my microwave, remove the cup of water and place the bowl of dough inside. OR you can preheat oven to 150 degrees, turn it off and place the dough inside with the door closed.)

After dough has risen and doubled in size, punch down the dough, then place on a clean work surface lightly dusted with flour. Fold the dough over twice, then roll out the dough into a rectangular shape about 1/2 inch thick. 

Cut the dough into 2 1/2  inch squares. Place on a large baking sheet lined with a silicone baking mat. (Typically can fit all of the rolls onto a half sheet baking sheet leaving about 1/4 an inch in between the rolls)

Cover with towel and let rise again for another 45 mins. Preheat oven to 375℉.

Bake at 375℉ for 17-19 minutes until lightly golden brown on the top.

Brush tops with remaining melted butter.
Cinnamon Honey Butter
In a bowl combine the room temperature butter, powdered sugar, honey, vanilla, cinnamon and salt. Mix with a hand mixer (this helps whip the butter and completely blend it together) 
Notes
*Bread rolls are best served warm, split in half with cinnamon butter. 
Nutrition
Serving: 1roll with butter, Calories: 181kcal, Carbohydrates: 25g, Protein: 3g, Fat: 7g, Saturated Fat: 5g, Cholesterol: 26mg, Sodium: 176mg, Potassium: 48mg, Fiber: 1g, Sugar: 6g, Vitamin A: 233IU, Calcium: 19mg, Iron: 1mg
Photography by KJandcompany.co
House of Yumm is a participant in the Amazon Services LLC Associates Program, an affiliate advertising program designed to provide a means for us to earn fees by linking to Amazon.com and affiliated sites.