These easy to make Cheesy Corn Fritters are loaded up with jalapeno, onion, cilantro, plenty of cheese and a seasoning blend. All cooked together to get a perfect golden crust. This easy vegetable side dish recipe is ready in less than 30 minutes and can also double as a light meal!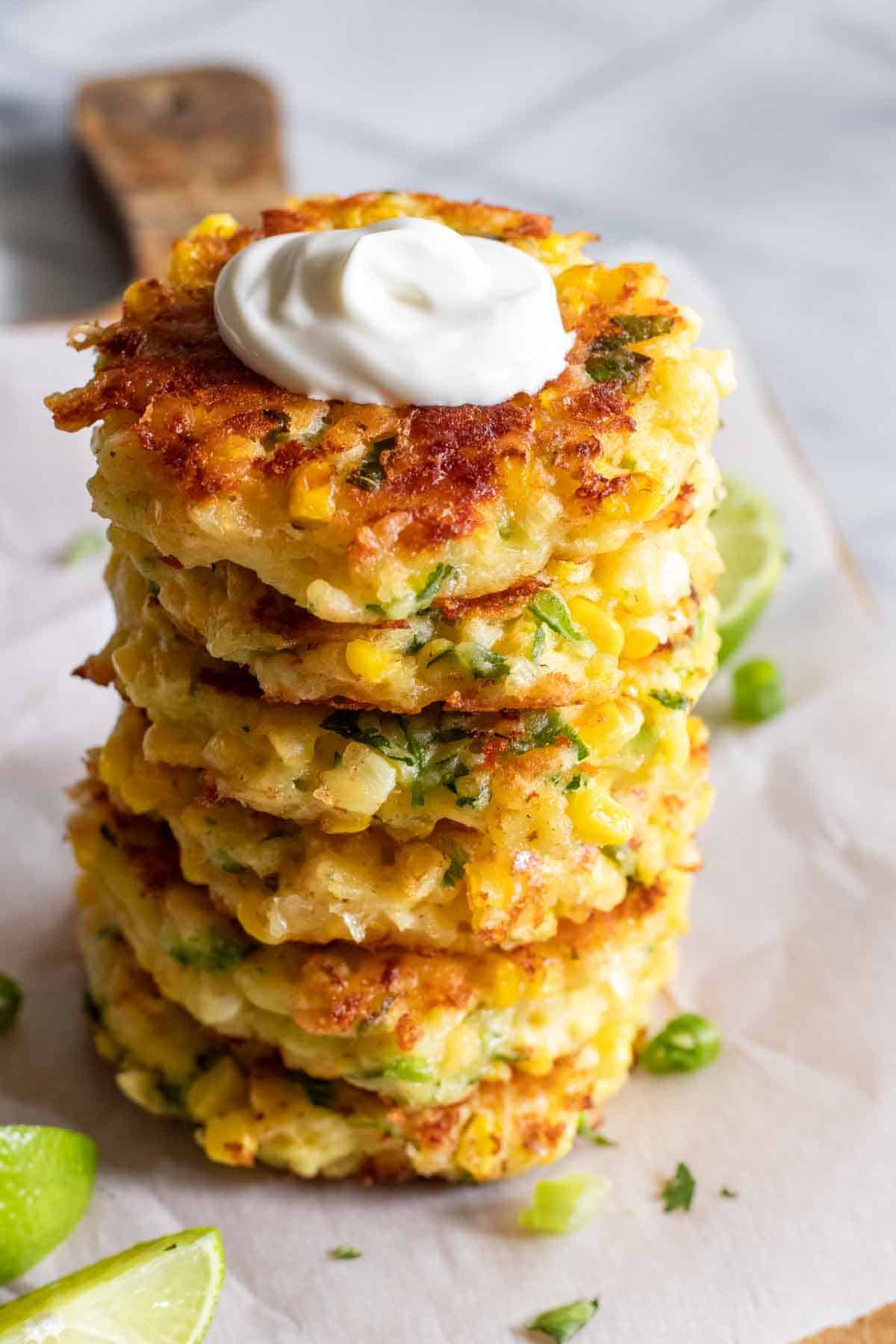 All About these Corn Fritters:
Fritters are small fried cakes, corn fritters are of course, made of corn! The corn and chopped vegetables are held together by a thick batter. They are fried in a small amount of oil, this makes the exterior crispy and the inside is soft, loaded with melty cheese, and fresh bits of juicy corn.
These particular corn fritters are loaded up with chopped jalapeno, green onion, and cilantro. Plus there's a healthy portion of cheese.
How to make (step by step)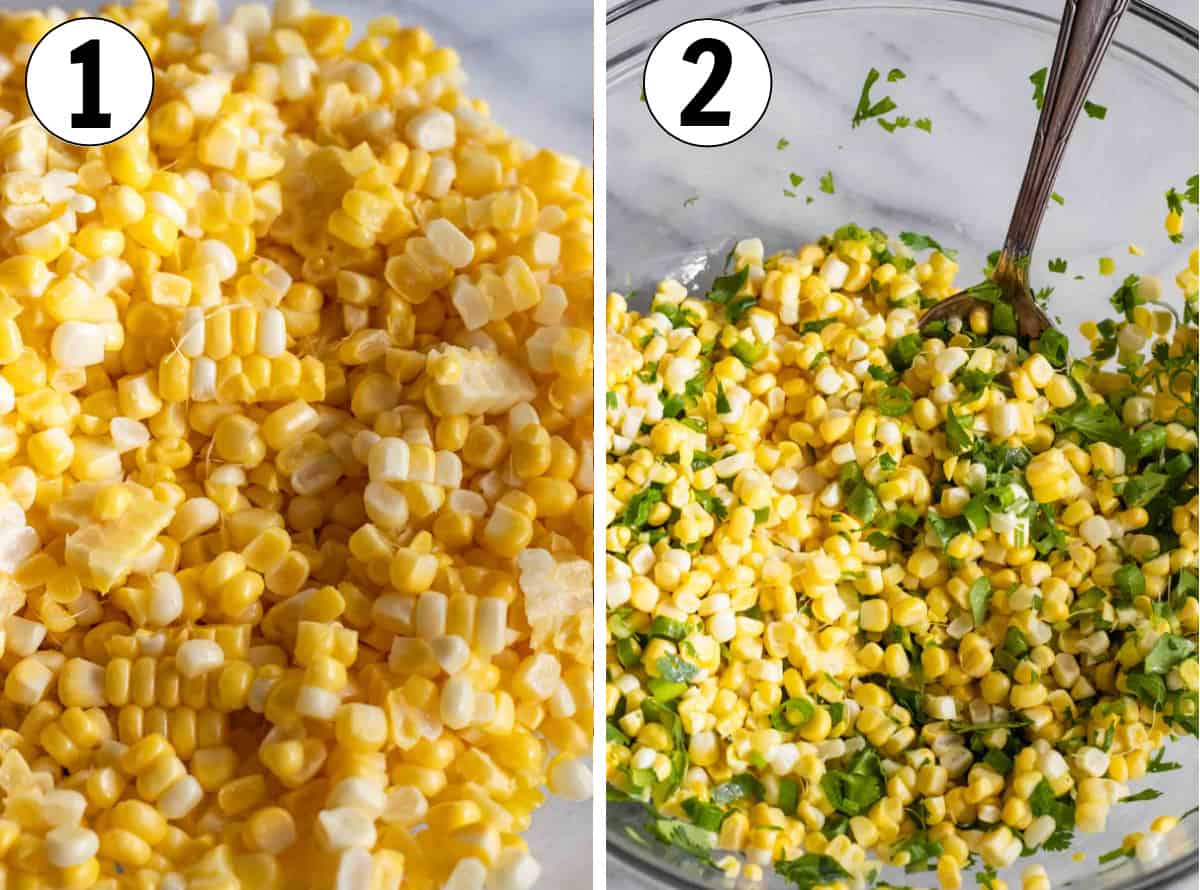 Step 1: prepare the corn, instructions are included below to include canned and frozen. For fresh corn cut the kernels off the cob.
Step 2: add in the diced jalapeno, green onion and cilantro.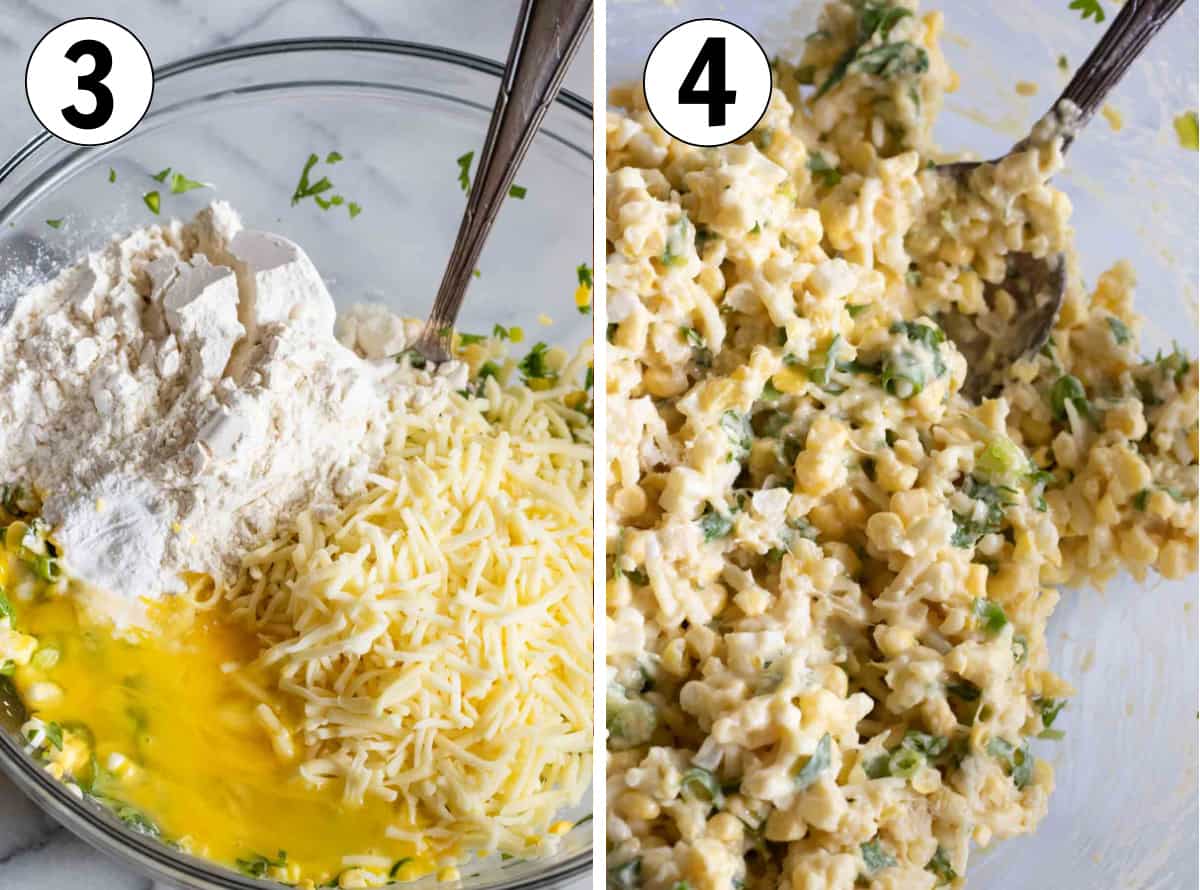 Step 3: Add in the dry ingredients, cheese and egg.
Step 4: Stir this together to create a thick batter. Spoon the batter onto a hot skillet or pan that has been heated with oil. Fry until both sides are crisp and golden and the inside is warmed through.
F.A.Q's
Can I use canned or frozen corn to make fritters?
Yes! Ensure any vegetables are thawed and thoroughly drained and patted dry before continuing with the recipe. Detailed instructions below.
Can I freeze these?
Yes! This recipe freezes wonderfully. Store in a sealed freezer safe container or bag for 2-3 months. To thaw remove and allow to come to room temperature by setting on the counter for 1 hour or leaving in the refrigerator overnight.
How do I reheat these?
The best way to reheat is to heat them up in a pan with a small amount of oil or butter over medium low heat until the crust is crisp and the insides are heated through.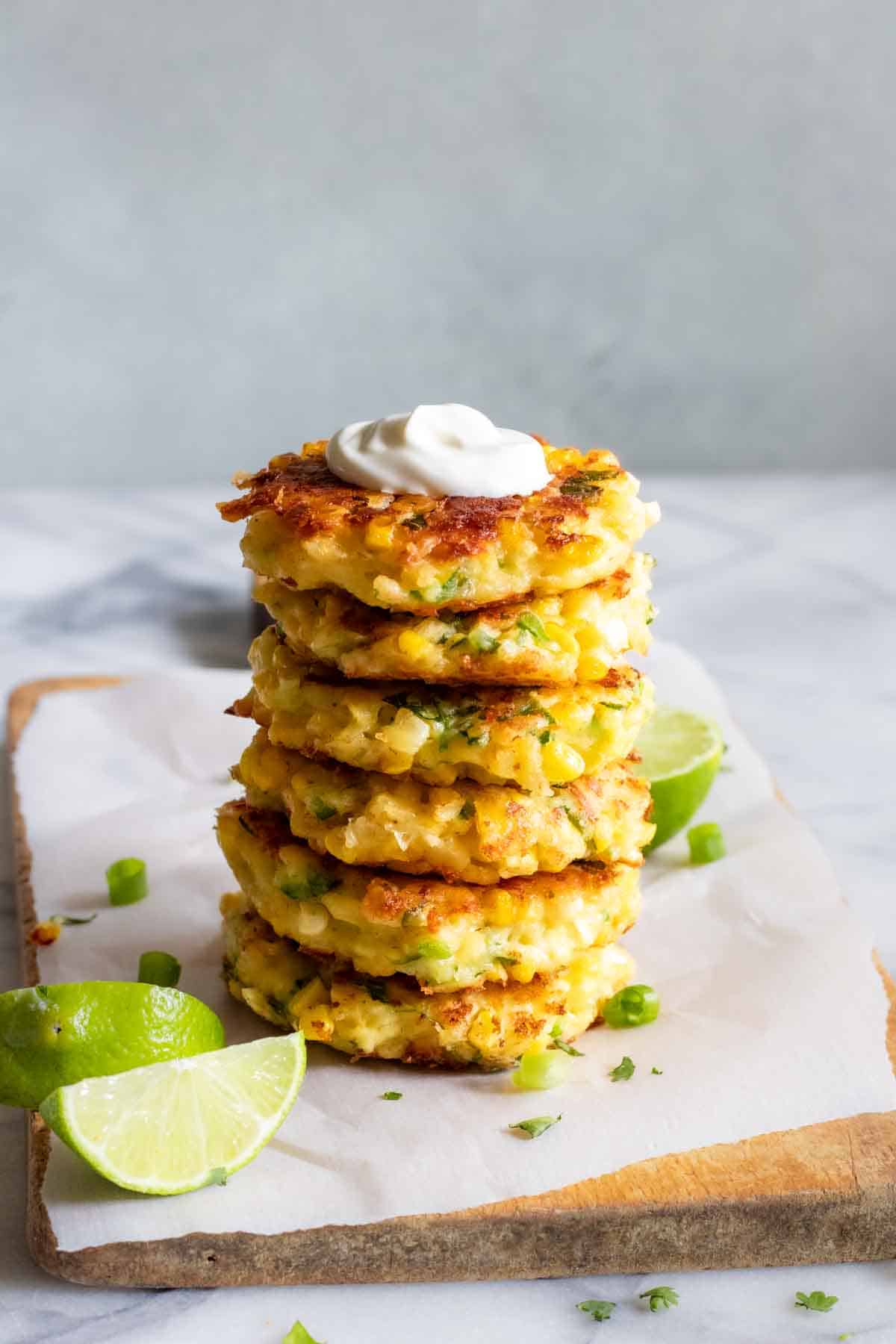 More Recipes to Enjoy:
If you tried this recipe please leave a comment and a ⭐️⭐️⭐️⭐️⭐️ rating below! Thank you so much!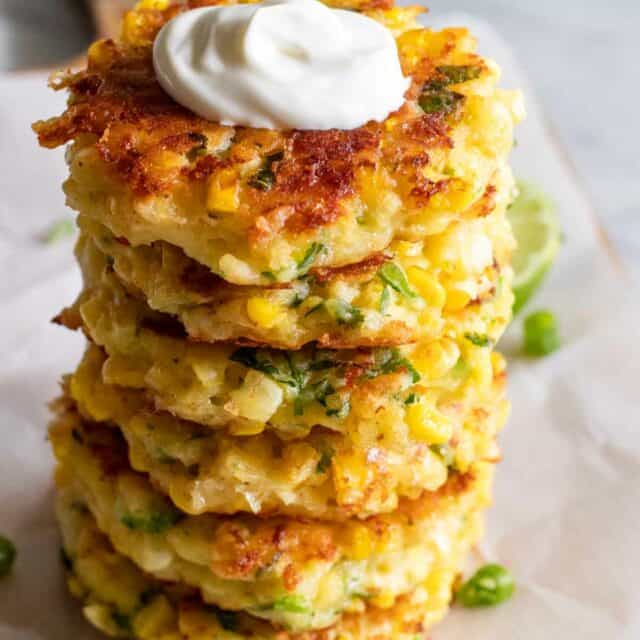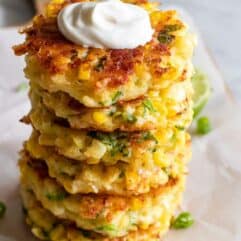 Cheesy Corn Fritters
These easy to make Cheesy Corn Fritters are loaded up with fresh corn, flavor, and most importantly cheese! Fried in a small amount of olive oil, these fritters are the perfect way to enjoy the flavors of summer!
Ingredients
3 cups corn kernels, fresh is best. Can use frozen or canned also
¼ cup cilantro, chopped
¼ cup green onion, chopped
1 jalapeno , deseeded, membranes removed, diced
juice from 1/2 a lime, 1 tablespoon
1 cup all purpose flour
1 tsp baking powder
½ tsp salt
¼ tsp ground black pepper
¼ tsp chili powder
2 large eggs , beaten
¼ cup milk
1½ cup Monterey Jack Cheese, shredded
2 tbsp extra virgin olive oil
Instructions
Prepare Corn: Add the corn to a large bowl. If using fresh corn, cut all the kernels off the cob. If using canned or frozen check notes at bottom of recipe.

Add in the diced green cilantro, green onion, diced jalapeno, and squeeze in the lime juice from 1/2 a lime.

Mix Dry Ingredients: In a small bowl add the flour, baking powder, salt, black pepper, chili powder and stir to combine.

Combine: Pour the dry ingredients into the bowl with the corn. Stir to mix together.

Mix Batter: Pour in the beaten eggs, milk, and cheese. Stir to combine. Will be a thick batter.

Heat Oil: Heat a pan over medium high heat, add a drizzle of olive oil, we just need to coat the bottom of the pan.

Fry Fritters: Place a scoop of the corn fritter batter, about a 1/4 cup amount  into the hot oil. Press the batter down to compact it, and press the sides in to help create a patty shape using a rubber spatula.

Let the batter cook in the oil for about 2-3 minutes, you will see the edges starting to turn golden. Then carefully flip using a spatula to cook the other side. Once both sides are golden brown then remove from the pan and set on a tray lined with a paper towel to absorb any extra oil.

At this point you can sprinkle with any extra salt or pepper you may want. Serve warm.
Notes
Corn: 
Canned: Strain and use paper towels to dry off as much as possible, then continue with the recipe as directed.
Frozen: thaw the corn, then pat dry using a paper towel. Continue with the recipe as directed. 
Storage: store leftovers in a sealed container in the refrigerator for 2-3 days. 
Reheating: reheat in a pan with a small amount of oil or a bit of butter.
Freezing: To enjoy after being frozen, bring to room temperature by setting out on the counter for about an hour, or in the fridge overnight. Then cook them up in a pan with a small amount of oil or even some butter.
Nutrition
Serving: 1fritter, Calories: 159kcal, Carbohydrates: 16g, Protein: 7g, Fat: 8g, Saturated Fat: 3g, Polyunsaturated Fat: 1g, Monounsaturated Fat: 3g, Trans Fat: 1g, Cholesterol: 40mg, Sodium: 298mg, Potassium: 108mg, Fiber: 1g, Sugar: 2g, Vitamin A: 243IU, Vitamin C: 3mg, Calcium: 140mg, Iron: 1mg
House of Yumm is a participant in the Amazon Services LLC Associates Program, an affiliate advertising program designed to provide a means for us to earn fees by linking to Amazon.com and affiliated sites.