Blueberries & Cream Oatmeal
 Oatmeal loaded with fresh blueberries, cream and topped with brown sugar.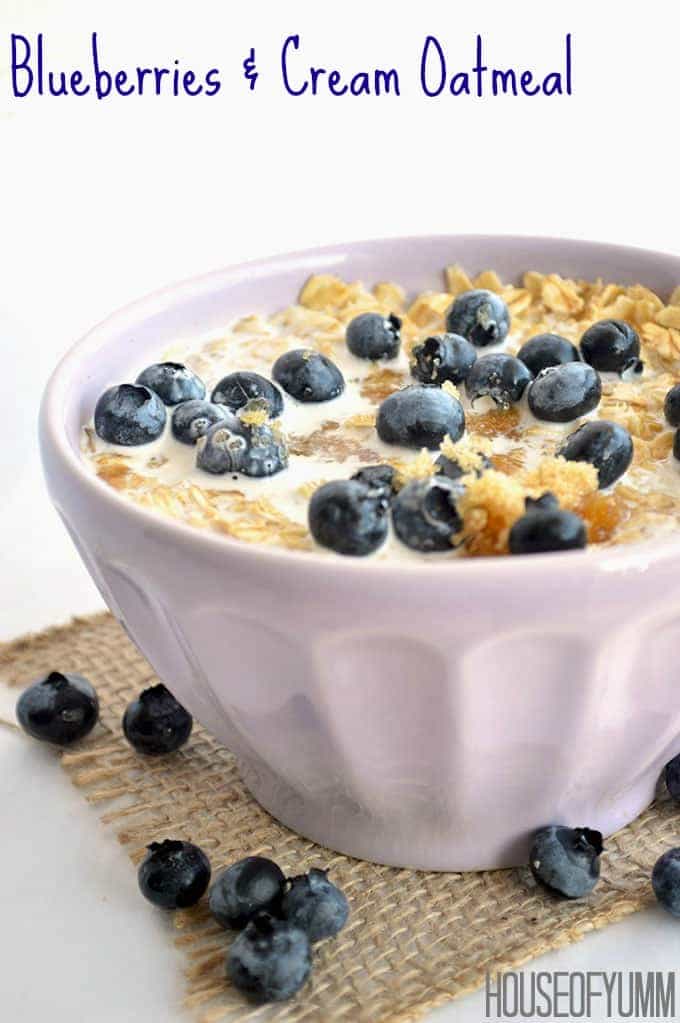 Blueberries & Cream Oatmeal is perhaps my newest breakfast obsession.  I have a confession to make.  My youngest daughter has a slight obsession with oatmeal lately.  Loves the stuff.  Wakes up asking for "Oameeaa" which in 20 month old language means oatmeal.  Her favorites?  She loves the little packets of the fruit and cream oatmeals.  And I get those for her, because first thing in the morning when she is demanding her oatmeal, and I have not woken up, a packet and some milk in a bowl is really all I'm capable of.  Even worse, I love to share with her.  Have you had those little fruit and cream oatmeal packets?!  Delish!  My favorite by far is of course the Blueberries & Cream Oatmeal.
So instead of dealing with the littlest's wrath over me stealing her oatmeal, I figured I would make us some even more delish Blueberries & Cream Oatmeal that we could share.  With real ingredients even.  Oh yea.  My brain eventually wakes up during the course of the day.
This oatmeal starts like every ordinary oatmeal, I prefer to use Old Fashioned oats.  And I love to make mine using milk, because it's oh so creamy and wonderful.  Although I use water sometimes too, suits the purpose of cooking the oats.  Just not as creamy.  Once you have the oats heated and cooked fully in whatever milk or water you choose to use then we have the fun of putting on our toppings.  And I did not skimp with this recipe.  I went all out.  Full on decadence.  Which really, come on, it's oatmeal.  We're being healthy just having the oatmeal right?  We might as well have a little fun with it.
I could do a lot worse!  I could make a super sweet and sugar-y cake mix pancake topped with cream cheese or frosting flavored whipped cream.  Which sounds wonderful in it's own right and will most likely make an appearance sometime soon.  But I digress..  Back to my semi-healthy oatmeal breakfast.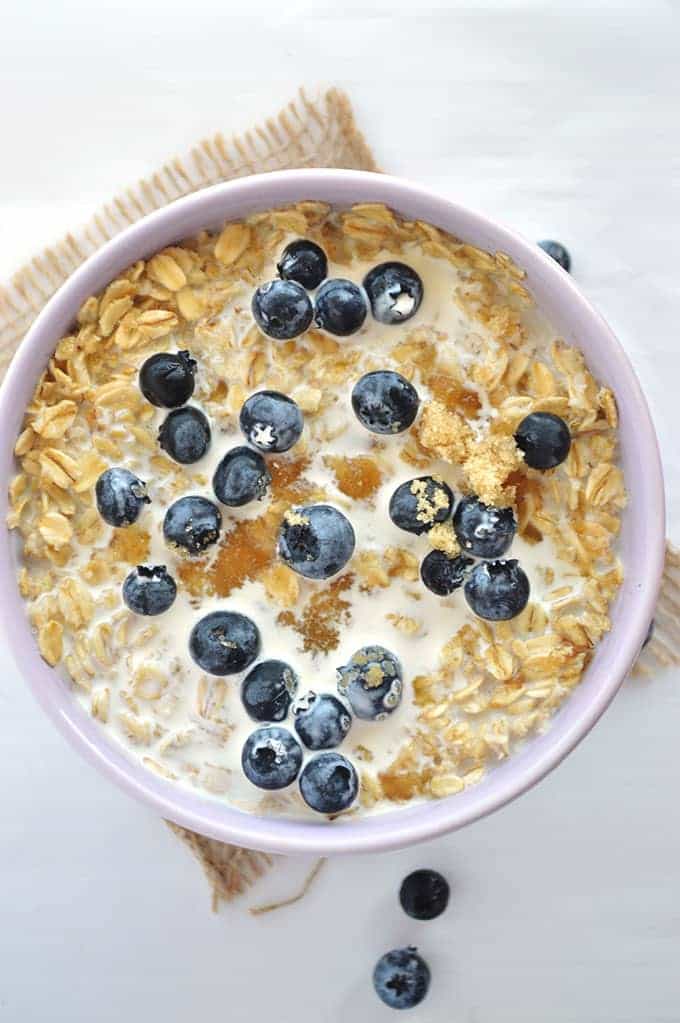 I topped the oatmeal with some fresh blueberries.  Heavy cream.  Oh yea, I did.  And spoonfuls of brown sugar.  Did you notice that's a plural?  That's right.  Spoonfuls.  Pure perfection.
This is waaaay better than any little packet of fruit and cream oatmeal you can buy.  Trust me.
Plus, it makes enough that the little doesn't mind sharing with me 🙂 Winning!
Make sure you follow along so you never miss a recipe!!
 FACEBOOK | PINTEREST | GOOGLE+ | TWITTER | INSTAGRAM | BLOGLOVIN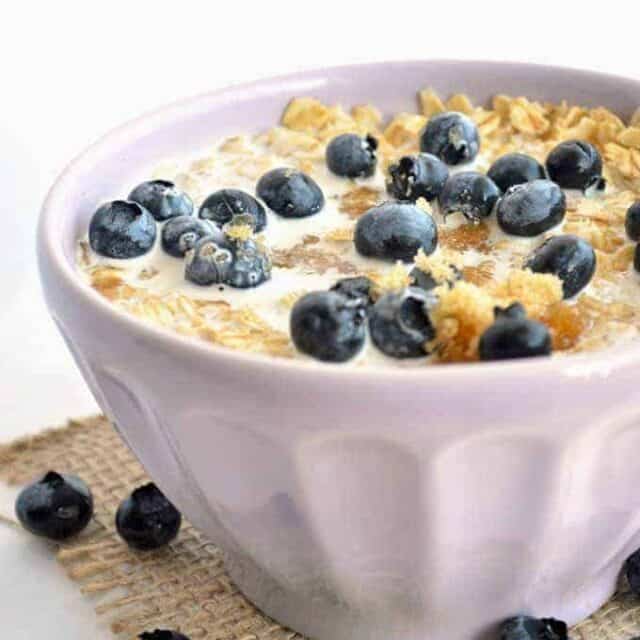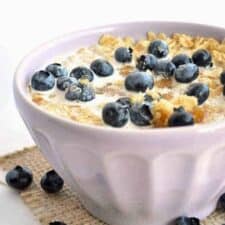 Blueberry & Cream Oatmeal
Oatmeal loaded with fresh blueberries, cream and topped with brown sugar.
Ingredients
2 cups Old Fashioned Rolled Oats
1¼ cup milk , or water
2 tbsp light brown sugar
½ cup blueberries
2 tbsp heavy cream
Instructions
Add the oatmeal and milk or water to a microwave safe bowl and heat for approximately 2-2 and 1/2 minutes. Once oats are fully cooked, remove from microwave and stir. Add in the light brown sugar and stir.

Top with blueberries and a swirl of cream. Stir to mix. Serve and enjoy!
Nutrition
Calories: 518kcal, Carbohydrates: 80g, Protein: 16g, Fat: 16g, Saturated Fat: 7g, Cholesterol: 36mg, Sodium: 80mg, Potassium: 523mg, Fiber: 9g, Sugar: 24g, Vitamin A: 468IU, Vitamin C: 4mg, Calcium: 234mg, Iron: 4mg
 Need More Oatmeal Inspiration?!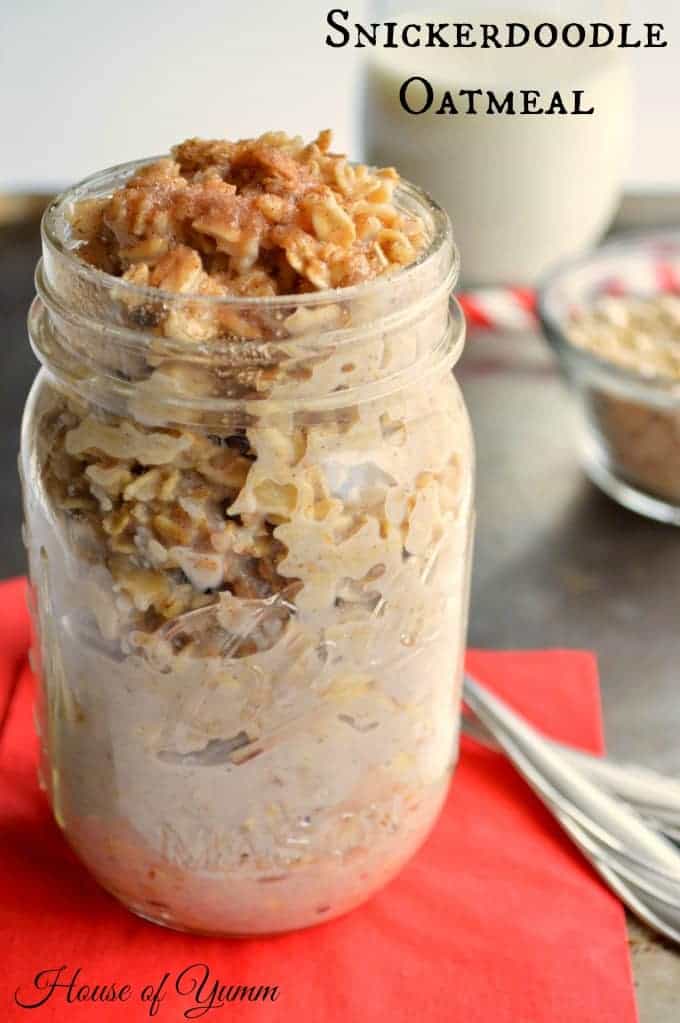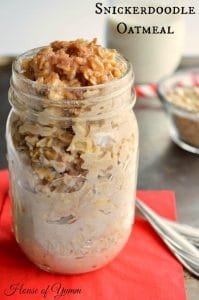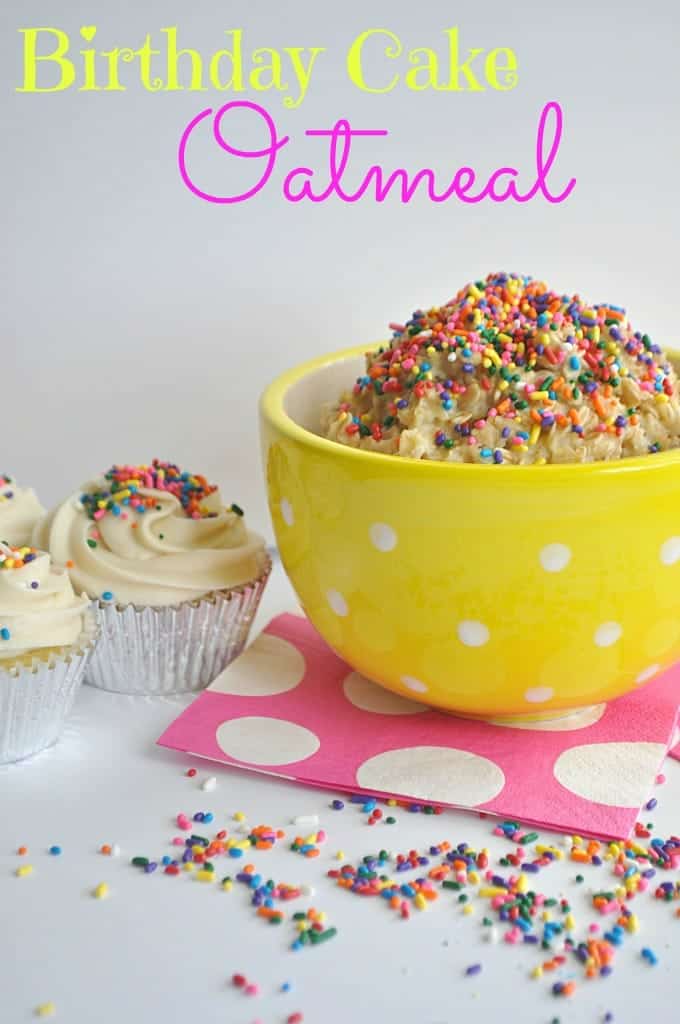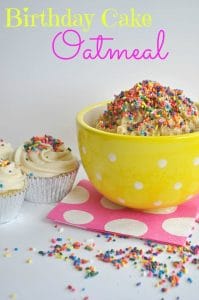 House of Yumm is a participant in the Amazon Services LLC Associates Program, an affiliate advertising program designed to provide a means for us to earn fees by linking to Amazon.com and affiliated sites.