Black Eyed Peas. These Texas style black eyed peas are made with bacon and jalapeño which makes them filling, savory, with a slight bit of heat.
These beans are a filling dish made with bacon, black eyed peas, and a flavorful bean broth. Spice them up with some jalapeno and chili powder, add a dash of cumin for a Texan flair.
These beans remind me of the classic Charro Bean that is served as a side dish with most Tex Mex meals. Serve with some Buttermilk Cornbread for a comforting, traditional meal. If you're looking for more uses for Black Eyed Peas, check out this Texas Caviar recipe!
A Southern Tradition
Eating black eyed peas on New Years is said to bring luck and prosperity in the new year.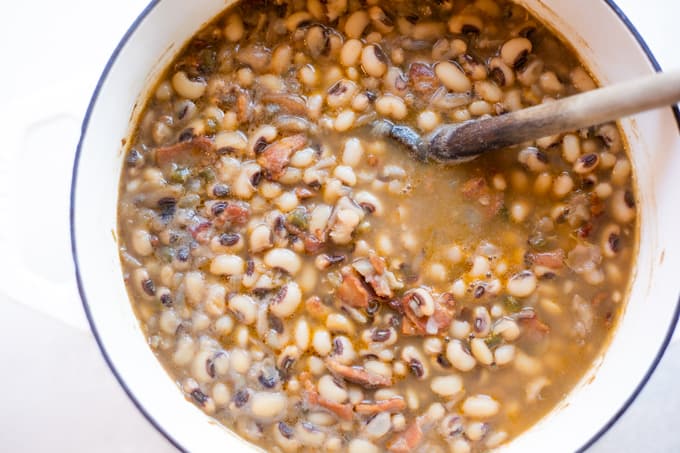 Ingredients you'll need..
Black Eyed Peas: this recipe uses dried beans, which is how we will get the most flavorful broth for the finished dish. Soaking the beans overnight will cut down on the amount of time needed to cook the beans fully. If you are short on time, substitute for canned black eyed peas, but I would recommend using a no sodium broth in place of water for simmering the beans in so that the broth is still flavorful.
Bacon: cook the bacon and keep the grease to saute the onion, jalapeño and garlic.
Jalapeno: this will add just a bit of heat to the finished dish. You can cut out and remove the membranes if desired, this will reduce the amount of heat.
Full list of ingredients in recipe card below.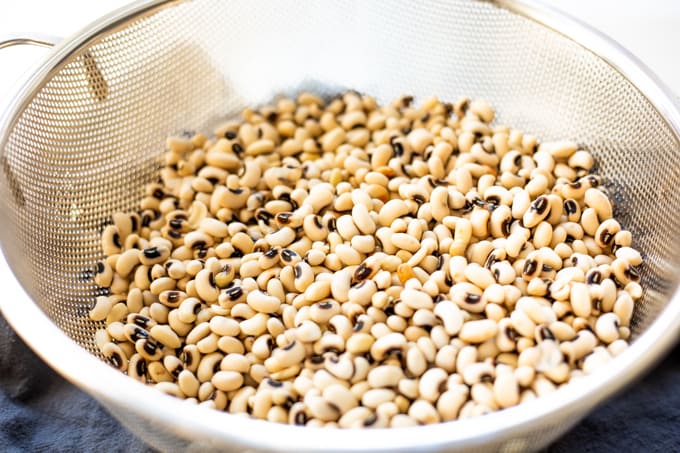 How to make Texas Style Black Eyed Peas:
These beans come together easily in one pot. Again, soak the beans overnight to cut down on the cooking time.
Cook the bacon to just getting crisp, add in the onion and jalapeno. Saute until softened then add in the minced garlic.
Add the beans and cover with water, stir in the seasonings and let simmer on the stovetop until the beans have softened.
Mash some of the beans against the side of the pot once cooked, this helps to thicken the broth.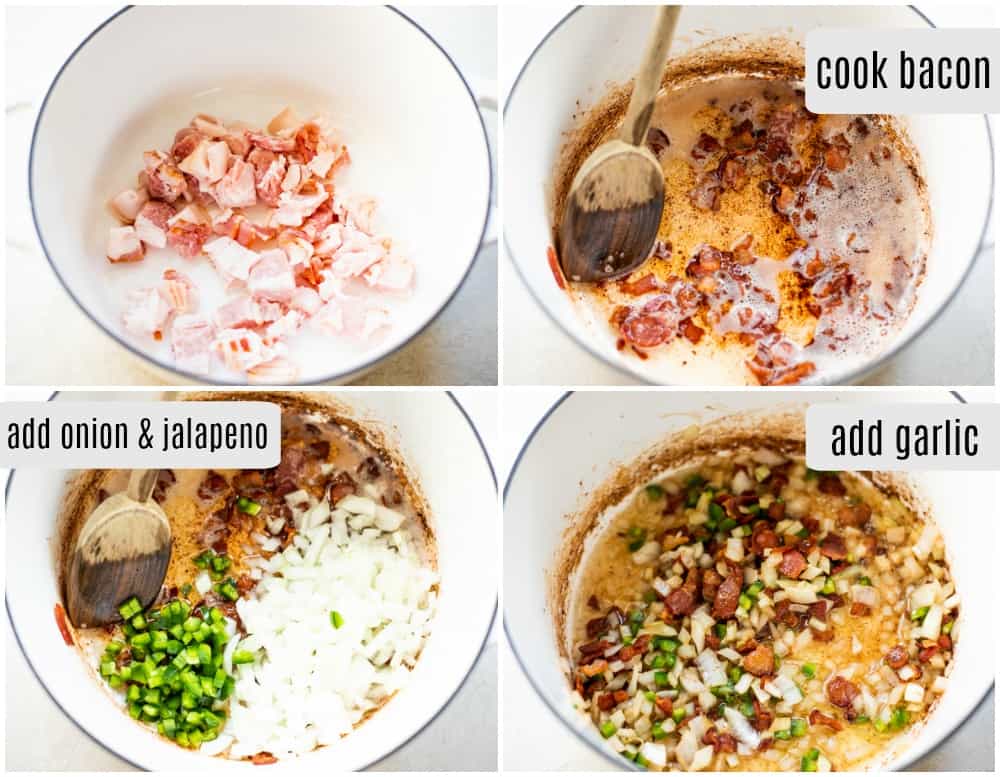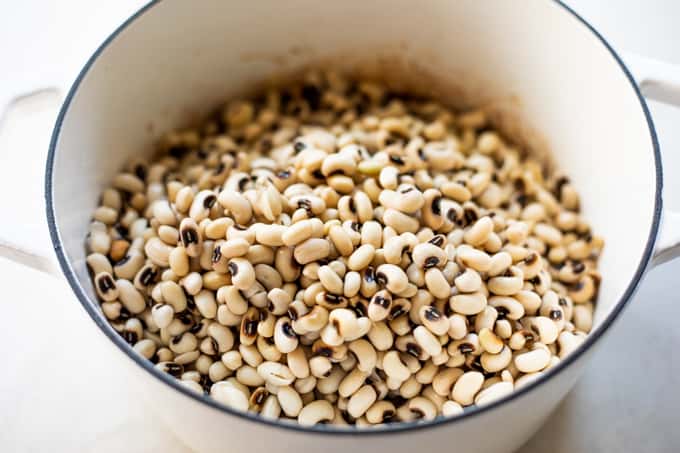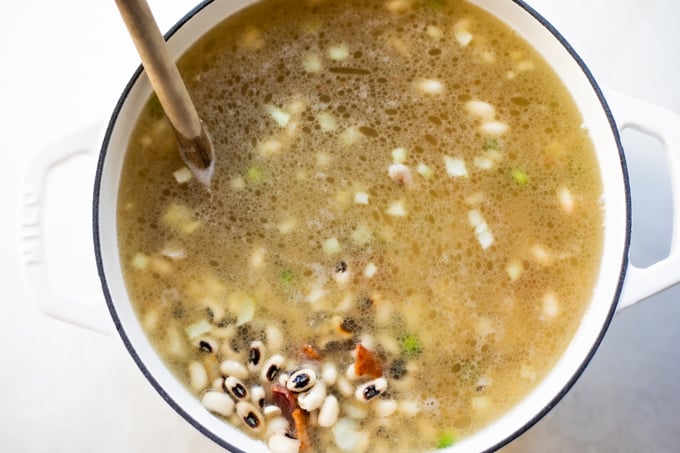 Happy Cooking!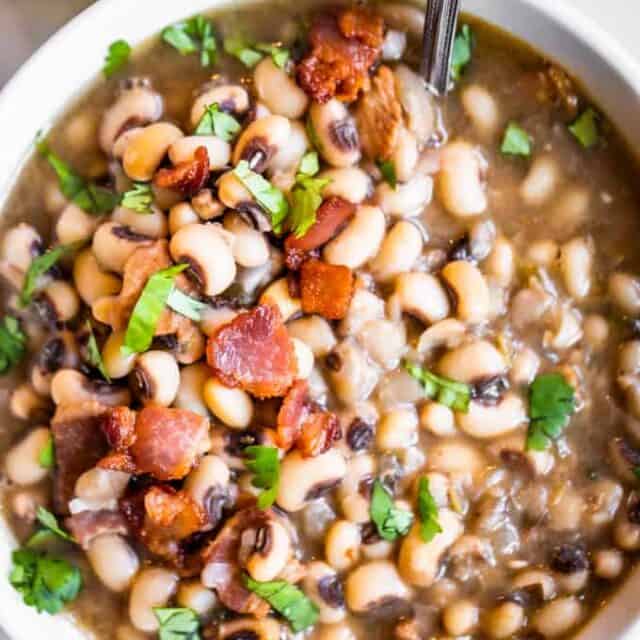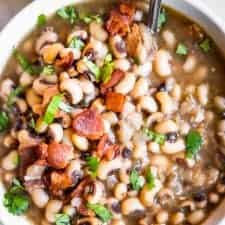 Texas Style Black Eyed Peas
Black Eyed Peas. These Texas style black eyed peas are made with bacon and jalapeño which makes them filling, savory, with a slight bit of heat.
Ingredients
1 pound black eyed peas, dried
1/2 pound bacon, chopped
4 ham hocks
1/2 cup onion, diced
1 jalapeno, seeds and membranes removed if preferred, diced
3 cloves garlic, minced
6 cups water
2 teaspoons salt
½ teaspoon ground black pepper
1/2 teaspoon chili powder
1/2 teaspoon ground cumin
2 bay leaves
Optional Toppings:
crumbled bacon
fresh herbs
ground black pepper
Instructions
Night before: pour the beans into a large bowl. Cover with water. Let soak overnight. Strain and set aside.

Add the bacon and ham hocks to a large stockpot or Dutch Oven. Cook on medium heat, until just starting to crisp.

Add the onion and diced jalapeno to the pot with the bacon and ham, continue to cook until the onion is softened.

Add the garlic and cook an additional 30 seconds.

Pour in the black eyed peas. Top with water.

Stir in seasonings and add bay leaves. Bring to a simmer over medium heat. Place the lid on, turn heat to medium/low and simmer for 20 minutes.

Remove the lid and continue to simmer, stirring occasionally, until the beans are softened.

Gently smash some of the beans against the side of the pot.

Remove the bay leaves. Skim the top for any grease that may have pooled on the top.

Serve while warm.
Equipment
Notes
What to serve with: Buttermilk Cornbread
If using canned black eyed peas: skip soaking step. Drain and rinse the beans before adding to the pot. And substitute the 6 cups of water for 4 cups of no or low sodium chicken broth.
To make meat-free: leave out the bacon and saute the onion and jalapeno in a small amount of oil or butter.
Nutrition
Serving: 1, Calories: 388kcal, Carbohydrates: 39g, Protein: 27g, Fat: 14g, Sugar: 7g
House of Yumm is a participant in the Amazon Services LLC Associates Program, an affiliate advertising program designed to provide a means for us to earn fees by linking to Amazon.com and affiliated sites.