Spiced Maple Sweet Potato Pancakes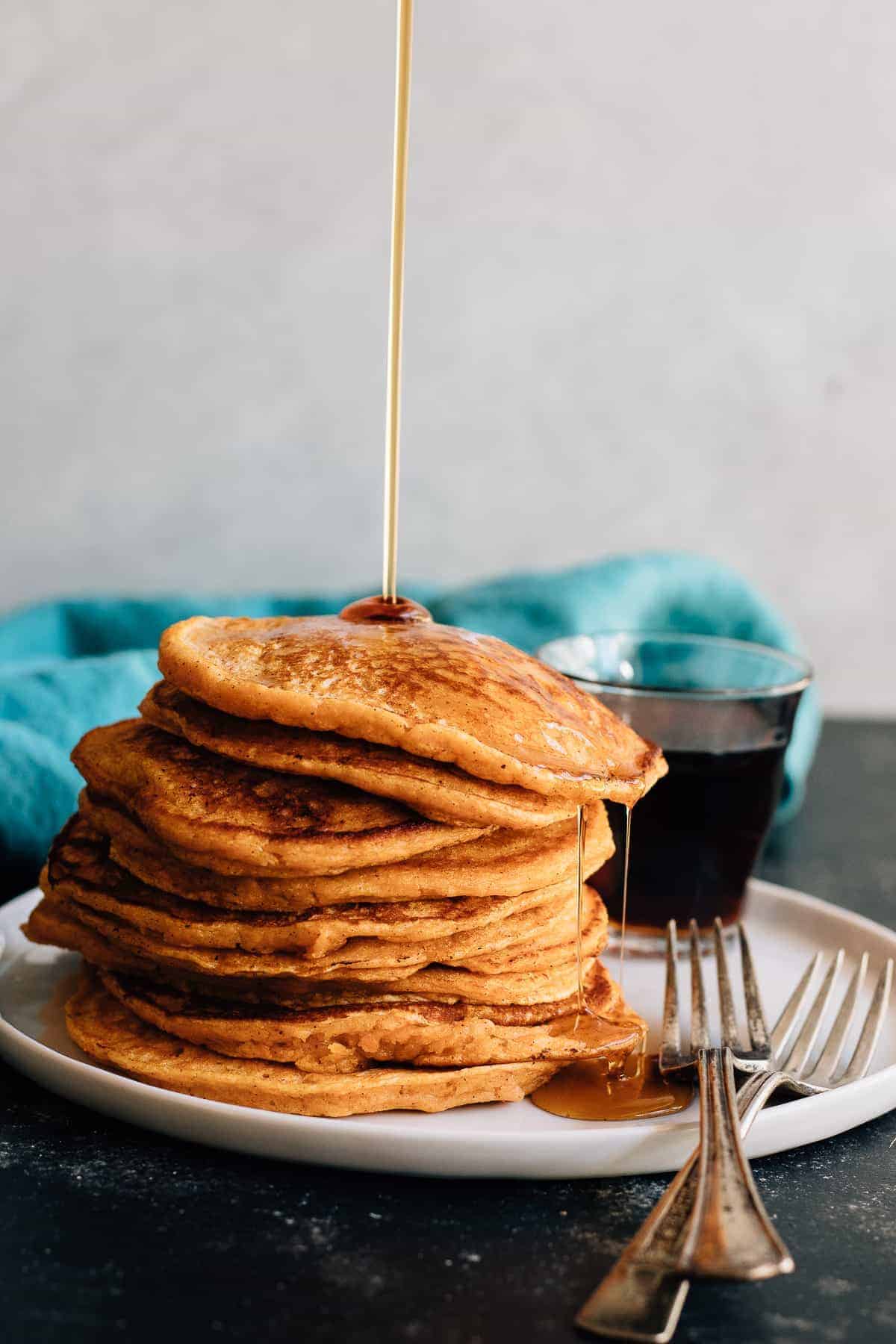 I have a newfound love and it comes in the form of sweet potato pancakes. Made with lots of spice and a hint of maple syrup to sweeten. Oh my.
The base of these pancakes is actual sweet potato. I admit to taking a shortcut with mine and buying pre cut sweet potato from the market, all I had to do was cook it up and make the puree. You can of course start out with whole sweet potato and peel and cut it yourself, really, it's not that difficult. Or you can even take a bit more of a short cut and buy a can of organic sweet potato puree. I've seen them at markets before.
I will warn though, that if you're making your own puree, you should just make it the day before so that you're ready to make some pancakes first thing in the morning before the coffee kicks in.


Once the sweet potato puree is accomplished the rest is easy. The main suspects are all present, including some greek yogurt. Tons of spice. I found that I loved these with a generous helping of nutmeg. Just trust me on this one and go for it.
And additional maple syrup drizzled on top just makes for a happy day.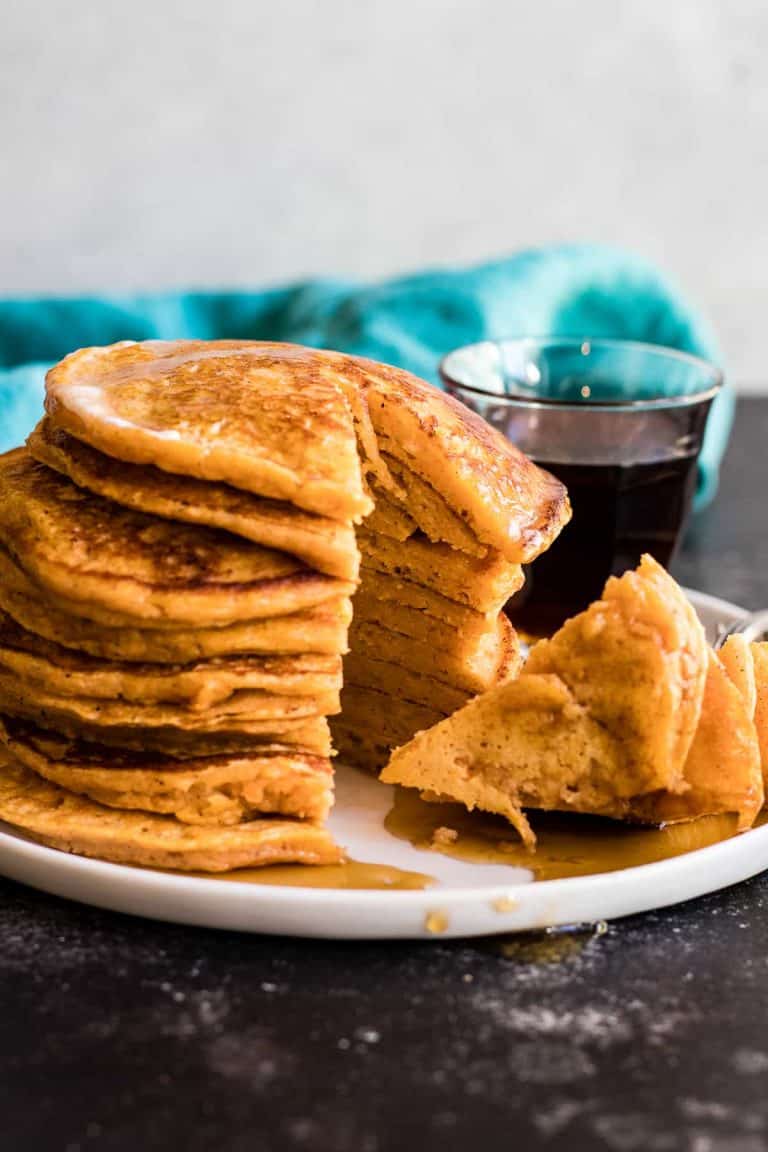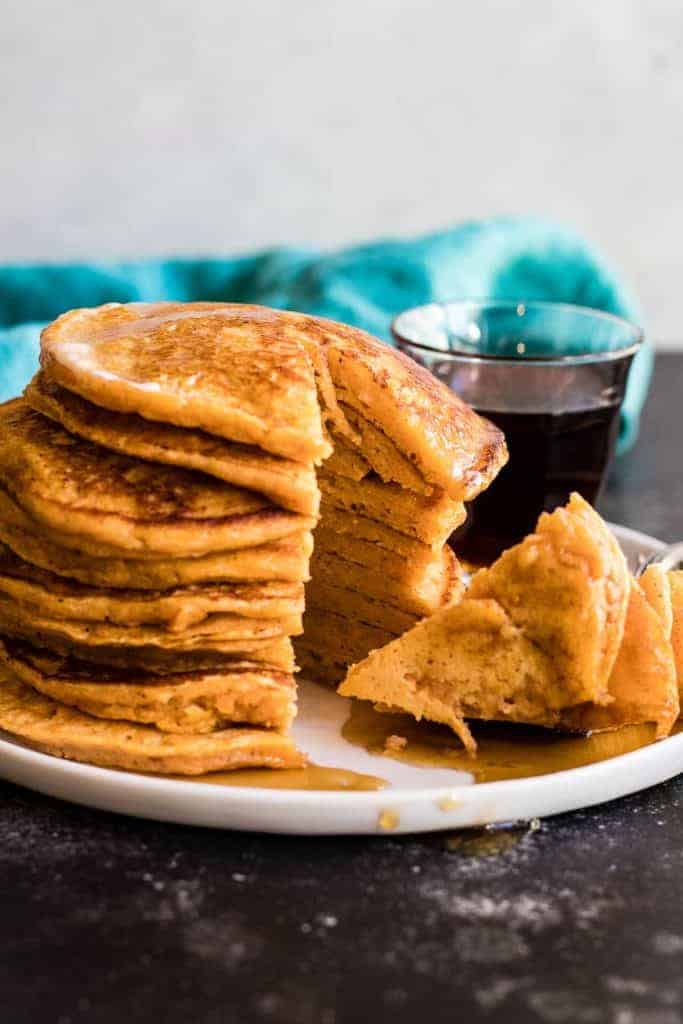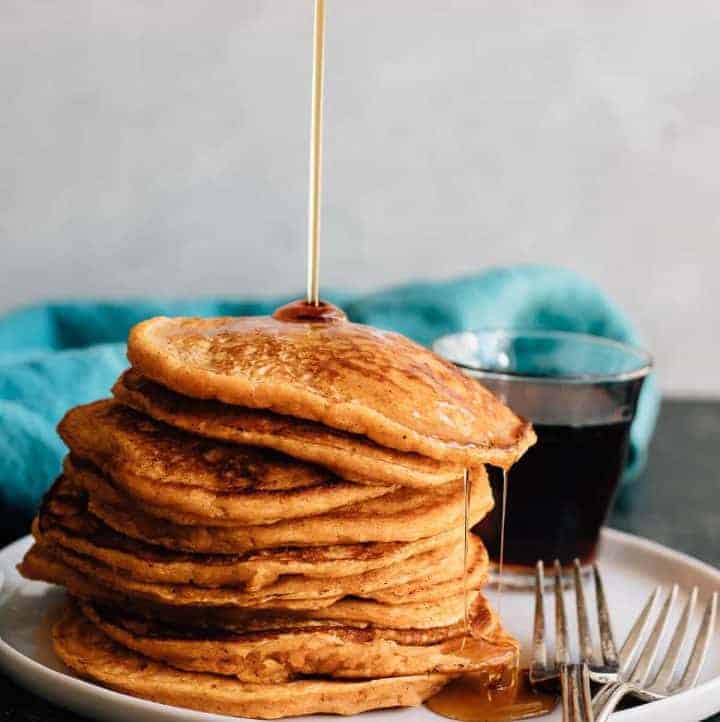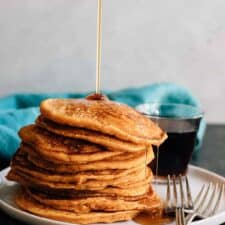 Spiced Maple Sweet Potato Pancakes
Soft and fluffy sweet potato pancakes made to the extreme with an overdose of spices and sweetened with maple syrup. Fall breakfast perfection.
Ingredients
1¼ cup sweet potato puree, approximately 10 ounces sweet potato***See Notes***
1 (5.3 ounce) greek yogurt, plain or vanilla
½ cup milk
3 tbsp unsalted butter , melted
1 large egg
2 tbsp maple syrup
1 cup all purpose flour
¼ tsp baking powder
¼ tsp baking soda
½ tsp salt
½ tsp ground nutmeg
¼ tsp ground cinnamon
½ tsp vanilla extract
Instructions
In a large mixing bowl combine the sweet potato puree and greek yogurt. Add in the milk, melted butter, egg and maple syrup. Stir to combine.

Add in the flour, baking powder, baking soda, salt, nutmeg and cinnamon to the mixing bowl. Stir to combine. Add in the vanilla extract and mix.

Heat a large skillet over medium heat. Spray with cooking spray or melt some butter on the pan. Using a ¼ measuring cup scoop the pancake batter and pour onto the heated skillet. Work in batches of 3-4 pancakes depending on what can fit on the skillet.

Cook the pancakes for about 2-3 minutes, you will notice bubbles forming on the top of the pancake batter, then flip to cook the other side for an additional 2-3 minutes. Remove the pancakes from the skillet and continue until all pancake batter is cooked.

Serve warm with butter and additional maple syrup. Enjoy!
Notes
You can use pre-made canned sweet potato puree or you can make your own. To make your own peel the sweet potato and boil until softened. Then place the softened sweet potato into a food processor or blender. Pulse until completely pureed. Add water if needed to get desired consistency. Nutrition information doesn't include additional butter and syrup as toppings.
Nutrition
Serving: 2pancakes, Calories: 223kcal, Carbohydrates: 34g, Protein: 6g, Fat: 7g, Saturated Fat: 4g, Cholesterol: 47mg, Sodium: 304mg, Sugar: 11g
Maple Sweet Potato Pancakes first appeared on The Recipe Critic.
SaveSave
SaveSave
SaveSave
SaveSave
SaveSave
SaveSave
SaveSave
House of Yumm is a participant in the Amazon Services LLC Associates Program, an affiliate advertising program designed to provide a means for us to earn fees by linking to Amazon.com and affiliated sites.