Ramen grilled cheese.  This grilled cheese is made with cooked ramen instead of bread and loaded with cheddar cheese, arugula, and sauteed mushrooms.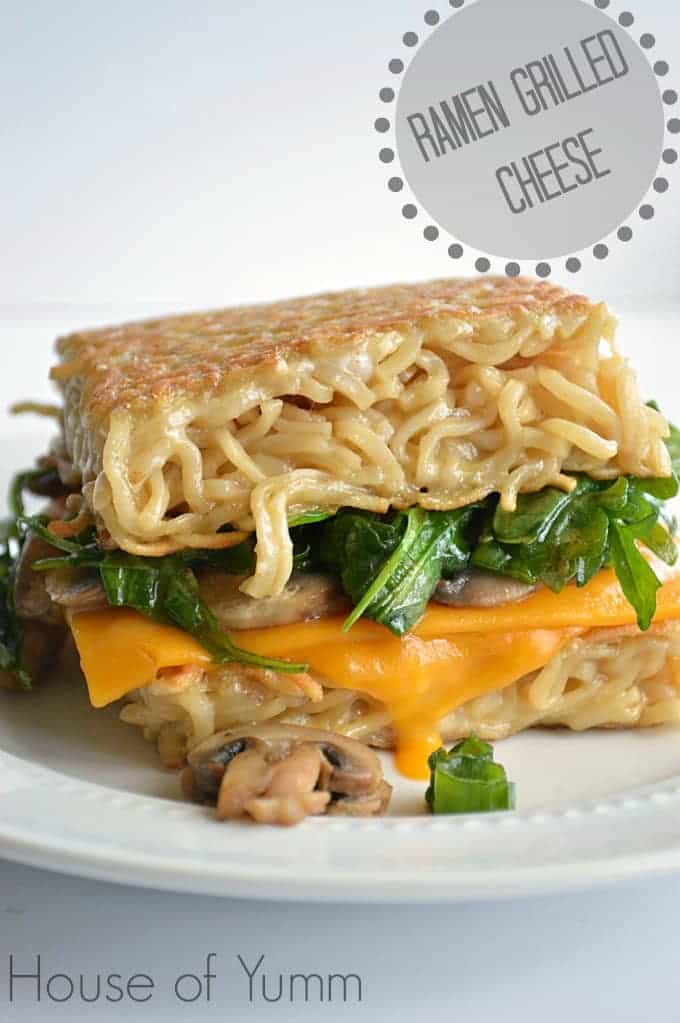 I have a special treat for you today!
And I'm not just talking about this ramen grilled cheese that you're looking at.  I know, I know.  It's something to behold isn't it!? You're probably thinking to yourself..what else could be in store for us if the special treat isn't this mind blowing sandwich (is it still technically a sandwich?)?
Well for starters, I didn't make this!  That's right.  I have a confession to make. I'm not the only cook here in the House of Yumm.  I mean come on!  I'm a mother to three and I blog!  I can't be expected to do everything on my own.
That's where my partner in this crazy life comes in!
Let me introduce you to my husband, Kruz.  He is the man behind the blog here at House of Yumm.  If you ever see a post that isn't covered in frosting, or sprinkles, or full of chocolate chips, it's probably an idea that he had.  He can always be counted on to come up with a fun, totally unique meal!  He loves to experiment in the kitchen, and always surprises us with yummy snacks.
And yep..as you've probably guessed, this ramen grilled cheese here is his creation!  Not only that…here he is himself to tell you about it 🙂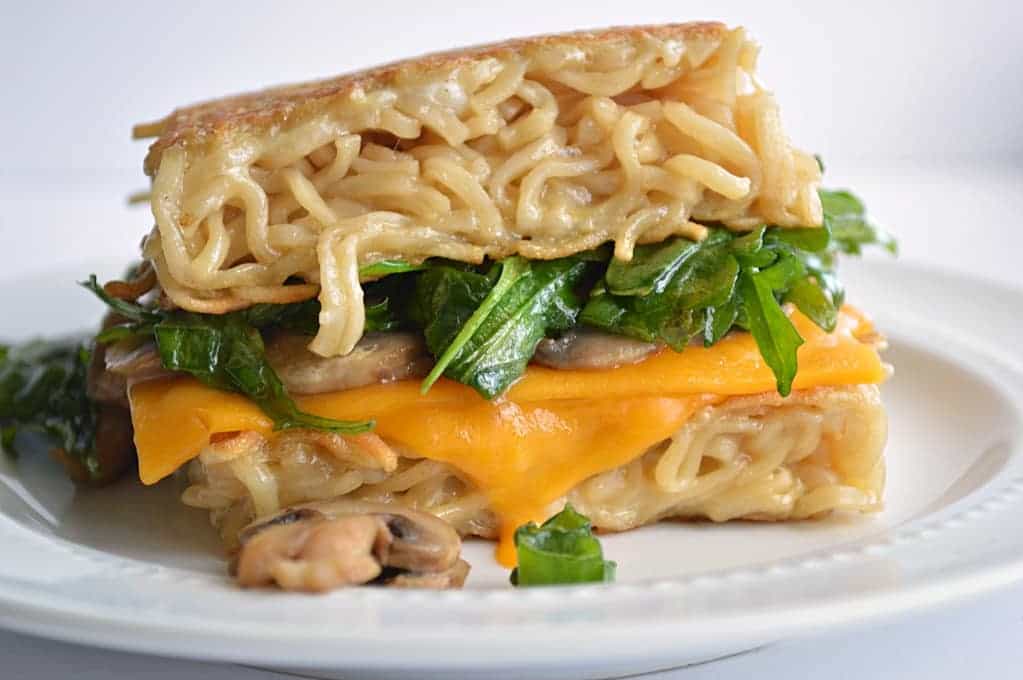 Ramen…….as a bun?! Those were my first thoughts when I was watching something on TV where this Chef Shimamoto introduced "The Ramen Burger" pure genius right?! Our favorite cheap college meal dressed up to something deliciously fancy!
The reason why I love this ramen idea so much is because it's so versatile. You can do a million and one things with the bun and customize the ingredients to your liking. I choose the route of a grilled cheese approach, just because I love the simplicity of not having to spend a lot of time prepping the meat.  And lets face it, the reason that we love Ramen so much is because it's simple, it's fast, it's full of sodium, and when you add all that up the answer every time is DELICIOUS!!
I went with three easy items for my spin on this delicious treat. First of course is the ramen! Needless to say, I went with the classic Maruchan Ramen brand beef flavor. The taste is so full and delicious, its the perfect pairing for the rest of the ingredients. For the Cheese I decided to go with Cheddar. Now remember the great thing about this is that you can really choose all of your own ingredients, the bun is just the canvas to the most epic meal you have ever created. So, with that said… Choose whatever cheese makes you HAPPY!
Next I went with sautéed mushrooms! So good and such a great flavor that comes from these! if you have ever been to a Benihana thats what these taste like, just like they make em!  And then lastly, the arugula. The arugula I think is my favorite part, this is used in the original "Ramen Burger" and I think it really makes the meal! The delicious sesame oil mixed with all the flavor will just blow your mind!!
 At this point you might be thinking that these look ridiculously difficult to make.  However, I assure you that it is quite simple.  To begin cook the package of ramen per package guidelines.  Once cooked, strain the noodles, which will be mixed with an egg.  After this you will find two ramekins. I found it easier to cut the noodles in half to easily scoop out half for each ramekin.
Place cling wrap over each ramekin and tightly pack the noodles in.  Then leave the cling wrap on and place the ramekins with the noodles into the freezer for 5 minutes and then the fridge for 10 minutes.  This will ensure that it is going to hold shape.
Once cooled, hold the ramekins over the frying pan, and don't manipulate it in any way, the noodles will come out on their own.  Then just cook each side until golden brown.  Add fillings and enjoy!
All in all… you want quick?  You want delicious?  You want a hint of nostalgia and sodium with the added bonus of amazing your guests without burning a whole in your pocket… just say RAMEN!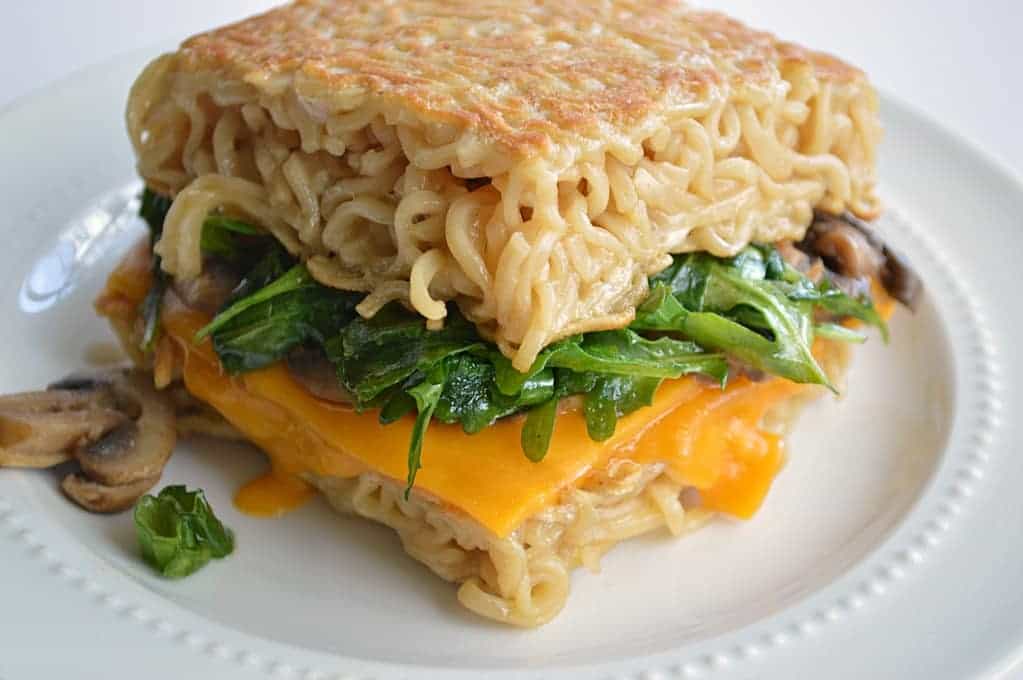 Thanks so much for visiting! Never miss a recipe from the House Of Yumm! 
FACEBOOK | PINTEREST | GOOGLE+ | TWITTER | INSTAGRAM | BLOGLOVIN
PS I think you may like these 😉