Mushroom Quiche! A simple, easy to make crustless quiche that is loaded up with mushrooms! Plus tons of tips & tricks for making the perfect quiche! This recipe will be the highlight of your brunch!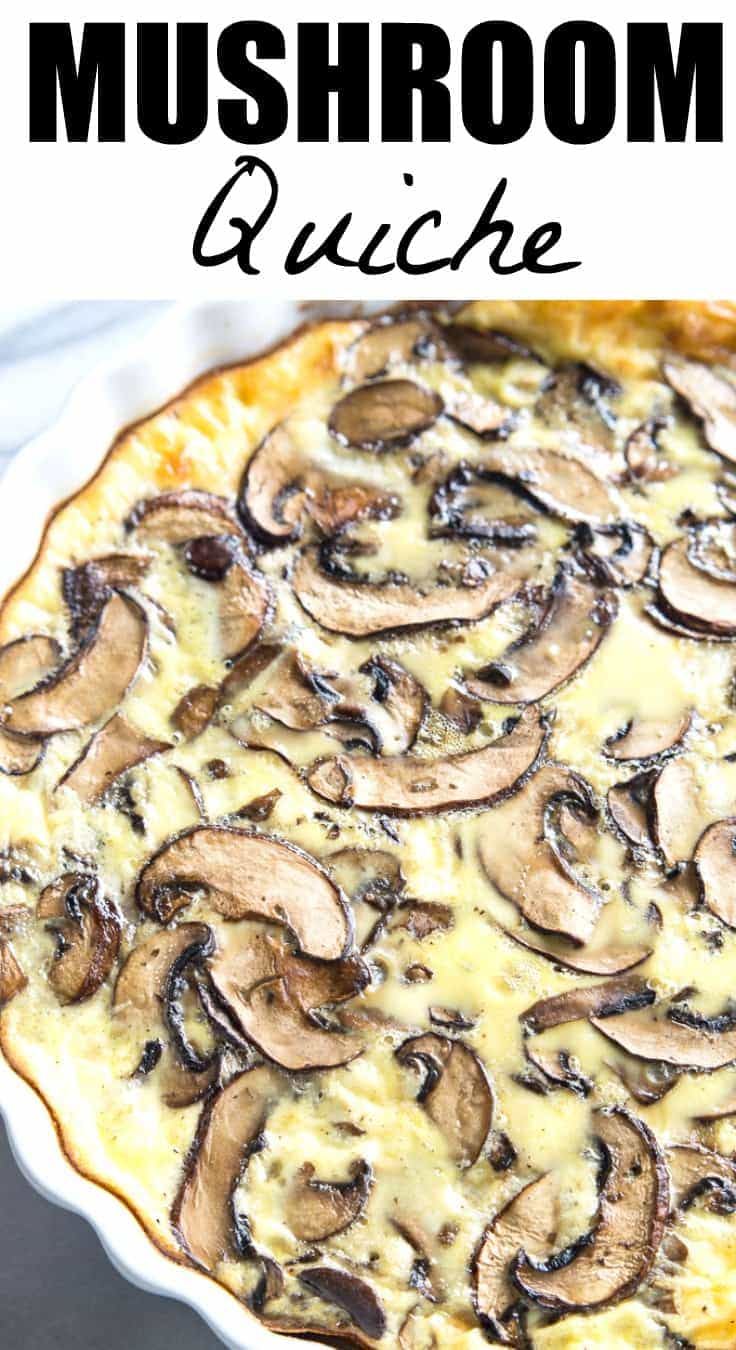 Mushroom Quiche! I know I know, Mushrooms! Mushrooms seem to be in the same category as onions, its just one of those toppings that people either love or hate, there's no real in-between. Personally the only time I ever enjoyed mushrooms was either seeing them in the background of the Smurfs cartoon, or when my little Mario from Mario brothers would eat one and turn into the big Mario! Score! Outside of that I personally have a strong dislike towards these funky little funguses, if that's even a word…. Funguses? Or Fungi? I remember the super cheesy poster in science class that had the mushroom saying he was a "Fun Guy".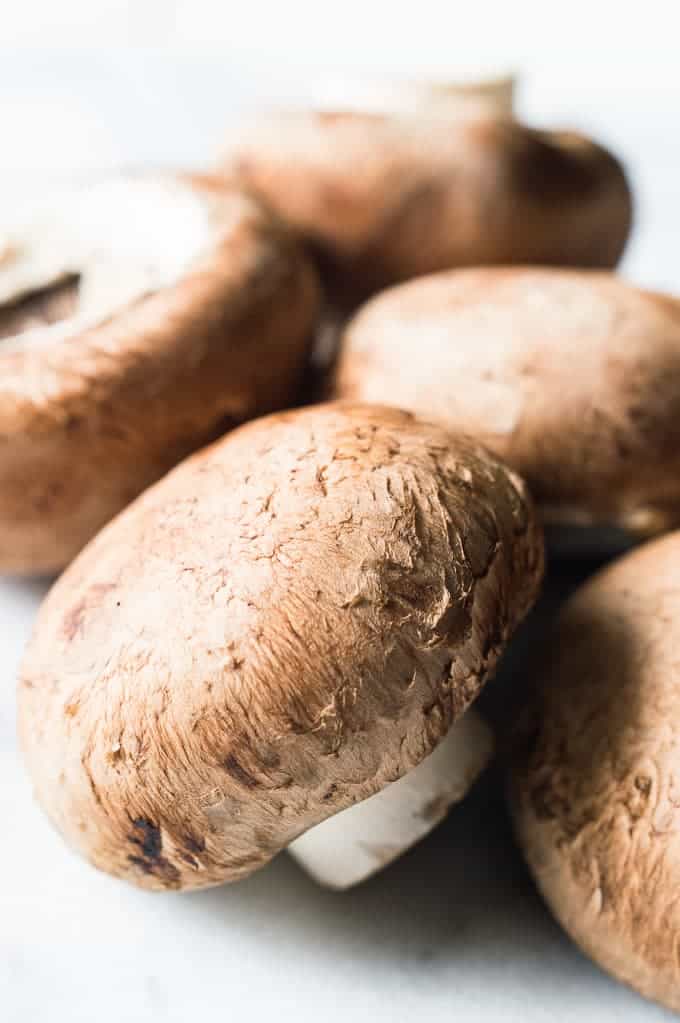 Anyway, the only time I usually eat mushrooms is when the hubs makes his yummy "stuffed mushrooms" (recipe coming) but outside of that, mushrooms and I just aren't the best of friends. If you're wondering why the mushroom quiche then? Let's just say I love my hubs. This much. That I would make a mushroom quiche for him.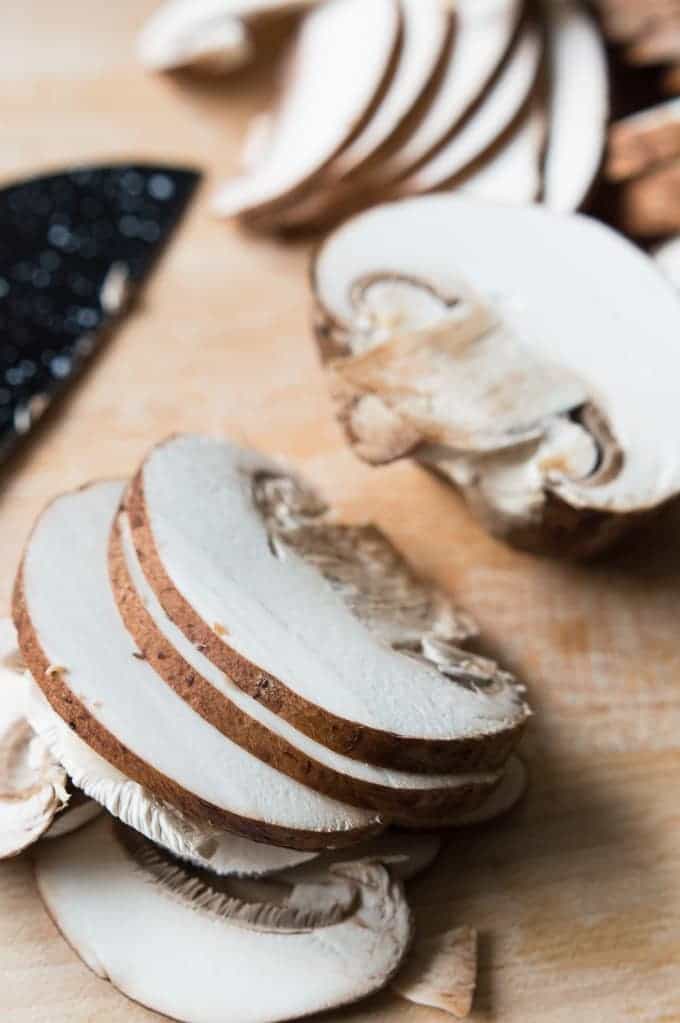 This quiche is so easy to make just like my Hawaiian quiche that recently dropped. Perfect for the person in your life who absolutely loves mushrooms! And a huge compliment to any lovely brunch you have planned. From baby bella, to shitake, to Portobello you can really let loose on this quiche as far as your mushroom choices go depending on which you like more, but just for a disclaimer this quiche will not turn you into a big Mario (bummer, I know), but it will definitely be delicious.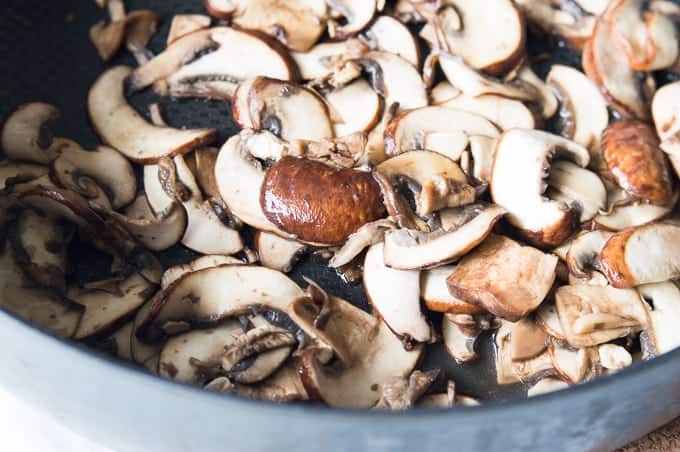 Tips for Making This Mushroom Quiche
If you recall I gave some tips & tricks on the last quiche recipe. I've been working on perfecting my quiches. So here's what I have for you!
Keep the ratio! Remember Julia Child. She taught 1 egg in the measuring cup plus milk or cream to the 1/2 cup level. 2 eggs and milk or cream to the 1 cup level. 3 eggs and milk or cream to the 1 and 1/2 cup level. And so on and so on. Simple right? Just crack the egg first into a measuring cup.
You can make quiche with a crust or without. If you notice, I prefer mine crustless. Just a personal preference. If you're using a crust just use your favorite pie crust recipe, or you can always use a store bought. If making a recipe that says crust, you don't have to include it, you can probably just add an extra egg and cream to fill up your quiche dish.
The fat content of the dairy you use will make a difference. If you go with a 2 percent milk your quiche will not be as creamy if you were to use a half and half or a heavy cream. I prefer to use a mixture of both milk and cream. But I have to admit that I love what a heavy cream does to a quiche.
Dry ingredients. Dry them out! Wet ingredients will make for a soggy quiche. Which will make you want to cry. So pat out moisture with paper towels or whatever you have to do to ensure that your ingredients are pretty dry before putting them into the quiche dish.
Beat those eggs. I actually have been using my hand mixer for making my quiches. We want our eggs frothy before we pour them into the quiche dish. So either get to whisking, or use a hand mixer. Either way, get those frothy eggs!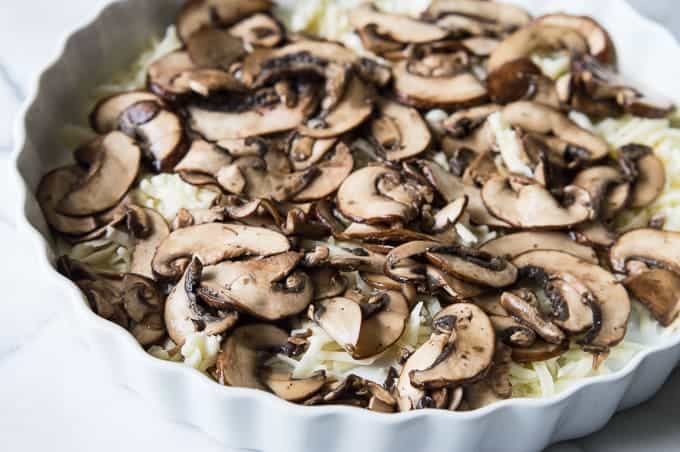 And there you have it. Some helpful tips and tricks to see you through this little recipe here! Trust me, you will be so glad you're taking my advice here. You can really use this basic idea for any quiche. Really. Any filling ingredients your little heart desires.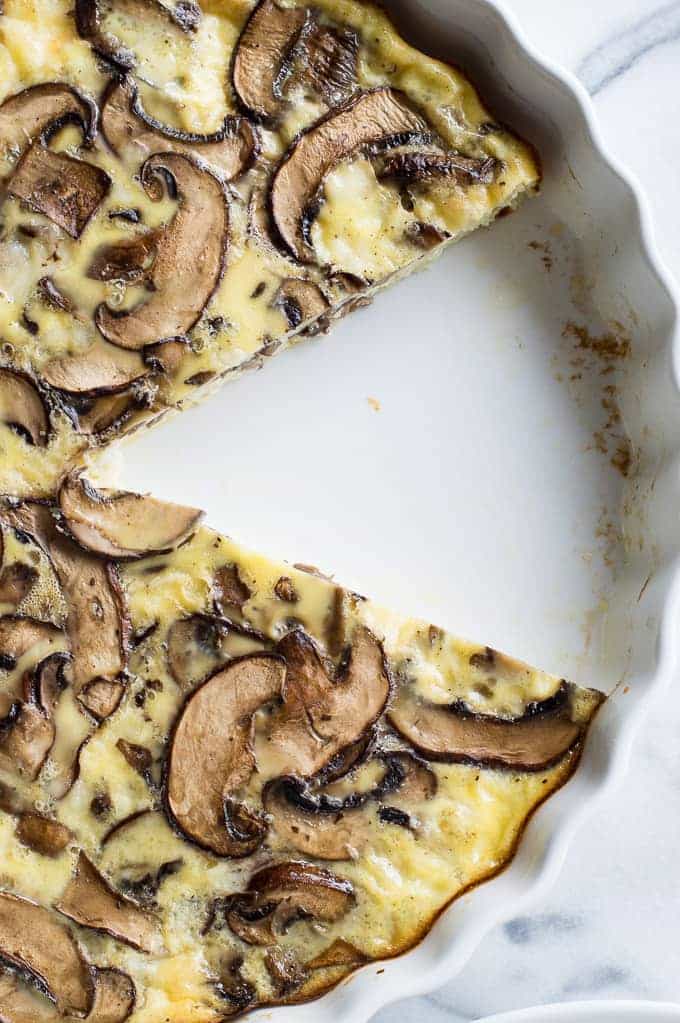 Need a little more brunch inspiration??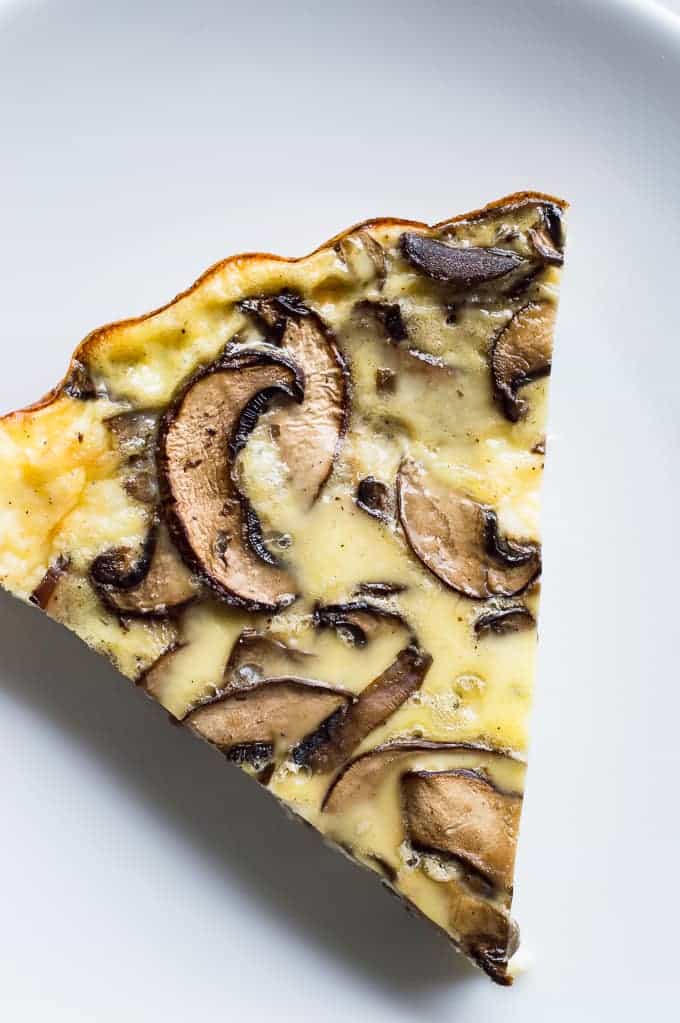 I hope you enjoy the recipe! You can follow along with me and never miss a recipe by signing up for my newsletter. Follow me on Instagram and tag #houseofyumm so I can see all the recipes you make ?
Mushroom Quiche
Mushroom Quiche! A simple, easy to make crustless quiche that is loaded up with mushrooms! Plus tons of tips & tricks for making the perfect quiche! This recipe will be the highlight of your brunch!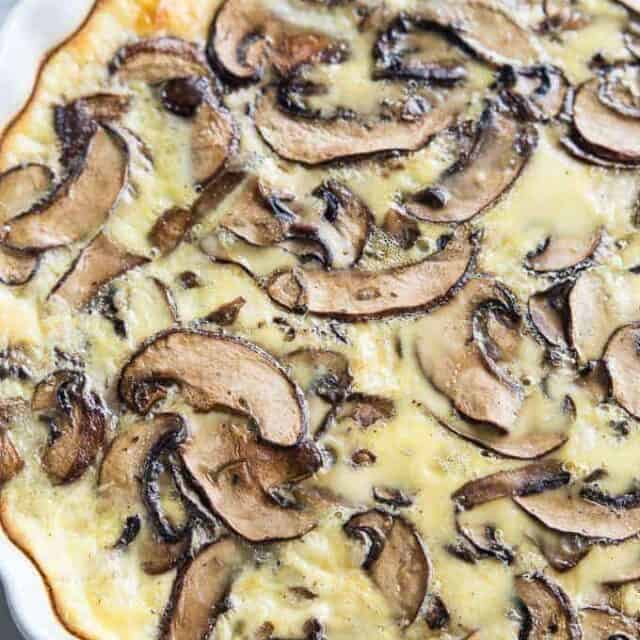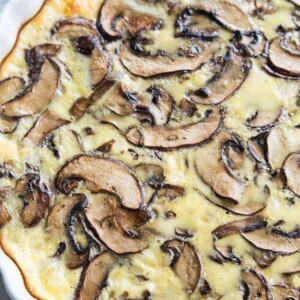 Ingredients
1

lb

sliced mushrooms

4

large eggs

½

cup

half and half

1

cup

milk

*follow instructions in regards to measuring milk

¼

tsp

salt

⅛

tsp

pepper

1

cup

Monterey Jack cheese

shredded
Instructions
Prepare the mushrooms by cleaning them, drying them, and then slicing thinly.

Saute (cook briefly in hot oil until tender) in a large frying pan with about 1 tablespoon of oil.

Spray 9 inch quiche dish with cooking spray to prevent sticking. Spread the cheese, and mushrooms on the bottom of the quiche dish.

Crack the eggs and add to a large liquid measuring cup, add the 1/2 cup cream and then add milk until the total volume is 2 cups. Mix quickly with a hand mixer or a whisk until light and frothy. Add the salt and pepper and continue to mix or whisk until frothy again. Pour the egg mixture into the quiche dish over the cheese and mushrooms.

Bake for about 40-45 minutes or until the egg is cooked, no longer liquid looking in the center, and turning golden on the edges.

Remove from the oven and allow to cool. Serve quiche room temperature.
Nutrition
Serving:
1
|
Calories:
202
kcal
|
Carbohydrates:
12
g
|
Protein:
10
g
|
Sugar:
2
g
Nutrition information is automatically calculated, so should only be used as an approximation.
Like this? Leave a comment below!
SaveSave