Hummus Flatbread Pizza. A quick, easy, and lighter dish perfect as a lunch, appetizer, or snack. Naan bread topped with hummus, spinach, tomatoes, artichokes, roasted chick peas and sprinkled with crumbled up feta.
I am an official ambassador for Tom Thumb who provided me with compensation for my time. As always, all opinions expressed in this post are mine. Thanks for continuing to support the brands that support House of Yumm <3
New Year's Resolutions anyone? I'm all for it. Especially the resolutions that involve being healthier! And to make eating healthy easy in the New Year, Tom Thumb and this flatbread pizza are there for you! With hundreds of O Organics® products to choose from you're sure to find something to satisfy. There's options for everyone. Sweet and savory.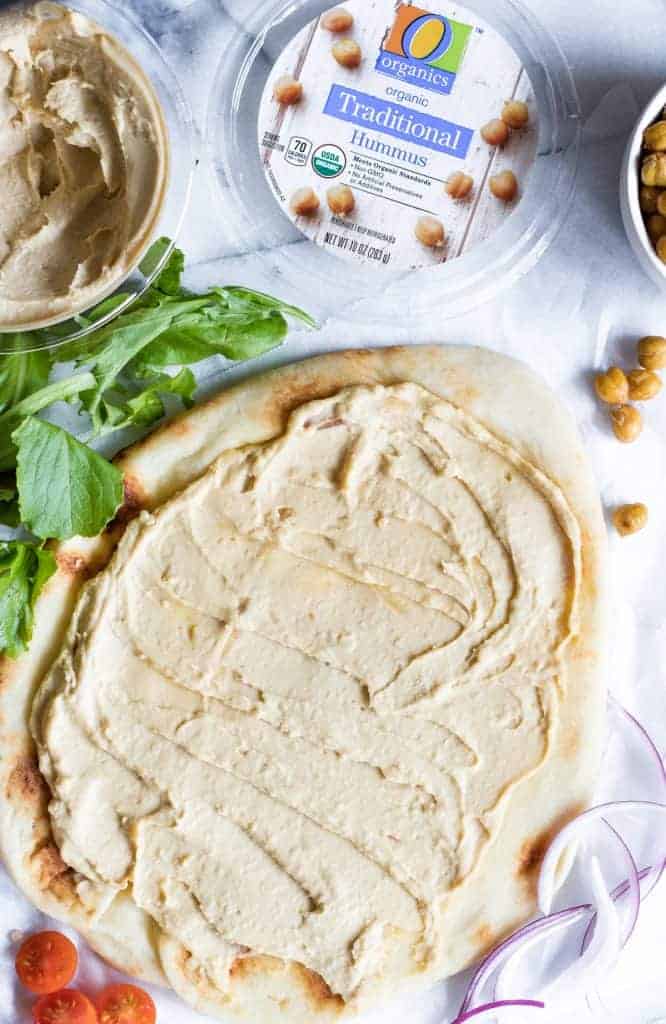 Some highlights of this Hummus Flatbread Pizza:
Buying premade Naan makes this SUPER easy to toss together. I was able to find some in the deli section of the market, I used the Tom Thumb Signature brand.
Toppings galore. You can really mix up what you want to use to top your pizza. I went with a spread of O Organics Traditional Hummus, because.. yum. And an O Organics half and half salad blend, some tomatoes, olives, red onion, artichokes and feta. Plus those roasted chickpeas for a bit of crunch!
Roasted Chickpeas. Not required. It does take a bit of time to roast them. If you skip that step then you can toss this hummus flat bread pizza together in about 11 minutes, 10 of which is heating the naan bread. And if you're wondering, chickpeas and garbanzos are the same thing. The cans in my area are labeled garbanzos. So when shopping just know that either will work the same!
Quick and easy! This is perfect as a lunch or a snack, or even a light dinner!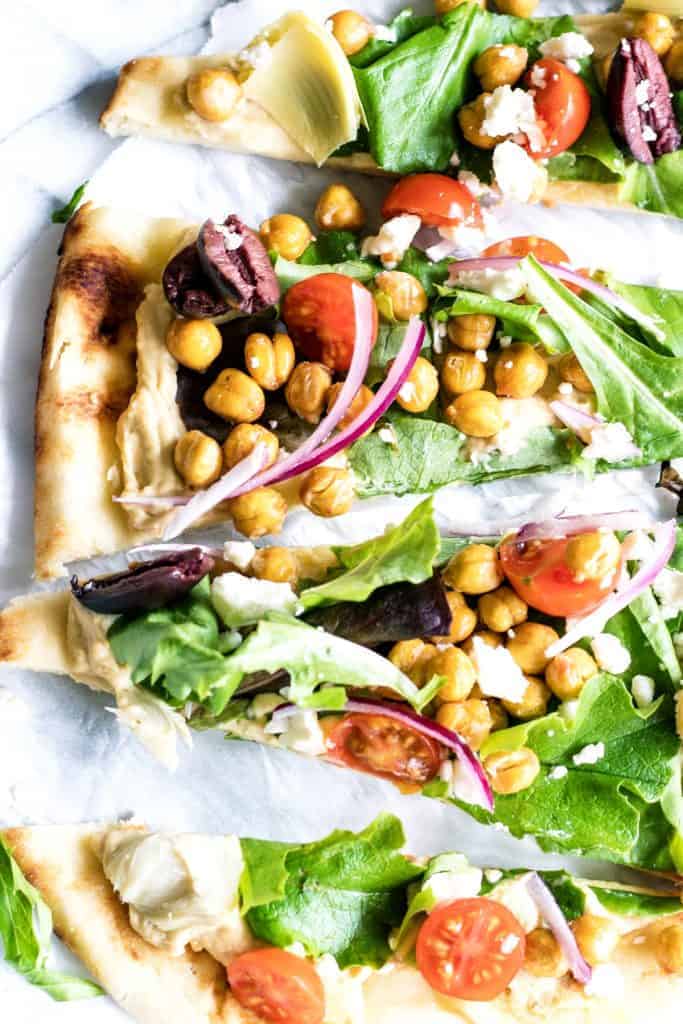 The line of O Organics is available exclusively in my area at Albertsons and Tom Thumb. Which is perfect since Tom Thumb is just down the street from us, and I know I've told you this before, but I visit that store several times a week. And one thing I love is the affordability of the O Organics line. With 5 kids it can get pretty difficult not blowing past our grocery budget. So it's nice being able to meet our budget and still get organic groceries.
I buy my O Organics and Open Nature® products at my local Albertsons and Tom Thumb, but you can also find them at all of the Albertsons Companies family of stores, including ACME Markets, Safeway, Jewel-Osco, Vons, Pavilions, Randalls, Shaw's, Star Market, United Express, United and Carrs/Safeway. Visit Albertsons.com and TomThumb.com to find a store near you and discover more meal prep tips and recipe ideas.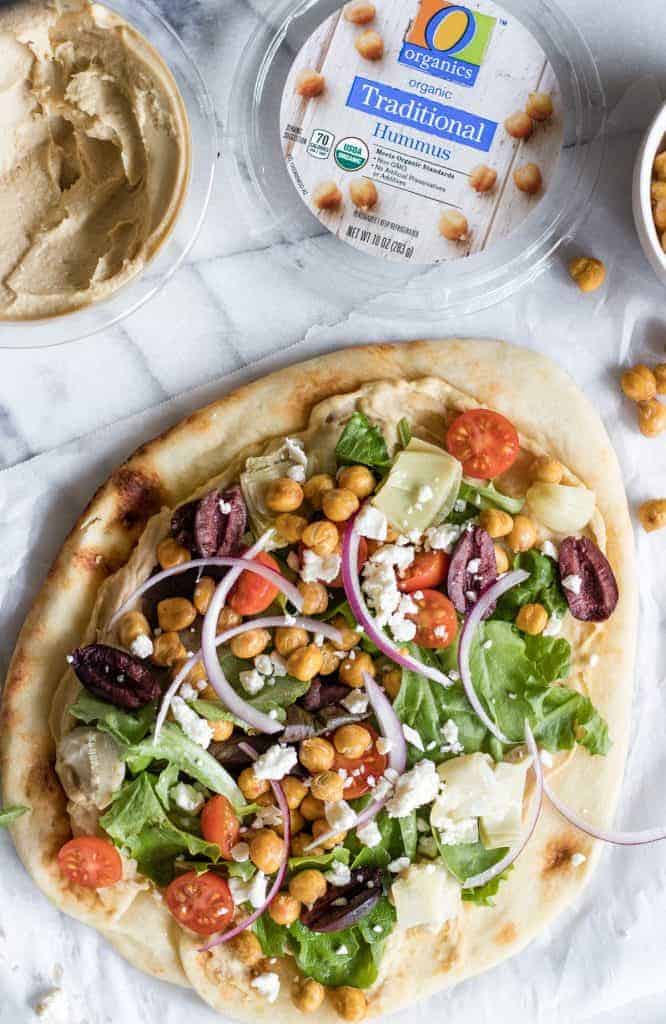 More Lighter Options: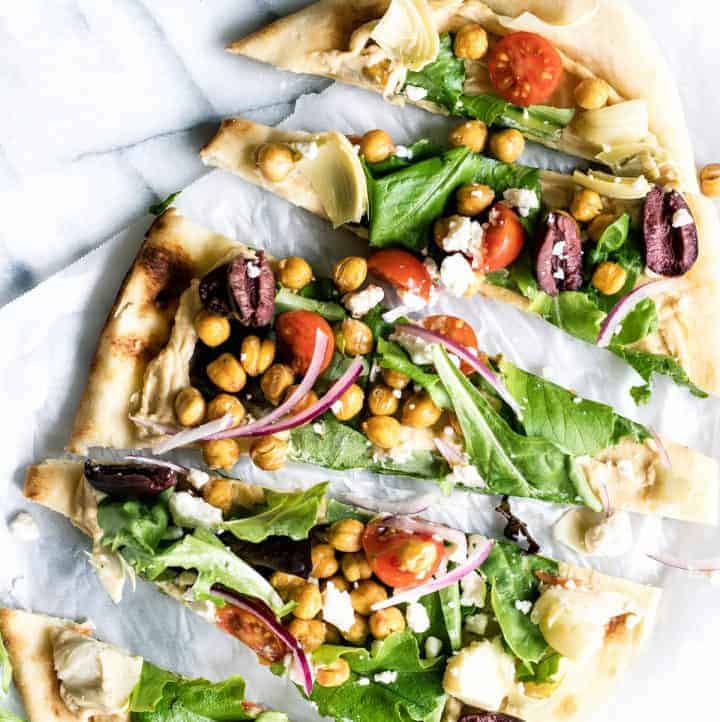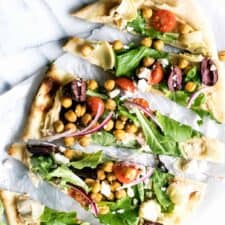 Hummus Flatbread Pizza
Hummus Flatbread Pizza. A quick, easy, and lighter dish perfect as a lunch, appetizer, or snack. Naan bread topped with hummus, spinach, tomatoes, artichokes, roasted chick peas and sprinkled with crumbled up feta.
Ingredients
1 naan bread
1 tsp O Organic Extra Virgin Olive Oil
1 clove garlic , minced
2 tbsp O Organics hummus
¼ cup O Organics Half and Half Salad Mix
¼ cup cherry tomatoes , halved
¼ cup Kalamata olives , halved
2 tbsp feta, crumbled
Red onion , sliced
¼ cup garlic roasted chickpeas, directions below
Garlic Roasted Chickpeas
1 (14 ounce) garbanzo beans, drained and rinsed
½ tbsp extra virgin olive oil
¼ tsp garlic powder
¼ tsp salt
Instructions
Garlic Roasted Chickpeas
Preheat oven to 425℉. Line a small baking sheet with parchment paper and set aside.

Rinse and drain the garbanzo beans. Spread out and pat dry with a paper towel. Remove any skins that are coming off. There's no need to remove them all.

Add beans to a small bowl or large resealable plastic bag.

Drizzle with O Organics Extra Virgin Olive Oil. Sprinkle with garlic powder and salt. Shake or stir to combine.

Spread out on the small baking sheet. Keep them clustered together to help prevent burning, but keep them in a single layer to ensure crispness.

Bake for 25-30 minutes stirring every 10 minutes to ensure all sides are crisp and they don't burn.
Hummus Flat Bread Pizza
Preheat oven to 350℉. Lay the naan bread on a small baking sheet lined with parchment paper. Drizzle with 1 teaspoon O Organics Extra Virgin Olive Oil, brush to coat and then add the minced garlic. Heat for 10 minutes or until warmed through.

Spread with O Organics Hummus. Layer with toppings.

Serve warm and enjoy.
Nutrition
Calories: 259kcal, Carbohydrates: 32g, Protein: 9g, Fat: 11g, Saturated Fat: 1g, Cholesterol: 5mg, Sodium: 505mg, Fiber: 3g, Sugar: 5g
House of Yumm is a participant in the Amazon Services LLC Associates Program, an affiliate advertising program designed to provide a means for us to earn fees by linking to Amazon.com and affiliated sites.