Huevos Rancheros Breakfast Casserole. This easy to make breakfast casserole is perfect for feeding the entire family! Loaded up with flavorful pork chorizo, pinto beans, eggs, and all covered in a mild tomato salsa.
I am partnering with Cacique®️ to bring you this recipe. Thank you for supporting the businesses that support House of Yumm!
With more and more people cooking from home lately, I am so excited to partner up with Cacique (one of the country's TOP authentic Mexican food brands) to bring you some authentic tasting Tex Mex meals using ingredients most of us have in our pantry already.
This breakfast casserole comes together quick and easy, with minimal ingredients. Plus, I also have some easy substitutions and modifications that can be made down below.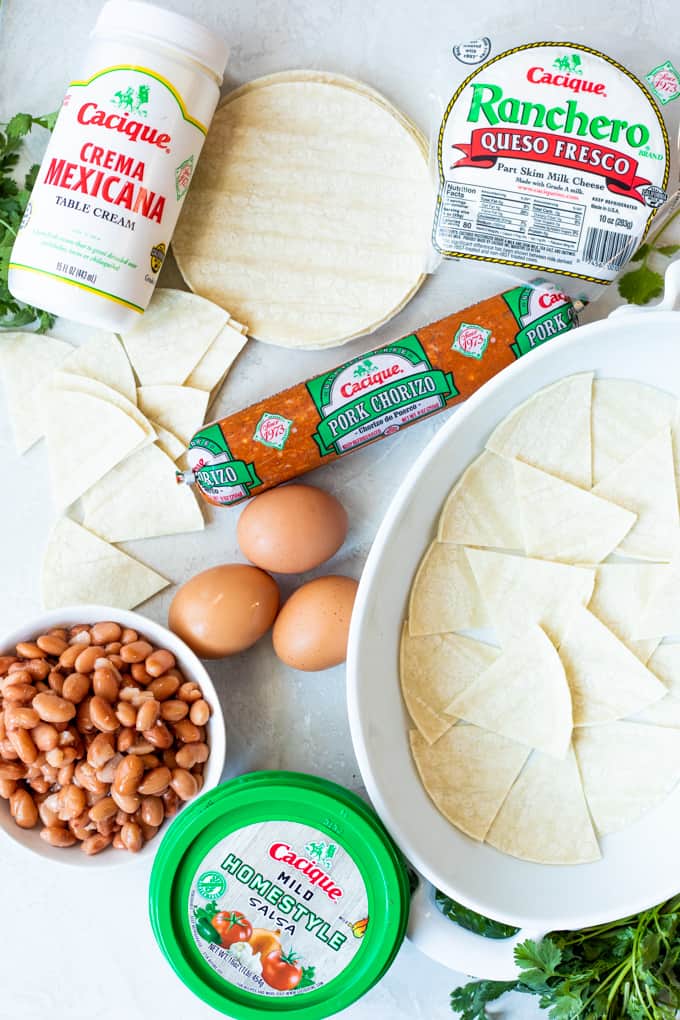 Ingredient Breakdown:
Cacique Pork Chorizo: available in pork, beef and soy Cacique Chorizos bring the spices and hearty authentic flavors of Mexican cuisine to this dish.
Beans: add a creaminess to the meat mixture with pinto beans. Or you can use other beans as desired.
Corn Tortillas: white corn tortillas are my favorite to use in this recipe.
Cacique Mild Homestyle Salsa: adds authentic flavor and freshness to the meal! Crafted with fresh, high quality produce using a small batch process that ensures homemade, authentic Mexican flavors in every bite. Also comes in Medium and Hot.
Eggs
Cacique Ranchero Queso Fresco: is a milky, fresh and salty cheese that is crumbly and creamy – similar in flavor and texture to ricotta, but with more savory, milky notes. Crumble and use as a topping.
Cacique Crema Mexicana: is an everyday table cream that has a neutral, fresh-tasting flavor, similar in consistency to crème fraiche. It has a pourable and rich silky texture. Drizzle over the finished dish.
Tips for making Huevos Rancheros Casserole:
Cut the tortillas: this makes it easier to dish up as a casserole. If you want a crunchy tortilla on the bottom, more like a traditional Huevos Rancheros, then you can leave the tortillas whole, and lay them on the bottom. They will crisp up while baking. But it is more challenging to dish up.
Keep an eye on the eggs: after making this recipe several times, my baking time is always different. 20 minutes is typically the time when I start to keep a very close eye on the eggs. Open the oven and give the casserole dish a shake, watch how the eggs jiggle to help determine when to remove from the oven.
Rotate while baking: Due to how my oven bakes, I do have to rotate the dish halfway through baking to help ensure even cooking of the eggs on the top.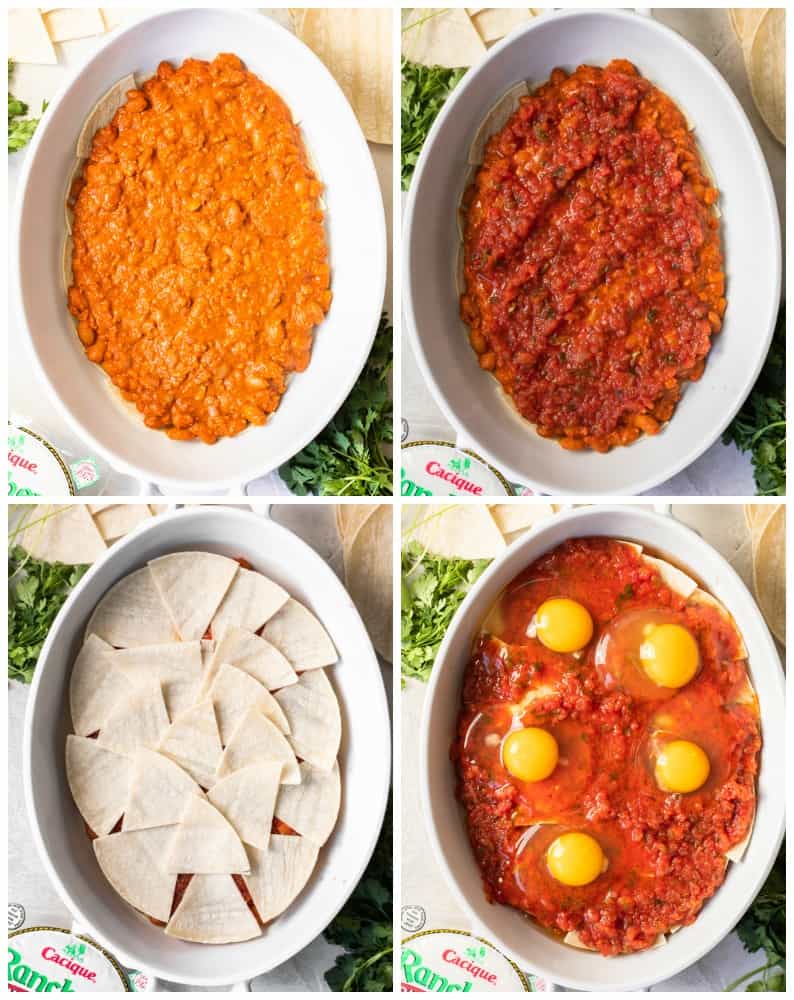 Substitutions & Modifications:
Chorizo: Cacique does make a Beef and a Soy Chorizo too! Look at your local markets for this easy substitution.
Beans: Pinto beans are listed as an ingredient; however, any bean variety can be used! Grab whatever beans you currently have in your pantry. Cook with what you have.
Corn Tortillas: you can make your own tortillas if desired OR you can substitute with Cacique sopes.
Eggs: can be left off if desired/needed. You can always add extra beans for more protein if needed. To modify the making of the dish, you can also fry the eggs separately if you want them to be extra runny and place them on top of the casserole after baking.
More Breakfast Recipes to Try: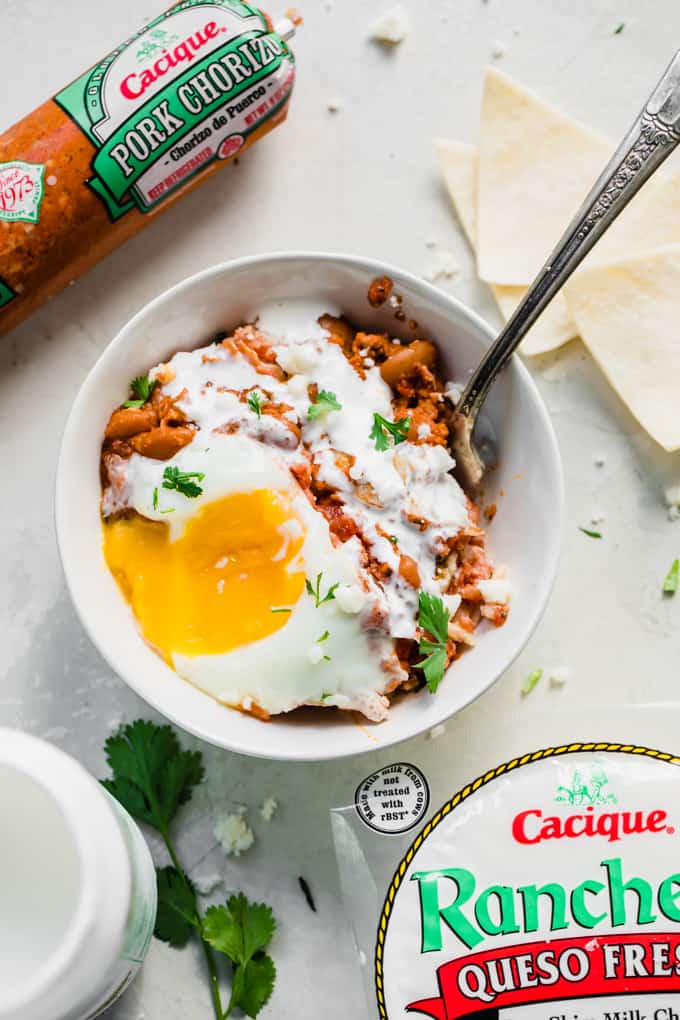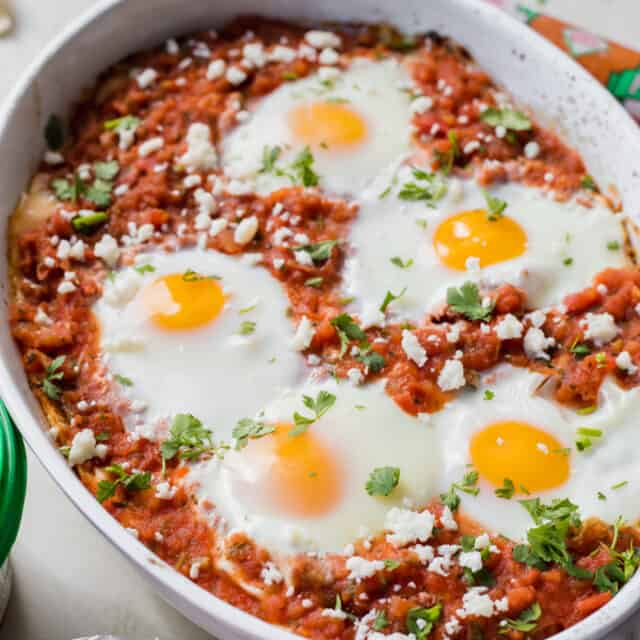 Huevos Rancheros Breakfast Casserole
Huevos Rancheros Breakfast Casserole. This easy to make breakfast casserole is perfect for feeding the entire family! Loaded up with flavorful pork chorizo, pinto beans, eggs, and all covered in a mild tomato salsa.
Ingredients
Casserole
1 (9 oz) Cacique Pork Chorizo
1 (14.5 oz can) pinto beans, drained and rinsed
10-12 white corn tortillas
1 (16 oz) Cacique Mild Homestyle Salsa
5 large eggs
Toppings
¼ cup Cacique Ranchero Queso Fresco, crumbled
¼ cup Cacique Crema Mexicana
2 tbsp cilantro, diced
Instructions
Preheat oven to 400℉, grease a 3 qt casserole dish and set aside.

Cook the Cacique Pork Chorizo in a medium size skillet over medium heat for 4-5 minutes until cooked through. Add in the pinto beans and stir together.

Cut the tortillas into 6 equal pieces, lay half of the tortillas onto the bottom of the casserole dish to cover the entire bottom.

Spread the cooked chorizo and beans on top of the tortillas in the casserole dish, spoon 1/2 cup of Cacique Homestyle Salsa on top of the meat mixture. Spread to create an even layer.

Top with the remaining tortillas.

Spoon the remaining salsa on top of the casserole. Using a large spoon or a measuring cup, press five craters into the casserole, this helps hold the eggs.

Gently crack the eggs into the craters on the top of the casserole.

Bake for 22-25 minutes until the eggs are cooked as desired.

Remove and allow casserole to cool for several minutes before serving.

Top with crumbled Cacique Ranchero Queso Fresco, a drizzle of Cacique Crema Mexicana and fresh diced cilantro.
Nutrition
Calories: 177kcal, Carbohydrates: 24g, Protein: 9g, Fat: 6g, Saturated Fat: 2g, Cholesterol: 164mg, Sodium: 89mg, Potassium: 157mg, Fiber: 3g, Sugar: 1g, Vitamin A: 248IU, Calcium: 67mg, Iron: 1mg
House of Yumm is a participant in the Amazon Services LLC Associates Program, an affiliate advertising program designed to provide a means for us to earn fees by linking to Amazon.com and affiliated sites.