Thick and creamy, this hearty corn chowder soup is loaded with chunks of potato, ham, and tons of flavor! This soup is easy enough to make as a weeknight meal, and best of all can be made with fresh, frozen, or even canned corn, making it perfect all year round!
All about this corn chowder…
This corn chowder is smooth, creamy, thick and loaded up with chunks of potato, corn kernels, ham and bacon!
Filling: this hearty chowder is perfect for serving as a main dish, but can also be served as a side with a sandwich or salad if needed.
Comforting: the warmth of the dish and the hearty bites of potato, corn, bacon and ham put this recipe high up on the list of comfort foods. If you or someone else is in need of some good ol fashioned comfort food, this chowder recipe is for you!
Easy to make: this chowder can come together on the stovetop in just about 30 minutes, making it a perfect weeknight dinner meal idea.
Ingredients Needed: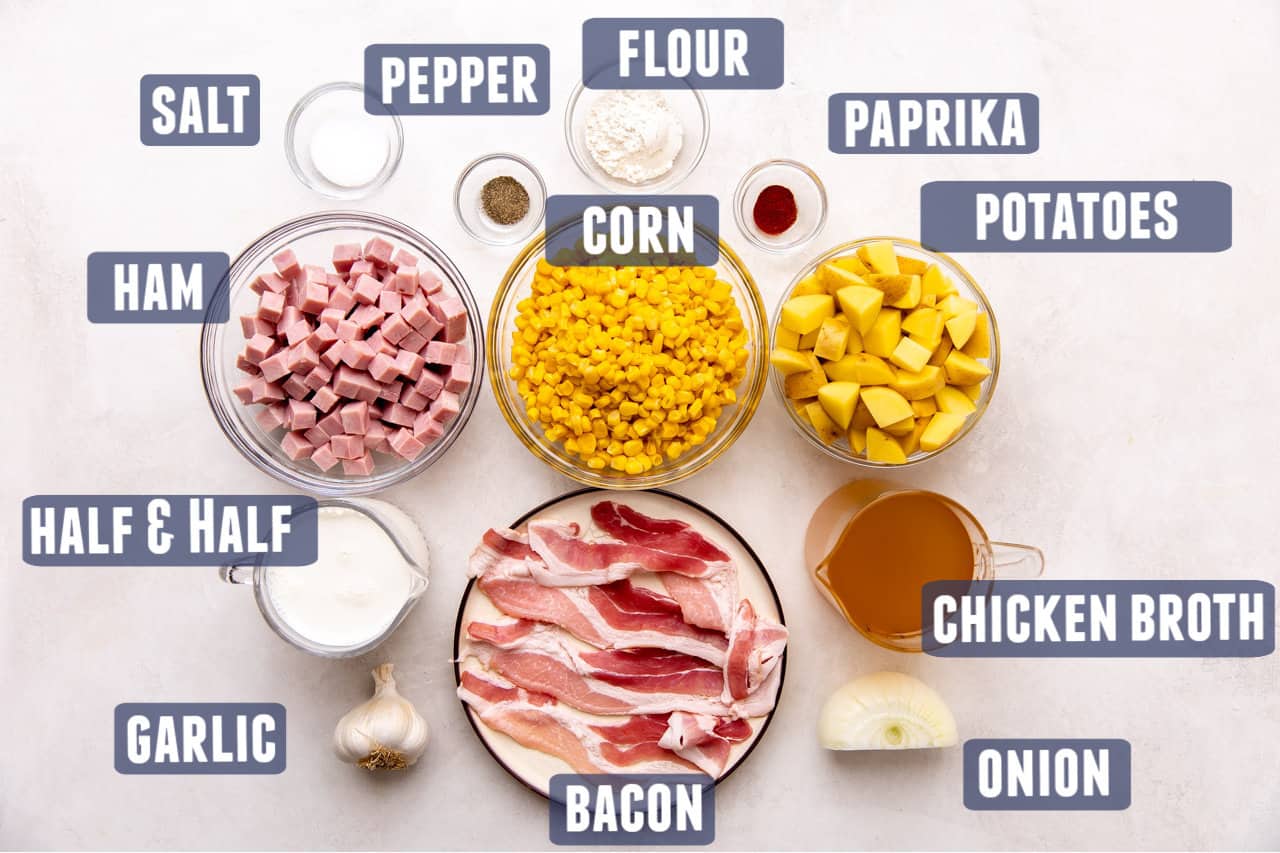 Notes on some ingredients:
Corn: this soup can be made with fresh, frozen or canned corn. Instructions for each is included in the recipe card below.
Potatoes: yellow or gold potatoes are a great option, they are less starchy and hold their shape well when boiled. Plus they blend up nice and smooth and creamy.
Flour: this is used to thicken the chowder, you can omit if needed and use a slurry of cornstarch or arrowroot powder at the end of cooking if needed to make this dairy free. Do the slurry and let the soup simmer to thicken before adding the half and half in, this will prevent the dairy from separating in high heat.
How to Make (step-by-step):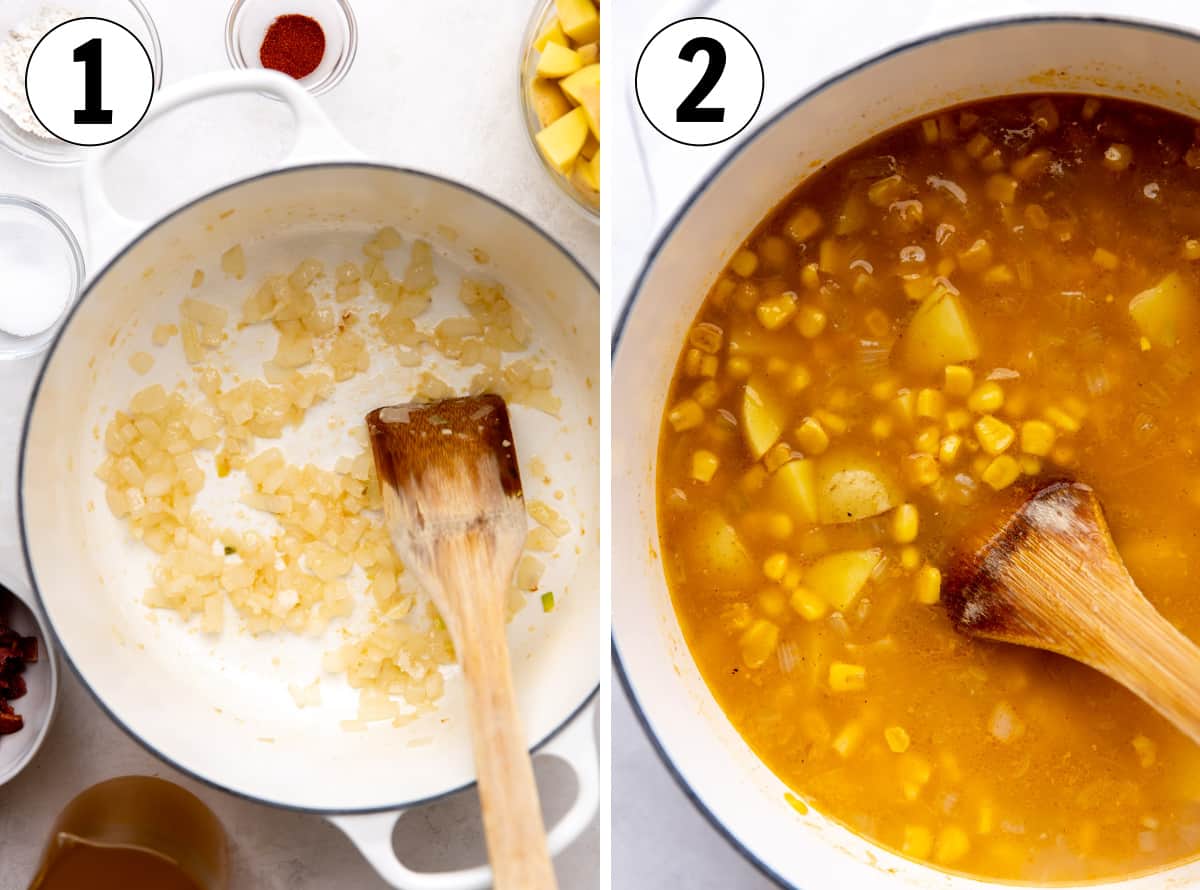 Cook bacon to desired crispness and remove from the pot. Drain excess grease while keeping 2 tablespoons to cook up the onion and garlic. Stir in the flour and cook for an additional 2-3 minutes.
Pour in the spices, chicken broth, potatoes, and stir together. Bring to a simmer and let this cook for 10-15 minutes until the potatoes are slightly softened (the larger the chunks of potatoes, the longer the cooking time will need to be).
Add in the corn and continue to cook an additional 10 minutes until corn is heated and potatoes are fork tender.
Blend a portion of the soup to get desired thickness.
Add the ham and bacon back into the soup, let the meat warm up in the chowder, then remove from heat and pour in the half and half to make the soup nice and creamy.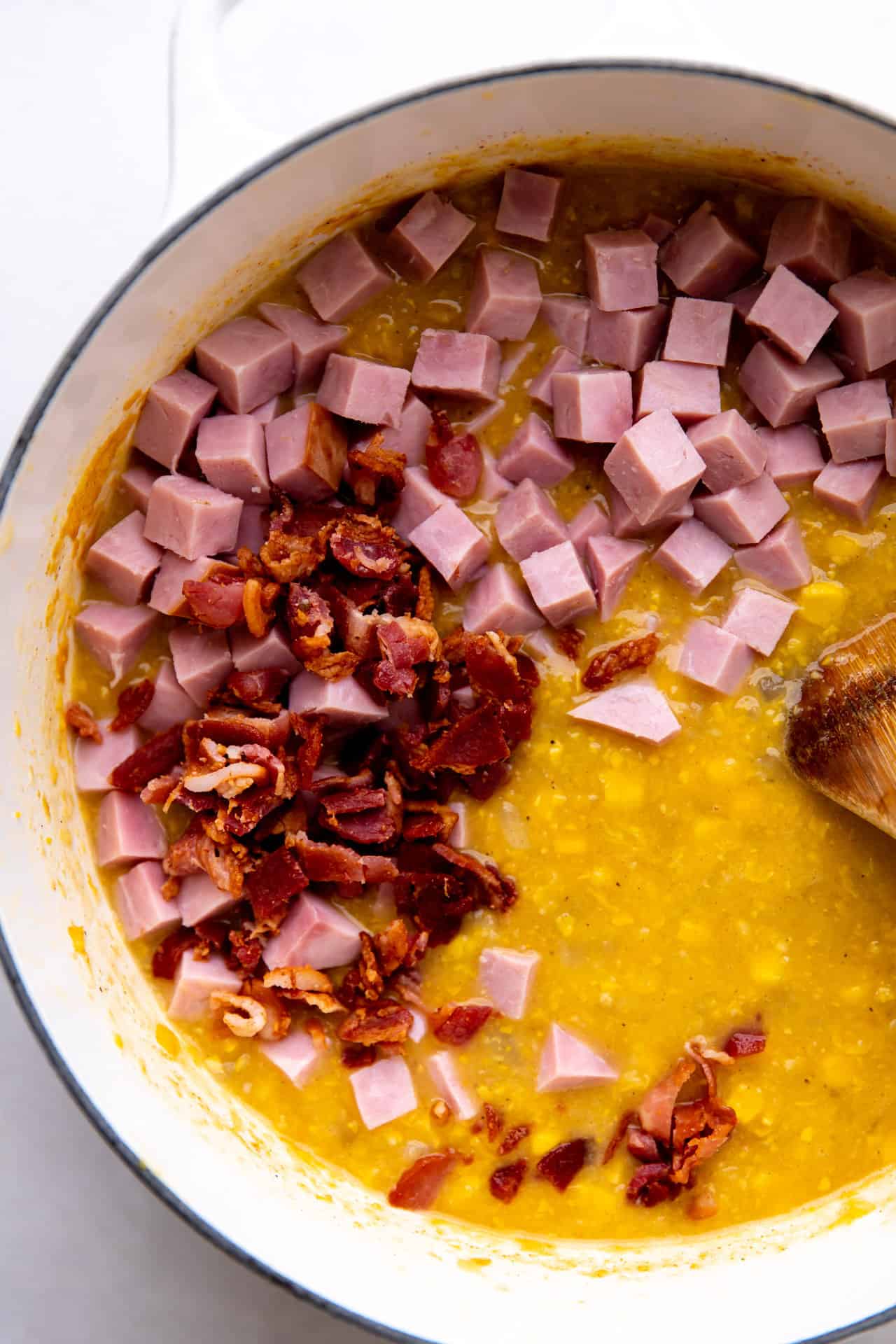 Expert Tips:
Corn: this recipe can be made with fresh, frozen or canned corn. If using fresh corn, be sure to remove the husks and all the silk. Scrape the blunt end of the knife along the side of the corn husk to get all the flavoring from the corn as possible to add to the soup. This will give amazing flavor.
Gluten Free? Simply skip the flour and substitute with a corn starch or arrowroot slurry at the end before adding the half and half to the soup. Let this simmer in the soup for several minutes to help thicken, then add the half and half.
Slow Cooker/Instant Pot options: use your favorite cooking method for making this soup. Some adjustments will need to made according to which cooking method you choose, additional information is included in the recipe card below.
FAQS: Corn Chowder
How do you thicken corn chowder?
There are several ways to thicken corn chowder, creating a roux using flour mixed with bacon grease or other cooking fat helps thicken. Another method used in this recipe is blending a portion of soup, since this recipe has potatoes and corn, this helps the soup become nice and thick and creamy.
What's the difference between corn soup and corn chowder?
Soups are typically light and thin and chowder is hearty, thick and rich. Just like stews, chowders typically contain chunks of meats, potatoes and hearty vegetables.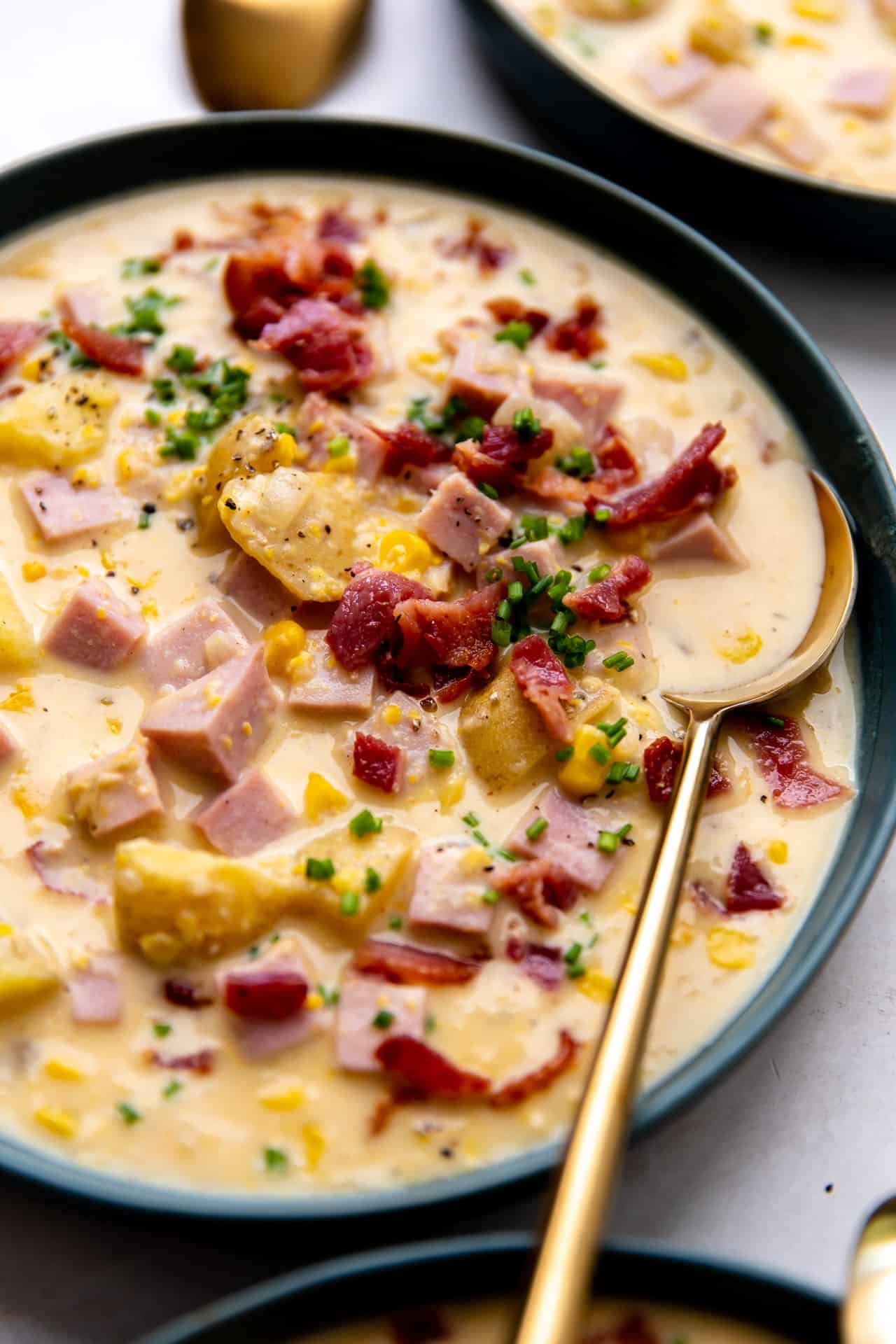 Extra Add-Ins for this Corn Chowder Recipe:
Cheese. Sometimes soups are just better with cheese. Definitely feel free to add a handful or two of your favorite cheese, a sharp cheddar or pepper jack for a kick of spice. Add it as the last step and stir to allow it to melt completely into the soup.
Fresh herbs. I love garnishing my soups with fresh herbs for flavor and a burst of flavor. A bit of fresh chives, some parsley, or even some cilantro would complement this corn chowder nicely.
Green chiles. Or some diced up jalapeño for a bit of spice would take this corn chowder to the southwestern, Tex Mex side.
More Soup Recipes to try:
If you tried this recipe please leave a comment and a ⭐️⭐️⭐️⭐️⭐️ rating below! Thank you so much!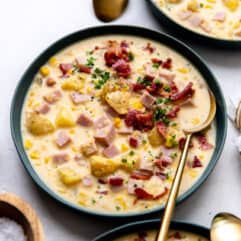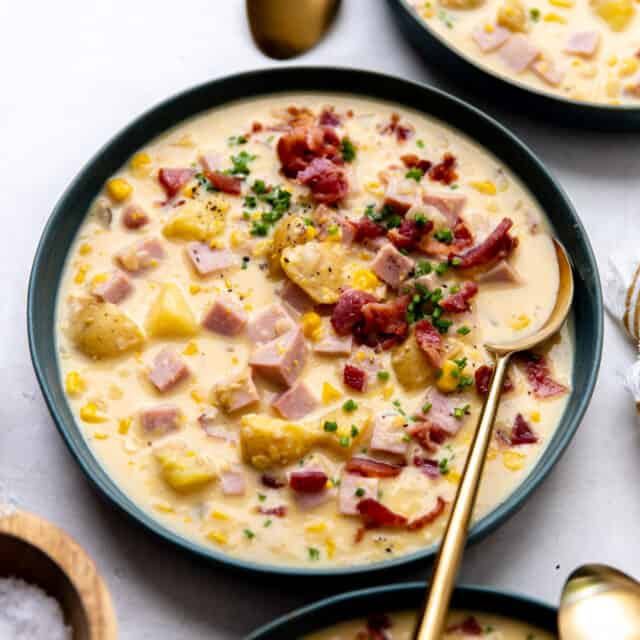 Corn Chowder
Quick and easy! This hearty corn chowder is loaded with bacon, ham and potatoes. Plus it comes together in 30 minutes on the stovetop. Instructions included on how to make this in the slow cooker or instant pot. Great easy dinner idea for the family.
Ingredients
4 strips bacon
1/2 cup onion, diced
3 cloves garlic, minced
2 tbsp all purpose flour
32 ounces corn, frozen or canned (approx 9 ears of corn)
1 lb gold potatoes, diced 1/2 inch cubes
2 tsp salt
¼ tsp ground black pepper
¼ tsp paprika
4 cups chicken broth, unsalted
1 cup half and half, (or milk of preference)
1 lb ham, diced into 1/2 inch cubes
Instructions
In a large dutch oven or pot, cook the bacon until desired crispness, remove the bacon from the pot and set aside, keep 2 tbsp of grease, drain any excess.

Add the diced onion and cook until softened and translucent. Add the garlic and cook an additional 30 seconds.

Stir in the flour, allow this to cook for 1-2 minutes.

Stir in the salt, pepper, and paprika. Pour in the chicken broth. Stir to combine.

Add in the diced potatoes. Bring to a low simmer. Cover and cook for 10-15 minutes over medium heat.

Remove the lid, add in the corn and continue to cook for an additional 10 minutes until the corn is heated through and the potatoes are fork tender.

Turn off the heat and using an immersion blender blend up the soup to desired consistency. Be sure to leave some chunks of potato and corn in the soup. The more you blend the thicker the soup will be. IF you don't have an immersion blender, remove a portion of the soup carefully and blend in a blender or food processor. Then return to the pot.

Optional: sear the ham in a skillet over medium high heat for 5 minutes, turning to ensure all sides are seared.

Add the ham to the pot and the cooked diced bacon, setting some aside for garnishing. Stir to combine. If you skipped searing the ham, you will need to turn the heat back on under the soup pot to give the ham time to warm in the soup before moving on.

With the heat still off the pot, stir in the half and half.

Serve soup warm with a garnish of fresh chives or parsley, fresh ground pepper, and cooked bacon.
Notes
Fresh corn: Simply cut the corn off the cobs and use it fresh. No need to precook the corn before adding to the soup.
Frozen corn: Set the corn out to defrost when you start making the soup. It will be plenty of time. Add the corn to the soup according to the recipe and it will cook through and be warmed perfectly.
Canned corn: Open and drain the corn before adding to the soup. If you want to make the corn a bit thicker and sweeter, you can add a can of creamed corn as well!
Instant Pot: Sauté the bacon using the sauté setting on your instant pot, remove the bacon, continue sautéing the onion and garlic. Add in the chicken broth, seasonings, potatoes and corn. Cook on High Pressure for 15 minutes and do a quick release. Blend a portion of the soup. Whisk together flour and a small amount of the hot liquid of the soup, then add this to the chowder and stir to combine. Sauté for a few minutes if needed to thicken soup. Then add in the meats.
Slow Cooker: To make this soup in the slow cooker: add all ingredients to a slow cooker, MINUS the bacon, ham, flour and half and half. Cook on low for 6 hours. Blend the soup. If you still want thickness to the soup mix together equal parts flour and water (1 tablespoon each) and whisk into the soup. Cook on low an additional 30 minutes. Stir in the ham, bacon and half and half.
Nutrition
Serving: 1, Calories: 374kcal, Carbohydrates: 39g, Protein: 21g, Fat: 17g, Saturated Fat: 6g, Polyunsaturated Fat: 3g, Monounsaturated Fat: 7g, Trans Fat: 0.01g, Cholesterol: 48mg, Sodium: 1780mg, Potassium: 760mg, Fiber: 4g, Sugar: 8g, Vitamin A: 387IU, Vitamin C: 18mg, Calcium: 62mg, Iron: 2mg
Recipe first published December 18, 2018. Updated September 16, 2022 with new images and information. Recipe has been slightly modified with the addition of bacon.
Photography by the talented @KJandCompany.co
House of Yumm is a participant in the Amazon Services LLC Associates Program, an affiliate advertising program designed to provide a means for us to earn fees by linking to Amazon.com and affiliated sites.