Whole Wheat Pizza Dough. Crispy, chewy whole wheat pizza dough. Perfect for loading up with all your favorite toppings!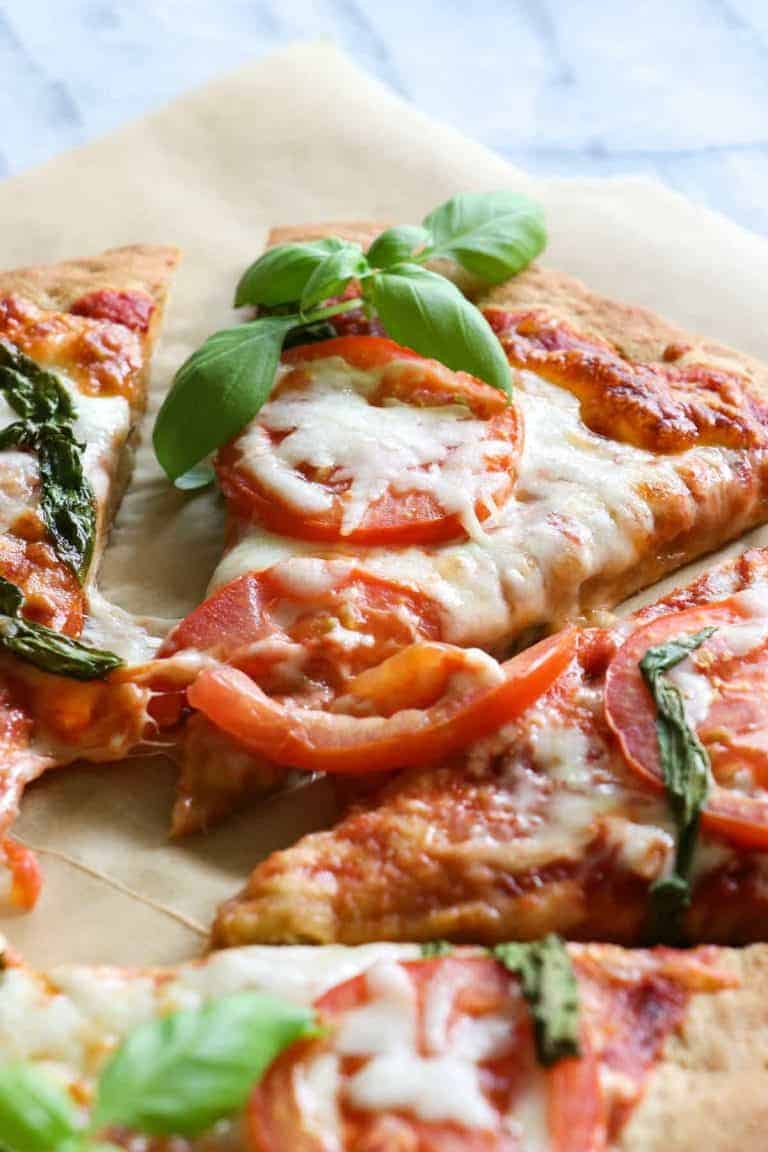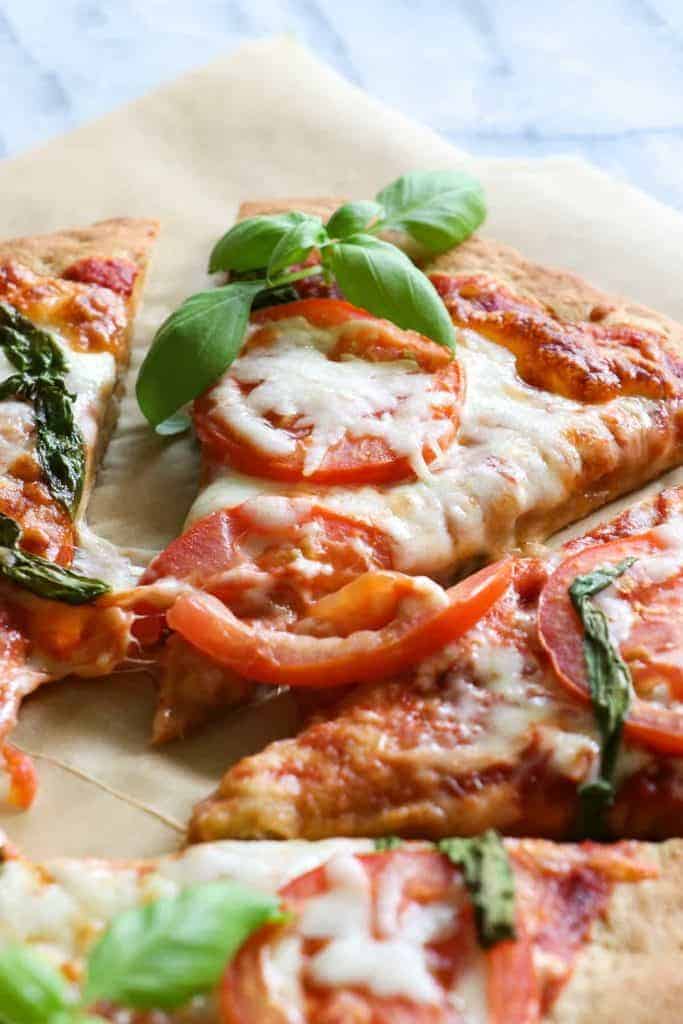 Hey y'all. Does summer seem like it's winding down? I keep seeing everyone sharing back to school pictures. We haven't started yet, so it still seems like it should be summer. But we are getting ready for back to school.
We're also getting ready for soccer season. We have two practices this week and games coming up next weekend. After a summer spent in newborn fog and my husband being home and basically feeling stuck in a dream like state of vacation, this real life schedule feels like a slap in the face.
And nothing heals a reality slap to the face like pizza.
Especially when that pizza is made on a homemade Whole Wheat Pizza Dough.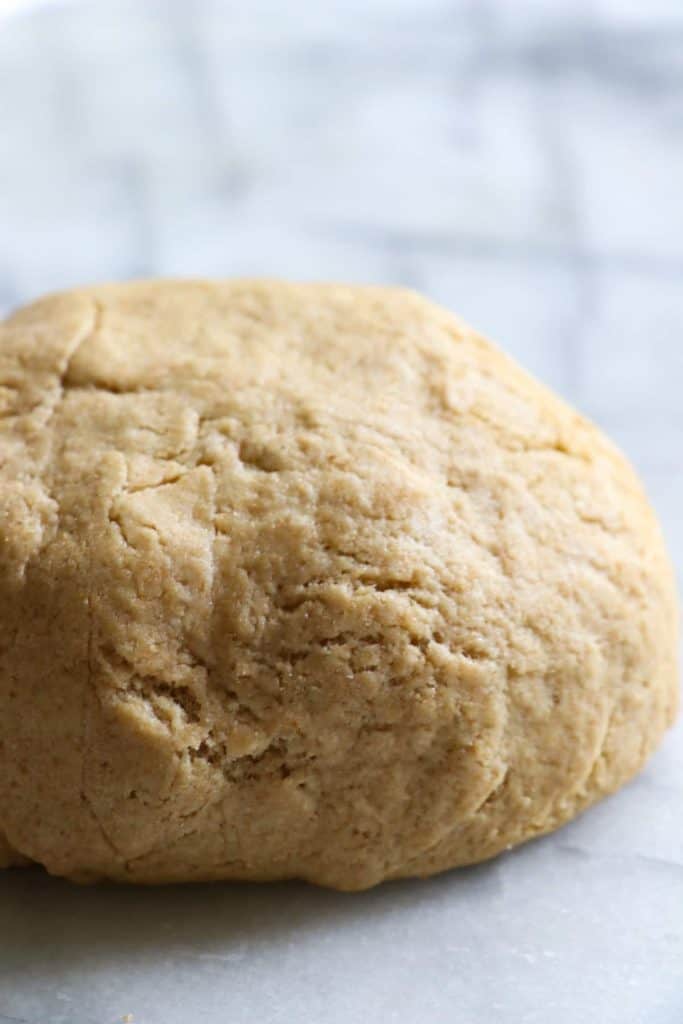 The most popular recipe on my site is the No Yeast Pizza Dough. Which leads me to believe y'all like pizza just like we do here!
While that No Yeast Pizza Dough is my all time favorite quick and easy to make dough (seriously this dough can be made and turned into a pizza in about 20-30 minutes start to finish!!). This whole wheat pizza dough is my all time favorite crispy, chewy, WHOLE WHEAT dough.
It does involve yeast so it takes a minute or two (or an hour…) longer.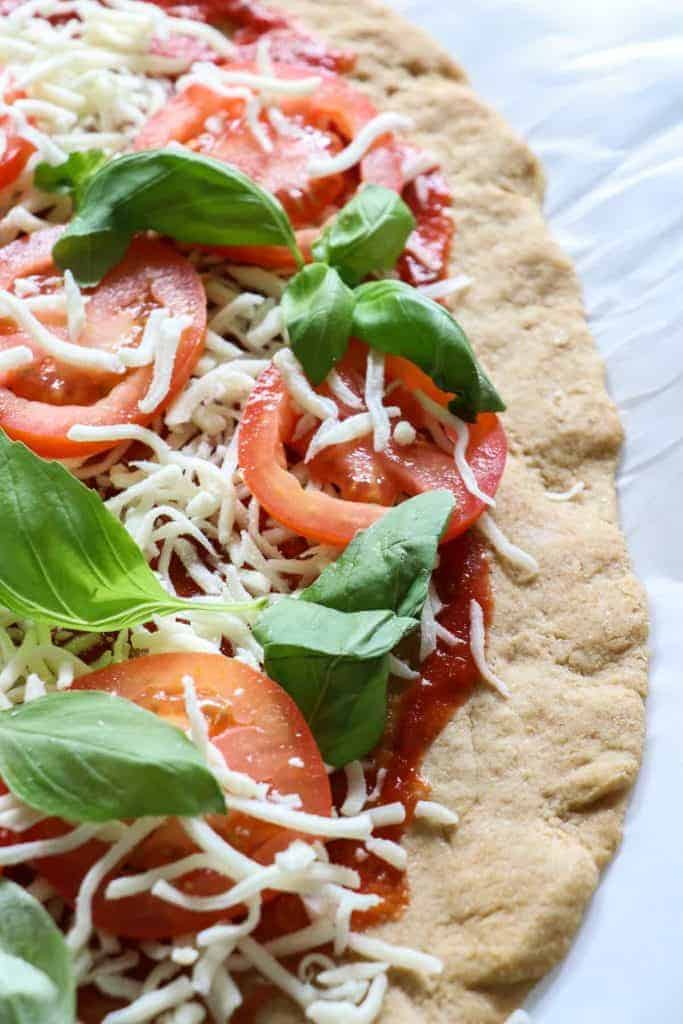 But can I just tell you guys how in the zone I felt making this particular pizza?
Whole wheat crust, which anything whole wheat makes me feel good about myself. Homemade Pizza Sauce. Fresh basil from my own little herb garden. And by herb garden I mean the basil plant I have had on my kitchen table for about 6 weeks now. It's still alive!! So I'm pretty proud of myself.
The only thing that could have made me any happier about this pizza is if the tomatoes had come from my own garden. But thanks to being massively pregnant not too long ago a garden this summer was just a nice thought.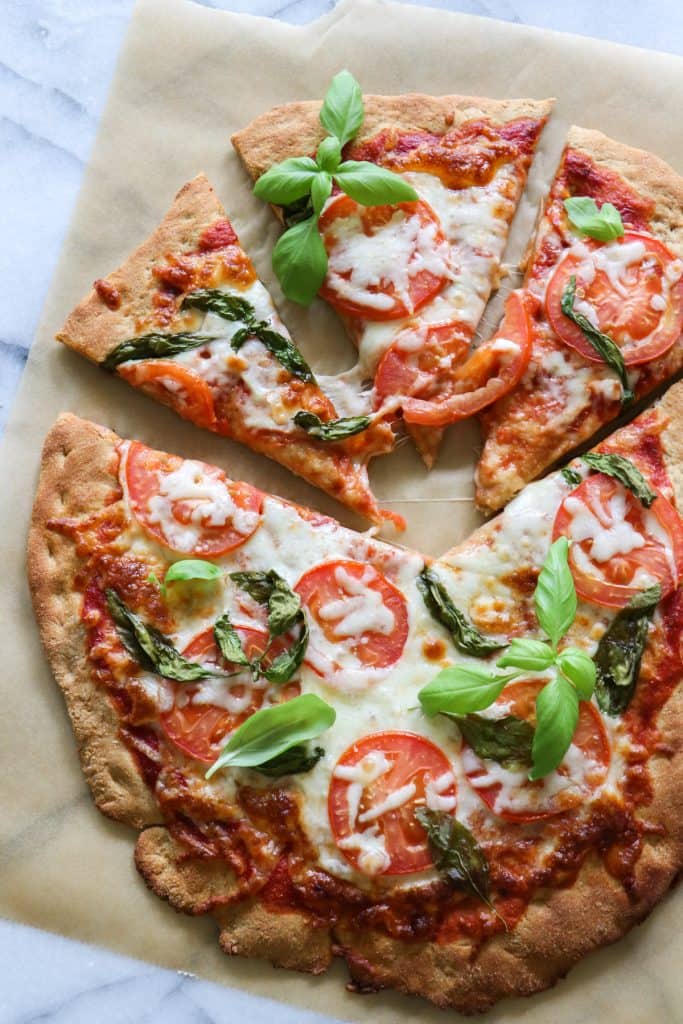 This crust is super easy to make. And if you're new to yeast, don't let it scare you! I use an instant yeast, which basically means we only have to let this dough rise once. Mix the yeast with some warm water and let it sit for about 5 minutes. It will get foamy. And that means that your yeast is working. Because if you have an old yeast it's possible it won't rise. So if there's no foam, then start over with some new yeast. Otherwise the dough won't turn out.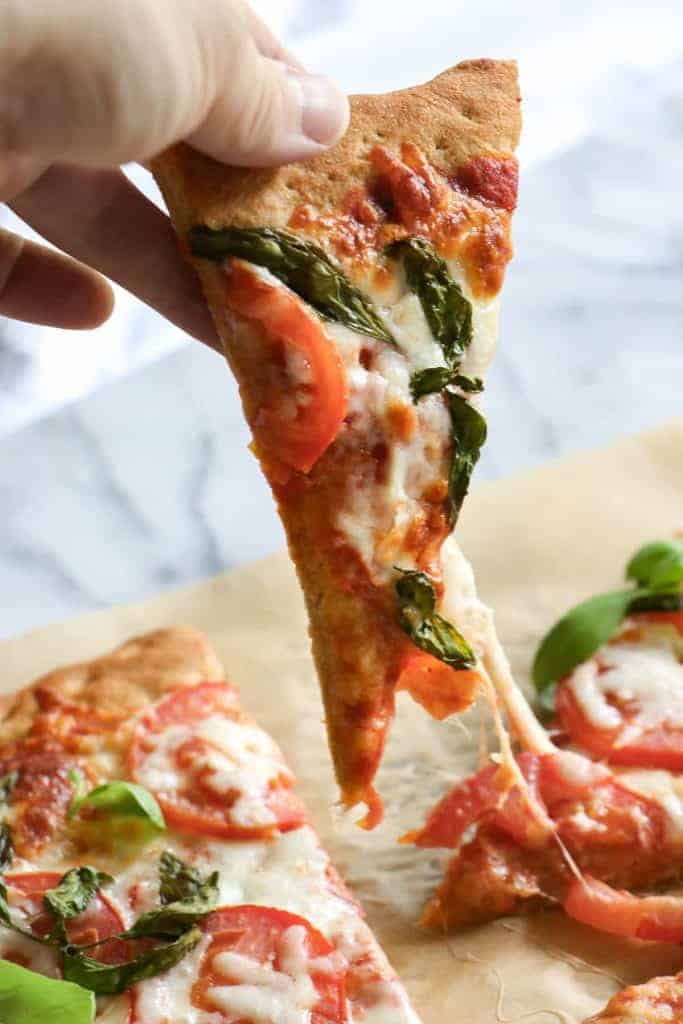 Then it's just a matter of mixing everything up. I always use my stand mixer because it's quick and easy. But you can definitely mix this up by hand. Once you have a ball of dough add it to a big bowl that is coated with a thin layer of olive oil, cover it, and place in a warm place. Now in TX right now, everywhere is a warm place. But what I like to do is preheat my oven to 250. Turn the oven off, open the door and let it cool for about 5-7 minutes. Then place the bowl with the dough inside and close the oven. Once the dough rises then go ahead and punch it down and shape it into your pizza!
Then comes the fun part of adding your toppings. Seriously. So easy!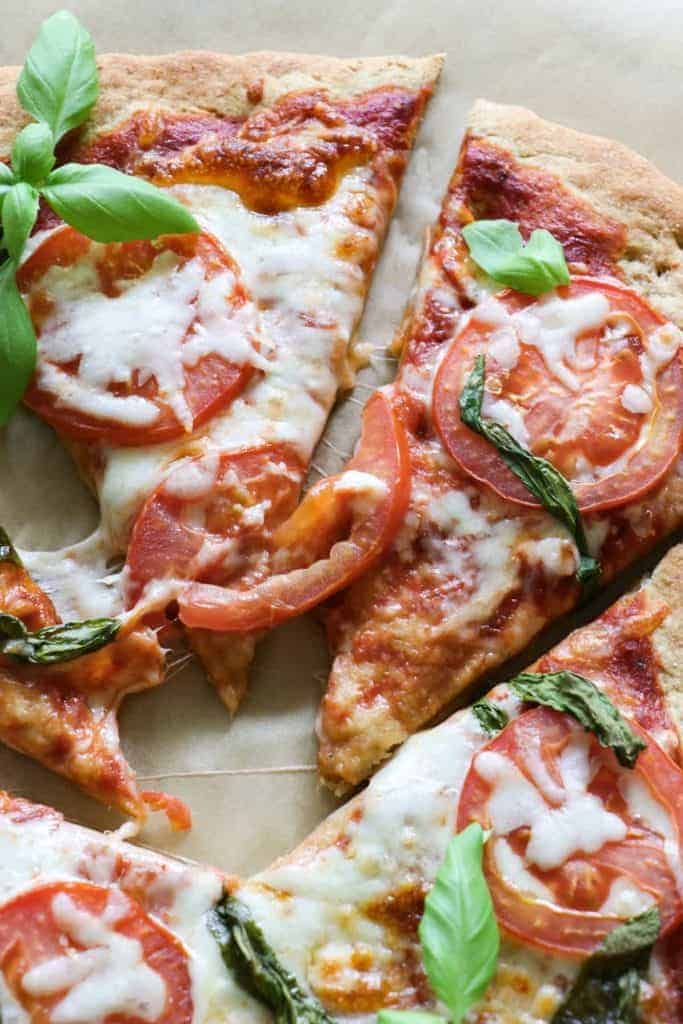 Whole Wheat Pizza Dough
Whole Wheat Pizza Dough. Crispy, chewy whole wheat pizza dough. Perfect for loading up with all your favorite toppings!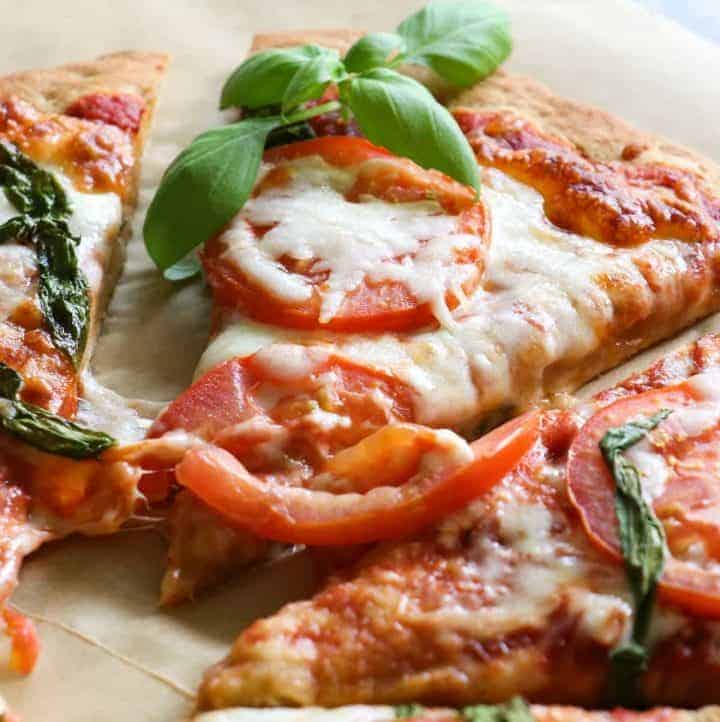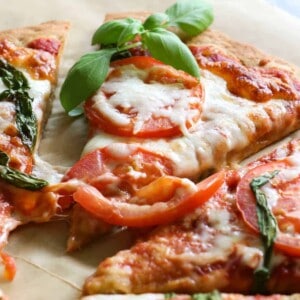 Ingredients
½

cup

water

warm

1½

tsp

instant yeast

1

tbsp

honey

1¼

cup

white whole wheat flour

or regular whole wheat flour

½

tsp

salt

1

tbsp

extra virgin olive oil
Instructions
In a small bowl combine the warm water, yeast and honey. Stir to combine. Let sit for about 5 minutes or until foamy.

In a large mixing bowl add the flour and salt. Add in the yeast mixture and mix slowly until a ball of dough forms.

Lightly coat a large bowl with the olive oil. Place the ball of dough inside the bowl and cover with plastic wrap or a towel.

Place the bowl in a warm place (see above for a tip about using your oven!) and let rise for 1-2 hours until dough has doubled in size.

Once dough has risen, punch down and then stretch out to form your pizza dough. This is enough dough to make roughly a 12 inch pizza.

Add toppings and bake pizza at 425 for about 10-15 minutes or until the crust is browned on the edges.

Serve and enjoy!
Nutrition
Calories:
186
kcal
|
Carbohydrates:
32
g
|
Protein:
7
g
|
Fat:
4
g
|
Saturated Fat:
1
g
|
Sodium:
295
mg
|
Potassium:
87
mg
|
Fiber:
5
g
|
Sugar:
4
g
|
Vitamin C:
1
mg
|
Calcium:
28
mg
|
Iron:
1
mg
Nutrition information is automatically calculated, so should only be used as an approximation.
Like this? Leave a comment below!
SaveSave