Tex Mex Street Tacos. Marinated flank steak, grilled, sliced and stuffed into soft golden corn tortillas. Top it all off with some fresh pico de Gallo, cotija cheese, and diced onion and cilantro.
This is a sponsored conversation written by me on behalf of Beef Loving Texans. The opinions and text are all mine.
Y'all know I love a good taco. And this is a GOOD taco! This recipe is one that I found on the Beef Loving Texans website. If you didn't know, Texans love their beef.
I am so excited to partner with Beef Loving Texans, they are the consumer facing brand of the Texas Beef Council, which is a non-profit organization. They support the state's beef industry by increasing beef demand through promotion, research and education.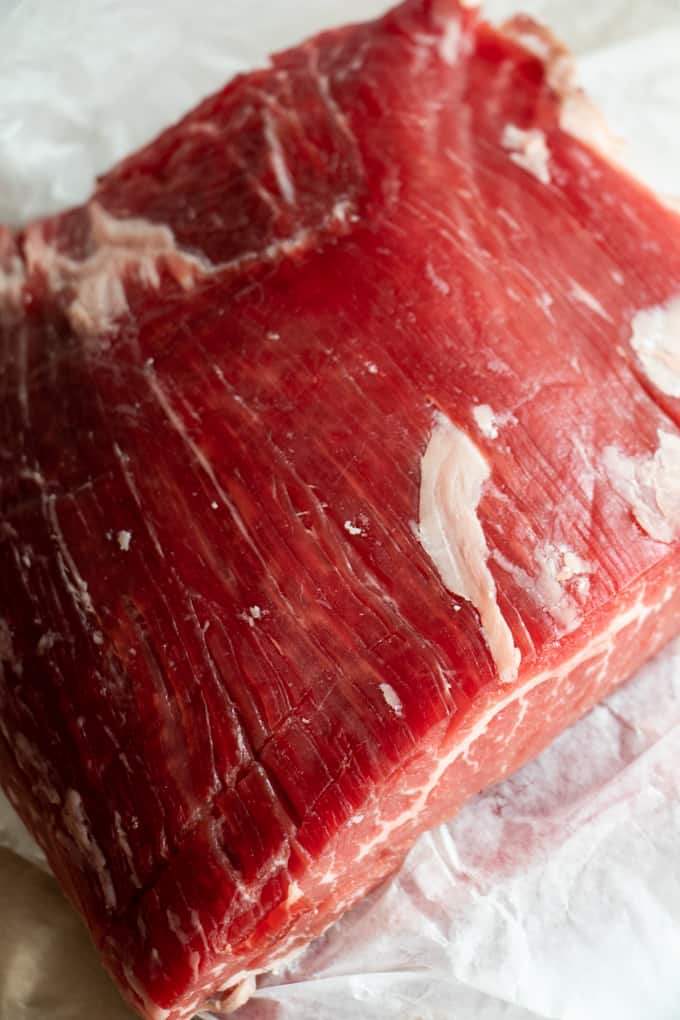 Their website is filled with recipes that are unique and diverse. These recipes all focus around the use of beef, but are designed to bring people to the table. There's nothing better than getting the family to the table around a wonderful home cooked meal. No matter the size of your family, there's a recipe for you on this site.
BeefLovingTexans.com is a wonderful resource for not just recipes but also cooking tips, nutritional information, information on incorporating beef into a well balanced diet. There's also history and culture data about the role of cattle in the wonderful state of Texas.
How to make Tex Mex Street Tacos:
Tex Mex street tacos to me basically refers to any and all tacos like I would get at a local taco shop. They're small, on corn tortillas, loaded with flavorful meat and scarce on toppings. Typically only topped with diced onion and cilantro. Sometimes with pico or crumbled up queso.
For this recipe we will be using a flank steak. Flank steak is a fairly tough piece of meat it's mostly muscle, as you can see there's not much marbling of fat. Due to this it's best to marinate it overnight.
How to marinate flank steak:
Grab a large plastic bag that can be sealed. The marinade can be prepared right in the bag, no dirty dishes necessary.
A great marinade needs three things. Fat, acid, salt and flavor.
For this recipe we will be using:
Fat: olive oil
Acid: orange juice, lime juice
Flavor: soy sauce, tequila, pepper, shallot, garlic, jalapeño, and cilantro
And of course, salt.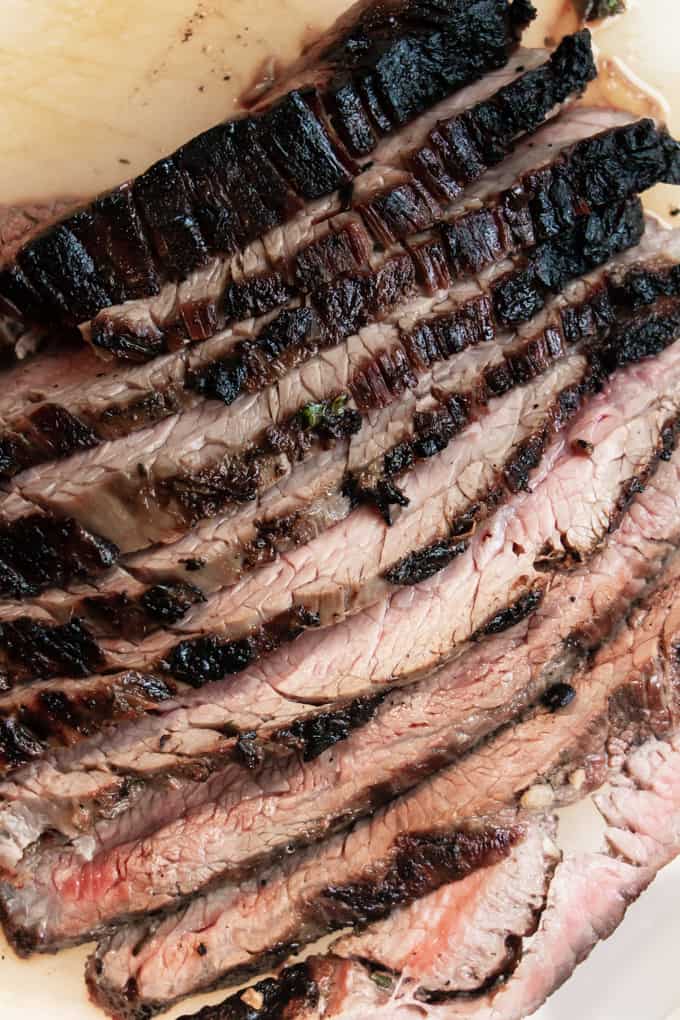 How to cook flank steak:
Flank steak does best when cooked over high heat for a short period of time. The high heat is going to allow for a gorgeous sear on the outside. Heat the outside grill to about 400°F. Place the meat on the grill, cook for about 6-8 minutes until you can see juices release from the meat and appear on the top. Then flip the meat to cook the other side for another 6 minutes. Check that the internal temperature.
Rare: 135°F
Medium Rare: 145°F
Medium: 160°F
Well Done: 170°F
When taking the internal temperature keep in mind that the meat will continue to cook once removed from the heat. I tend to remove my meat when I get a couple degrees before my target. Let the meat sit for an extra 10 minutes before cutting. And since the flank steak is a cut where the grain of the meat all runs one direction, cut against the grain when slicing.
I will advise that due to flank steak being such a lean cut, that if cooked beyond 145 degrees it will start to dry out and be a tough bite of meat to chew.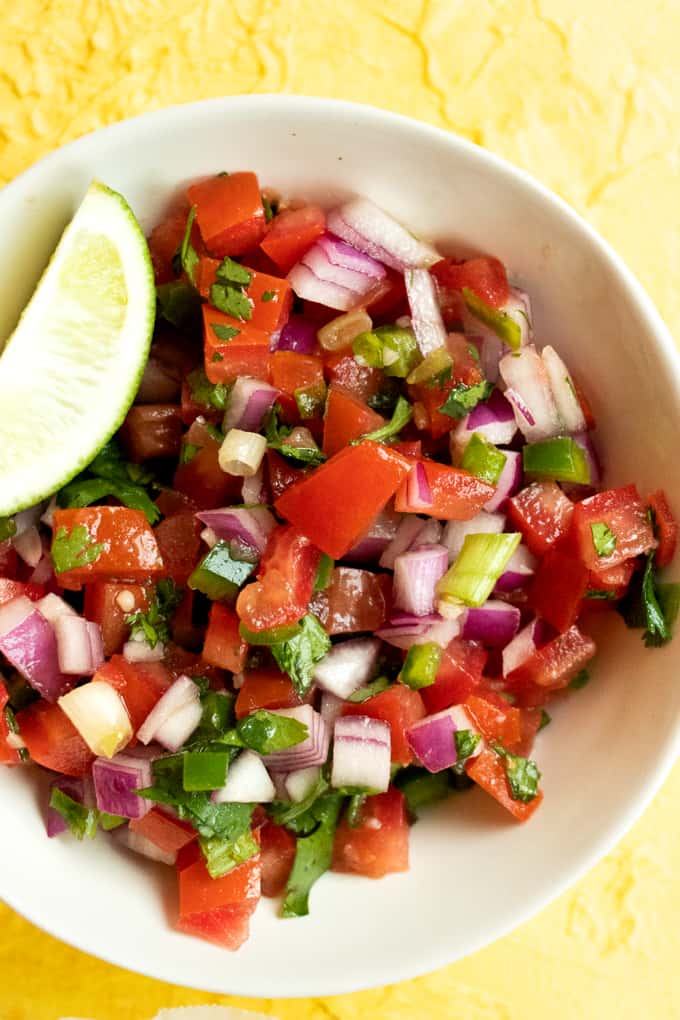 Some notes on this particular recipe:
I had to follow the recipe as it shows on the Beef Loving Texans website. And while I love the meat, I will admit that I'm not super crazy about large cuts of meat on my personal tacos. So what I did was slice the meat thinly and then chop it up. Basically like I would with a carne asada. And these were possibly some of the best tacos I've ever had!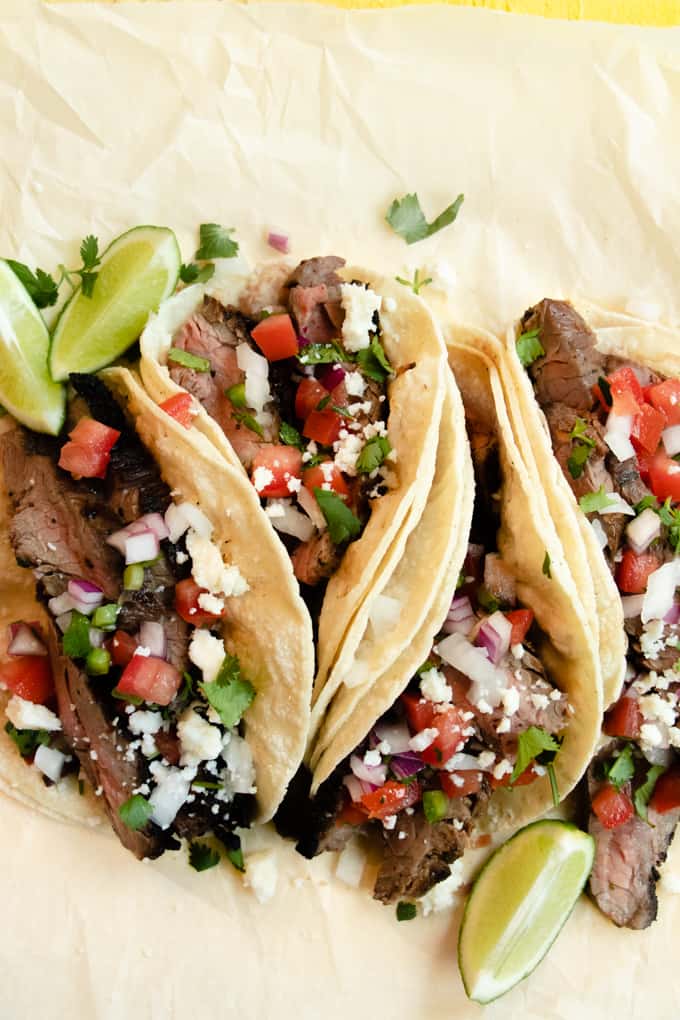 Other beef recipes you may enjoy:
Make sure you check out the Beef Loving Texans website. And check out their social media on Facebook, Instagram, Pinterest and YouTube.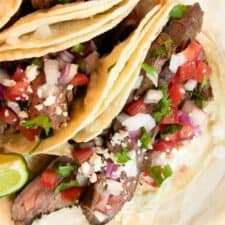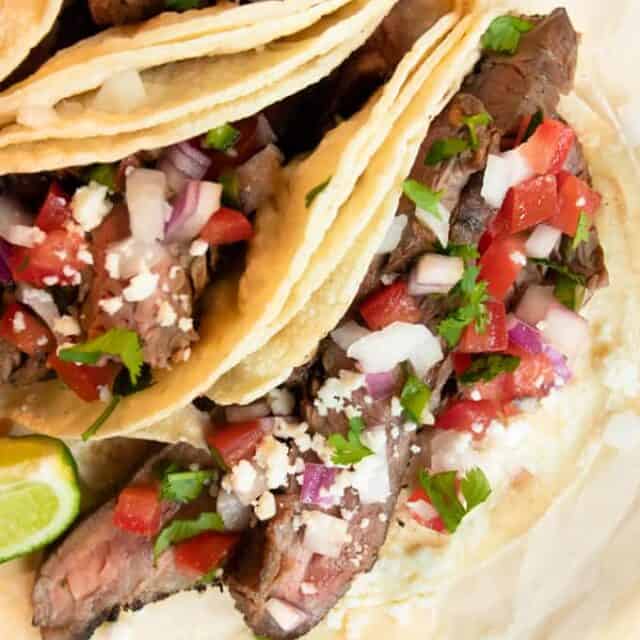 Tex Mex Street Tacos
Tex Mex Street Tacos. Marinated flank steak, grilled, sliced and stuffed into soft golden corn tortillas. Top it all off with some fresh pico de Gallo, cotija cheese, and diced onion and cilantro
Ingredients
2 lbs. Flank Steak
1/4 cup silver tequila
2 tablespoons soy sauce, low sodium
2 cloves garlic, minced
¼ cup olive oil
1 teaspoon salt
½ teaspoon ground black pepper
1 jalapeno pepper, ribs and seeds removed, finely chopped
1 shallot, finely chopped
2 tablespoons cilantro, chopped
cotija cheese, crumbled
16 corn tortillas
Pico de Gallo (yeilds 2 cups)
4 tomatoes, seeded and chopped
½ cup red onion, chopped
2 green onions, white and green parts thinly sliced
1 jalapeno pepper, ribs and seeds removed, minced
¼ cup cilantro, chopped
1 cloves garlic, minced
1 lime, juiced
¼ cup extra virgin olive oil
1 teaspoon kosher salt
Instructions
Place tequila, soy sauce, garlic, lime juice, orange juice, olive oil, salt, black pepper, jalapeño pepper, shallot and cilantro in a freezer proof zip-top bag. Add flank steak. Seal and marinate 6 hours to overnight in the refrigerator.

Preheat gas or charcoal grill to 400°F.

Remove meat and discard marinade

Place steaks on oiled grates and grill for approximately 4-6 minutes on one side or until moisture startes to pool on the top and beef releases easily from the grates with tongs.

Flip once, grilling on the other side for 4-6 minutes or until internal temperature reaches 145°F with meat thermometer inserted into the thickest part of the steak.

Transfer steaks to a platter and let rest for 3 minutes before slicing against the grain, into ¼-inch thick strips.

Warm the tortillas for 30 seconds on each side in a dry skillet or on the grill.

Stack 2 tortillas, add beef, toppings and lime juice if desired.

Combine pico de gallo ingredients in mixing bowl and toss thoroughly.
Nutrition
Serving: 1, Calories: 255kcal, Carbohydrates: 16g, Protein: 18g, Fat: 12g, Cholesterol: 50mg, Sodium: 290mg, Fiber: 2g
Recipe originally published on Beef Loving Texans.
House of Yumm is a participant in the Amazon Services LLC Associates Program, an affiliate advertising program designed to provide a means for us to earn fees by linking to Amazon.com and affiliated sites.