Tex Mex Crab Cakes
Tex Mex Crab Cakes are bursting with flavor and spice.   Packed with fresh peppers, cilantro and lime juice, these crab cakes will definitely be the highlight of any meal!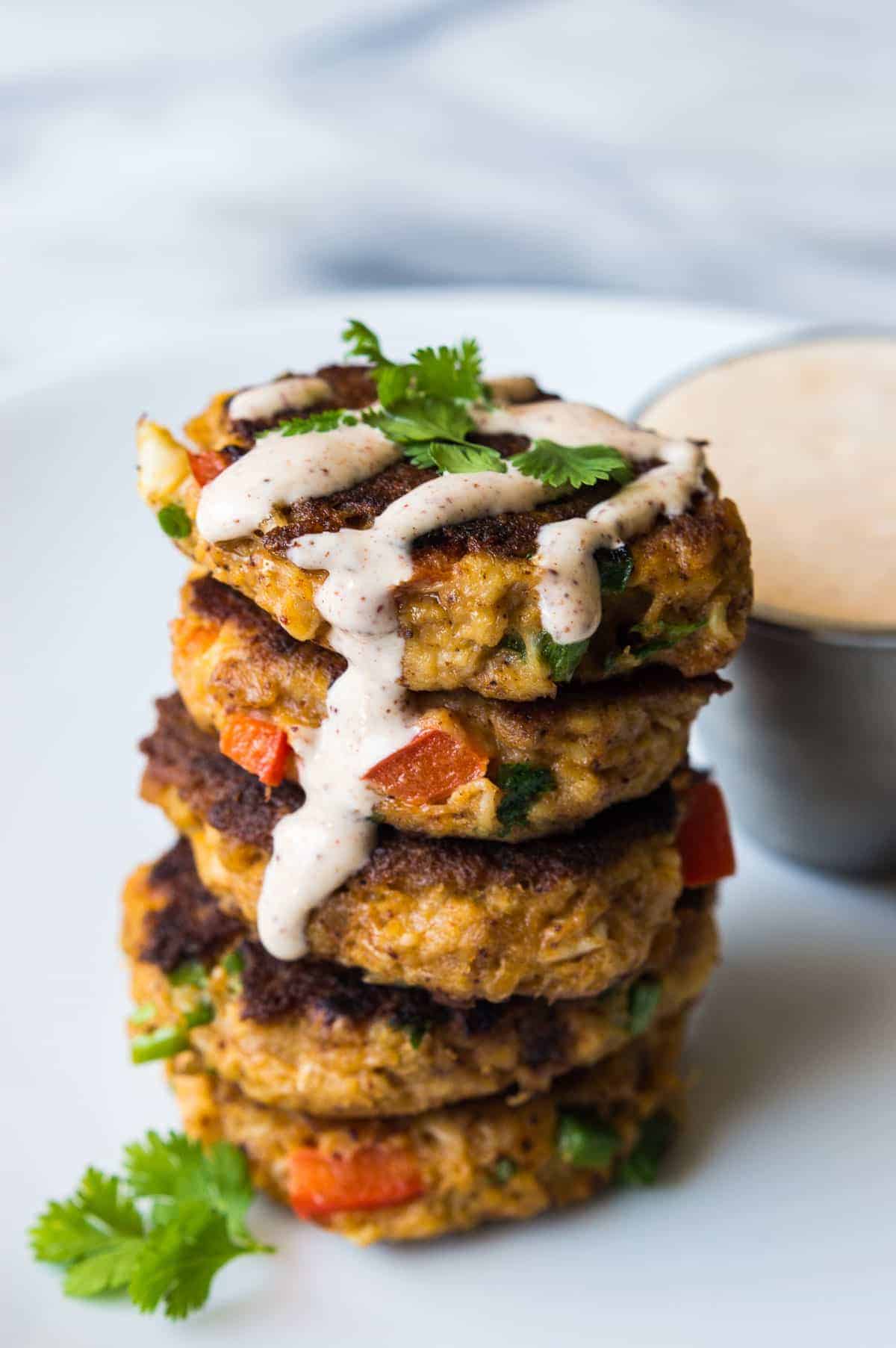 Tex Mex Crab Cakes.  I'm pretty sure these will become your new favorite appetizer.  Flakey crab meat on the inside.  Golden crispy on the outside.  Plus these little guys had a Tex Mex update so they are loaded with fresh bell peppers, a little jalapeno, cilantro, and green onion.  Not to mention a little extra heat coming from the chili powder.  All balanced with the refreshing, clean taste of the crab meat.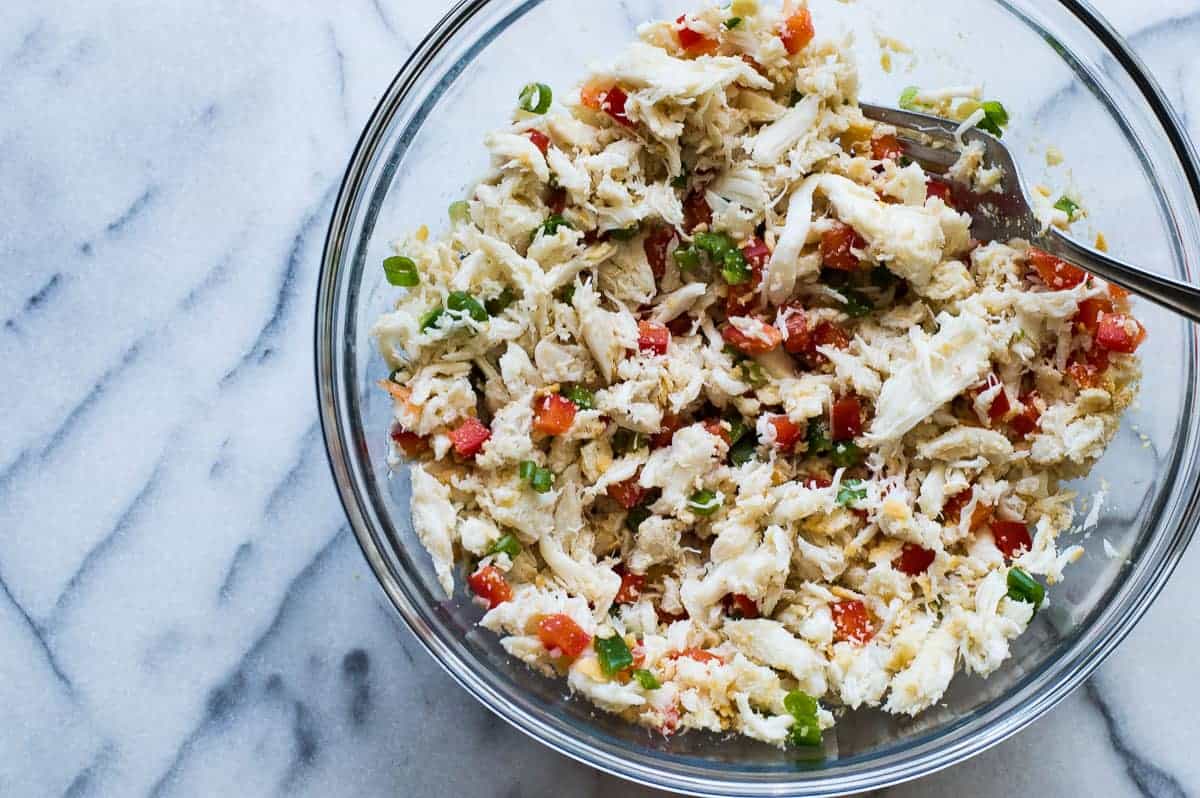 Where to find lump crab meat?  Well, we want to make sure we're getting actual crab meat  Not imitation  Both of which are kept in the same spot with the refrigerated seafood in the meat or butcher department of the market.  Since it is real crab meat it does have a slightly higher price point, which makes it all the more important we make these properly!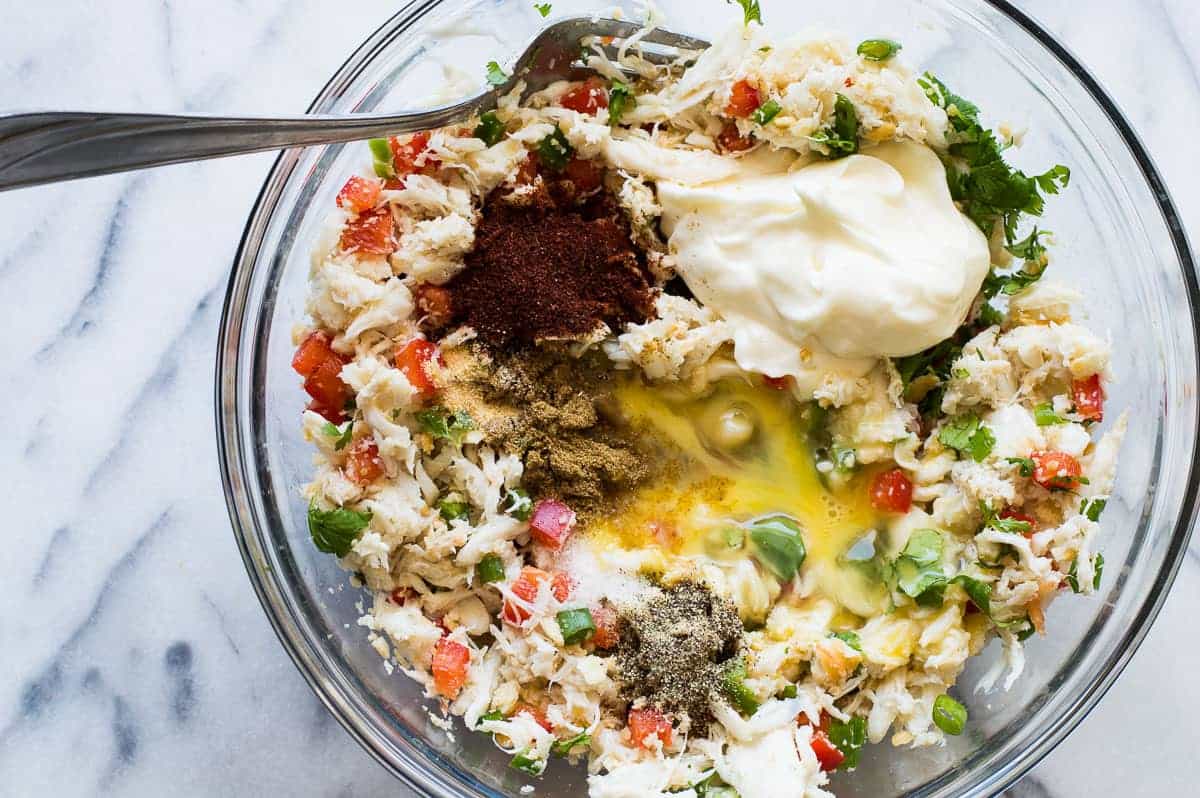 The trick to making these so that the crab meat inside is flakey and the outside has that wonderful golden crisp to it?  You need to chill the cakes prior to frying them.  If you don't then they won't hold their shape very well and they will end up quite soggy actually.  So once you have shaped the crab cakes put them on a baking sheet or plate, cover with plastic wrap and place in the refrigerator for at least an hour.  This also helps them hold their shape, so while you still need to be delicate with them when you are placing them in the pan and flipping them over, they will stand up to the movement a whole lot better!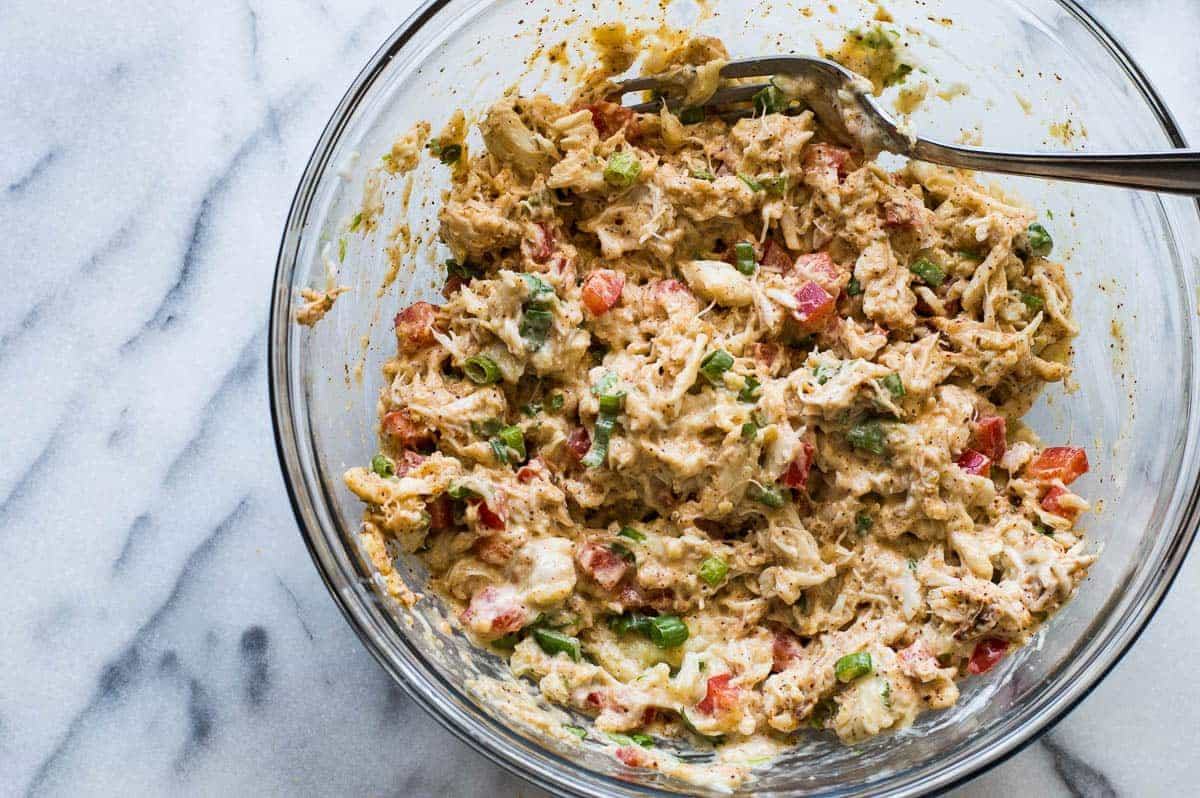 When frying them we want to make sure that we heat the oil first.  Then once the oil is hot we can add the crab cakes carefully.  Only put in a couple at a time so that we're not crowing the pan.  Once they've cooked for about 3 minutes then carefully flip them over to cook the other side.
You want to serve these up fresh.  So if you're not ready to eat them, just let them chill in the refrigerator until it's time.  Once they're fried, if we put them in the fridge and wait to eat them, they will get soggy.  I topped mine with my favorite Southwestern Dressing, but you can always use your favorite sauce to go with them.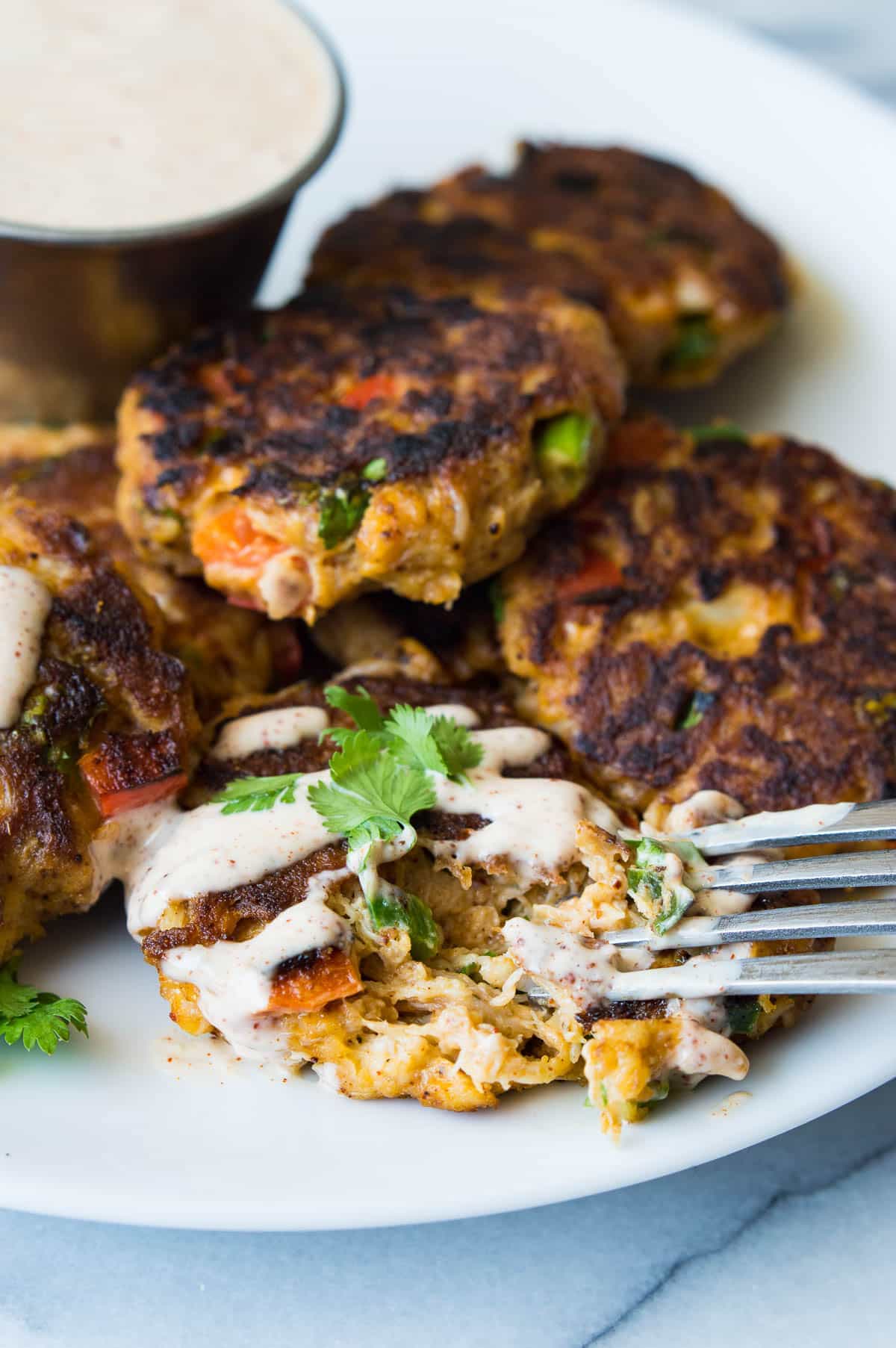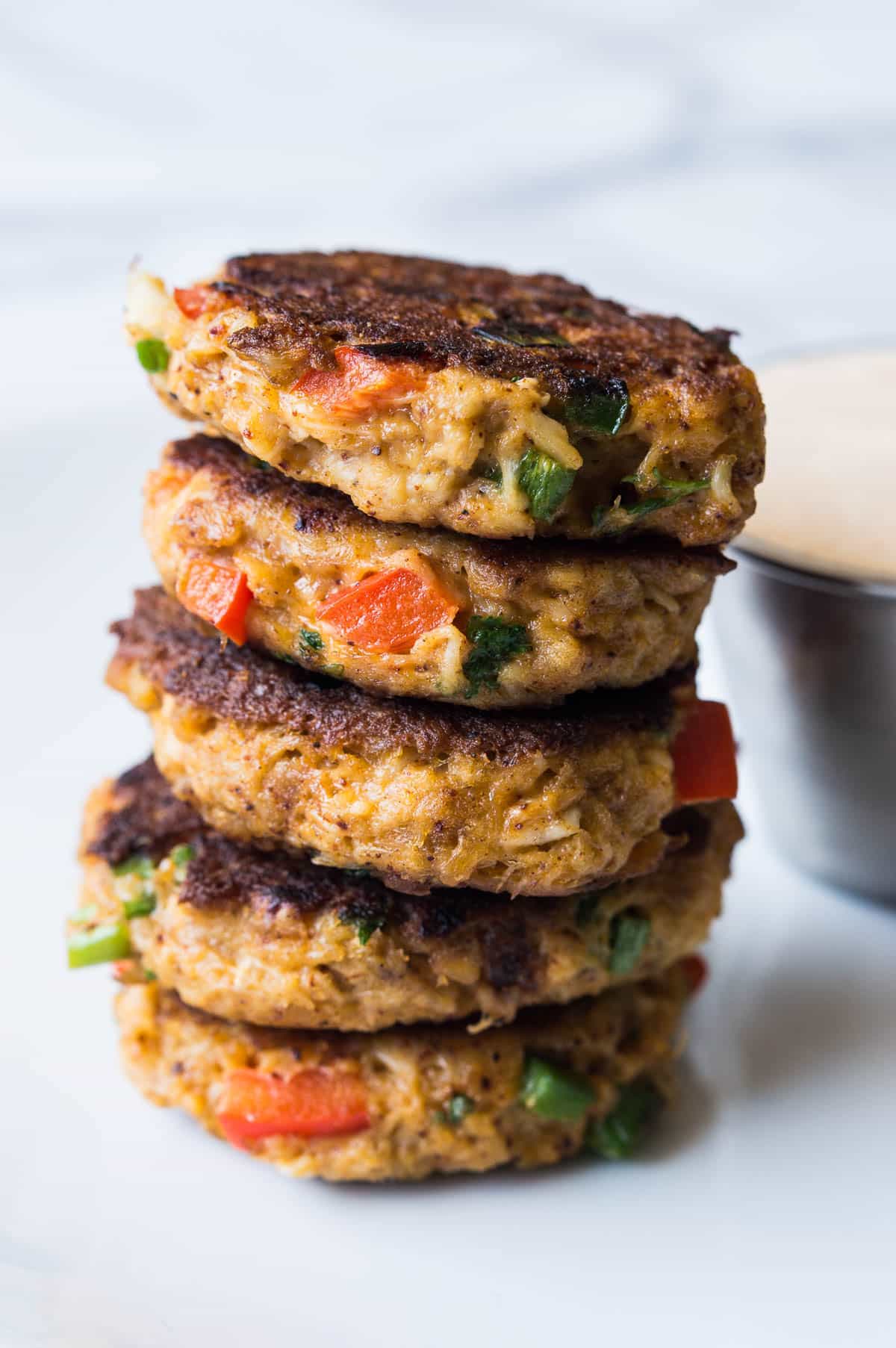 Need some more appetizer inspiration?
Tex Mex Crab Cakes Recipe
 first appeared on Food Fanatic!
House of Yumm is a participant in the Amazon Services LLC Associates Program, an affiliate advertising program designed to provide a means for us to earn fees by linking to Amazon.com and affiliated sites.