Crispy french fries loaded with all the flavors of a Cuban sandwich and topped with a creamy swiss cheese sauce! The ULTIMATE appetizer or snack recipe! A definite crowd pleaser!
Cuban Fries!! Y'all know that the Cuban Sliders are one of the most popular recipes on this little site of mine. So it got me thinking.. What else can I "Cuban-fy"? Apparently a lot of things! These Cuban fries are so delicious. The pictures do not do them justice. Crispy french fries topped with ham, dill pickles, a creamy swiss cheese sauce (definitely the highlight) and just a touch of mustard.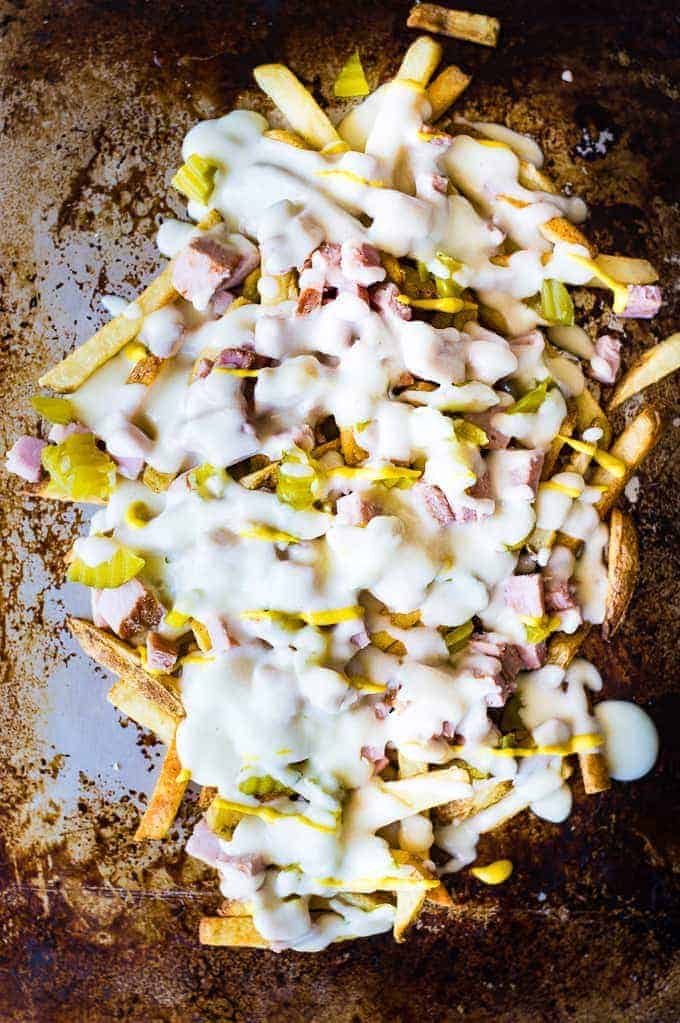 Now before you say it, I know, I know. There's no pork on here. And you're right! This is an easy dish that I can throw together in about 20 minutes depending on how long it takes the fries to cook. A good Cuban pork is going to take me a little bit of time. Trust me though, once I have a legit Cuban pork recipe up on the blog you will be the first to know! But the flavors are still very similar to a Cuban sandwich with a fraction of the time and slightly more fun. I mean, c'mon. Cuban fries?!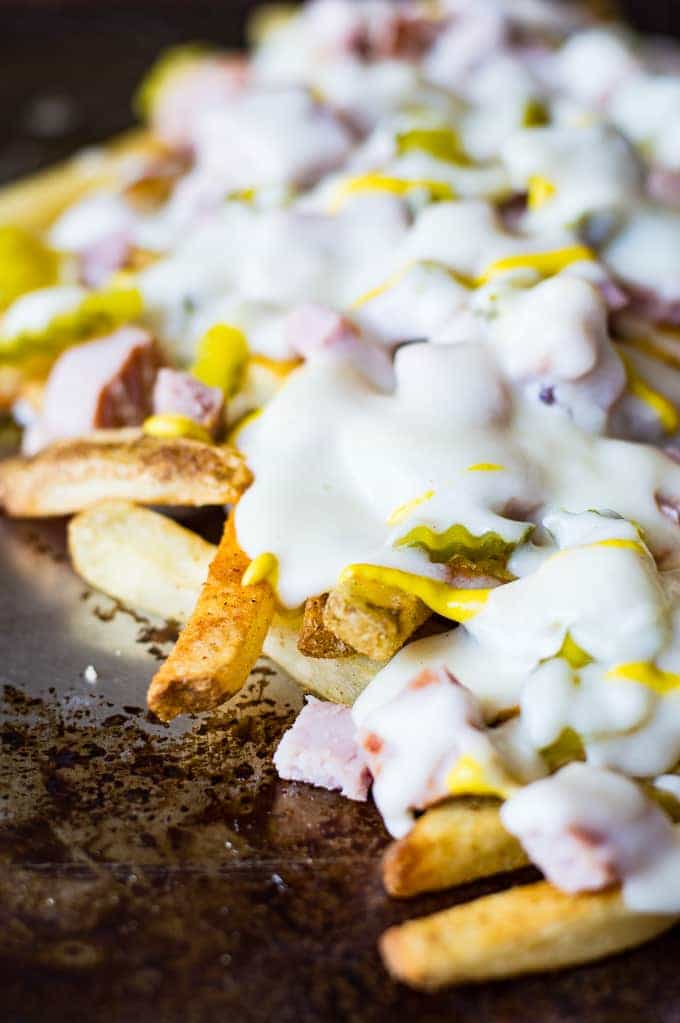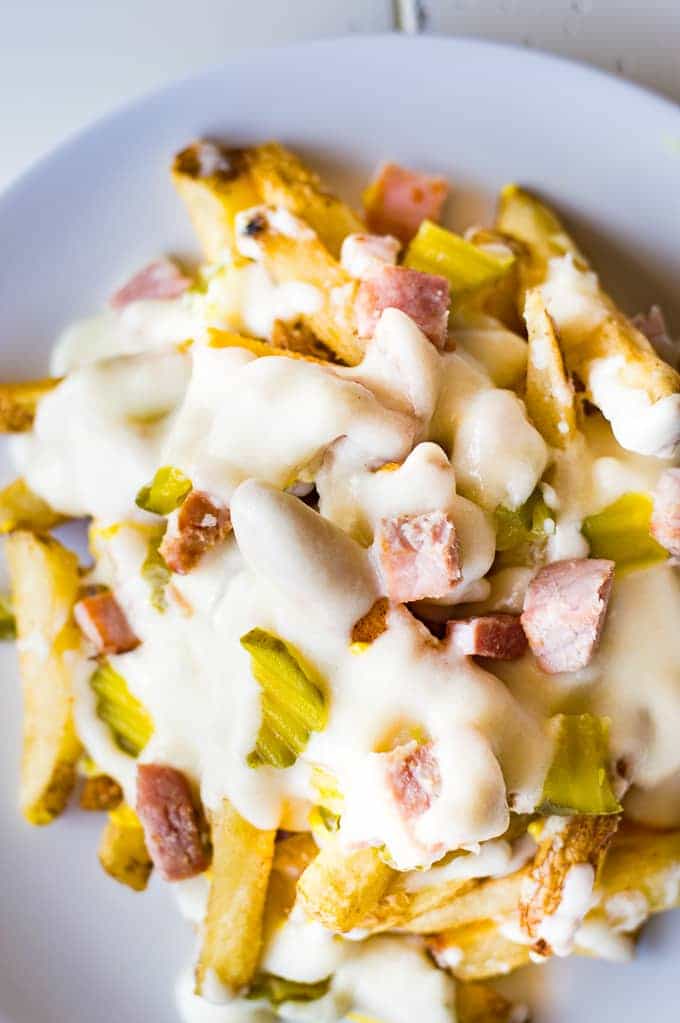 The key to these Cuban Fries is the swiss cheese sauce. It's so easy to make. I started with a basic roux, which is very simple to make. You can turn pretty much any cheese into a sauce with the same basic steps. In a saucepan you will melt butter. Whisk in some flour. Add milk or cream. Then the cheese. It's as simple as that. You can add salt and pepper too to add a little extra flavor. This is the same way we make cheese sauces for mac and cheese, and you can use it for pastas. For this dish we just toss in some swiss cheese and I added a little white pepper. But if you don't have that on hand black pepper, or no pepper at all too.
I used dill pickle chips sliced up for the pickle. And I had a large piece of ham that I purchased from the deli counter at the local market that I diced up. You can also find pieces of ham or even already diced ham at the market next to the sandwich meat too I believe. The hubs was a little iffy about the yellow mustard, he's not a fan, but it definitely completed the flavors. I think not adding mustard would be a big mistake!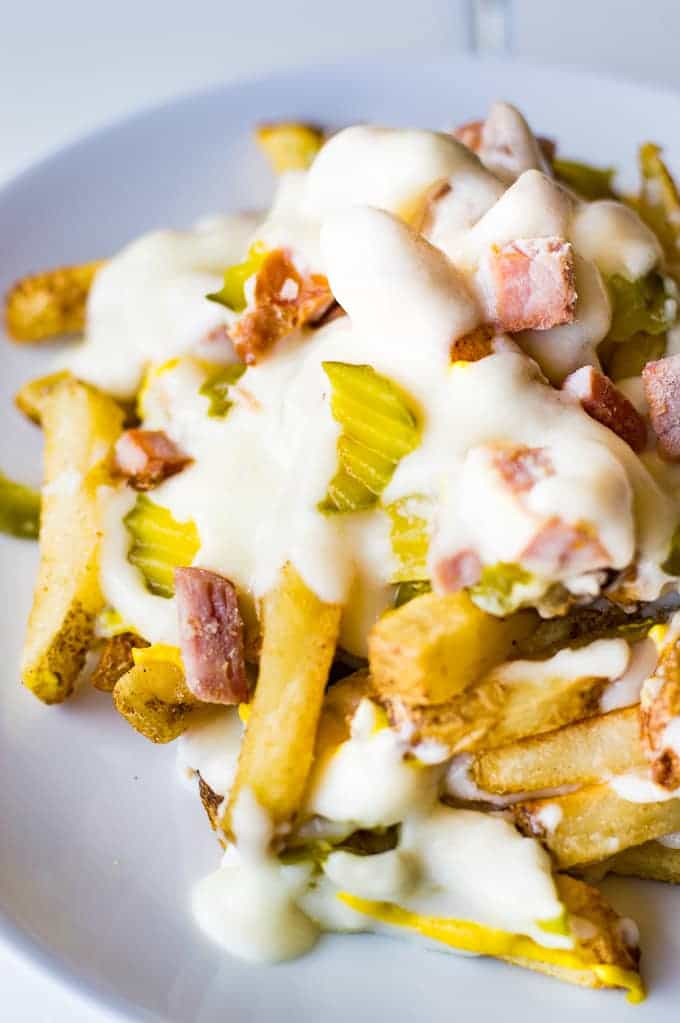 I hope you enjoy the recipe! You can follow along with me and never miss a recipe by signing up for my newsletter. Follow me on Instagram and tag #houseofyumm so I can see all the recipes you make. Plus follow me on snapchat! @houseofyumm ?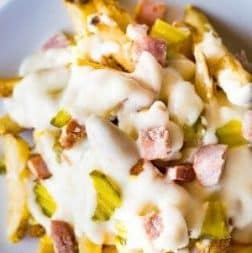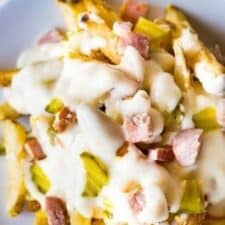 Cuban Fries
Crispy french fries loaded with all the flavors of a Cuban sandwich and topped with a creamy swiss cheese sauce! The ULTIMATE appetizer or snack recipe! A definite crowd pleaser!
Ingredients
30 ounce frozen french fries
1 cup diced ham
¼ cup dill pickles, diced
½ tbsp yellow mustard
Swiss Cheese Sauce
3 tbsp unsalted butter
3 tbsp all purpose flour
2 cups milk, I used 2%, can use whole or heavy cream for a creamier sauce
8 ounces swiss cheese, chopped
Instructions
Bake the french fries as directed.

Meanwhile to prepare the sauce melt the butter in a medium size saucepan over medium heat. Once the butter is melted whisk in the flour. Will be thick. Pour in the milk and stir to combine, as it heats this will thicken slightly. Add in the cheese and continue to stir as the cheese melts. Once the cheese is completely melted continue to stir. The sauce will thicken.

When the sauce is thick, remove from heat.

To assemble the fries, top the fries with the diced ham, diced pickle, drizzle with cheese sauce and mustard.
Nutrition
Serving: 1, Calories: 972kcal, Carbohydrates: 78g, Protein: 31g, Fat: 61g, Saturated Fat: 28g, Cholesterol: 103mg, Sodium: 1675mg, Potassium: 1119mg, Fiber: 10g, Sugar: 8g, Vitamin A: 951IU, Vitamin C: 13mg, Calcium: 612mg, Iron: 3mg
House of Yumm is a participant in the Amazon Services LLC Associates Program, an affiliate advertising program designed to provide a means for us to earn fees by linking to Amazon.com and affiliated sites.