Cinnamon Sugar Cookies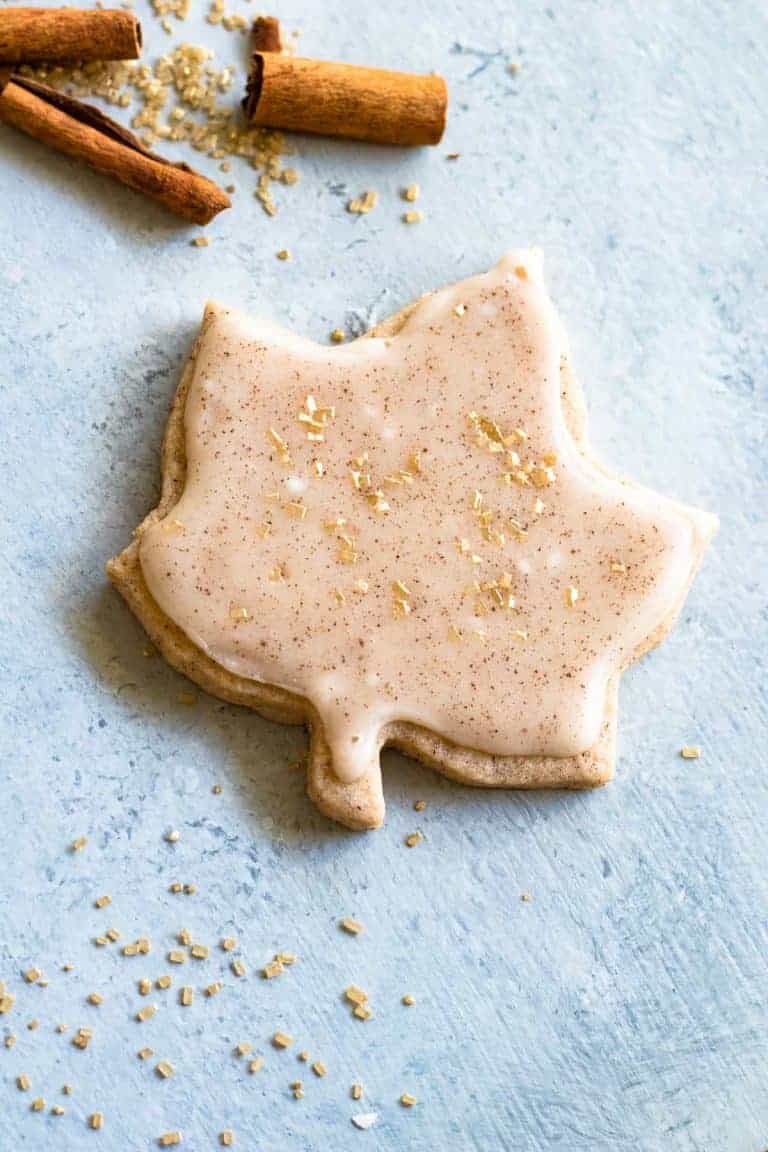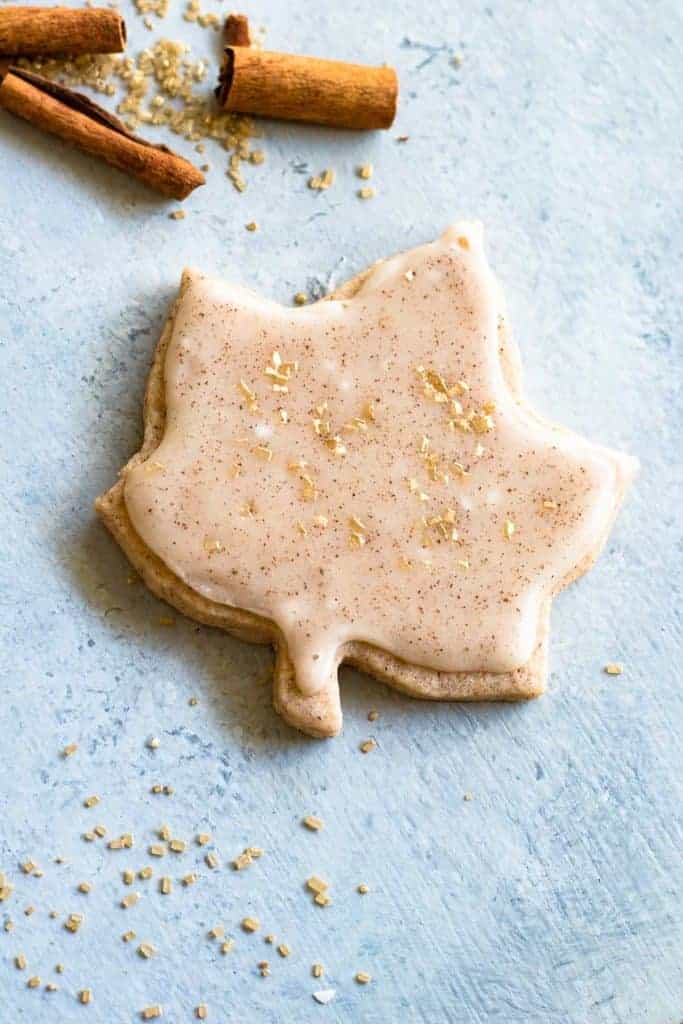 Cinnamon Sugar Cookies. These soft and buttery sugar cookies are loaded up cinnamon and spice plus they're topped with  cinnamon icing for even more flavor! Perfect for Fall. Or anytime really. Just the combination of spices always makes me think cozy thoughts of Fall.
The recipe for these cookies is based off of my ALL TIME favorite Sugar Cookie recipe that has been handed down to me by my mom and has been made every Christmas.
These Cinnamon Sugar Cookies are super easy to make. There are a few tips and tricks that I want to share with you real quick though.
Chill the dough. This will help the cookies keep their shape while they bake and prevent spreading.
Thickness of the dough matters. You want your cookies to be about 1/4 of an inch thick. This will help them be soft and fluffy. If you make the dough too thin then the cookies will be hard and brittle.
Bake time is key! If the edges are turning golden brown then it's already been too long! We want to get these out of the oven before they turn golden. Trust me. This will make for some soft and tender cookies.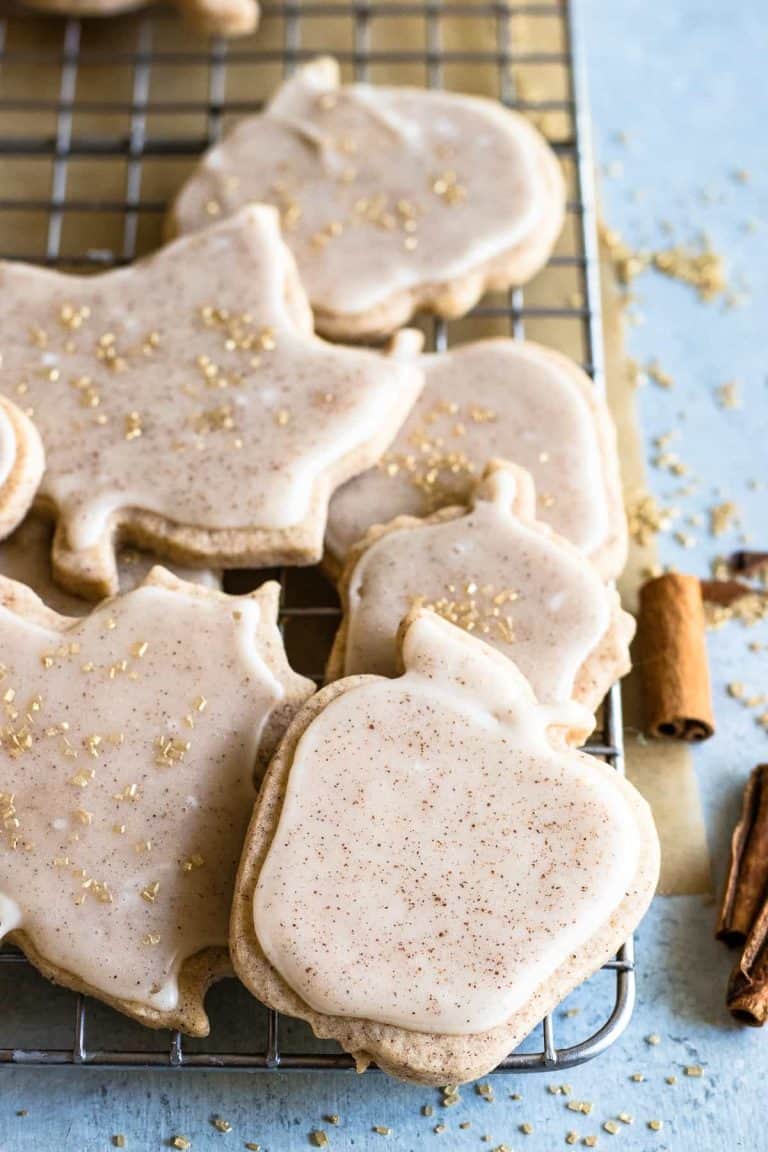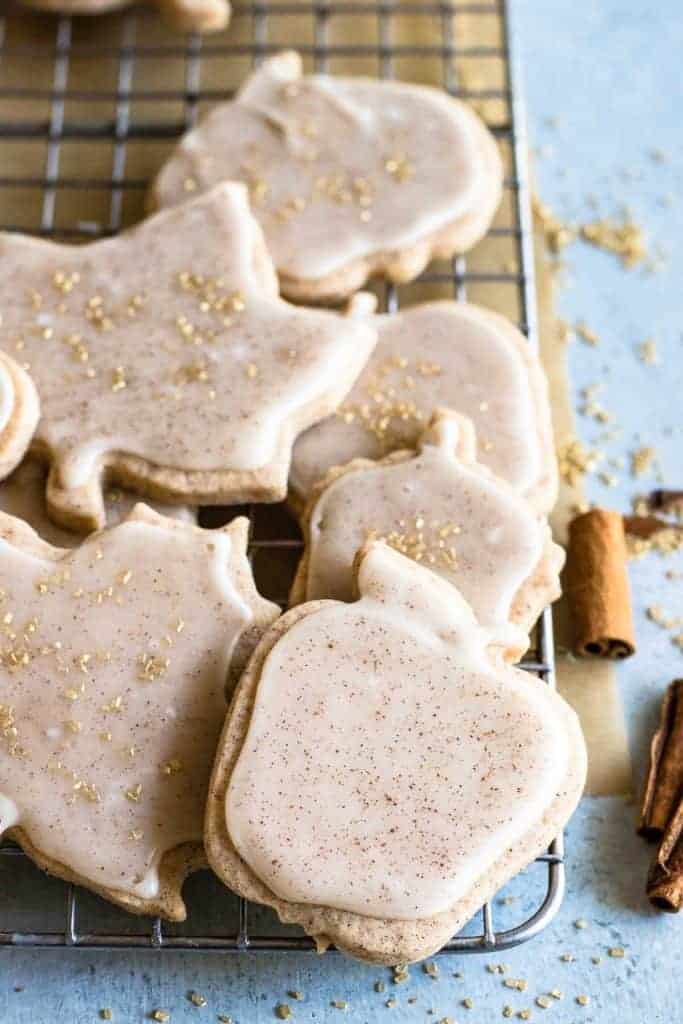 Not only are the cookies easy to make, the icing is too. I'm not a professional cookie decorator by any means. But I think these can pass for pretty cute. Right? Humor me here at least.
There's two consistencies of icing that we need to make. An outline icing, which is thicker. And then the flood icing, which is thinner. I have links below to some of the tools that I used to create these cookies too. Make sure you check those out under the recipe.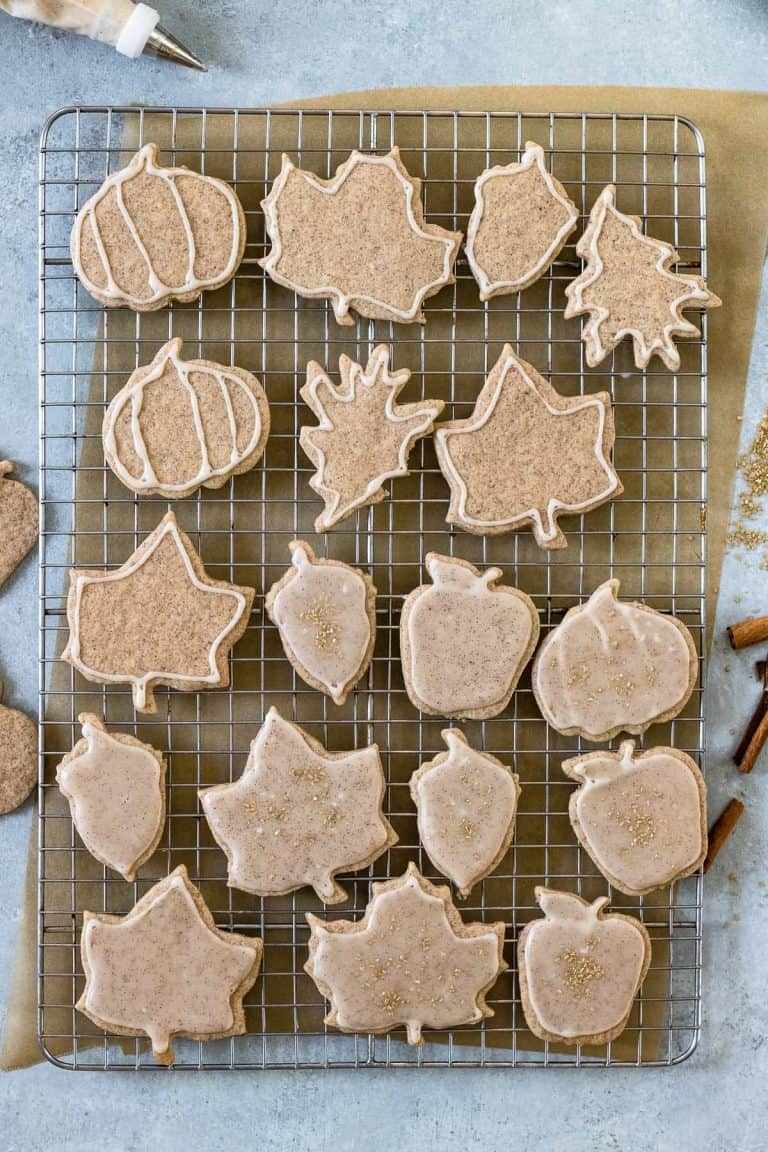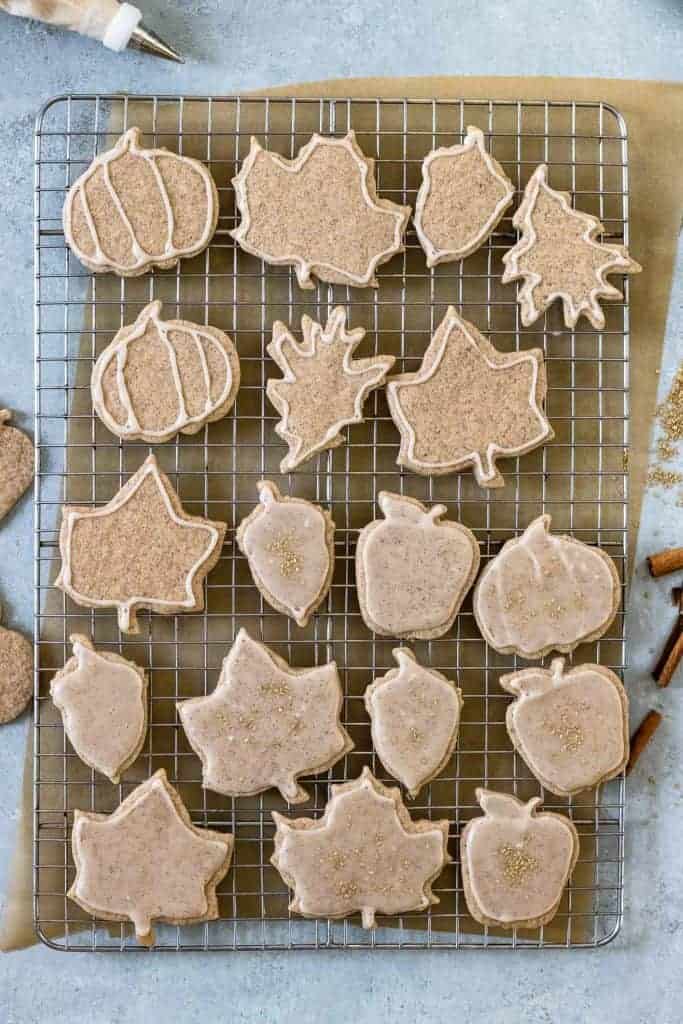 Print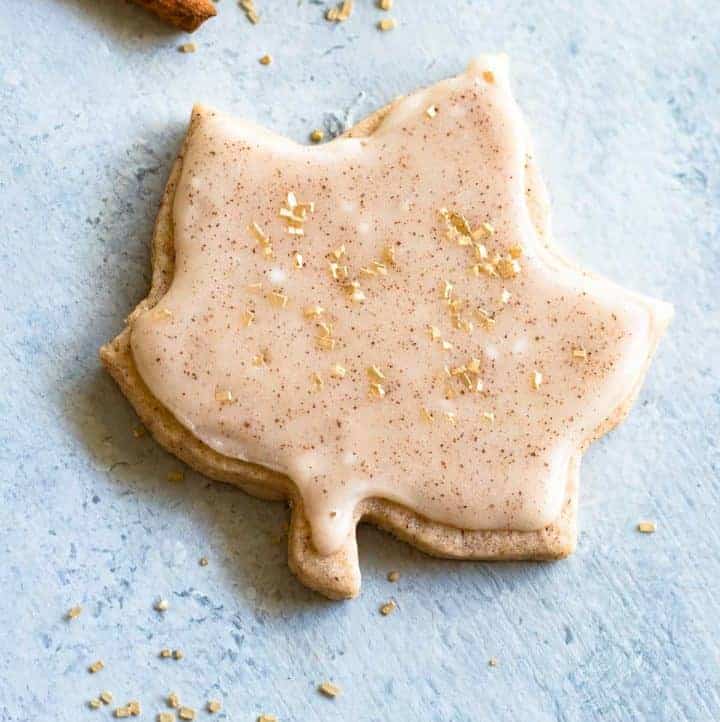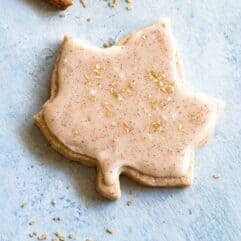 Cinnamon Spice Sugar Cookies
---
Prep Time: 10 mins
Cook Time: 30 mins
Total Time: 40 minutes
Yield: 3 dozen 1x
Scale
Ingredients
2 and 3/4 cup all purpose flour
1 teaspoon baking powder
1 teaspoon salt
2 teaspoons ground cinnamon
1 teaspoon ground nutmeg
1 teaspoon ground ginger
3/4 cup unsalted butter at room temperature (1 and 1/2 sticks)
1 cup white sugar
2 large eggs
2 teaspoons vanilla extract
Cinnamon Outline Icing
1 cup powdered sugar
1/2 teaspoon vanilla extract
2 tablespoons milk
1/8 teaspoon ground cinnamon
Cinnamon Flood Icing
2 cup powdered sugar
1 teaspoon vanilla extract
1/3 cup milk
1/4 teaspoon ground cinnamon
---
Instructions
In large bowl whisk together the flour, baking powder, salt, cinnamon, nutmeg and ginger.
In large mixing bowl with paddle attachment cream the butter, add the sugar and then cream together until light and fluffy.
Add in the eggs one at a time mixing in between. Mix in the vanilla extract.
Slowly add in the dry ingredients, mix on low until dough is mostly formed. Remove the dough from the bowl and place on a clean counter or non stick surface. Work dough together with hands. Be sure not to over work the dough.
Separate the dough into three equal amounts. Place a section of dough onto a piece of parchment paper. Place another piece of parchment paper on top of the dough. Using a rolling pin, roll out the dough until it is about 1/4 of an inch thick. Keeping the dough between the paper lets you easily roll the dough without having to flour the rolling pin, we want to avoid having extra flour on the cookies.
Continue with the next amount of dough. Place the rolled out cookie doughs on a cookie sheet and place them in the refrigerator for at least 2 hours to chill.
Once the dough has chilled remove one section at a time, cut with cookie cutters and place onto a cookie sheet lined with parchment paper or a silicone baking sheet.
Bake at 350 degrees for 9 minutes. Remove from oven prior to any edges turning golden.
Allow the cookies to set for about 2-3 minutes then remove from the baking sheet to allow to cool on wire cooling rack.
Outline Icing
In small bowl stir together the powdered sugar, milk, vanilla extract and cinnamon. Should be thick! Add to piping bag with a small tip. I used a Wilton 2 tip. Outline the shape for the cookie. Allow this outline to dry for about an hour, it will harden.
Flood Icing
In small bowl stir together the powdered sugar, milk, vanilla extract and cinnamon. This will be thinner! Add to plastic squeeze bottles and pour into shape you want iced. Spread icing with toothpick until entire area is covered in icing.
Allow the flood icing to dry at least 24 hours before stacking cookies or giving as gifts. I placed mine back on the baking sheets in a single layer and covered with plastic wrap to keep them fresh and let them sit overnight.
---
SaveSave
SaveSave
SaveSave
SaveSave
House of Yumm is a participant in the Amazon Services LLC Associates Program, an affiliate advertising program designed to provide a means for us to earn fees by linking to Amazon.com and affiliated sites.