This homemade Chamoy Rim Dip perfectly balances sweet, tangy, salty, spicy flavors for a fun way to rim your favorite drinks! Great to use on beers, spiked seltzers or cocktails.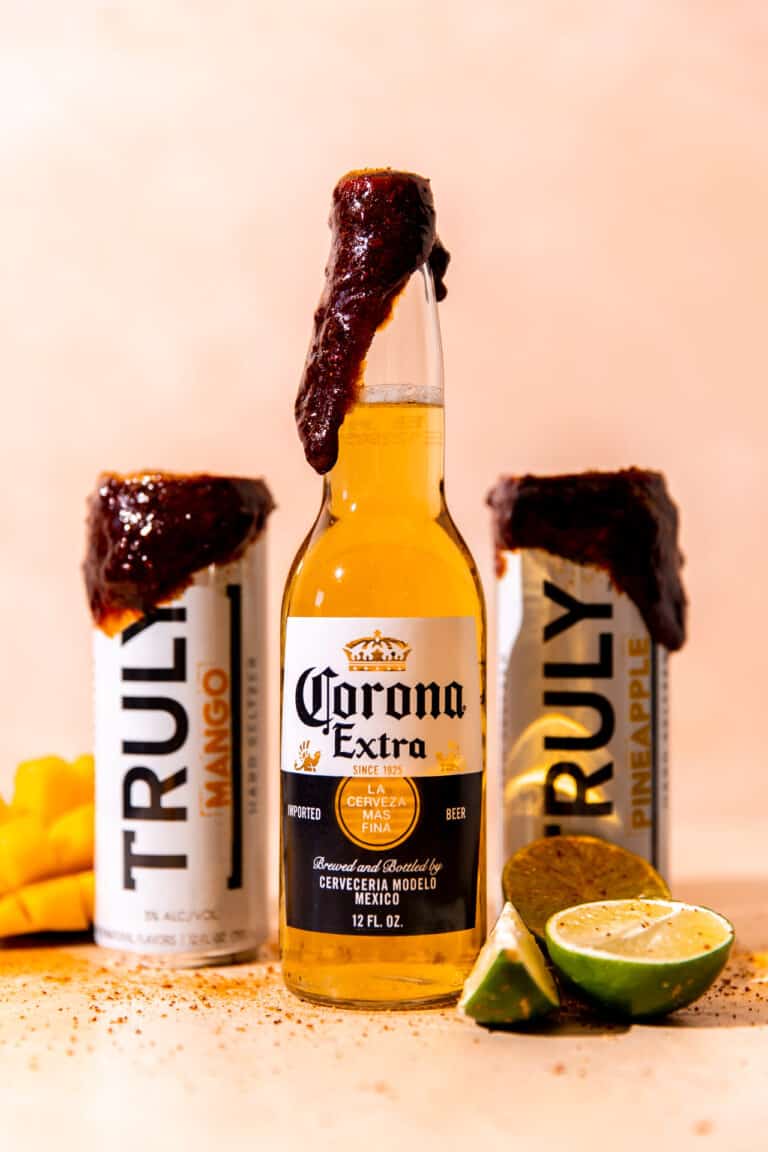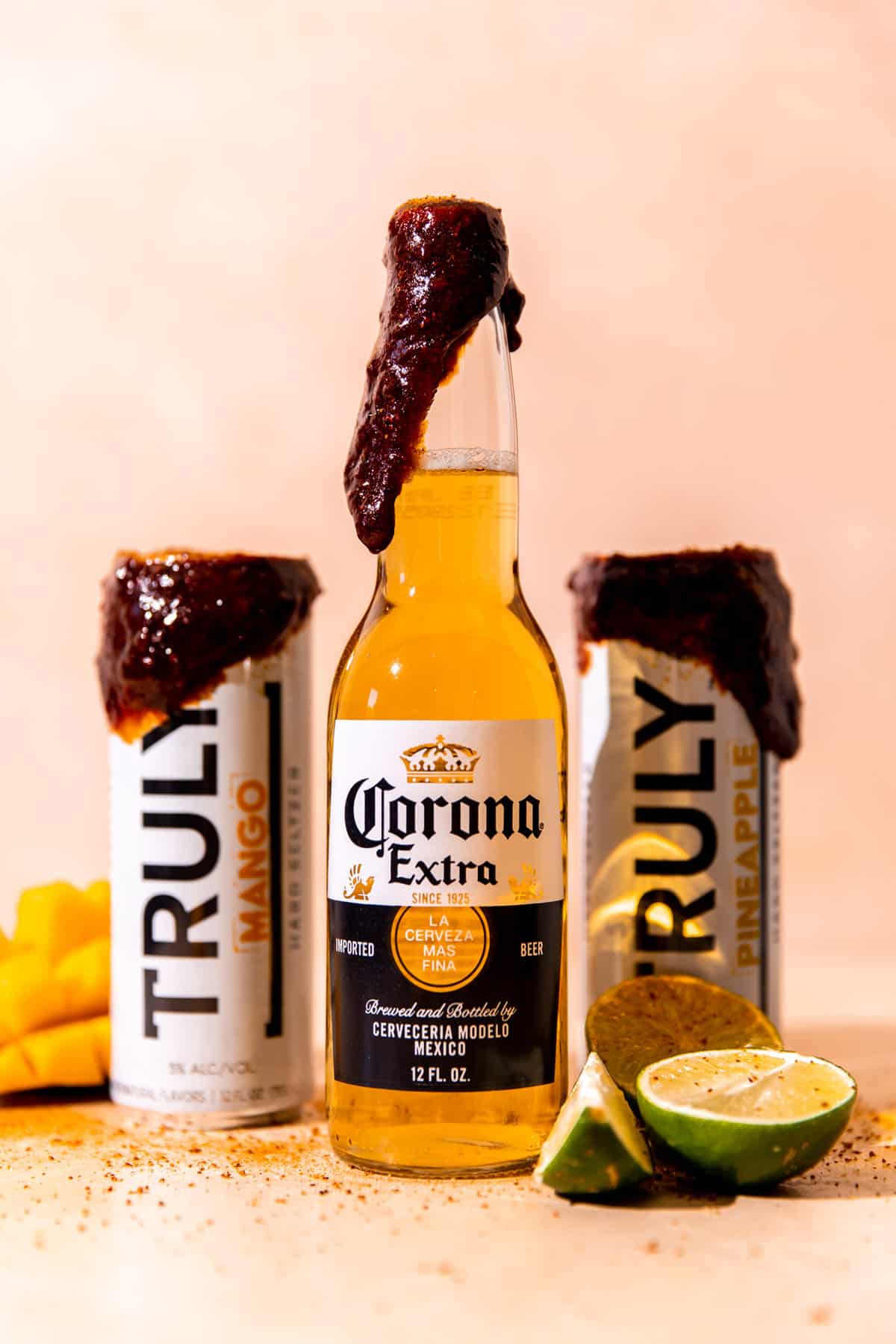 About this Chamoy Rim Dip
Chamoy is a favorite Mexican sauce that has been made famous recently due to TikTok and Instagram videos. This chamoy rim dip is a favorite in our house for several reasons:
Fun: it can be used on mangonadas for the children, or used on the rim of their agua frescas.
Easy to make: it comes together with minimal ingredients and can be made with homemade or store bought chamoy sauce.
Flavorful: loaded with fruity flavors, hibiscus, and chile lime seasoning this dip is bold and packed with flavors.
What is Chamoy Rim Paste Dip?
Chamoy rim dip is a paste made from combining tamarind candy with chamoy. Chamoy is a Mexican sauce or condiment made from fermented fruit and dried hibiscus flowers.
Combining this condiment with tamarind candy, makes the mixture thick and sticky, which is perfect for using to line the rim of your favorite drinks either in the can or in a glass.
Add a sprinkle of tajin for a sweet, tart, spicy taste every time you go to take a sip.
Ingredients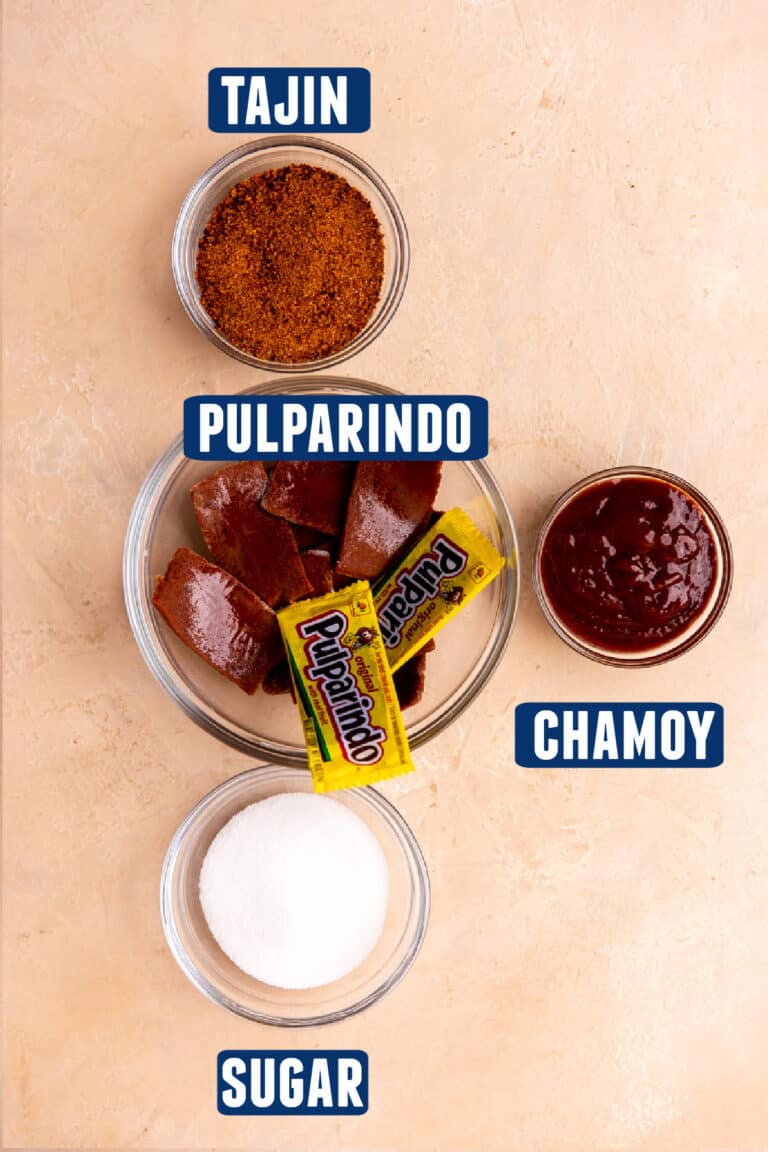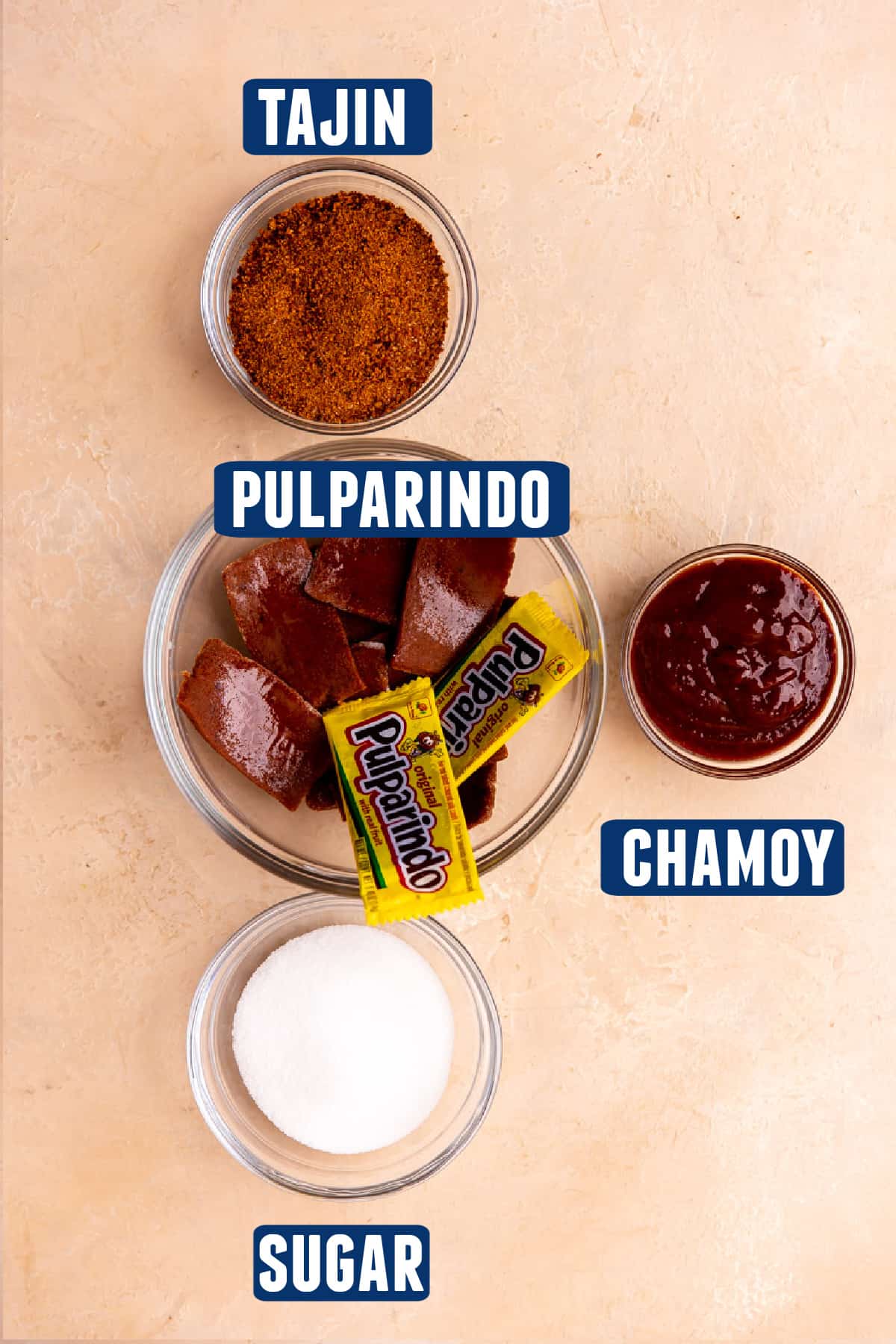 Chamoy: use a store-bought version or make your own homemade version using hibiscus and dried apricots.
Pulparindo: these are store bought tamarind candy, they can be found at your local Mexican market or online from Amazon or specialty retailers.
Sugar: A little extra sweetness helps balance the tart flavors of the chamoy and tamarindo.
Tajin: gives a little spice and chile lime flavoring
How to Make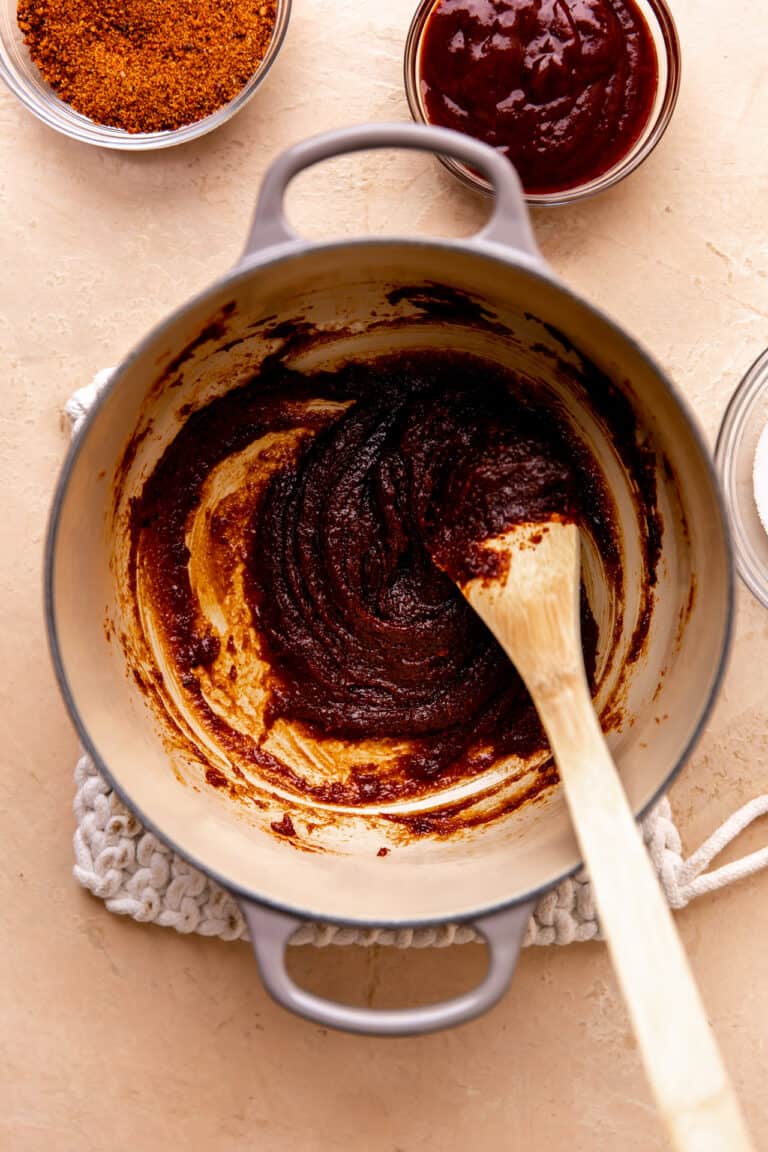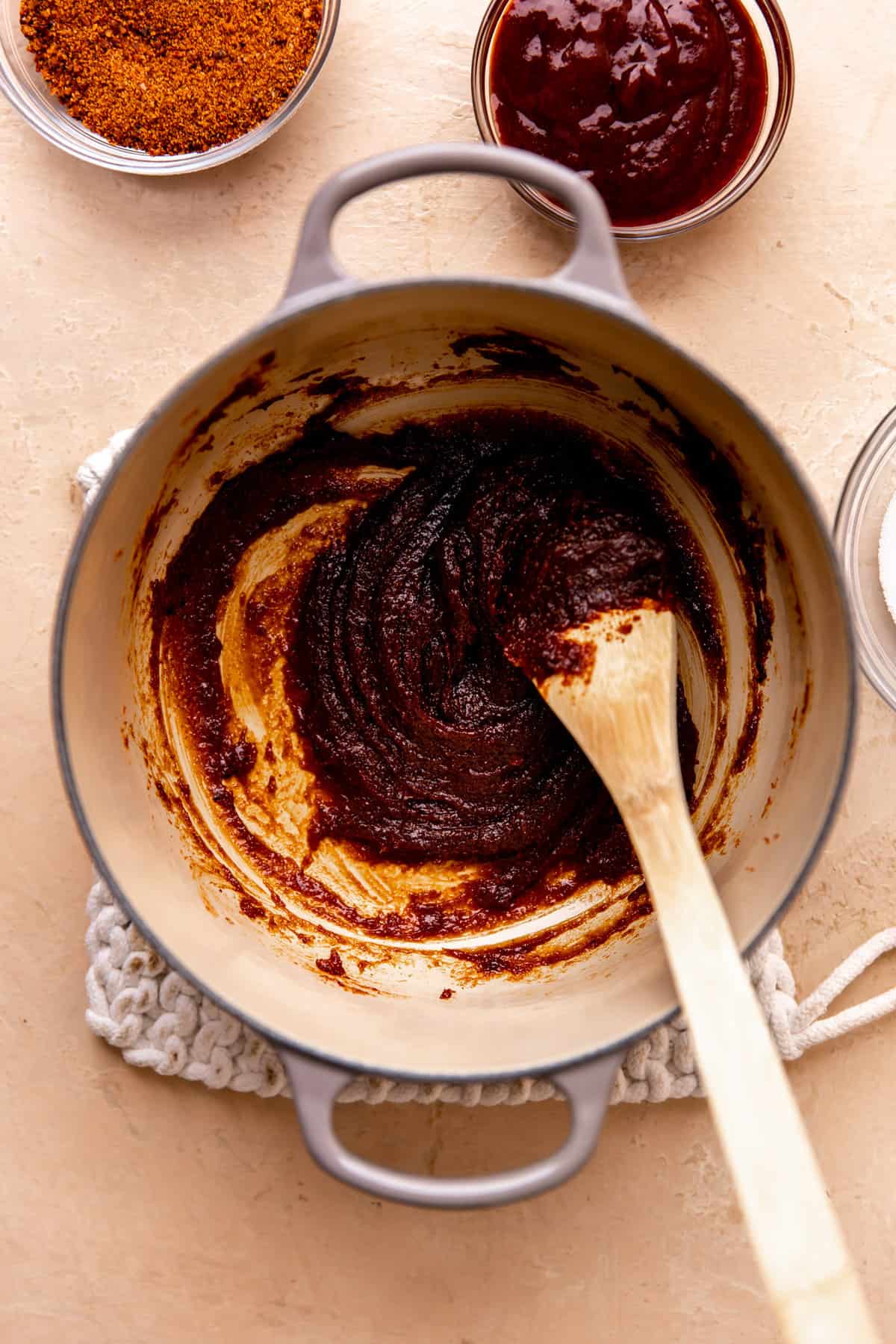 Unwrap the pulparindo candies and add to a small saucepan or pot. Stir these over low heat while they melt.
Add the remaining ingredients and continue stirring until it becomes a thick sauce, with the consistency similar to molasses.
Storage Information
Storage: store in a sealed container at room temperature or in the refrigerator for 1-2 months. It will stay thicker when in the refrigerator and may need to be warmed slightly to make dipping easy.
Freezing: Freeze cubes of chamoy dip in ice cube trays and transfer to a large sealed freezer safe bag, this allows you to remove individual portions as needed. It will last for up to 6 months in the freezer.
Reheating: use a microwave or a small saucepan on the stovetop just to reheat to room temperature to ensure a nice smooth consistency for dipping. It's possible the dip will thicken if stored in the refrigerator. You can also set out before use and leave at room temperature an hour before use.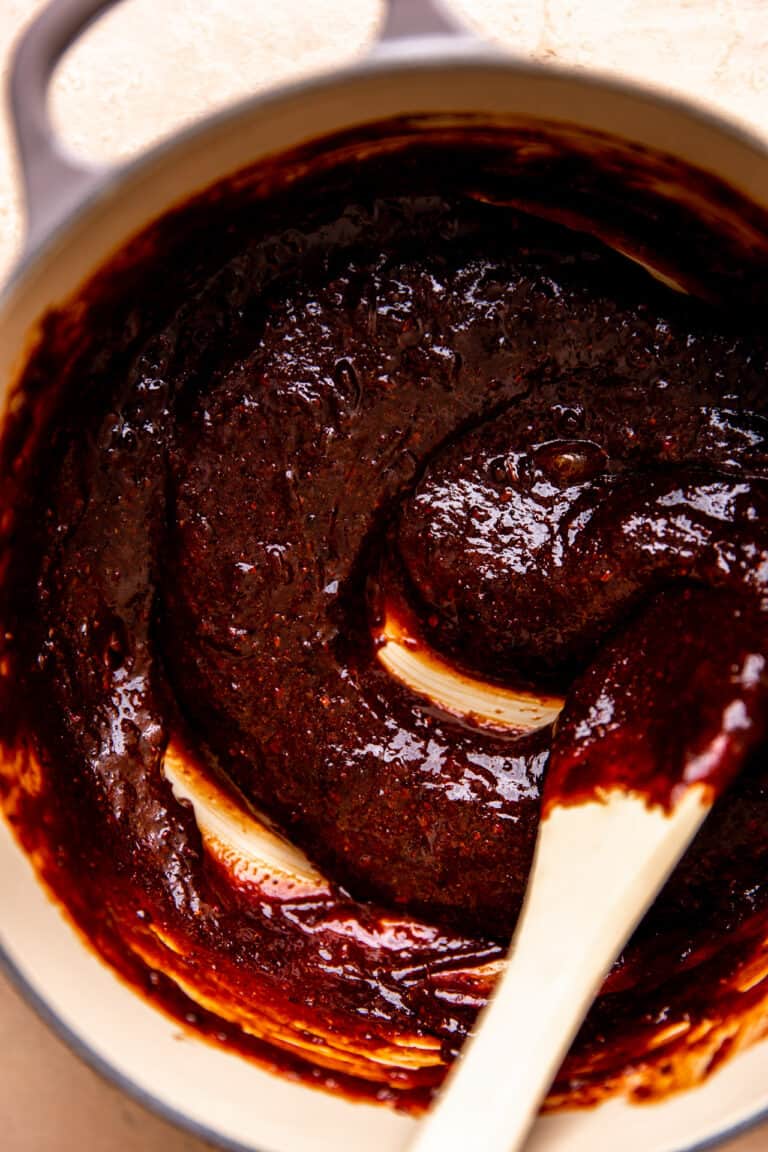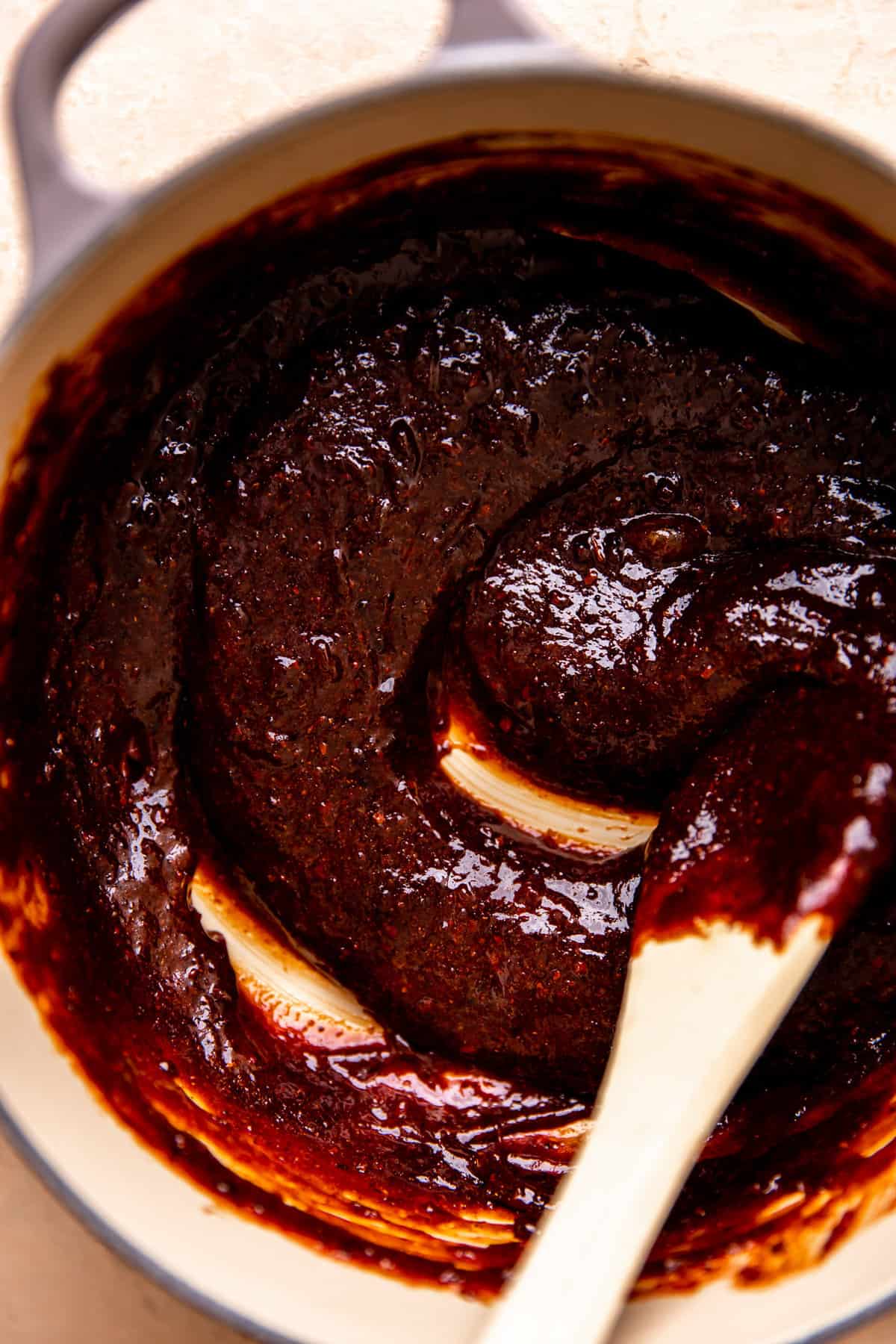 How to Use
Rim Dip: use this for dipping your drinks into for a blast of flavor every time you take a sip.
Fruit Dip: slice up some mango, jicama, melons, apples or whichever fruit you prefer and serve a cup of this on the side for dipping.
Ice Cream Topping: Spoon some on top of some vanilla ice cream for a sweet, spicy flavor boost!
Top Tips
Wash the can or bottle: since you will be licking the chamoy paste right off of the can or bottle start with a nice clean surface.
Thickness: if you mix up the paste and notice it's too thin add some more pulparindo candy to thicken it. If it's too thick you can add more chamoy sauce to thin it.
Substitutions & Variations
Flavors: grab some flavored Pulparindo candies, some options include: watermelon, mango and extra spicy.
Pulparindo: if you are unable to get pulparindo candies or would rather make this recipe without candy, you can make your own tamarind candy paste by using dried tamarind and sugar.
Lucas Candy: this is another Mexican Candy, a liquid candy that can be added to the sauce instead of using sugar to sweeten. These candies come in other flavors as well and can be used to give a different flavoring to the dip.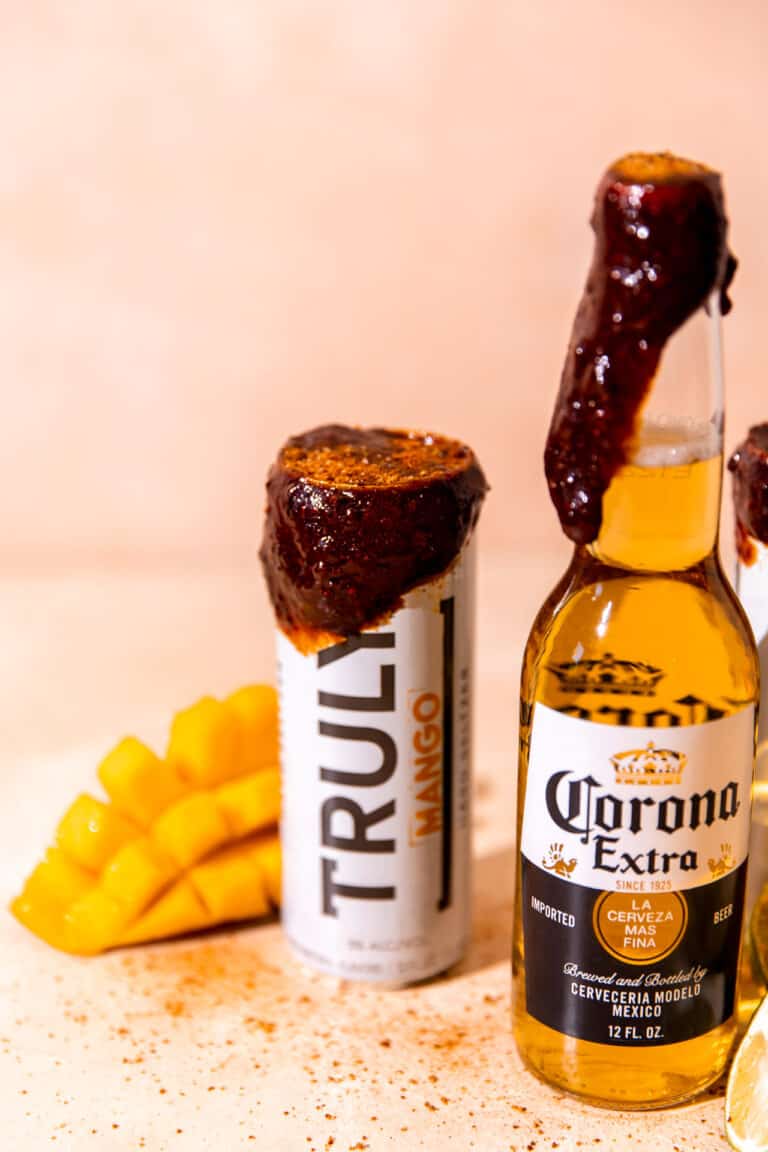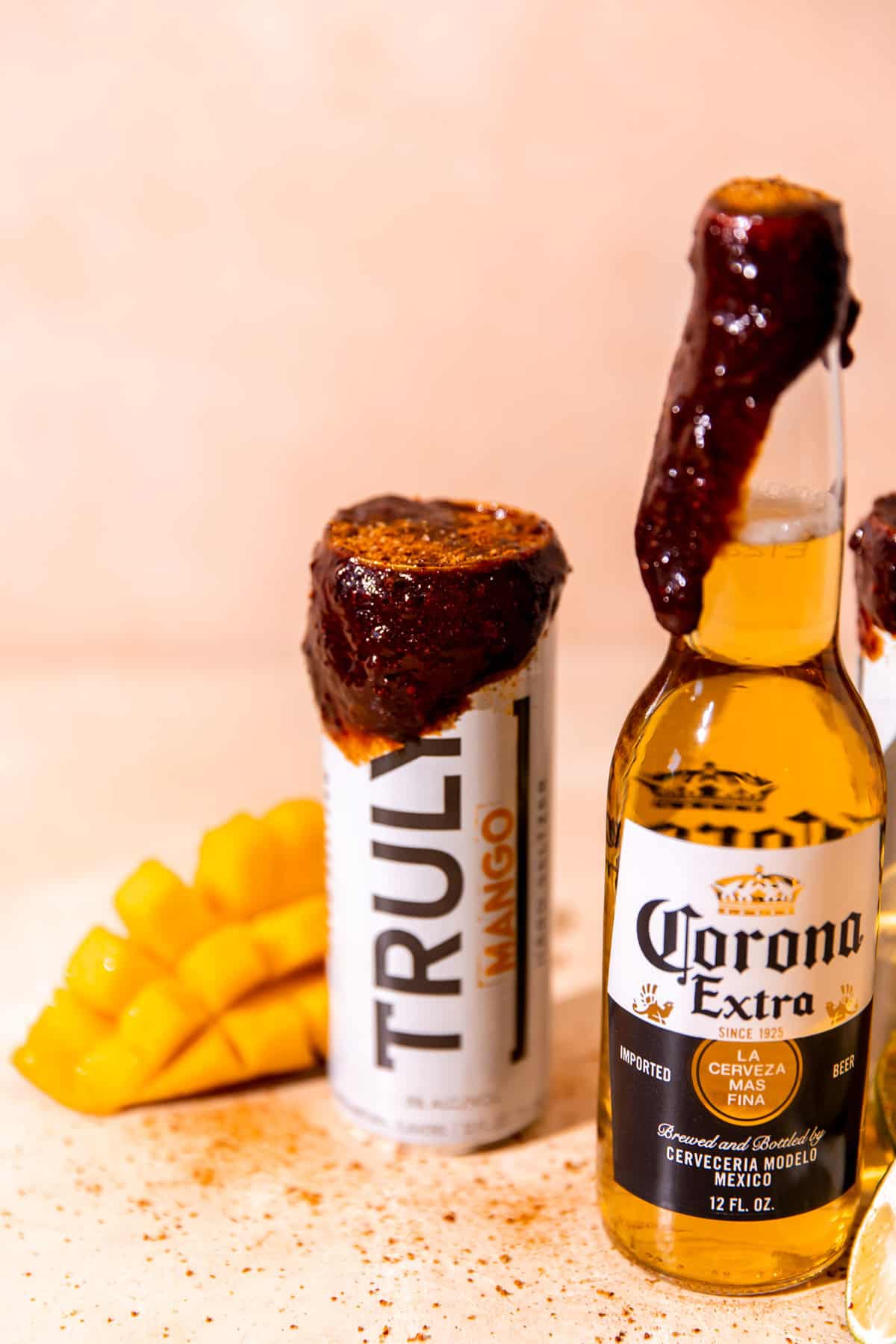 Frequently Asked Questions
What drinks are best with a chamoy rim dip?
Use this dip for the rim of beers, like Modelo or Corona, on hard seltzers, or on the glass of your mangonadas, and micheladas. It's also a great pairing for fruity drinks like this Mango Margarita.
What does chamoy sauce taste like?
Chamoy sauce has a sweet, tart, slightly spicy flavoring. It's main flavorings come from dried fruit, dried hibiscus flowers, sugar and chile.
Is chamoy the same as tajin?
No these are two different things. Chamoy is a sauce or condiment made from fruit, hibiscus, and chile. Tajin is a dried seasoning of chile and lime.
Chamoy Rim Dip
A fun and flavorful homemade Chamoy Rim Dip for all of your favorite drinks! The perfect blend of sweet, tangy, and spicy.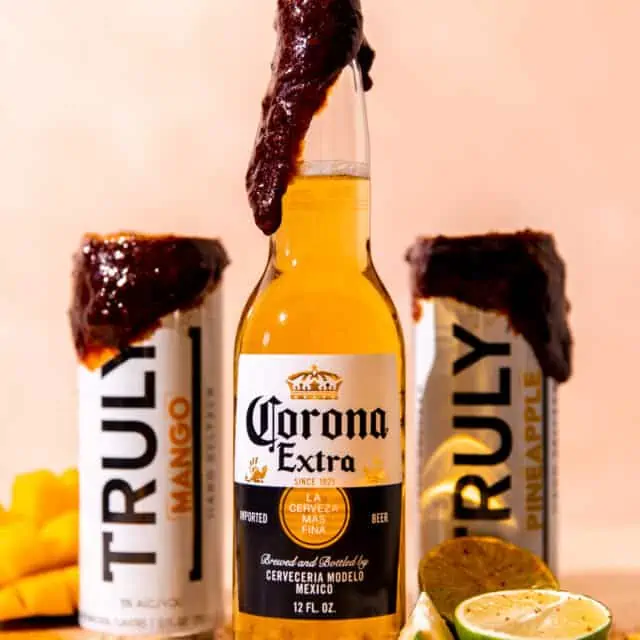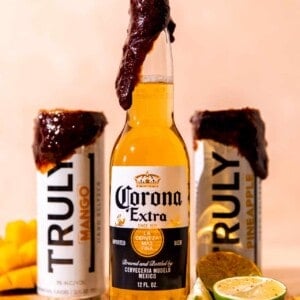 Instructions
Add the pulparindo candies to a small saucepan.

Heat over low until candies melt, stirring occasionally with a wooden spoon.

Add in the chamoy, sugar and tajin.

Stir to combine and let heat over low heat until candies are fully combined with remaining ingredients.

Remove from heat, let cool.

Taste and adjust sugar and tajin as needed. More sugar will make the paste less tart. More tajin will add a bit more spice.
Notes
If it needs to be thicker, melt more pulparindo candies and add to the mixture.
Nutrition information is an estimate, always calculate your own exact information if needed.
Nutrition
Calories:
21
kcal
|
Carbohydrates:
6
g
|
Protein:
0.01
g
|
Fat:
0.001
g
|
Sodium:
2
mg
|
Potassium:
8
mg
|
Fiber:
0.01
g
|
Sugar:
5
g
|
Vitamin C:
0.1
mg
|
Calcium:
5
mg
|
Iron:
0.05
mg
Nutrition information is automatically calculated, so should only be used as an approximation.
Like this? Leave a comment below!
Photography by KJandCompany.co