Soft & thick Apple Cookies.  Topped with a sweet, fluffy cream cheese butterscotch frosting.  These are a MUST make for Fall!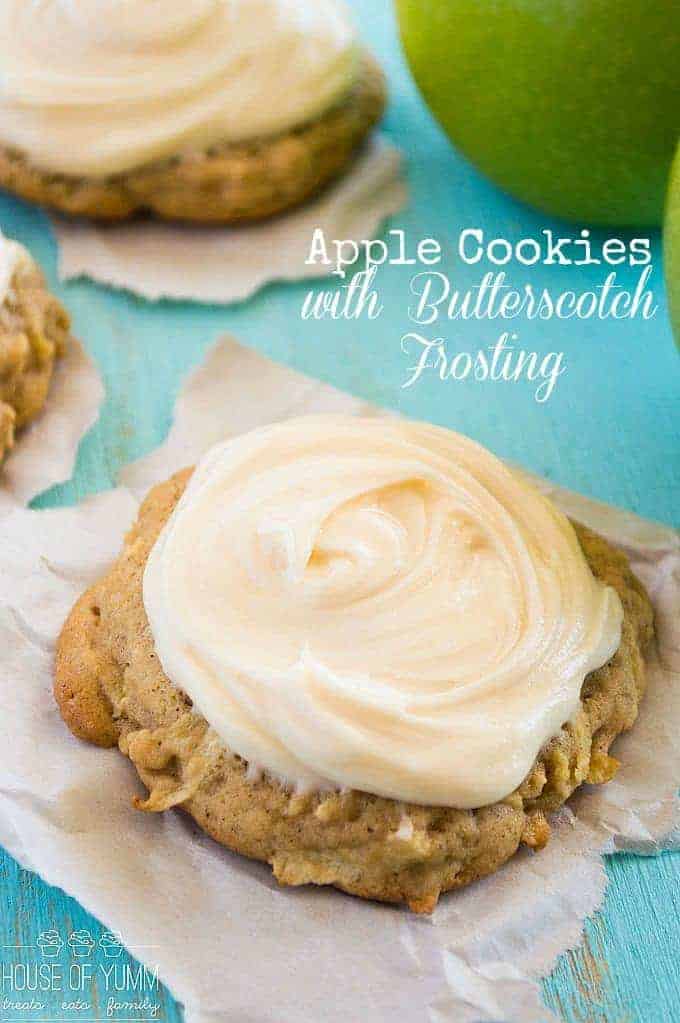 The apple festivities continue!!  Here we are again with apple recipe number 3!  Let's recap.  We started last week with the decadent Caramel Apple Crisp.  On Tuesday we had the delectable Apple Bread.  And now today I am here to share these darling Apple Cookies topped with Butterscotch Frosting.  Did you notice each recipe was given a 'd' adjective?  It's possible I did that on accident and then figured I would point it out. Now I'm feeling the urge to say "Today is brought to you by the letter D."  If you can't tell the 2 year old has been loving Sesame Street lately. It's the soundtrack to my days.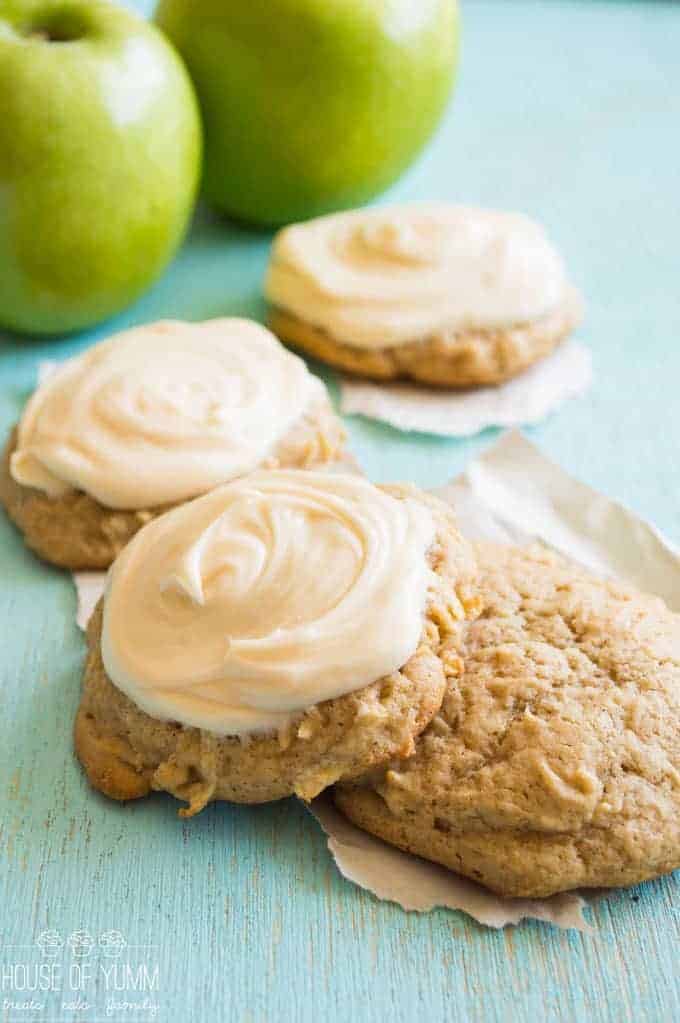 On to these cookies.  Oh mah word..they are DElicious.  The cookies are thick and slightly cake like, but oh so moist and soft.  They remind me of the lofthouse cookies, but with apple!  That's right..these cookies are loaded with fresh shredded apple.  The combination of the apple and brown sugar is what help to make these cookies soft and full of moisture.  The flavor is kicked up with the addition of the cinnamon, nutmeg and cloves.  You could substitute the spices with apple pie spice if you have that on hand, it's basically the same thing.
Then we have the crowning jewel..this divine butterscotch frosting.  Do these cookies need it? No, these cookies are definitely delightful all on their own.  But seriously.  Make this frosting.  And slather is all over the cookies.  Then lick the spoon.  And the bowl.  You're welcome.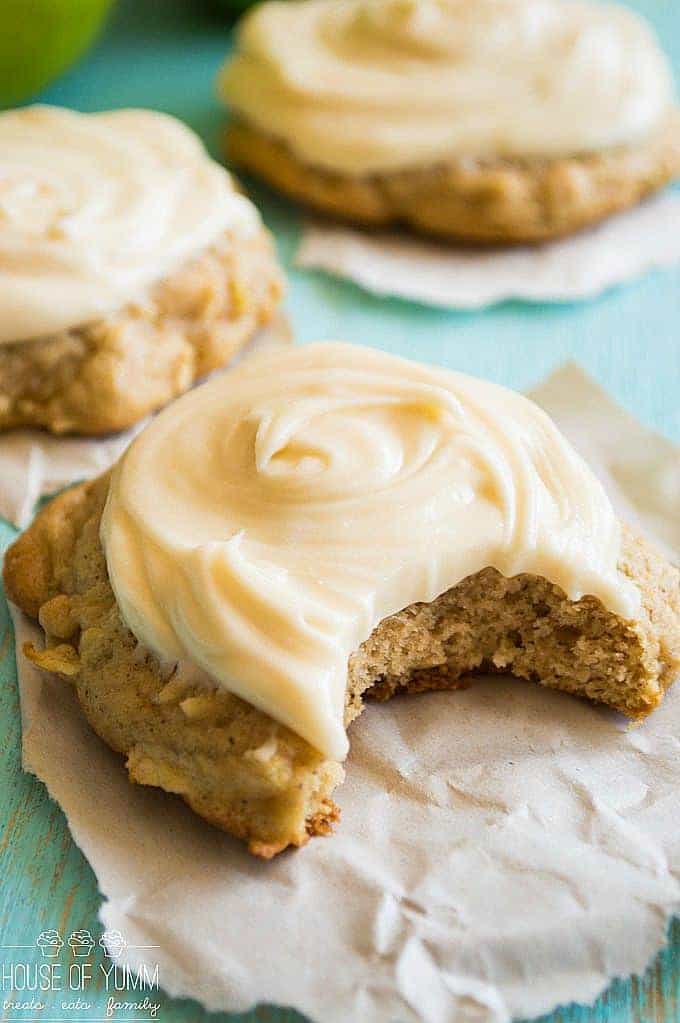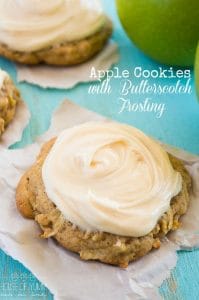 Apple Cookies with Butterscotch Frosting
Soft & thick Apple Cookies. Topped with a sweet, fluffy cream cheese buttercotch frosting. These are a MUST make for Fall!
Ingredients
½ cup butter, softened to room temperature
1¼ cup light brown sugar
1 tsp baking soda
¾ tsp ground cinnamon
⅛ tsp nutmeg
⅛ tsp cloves
¼ tsp salt
1 large egg
½ cup milk
2½ cup all purpose flour
1 cup apple, peeled and grated. Use tart apples like Granny Smith.
Butterscotch Frosting
6 ounces cream cheese, softened
½ cup butter, room temperature
½ tbsp vanilla extract
⅓ cup butterscotch ice cream topping
4 cups powdered sugar
Instructions
Preheat oven to 350°F, line a cookie sheet with parchment paper or grease it with baking spray, set aside.

In large mixing bowl beat the room temperature butter for about 30 seconds until creamy. Add in the brown sugar, baking soda, cinnamon, nutmeg, cloves and salt. Mix on medium for another minute or two until fully combined. Stop and scrape the bowl as needed. Add the egg and beat together for about 10-15 seconds. Pour in the milk and beat on low until fully combined.

Slowly add the flour while mixing on low speed. Then stir in the apple. The dough will be light and soft.

Using a cookie scoop, scoop the dough onto the prepared cookie sheet.

Bake at 350 degrees for approximately 12 minutes, until the edges are a light golden brown. Remove from oven and allow to cool on the cookie sheet for about 5 minutes, then remove to continue cooling on a wire rack.

Recipe will make about 20 cookies.
Butterscotch Frosting
In large mixing bowl beat the cream cheese and butter together until light and fluffy. Add in the vanilla extract.

Slowly add in the powdered sugar, beat on low speed until fully combined. Pour in the butterscotch topping and mix until fully combined.

Spread frosting on top of cooled cookies. Serve immediately and enjoy!
Nutrition
Calories: 355kcal, Carbohydrates: 55g, Protein: 3g, Fat: 14g, Saturated Fat: 9g, Cholesterol: 43mg, Sodium: 216mg, Potassium: 68mg, Fiber: 1g, Sugar: 42g, Vitamin A: 423IU, Vitamin C: 1mg, Calcium: 36mg, Iron: 1mg
House of Yumm is a participant in the Amazon Services LLC Associates Program, an affiliate advertising program designed to provide a means for us to earn fees by linking to Amazon.com and affiliated sites.