The perfect vanilla cupcake. An EASY friendly from scratch recipe! Light, fluffy, and loaded with vanilla flavor! Plus tons of tips and tricks on HOW to make the perfect cupcake that will work on ANY recipe!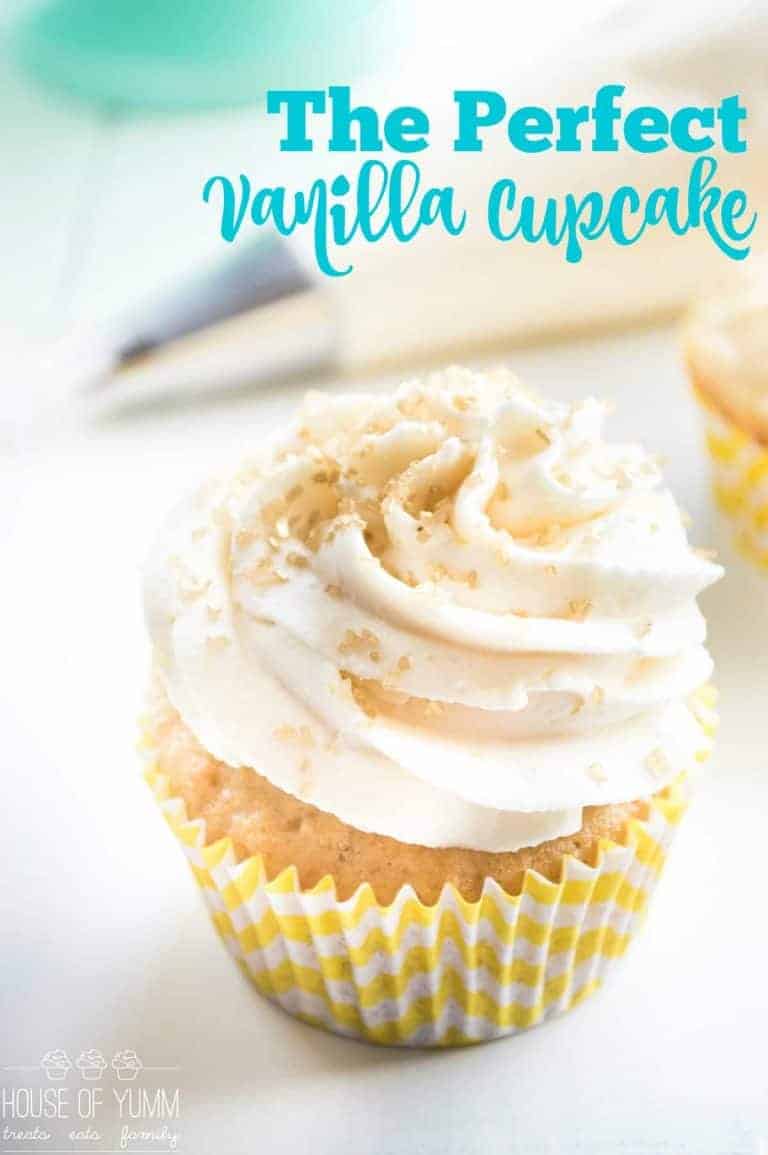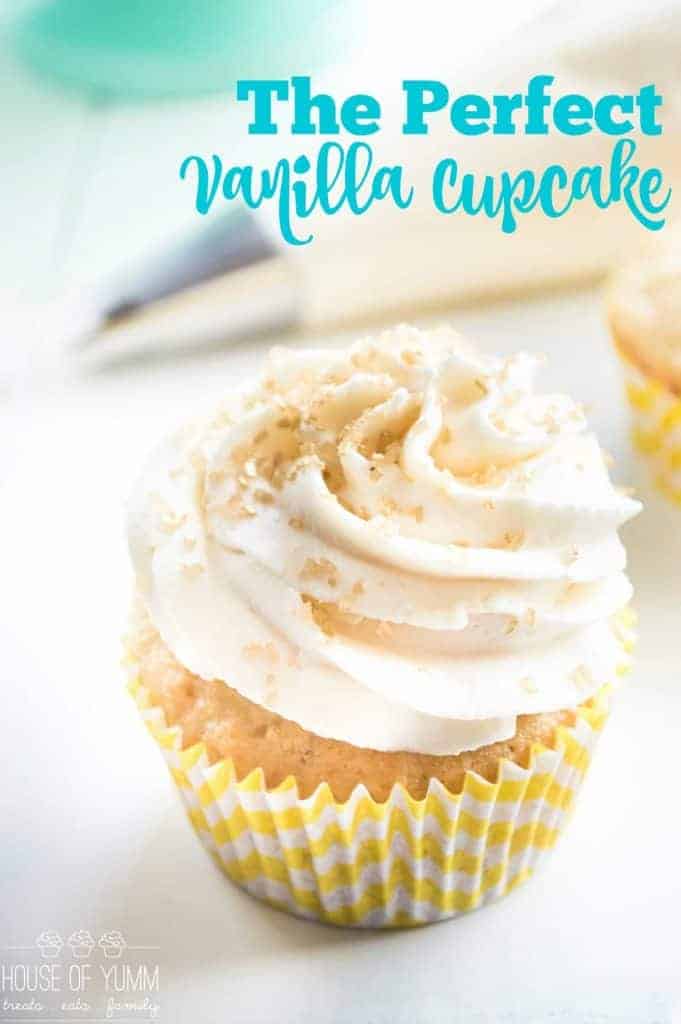 Hey y'all. Today I am bringing you the PERFECT homemade Vanilla Cupcake recipe. You heard me right. Most of the reason I never posted an actual cupcake recipe other than doctored up cake mixes is that I wanted to make sure I was posting the right cupcake recipe. And this cupcake is Mr.Right. Trust me.
I baked more cupcakes in 2 weeks than I've ever baked in my whole life combined to get this recipe. Too many eggs, too little eggs, what about with an extra yolk or an extra white. Buttermilk. Whole milk. Sour cream. Greek yogurt. Half and half. Too much butter. Too little butter. Seriously it was getting ridiculous. I swear I had the answer given to me in a dream one night, but it slipped away when I woke up. Noooooo!! But at the end of it all I arrived at this recipe.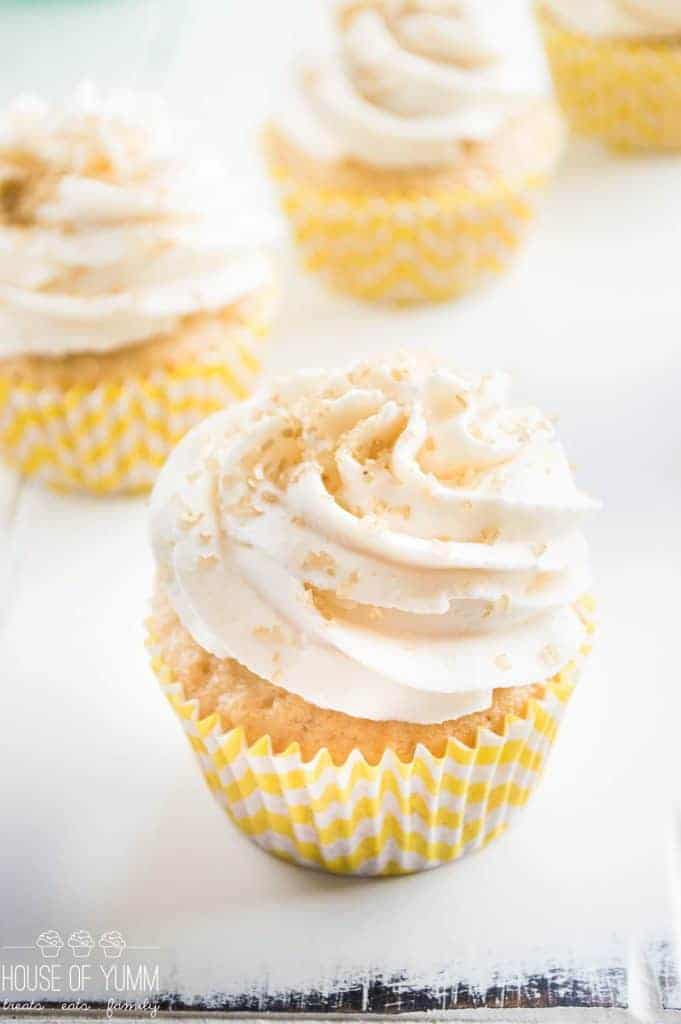 This cupcake has it all. Flavor. Texture. Moisture. What more could you want? Let's take a look at what is in these cupcakes that make them so perfect.
Dry Ingredients:
All-purpose flour. This is an easy make at home cupcake recipe, and all purpose flour is the most common flour used at home. I know most likely you have this type of flour in your pantry right now! All purpose flour lives up to its name. We can use it for breads, pizza doughs, and even tender cakes.
Baking powder AND baking soda. The baking soda is going to react with the yogurt that I'll talk about in little bit. But the lift provided by the baking soda alone wasn't enough to create those beautiful round domes on top of the cupcakes. Which is where our baking powder comes in, just to give that extra little lift.
Salt when used in baked goods contributes to flavor an to the texture. The salt has an effect n the gluten production which affects the texture.
After we combine all of our dry ingredients it's best to whisk them together. This will ensure that the dry ingredients are mixed together, dispersing the salt and our leavening agents throughout. This is an important step because cupcake batter is delicate, and we can damage it by mixing too much. So we want our dry ingredients properly mixed before adding them to the wet ingredients.
One more dry ingredient that we use but doesn't get mixed with the others is the sugar! And we'll talk more about that in a moment when we talk about the butter.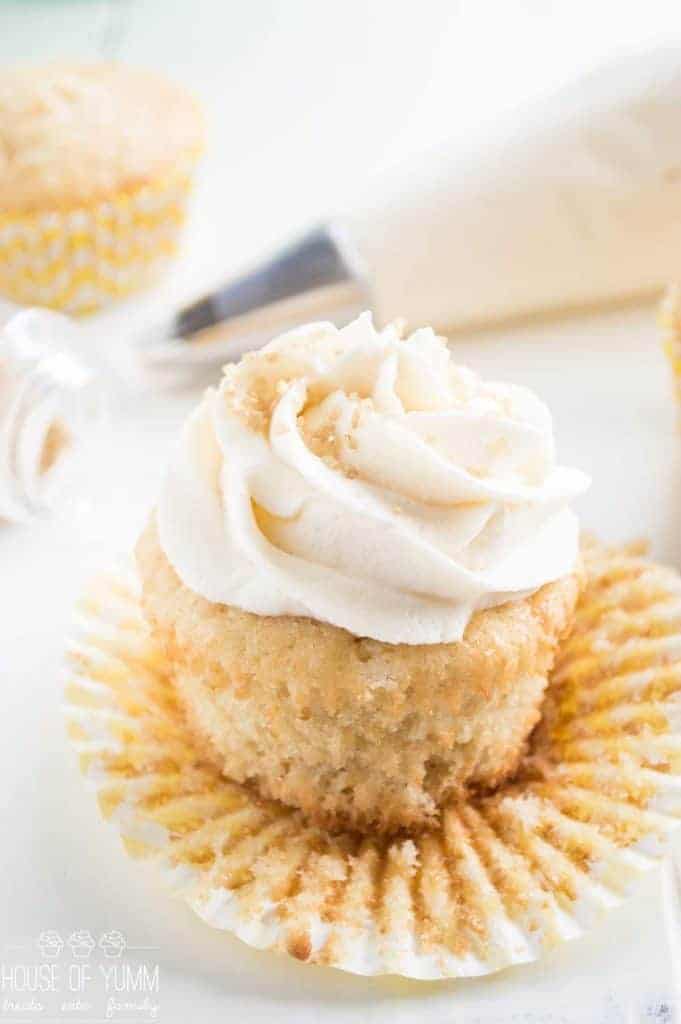 Wet Ingredients:
Butter. Butter is amazing. I always use unsalted butter when baking. Now, one crucial step when baking cakes and cupcakes is the creaming of the butter and sugar. What does that even mean!? Well..when we cream the butter and sugar together, we are using the sugar to aerate the butter. Basically filling it up with bubbles that can capture the gasses released by our leavening agents. The more bubbles we have, the lighter in texture the cakes will be and the finer the crumb. Meaning this is what gives us that light and fluffy cake! So when to actually cream the butter and sugar you want to start with room temperature butter. Crucial step. You should be able to press your fingertip into the butter, but it will hold it's shape. Not melted! Just set the butter out on the counter about 30-60 minutes before you're going to start baking and you'll be good. The easiest way to cream the butter and sugar is to use a stand mixer. This is the one I use. Typically using a medium speed for about 2-3 minutes will get the job done. The mixture will be visibly fluffy, and won't be clinging to the sides of the bowl. Wow. Did you get all of that?! For some more information this article is super helpful.
Eggs will add flavor, structure, leavening, and color. They have a big job. The balance between eggs and flour help provide the height and texture. Too many eggs make for quite a dense flat cupcake. Trust me.
Milk helps keep our cupcakes moist (I know a lot of people hate that word..sorry!!). It also hinders gluten formation.
Greek Yogurt is thick, high in protein and can provide a finer crumb due to it's dense, creamy texture. I felt using milk alone didn't provide enough moisture to the cupcakes. The greek yogurt definitely amped it up a bit. I used vanilla flavor also which contributed to the overall vanilla flavor of the cupcakes.
Vanilla Extract was used to give a vanilla flavor to the cupcakes. Again, this is a common ingredient that you would have on your shelves, unlike vanilla beans. While I love vanilla beans, they're slightly pricey to keep on hand.
Phew. Are you still with me after all of that? Sorry, but I get a little excited when it comes to cupcakes. Would you believe me if I told you there was more tips and tricks at the end of this post after the recipe?? Do you think you can handle it?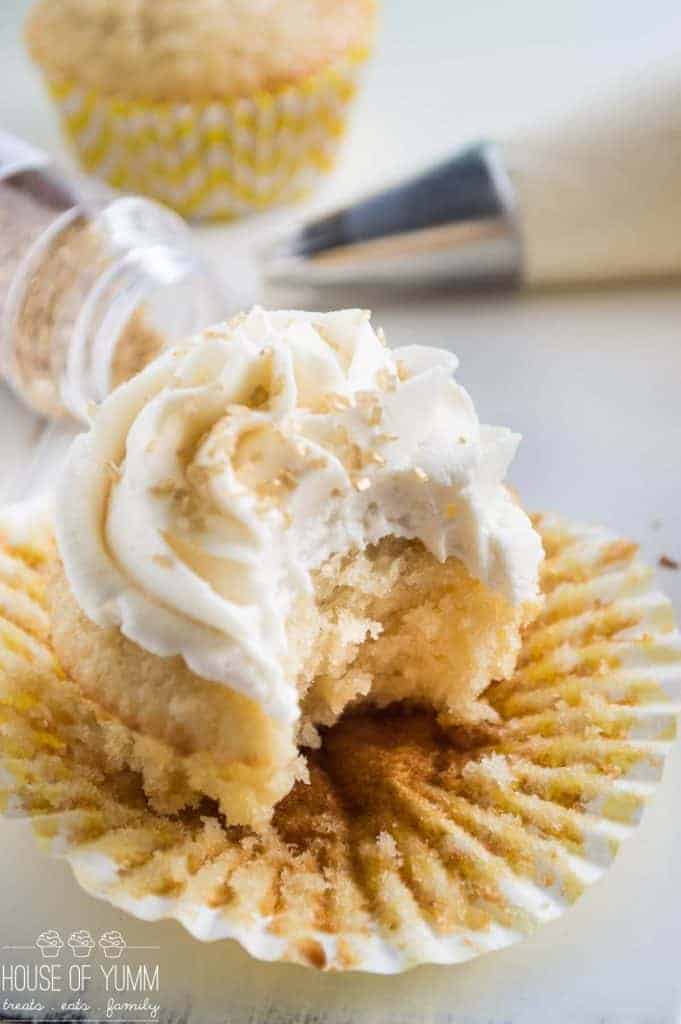 The Perfect Vanilla Cupcake
The perfect vanilla cupcake. An EASY friendly from scratch recipe! Light, fluffy, and loaded with vanilla flavor!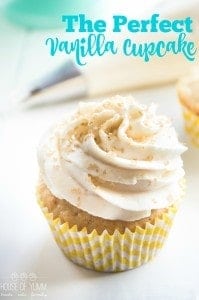 Ingredients
1

cup

sugar

½

cup

butter

room temperature

2

large eggs

2

tsp

vanilla extract

1 ¾

cup

all purpose flour

½

tsp

baking powder

½

tsp

baking soda

½

tsp

salt

⅓

cup

Vanilla Greek Yogurt

⅔

cup

whole milk
Frosting
8

ounces

cream cheese

cold

1

pint

heavy cream

cold

1½

cup

powdered sugar

1

tsp

vanilla extract
Instructions
Preheat oven to 350°F. Line muffin tin with cupcake liners. Set aside.

In medium size bowl combine the flour, baking powder, baking soda, and salt. Whisk the dry ingredients together to incorporate. Set aside.

In mixing bowl add the room temperature butter. Beat on medium speed for about 1 minute to loosen up the butter, add in the sugar and beat on medium speed for about 2-3 minutes to cream the butter and sugar together until light and fluffy. *More information on this in the post

Add in the vanilla extract and add in the eggs one at a time, mixing in between.

Mix in the greek yogurt. Remove the bowl from the stand mixer.

Slowly add in 1/3 of the dry ingredients, then 1/3 of the milk. Mix with a rubber spatula gently, just until most of the flour is incorporated, not fully mixed. Continue with this method until all the milk and dry ingredients are added. Gently stir the batter to incorporate all the dry ingredients, it's ok if there's some lumps in the batter. Don't overmix.

Scoop the batter into the cupcake liners filling them about 2/3 full.

Bake for 15-16 minutes until fully cooked, tops will be golden and a toothpick inserted into the center will come out clean.

Allow to cool in the tin for 2-3 minutes and then carefully remove cupcakes to continue cooling on a wire rack.
Frosting
In mixing bowl beat the cream cheese on medium for about a minute to loosen it up. Add in the powdered sugar and mix, start on slow and increase speed as the powdered sugar is mixed with the cream cheese. Mix until smooth.

Add in the heavy cream and the vanilla extract. Mix on medium speed until fluffy and forming into stiff peaks.

Add to piping bag and pipe onto cooled cupcakes.

Serve and enjoy!
Notes
Make sure you read all the tips and tricks throughout the post to ensure you bake the best cupcakes possible!
Nutrition
Calories:
363
kcal
|
Carbohydrates:
37
g
|
Protein:
4
g
|
Fat:
23
g
|
Saturated Fat:
14
g
|
Cholesterol:
93
mg
|
Sodium:
249
mg
|
Potassium:
82
mg
|
Fiber:
1
g
|
Sugar:
25
g
|
Vitamin A:
849
IU
|
Vitamin C:
1
mg
|
Calcium:
60
mg
|
Iron:
1
mg
Nutrition information is automatically calculated, so should only be used as an approximation.
Like this? Leave a comment below!
Additional Tips & Tricks for the Perfect Cupcake!
Room Temperature Ingredients. I'm sure you've heard this repeatedly. And trust me I know that when the craving for a cupcake hits the last thing you want to do is stare at those eggs, butter and milk sitting on your counter. Watching and waiting for them to reach that golden room temperature. But if you want those cupcakes to be good, then it's a pretty important step.
Don't Overmix. The batter is your friend. You love the batter. It's never done anything wrong to you, so resist the urge to beat it! If overmixed then all those air bubbles will be crushed and our cakes will not be light and fluffy like you know you want them to be.
Don't Overfill. Most recipes will tell you how full to fill the liners, usually half full or two thirds. This is important because not all cupcakes rise the same. So if we fill them too much then the tops will flow over and out, or if we don't fill them enough they won't rise up past the top of the liner. If the later happens though, just add the frosting! To keep your cupcakes uniform try using an ice cream scoop to fill the liners.
Preheat The Oven Always. Preheat your oven when baking. Starting in a cold oven is not going to help our cupcakes bake and rise.
No Peeking! Don't open that oven until it is time to check on them. Opening the oven during baking will release hot air, let in cold air, our poor little cupcakes won't know what's going on and they won't reach their full risen potential! I always yell at my hubs when he opens the oven while I'm baking. Someday he will learn..
Remove From the Pan to Cool. If we leave those precious little cupcakes in the tin they will continue to bake off the heat of the tin. Let's get them carefully out of the tin and onto a wire rack to cool and not dry out.
Cool Completely Before Frosting. There is nothing better than fresh baked goods right out of the oven. But what happens when we put our beautiful frostings made of butter on top of those warm cupcakes? It melts. Whomp whomp whomp.
Frost Them! The frosting acts as a sealant. It holds in the moisture of the cupcake. Without frosting it's just a sad, dry cupcake.
Store Covered. Just like most things air will make them go stale. Just make sure they're covered, keep them at room temperature unless otherwise noted in a recipe. Cupcakes can be frozen and brought back to room temperature. Just wrap them tightly in foil and then place them in a freezer bag.
SaveSave