Easy to make slow cooker corned beef is layered on these sliders. Topped with Swiss cheese and a homemade Russian Dressing that makes these the BEST tasting Reuben Sliders around!!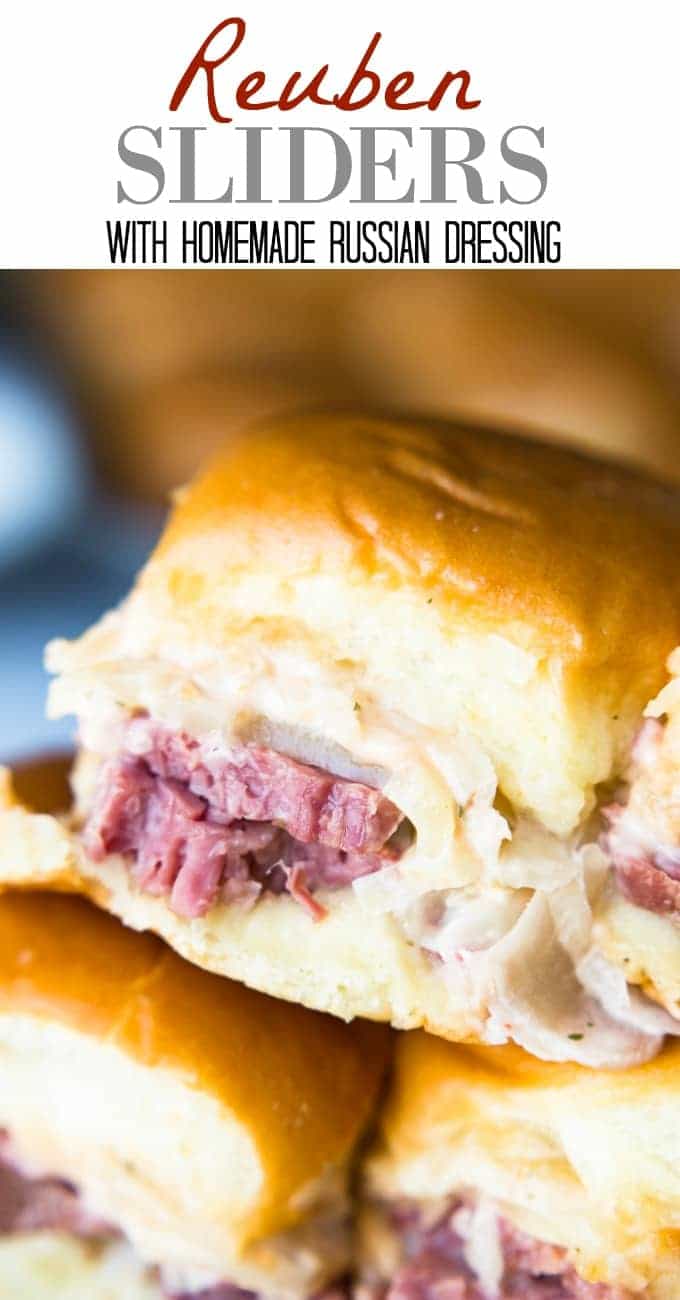 Did you realize that St. Patrick's Day is right around the corner?!  Literally.  It's on Thursday.  Do you have something green picked out to wear already?  I don't even think I have anything green. Whomp whomp whomp.  Fail.  But what I do have is an amazing recipe for these slow cooker Reuben Sliders!  With a homemade russian dressing that will knock your little green socks off!!  Corned beef is one of those things that I hardly ever make.  But it's sooooo good and when I do make it I wonder why, why do I not do this more often?! This corned beef is super easy to make too, in the slow cooker.  Let it get all nice and tender.  Perfect for loading up to make these Reuben Sliders.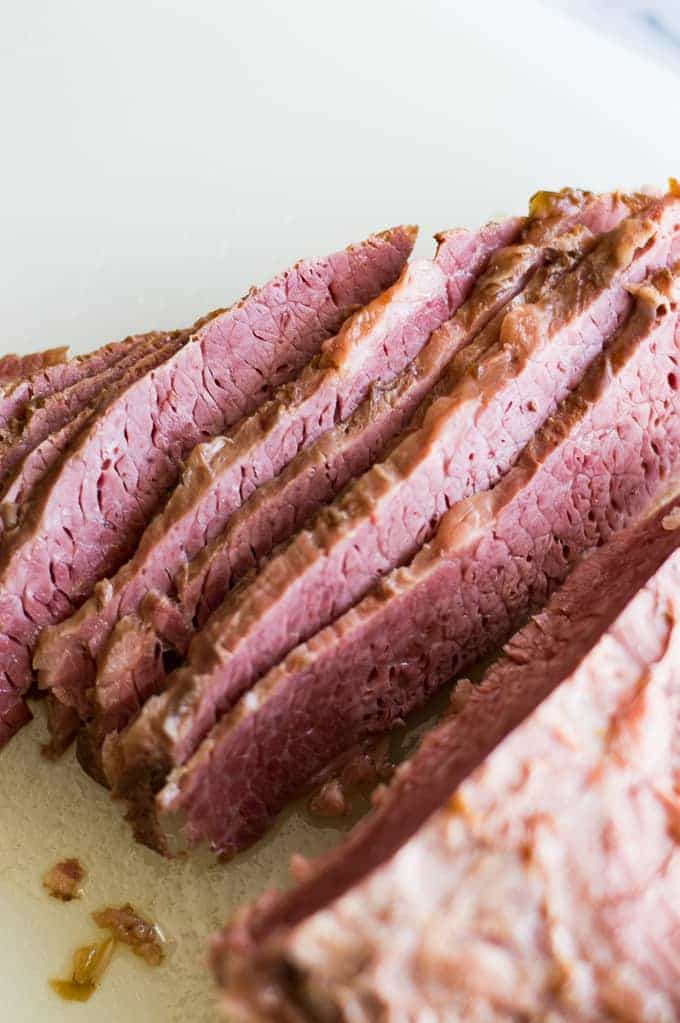 We're going to load these sliders up just like the Cuban sliders.  Remember those??  I know you do!!!  One of the most popular recipes on this little site here.  Everyone knows those sliders.  And I have made them myself probably about 500 times.  It's about time I made another slider right??  Trust me, I've been trying. I've had several fails and near misses attempting to make another recipe to put up here for you.  Now I know, typically a reuben would be on rye bread.  Well…sliders for me just don't work well on rye bread.  But these little sandwiches are still winners on the hawaiian rolls.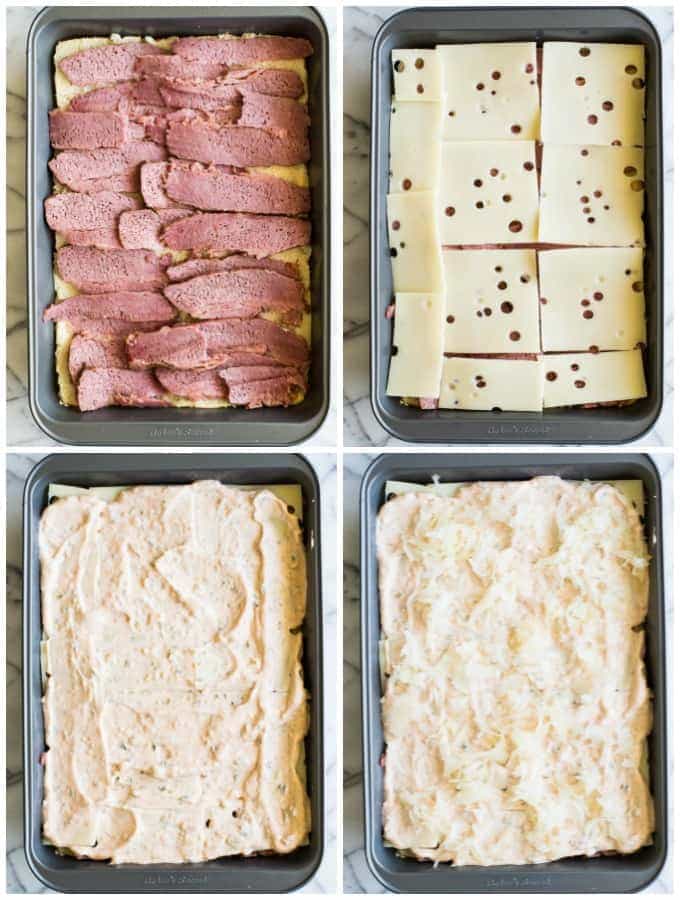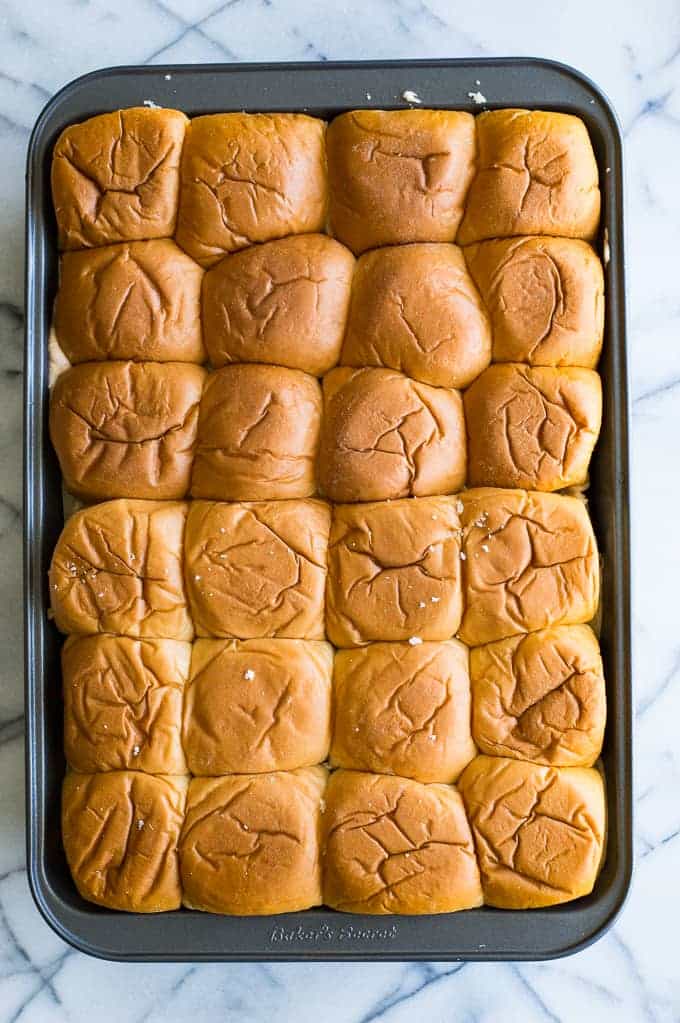 So, so easy right?!  The russian dressing on these is pretty much near perfection.  My favorite part?  It has diced up pickles in it.  Any sauce that has diced up pickles is a winner in my book.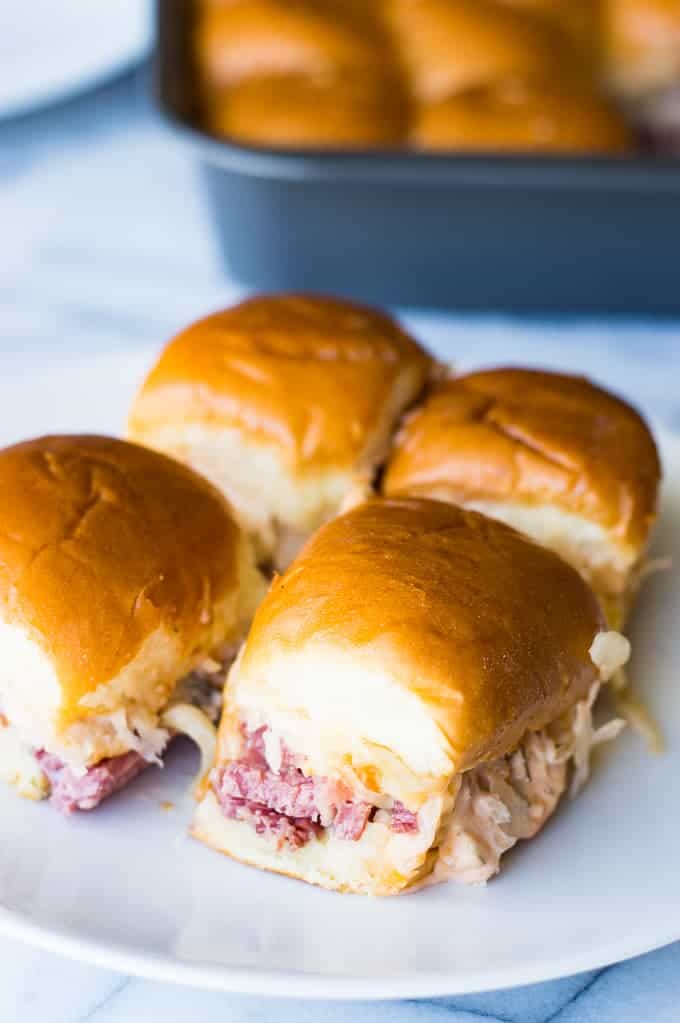 And I did add sauerkraut on these.  Let me be honest.  I didn't think I would like it.  I had it in my mind that I wouldn't like sauerkraut.  But I thought, you know what?  People are going to expect it to be on there.  So I'm going to put it on there.  And you know what?? It was actually good!  If you're adverse to the sauerkraut by all means, leave it off.  But maybe.. maybe you can try it, and maybe you just might like it.  No? Yea, that speech doesn't work on my kids either.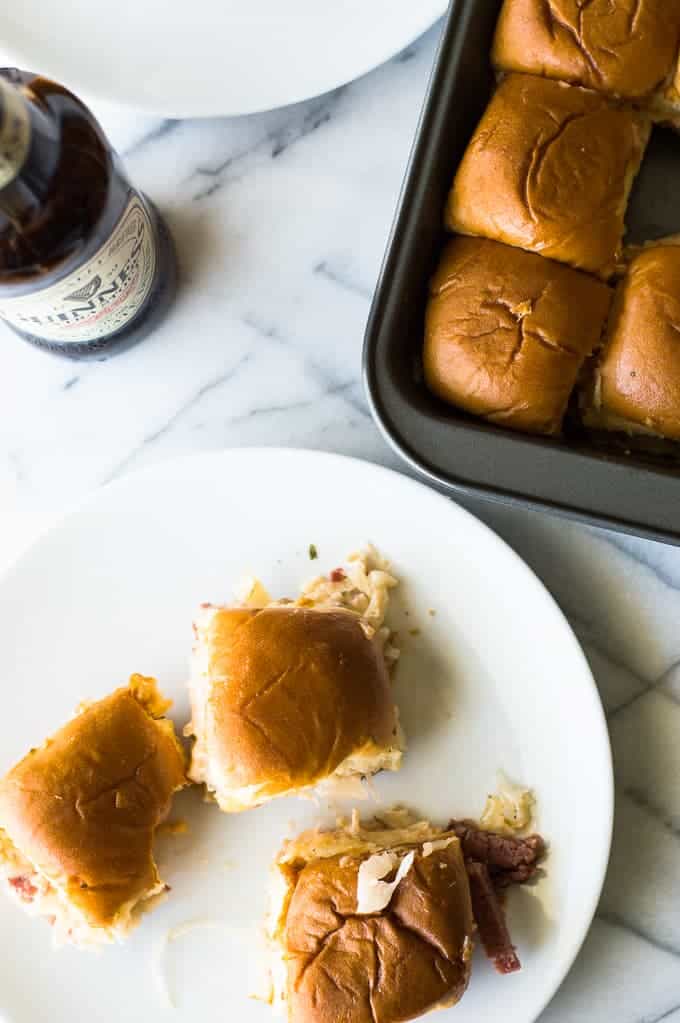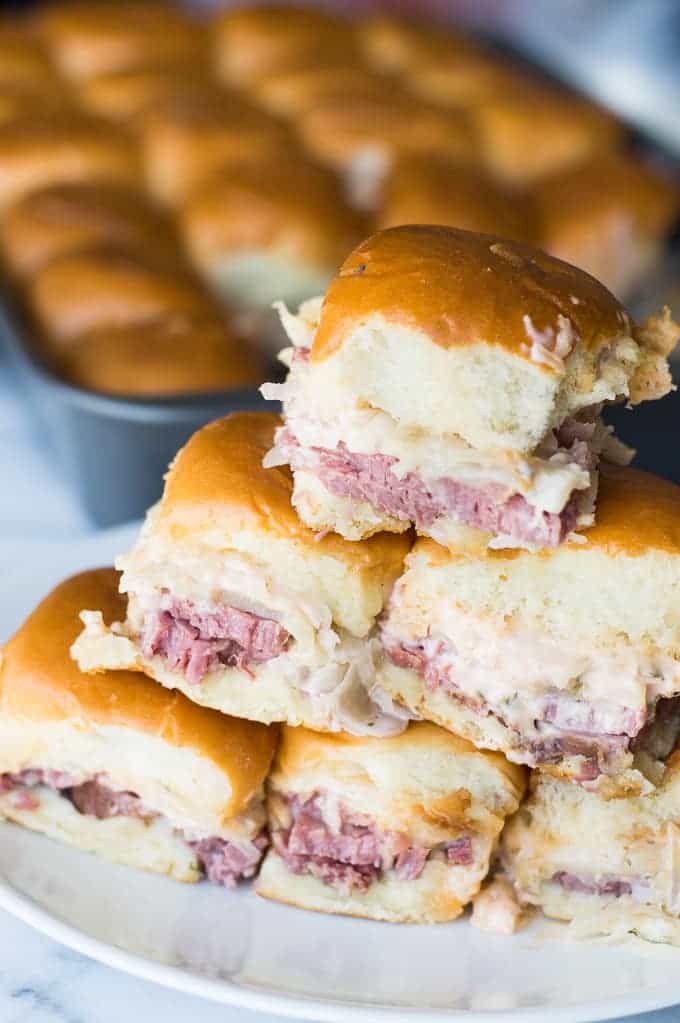 I hope you enjoy the recipe!  You can follow along with me and never miss a recipe by signing up for my newsletter.  Follow me on Instagram and tag #houseofyumm so I can see all the recipes you make.  Plus follow me on snapchat! @houseofyumm ?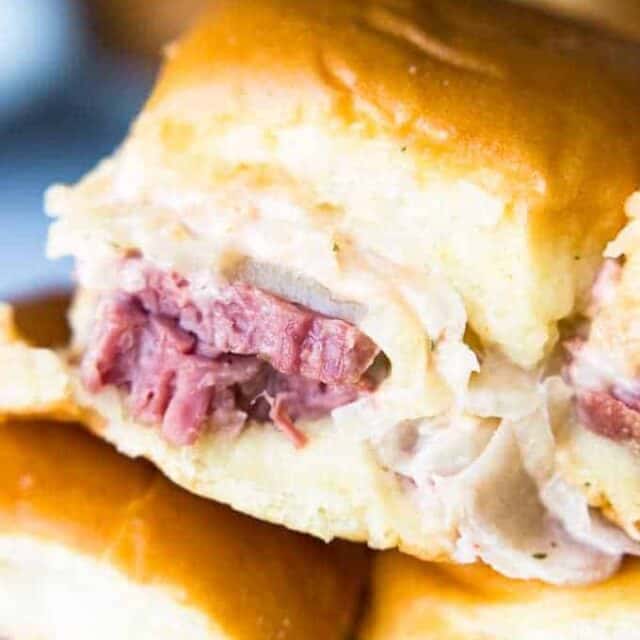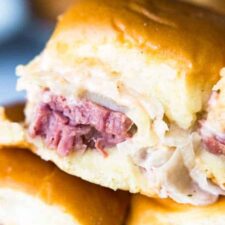 Reuben Sliders
Easy to make slow cooker corned beef is layered on these sliders. Topped with Swiss cheese and a homemade Russian Dressing that makes these the BEST tasting Reuben Sliders around!!
Ingredients
Slow Cooker Corned Beef
2-3 lb corned beef brisket
1 onion , roughly chopped
2 cloves garlic
2 cups beef broth
¼ cup tomato sauce
3 tbsp Worcestershire sauce
⅔ cup brown sugar
1 tsp salt
½ tsp black pepper
1 12 oz bottle dark beer, ex. Guiness
Russian Dressing
1 cup mayonnaise
¼ cup chili sauce
1 tbsp onion, minced
1 tbsp dill pickle, minced
1 tbsp dried parsley
1 tbsp heavy cream
½ tsp dry mustard
½ tsp hot sauce
¼ tsp worcestershire sauce
¼ tsp white granulated sugar
⅛ tsp salt
Sliders
1 (24 count) Hawaiian Rolls
8 slices swiss cheese
½ cup sauerkraut
1 tbsp butter, melted
Instructions
Slow Cooker Corned Beef
Place half of the chopped onion and garlic in the bottom of the slow cooker. Place the corned beef on top, with the fat cap facing up. Add the remaining onion and garlic on top of the beef.

In a medium size bowl combine the broth, tomato sauce, worcestershire, brown sugar, salt and black pepper. Whisk to combine. Pour over the brisket in the slow cooker. Pour in the dark beer.

Cover and cook on low for 8 hours.

Remove the meat from the slow cooker, cut off the fat and slice the meat against the grain into thin slices.
Russian Dressing
Add all ingredients into a medium size bowl and stir to combine.
Sliders
Preheat the oven to 350°F.

Slice the hawaiian rolls in half lengthwise, separating the top from the bottom. Place the bottom into a greased 9x13 cake pan.

Layer the sliced corned beef, the swiss cheese, the russian dressing, and sauerkraut. Place the top of the buns on top. Brush with the melted butter.

Cover the pan with foil and bake for 10 minutes covered.

Remove the foil and bake an additional 5 minutes. Remove from oven allow to cool for a few minutes and then serve warm!
Nutrition
Calories: 200kcal, Carbohydrates: 8g, Protein: 8g, Fat: 15g, Saturated Fat: 4g, Cholesterol: 32mg, Sodium: 821mg, Potassium: 187mg, Fiber: 1g, Sugar: 7g, Vitamin A: 107IU, Vitamin C: 12mg, Calcium: 60mg, Iron: 1mg
Russian Dressing recipe adapted from Emeril's.
Slow Cooker Corned Beef Recipe adapted from A Southern Soul.
SaveSave
House of Yumm is a participant in the Amazon Services LLC Associates Program, an affiliate advertising program designed to provide a means for us to earn fees by linking to Amazon.com and affiliated sites.