Rainbow Sherbet Cupcakes! Made with real Rainbow Sherbet and topped with three flavors of frosting swirled together. These cupcakes smell and taste like a dream!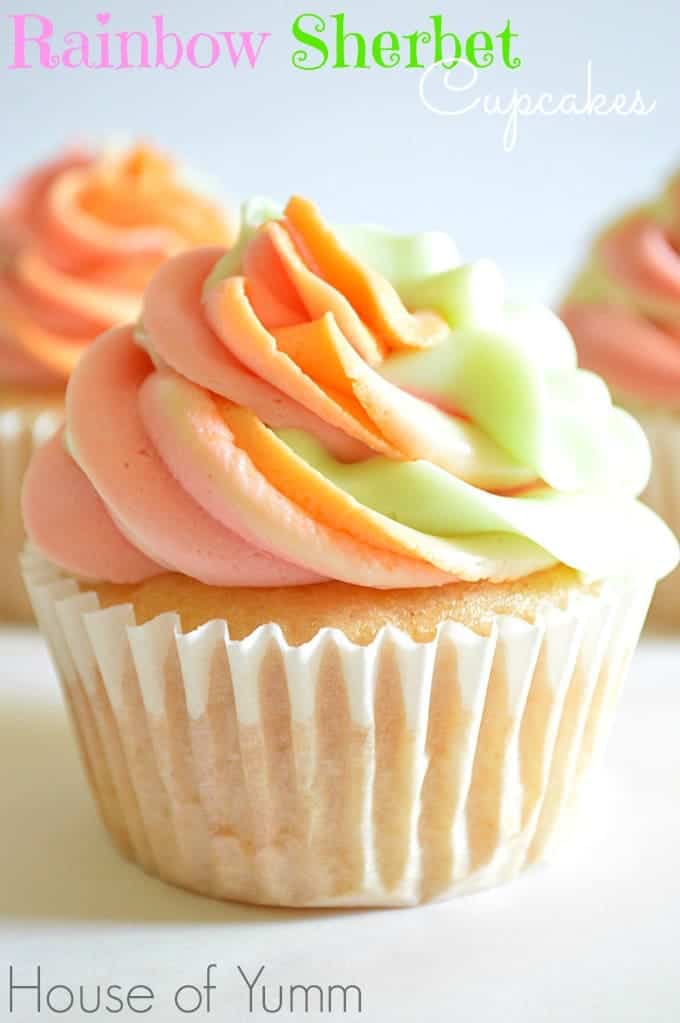 Not only do these cupcakes look like rainbow sherbet, they taste exactly like it!
That might have something to do with the fact that they are made with melted rainbow sherbet. Say whaaaat?!? Yes. You heard me correctly! I melted the Rainbow Sherbet and added it to a cake mix. And voila! Rainbow Sherbet flavored cupcakes! I was worried about how the colors would mix together, but the cupcakes come out a lovely peach color. No food coloring needed. There are of course a few modifications that I had to make to the cake mix also, but that's all included in the recipe below.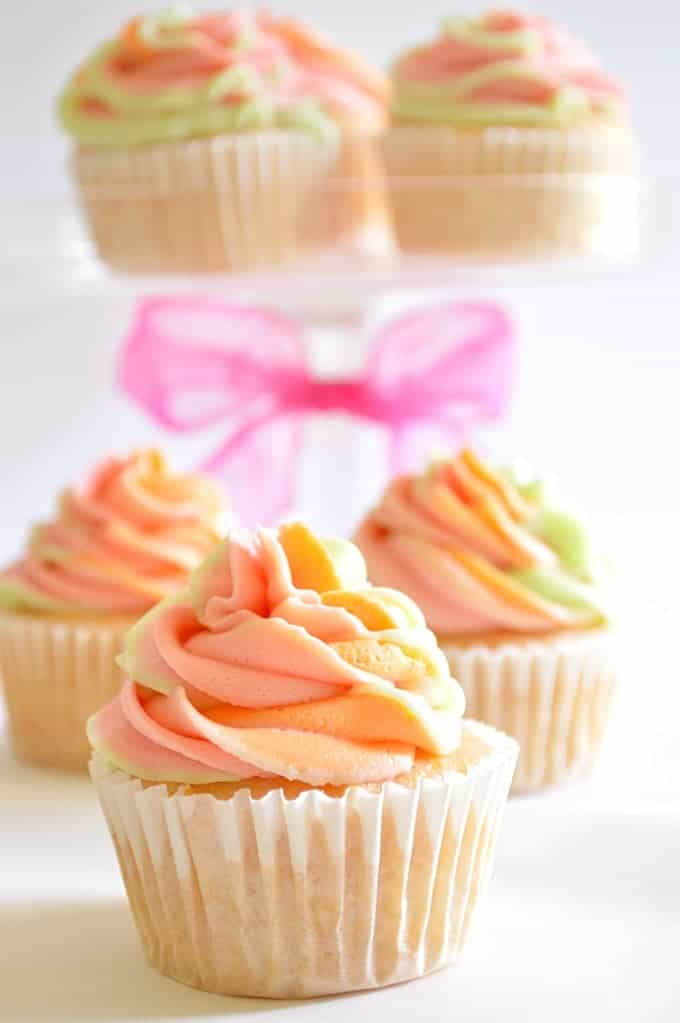 But did I stop there? Oh no. If you follow me at House of Yumm already, you know me better than that! I always have to do something fun with my frosting!
Not only is this a tri-colored frosting. It is also tri-flavored! Is that a real phrase? I'm not so sure. But I AM sure that this frosting is possibly the most awesome frosting to ever be put on a cupcake.
I used a Strawberry flavor, an Orange Creamsicle flavor, and a Key Lime flavored frosting. All swirled together. Trust me. It's amazing. Make sure you check out my tutorial on how to swirl together three different frostings here. It's so much easier than you would think!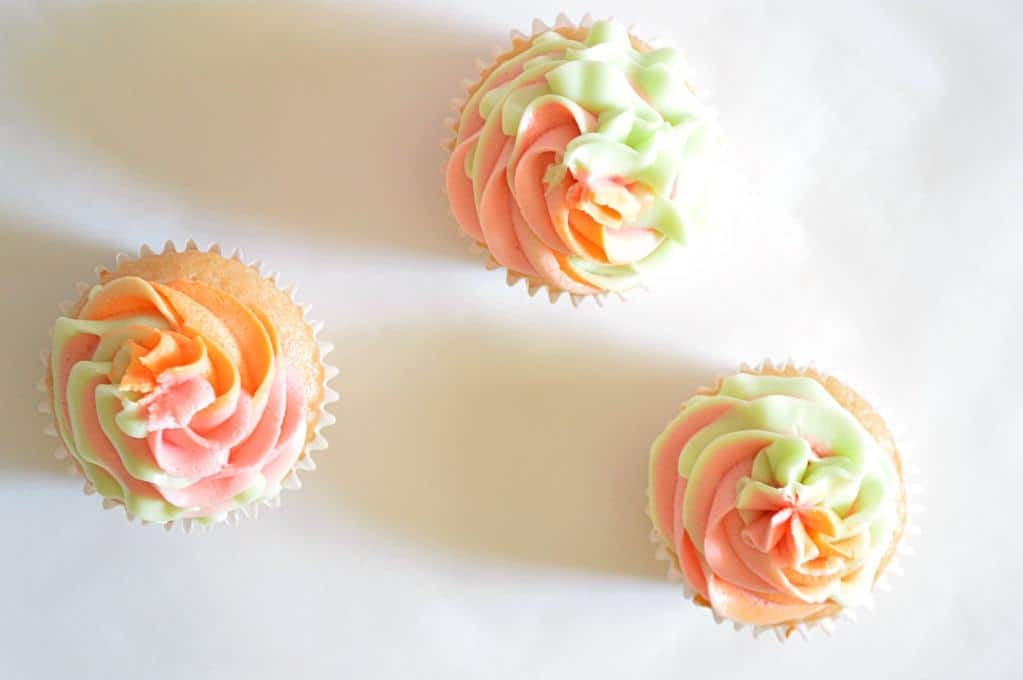 For the frosting I used those lovely little Flavor Creations packets from Duncan Hines. Mix it up with a homemade frosting and they work perfectly! I also happened to notice that there are some store bought frostings in those flavors available now.
You are going to love how easy these cupcakes are to make, and how they practically scream out Summertime!!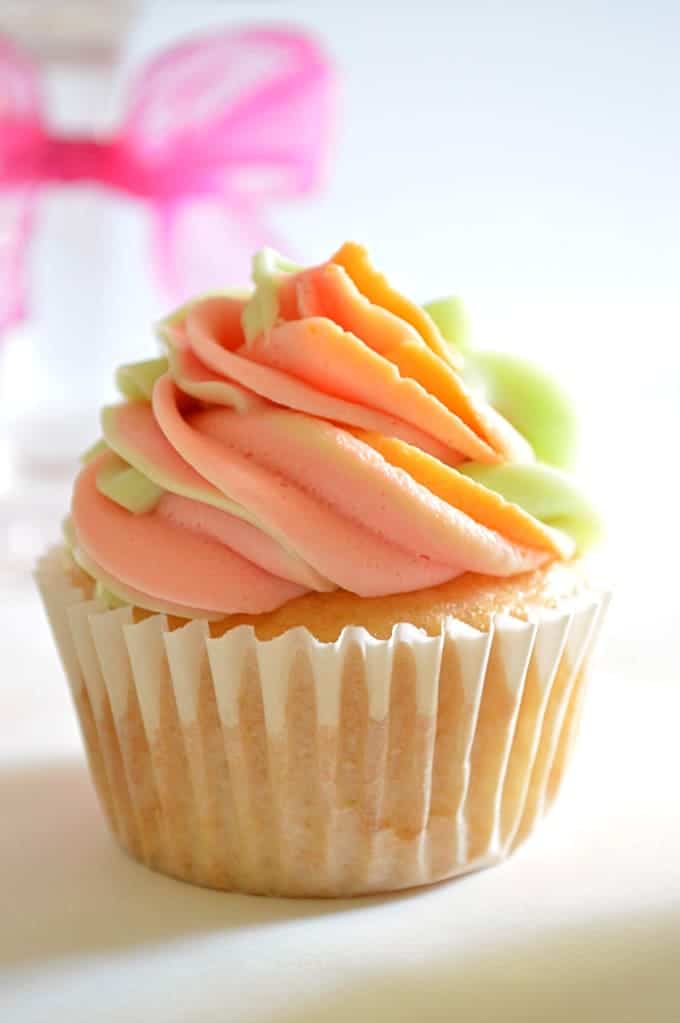 I hope you enjoy the recipe! You can follow along with me and never miss a recipe by signing up for my newsletter. Follow me on Instagram and tag #houseofyumm so I can see all the HOY recipes you make. And if you want to follow along in my everyday life on snapchat (username: houseofyumm) ?
Check out all the Tips & Tricks for the Perfect Cupcake here!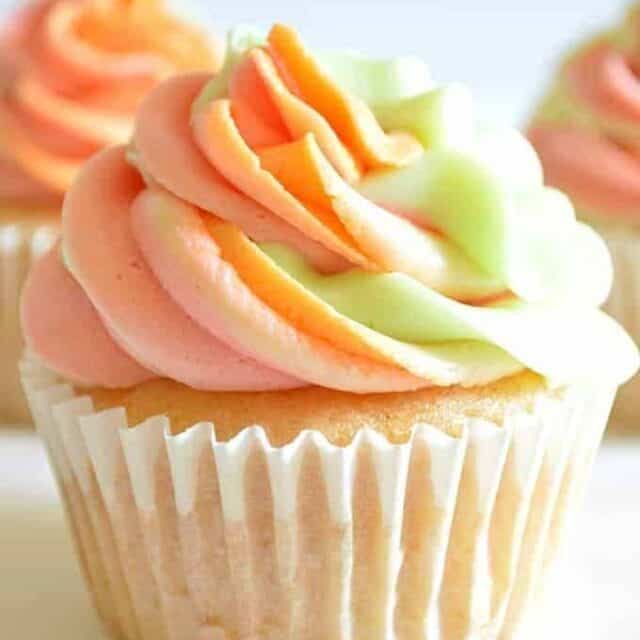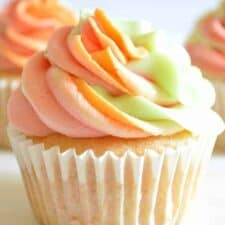 Rainbow Sherbet Cupcakes
These Rainbow Sherbet cupcakes are made with real rainbow sherbet and topped with a tri-flavored swirl of frosting!
Ingredients
For Cupcakes
1 white cake mix
3 large eggs
3 tbsp all purpose flour
2 cups Rainbow Sherbet, melted and cooled to room temperature
For Frosting
8 cups Powdered Sugar
⅔ cup heavy cream
8 tbsp butter
½ tsp strawberry flavor extract
½ tsp lime flavor extract
½ tsp orange flavor extract
food coloring, red, green, orange
Instructions
For Cupcakes
Preheat oven to 350°F. Place cupcake liners in cupcake tin.

Add cake mix, eggs, and rainbow sherbet into mixing bowl. Stir to combine. Add in the flour and give a few stirs until just mixed in.

Add cake batter to the cupcake liners using a 1/3 cup of batter, filling until the cupcake liners are about 2/3 full.

Bake for 15 minutes or until baked through, check with a toothpick. Let the cupcakes cool in the baking tin for 5 minutes then remove to wire rack to continue cooling.
For Frosting
Cream butter in a medium size bowl until smooth and creamy. Add in the heavy cream and powdered sugar.

Mix on low speed for 2-3 minutes until ingredients are combined. Then mix on medium speed for an additional 3 minutes until frosting is peaking, meaning that it is holding it's shape.

Separate into three bowls and add a flavor extract to each bowl and matching color of food coloring. Stir to completely combine the flavor into the frosting, should have a uniform color throughout.

Frost swirling all three frosting (tutorial available). I used a Wilton 2D tip for these cupcakes.
Equipment
Nutrition
Calories: 322kcal, Carbohydrates: 62g, Protein: 2g, Fat: 8g, Saturated Fat: 5g, Cholesterol: 40mg, Sodium: 200mg, Potassium: 38mg, Fiber: 1g, Sugar: 51g, Vitamin A: 251IU, Vitamin C: 1mg, Calcium: 62mg, Iron: 1mg
Make sure you find out how to swirl the frosting!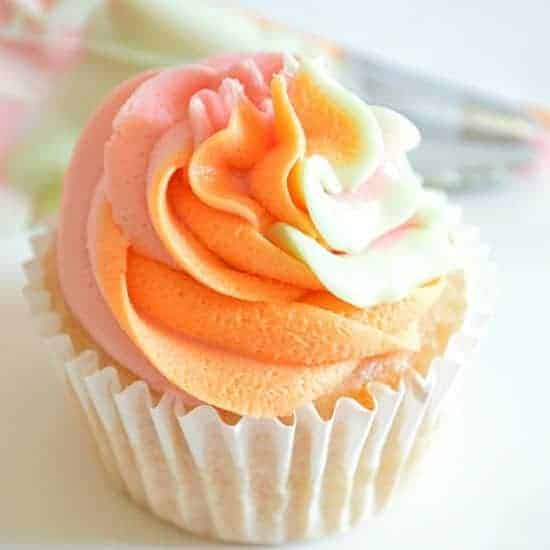 Some More Cupcakes to Enjoy!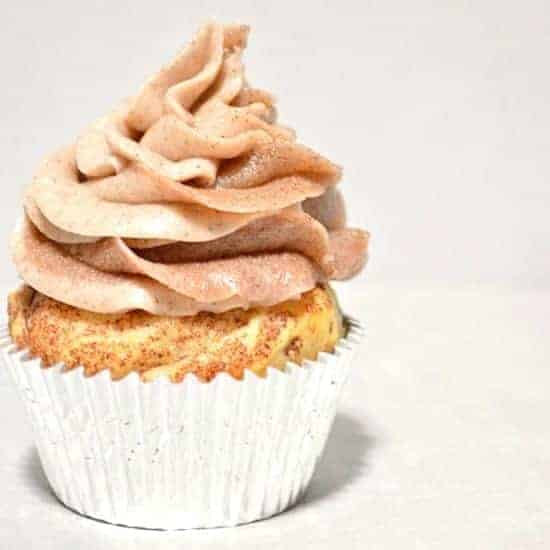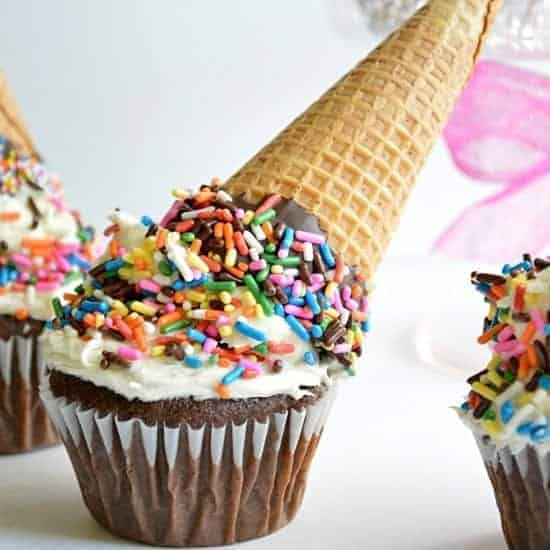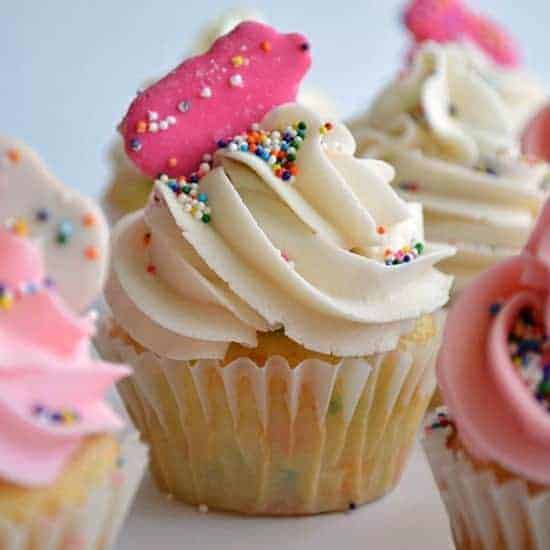 House of Yumm is a participant in the Amazon Services LLC Associates Program, an affiliate advertising program designed to provide a means for us to earn fees by linking to Amazon.com and affiliated sites.