EASY 4 Ingredient Peppermint Truffles. Amazingly creamy peppermint white chocolate ganache center coated with MORE chocolate and drizzled with extra white chocolate. Perfect Christmas dessert!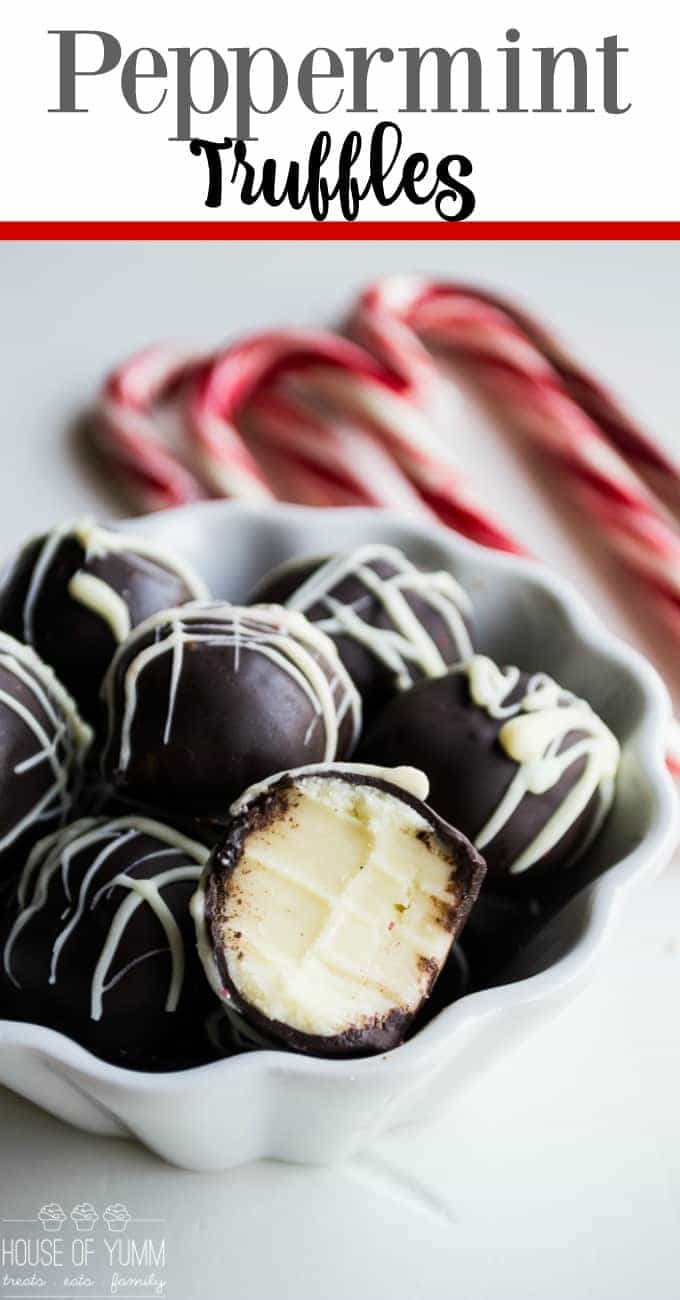 Hey y'all! Have I mentioned to you my undying love for all things peppermint before? So with the holidays approaching I feel that it is definitely time to bust out my peppermint extract. Or technically I suppose I should say that I had to BUY more peppermint extract.
Trust me, if you guys get hit with the peppermint craving these little bites will definitely hit the spot. The inside of these is creamy, dreamy, peppermint. It reminds me of the inside of a peppermint patty. The filling just melts in your mouth.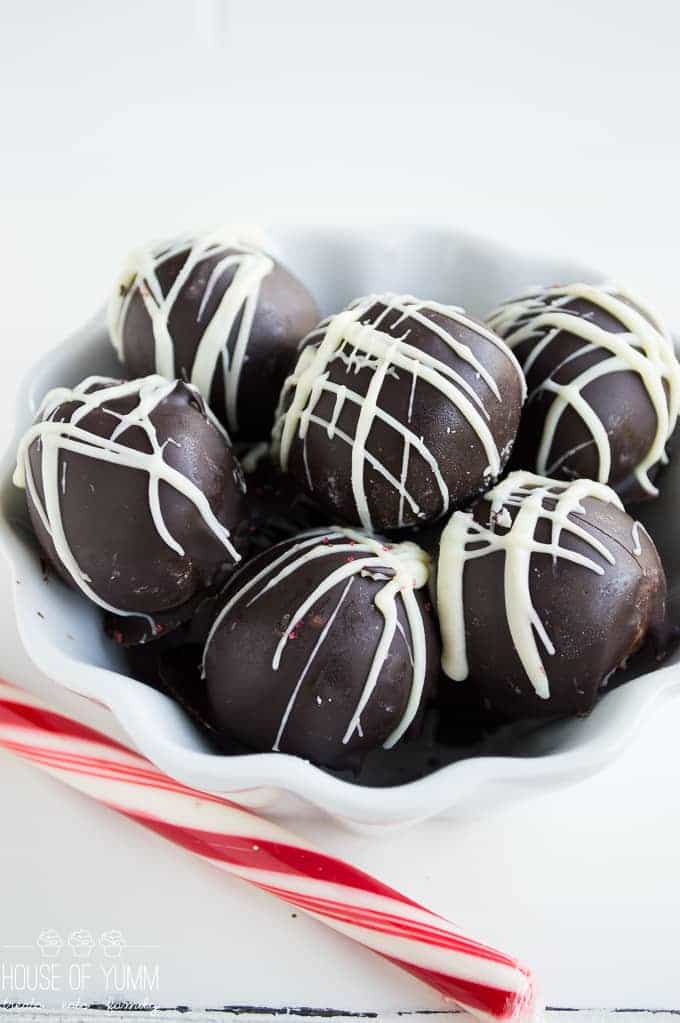 These truffles are super easy to make. They just take a little longer because they have to chill in between each step so they don't melt. I recommend starting them the day before so the ganache can chill overnight in the fridge. Then the next day you can form the truffles and dip them in chocolate. See, super easy. No complicated procedures or temperatures of chocolate needing to be taken.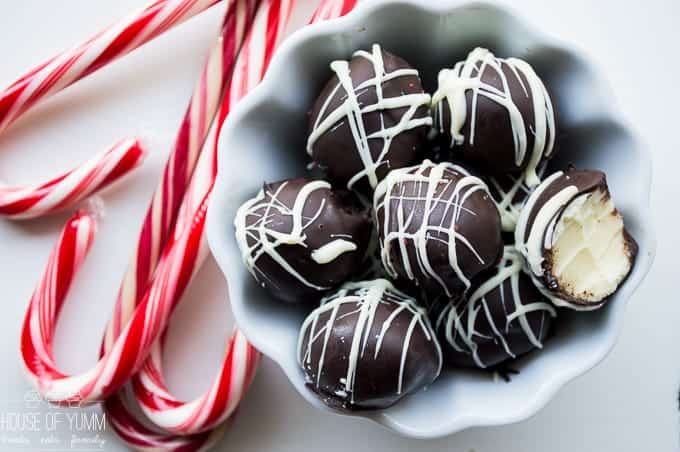 Tips & Tricks
Size Matters. Chop the chocolate up nice and small for the ganache filling. The smaller the pieces the easier it will melt.
Quality is important. Since this recipe is basically just chocolate, we want to use good chocolate! I used Ghiradelli white chocolate for my center ganache.
Ratios. It's all about the ratios. When making ganache for truffles we want to keep it at a 2:1 meaning two parts chocolate to one part cream.
Measurements. Since we're working with ratios correct measurements are important. I suggest using a food scale (This is the one I use. ) for the chocolate, even though the squares are measured you will notice a small difference when you weigh it after chopping it up.
Once you see how easy these are to make check out these Chocolate Bourbon Truffles too! These are made pretty much the same way.
And if these haven't conquered your desire for peppermint and chocolate make sure you check out these Homemade Peppermint Patties!
Here's a quick little video to give you an idea of how easy these are to make!
Peppermint Truffles
EASY 4 Ingredient Peppermint Truffles. Amazingly creamy peppermint white chocolate ganache center coated with MORE chocolate and drizzled with extra white chocolate. Perfect Christmas dessert!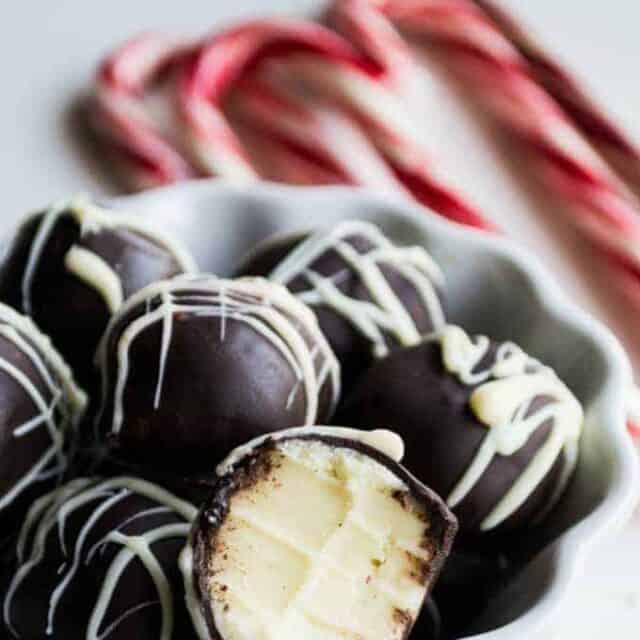 Ingredients
¼

cup

heavy cream

½

tsp

peppermint extract

12

ounces

white chocolate

8

ounces

semi-sweet chocolate
Instructions
Chop 8 ounces of the white chocolate, read notes on measuring above, and place in a heat safe bowl.

In a small saucepan heat the heavy cream and peppermint extract until it starts to simmer. Remove from heat and allow to cool for a minute, the cream should not be bubbling, then pour it over the chopped chocolate and allow it to sit for about 2-3 minutes.

Stir the chocolate slowly until all the chocolate is melted and it is a nice creamy smooth texture. If there are still bits of unmelted chocolate making the mixture lumpy you can place the mixture in the microwave for 5 second intervals until fully melted. Do not overheat the mixture.

Cover the bowl with the ganache mixture and place in refrigerator to chill. Allow it to chill for at least 2 hours, or until solid. Can be chilled overnight.

Once the ganache is chilled and solid, remove from the refrigerator. Allow to warm for about 5 minutes prior to scooping it out. Using a melon baller, or cookie scoop, or a spoon scoop out the ganache and roll into balls that are about an inch in diameter. Place these onto a cookie sheet that is lined with wax or parchment paper.

Once all the ganache is rolled into balls, place the cookie sheet with the truffles in the fridge to allow to cool for at least 20-30 minutes.

When the truffles are cooled, remove from fridge. Melt the semi-sweet chocolate in a heat safe bowl in the microwave by following the directions, 30 second increments stirring in between.

Dip the truffles one at a time into the melted chocolate using a fork, tap the fork on the side of the bowl to remove excess chocolate. Place the chocolate covered truffles back onto the cookie sheet with wax or parchment paper. Once all truffles are covered, place them back into the fridge for another 20 minutes to allow the chocolate to set.

When the chocolate is set then you can drizzle with any leftover chocolate, or the remaining 4 ounces of white chocolate. While the chocolate is melted dip a spoon into the chocolate and drizzle it over the truffles.

Store the truffles in the refrigerator until ready to serve.
Nutrition
Calories:
280
kcal
|
Carbohydrates:
27
g
|
Protein:
3
g
|
Fat:
18
g
|
Saturated Fat:
11
g
|
Cholesterol:
14
mg
|
Sodium:
29
mg
|
Potassium:
192
mg
|
Fiber:
2
g
|
Sugar:
24
g
|
Vitamin A:
91
IU
|
Vitamin C:
1
mg
|
Calcium:
71
mg
|
Iron:
1
mg
Nutrition information is automatically calculated, so should only be used as an approximation.
Like this? Leave a comment below!
Make sure you check out these PUMPKIN SPICE TRUFFLES too while you're here!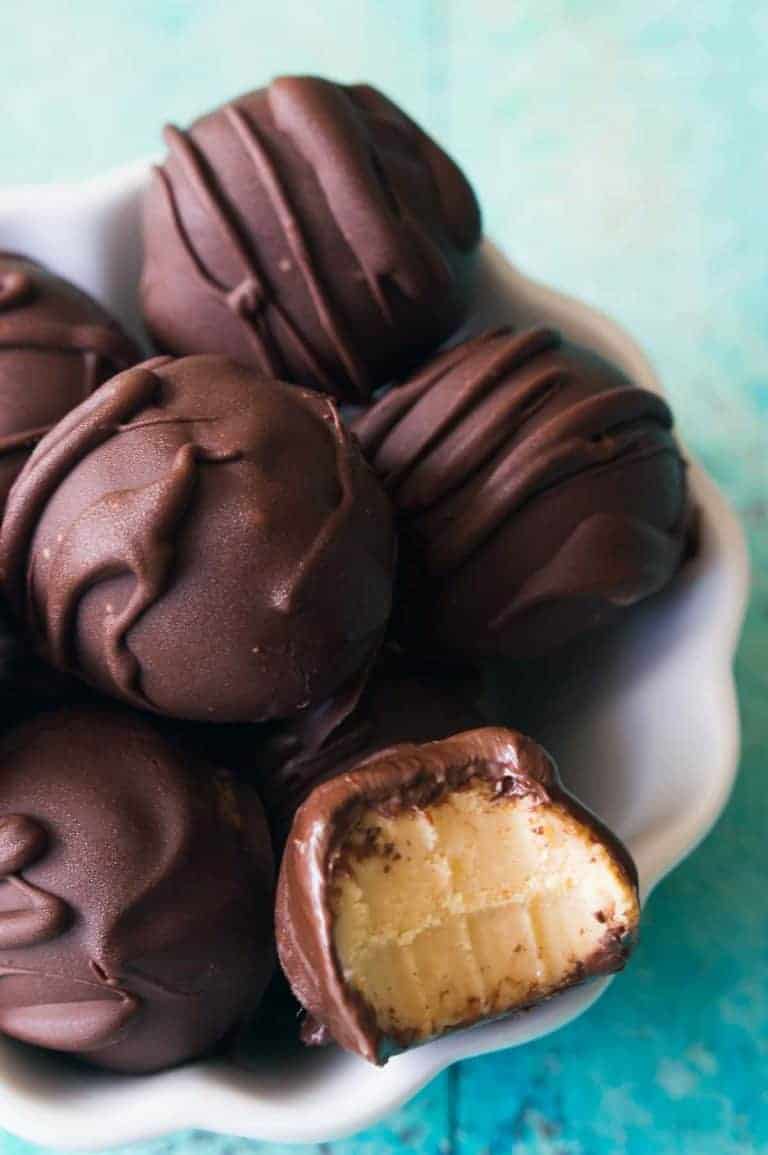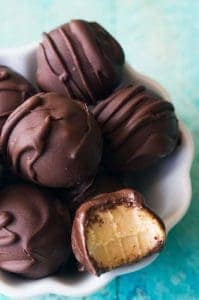 And these Homemade Peppermint Patties!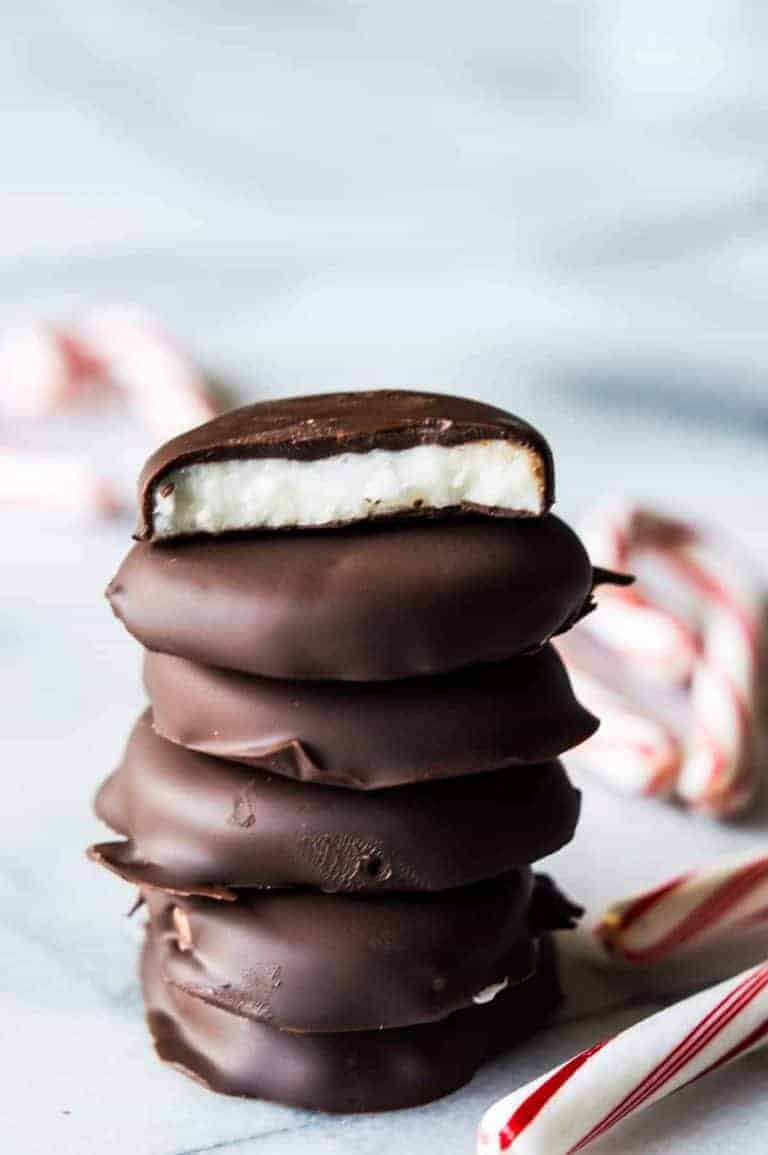 SaveSave
SaveSave