These easy to make Peppermint Patties are so easy to make at home. Only 5 ingredients are needed. These creamy, peppermint patties are dipped in silky chocolate. The perfect Christmas treat that everyone will love!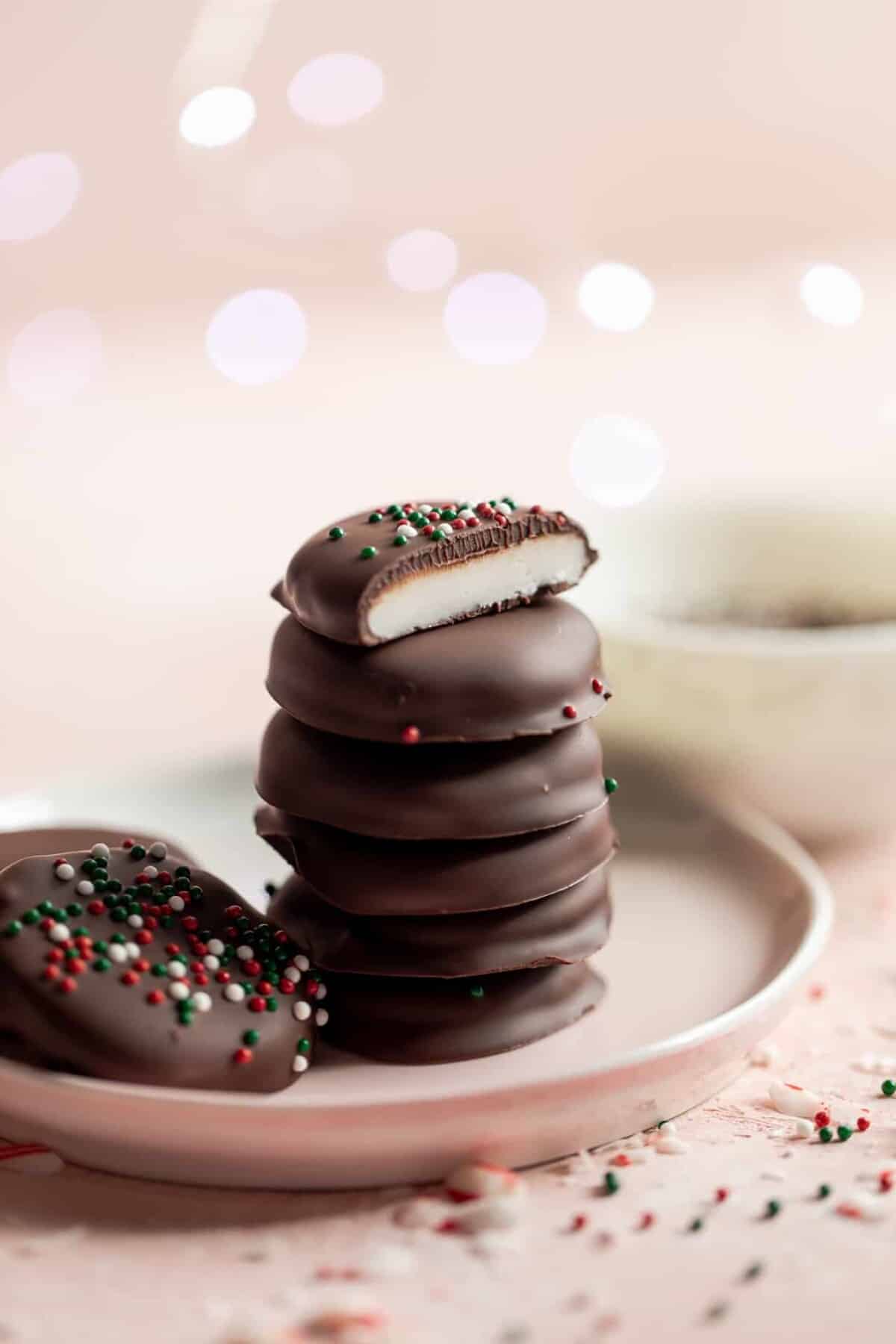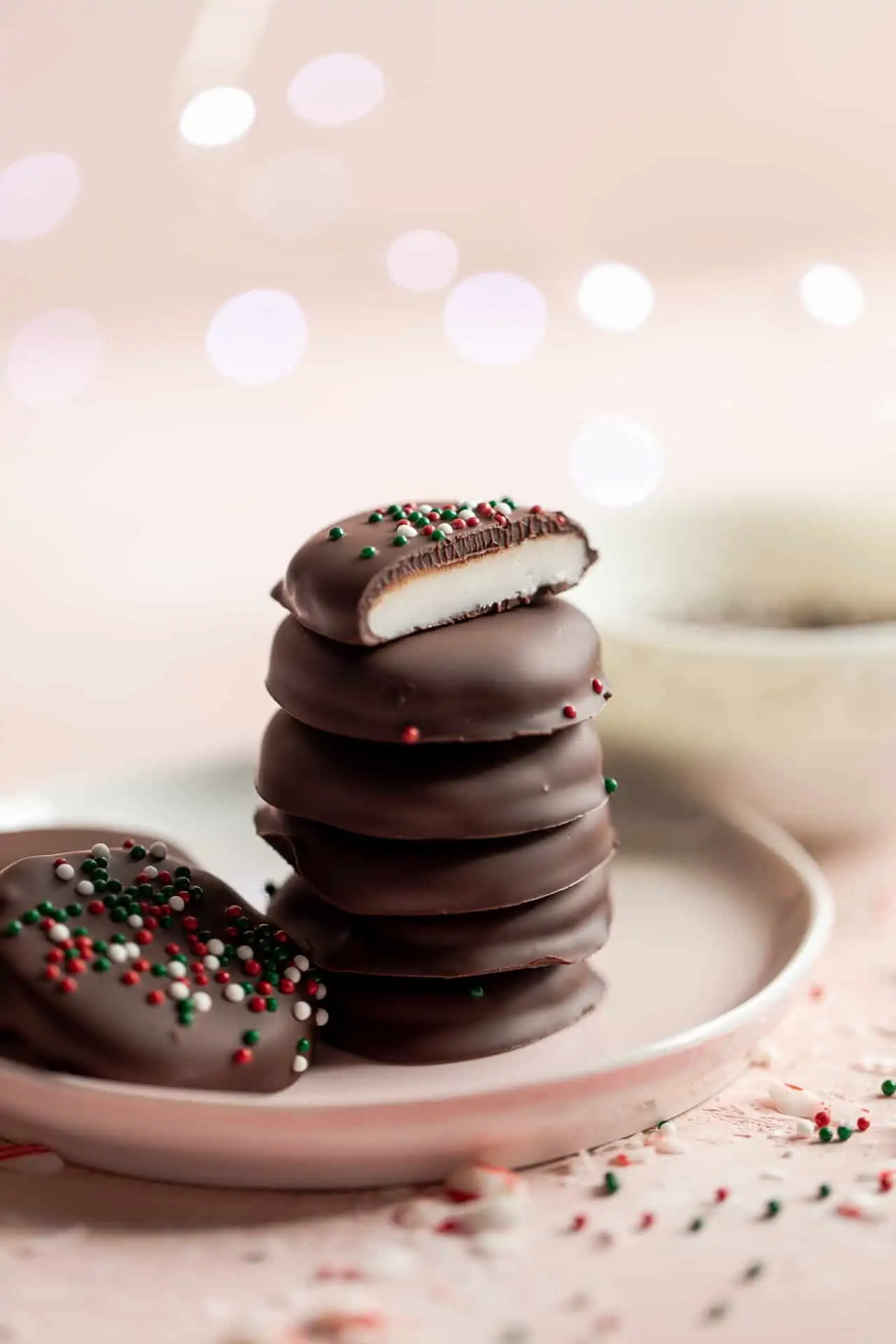 All about these peppermint patties…
These small chocolate peppermint treats simply shout out Christmas! Creamy, cool peppermint filling surrounded by chocolate. These homemade peppermint patties are so easy to make you will be amazed!
Only 5 ingredients: plus they are ingredients that you might already have on hand!
Easy to make: when it comes to candy making this is as easy as it gets. If you're up for a challenge you can always temper your chocolate to make these stable to be kept at room temperature and for mailing or gifting to friends.
Dress them up: want to make them pretty for any holiday? Simply add some colored sprinkles to the top before the chocolate sets.
Ingredients Needed: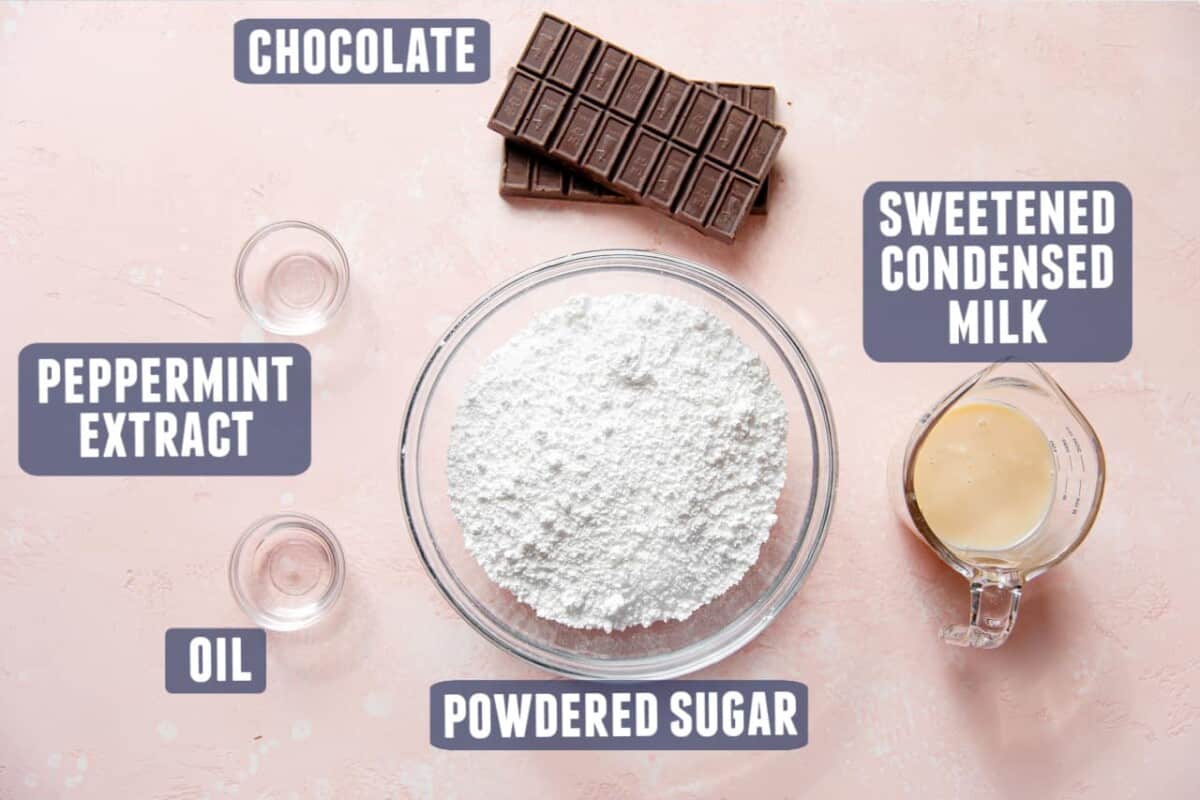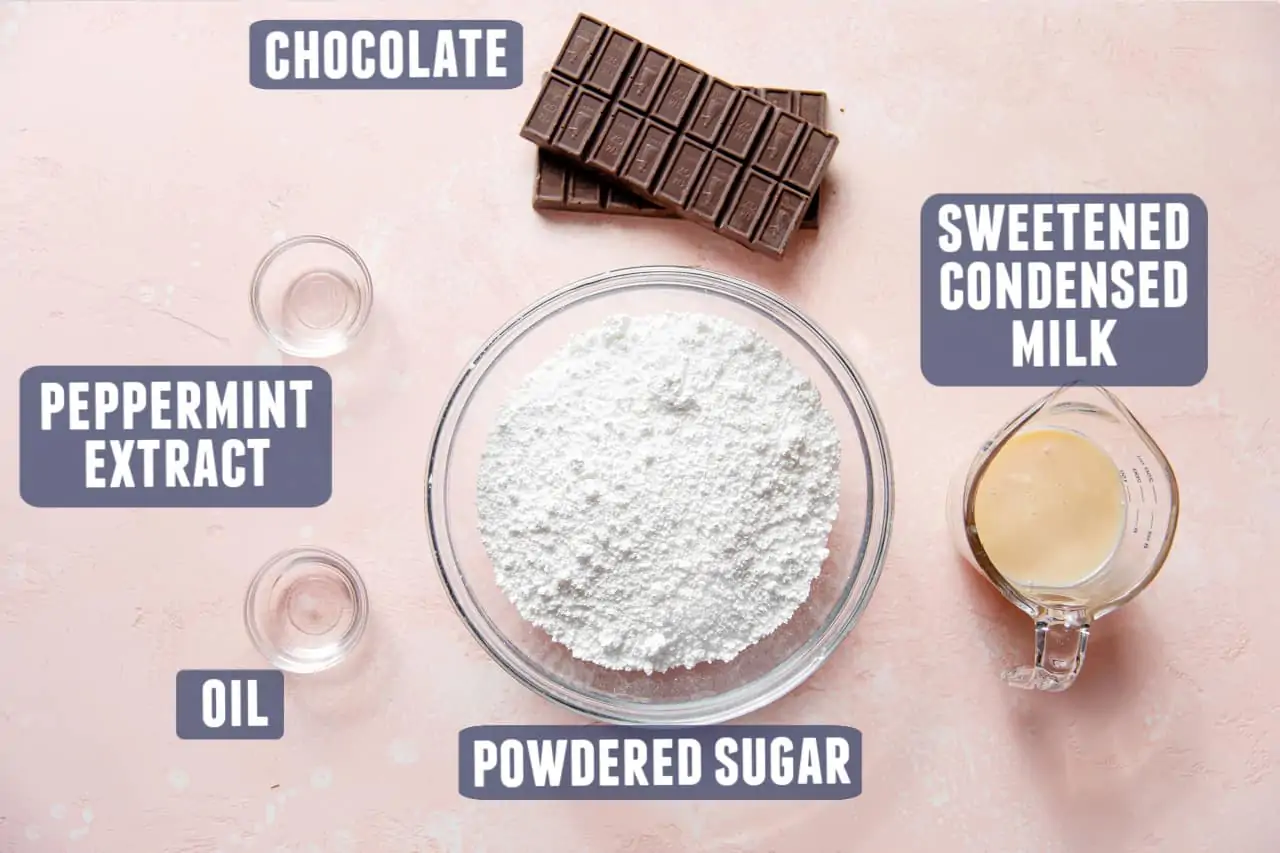 Notes on some ingredients:
Sweetened Condensed milk: this canned milk is thick and sweet and is what will hold the dough together. If a dairy free option is needed, canned coconut sweetened condensed milk works wonderfully and there is not a coconut flavoring to it.
Peppermint Extract: found in baking aisles with other extracts, this gives the peppermint flavoring to the inside patties.
Oil: a little bit of oil helps the chocolate melt nice and smooth. Melted coconut oil is a great option, but you can use any oil that you have on hand, avoid extra virgin olive oil due to the overpowering flavor.
How to make (step-by-step):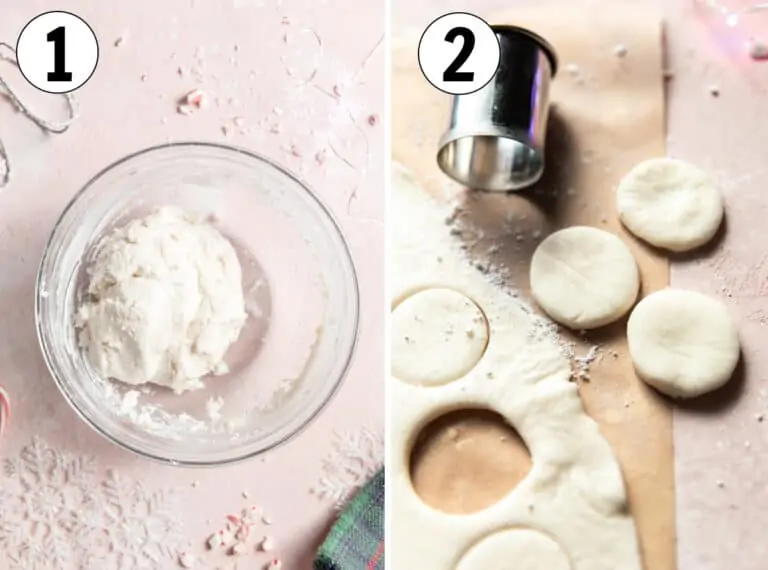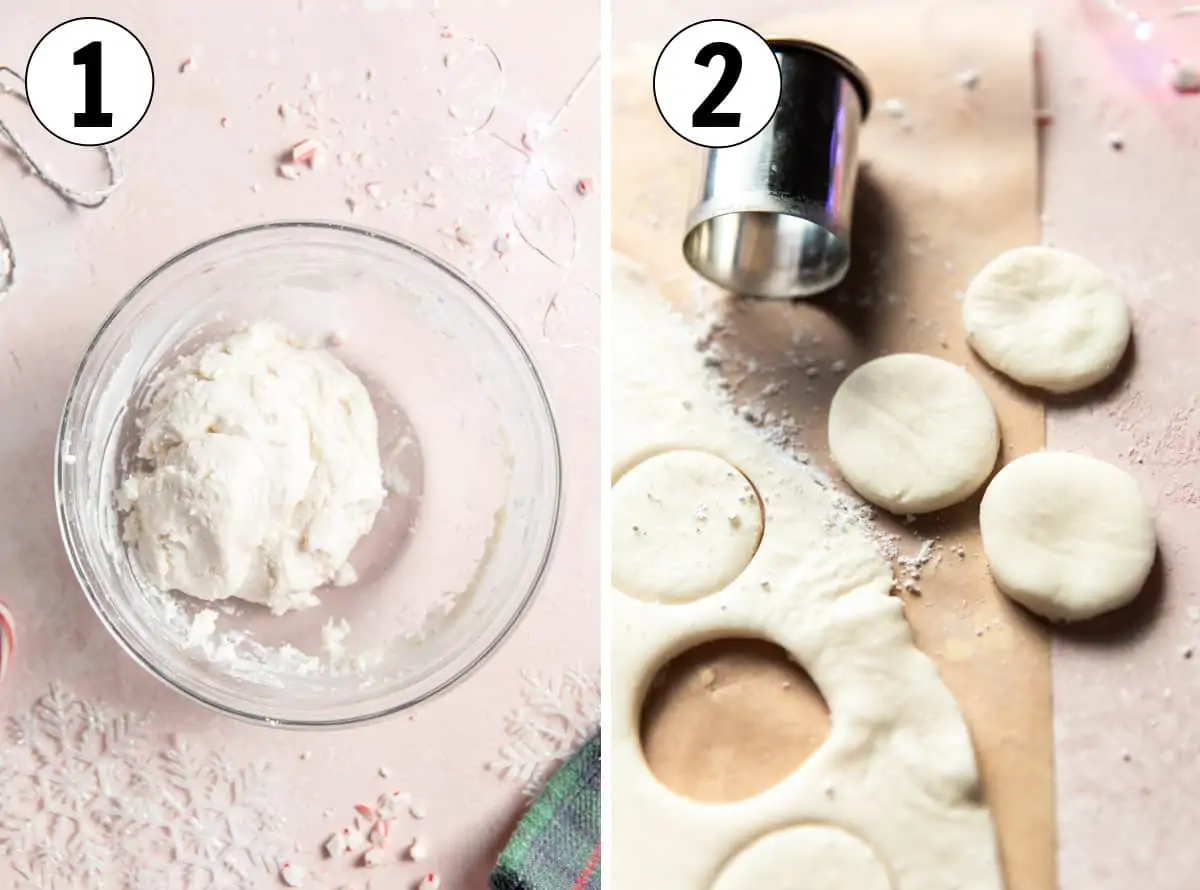 Step 1: Mix together the peppermint filling, combine the sweetened condensed milk, peppermint extract and powdered sugar. This is easy when using a hand mixer. The end result with be a thick dough like consistency.
Step 2: Roll out the dough to a 1/4 inch thickness. If needed sprinkle a small amount of powdered sugar to prevent sticking. A small 1 inch round cutter will make the perfect size. Or if you don't have one, a small medicine cup works also. After cutting, place the rounds on a wax lined baking sheet and place in the refrigerator for 30 minutes.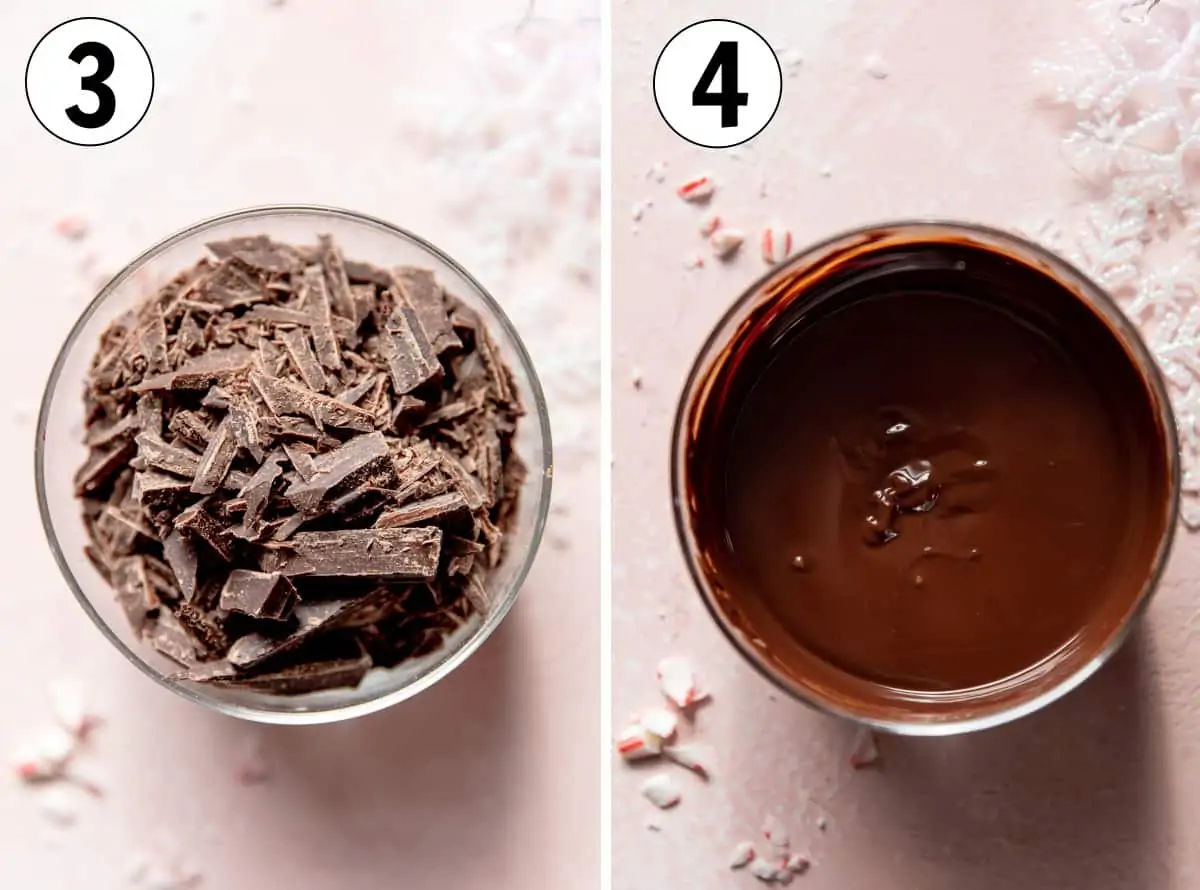 Step 3 & 4: Melt the chocolate. Chop the chocolate up and add to a heat safe bowl. Pour the oil on top and stir together. Melt the chocolate either in the microwave heating for 20 second intervals and stirring in between or use a double broiler by placing your heat safe bowl over a pot of boiling water and stir while the chocolate melts.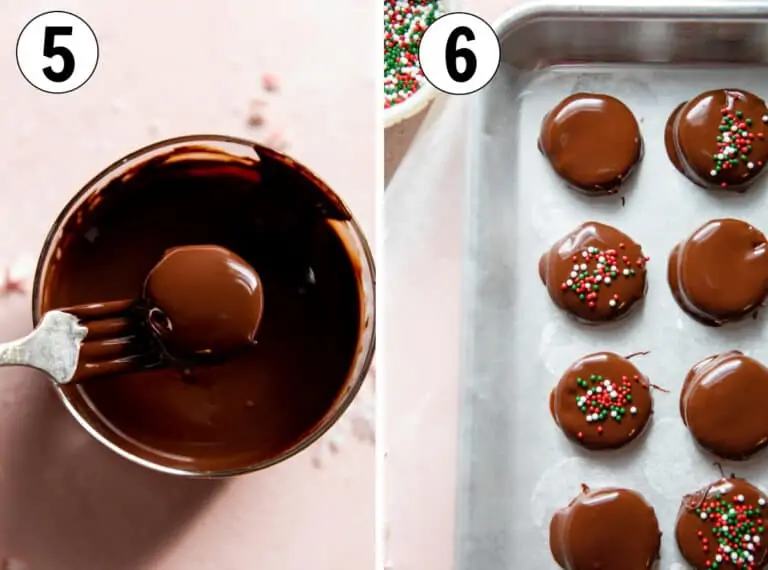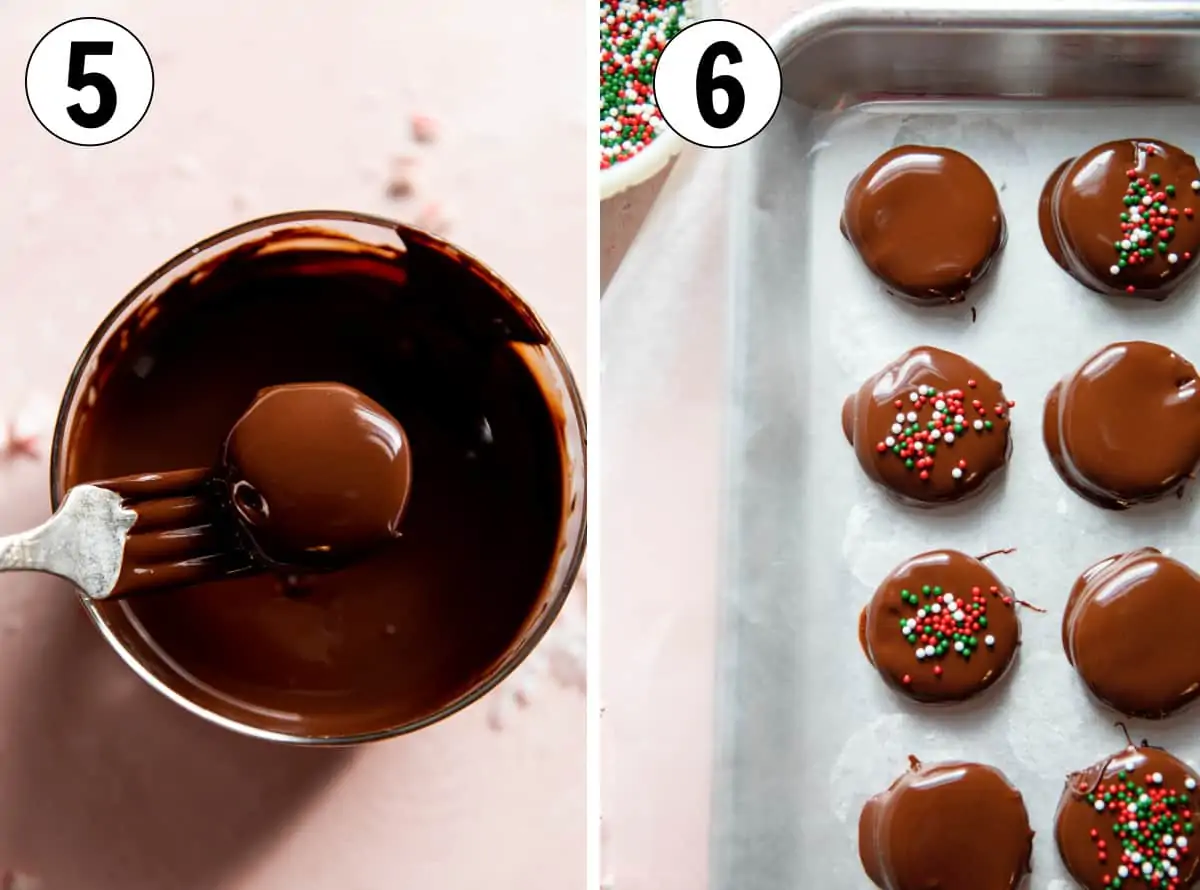 Step 5: Dip the chilled peppermint patties into the melted chocolate to coat them completely. Using a fork tap the edge of the bowl and scrape the bottom to remove as much excess chocolate as you can.
Step 6: Place on wax paper lined baking sheet, then place the chocolate coated candies in the refrigerator for at least 30 minutes to chill and let the chocolate harden. These will need to be stored in the refrigerator.
Expert Tips:
Chocolate Tempering: Since we are not tempering the chocolate in this particular recipe these candies will need to be stored in the refrigerator. Storing at room temperature they will soften too much. For information on tempering chocolate check out this article.
Sprinkles: switch out the sprinkles if desired to make these pretty. Make sure the sprinkles are added while the chocolate is still wet, before setting.
Temperature: the patties need to be chilled before dipping into the warm chocolate otherwise they will soften too much. Also be sure to let the chocolate cool down after melting to prevent the higher temperature from melting the patties.
FAQ's:
The dough seems too hard, how do I fix this?
The dough is fairly thick, if using a hand mixer, mix until dough is mostly together, then work with your hands to press it all together. If needed add additional sweetened condensed milk until the dough is a workable texture.
My patties seem to soften too much when I dip into the chocolate, what happened?
Most likely the temperature of your chocolate is too hot, let the chocolate cool down after melting before you dip the patties. This will prevent it from melting the patties.
Can I mail these?
No. Without tempering the chocolate I wouldn't recommend mailing these.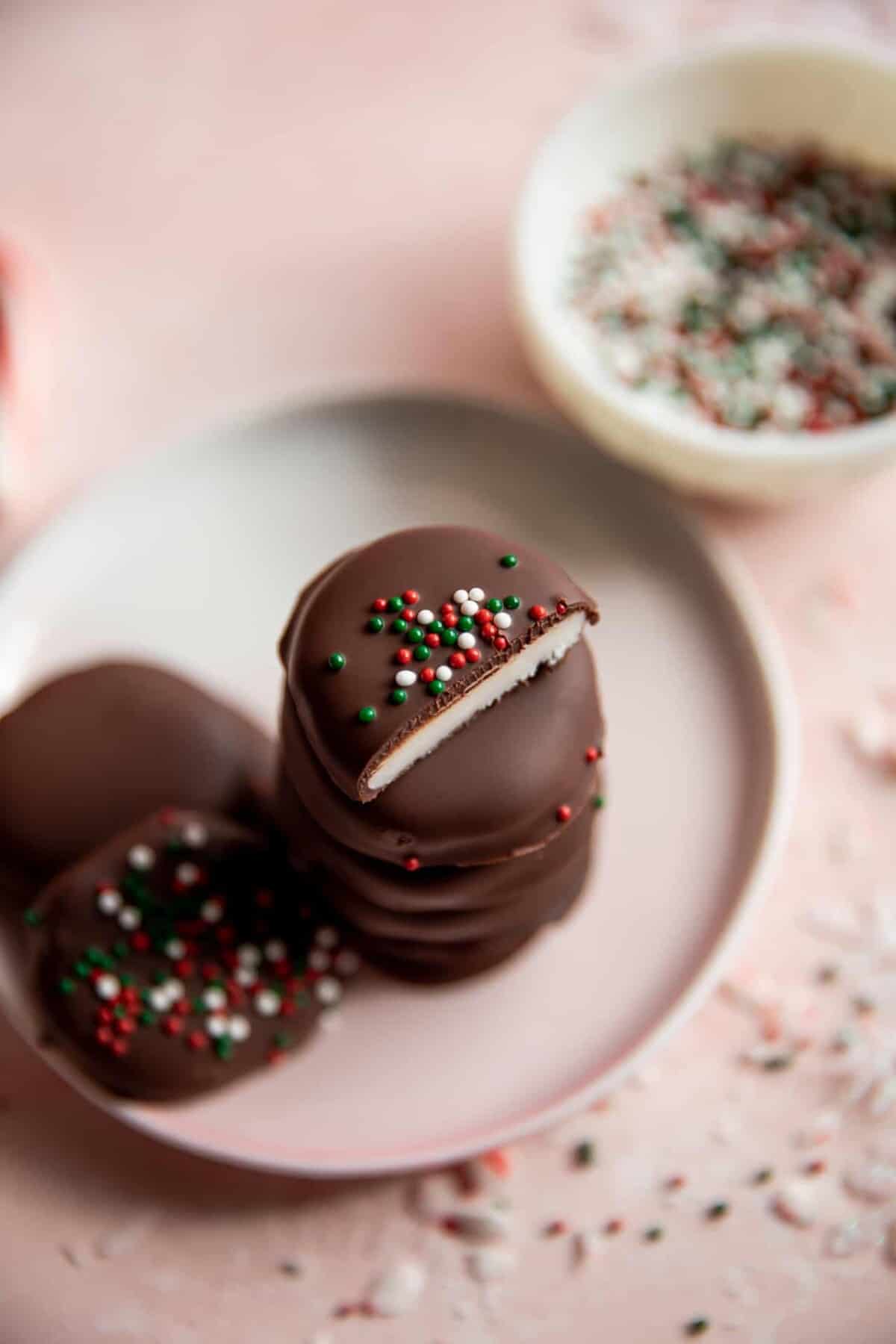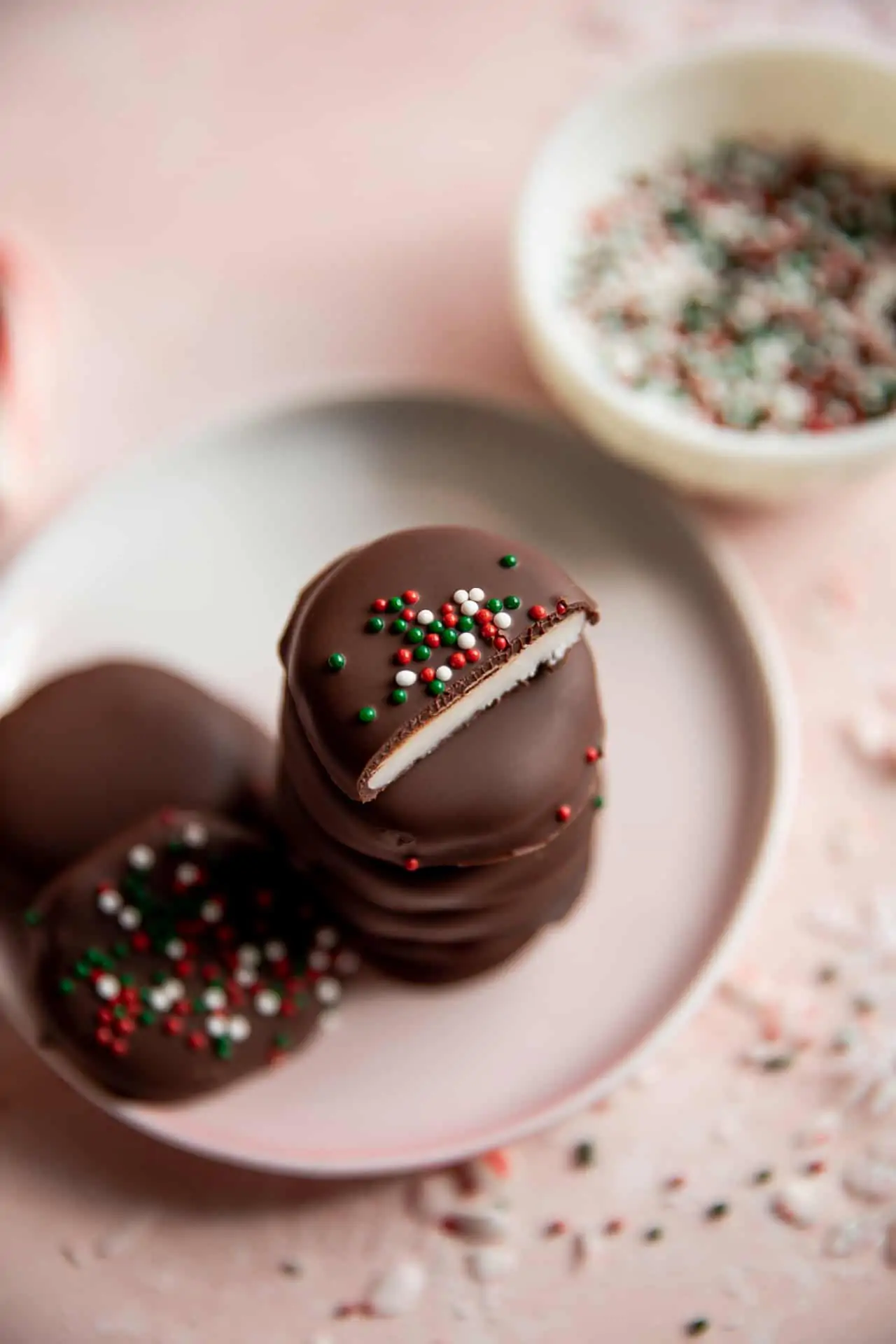 More Christmas Dessert Recipes:
Homemade Peppermint Patties
Only 5 ingredients are needed to make these Homemade Peppermint Patties! Cool, creamy peppermint filling surrounded by smooth chocolate. These are the ultimate Christmas treat.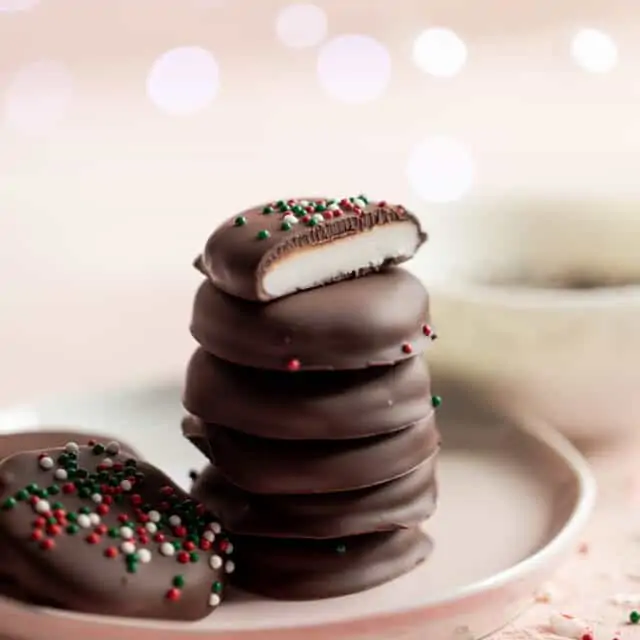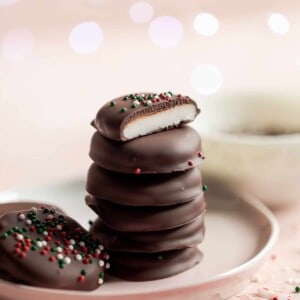 Ingredients
½

cup

sweetened condensed milk

1½

tsp

peppermint extract

3

cups

powdered sugar

8

ounces

dark chocolate

chopped

2

tsp

oil
Instructions
In a medium size bowl mix the sweetened condensed milk, peppermint extract, and powdered sugar together until thick dough forms.

Sprinkle some powdered sugar on a flat clean work surface and place the peppermint dough on the sugar. Using a rolling pin roll out the dough to about 1/4 inch thickness.

Using a medicine cup or other round object, cut out 1 inch circles from the dough. Place onto a wax paper covered baking sheet.

Place the peppermint patties into the fridge to allow to cool for about 30 minutes.

Place the chocolate in a heat safe bowl. Add the oil. Heat the chocolate in the microwave in 15 second intervals until the chocolate is fully melted. Stir until smooth.

Using a fork dip the peppermint patties into the melted chocolate and place back on the wax paper covered baking sheet.

Once all patties have been coated place the tray back in the fridge and allow the chocolate to set for another 30 minutes.

Store the peppermint patties in the fridge until ready to be served! Enjoy!
Notes
Dairy Free Option:
Substitute with canned sweetened condensed coconut milk, and use a non dairy chocolate, Baker's Semi Sweet chocolate contains no milk, however other options such as Nestle's, or Enjoy Life, allergen free chocolate chips are certified no milk in production facilities.
Storage: these can be stored in the refrigerator for up to 2 weeks.
Nutrition
Calories:
67
kcal
|
Carbohydrates:
11
g
|
Protein:
1
g
|
Fat:
2
g
|
Saturated Fat:
1
g
|
Cholesterol:
1
mg
|
Sodium:
5
mg
|
Potassium:
44
mg
|
Fiber:
1
g
|
Sugar:
10
g
|
Vitamin A:
10
IU
|
Vitamin C:
1
mg
|
Calcium:
12
mg
|
Iron:
1
mg
Nutrition information is automatically calculated, so should only be used as an approximation.
Like this? Leave a comment below!
Recipe first published December 2, 2016. Updated December 6, 2021 with new images, video and information. Recipe is unchanged.
SaveSave
SaveSave