A tutorial on how to swirl together multiple frostings for decorating.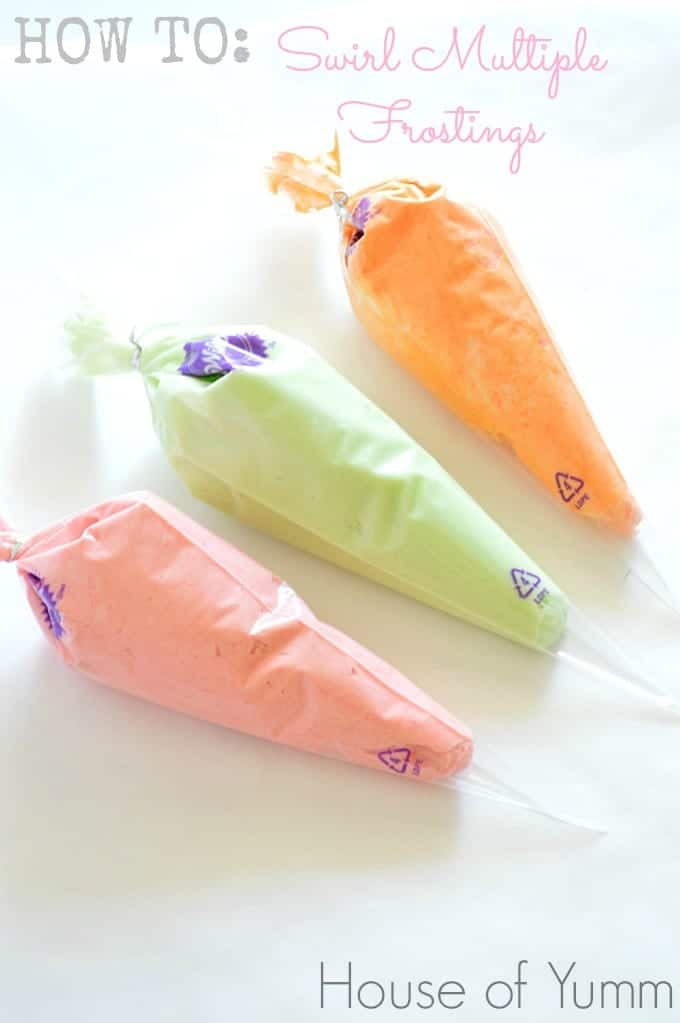 Ever see something on Pinterest and think to yourself, "Oooh that looks so fun!" And then the next thought to yourself is "It's probably waaaay too complicated. I don't have time for that." Or is that just me?? That was my first thought when I saw people swirling frostings together. Until I looked into it and played around with a few different methods to find an easy, not so messy way to do it myself. Now don't take this little how to post as me suggesting I am any kind of expert on frosting, or decorating, or cupcakes. The only thing I would consider myself to be an expert on is eating the cupcakes 😉 But I am hoping that my little method may help someone out there who feels just as lost as I did when I wanted to make a pretty swirl.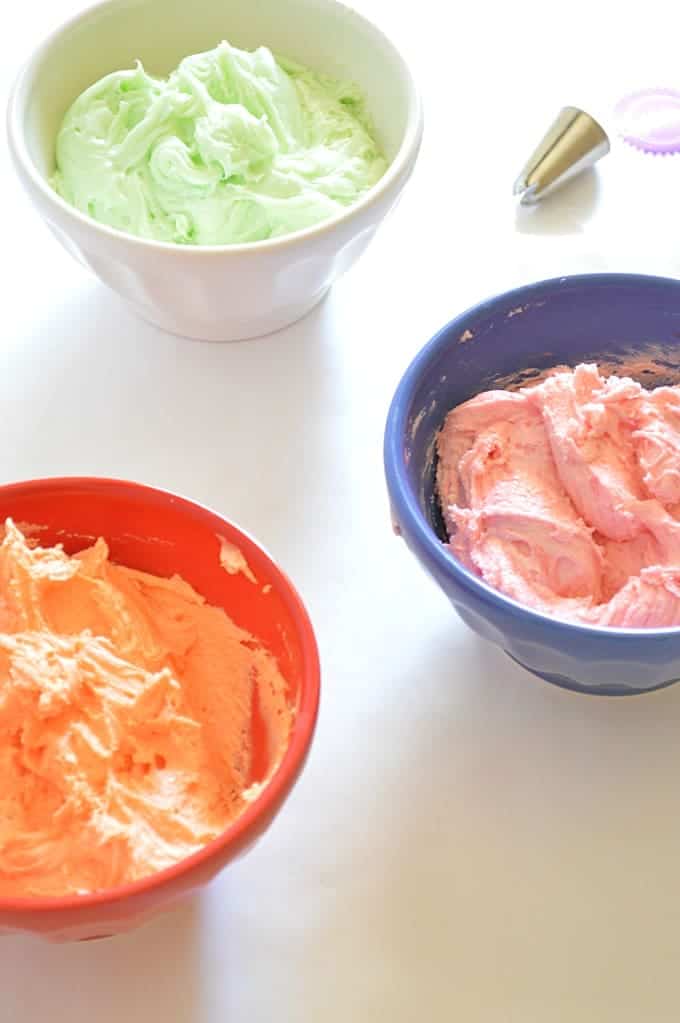 Because sometimes in life you just want multiple colors, or in my case multiple flavors of frosting to go on top of a cupcake.
My preferred method is to put each frosting into it's own piping bag.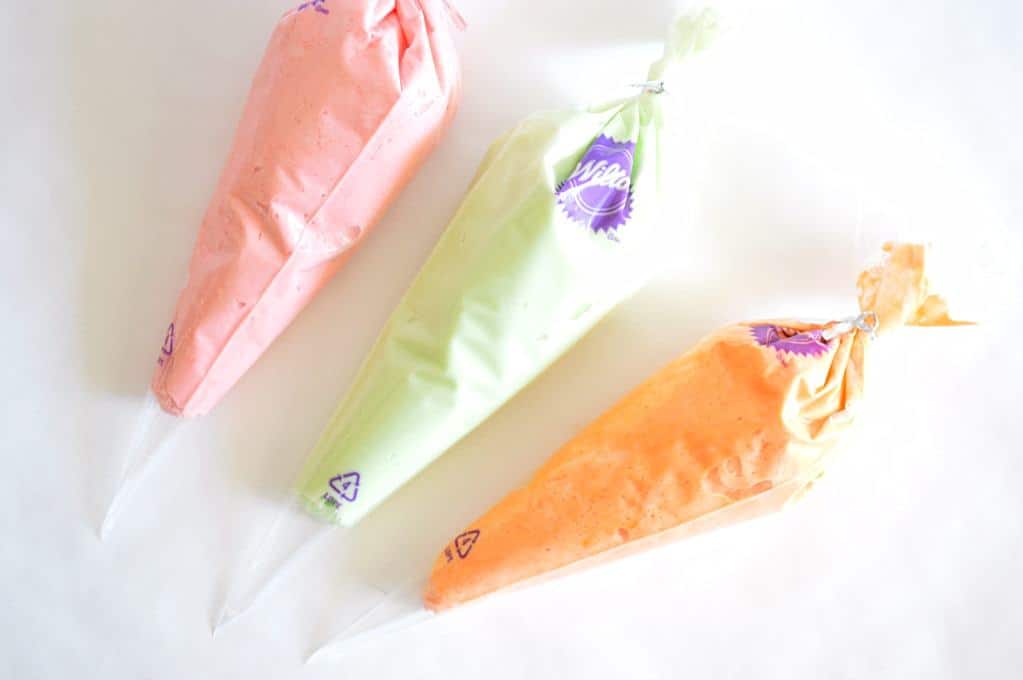 You want to do your best to squeeze it down towards the tip, remember you will be cutting the tips of the bags later, so it doesn't need to go all the way down. Get as much air out of the frosting as you can, otherwise the air bubbles will interrupt your frosting mojo once you get going.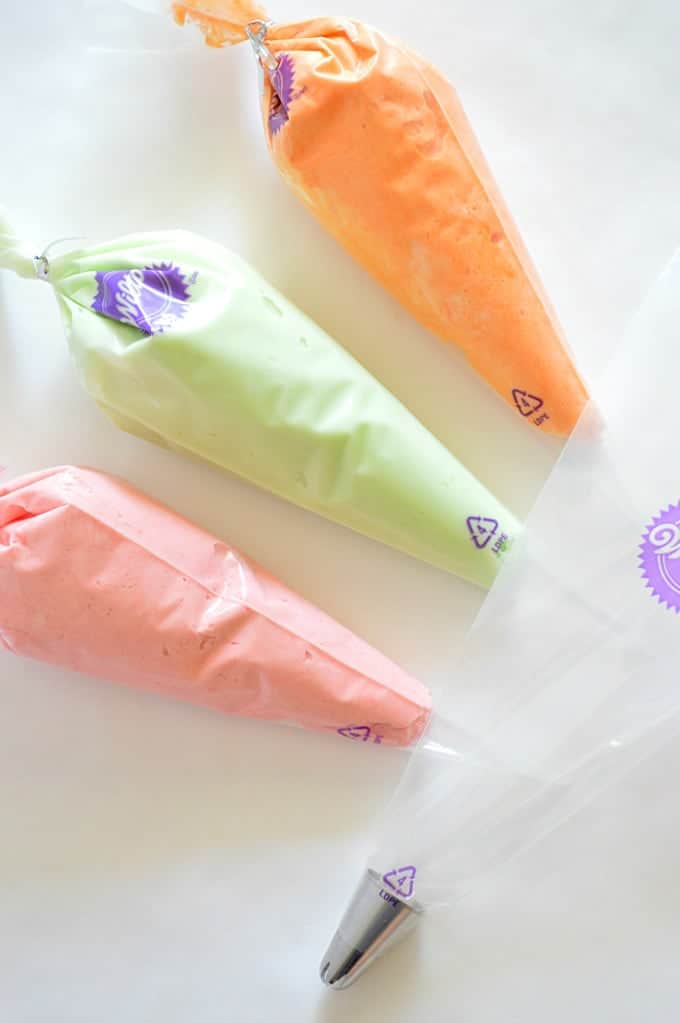 Then prepare a fourth piping bag with the frosting tip of choice. This is the Wilton 2D tip I have on mine. I know this may seem like a lot of bags, but once you get past two frostings, it gets reaaaalllly messy trying to put it all into one bag. Trust me. I've been there.
Now we can cut the tips off the bags holding the frosting.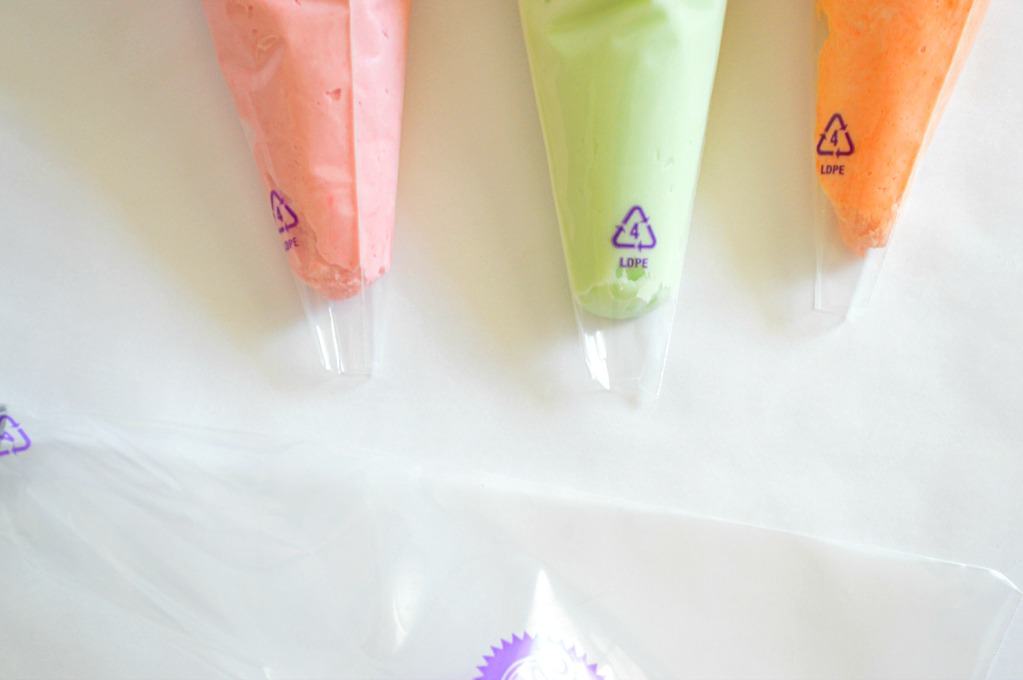 And you probably guessed it, they all go into the empty piping bag with the tip. It does get kind of crowded, you'll notice the orange frosting is a bit higher up than the others. But no worries! I will show you how to handle it!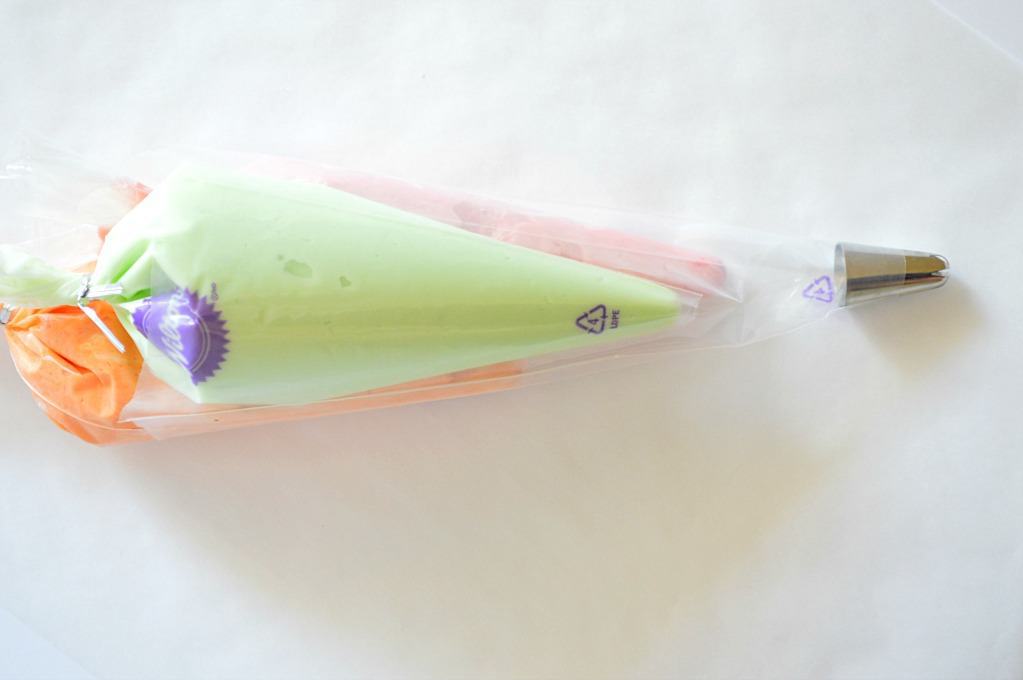 Now we have all the frostings in one bag. We will want to squeeze out some of the frosting until we get to where all the colors are coming out. Like I pointed out, the orange frosting was a bit higher up. Who knew I could ever have the problem of too much frosting?! Squeezing out a little off to the side will make sure that you're frosting is coming out just how you want BEFORE you attempt your cupcakes!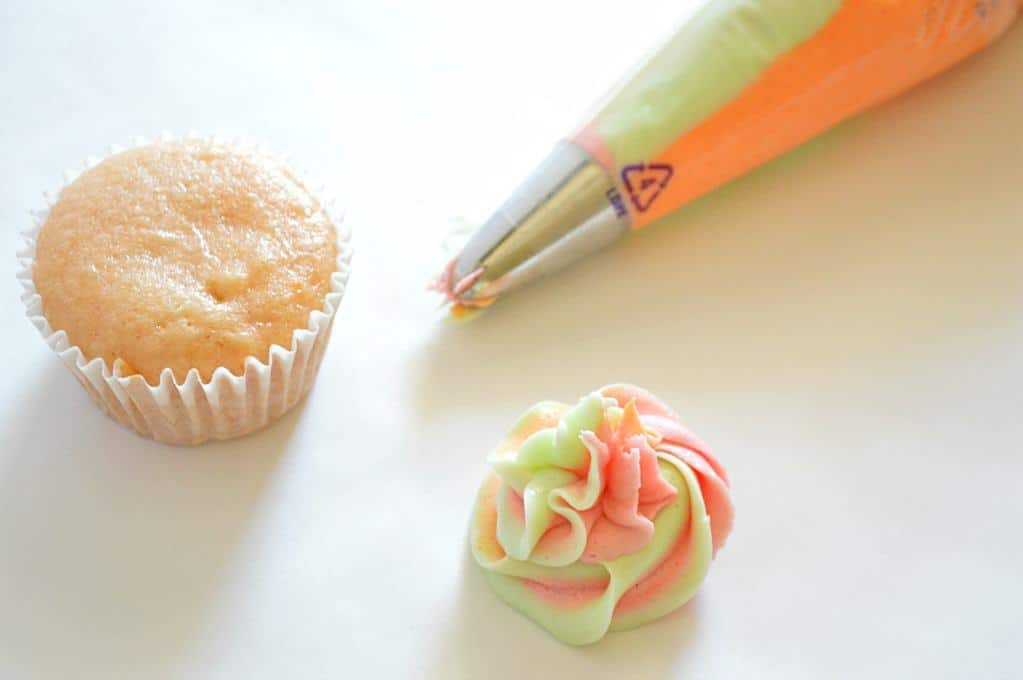 Look at that beauty! All three colors, and flavors, perfectly swirled!! And we're ready for a cupcake!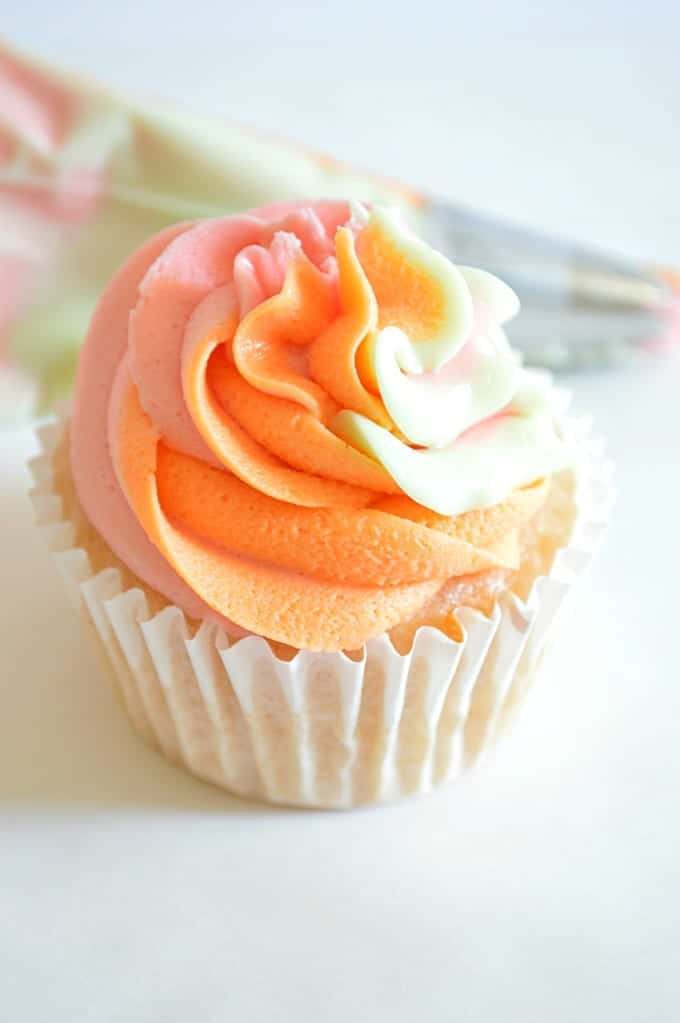 Beautiful isn't it?! It's sooo delicious too!
I bet you're just dying to know how I what it is!
No worries! You can find these Rainbow Sherbet Cupcakes here! Plus make sure you check out how to make the Perfect Vanilla Cupcake here too! The perfect cupcake base for any type of frosting creation you can come up with!
Check out all the Tips & Tricks for the Perfect Cupcake here!