A healthy banana split parfait!  Enjoy this skinny version of dessert for breakfast or dessert!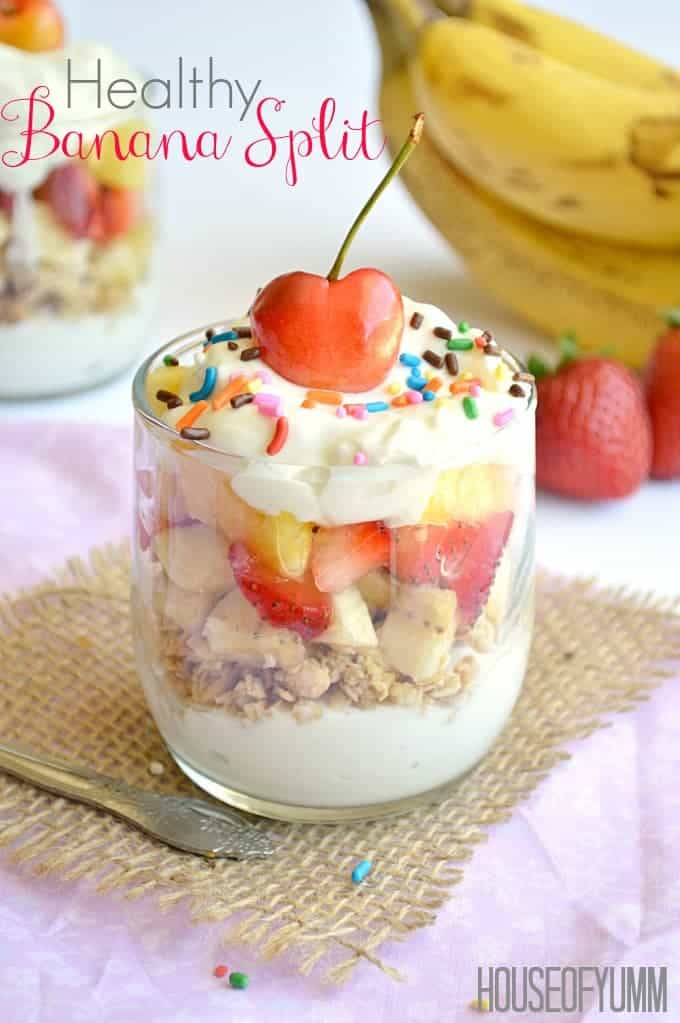 Some desserts are just fun.  Banana splits are one of those.  Have you ever been sad while looking at a banana split?  I think it's impossible.  All those flavors and colors, it's just a happy food.  What makes me even happier than a banana split?  A healthy banana split.  Whoo hooo!  These make me so happy.  I think I may eat this every day for the rest of my life.  Ok, ok, that might be a bit of hyperbole.  But you get the idea, right?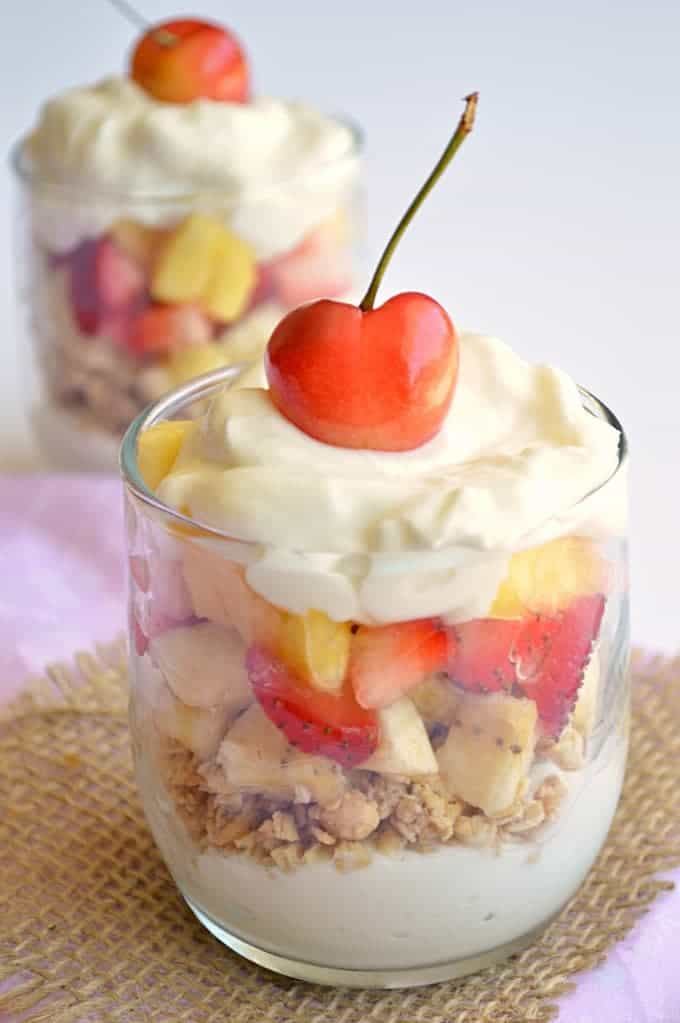 Isn't that cherry on top just gaaaahgeous?!  Like that?  That's my exaggerated way of saying gorgeous..in case you were wondering what happened to my spell check.  I'm slightly obsessed with these cherries.  And I can tell you the hubs is probably happy that I am.  It might be possible I asked him to drive me about 15 minutes out of the way (one way) to go to a certain store, just so I could get these exact cherries.  Ok, so that's exactly what happened.  But I couldn't be happier with how perfect they look sitting on that cup of delightfulness.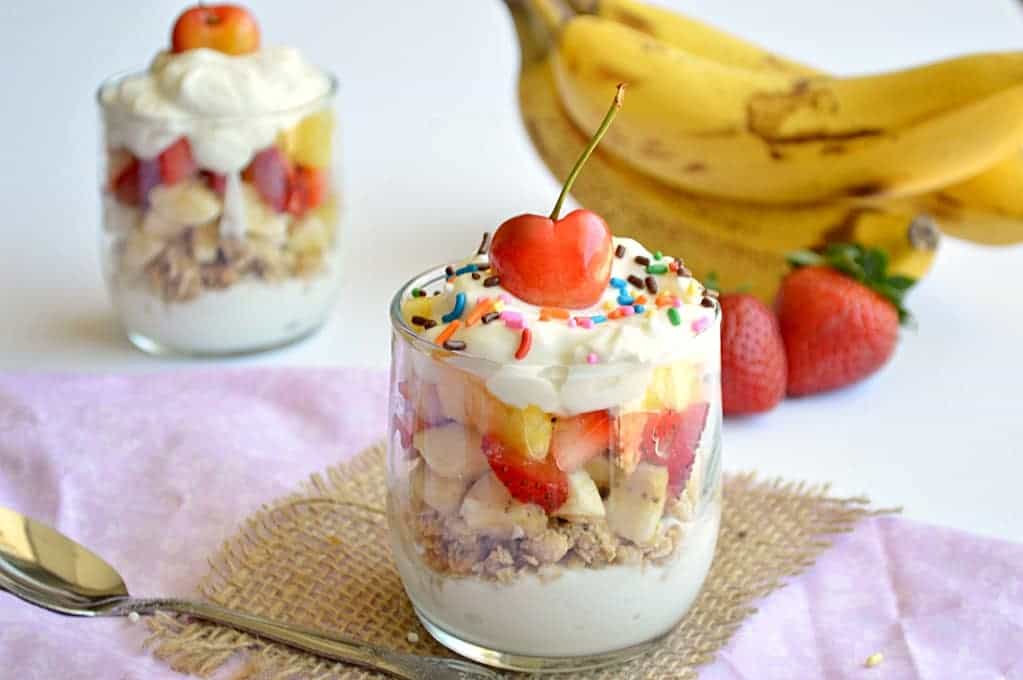 And sprinkles!!!!  Be still my heart.  A day with sprinkles is a good day indeed.  I think that's a famous quote or something.  If not.  It should be.  Ok, enough about me rambling about cherries and sprinkles.  You probably want me to get to the point and actually tell you what's in these right?  Lucky for you, I am!  This just happens to be loaded with all good stuff.  Vanilla Greek Yogurt, which I don't know about you, but to me that stuff just tastes like cake.  If you don't think so, don't burst my bubble by telling me otherwise please!  I love me some vanilla yogurt.  Top that with some granola, if you make your own you can add that, or I just picked some up pre-made from the market.  Vanilla of course!  And all of our fruits are in there, banana, strawberry, pineapple, oh my!  Some more yogurt and a cherry on top.  Ohhh the cherries!  And it's a healthy cherry too!  Although I will admit that when I gave this to my lil mini monster (the 2 year old), I took the cherry and gave her a maraschino instead.  C'mon.  I didn't want her to choke on the pit!  Plus, she's 2.  Maraschino cherries are better than diamonds to a 2 year old.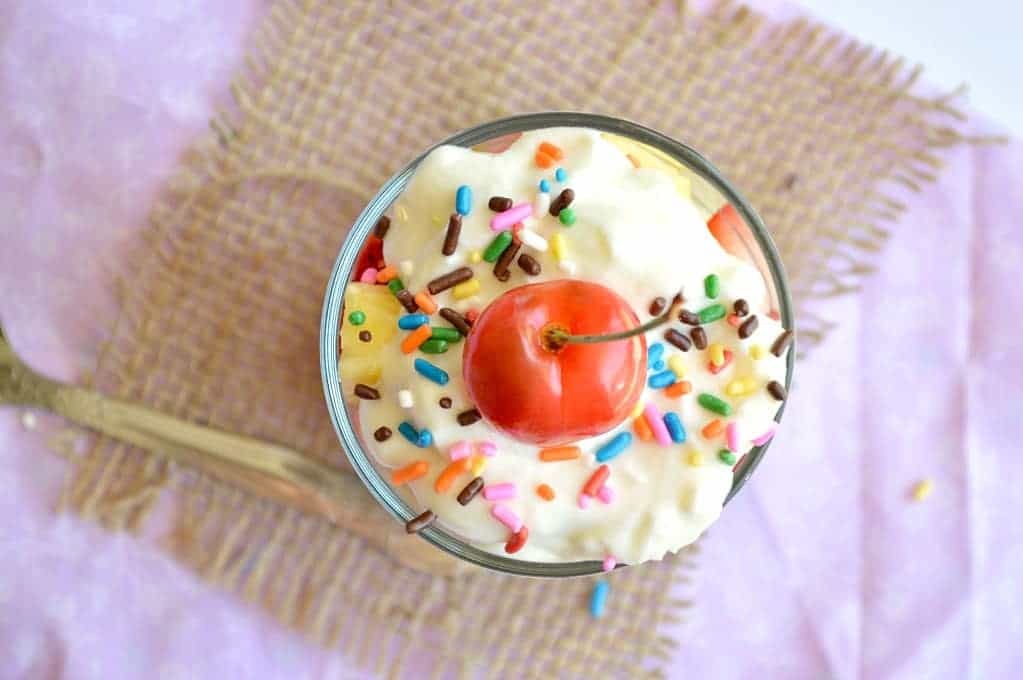 This parfait could be enjoyed for breakfast or dessert!  Who knew being healthy could be so fun?!
If you make this recipe make sure you take a picture and share it on Instagram with #houseofyumm !  I love seeing your creations!  And follow me for more gaaaahgeous pictures of food. Click here!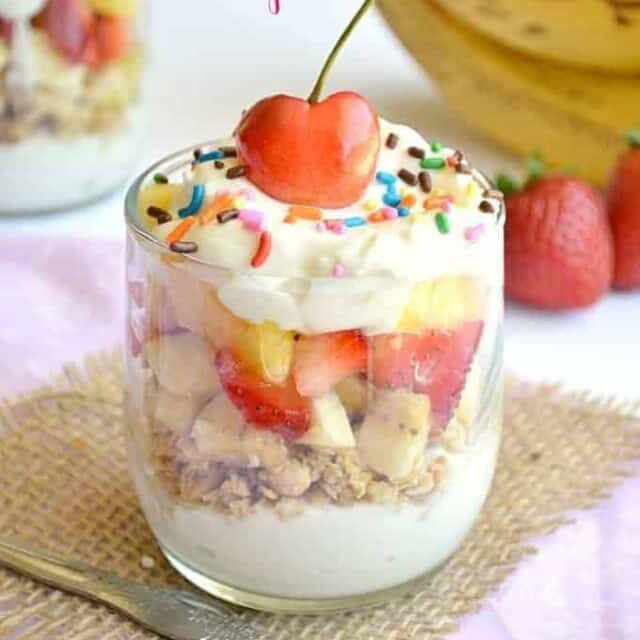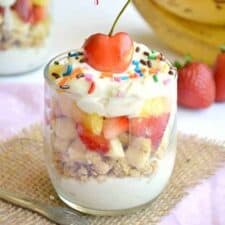 Healthy Banana Split
A healthy banana split parfait recipe! Enjoy this skinny version of dessert for breakfast or dessert!
Ingredients
1 cup Greek Yogurt, vanilla
¼ cup Granola
1 banana, sliced
¼ cup strawberry, diced
¼ cup pineapple, diced
Garnishes -optional
Cherries
Sprinkles
Chocolate
Instructions
Prepare the fruits by dicing up the pineapple, strawberry and banana.

Spoon 1/4 of the yogurt into the bottom of each cup.

Top the yogurt with the granola, banana, strawberry and pineapple.

Spoon the remaining yogurt onto the top.

Garnish with cherries, sprinkles, or chocolate shavings!

Serve and enjoy!
Nutrition
Calories: 199kcal, Carbohydrates: 31g, Protein: 13g, Fat: 3g, Saturated Fat: 1g, Cholesterol: 5mg, Sodium: 42mg, Potassium: 461mg, Fiber: 3g, Sugar: 16g, Vitamin A: 38IU, Vitamin C: 26mg, Calcium: 123mg, Iron: 1mg
 I hope you enjoyed the recipe and will follow along on my cooking adventures:
FACEBOOK | PINTEREST | GOOGLE+ | TWITTER | INSTAGRAM | BLOGLOVIN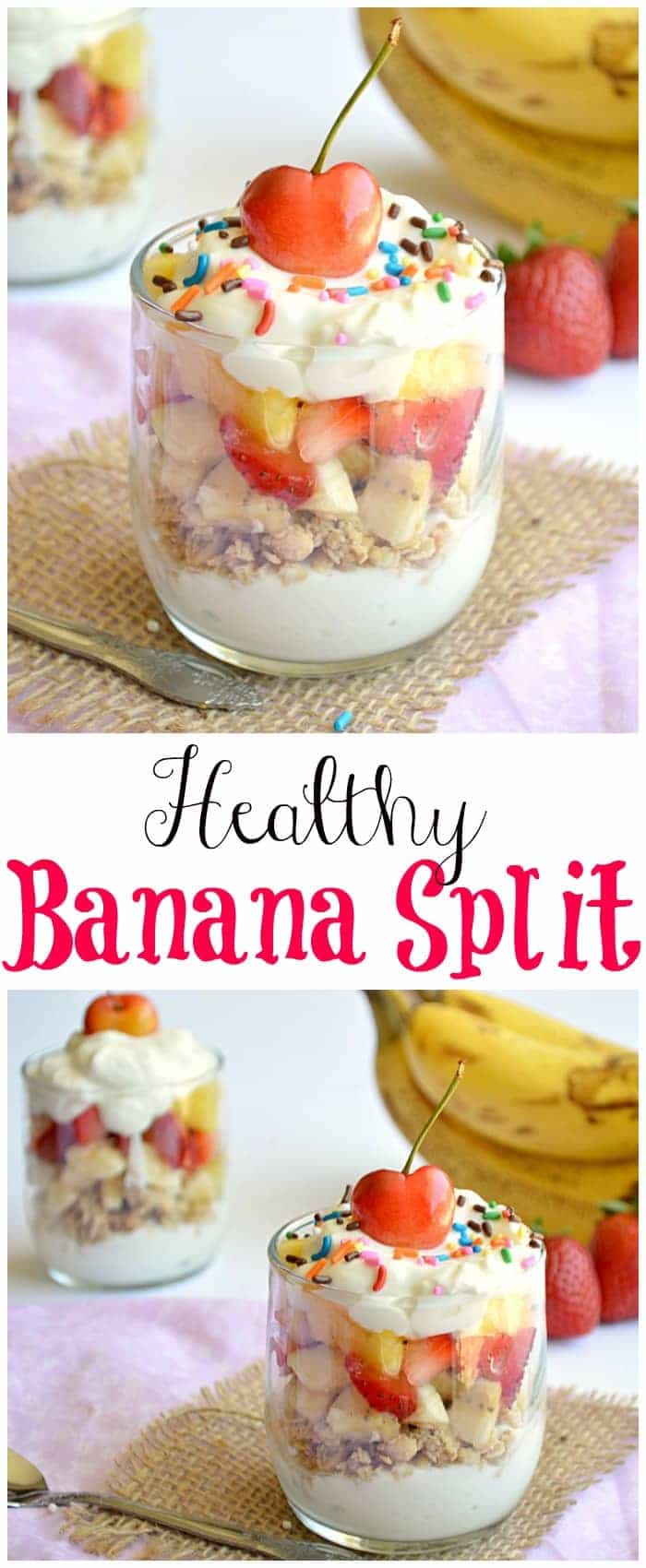 More Recipes from House of Yumm You Might Enjoy!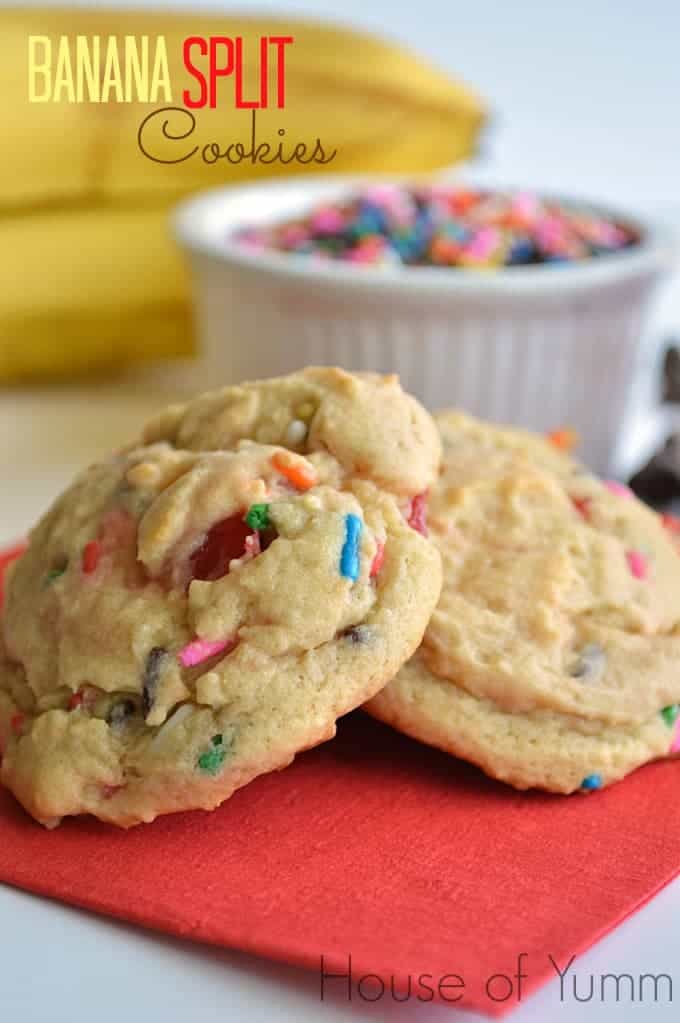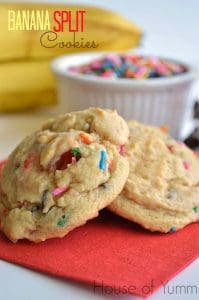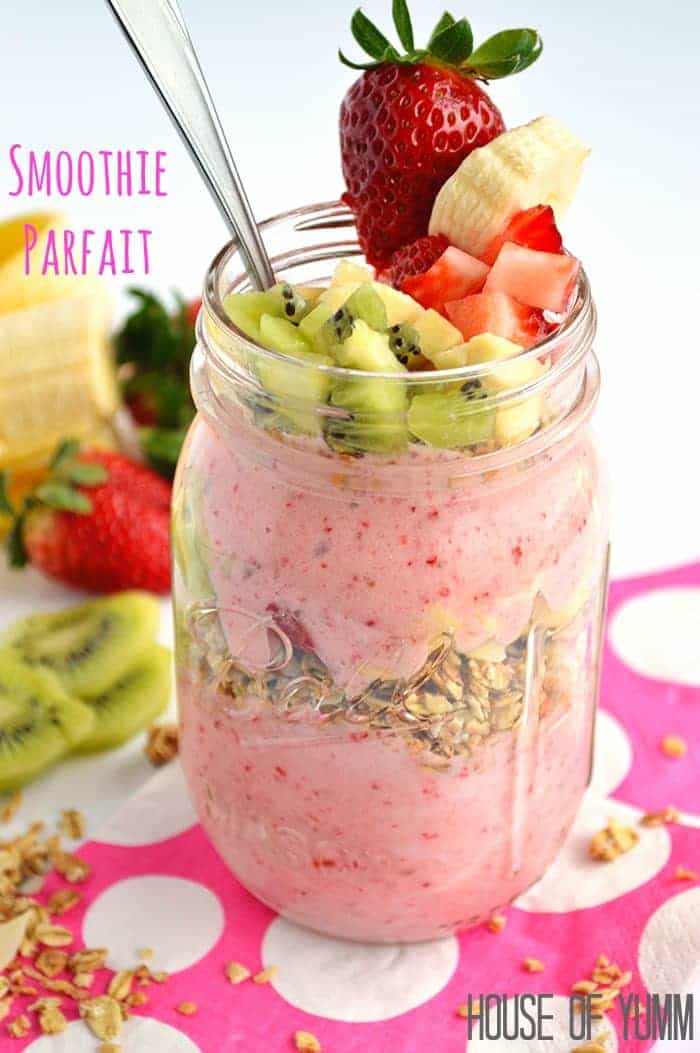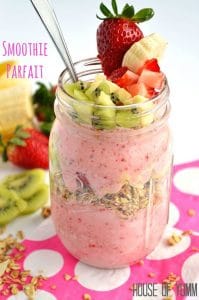 Love Banana Split Recipes?  These are some of my favorites from around the web! 
No Bake Banana Split Cheesecake by The Recipe Rebel 
Banana Split Cookie Dough Bites by A Dash of Sanity 
Banana Split Smoothie by Mandy's Recipe Box 
Want more Yogurt Parfait recipes?!  Check these out! 
Strawberry Banana Yogurt Parfait by Deliciously Sprinkled
Blueberry Pancake Greek Yogurt Parfait by Food Faith Fitness 
House of Yumm is a participant in the Amazon Services LLC Associates Program, an affiliate advertising program designed to provide a means for us to earn fees by linking to Amazon.com and affiliated sites.