Sweet, juicy, caramelized grilled pineapple drizzled with a creamy coconut rum sauce. Tropical paradise!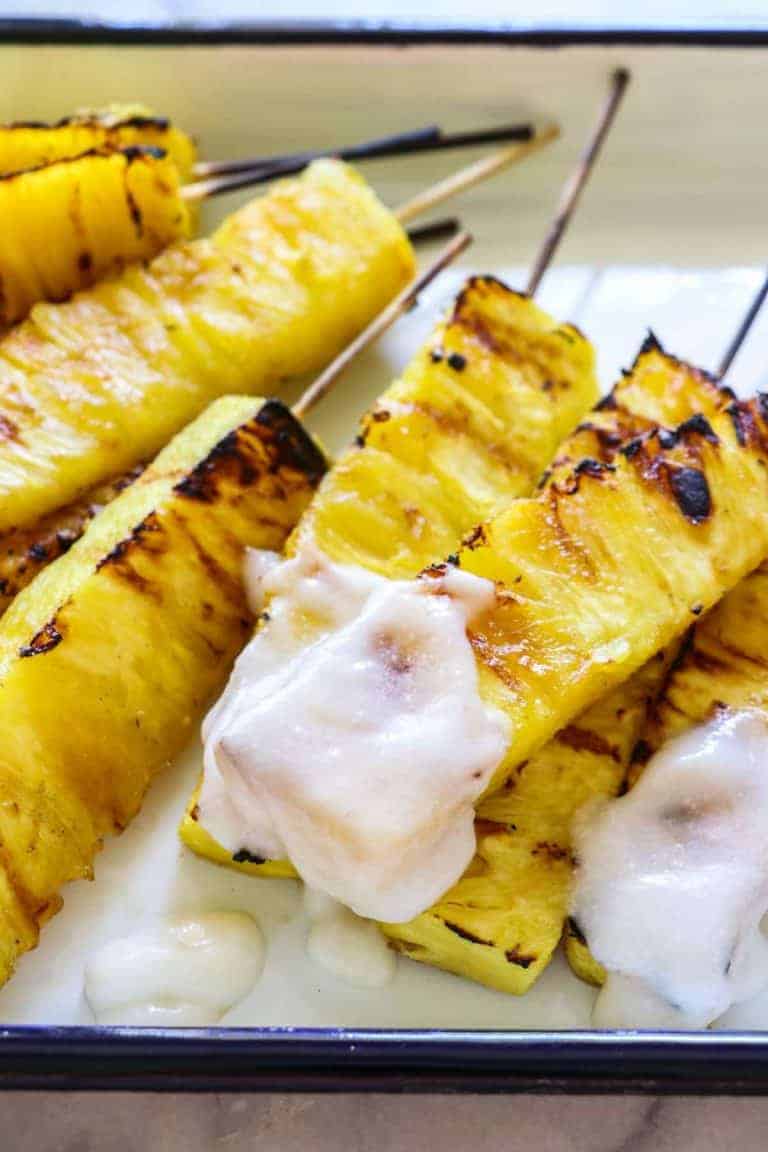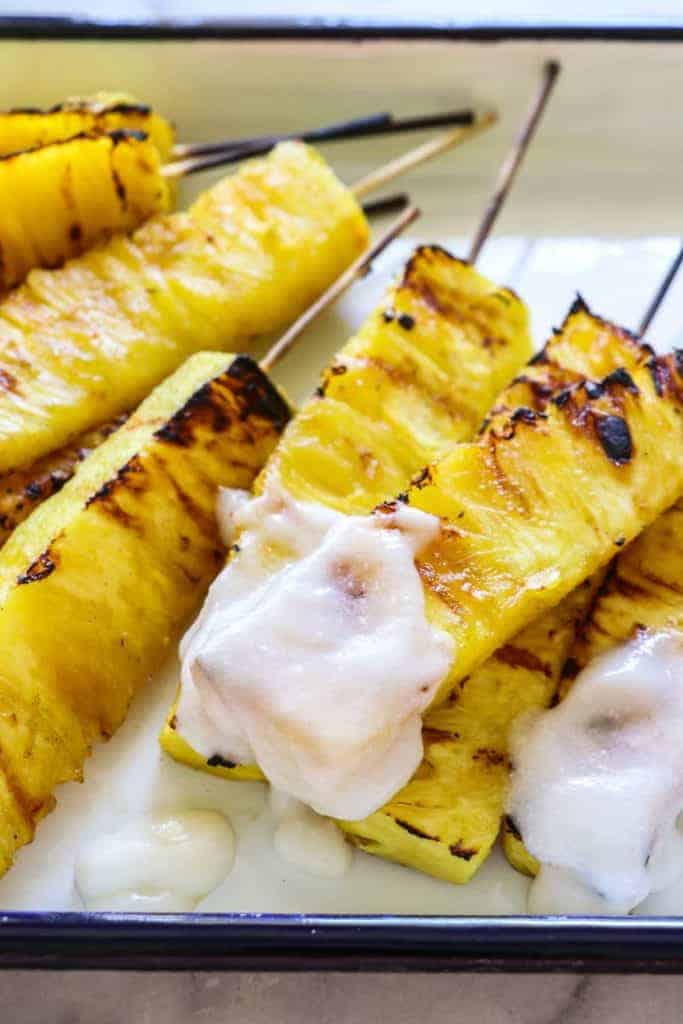 The heat from the grill gives a caramelization to the pineapple that is beyond heavenly. I didn't add anything to the pineapple either. It's just pure pineapple. I know a lot of recipes say to coat the pineapple in brown sugar and whatever else. But honestly, just the plain pineapple itself is so good.
How to Grill Pineapple:
Preheat: Heat grill to medium high (between 350-450℉).
Coat the grill grate with oil to help prevent sticking.
Prepare the pineapple: slice as desired. More information on that below. And place on skewers.
Grill: cook the pineapple for about 7-9 minutes, turning once to ensure grill marks on both sides of pineapple.
How to cut pineapple:
Start by cutting the top with the leaves off of the pineapple. Then cut the bottom off. Stand the pineapple up and cut the skin off from top to bottom.
After the skin has been cut off, with the pineapple still standing up, slice the pineapple lengthwise, off-center. This leaves the core connected to the pineapple and you have a large piece that was cut away.
Then continue turning the pineapple and making long lengthwise slices, top to bottom, that cut around the core, until you are left with a square shape in the center that has the core and all of the juicy pineapple has been cut away.
Then slice the pineapple to desired length and width.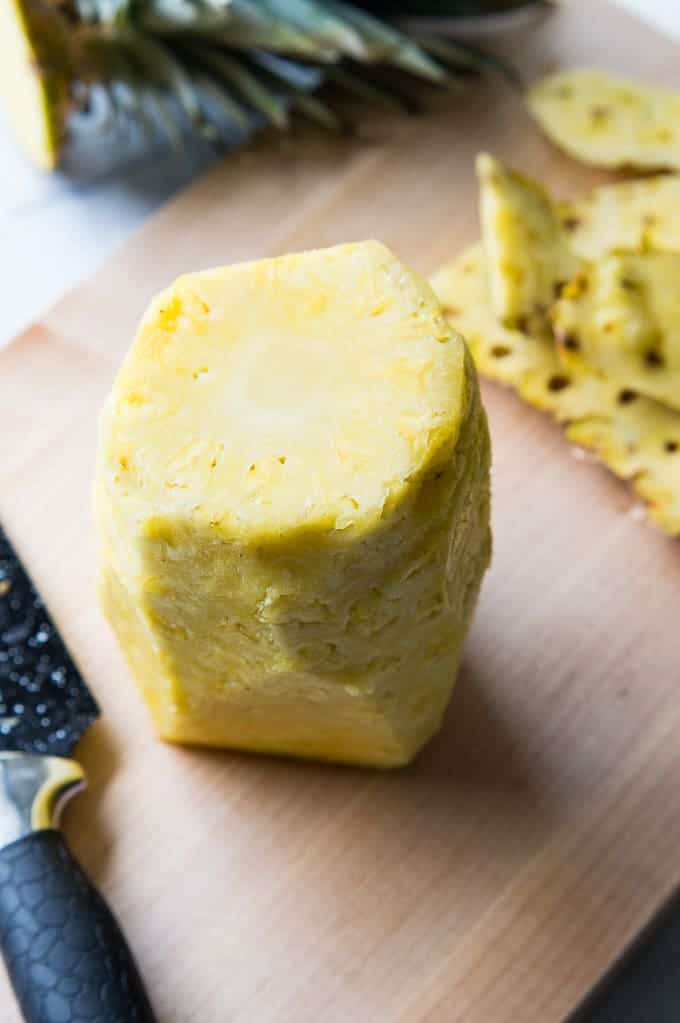 Coconut Rum Sauce Breakdown
Ingredients:
coconut milk– use canned coconut milk, it has less water in it, making for a creamier sauce.
cream of coconut– this is a sweetened syrup liquid. Similar to sweetened condensed milk, but made with coconut.
coconut rum– can be omitted if needed.
Cornstarch– helps to thicken the sauce.
Butter-makes the sauce smooth and creamy.
Steps:
Heat the coconut milk, cream of coconut and coconut rum in a small saucepan. Heat until milk starts to bubble along the edges.
Whisk in the cornstarch and continue cooking and stirring while the sauce thickens.
When the sauce is thick and coats the back of a spoon, remove from heat and stir in butter while it melts.
Let the sauce cool before using.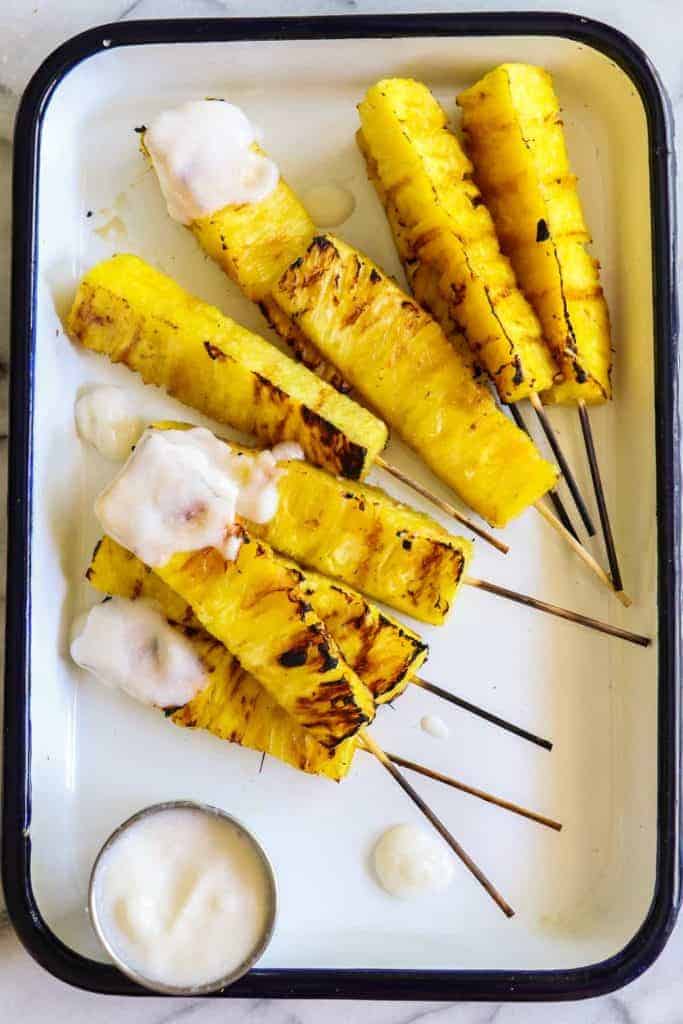 Pro Tips:
The pineapple is easiest to grill when cut into spears or large rings. Big pieces to give a good surface area for grilling.
If using wooden skewers be sure to soak the skewers in water before using, this prevents them from catching fire. Skewers are not required, but give something to hold while eating the pineapple.
Grilled Pineapple with Coconut Rum Sauce
Grilled Pineapple with Coconut Rum Sauce. Sweet, juicy, caramelized grilled pineapple drizzled with a creamy coconut rum sauce. Tropical paradise!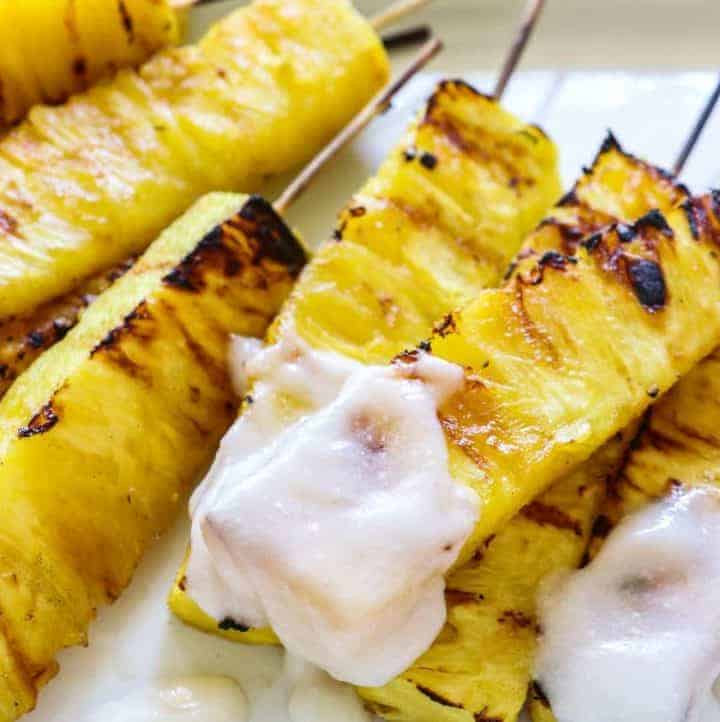 Ingredients
Coconut Rum Sauce
1/2

cup

coconut milk

1

tbsp

cream of coconut

2

tbsp

coconut rum

1½

tsp

cornstarch

1

tbsp

butter
Instructions
Slice the pineapple and place on skewers. (Tip!! Soak the skewers for 30 mins prior to using to prevent them from burning)

Prepare the coconut rum sauce by pouring the coconut milk, cream of coconut and coconut rum into a small saucepan. Stir to combine. Stir in the cornstarch. Heat over low/medium heat while stirring until sauce is thickened.

Remove from heat and stir in the butter until smooth.

Let the sauce cool.

Preheat grill to 350-450℉. Rub cooking oil on grates of the grill to prevent sticking.

Grill the pineapple for about 4-6 minutes on each side, until slightly blackened. Serve with cooled coconut rum sauce.
Nutrition
Serving:
1
|
Calories:
235
kcal
|
Carbohydrates:
34
g
|
Protein:
2
g
|
Fat:
10
g
|
Saturated Fat:
8
g
|
Cholesterol:
8
mg
|
Sodium:
34
mg
|
Potassium:
309
mg
|
Fiber:
3
g
|
Sugar:
25
g
|
Vitamin A:
220
IU
|
Vitamin C:
108
mg
|
Calcium:
34
mg
|
Iron:
2
mg
Nutrition information is automatically calculated, so should only be used as an approximation.
Like this? Leave a comment below!
Recipe first published August 4, 2017. Updated May 19, 2020 with additional information.