BEST Apple Bread! Bursting with chunks of apple and lots of sweet spices in every bite! Using apple sauce makes this bread tender and loaded with apple flavor.
Apple Bread
This apple bread recipe is one of my all time favorite things to bake every Fall. Growing up we had an apple tree in our backyard. My mom would bake this bread every year. The smell of this bread baking, with the apples and cinnamon fills the house with a heavenly Fall scent, that is truer than any candle money can buy.
The best part is that this bread gets better over time. If you have some left over after the day it's baked, wrap it up in some foil or other food safe wrapping, and leave it at room temperature. The next day the moisture of the bread makes it even more tender and enjoyable. Add a pad of melted butter and enjoy.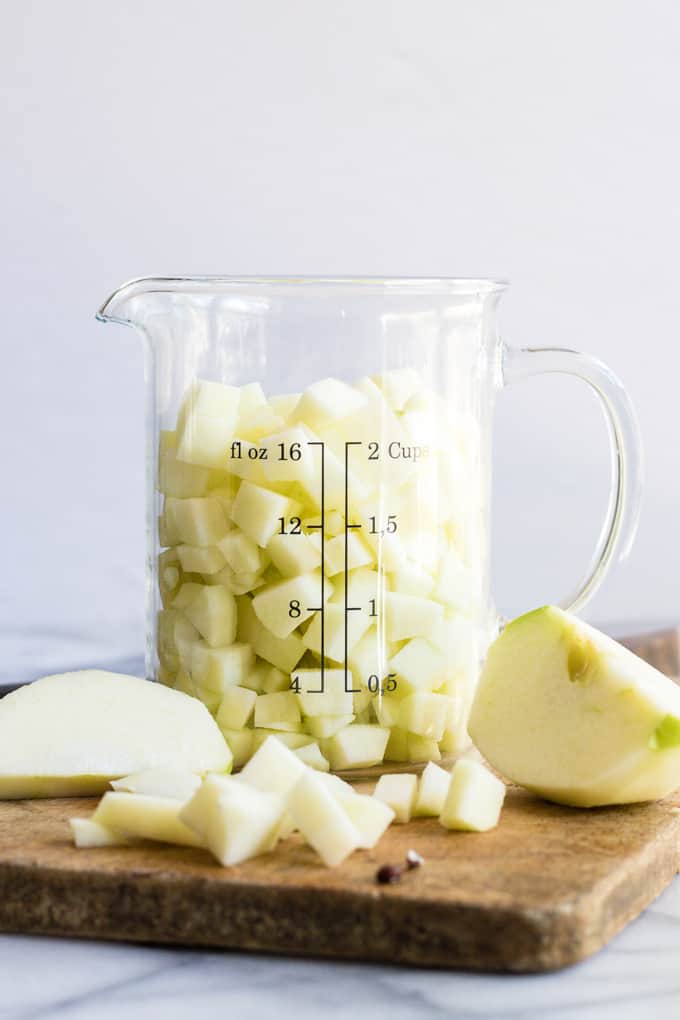 How to make this Apple Bread:
I always use a non stick 8×4 loaf pan (affiliate link) These are the exact ones that I have in my kitchen. You can either line the pans with parchment paper, or spray with a non stick baking spray. If you're using a different type of pan, such as glass, baking time may vary.
My favorite apples to use in this recipe are Granny Smith. They have a wonderful tart flavor and hold up well when baking. You can use other types of apples such as Pink Lady, Gala or Fuji. Any large, firm apple will work. Avoid any soft apples since they will turn to mush.
Due to the long baking time of the bread, if you notice that the top is becoming too browned, and the bread isn't finished baking, create a tent of foil for the last 10 minutes or so. Check the bread using toothpicks or a 6 inch skewer, once it comes out clean then the bread is fully cooked.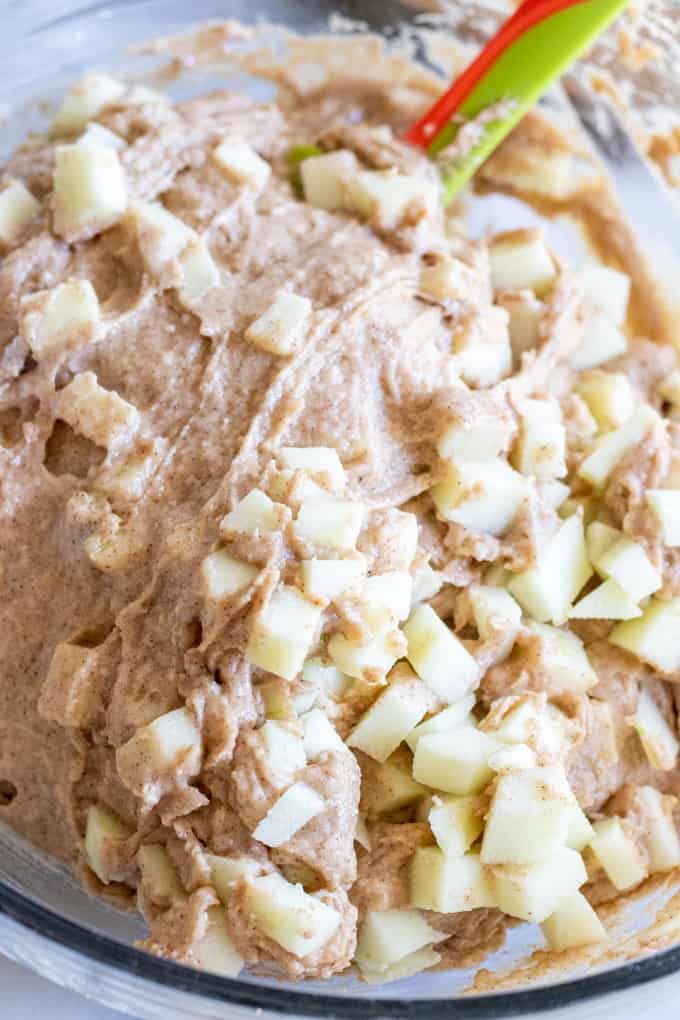 F.A.Q's about Apple Bread:
Can you freeze apple bread?
Yes! Cool the bread loaf completely, then wrap in foil and place in a large freezer plastic bag. Thaw completely at room temperature when ready to eat!
Can I use shredded apple instead of chopped apple for this bread?
Yes! You can definitely shred the apple instead. Peel and shred two apples. Fold this into the bread batter instead of the chopped apples. The shredded apples blend into the bread, making it a smoother texture when baked.
What are the best apples to use for baking?
Personally, I love using Granny Smith apples. They have a tart flavor, leaving the end product not too sweet. They also keep a great texture while baking, they don't turn into mush.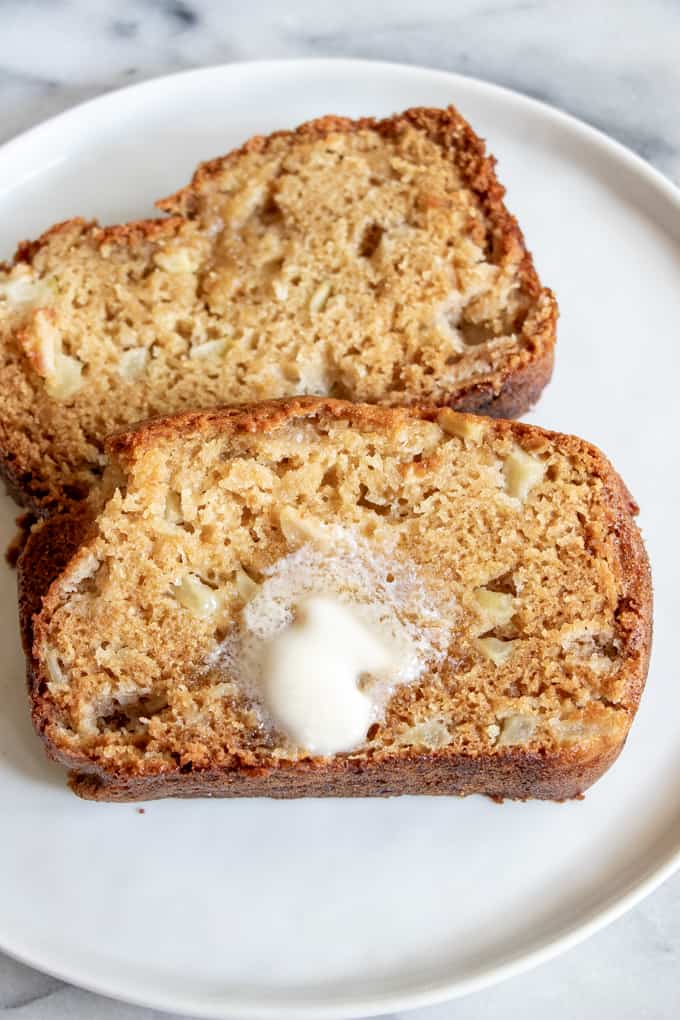 Other recipes to try:
WANT TO TRY THIS APPLE BREAD?
PIN IT NOW!
FIND ME ON PINTEREST FOR MORE GREAT RECIPES!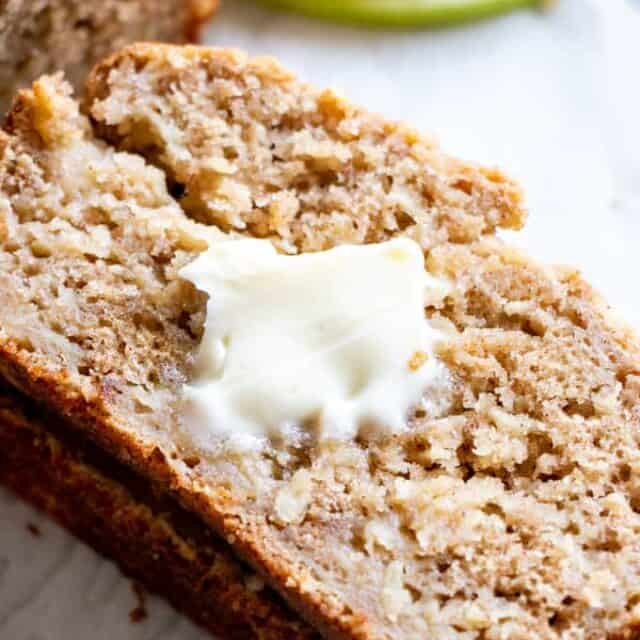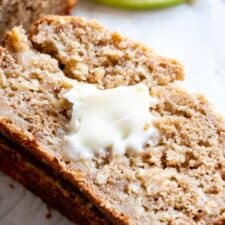 Apple Bread
BEST Apple Bread! Bursting with chunks of apple and lots of sweet spices in every bite! Using apple sauce makes this bread tender and loaded with apple flavor.
Ingredients
2 cups green apple, peeled & chopped
2 large eggs
½ cup white sugar
½ cup brown sugar
2 tsp vanilla extract
¼ cup melted butter, melted and cooled
¾ cup applesauce, unsweetened
2 cups all purpose flour
½ tsp salt
¼ tsp baking powder
1 tsp baking soda
1 tbsp ground cinnamon
½ tsp ground cloves
Instructions
Preheat oven to 375 degrees. Grease a loaf pan and set aside.

In a small mixing bowl add the eggs, vanilla extract, melted butter and applesauce. Stir until completely combined. Mix in the sugars. Stir until combined.

In a large mixing bowl add the flour, salt, baking powder, baking soda, cinnamon, and cloves. Stir with a fork to combine. Pour the wet ingredients into the dry ingredients and stir to combine. Add in the chopped apple and stir.

Pour dough into prepared loaf pan. Bake at 375 degrees for 50-60 minutes, top will be golden brown. Check that it's cooked by inserting a toothpick in the center, once it's done cooking the toothpick will come out clean, no dough will be stuck on it.

Allow bread to cool in pan for about 5-10 minutes. Turn upside down and remove bread loaf from pan and allow to continue cooling on wire rack.

Store covered at room temperature for 3-4 days.
Equipment
Nutrition
Serving: 1slice, Calories: 257kcal, Carbohydrates: 47g, Protein: 4g, Fat: 6g, Sodium: 301mg, Fiber: 2g, Sugar: 28g
House of Yumm is a participant in the Amazon Services LLC Associates Program, an affiliate advertising program designed to provide a means for us to earn fees by linking to Amazon.com and affiliated sites.