Snickerdoodle Cookie Cups
 Soft and fluffy Snickerdoodle Cookie cups filled with sweet cinnamon and vanilla swirled frosting.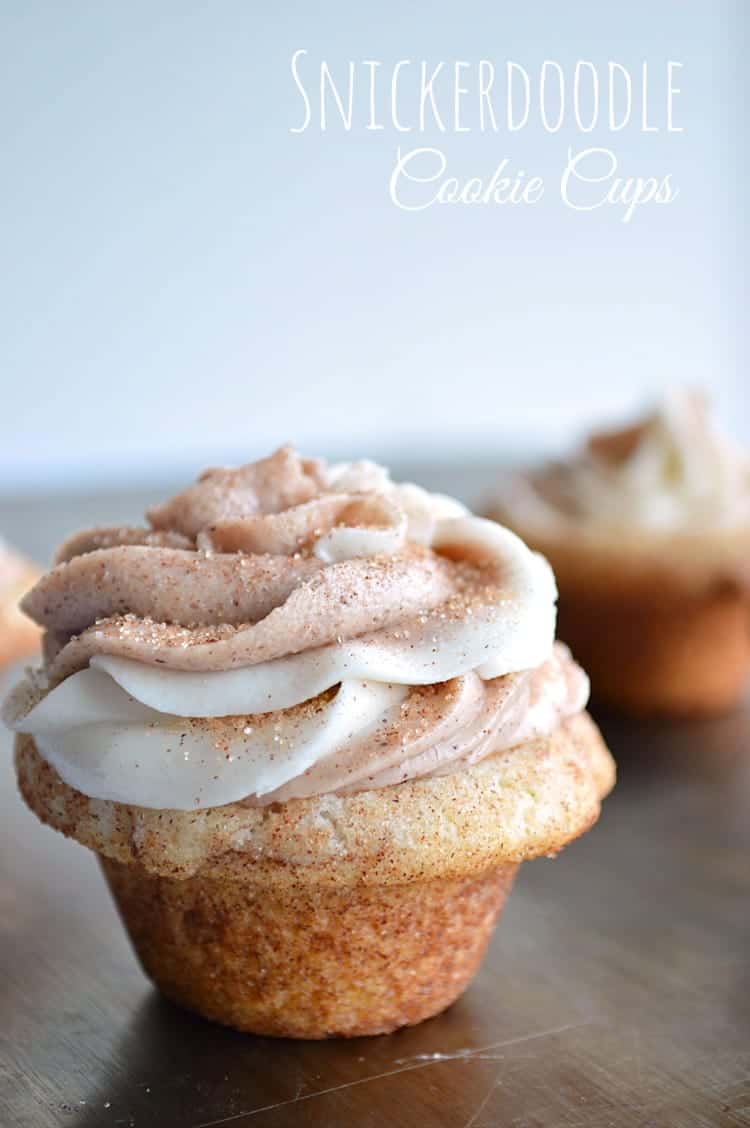 I'm back at it!  Cookie cups.  We all knew that I would be coming out with another one soon.  And these Snickerdoodle Cookie Cups are so delish you're going to LOVE them!  The perfect blend of cinnamon and sugar with a soft, fluffy cookie cup and a sweet cinnamon vanilla frosting.  These cookie cups are irresistible.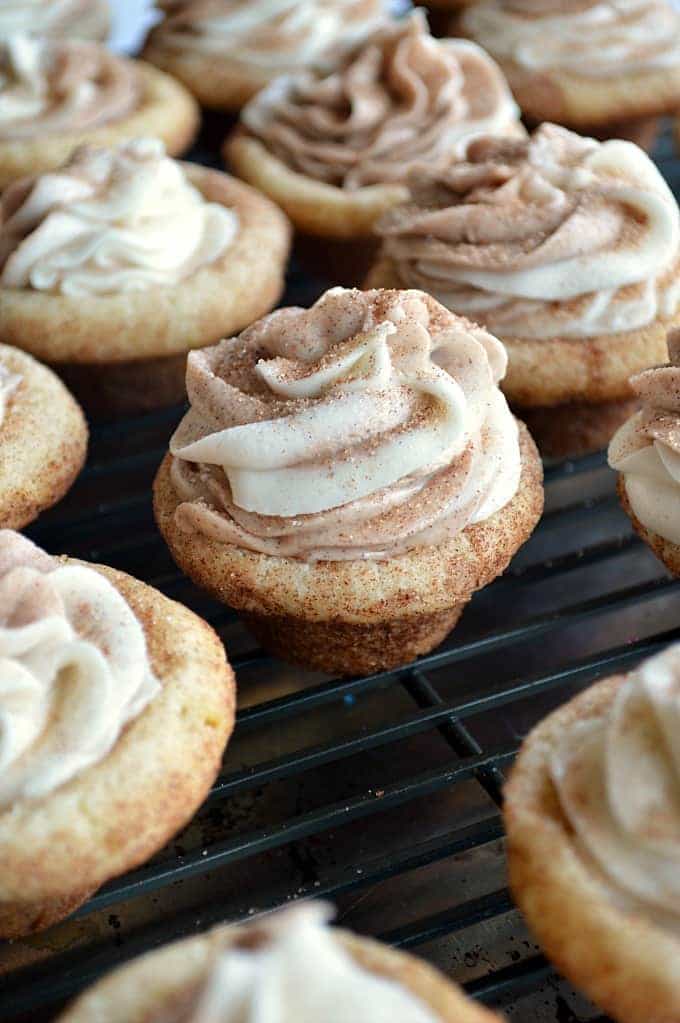 The reason I love cookie cups so much?  They're so easy to make, they're slightly fancier than cookies, and not as much work as cupcakes.  When I'm asked to bring a dessert anywhere cookie cups are my go to for their ease and versatility!  Cookie cups are so easy to change up just by using a different frosting, or color, or sprinkle.  Or by changing the cookie!  Like I did by using Snickerdoodle Cookie dough for these ones.  Which of course meant that a new frosting was definitely in order.  Something cinnamon and fun.  Which of course means a swirl.  If you're nervous about a swirled frosting, make sure you check out the tutorial here, on how to swirl multiple frostings together.  Just to let you know, the Snickerdoodles do bake up nice and fluffy.  As my hubs stated, they looked like cookie cups on steroids.  He wasn't kidding either.  They are so fluffy, they look almost like cupcakes!  Which is perfectly fine by me!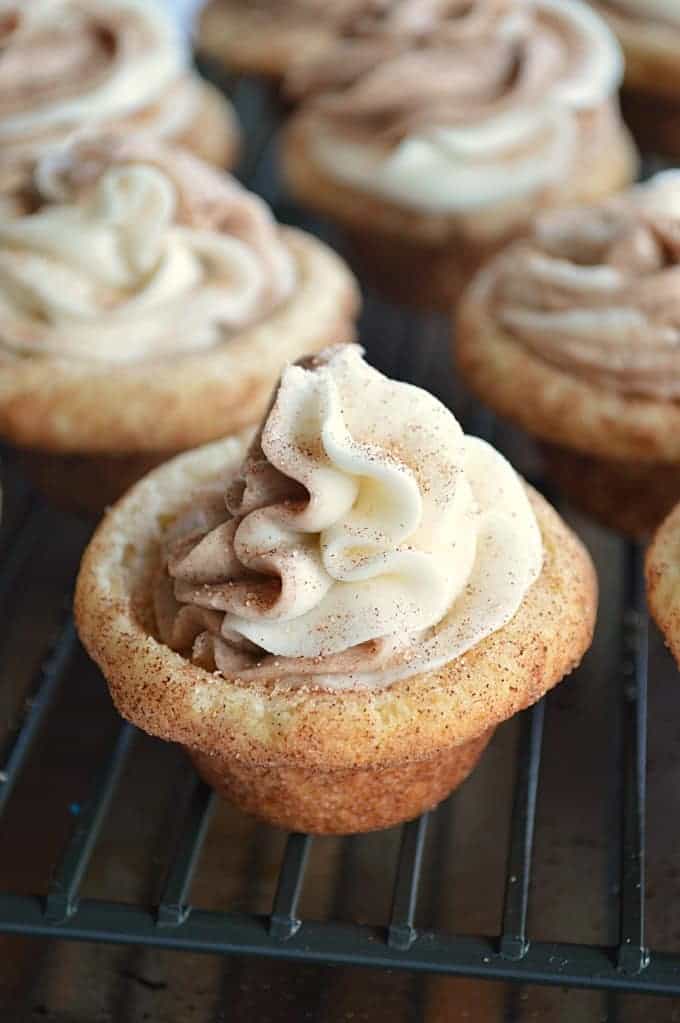 These Snickerdoodle Cookie Cups came about thanks to a lovely get together at church to sing Christmas Carols.  Perhaps my favorite activity EVER!  I love Christmas Carols.  I'm a terrible singer, and I most likely butcher the songs, but I love singing them anyway.  And a bonus: when we were done singing we got to indulge on snacks and desserts.  Now that is my kind of get together!  Carols and desserts.  I don't think life can get much better.  Other than the fact that the kids all got to run and have fun at the same time.  I love watching all of the kids get completely rambunctious and wreak havoc.  Makes me realize that I am not the only one who lives a life of chaos.  So next time you're feeling the urge to let loose and have a little fun, whip up a batch of these Snickerdoodle Cookie Cups to enjoy!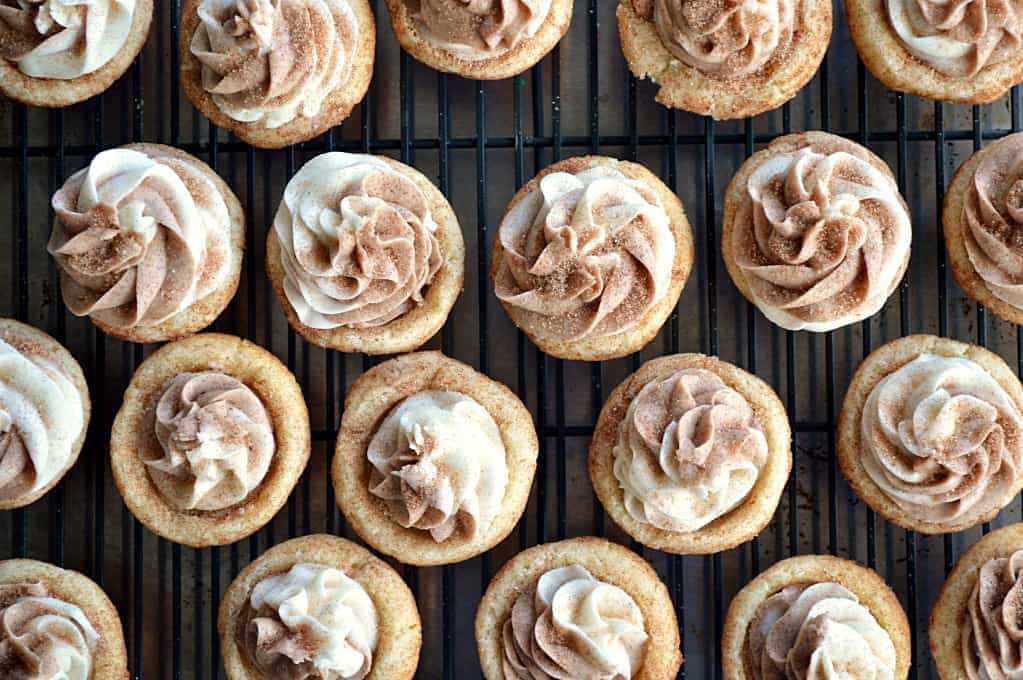 I hope you enjoyed the recipe and will follow along on my cooking adventures:
FACEBOOK | PINTEREST | GOOGLE+ | TWITTER | INSTAGRAM | BLOGLOVIN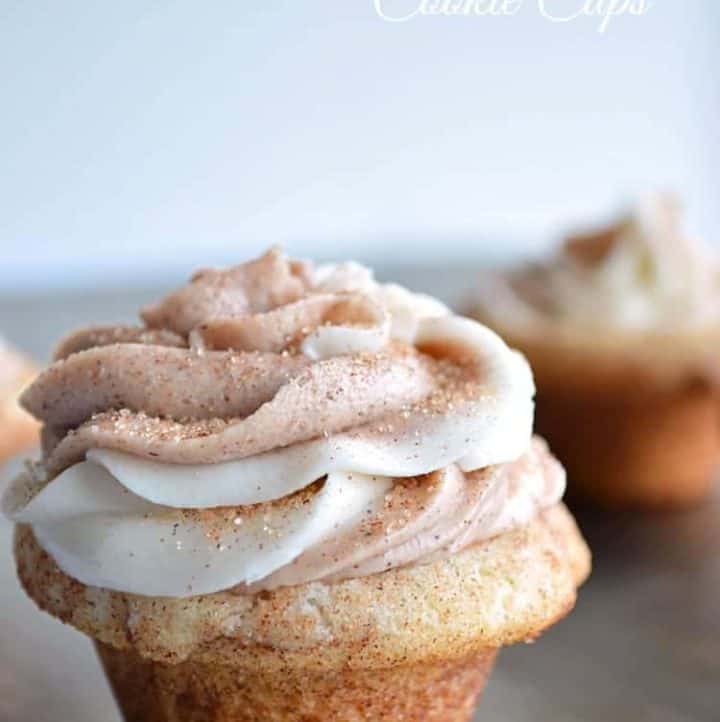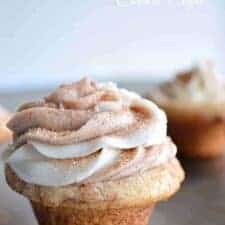 Snickerdoodle Cookie Cups
Soft and fluffy Snickerdoodle Cookie cups filled with sweet cinnamon and vanilla swirled frosting.
Ingredients
1 package of Snickerdoodle Cookie mix plus required ingredients
2 tbsp Cinnamon Sugar
For the Frosting
4 cups powdered sugar
3 tbsp butter, room temperature
4 tbsp milk
1 tsp vanilla extract
1 tsp cinnamon
Extra sugar and cinnamon for topping, optional
Instructions
Preheat the oven to 375°F. Grease a mini muffin pan and set aside.

Prepare the cookie dough according to directions, roll the cookie dough into small balls about 1 inch in diameter, coat in cinnamon sugar mixture, and press into the mini muffin tin. Repeat until all the dough is used, should make about 20 cookie cups.

Using a spoon press in the center of the cookie dough to make a small crater. This will help them bake more evenly.

Bake for 7-9 minutes until completely cooked. Remove from the oven to cool, using spoon press in the center of the cookie cups again to form the crater in the center, allow to cool for 5 minutes. Remove cookie cups from the muffin tin and allow to continue cooling on a wire rack.
Frosting
Add all ingredients minus the cinnamon into large mixing bowl. Mix on medium speed until fully combined and frosting is fluffy. Add powdered sugar or milk to achieve desired consistency.

Move half the frosting to another bowl and add the cinnamon to one half of the frosting.

To frost the cookie cups I used a piping bag and a Wilton 2D tip.
Nutrition
Calories: 116kcal, Carbohydrates: 25g, Protein: 1g, Fat: 2g, Saturated Fat: 1g, Cholesterol: 5mg, Sodium: 17mg, Potassium: 4mg, Fiber: 1g, Sugar: 25g, Vitamin A: 58IU, Calcium: 5mg, Iron: 1mg
More Sweet Treats: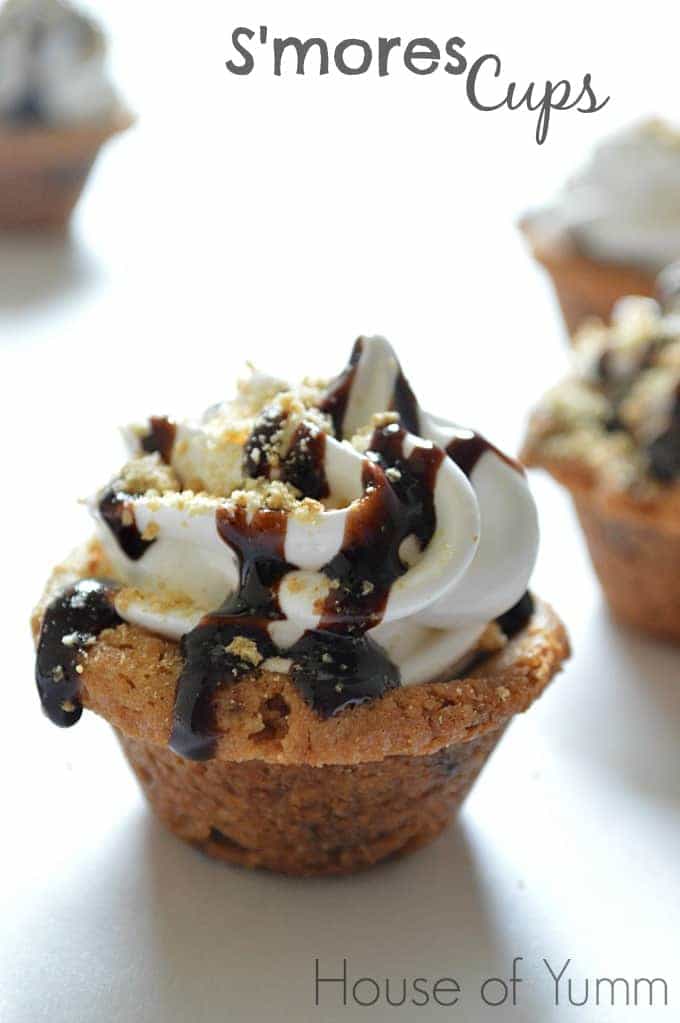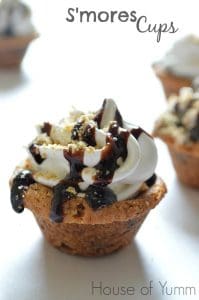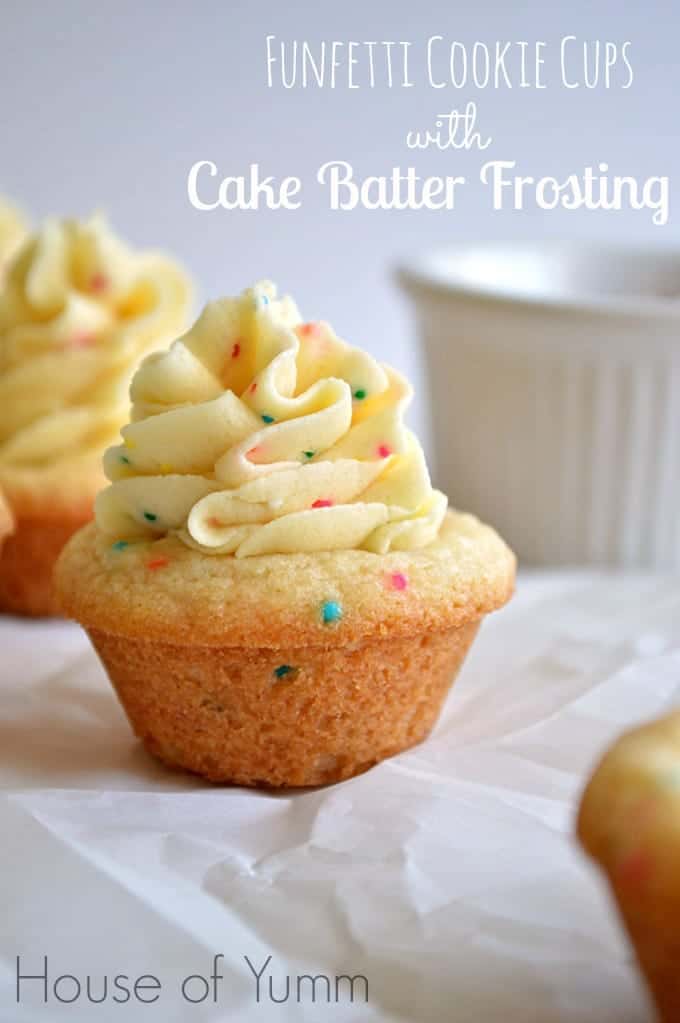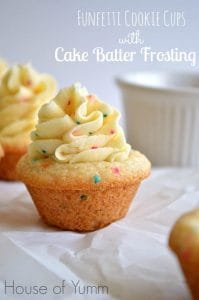 Funfetti Cookie Cups with Cake Batter Frosting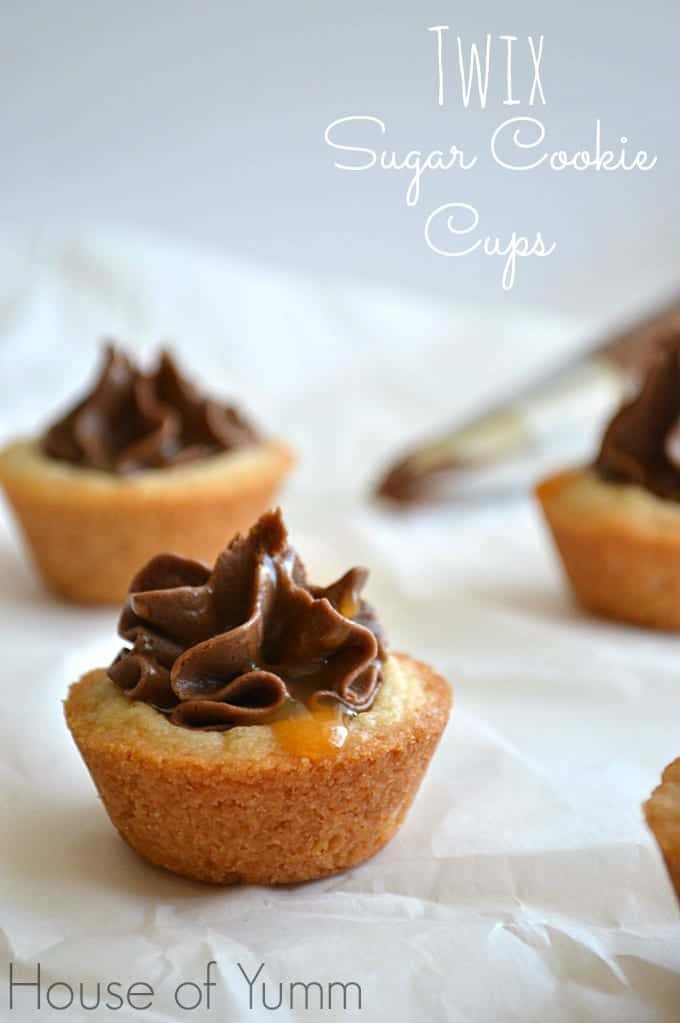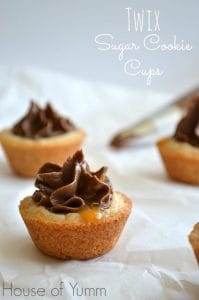 SaveSave
House of Yumm is a participant in the Amazon Services LLC Associates Program, an affiliate advertising program designed to provide a means for us to earn fees by linking to Amazon.com and affiliated sites.