Peach Raspberry Crumb Cake! A moist cake topped with fresh juicy peaches and sweet raspberries. All covered in a sweet brown sugar crumb.
Have you noticed that the markets smell like juicy ripe peaches when you walk into the produce section?! It's a wonderful time of year if you ask me. Not only do I get to smell peaches while shopping, I get to make this beautiful Peach Raspberry Crumb Cake!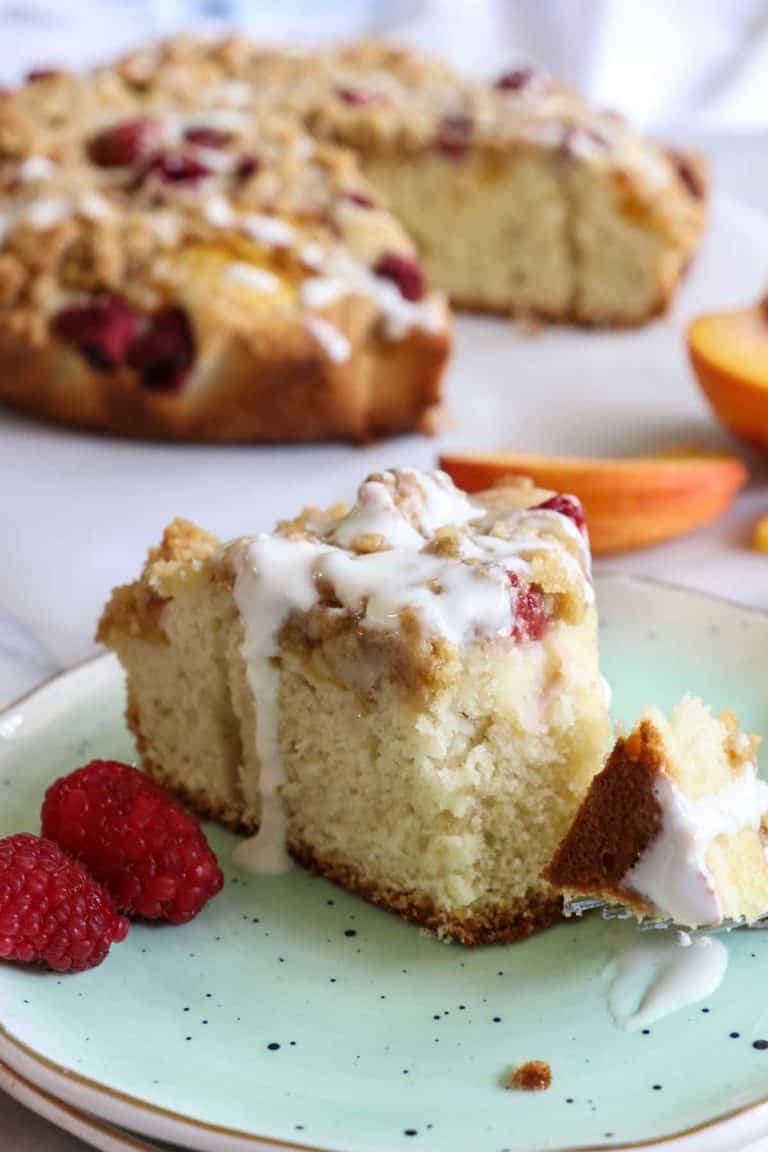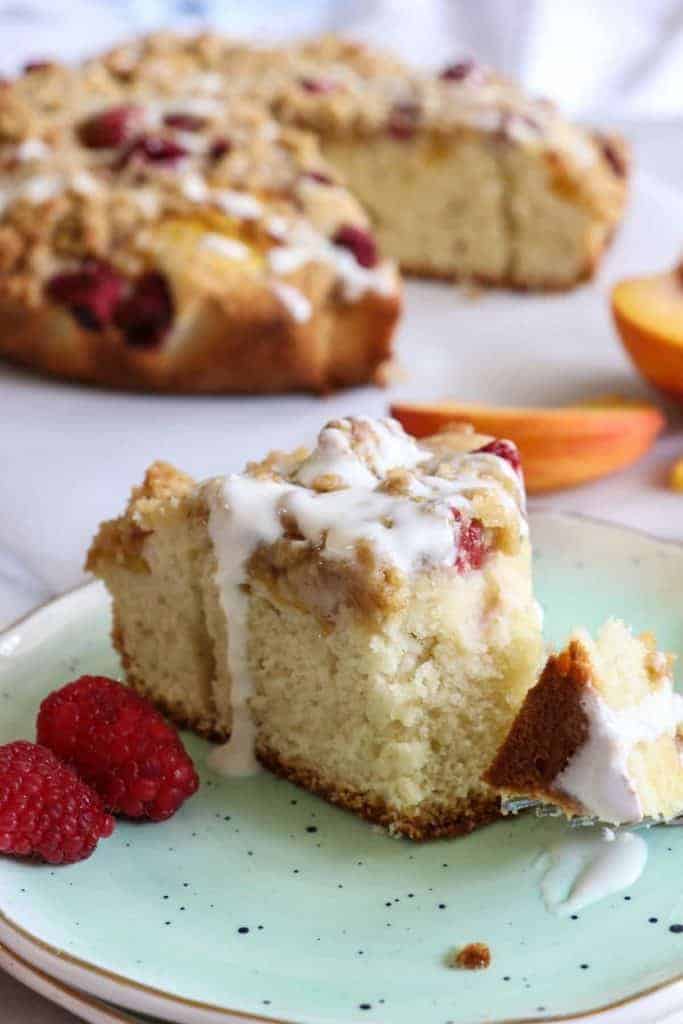 This moist cake is topped with fresh sliced peaches and sweet raspberries. Because when life gives you fruit, you have to bake amazing desserts with it. I mean, you could just eat the fruit and enjoy the natural sweetness and all of that. But it's more fun to bake it into a sweeter tasting cake. And then top it all off with brown sugar crumbs. And drizzle it with a cream cheese glaze.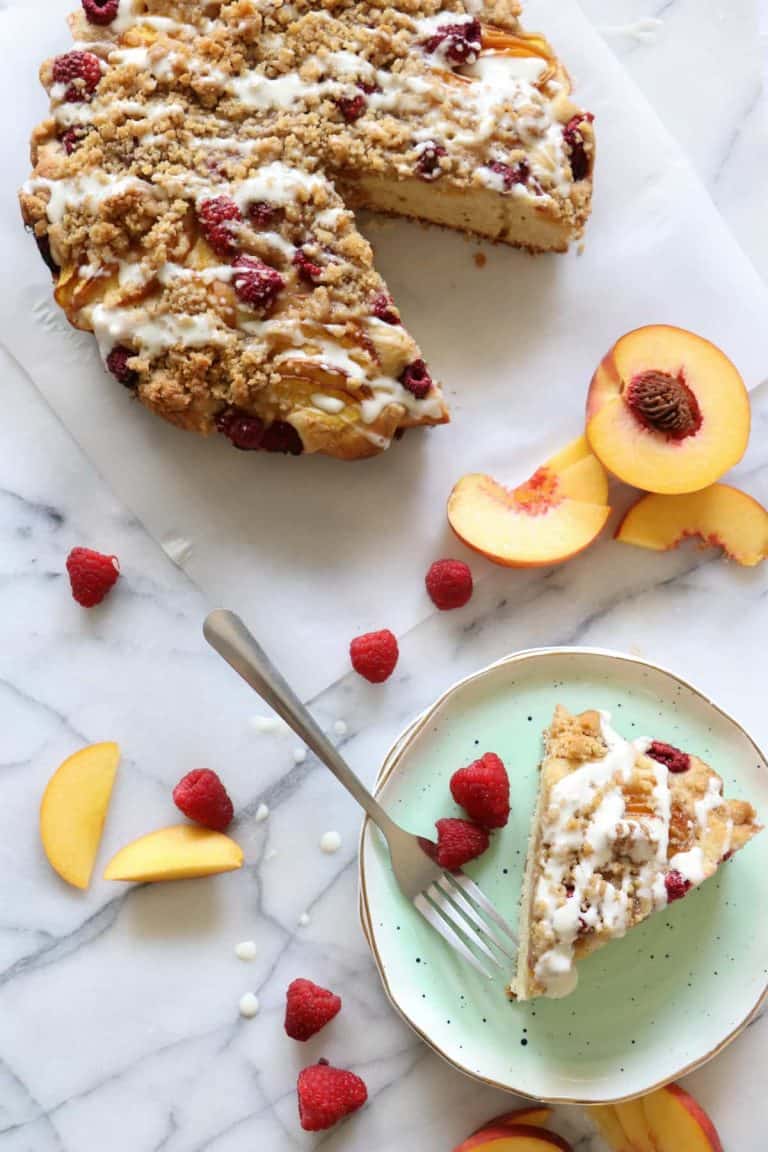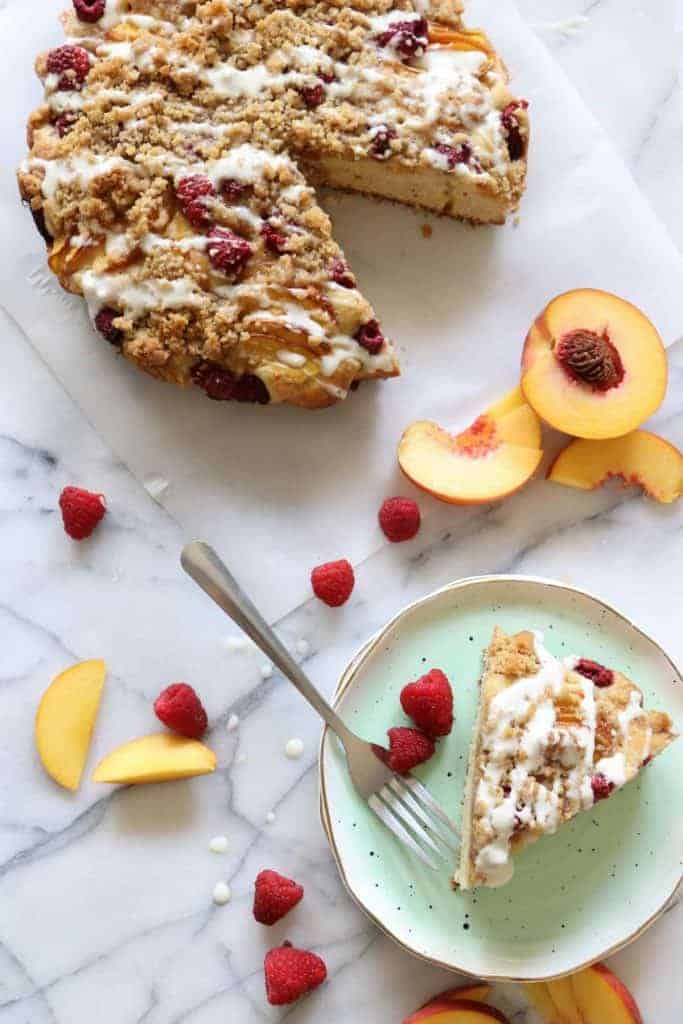 Possibly my favorite part about this cake?? It's baked in a cast iron skillet. I love finding new recipes that utilize my skillets. Plus I had the ingenious idea to line the skillet with parchment paper to help out in NOT having to clean the skillet! Maybe that's my favorite part.
And in case you're wondering. Yes. This is wonderful for breakfast with a cup of coffee.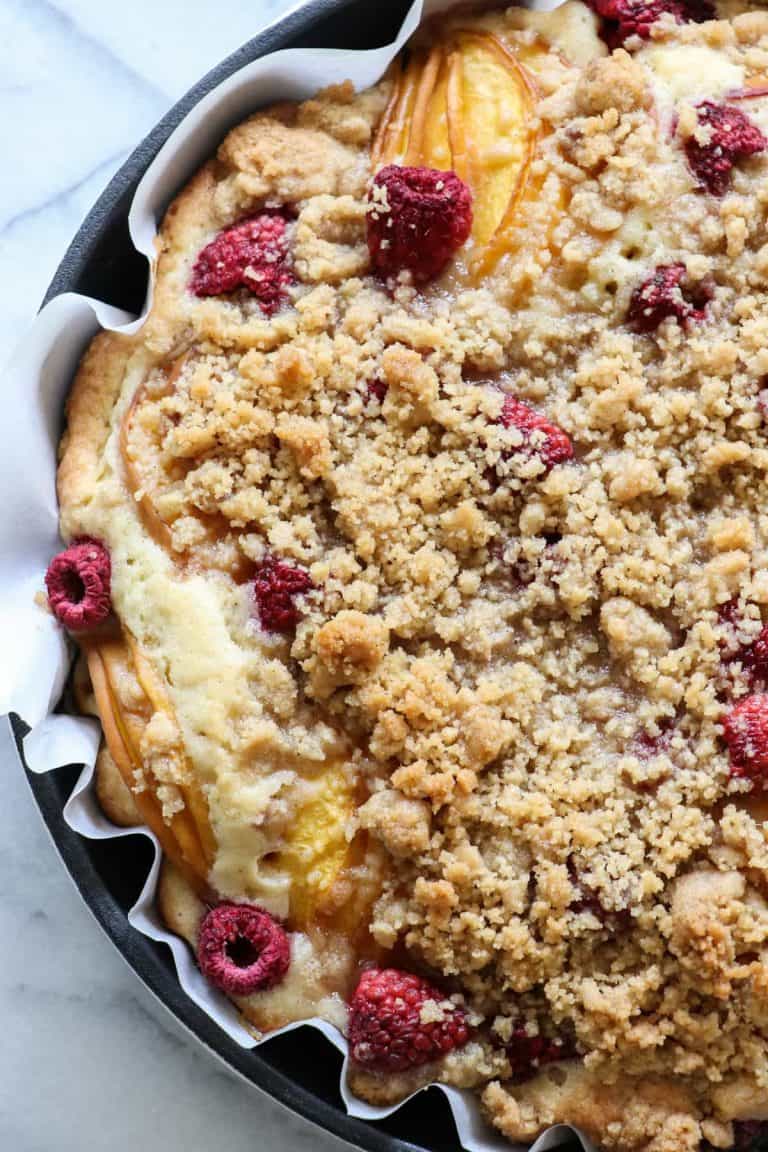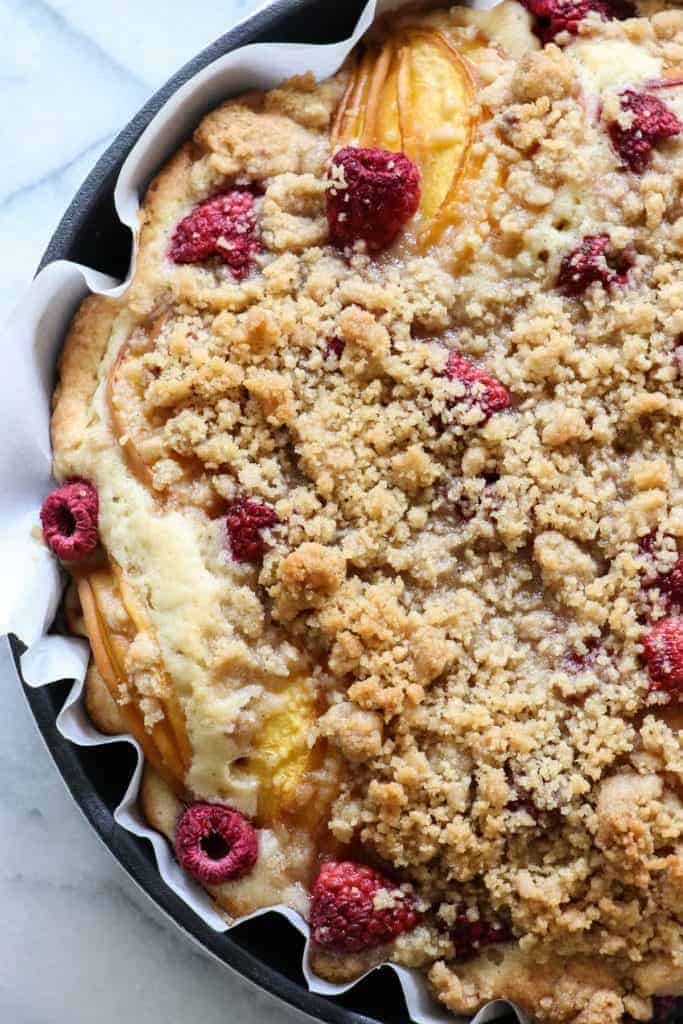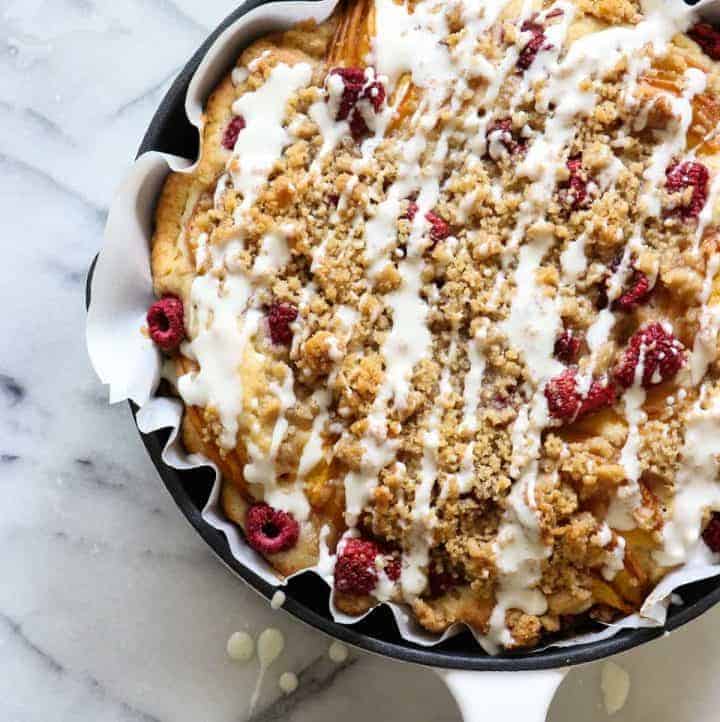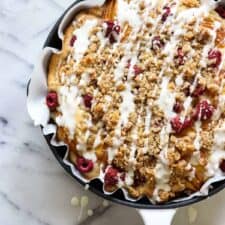 Peach Raspberry Crumb Cake
Peach Raspberry Crumb Cake! A moist cake topped with fresh juicy peaches and sweet raspberries. All covered in a sweet brown sugar crumb.
Ingredients
½ cup unsalted butter, softened
¾ cup white sugar
4 large eggs
1 tsp vanilla extract
1¼ cup all purpose flour
1 tsp baking powder
½ tsp salt
2 peaches , sliced
2 cups raspberries
Glaze
3 ounces cream cheese , softened
1 tbsp milk
1½ cup powdered sugar
1 tsp vanilla extract
Instructions
Preheat oven to 350°F.

In a large bowl combine the butter and sugar. Stir until combined. Add in the eggs one at a time, mixing to combine between each one. Stir in the vanilla extract.

In a smaller mixing bowl combine the flour, baking powder and salt. Stir with a fork to combine. Slowly add to the wet ingredients and stir until combined.

Line a 10 inch cast iron skillet with parchment paper. Pour the batter into the skillet and smooth out.

Top with the sliced peaches and raspberries.

In a small bowl combine the light brown sugar, flour and butter. Stir until combined and crumbled. Spread over the top of the cake.

Bake at 350°F for about 45 mins or until a toothpick inserted into the center comes out clean.

Remove from oven and allow to cool in the skillet for about 10-15 minutes. Grabbing the edges of the parchment paper remove the cake from the skillet. Set on a tray or plate.

In a small bowl stir together the softened cream cheese and milk until smooth. Add the powdered sugar and vanilla. Stir until combined. Drizzle over the cake. Serve and enjoy!

**Drizzle with glaze just prior to serving. If not serving right away just wait on the glaze.
Nutrition
Calories: 430kcal, Carbohydrates: 63g, Protein: 6g, Fat: 18g, Saturated Fat: 10g, Cholesterol: 109mg, Sodium: 223mg, Potassium: 162mg, Fiber: 3g, Sugar: 44g, Vitamin A: 705IU, Vitamin C: 8mg, Calcium: 67mg, Iron: 2mg
SaveSave
SaveSave
House of Yumm is a participant in the Amazon Services LLC Associates Program, an affiliate advertising program designed to provide a means for us to earn fees by linking to Amazon.com and affiliated sites.