Boston Cream Pie now in bite size form, perfect for snacking on, or serving a group of people.  Either way, they won't last long!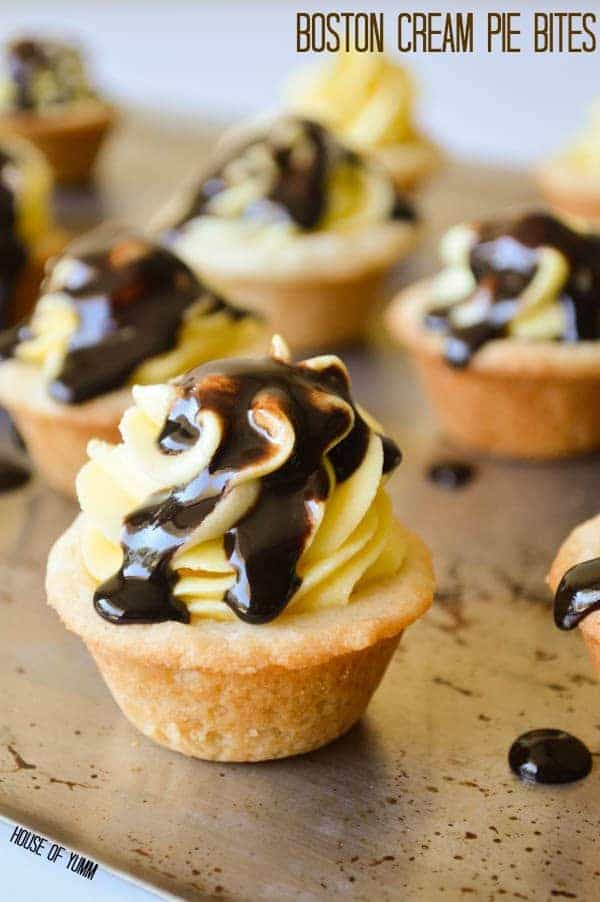 If you haven't noticed already I have a deep love for mini desserts.  So I hope you don't mind that I am constantly making them!  I know I certainly don't mind.  These were a request from the hubs.  He's developed a love for the Boston Cream Pie greek yogurt that he takes with him to work as part of his lunch every day.  So he's been requesting for me to make him a Boston Cream Pie.  Did I make him a giant pie?  Psshh, of course not!  Just like he knew I wouldn't.  I made him these delightful little Boston Cream Pie Bites!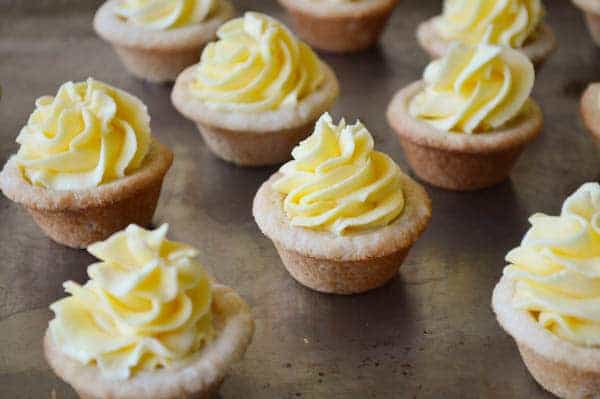 These start as a lot of my little desserts do, with a sugar cookie cup.  Super easy to make, quick to bake.  Again, if you have a sugar cookie recipe you know and love please feel free to substitute.  I love using my pre-made cookie mixes I purchase directly from the market.  A time saver if you ask me.  I imagine the day that my children are grown and no longer attached to my hip or leg, or wanting to dance to the Pirate Song from Tinker Bell the Pirate Fairy, I will have time to make my own sugar cookie cups from scratch.  But until then..Betty Crocker is my friend!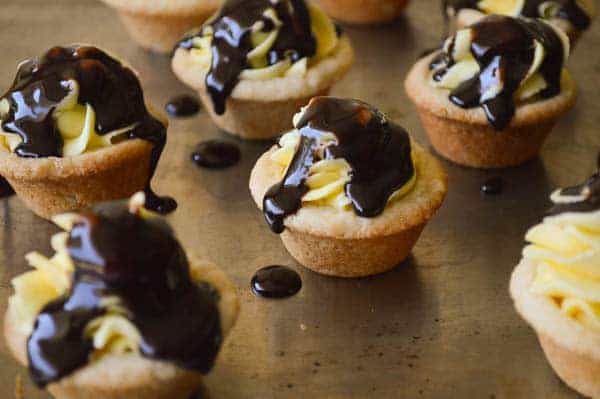 These are filled with a simple and easy to make vanilla pudding mousse.  And topped with a oozing, gooey, glistening chocolate syrup.  Do you find yourself with a constant supply of chocolate syrup hanging out at your house?  Maybe?  Perhaps?  Am I the only one?  Well, if you do have some hanging around, trust me, this is the perfect way to use it up!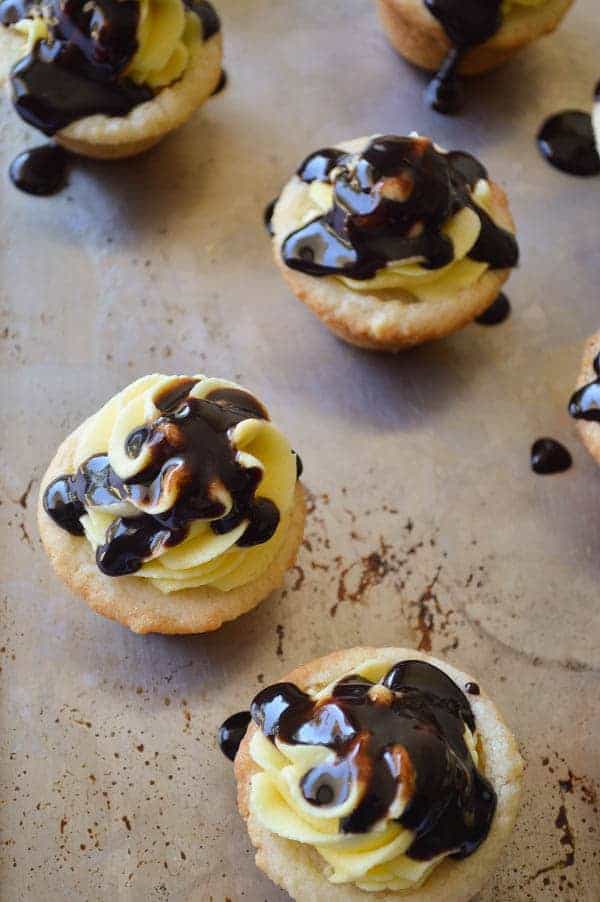 I hope you enjoyed the recipe and will follow along on my cooking adventures:
FACEBOOK | PINTEREST | GOOGLE+ | TWITTER | INSTAGRAM | BLOGLOVIN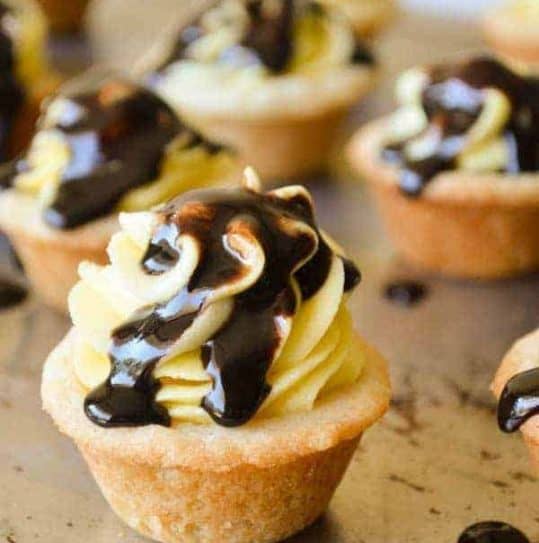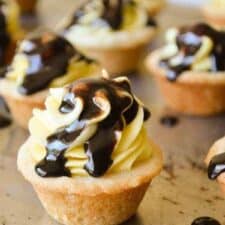 Boston Cream Pie Bites
These Boston Cream Pies are small but pack a BIG taste!
Ingredients
Sugar Cookie Mix , +required ingredients
1 pint heavy whipping cream
1 (3.4 ounce box) instant vanilla pudding
¼ cup powdered sugar
Chocolate syrup
Instructions
Preheat oven too 375°F.

Prepare the cookie mix as directed on the package. Roll dough into 1 inch balls and place into a greased mini muffin tin. Press in the center with a spoon to create a crater in the middle, I used my tablespoon to do this. Bake for 9 minutes, cookie cups may seem slightly undercooked in center, just make sure they are not doughy. Press down the center again with the spoon, to ensure the cup shape. Allow to cool in the pan for 5 minutes and then remove to a wire rack to continue cooling.

Pour heavy whipping cream into mixing bowl and mix, starting on low speed, then as it gets thicker, increase the speed until it is almost the consistency of whipped cream. Add in the instant pudding and the powdered sugar. Continue to mix on high speed until fully combined and the mousse is the consistency of a thick whipped cream.

Add the vanilla mousse to a piping bag and pipe onto the cooled cookie cups. Top with the chocolate syrup.

Serve immediately or store in the refrigerator. Can be kept in the refrigerator in a sealed container for 3 days.
Nutrition
Calories: 73kcal, Carbohydrates: 2g, Protein: 1g, Fat: 7g, Saturated Fat: 5g, Cholesterol: 27mg, Sodium: 8mg, Potassium: 15mg, Sugar: 1g, Vitamin A: 290IU, Vitamin C: 1mg, Calcium: 13mg
 More Bite Sized Desserts: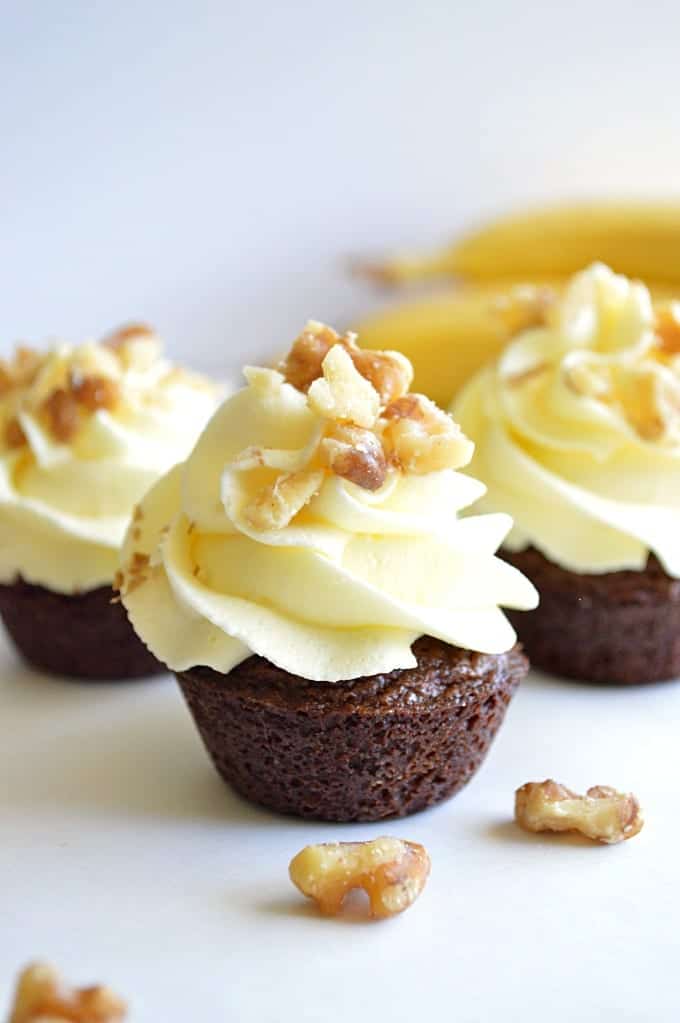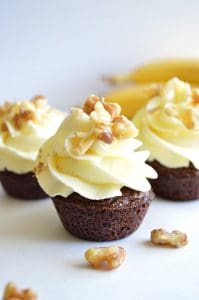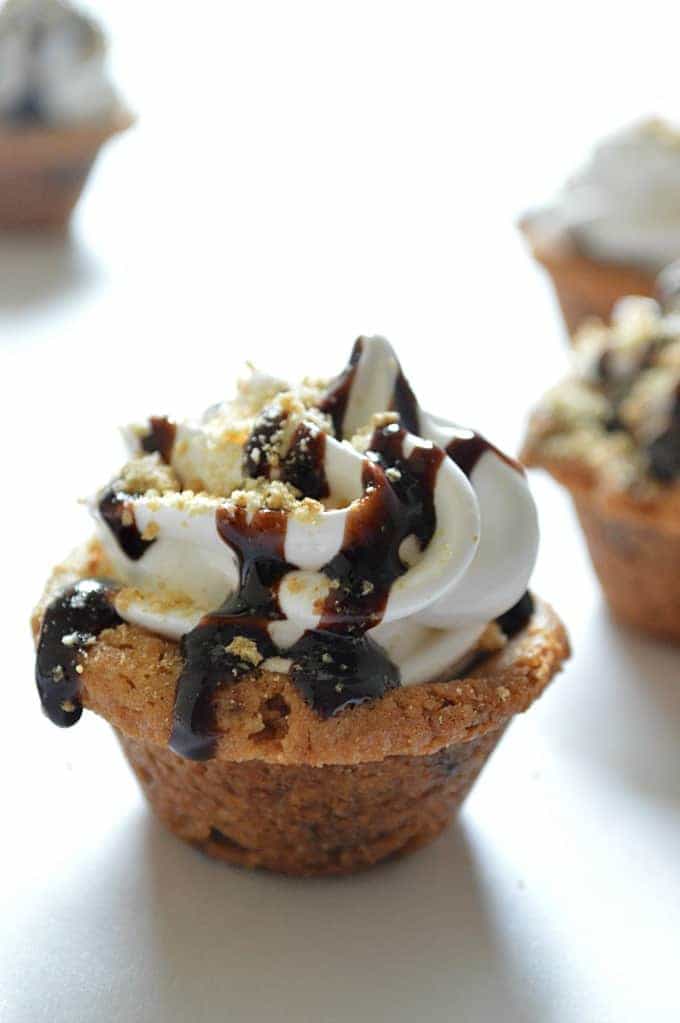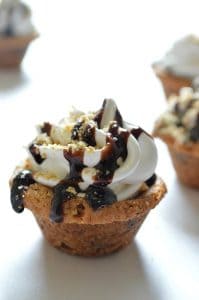 House of Yumm is a participant in the Amazon Services LLC Associates Program, an affiliate advertising program designed to provide a means for us to earn fees by linking to Amazon.com and affiliated sites.