Whole Wheat Waffles with Blueberry Syrup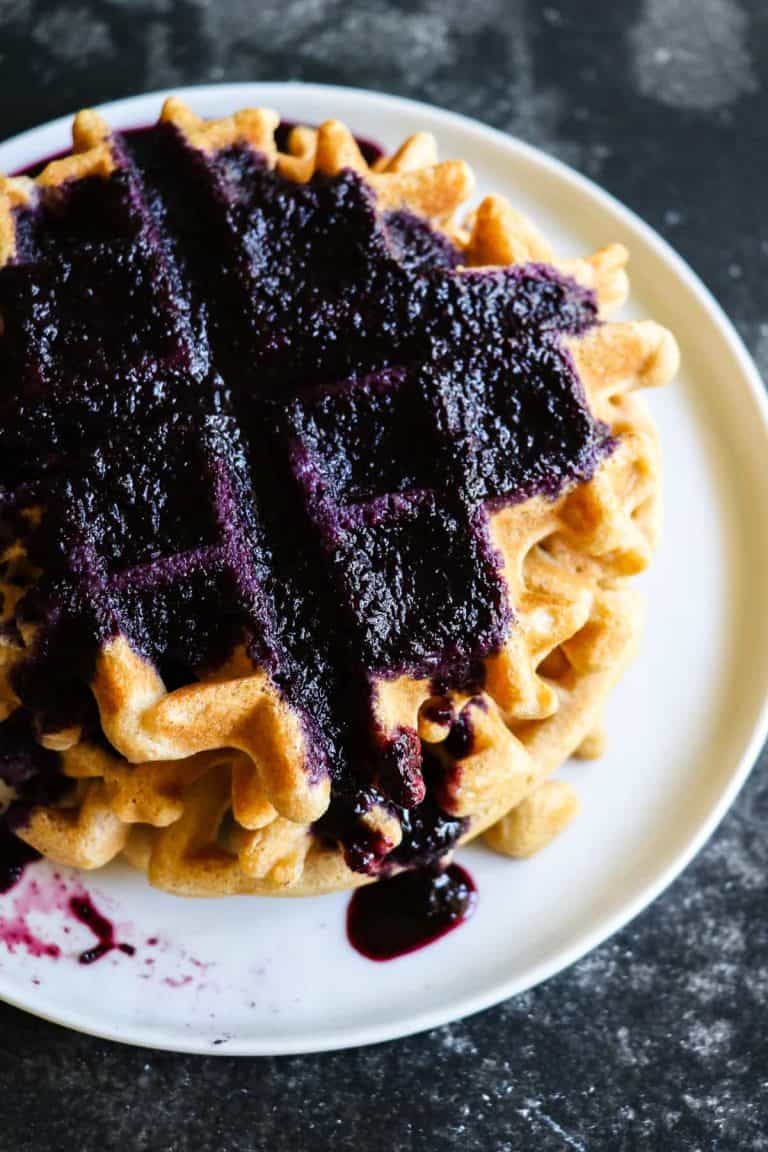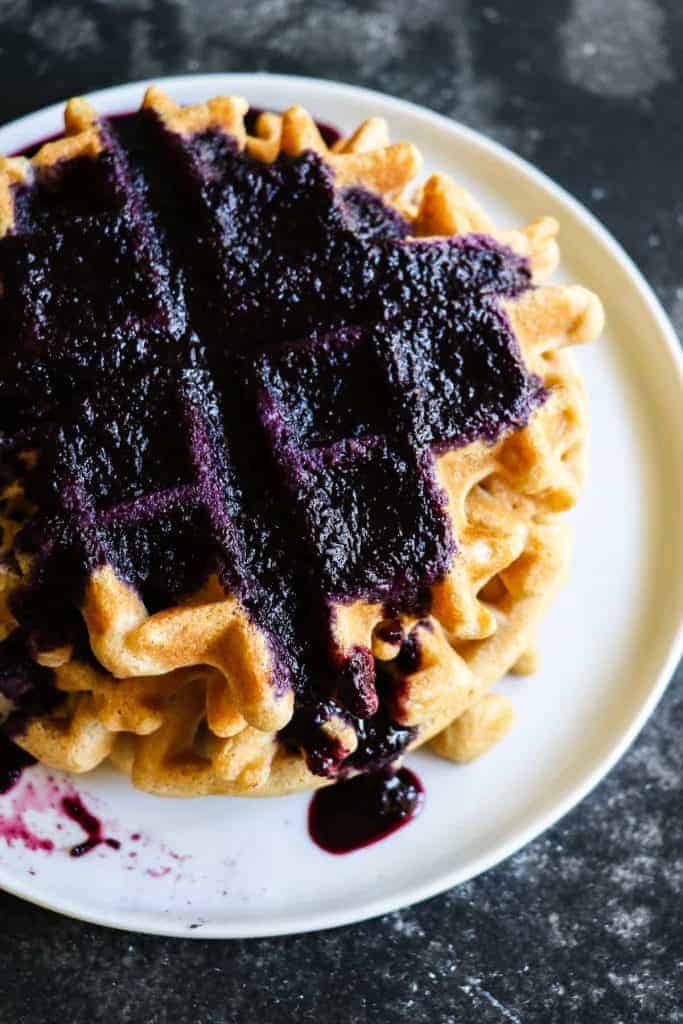 I am an official ambassador for Tom Thumb who provided me with compensation for my time.  As always, all opinions expressed in this post are mine.  Thanks for continuing to support the brands that support House of Yumm <3
Time to get our breakfast on! In a clean, real food kind of way. These whole wheat waffles are made with white whole wheat flour, O Organics® eggs, O Organics® almond milk, coconut oil and sweetened with maple syrup. I can't think of a better way to start the day.  Except for when these guys get drizzled with some homemade Blueberry syrup sweetened with nothing else except for honey.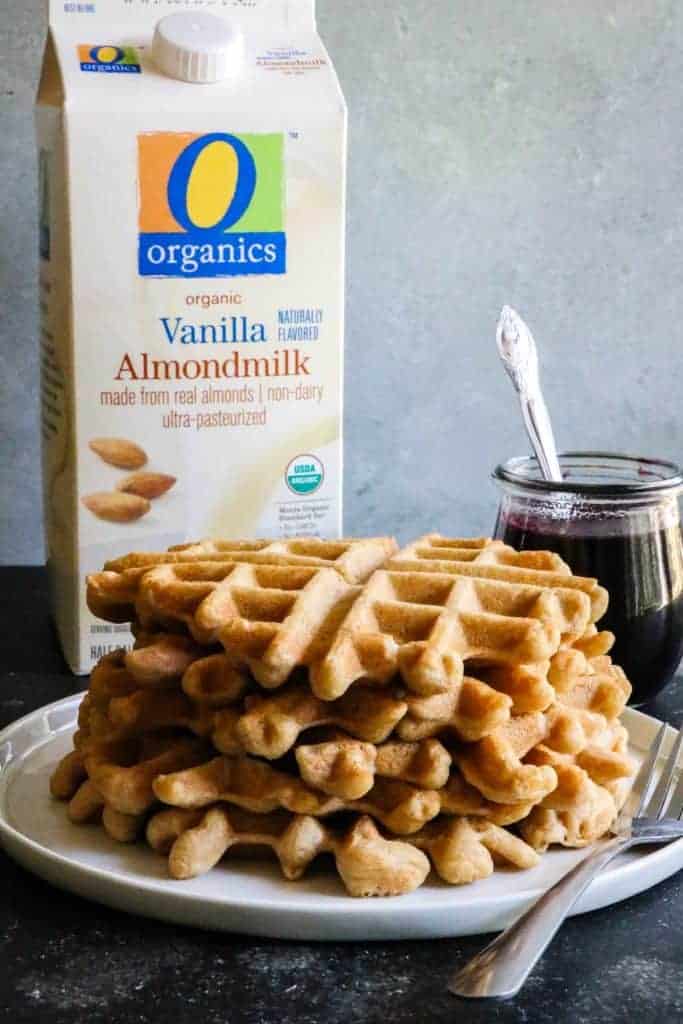 Feeding the family real food starts with breakfast. And these whole wheat waffles definitely accomplish that. Growing up, waffles happened every Sunday. They were a special treat. Melted butter and smothered with syrup. Or topped with whipped cream and fruit. I still have a soft spot in my heart for slow Sunday mornings and decadent waffles.
These whole wheat waffles are perfect for any day of the week though. They do say breakfast is the most important meal of the day. Sending kids out into the world with a healthy meal in their bellies is a good thing.
Tom Thumb and Albertsons believe that great-tasting organic food should be affordable for everyone! Which is so nice when having to buy groceries for a family of 7. Let's just say there's several markets that offer a lot of organic products that are outside the family food budget. Tom Thumb isn't one of them! Even better, I can load up the Tom Thumb app on my phone with Just 4 U coupons, and those coupons load directly to my Tom Thumb card when they scan it when I'm paying. So I can get even better deals without having to spend time clipping coupons or scanning them all at checkout.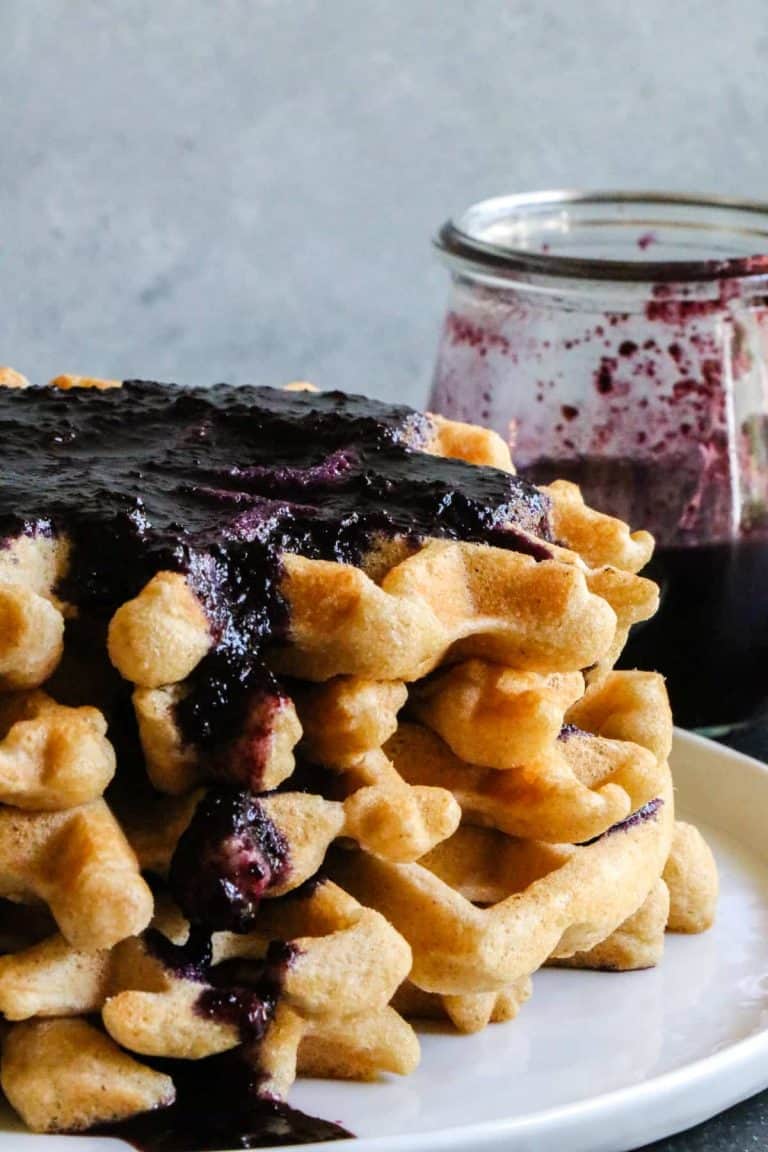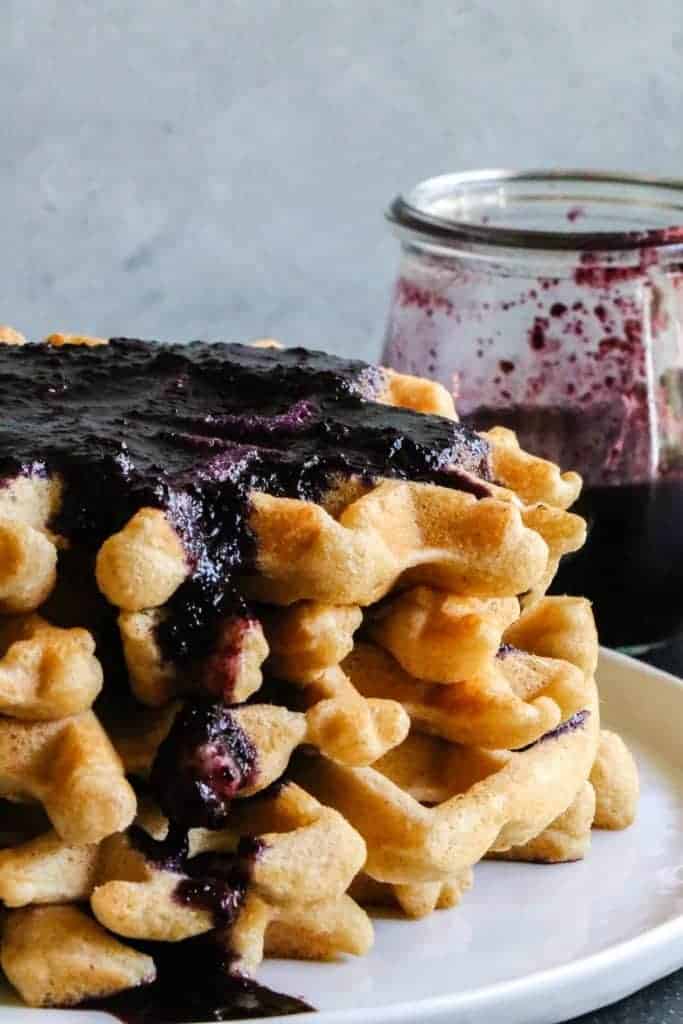 The waffles come together quick and easy, with ingredients I typically have in my kitchen. The same with the homemade blueberry syrup. Feel free to swap the blueberries with any other kind of berry you prefer. What makes it even easier is that the syrup is made with frozen berries. Which means you can make this year round.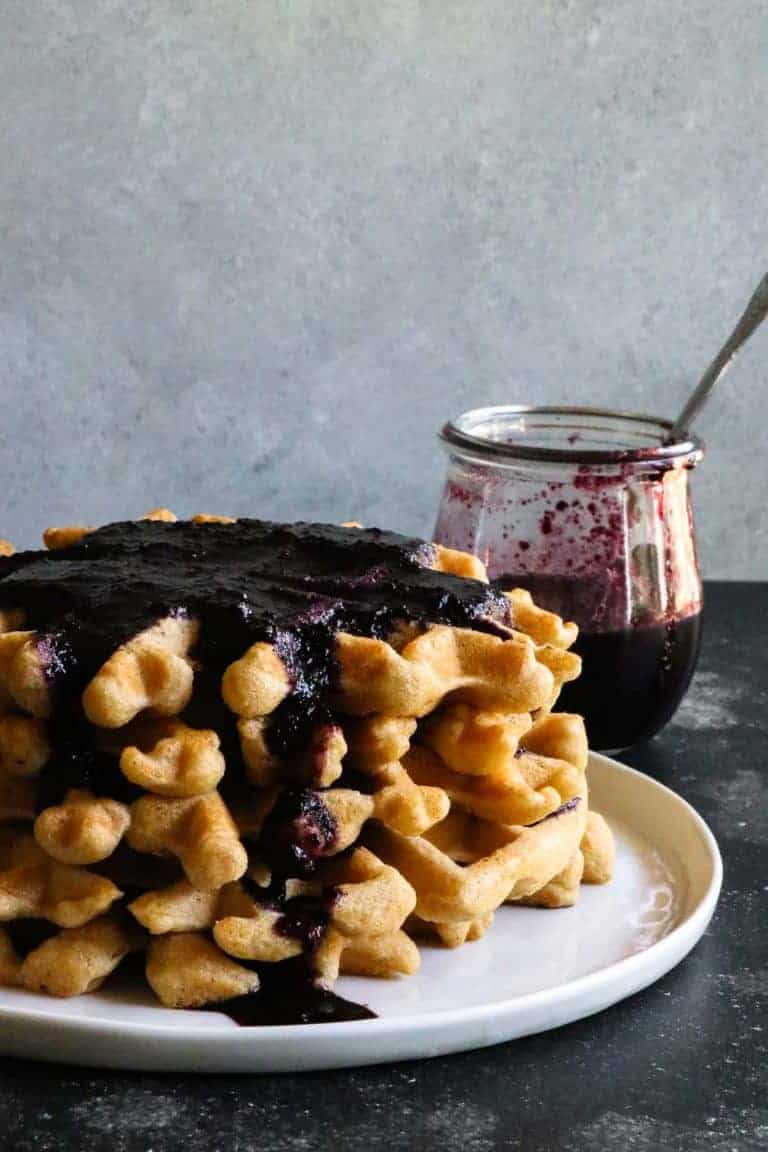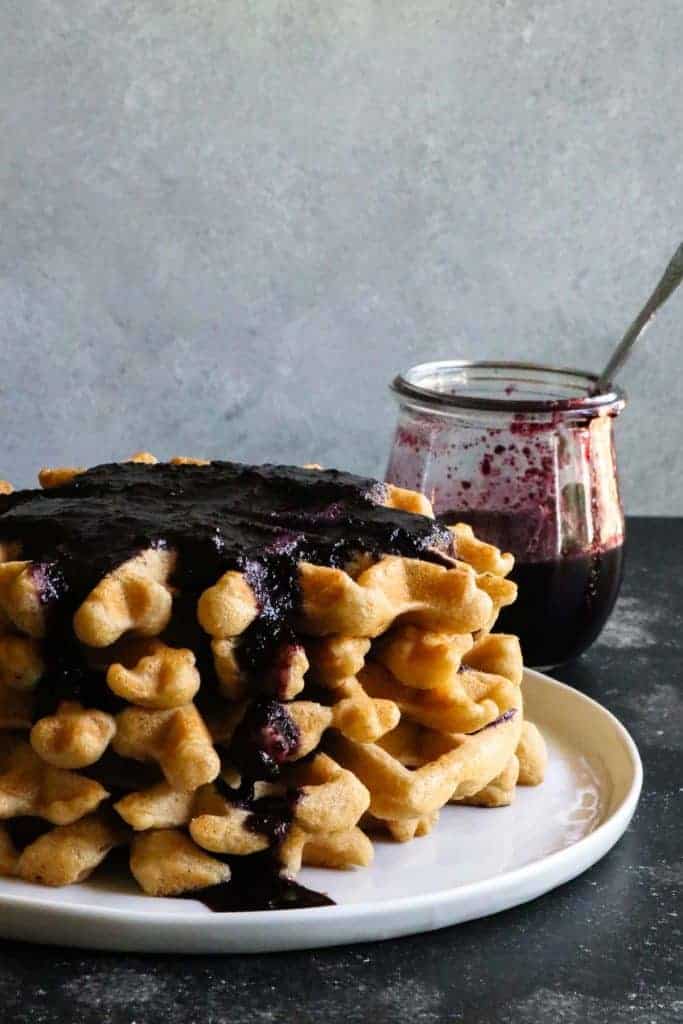 Have you noticed that it's cold and flu season? I told you that our 11 year old is going to public school this year, which means that we have definitely experienced more sniffles than I would like. And as we all know, once it starts with one, it always makes the rounds in the house.
Thankfully our neighborhood Tom Thumb market carries its exclusive line of effective and affordable wellness products known as Signature Care™. All of the Signature Care products provide the same quality and relief that national name brands do, but at a better value. Signature Care products contain the same active ingredients & are subject to the same manufacturing standards mandated by the FDA as national brands.
Even better, all of their Signature Care items come with a money back guarantee.
This way when feeding the kids healthy doesn't prevent the sniffles, at least we know we can go grab some medicine to help get everyone back on track. With Tom Thumb's and Albertsons' exclusive O Organics® product line, the top-selling organic brand in their stores, it's easy incorporate organic items into your wellness routine during cold and flu season without a lot of time, money or effort.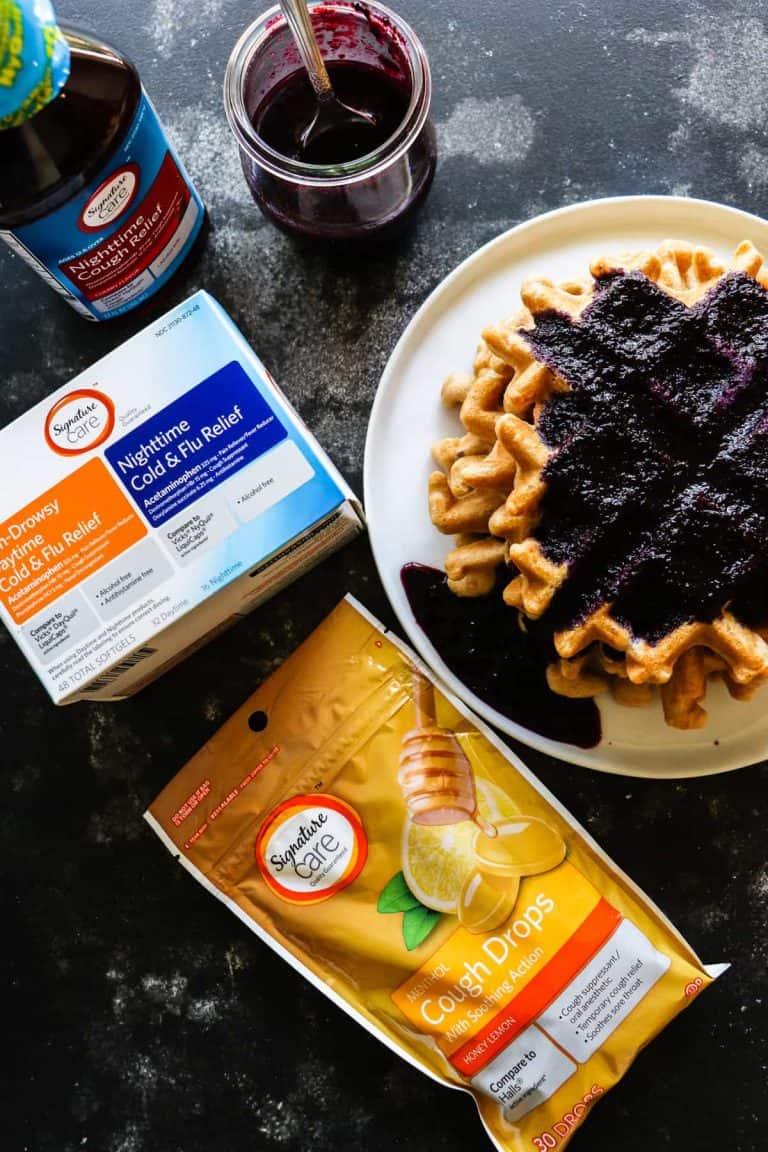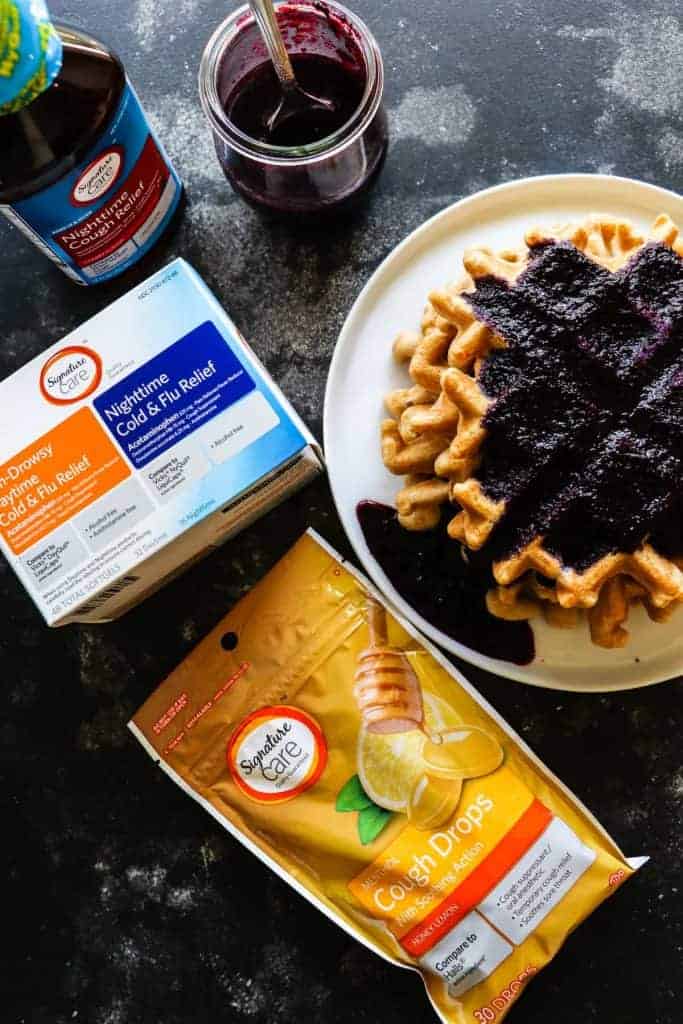 Visit TomThumb.com to find a store near you and discover more meal prep tips and recipe ideas.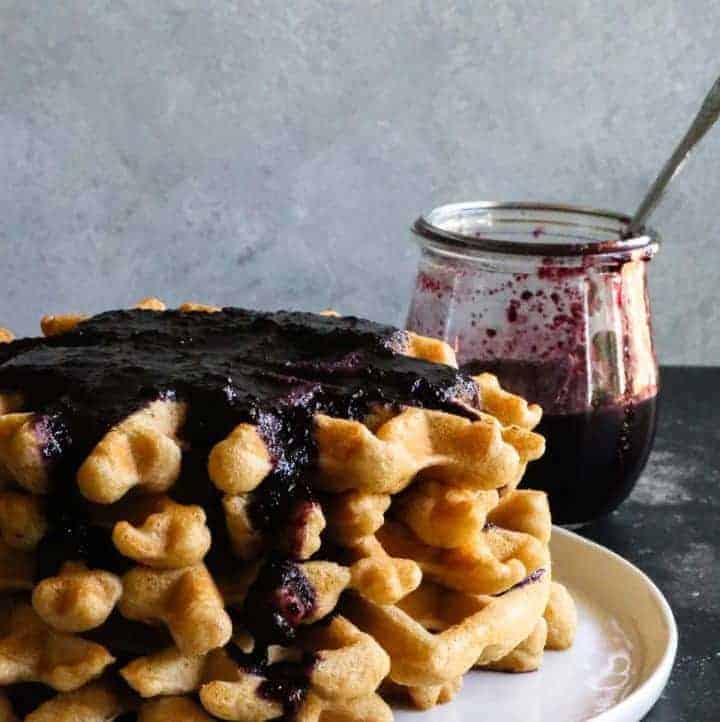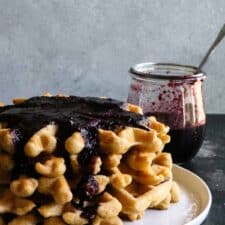 Whole Wheat Waffles with Blueberry Syrup
Light and fluffy whole wheat waffles made with almond milk and sweetened with maple syrup. Drizzled with a homemade organic, honey sweetened blueberry syrup.
Ingredients
Homemade Blueberry Syrup
3 cups Frozen Blueberries
1 cup water
¼ cup honey
Whole Wheat Waffles
1½ cups white whole wheat flour
2 tsp baking powder
1/2 tsp salt
2 tbsp maple syrup
1 Large egg
1 ½ cup almond Milk
⅓ cup coconut oil, melted
1 tsp vanilla extract
Instructions
Homemade Blueberry Syrup
Add the frozen blueberries to a medium size pot. Pour in the water and honey. Stir to combine.

Heat over low to medium heat until the berries soften and are easily mashed.

Using an immersion blender, or transferring the mixture to a blender or food processor, blend the syrup until all the berries are blended and the syrup is smooth.

Continue to heat the syrup and bring just to a simmer and remove from heat. Allow to cool and then transfer to a large jar to store in fridge. (syrup can be used warm or cold).
Whole Wheat Waffles
In a medium size mixing bowl add the white whole wheat flour, baking powder, and salt.

Stir to combine the dry ingredients.

Add in the maple syrup, egg, milk, melted coconut oil and vanilla extract.

Stir until batter is mixed and no large lumps remain.

Pour about 1/3 a cup of waffle batter onto a preheated waffle iron (I know my waffle iron works better if I spray it with non stick cooking spray.)

Heat the batter in the waffle iron until done. Mine takes about 4 minutes. They will be done when the waffle has a crispy brown exterior.

Drizzle waffles with blueberry syrup, serve and enjoy!
Nutrition
Serving: 1g, Calories: 211kcal, Carbohydrates: 20g, Protein: 4g, Fat: 14g, Sugar: 4g
This is a sponsored conversation written by me on behalf of Albertsons Companies. The opinions and text are all mine.
House of Yumm is a participant in the Amazon Services LLC Associates Program, an affiliate advertising program designed to provide a means for us to earn fees by linking to Amazon.com and affiliated sites.