Veggie Twice Baked Potatoes recipe.  This dairy free, meat free appetizer will be a hit for GAMEDAY!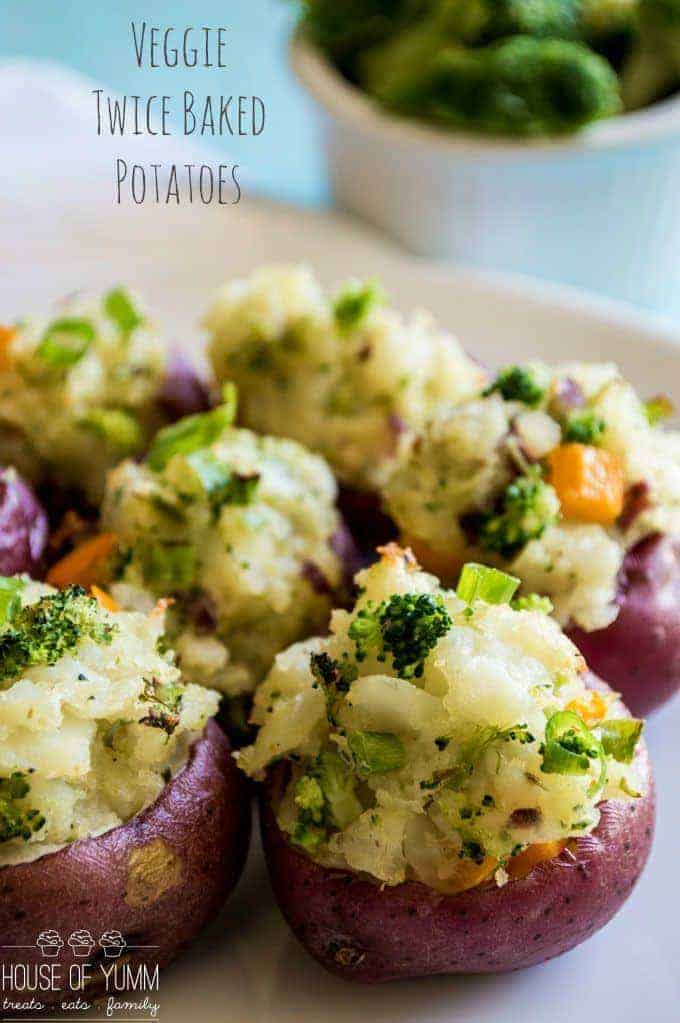 Are you ready for some…..Meatless Monday Night Football snacks?!
One of my favorite treats are twice baked potatoes. Especially when they come in bite sized packages! Like these ones I made with red potatoes. Perfect size for an appetizer or snack.
Instead of loading these bite sized potatoes with the typical bacon, cheese and sour cream. I opted for a meat free, dairy free version using fresh veggies, and Almond Milk to make them creamy.
Follow me on Instagram @houseofyumm and tag me when you make this recipe!  I love seeing your creations!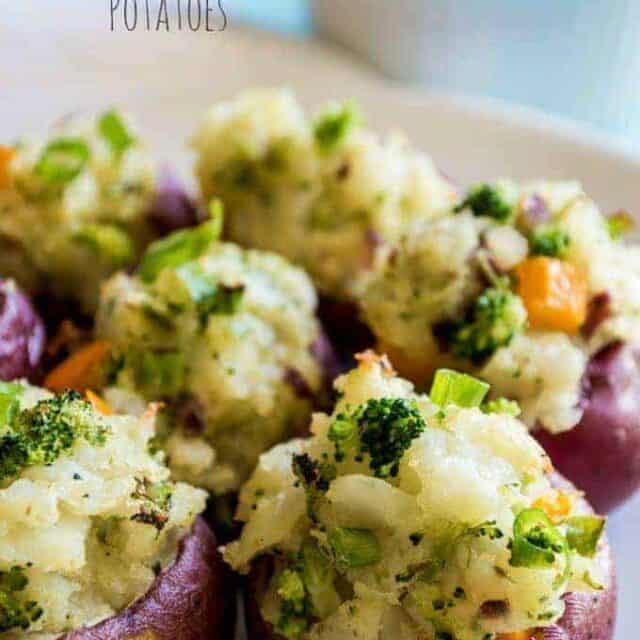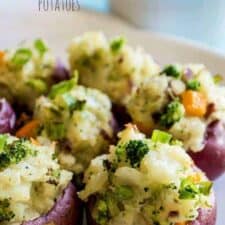 Veggie Twice Baked Potatoes
Veggie Twice Baked Potatoes recipe.  This dairy free, meat free appetizer will be a hit for GAMEDAY!
Ingredients
1½ lb small red potatoes
2 tbsp olive oil
½ tsp sea salt
½ cup milk
¼ tsp black pepper
½ tsp garlic salt, or regular salt
1 bell pepper , chopped
½ cup broccoli , cooked and chopped
¼ cup green onion , chopped
Instructions
Preheat oven to 400°F. Cover baking sheet with foil and spray with baking spray. Set aside.

Wash the potatoes, pat them dry with paper towel. Put potatoes in large bowl and toss with olive oil and sea salt, make sure all potatoes are covered with a thin layer of oil.

Pour potatoes onto baking sheet. Bake for approximately 30 minutes or until softened, should be able to pierce easily with a fork. Remove from oven and allow the potatoes to cool.

Once cooled, using a paring knife cut the top off the potatoes and scoop out the potato, leaving the skin and a thin layer of potato for support. I used a melon baller to easily scoop the potato out.Place the potato into a medium size bowl. Place the potato skins back onto the baking sheet.

Once all potatoes have been scooped, mash up the potato in the bowl using either a masher or a fork. (If potato isn't mashing easily, you can microwave it for a few minutes to make it softer.)

Pour in the almond milk and continue mashing. Should become creamier and softer. Use more if needed to reach desired consistency.

Add in the bell pepper, broccoli, and green onion. Stir to combine. Add in the black pepper and garlic salt to taste. Stir to combine.

Spoon the potato mixture back into the potato skins. I used a cookie scoop to easily refill the potato skins. Add extra on top so the filling comes out of the top of the potato.

Place baking tray back in oven and cook for an additional 10 minutes until the top of the potatoes are slightly crispy.

Serve immediately and enjoy!
Nutrition
Calories: 38kcal, Carbohydrates: 2g, Protein: 1g, Fat: 3g, Saturated Fat: 1g, Cholesterol: 1mg, Sodium: 240mg, Potassium: 62mg, Fiber: 1g, Sugar: 1g, Vitamin A: 446IU, Vitamin C: 20mg, Calcium: 18mg, Iron: 1mg
House of Yumm is a participant in the Amazon Services LLC Associates Program, an affiliate advertising program designed to provide a means for us to earn fees by linking to Amazon.com and affiliated sites.