Avocado Summer Rolls served with a Sweet 'N Spicy Cilantro Dipping Sauce.  A healthy alternative to those fried egg rolls served in restaurants.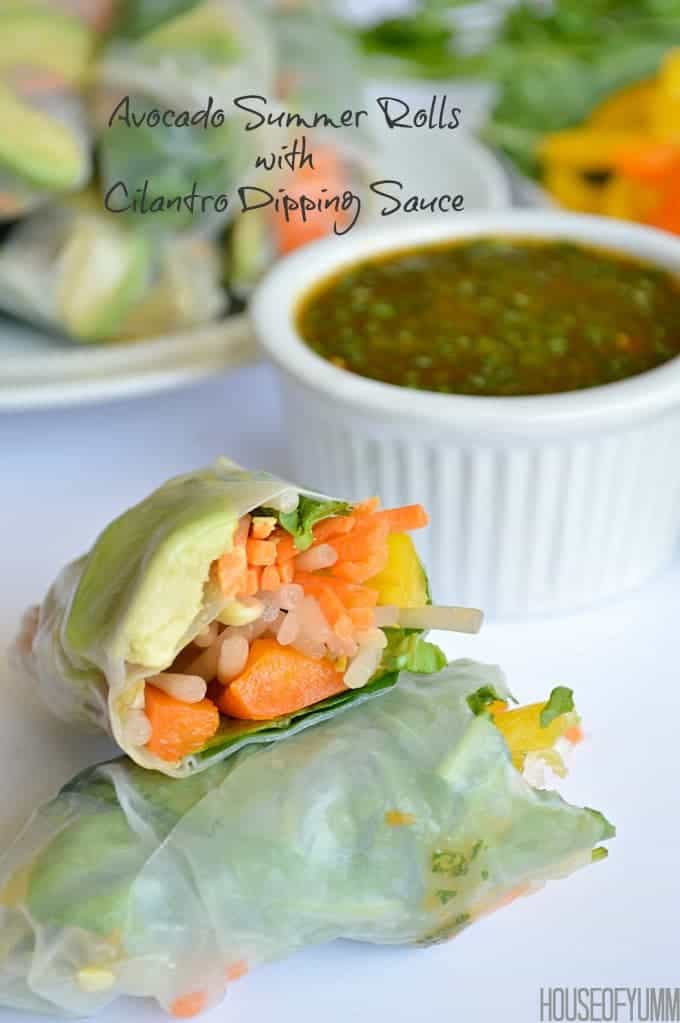 You know those delightful fried avocado egg rolls with that wonderful dipping sauce, that you just want to bathe in, that they serve at restaurants?  If you don't know what I'm talking about, then I'm so sorry for your loss and not having that memory to keep you warm at night.  Anyways, these vegetarian avocado summer rolls are my healthy version.  And I just so happen to have a skinny version of that sweet 'n spicy cilantro dipping sauce that I want to pour over every single thing that I eat.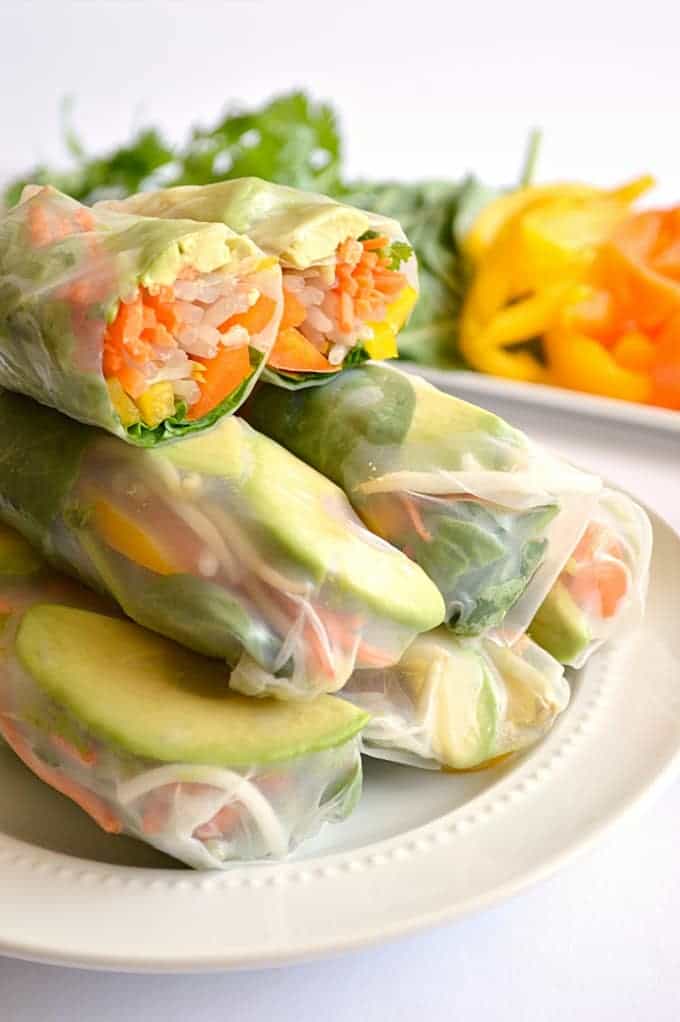 Summer rolls, spring rolls, what's the difference?  Ask Google and you can get as confused as I did.  What I can tell you is that these are really simple to make.  They sell the rice papers at the market, you can find them in the Asian food aisle.  Just a round tub of Spring Roll Rice Papers.  A quick dip into water is what makes these that slightly sticky, totally lovable spring roll texture that we all know and love.  Then it's just really a matter of rolling your chosen filling up in it, like a burrito.  You can take my word for it on how to do it, or you could be like me and spend the evening watching You Tube videos on how to make spring rolls.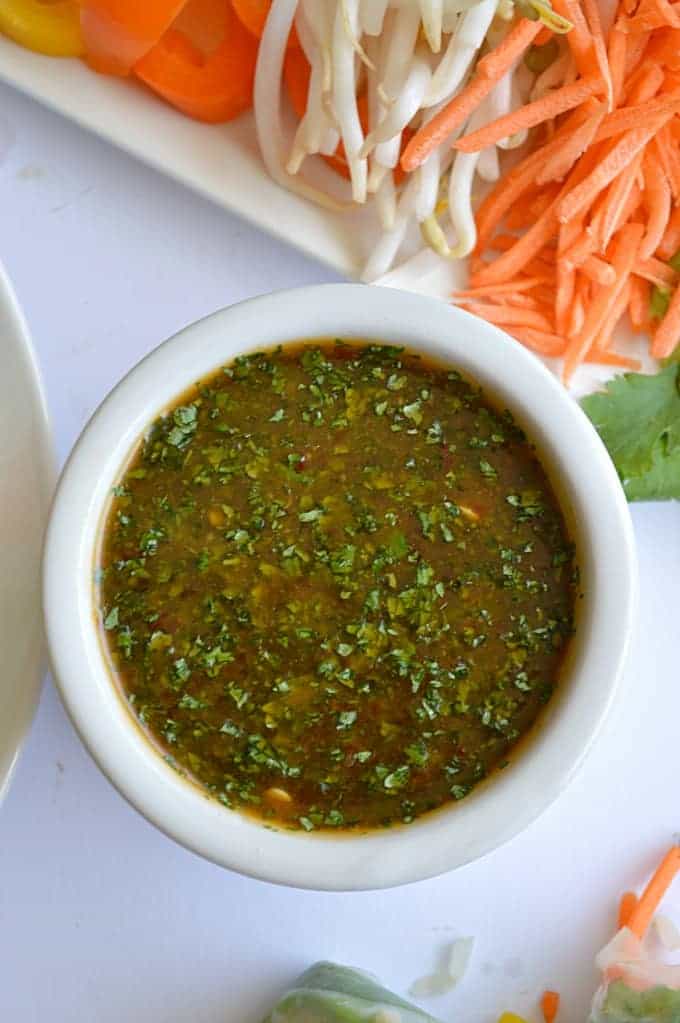 And that sauce.  Oh that sauce.  Trust me.  You want that sauce.  The agave makes it slightly sweet, while the Chili and Garlic gives a slight heat.  Pure perfection.  This sauce will definitely make your taste buds do a little happy dance.  Or you could be like my two year old..and dip them in ketchup.  Nope.  Not even kidding.  Did I stop her?  Nope.  I was so happy she was loving the carrots and bean sprouts so much!  In the recipe below I listed the veggies I used to fill my summer rolls, it's a wonderful combination of different textures, a little crunch, and little heat.  You can fill your summer rolls with any combination that you want.  If there's something listed you don't care for, it's an easy swap.  When building your summer rolls make sure you don't overstuff them, this can cause the papers to tear while your rolling.  But a nice sized handful of ingredients will get the job done! The more you make them, the easier it will become.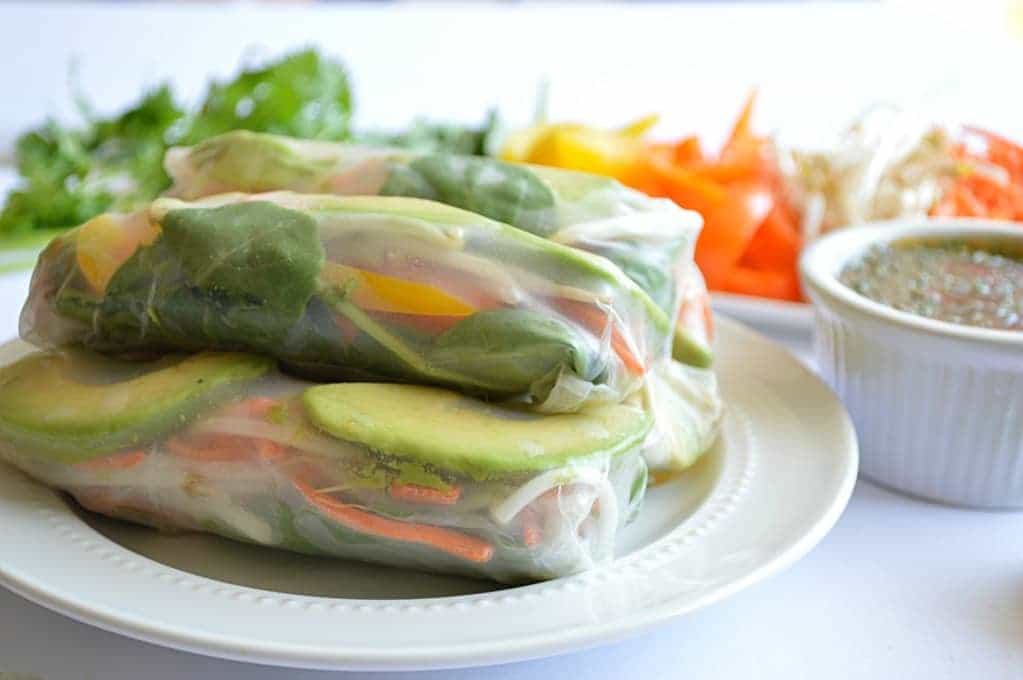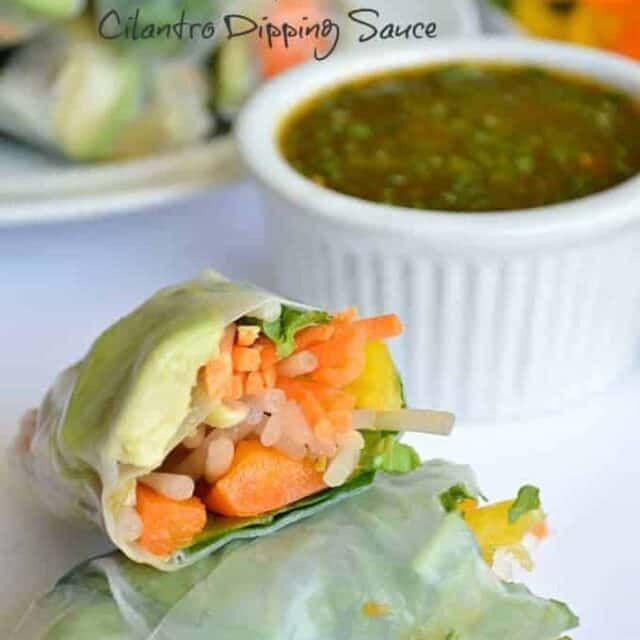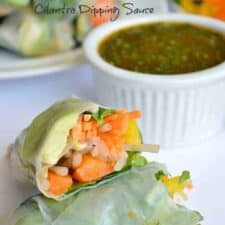 Avocado Summer Rolls with Sweet 'N Spicy Cilantro Dipping Sauce
Avocado Summer Rolls served with a Sweet 'N Spicy Cilantro Dipping Sauce. A healthy substitute for those fried avocado egg rolls from your favorite restaurant!
Ingredients
Avocado Summer Rolls
Rice Paper Wrappers
1 cup Baby Spinach
1 cup Bean Sprouts
1 Orange Bell Pepper
1 Yellow Bell Pepper
1 Carrots, grated
1 Avocado, sliced
Sweet 'N Spicy Cilantro Dipping Sauce
1/2 cup cilantro leaves, packed
1/3 cup extra virgin olive oil
1/3 cup agave
1/2 tbsp white vinegar
1½ tbsp Chili Garlic Sauce
Instructions
Avocado Summer Rolls
Prepare all the veggies, slice the bell peppers and avocado, set aside.

Fill a large dish, or pan with room temperature water. Dip one rice paper into the water, ensure that the entire paper is submerged into the water. Only leave it in the water for about 5 seconds. Place the wet rice paper onto a hard surface. Set filling, minus the avocado, on top of the paper, off to one side. Next to the filling, set two to three slices of avocado.

Start rolling the papers from the side closest to the fillings. Roll the fillings in first, then another roll to capture the avocado (this is how you make the avocado show on the top). Fold in both sides, and continue rolling, this will completely enclose the filling into the rice paper. Set aside and repeat with the remaining papers.
Sweet 'N Spicy Cilantro Dipping Sauce
Add the ingredients into a food processor, process together for about 1 minute, until the cilantro is completely chopped up and all ingredients are mixed together.

Spoon sauce into a serving bowl.

Serve immediately and enjoy!
Nutrition
Calories: 225kcal, Carbohydrates: 18g, Protein: 2g, Fat: 17g, Saturated Fat: 2g, Sodium: 225mg, Potassium: 333mg, Fiber: 4g, Sugar: 11g, Vitamin A: 2877IU, Vitamin C: 69mg, Calcium: 17mg, Iron: 1mg
More Healthy Options from House of Yumm:
Cilantro Lime Cauliflower Rice  
House of Yumm is a participant in the Amazon Services LLC Associates Program, an affiliate advertising program designed to provide a means for us to earn fees by linking to Amazon.com and affiliated sites.