Twix sugar cookie cups.  These sugar cookie cups are filled with caramel and topped with a decadent milk chocolate frosting and covered in even MORE caramel!  Inspired by Twix candy bars.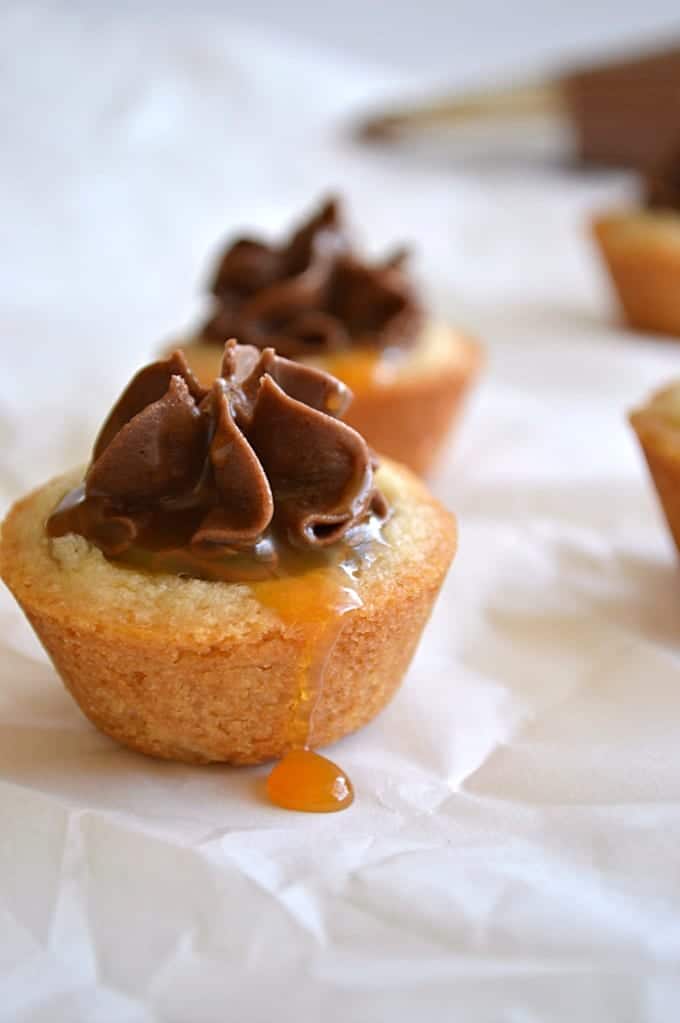 These Twix Cookie cups are easy to make.
Mix up the cookie dough as specified on the package, or make your own dough from your preferred recipe.  Roll the dough into small balls of about one inch in diameter and place into a mini muffin tin.  Press your thumb into the center and create a small crater, slightly pushing the dough up the sides.
Doing this step will help ensure the cookie cups cook more evenly and quickly. Even though when you pull them out of the oven the crater will basically have disappeared and be filled back in.
Once they're cooked you will need to press the center back in again and allow them to cool in the pan for about five minutes before removing them to cool on a wire rack.
Once they're completely cooled, fill with caramel, I used a caramel ice cream topping.  And top off with what could possibly be the best milk chocolate frosting I've ever tasted.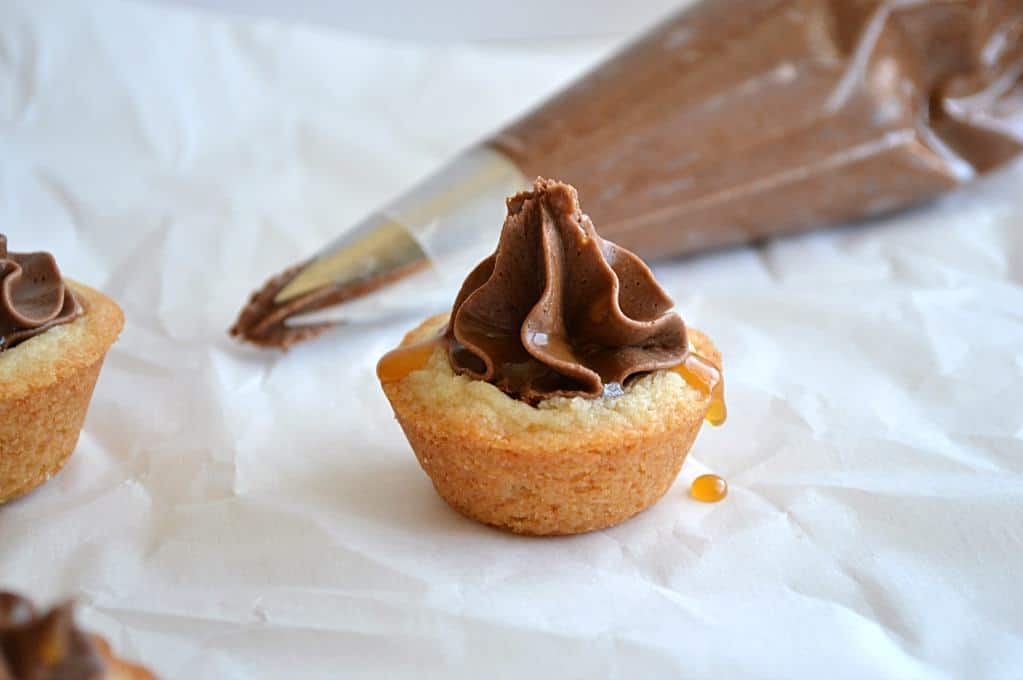 You are going to love these bite sized desserts because they are so easy to make, but they look and taste extravagant! These would be a great treat to bring to potlucks or any get together. Trust me, your friends will all be impressed!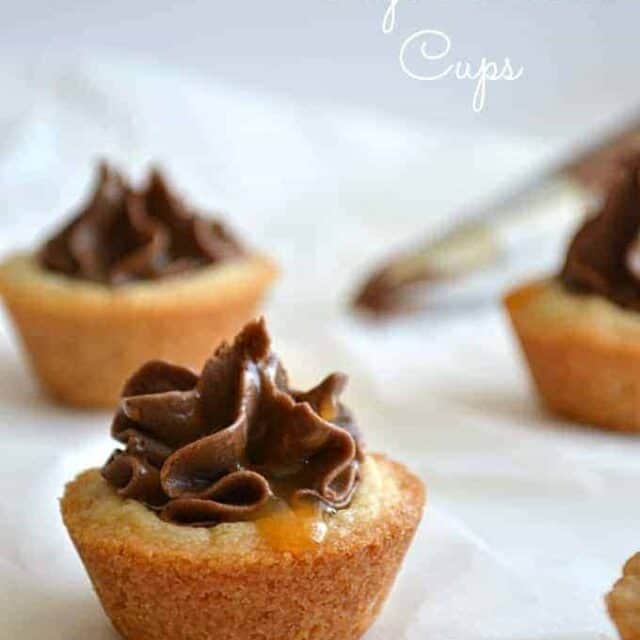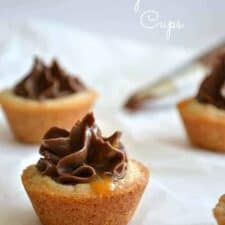 Twix Sugar Cookie Cups
These sugar cookie cups are filled with caramel and topped with a decadent milk chocolate frosting.
Ingredients
Sugar cookie dough
Caramel topping
Milk Chocolate Frosting
½ cup butter , room temperature
1 ½ cup powdered sugar
1 tbsp heavy cream
1 tsp vanilla extract
¼ cup cocoa powder
Instructions
Preheat oven to 375°F.

Roll sugar cookie dough into balls one inch in diameter. Place into mini muffin tin, press down center of the dough, so that there is a crater in the center.

Bake for 9 minutes or until cooked, cookie cups will be slightly golden in color and filled in, in the center. Using spoon press down the center to create the cup shape. Let cool in pan for 5 minutes and then remove onto a wire cooling rack to continue cooling.
Milk Chocolate Frosting
In mixer with whisk attachment, mix the room temperature butter and the sugar on low speed until blended, then continue to whisk on medium speed for another couple minutes.

Add in the vanilla, cocoa powder, and heavy cream. Beat for another 2-3 minutes, add more cream or sugar for desired consistency.

Fill the cookie cups with caramel topping, then top with the milk chocolate frosting. Add caramel to top as desired.

Store in air tight container at room temperature.
Nutrition
Calories: 68kcal, Carbohydrates: 8g, Protein: 1g, Fat: 4g, Saturated Fat: 3g, Cholesterol: 11mg, Sodium: 34mg, Potassium: 14mg, Fiber: 1g, Sugar: 7g, Vitamin A: 127IU, Calcium: 2mg, Iron: 1mg
House of Yumm is a participant in the Amazon Services LLC Associates Program, an affiliate advertising program designed to provide a means for us to earn fees by linking to Amazon.com and affiliated sites.