Thick and Creamy Broccoli Cheese Soup. A big bowl of this is basically as loving as a warm hug.
This broccoli cheese soup is the epitome of all things good in this world. It's thick. Creamy. Loaded with veggies. And lots and lots of CHEESE!! How could that possibly be wrong?
Plus this broccoli cheese soup has a secret. Just like my Secretly Healthy Potato Soup. Usually you will find this soup thickened with a roux made of butter and flour. My version skips all of that. We're going to just load this soup up with some more veggies and use a cauliflower puree! Again. I know. But starting with a cauliflower puree type soup is my new favorite thing in the world.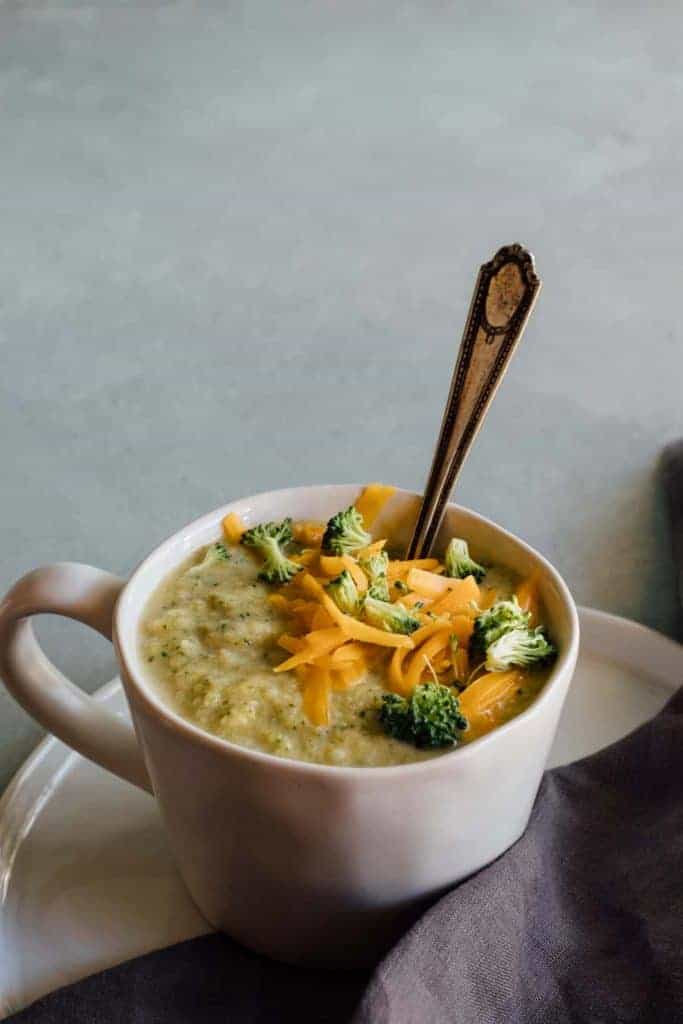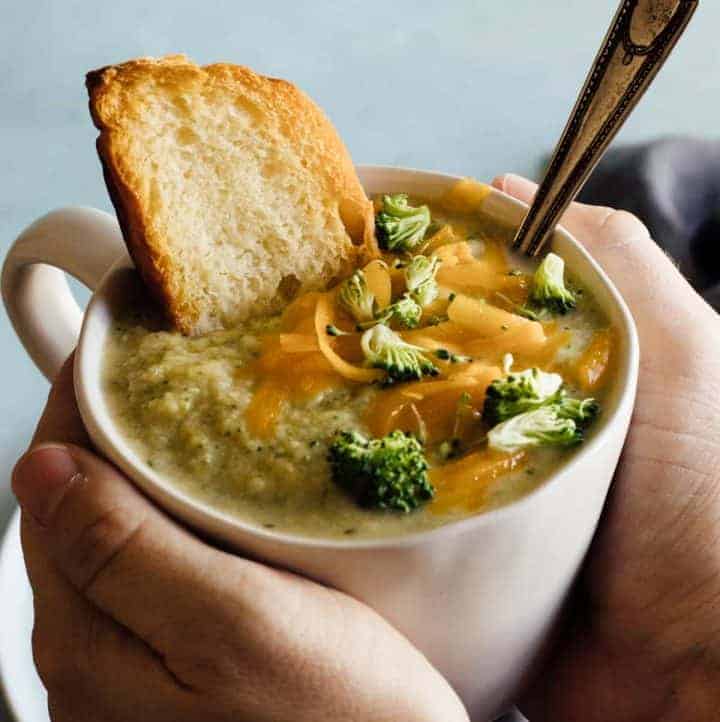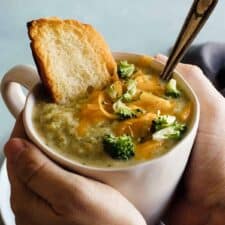 Thick & Creamy Broccoli Cheese Soup
A lighter version of Thick and Creamy Broccoli Cheese Soup! A secret ingredient makes this soup secretly lighter, healthier and epically creamy!
Ingredients
1 tbsp extra virgin olive oil
1/2 cup onion , diced
2 cloves garlic , minced
2 cups chicken broth, can swap for veggie broth if needed
1 cup milk, can use milk of choice, I used 2%
1 head cauliflower
1 bay leaf
⅛ tsp cayenne pepper
½ tsp salt
¼ tsp ground black pepper
4 cups broccoli florets
2 cups sharp cheddar cheese, plus more for topping
Instructions
In a large pot heat olive oil over medium heat. Add in the onion and cook for several minutes until softened. Add in the garlic and stir and let cook about 15 seconds or until fragrant.

Add in the broth and milk. Stir to combine. Add the cauliflower florets and seasonings. Bring to a simmer, cover and let simmer about 10 minutes until the cauliflower is softened and easily mashed with the stirring spoon.

Turn the heat off, remove the bay leaf, and using an

immersion blender

, blend the soup until the cauliflower is all pureed and no large chunks remain. (If you don't have an immersion blender you can carefully transfer the soup to a blender or food processor to blend, then return to the pot.)

Turn the heat back to medium heat, add the broccoli and bring soup back to a simmer. Cover and let cook another 10 minutes.

Once the broccoli is softened and easily mashed, then again turn the heat off and using the immersion blender, blend the broccoli to desired consistency. I prefer no large chunks in my soup, and to make it nice and creamy.

Once blended, turn the heat back to low, add the cheese and stir until the cheese is melted.

Serve warm and enjoy! Top with additional cheese if desired.
Nutrition
Serving: 1bowl, Calories: 210kcal, Carbohydrates: 20g, Protein: 14g, Fat: 7g, Saturated Fat: 3g, Cholesterol: 16mg, Sodium: 457mg, Fiber: 8g
SaveSave
House of Yumm is a participant in the Amazon Services LLC Associates Program, an affiliate advertising program designed to provide a means for us to earn fees by linking to Amazon.com and affiliated sites.