The Perfect Homemade Funfetti Cupcake with Vanilla Buttercream.  Fluffy cake loaded with sprinkles for bits of fun and color.  All topped with a creamy, homemade vanilla buttercream.  And more sprinkles of course!  So easy to make and sure to be a big hit!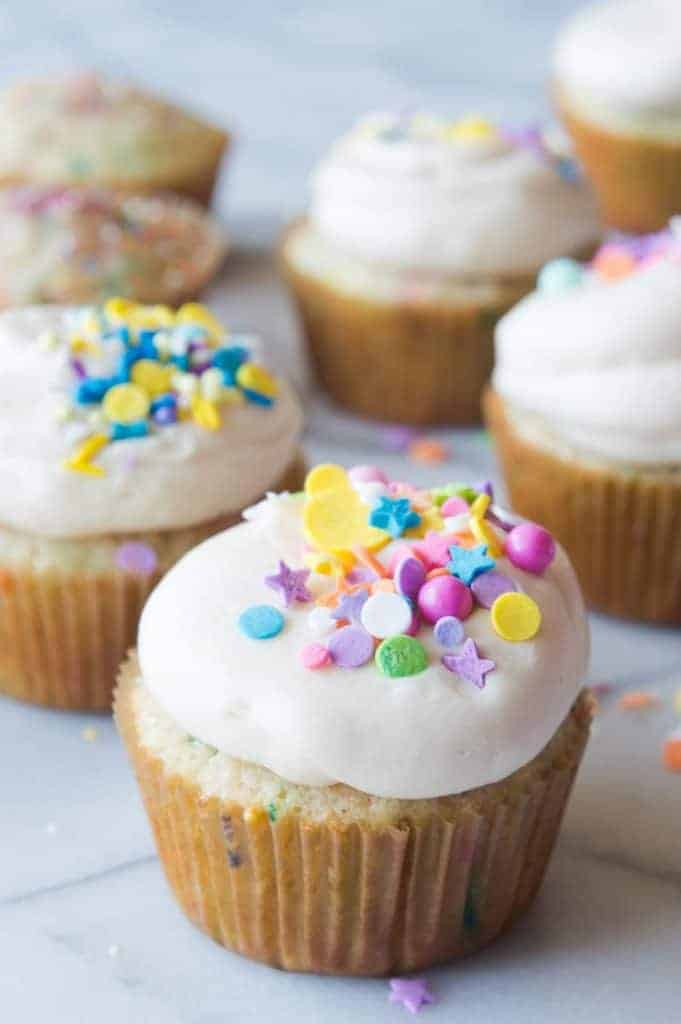 These homemade funfetti cupcakes are definitely a party in cupcake form.  Sprinkles.  Sprinkles and more sprinkles.  These cupcakes and especially these sprinkles on top just make me happy!!
And I have a couple of fun things to tell you today too.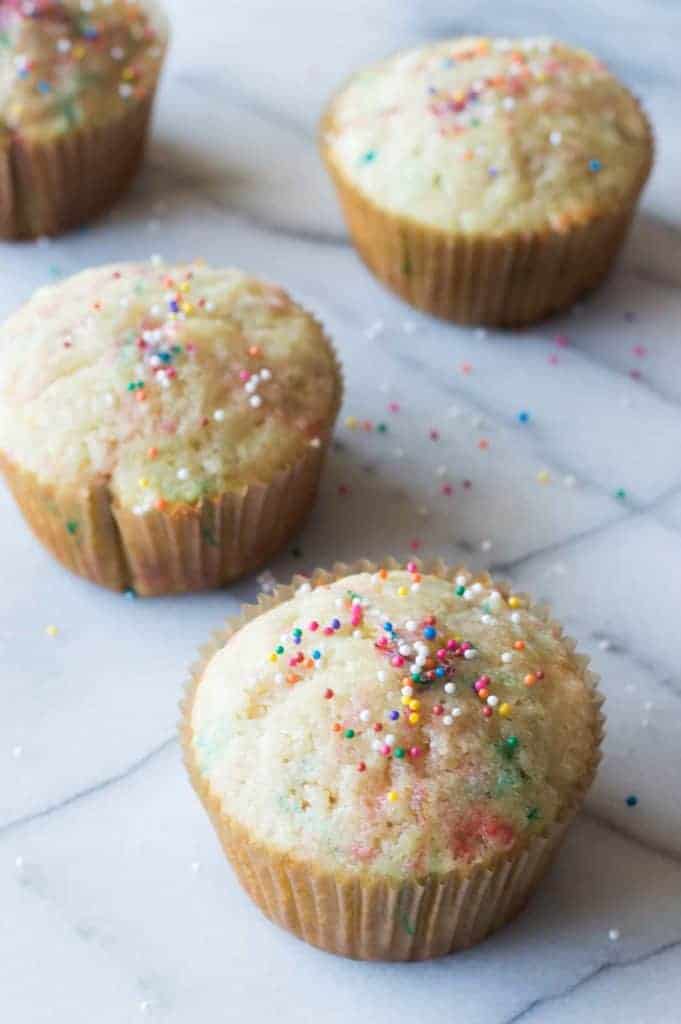 First of all, Happy Anniversary to this little blog here.  House of Yumm has been here and I've been sharing recipes with you for 3 years now!  I would say that it doesn't seem like it's been that long but that would make me feel old.
Another exciting announcement!  Have you noticed I've been slightly missing lately?  I haven't been sharing as many recipes lately, and there is a reason for that.  The hubs and I are expecting a baby!!  Baby #5 to be exact.  Yes.  yes we are well aware of what causes this and yes we are super excited to be welcoming another member to our family and our home.
So to explain my weird absence, food was kind of making me sick for a while.  Not to mention I just generally didn't feel well.  But hopefully that is all behind me and I can get back into the kitchen a bit more and cook up some delicious foods to share with you. And with my family.  I think they're tired of chicken nuggets and mac and cheese.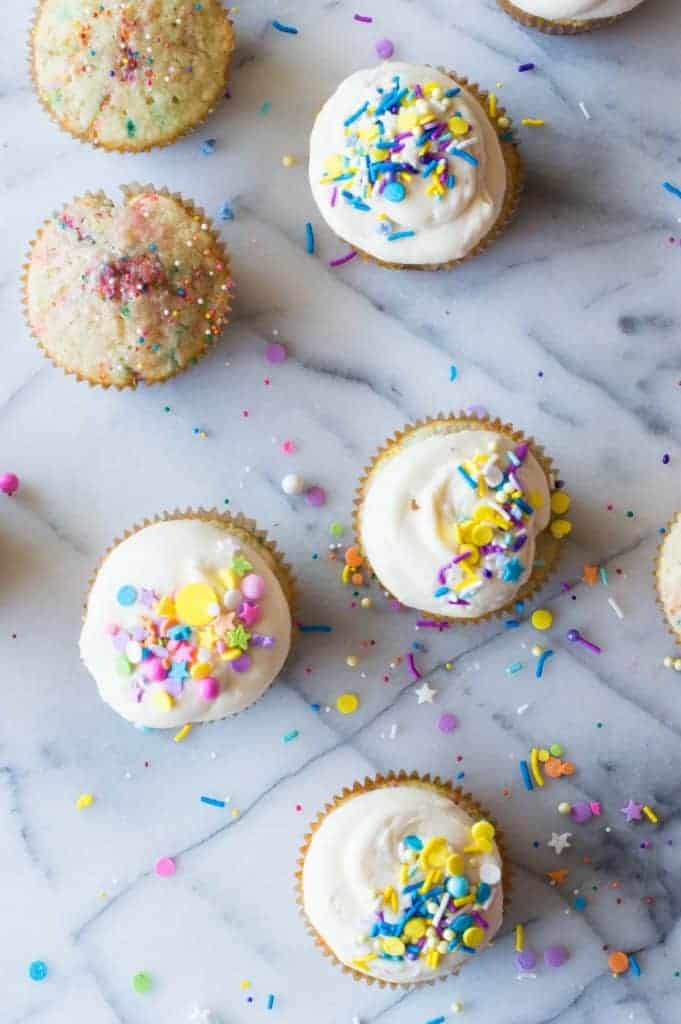 Onto these cupcakes!  They are based on my favorite Perfect Vanilla Cupcake recipe. They really are perfect, and you can click on over and read all the reviews and comments from others who have tried the recipe and loved it also.  So I know these funfetti cupcakes are going to be a huge hit!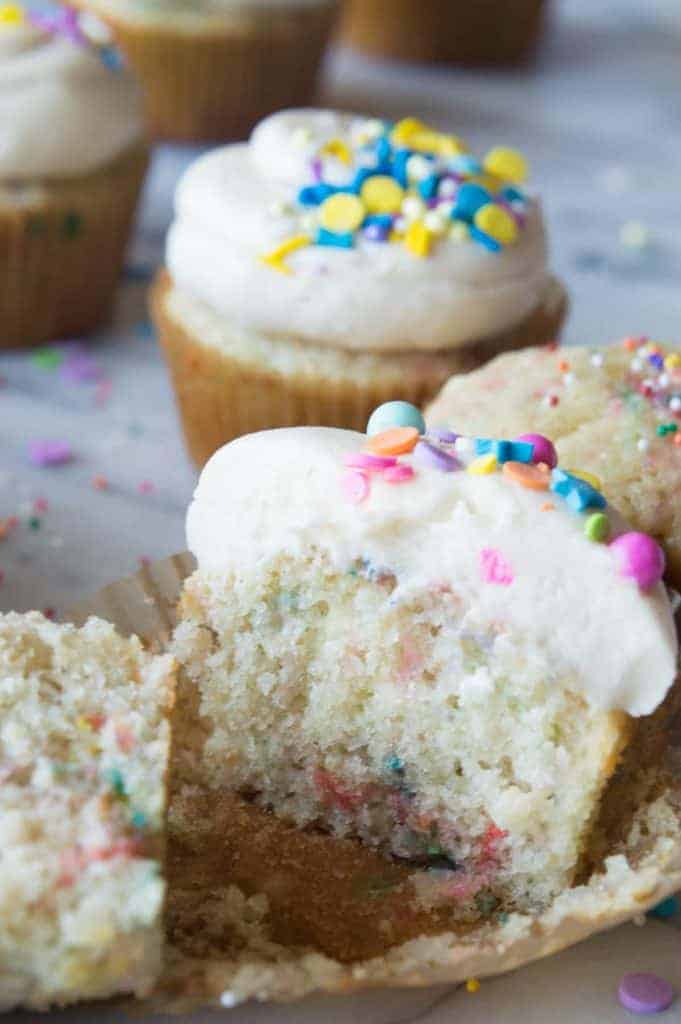 The cupcake recipe is made using greek yogurt which helps make the cake nice and moist.  It also has a lot of stability to the cake, it's not too soft and flimsy that it doesn't hold up to a nice thick frosting.  The frosting on the perfect vanilla cupcake recipe is a light and airy frosting made with mostly heavy cream.  This recipe however, has a wonderful creamy vanilla buttercream.  A classic.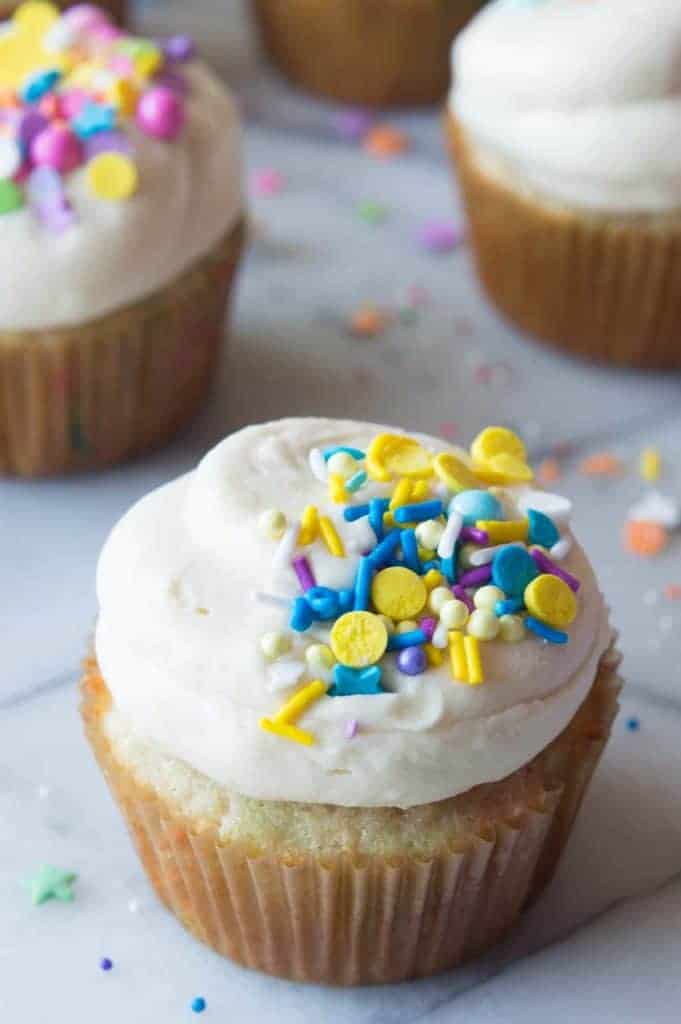 And can I mention these sprinkles??  I am in love.  They're from Sweetapolita's Sprinkle shop.  She sells so many fun and colorful sprinkle medleys.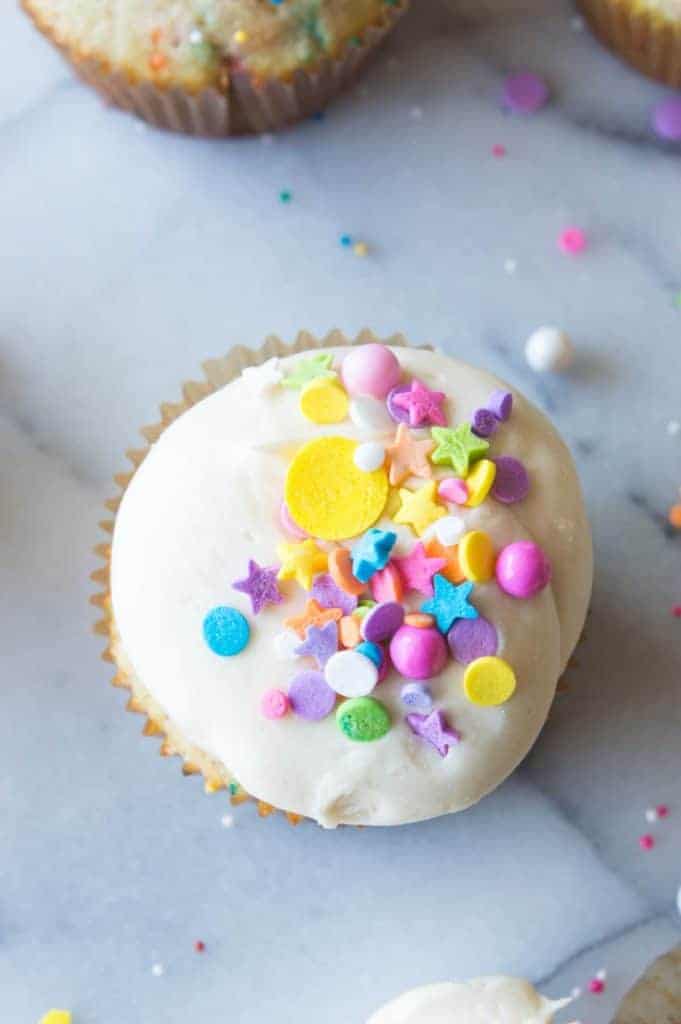 WANT TO TRY THIS HOMEMADE FUNFETTI CUPCAKE RECIPE?
PIN IT to your DESSERT or CUPCAKE Board to SAVE FOR LATER!
Serene @ House of Yumm
Serves 14 Cupcakes
The Perfect Homemade Funfetti Cupcake with Vanilla Buttercream
15 minPrep Time
16 minCook Time
31 minTotal Time
Ingredients
1 and 3/4 cup all purpose flour
1/2 teaspoon baking powder
1/2 teaspoon baking soda
1/2 teaspoon salt1 cup granulated sugar
1/2 cup butter (1 stick) at room temperature
2 large eggs
2 teaspoons vanilla extract
1/3 cup Vanilla Greek Yogurt
2/3 cup whole milk
1/4 cup sprinkles

Vanilla Buttercream

1/2 cup unsalted butter room temperature
2 cups powdered sugar
2 tablespoons heavy cream or half and half
1 and 1/2 teaspoons vanilla extract
Instructions
Preheat oven to 350 degrees. Line muffin tin with cupcake liners. Set aside.
In medium size bowl combine the flour, baking powder, baking soda, and salt. Whisk the dry ingredients together to incorporate. Set aside.
In mixing bowl add the room temperature butter. Beat on medium speed for about 1 minute to loosen up the butter, add in the sugar and beat on medium speed for about 2-3 minutes to cream the butter and sugar together until light and fluffy. *More information on this in the post
Add in the vanilla extract and add in the eggs one at a time, mixing in between.
Mix in the greek yogurt. Remove the bowl from the stand mixer.
Slowly add in 1/3 of the dry ingredients, then 1/3 of the milk. Mix with a rubber spatula gently, just until most of the flour is incorporated, not fully mixed. Continue with this method until all the milk and dry ingredients are added. Gently stir the batter to incorporate all the dry ingredients, it's ok if there's some lumps in the batter. Don't overmix.
Add the sprinkles and lightly fold into the batter. Too much stirring will cause the sprinkles to bleed a lot into the batter.
Scoop the batter into the cupcake liners filling them about 2/3 full. (I use a 1/4 cup measuring cup to fill my cupcake liners.)
Bake for 15-16 minutes until fully cooked, tops will be golden and a toothpick inserted into the center will come out clean.
Allow to cool in the tin for 2-3 minutes and then carefully remove cupcakes to continue cooling on a wire rack.

Vanilla Buttercream

Add the room temperature butter to a large mixing bowl. Beat until smooth and creamy.
Add in the powdered sugar, heavy cream or half and half, and vanilla extract. Continue to beat until frosting is smooth.
Add to pastry bag and pipe onto tops of cooled cupcakes.
Top with additional sprinkles. Enjoy!
7.6.4
590
https://houseofyumm.com/the-perfect-homemade-funfetti-cupcake-with-vanilla-buttercream/
More Cupcake Love