This larger than life chocolate cake is INCREDIBLY moist, full of flavor, plus it's topped with a fluffy, whipped chocolate ganache frosting.  Made to serve a crowd, this chocolate sheet cake is sure to please!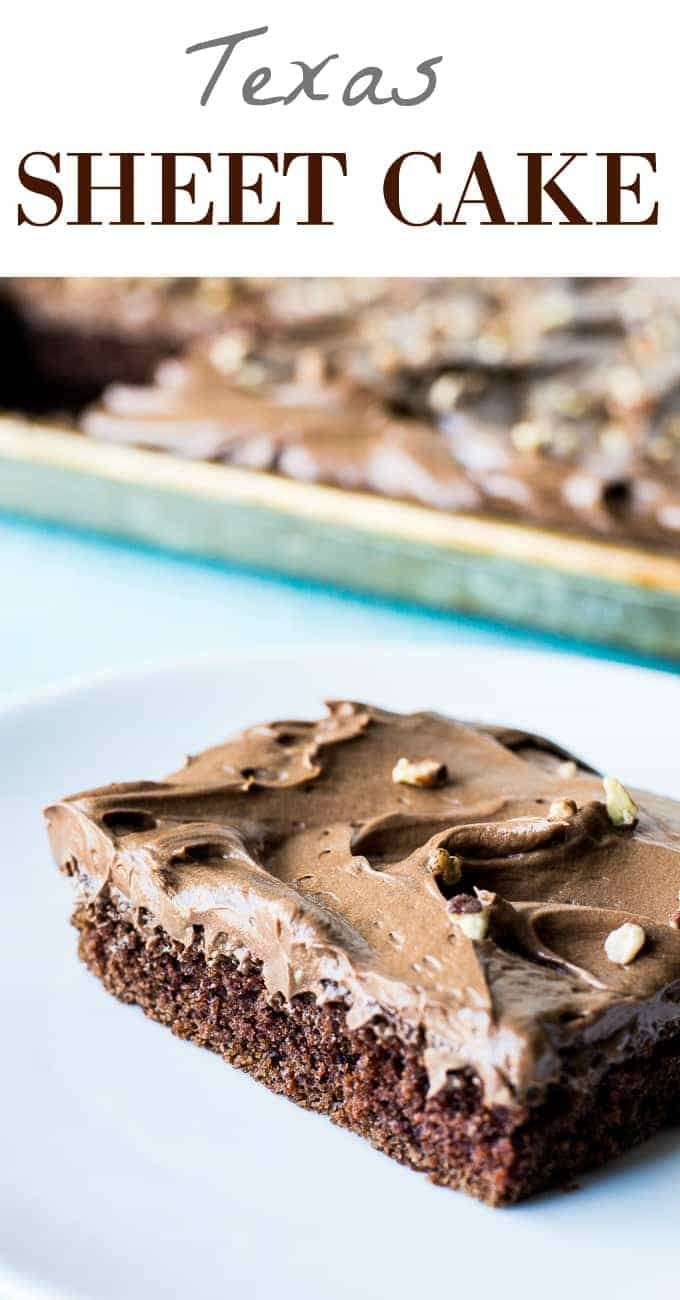 I have to say it, are you ready?  Everything is bigger in Texas.  Phew.  We got that out of the way.  Seriously though.  This cake.  This Texas Sheet Cake to be exact.  This cake is bigger than life.  Definitely big enough to serve my family, some friends, and still have some leftover for me to sneak pieces and bites from over the course of several days.  The cake itself is loaded with chocolate flavor, dark roasted coffee, a bit of spice from cinnamon, and it is beyond moist thanks to buttermilk.
The frosting though.  Ohhh the frosting.  Whipped Chocolate Ganache frosting.  *Swoon*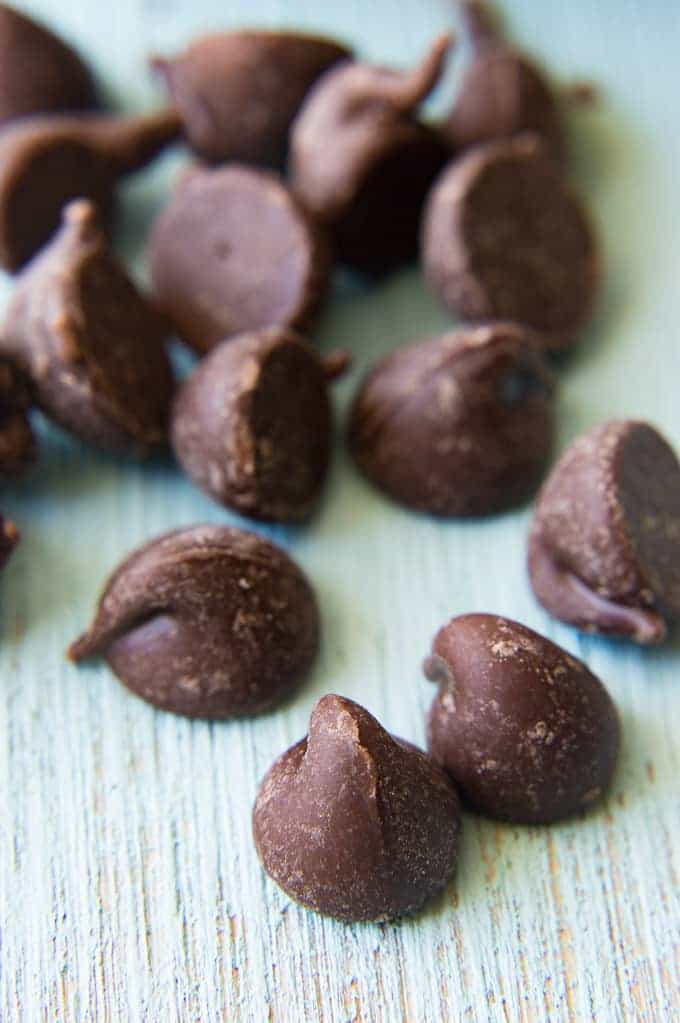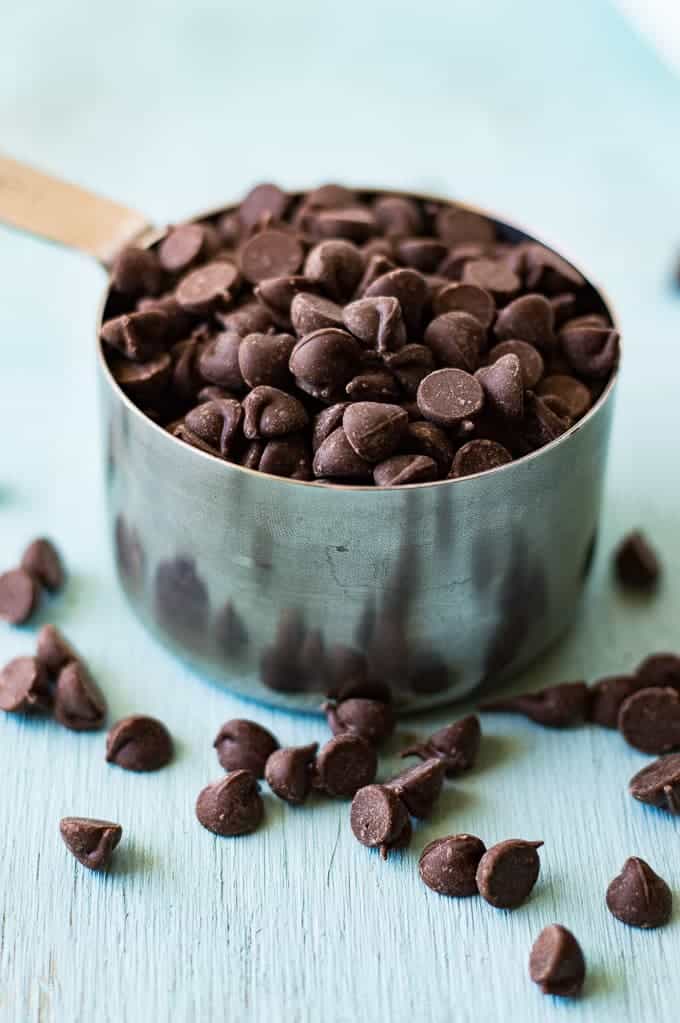 Just a little chocolate to look at on a Monday morning.  Plus I was having fun playing with my new camera lenses.  Y'all know I'm not the best photographer, I'm learning though.  I'm having some fun trying out taking some close ups of a few of my favorite things.  Chocolate chips being one of them.
Now let's take a look at that cake.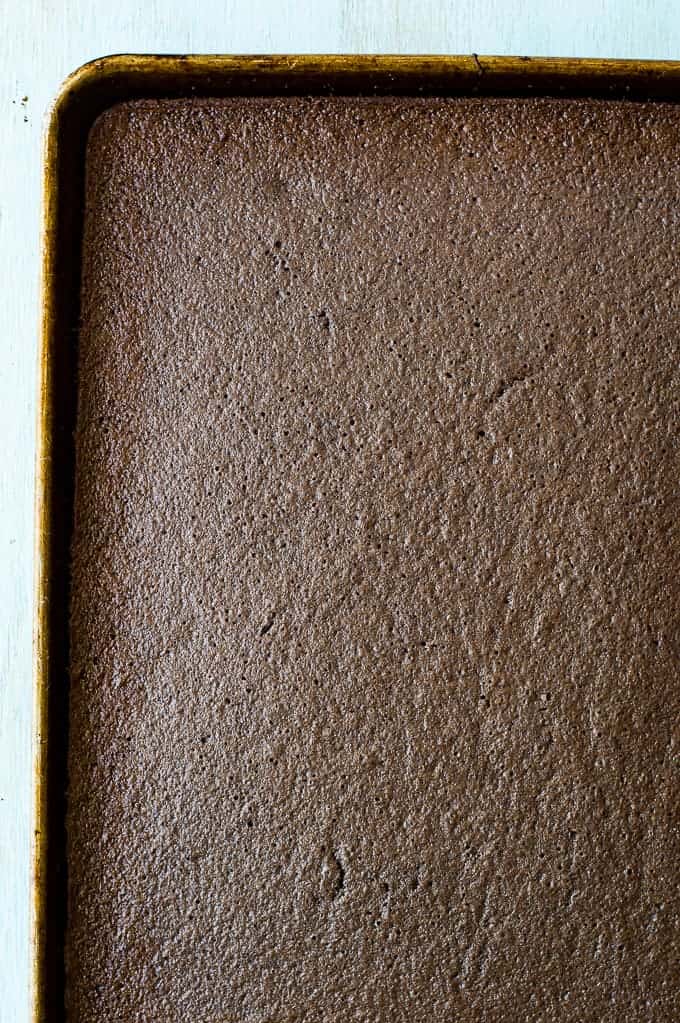 And that frosting..This is the same frosting I used when I made these Eclair Cookie Cups.  It's so easy to make, it's really only two ingredients, and it's sooooo good.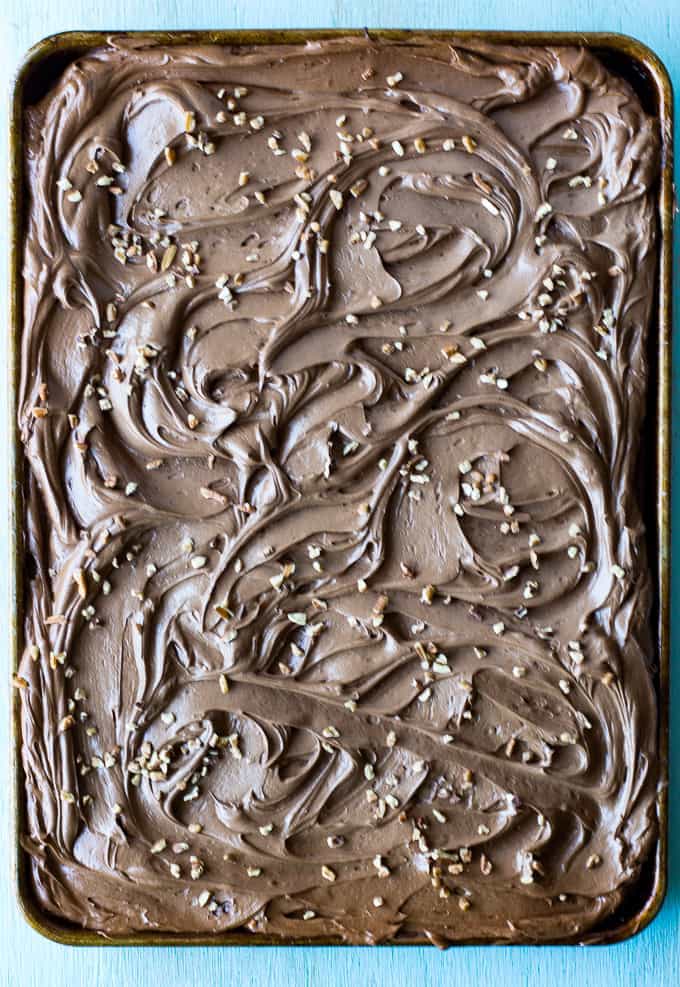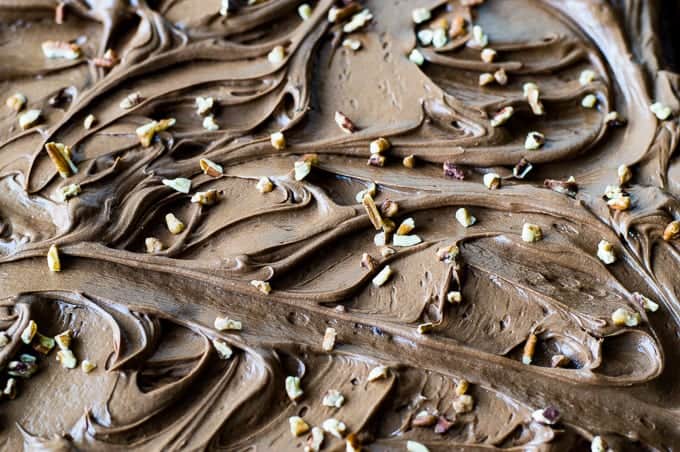 This cake is definitely something I would recommend making if you're expecting company, or if you just REALLY like chocolate cake. Just because it is meant to make a large amount.  I used an industrial size baking sheet I have from Costco, but you can use jellyroll pans also if you have those.  And if you don't have a large pan to use, definitely divide it up and bake two cakes!  And if you're afraid that you'll have too much cake, don't! Just let me know you're making it and I will be there in a heartbeat to help out.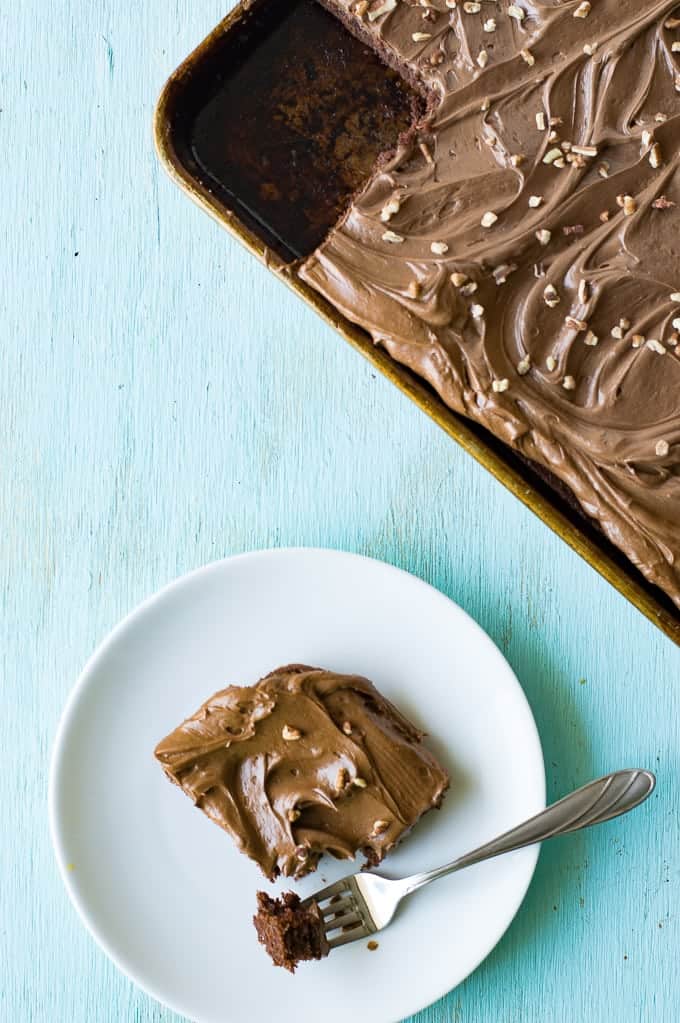 To make this even more Texan there is absolutely a sprinkling of pecans on top of the frosting.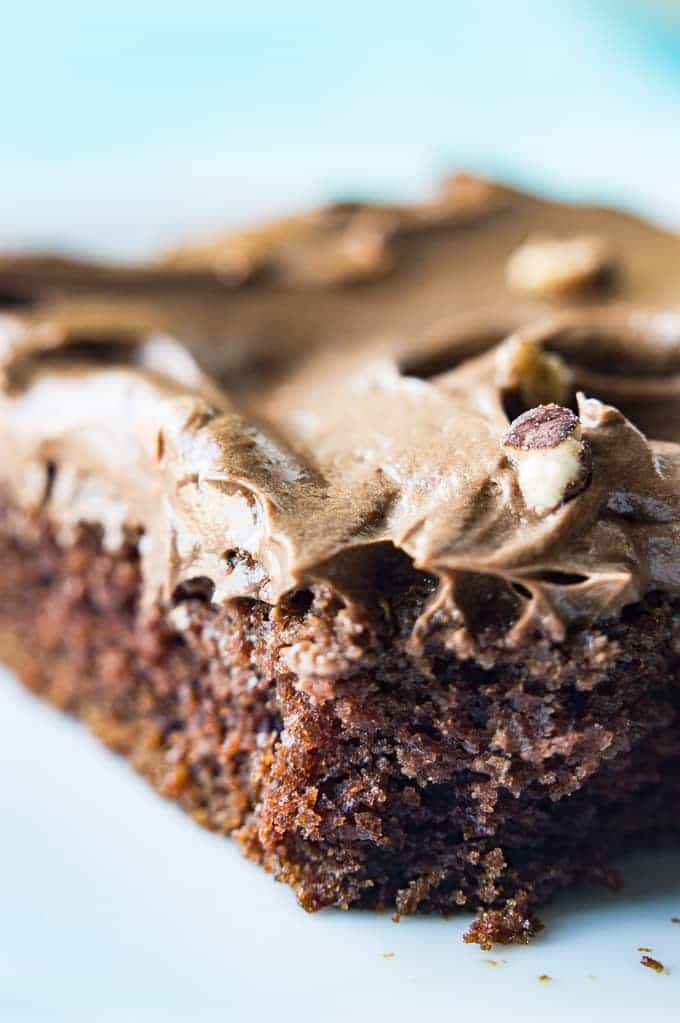 Texas Sheet Cake
Perfect for feeding a crowd, or just a few serious cake lovers.
Chocolate cake flavored with dark coffee, cinnamon, and super moist thanks to buttermilk.
Don't have buttermilk?  No worries, add a bit of vinegar or lemon juice to milk, let it sit a few minutes.
Whipped chocolate ganache? Swoon worthy.
Pecans-optional.  But honestly, totally necessary.
I hope you enjoy the recipe!  You can follow along with me and never miss a recipe by signing up for my newsletter.  Follow me on Instagram and tag #houseofyumm so I can see all the recipes you make.  Plus follow me on snapchat! @houseofyumm ?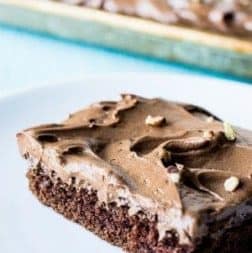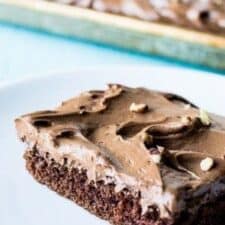 Texas Sheet Cake with Whipped Ganache Frosting
This larger than life chocolate cake is INCREDIBLY moist, full of flavor, plus it's topped with a fluffy, whipped chocolate ganache frosting. Made to serve a crowd, this chocolate sheet cake is sure to please!
Ingredients
1 cup unsalted butter
½ cup unsweetened natural cocoa
3 tbsp canola oil or vegetable oil
1 cup dark brewed coffee
2 cups all-purpose flour
2 cups light brown sugar
1 tsp baking soda
½ tsp salt
1 tsp ground cinnamon
2 large eggs
½ cup buttermilk
2 tsp vanilla extract
Whipped Chocolate Ganache Frosting
4 cups chocolate chip, milk or semi-sweet chocolate
1 pint heavy cream
1-2 tbsp powdered sugar, to achieve desired thickness and sweetness of frosting
chopped pecans, optional
Instructions
Grase or spray a large baking sheet with cooking spray, I used a 15x10 inch baking tray. Can use a jellyroll pan also. Set aside. Preheat oven to 375℉ degrees.

In small saucepan melt the butter, add in the cocoa and whisk to combine. Add in the oil and brewed coffee. Stir to combine. Bring to a boil and allow to boil about 30 seconds. Remove from heat and allow to cool for about 5 minutes.

While that cools add the flour, sugar, baking sofa, salt, and ground cinnamon to a large mixing bowl. Whisk to combine.

When the wet ingredients are cooled, pour into the dry ingredients and stir to combine.

In a small bowl whisk together the eggs, buttermilk, and vanilla extract. Pour into the batter and stir to combine.

Pour the batter onto the baking sheet.

Bake at 375℉ for about 30 minutes or until a toothpick inserted into the center comes out clean.

Remove from oven and allow to cool.
Whipped Chocolate Ganache Frosting
Pour chocolate chips into a large mixing bowl and set aside.

Pour the heavy cream into a medium size sauce pan and heat over medium heat until just starting to boil. Pour the hot cream over the chocolate chips and stir, the chocolate will melt, mix so that the cream and chocolate are combined. Will be slightly runny. Place the bowl into the refrigerator and allow to cool for about 30 minutes.

Remove the bowl from the fridge and using a mixer or whisk beat the chocolate until it thickens and starts to hold form. Add in the powdered sugar and mix some more.

Frosting will be thick and hold peaks.

Spoon onto the cooled cake, and swirl around using a butter knife or offset spatula.

Sprinkle with pecan pieces.

Serve and enjoy!

Can be stored covered at room temperature for about 3 days.
Nutrition
Calories: 425kcal, Carbohydrates: 49g, Protein: 4g, Fat: 25g, Saturated Fat: 14g, Cholesterol: 66mg, Sodium: 146mg, Potassium: 97mg, Fiber: 2g, Sugar: 37g, Vitamin A: 621IU, Vitamin C: 1mg, Calcium: 78mg, Iron: 1mg
 * Cake recipe adapted from Epicurious 
House of Yumm is a participant in the Amazon Services LLC Associates Program, an affiliate advertising program designed to provide a means for us to earn fees by linking to Amazon.com and affiliated sites.