Easy, cheesy Texas Lasagna!  This casserole dish is LOADED with southwest flavors. Layers of corn tortillas, flavorful meat sauce, plus a chile pepper cheese layer will have your mouth watering! Perfect dish for company or family dinner!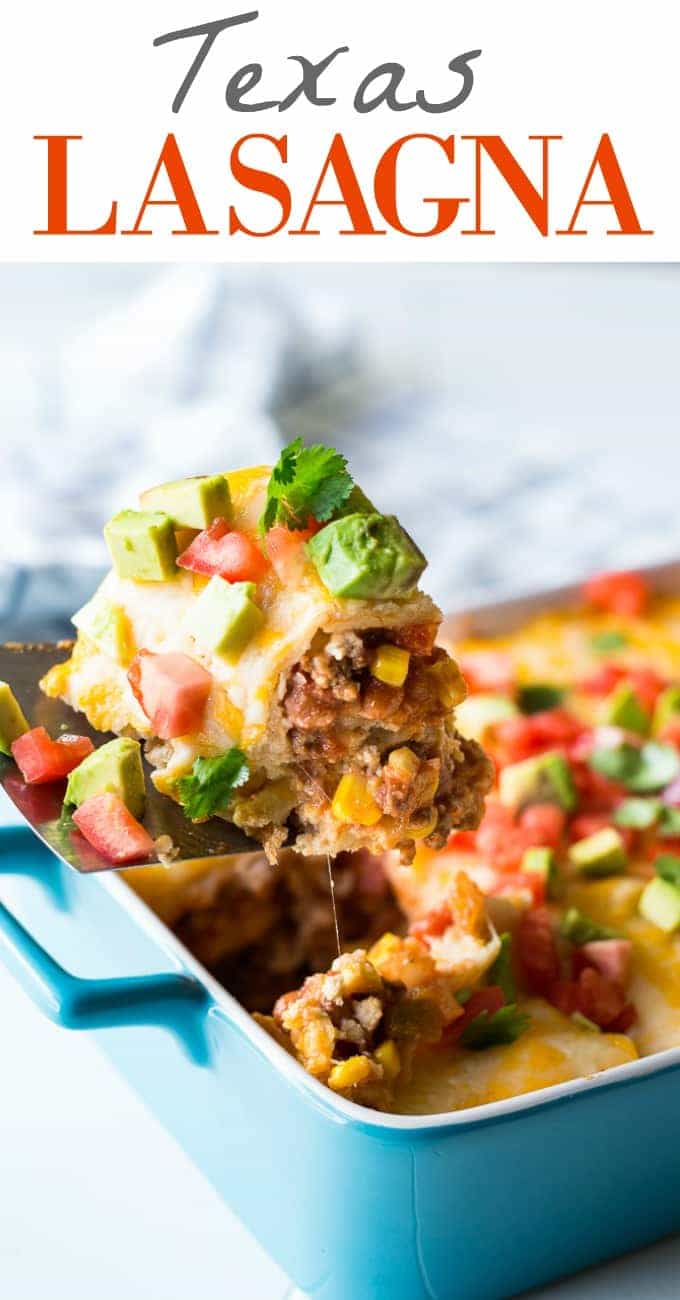 Texas Lasagna.  Pure genius.  If ever there were a state that needed it's own lasagna I suppose it would be Texas.  As they say, Texas is like a whole 'nother country.  So what exactly is Texas Lasagna?  I'm so glad you asked!  It's kind of like stacked enchiladas, and kind of like, well..lasagna.  I got the idea from Taste of Home and I ran with it.  I loved how they combined the layer of cottage cheese like a real lasagna with a stacked enchilada type dish.  I was scared at first, and I went with a ricotta just due to personal preference, I didn't know quite how those flavors would mix, but I doctored up the recipe a bit and I'm so excited to share it with you!!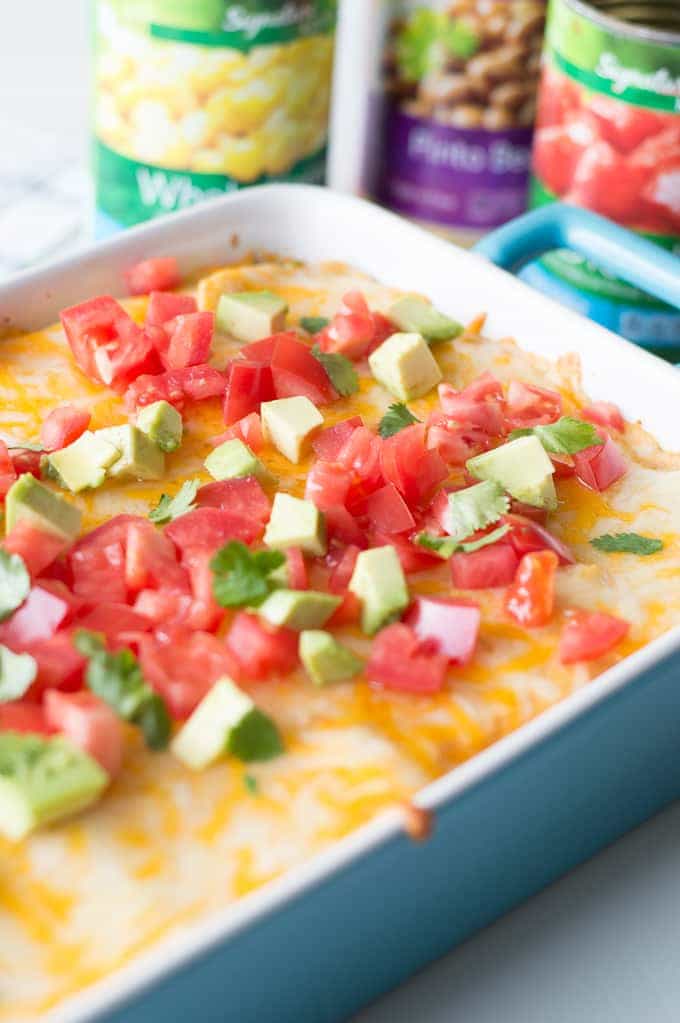 One of the things I love most about this recipe is how easy it is to make it.  You know I have that whole team of kids in the house.  And well, guess what time it is again.  Soccer season!!  We started this last week.   First games were yesterday on Saturday.  With two kids playing we're all over the place with practice and games.  For my sanity I need easy meals.  I hope you know by now that's my thing.  I'm sure that's why you're here too!  I barely have time to sit down and enjoy a meal, let alone make it.  Not even joking.  After taking about two bites of my meal little miss is requesting a bath.  Highlight of her day.  As long as the water is running.  Once the water shuts off..she's done.  Anyway… back to Texas Lasagna.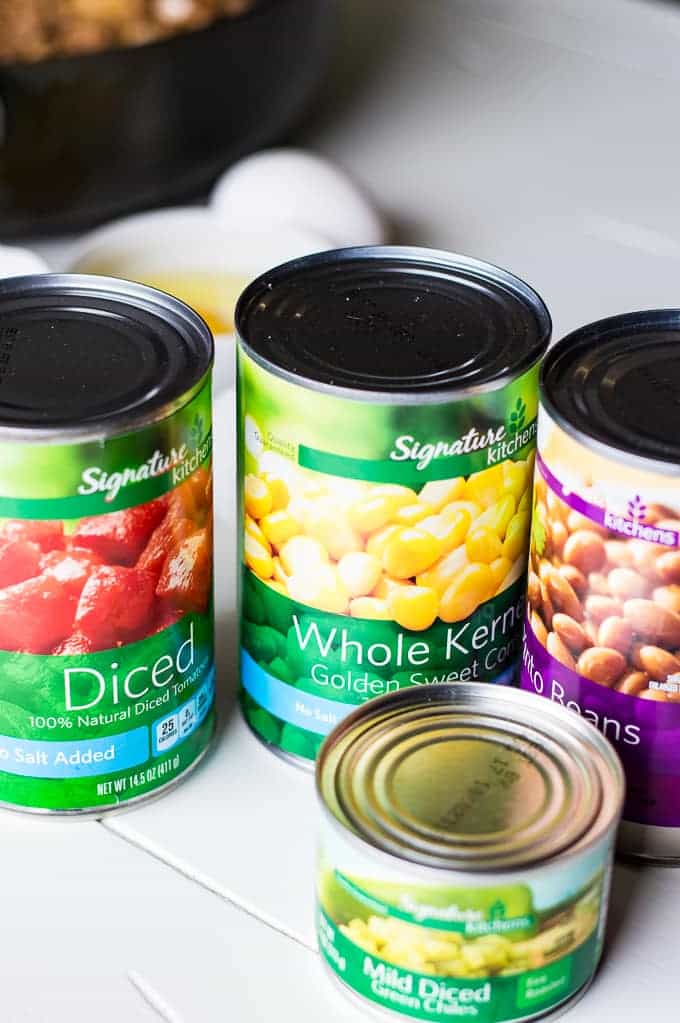 Canned foods.  That's one of the reasons this dish is super easy.  Canned veggies definitely cut down on the prep time for this dish, which makes it even easier to bring a healthy meal to the table for the family.  Plus, bonus, I can get the canned veggies at our favorite market, Tom Thumb, for a great price.  Slightly less expensive to go that way than getting everything fresh and only using a small portion of it.  Now, I know, I know.  I loaded this casserole with cheese.  But other than the cheese, everything in here is pretty clean.  My kids ate this all up, every last kernel of corn, every last bite of tomato.  So I'm slightly pleased with myself.  I mean, if you had to, you could cut down on the amount of cheese in yours.  But if you choose to do so, please don't leave me a comment about how it wasn't everything you hoped and dreamed it would be.  Because.  Well.  Cheese.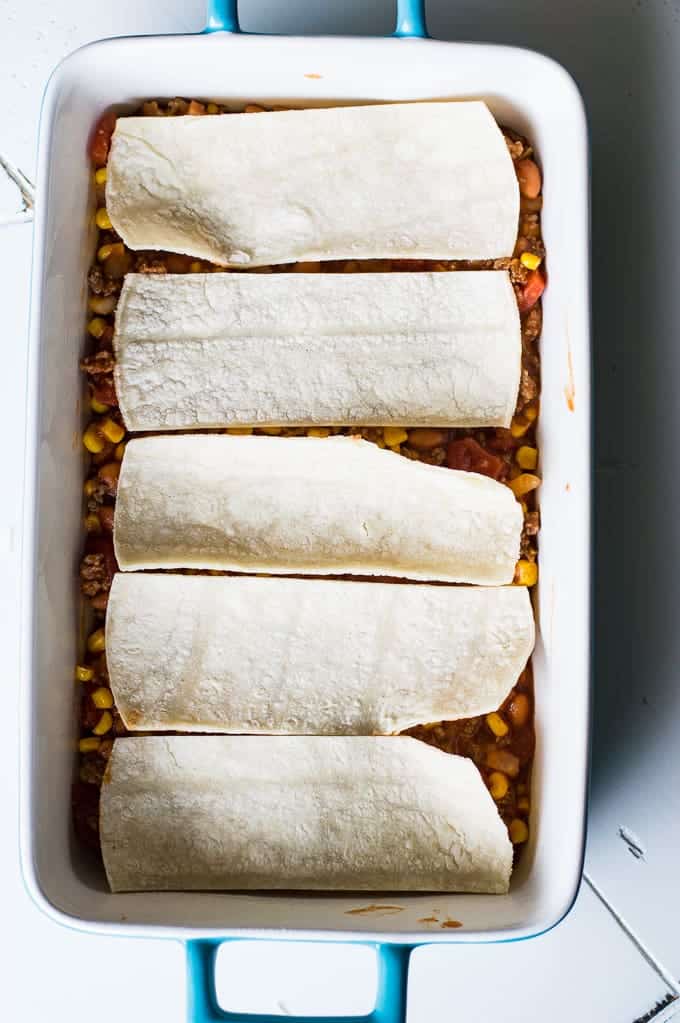 Alright, do you want a few tips on how to set this all up?  I'm sure you do!!  Seriously, when I make lasagna I read and re-read and then re-read the instructions over and over to make sure I'm putting my layers together right.  As though my whole world will be destroyed if my lasagna layers are out of order.  So!  To save you lasagna anxiety let me make this super easy for you!  Start with a layer of tortillas on the bottom of the dish.  This makes it so much easier to serve.  Genius right?  Ok then we put a little meat.  Then another layer of tortilla.  And I shared a pic above to give you a little idea of how I cut my tortillas for the layers.  The curved ends are on the bottom of the dish and will be on the very top layer.  I did it this way in the middle for support.  It's like when architects design buildings.  I would imagine.. I guess I wouldn't know since I'm not an architect.  But consider this lasagna architecture.  We need stability and support.  On top of the tortillas we put the ricotta, the tortillas make it so easy to spread it around in a nice even layer.  Then a nice thick sprinkling of cheese because it makes us happy.  Then we do it all over again.  Meat, tortilla, ricotta, cheese.  Happiness.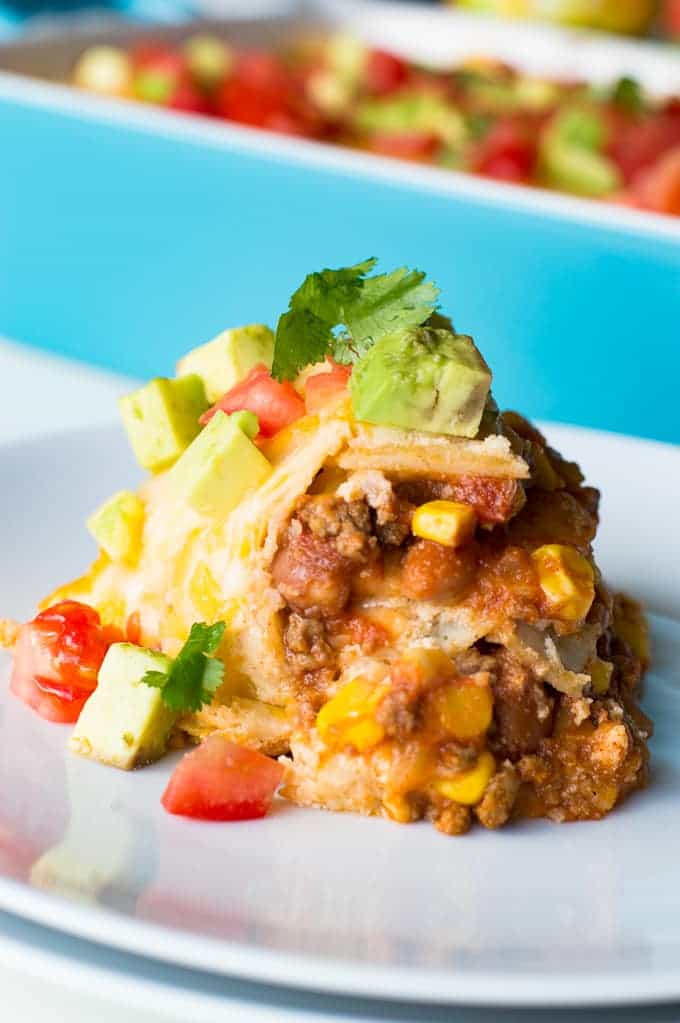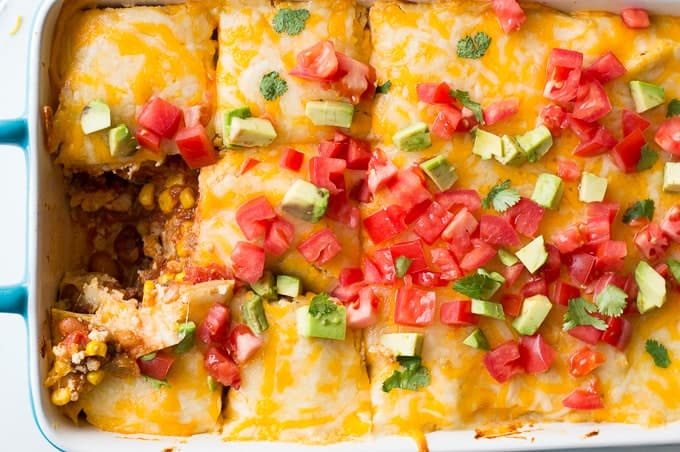 So above I told you about our favorite store being Tom Thumb right?  Oh my goodness.. you guys.  I'm such a nerd.  They're doing this monopoly game thing right now.  Where you get game pieces based on how many groceries and what groceries you get.  Helllooooo?!  Have you met me?!  I live in this market you guys.  The people there all know us.  Probably since whenever we go to the market, the whole crew goes.  Anyway.  I've been collecting my pieces, because I honestly think my odds of winning are like 1 in 20 because of how many groceries we get.  I am a Minute Rice away from winning 1 million dollars y'all!  Or if we're really lucky we'll get that $5000 in groceries and then I can start working on some prime rib and lobster recipes or something for you guys.  Then it's like we're all winning.  These are the things I spend my time dreaming about.  Am I the only nerd out here collecting those pieces? Please tell me I'm not the only one..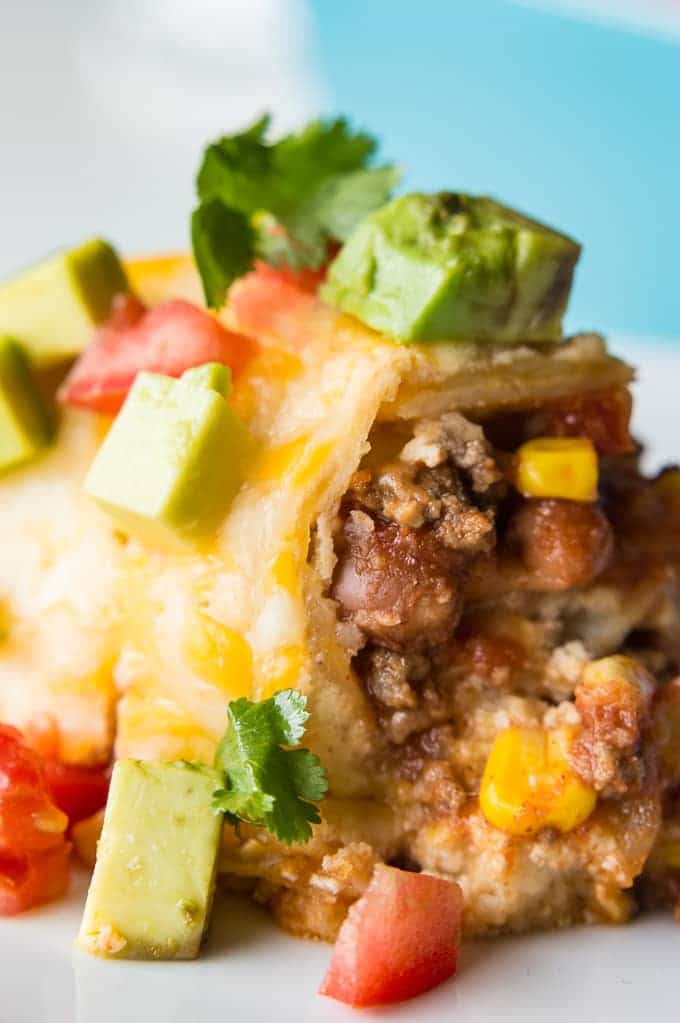 I hope you enjoy the recipe!  You can follow along with me and never miss a recipe by signing up for my newsletter.  Follow me on Instagram and tag #houseofyumm so I can see all the recipes you make.  Plus follow me on snapchat! @houseofyumm ?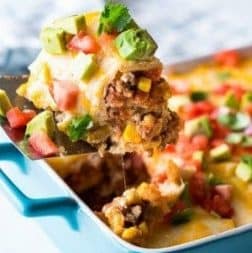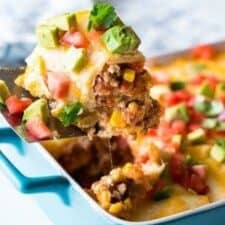 Texas Lasagna
Easy, cheesy Texas Lasagna! This casserole dish is LOADED with southwest flavors. Layers of corn tortillas, flavorful meat sauce, plus a chile pepper cheese layer will have your mouth watering! Perfect dish for company or family dinner!
Ingredients
1½ lbs ground beef
1/2 yellow onion , diced
1 (15 ounce can) tomato sauce
1 (4 ounce can) diced green chiles
1 (15.25 ounce can) whole kernel golden sweet corn
1 (15 ounce can) pinto beans
1 (14.5 ounce can) diced tomato
2½ tsp chili powder
1 tsp cumin
¼ tsp dried oregano
½ tsp garlic powder
½ tsp salt
Cheese Layer
15 ounces ricotta cheese
2 large eggs
½ tsp chili powder
4 cups mexican shredded cheese, can use cheddar or jack also
Instructions
Prepare a casserole dish (I used a 9x13) by spraying with cooking spray. Set aside. Preheat oven to 350°F.

Add the sound beef to a large skillet, cook over medium heat until mostly browned. Add in the diced onion. Continue to cook, breaking up the meat until it is fully browned. Add the tomato sauce, green chiles, corn, pinto beans, diced tomatoes and stir to combine.

Mix in the spices and stir. Allow the meat sauce to simmer over low medium heat for about 10 minutes.

In the meantime prepare the cheese, in a medium size bowl add the eggs and whisk. Spoon in the ricotta cheese and stir to combine. Add in the chili powder and stir until mixed. Set aside.

To layer the lasagna start with a layer of tortillas on the bottom. Spoon half of the meat mixture on top. Then add another layer of tortillas, as shown in the picture above. Cover with half of the ricotta cheese mixture. Then 2 cups of shredded cheese. Then repeat with the other half of the meat, a layer of tortillas, the ricotta cheese mixture, then the remaining shredded cheese.

Bake uncovered for 30 minutes.

Remove from the oven and allow to set for a few minutes to cool. Serve warm and enjoy!
Nutrition
Calories: 532kcal, Carbohydrates: 4g, Protein: 35g, Fat: 41g, Saturated Fat: 21g, Cholesterol: 182mg, Sodium: 671mg, Potassium: 379mg, Fiber: 1g, Sugar: 1g, Vitamin A: 965IU, Vitamin C: 1mg, Calcium: 507mg, Iron: 3mg
This is a sponsored conversation written by me on behalf of Tom Thumb. The opinions and text are all mine.
House of Yumm is a participant in the Amazon Services LLC Associates Program, an affiliate advertising program designed to provide a means for us to earn fees by linking to Amazon.com and affiliated sites.