Tex Mex Enchilada Dip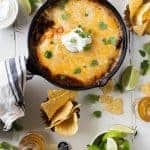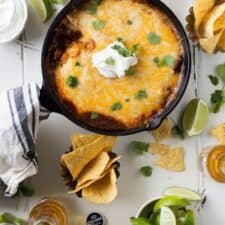 Author:
Prep Time:

5 minutes

Cook Time:

30 minutes

Total Time:

35 minutes
Ingredients
Chili Gravy
1/4 cup vegetable oil, or shortening
1/4 cup all-purpose flour
1/2 teaspoon black pepper
1 teaspoon salt
1 teaspoon garlic powder
2 teaspoon ground cumin
1/2 teaspoon dried oregano
2 tablespoons chili powder
2 cups beef broth
Ground Beef
1 lb ground beef
1/2 cup diced yellow onion
1 packet taco seasoning
2/3 cup water
1 cup shredded cheddar cheese
Additional toppings-Optional
sour cream
cilantro
avocado
tomato
olives
green onion
Instructions
Chili Gravy
Heat the shortening or oil in a medium size sauce pan over medium heat. Once the shortening is melted or the oil is heated add in the flour. Whisk until fully combined, will be a thick white sauce. Cook for about 2 minutes while stirring.
Add in the spices, stir to combine. Will be a thick dark red paste. Allow this to cook for an additional 2 minutes. Then pour in the beef stock. Stir so that it is a smooth liquid, all the thick spices are mixed in. Bring to a simmer and allow to simmer for about 10-15 minutes to thicken. Remove from heat.
In another small saucepan cook add the ground beef and onion. Cook over medium heat until the meat is browned and cooked. Add in the taco seasoning and water, stir to combine. Cook for about 5 more minutes while stirring.
In a small dish or cast iron skillet layer the ground beef, top with the chili gravy and top with the cheese. Bake in the oven at 375 degrees for 15 minutes or until the cheese is melted and bubbly.
Serve the dip warm.
Top with any additional desired toppings and serve with chips.
Enjoy!