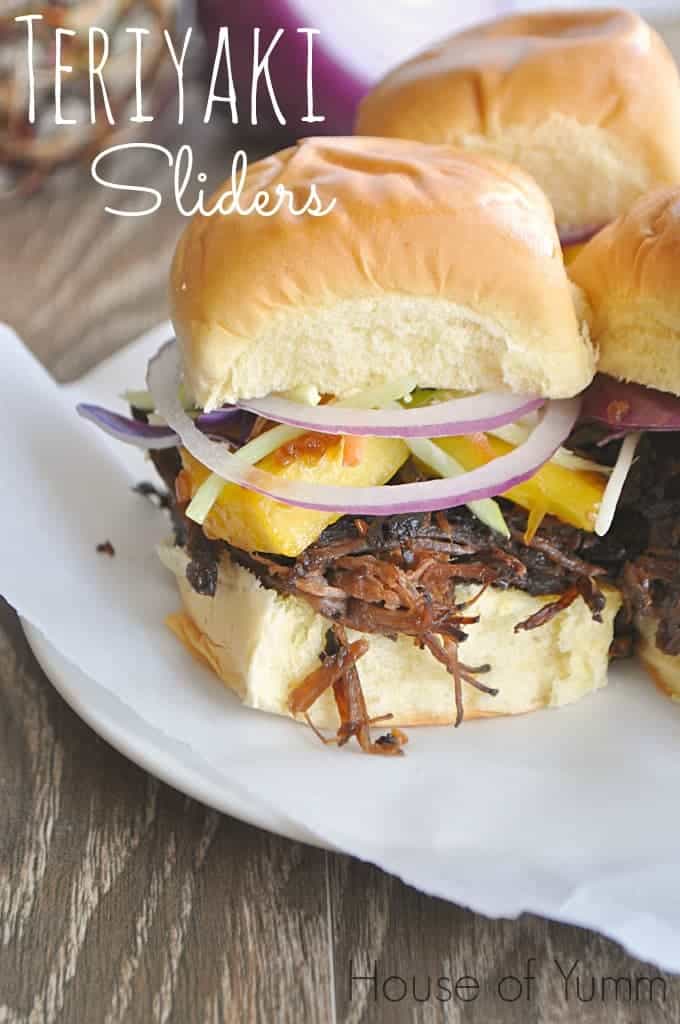 These sliders are overflowing with teriyaki beef and grilled pineapple.
Aloha!! I've never been to Hawaii, but I imagine it to be exactly how these sliders taste! The sweet, savory teriyaki marinated beef with the even sweeter, juicy pineapple. It makes my mouth sing for joy!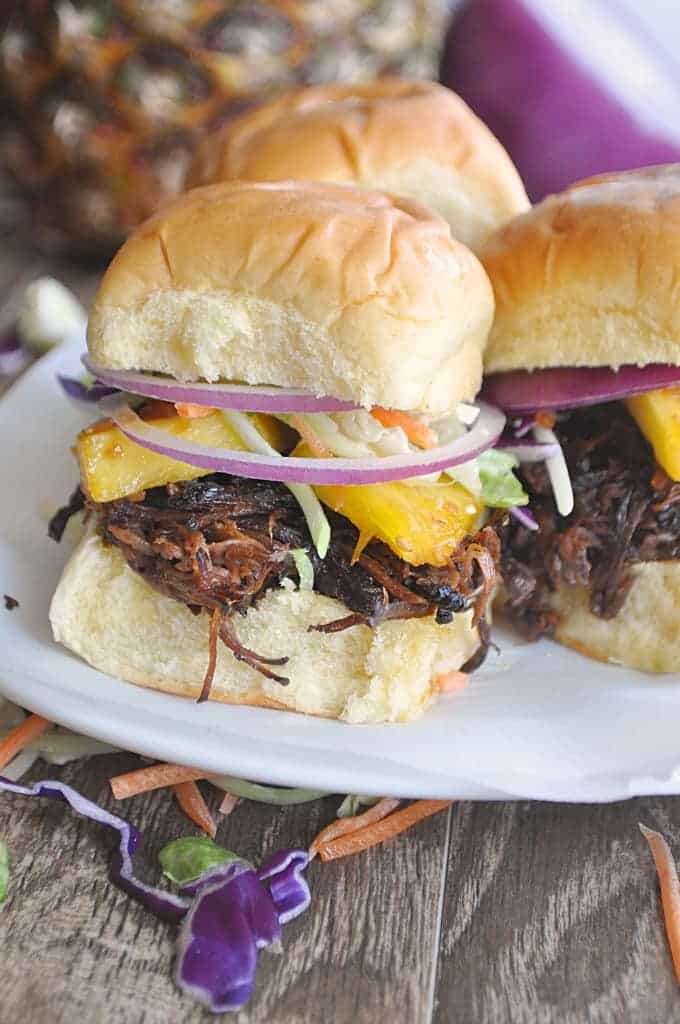 I love pineapple! It could quite possibly be THE best fruit ever. I made these sliders with one of the pineapples that I had on hand. I'm not sure how many kitchens keep a pineapple on hand. Let alone TWO pineapples on hand. But I do!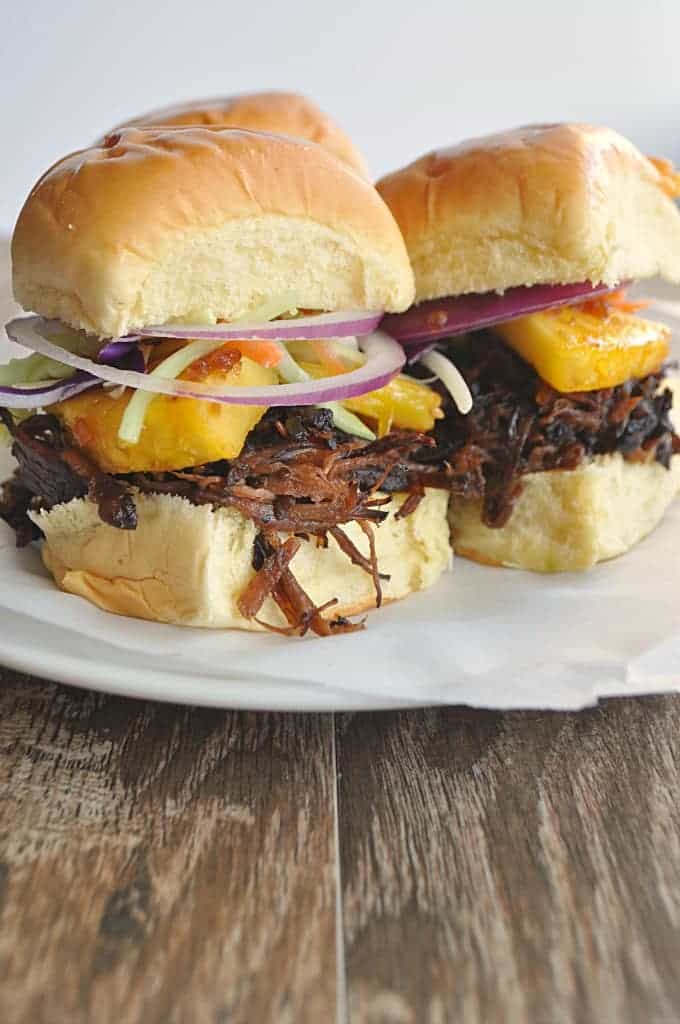 The best is keeping it in the fridge, so that when you cut it up, it's already nice and cold and ready to be eaten! Of course, keep in mind this recipe can easily be done with canned pineapple as well. And there are sadly those days during the year where we just can't find a good pineapple.
This recipe was supposed to be for pork teriyaki. However, as soon as I dumped my big hunk of meat into the crockpot (did anyone else just hear Elvis singing Hunk of burning love in their head or was that just me?) I noticed that what I had instead was a beef chuck roast. So basically, this recipe is easily changed!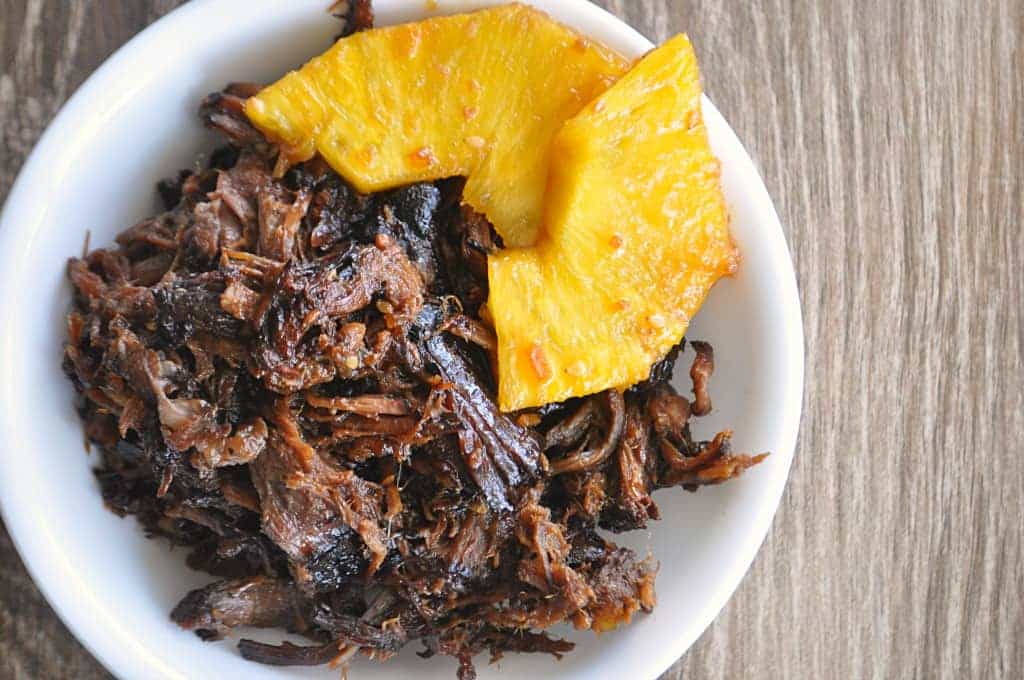 I love this meal because it's so flavorful. It's so easy. I can dump a couple things in a crock pot, and go about my crazy day. I love my crock pot. I really need to do more things with it.
The recipe for the teriyaki meat is below. For the sliders I put a lovely stack of the shredded teriyaki meat, some grilled pineapple which I also soaked in teriyaki sauce, some red onion and some lettuce.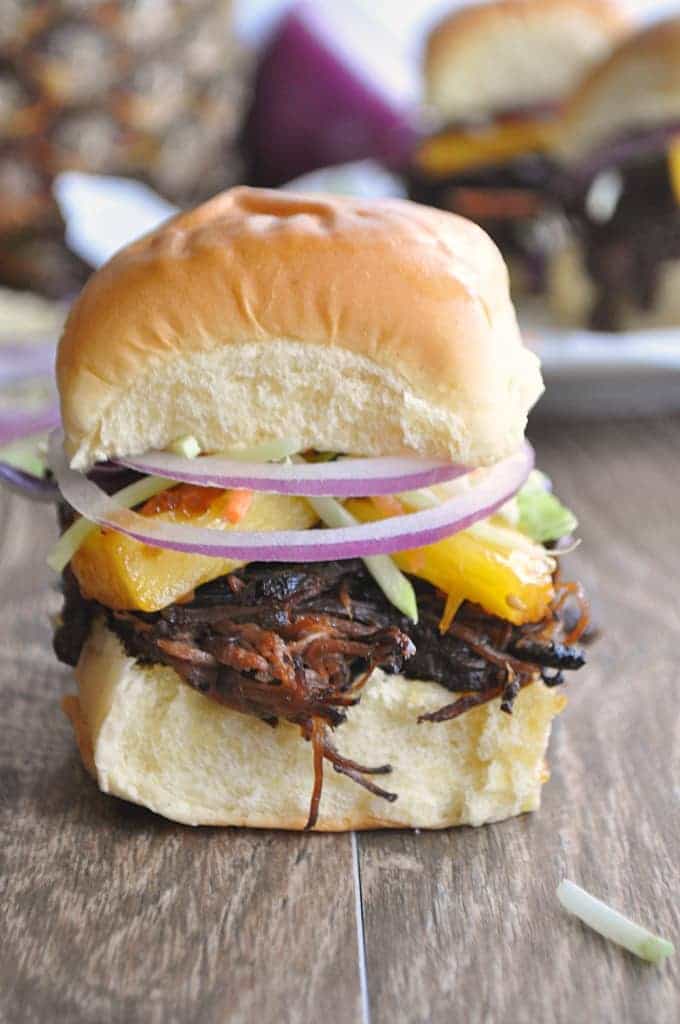 Now put on a flower lei and pretend you're on vacation and enjoy!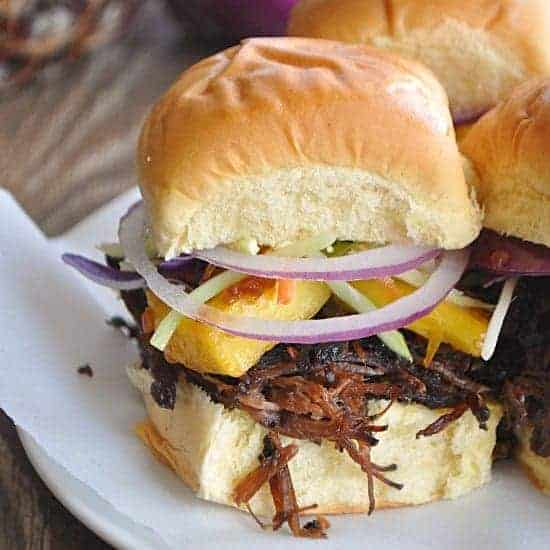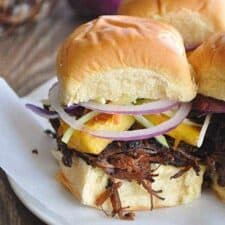 Teriyaki Sliders
These sliders are overflowing with teriyaki beef and grilled pineapple. 
Ingredients
1 ½ lbs beef chuck roast, or pork shoulder butt roast
½ cup pineapple juice
¾ cup teriyaki sauce
½ large onion , chopped
Instructions
Place the meat in the crockpot, pour onions over the top of the meat. Cover with the pineapple juice and 1/2 cup of the teriyaki sauce. Cover and cook on low for 7-8 hours or high 4-5 hours. I turned the meat over half way through cooking to coat both sides in the sauce. Or if you plan ahead you could even try marinating it!

Once the meat is cooked shred it, and pour the remaining 1/4 cup of teriyaki sauce and stir to coat.
Nutrition
Calories: 185kcal, Carbohydrates: 6g, Protein: 18g, Fat: 10g, Saturated Fat: 4g, Cholesterol: 59mg, Sodium: 1104mg, Potassium: 362mg, Sugar: 5g, Vitamin A: 11IU, Vitamin C: 1mg, Calcium: 23mg, Iron: 2mg
House of Yumm is a participant in the Amazon Services LLC Associates Program, an affiliate advertising program designed to provide a means for us to earn fees by linking to Amazon.com and affiliated sites.