Crispy Fried Onion Swiss Burgers!  A creamy swiss cheese sauce and crispy fried onion strings are the perfect complement for any juicy burger this grilling season!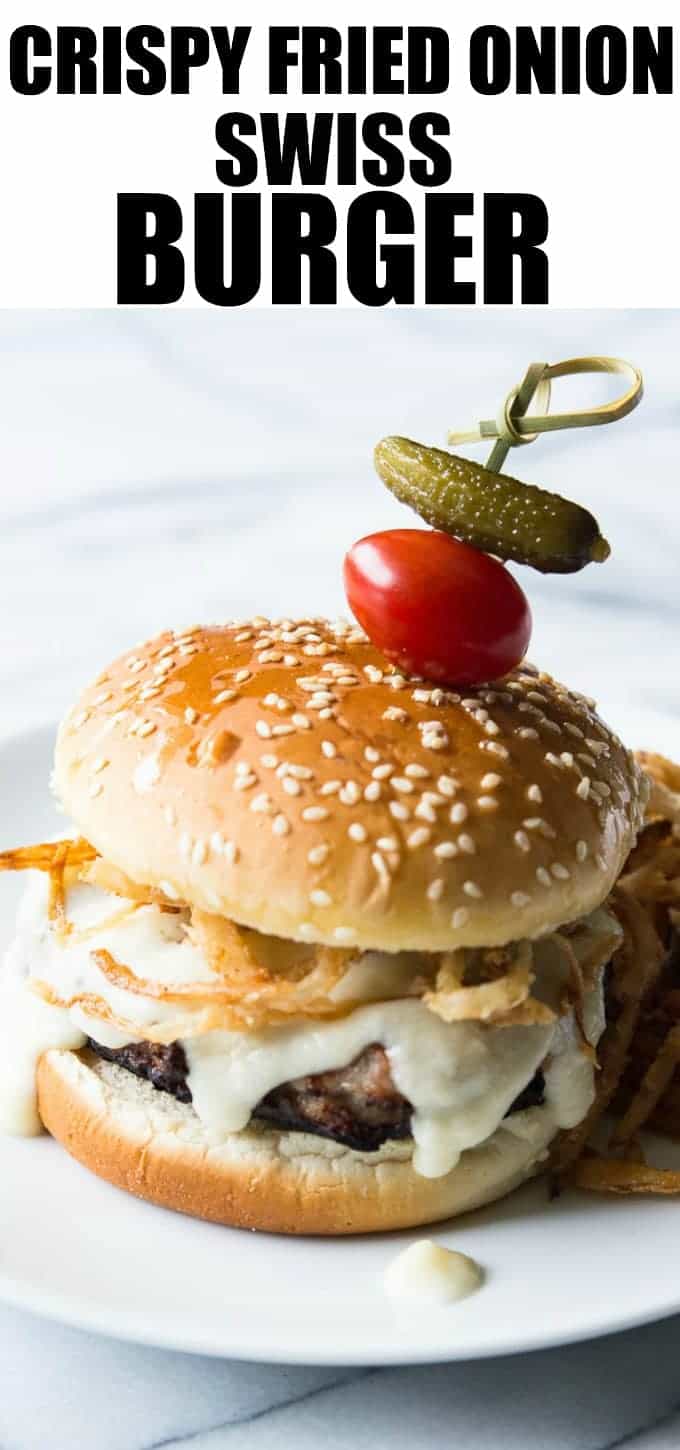 This is a sponsored conversation written by me on behalf of Johnsonville . The opinions and text are all mine. Thank you for continuing to support the brands that make House of Yumm possible
Grilling season means burgers.  Remember me telling y'all about our BBQ adventures last week when we were discussing lamb tacos? Well, I'm back with another grilling recipe today and this time it's burgers.  Crispy fried onion swiss burgers to be exact.
Have you missed me?!  I feel like I haven't been around as much.  Well, I mean, I am around I'm always on Facebook and Instagram chatting with y'all and responding to emails and questions and such.  But I haven't been here sharing recipes as often.  Want to know why?!   Maybe I'll tell you in a couple weeks..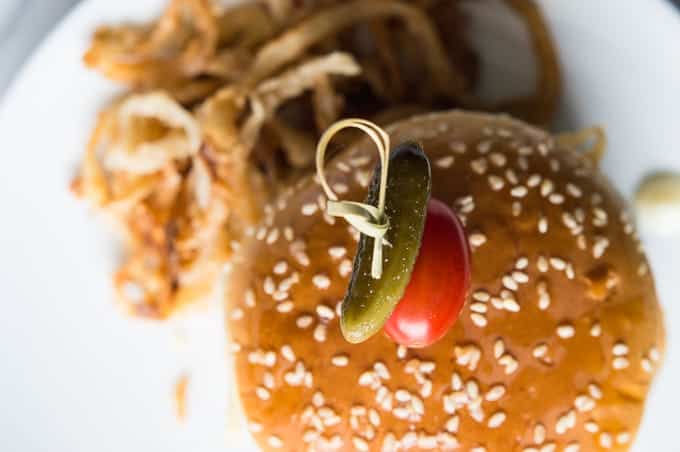 Anyway, this weekend we had some friends come over for lunch.  Typically when people come over it's kind of a big deal.  I mean we clean the floors and hide the laundry that usually ends up piled on the couch (little miss is currently going through a 'let me change clothes 20 times a day' phase).   And when people come over we go all out with the meal.  Well, this weekend seemed super laid back.  And easy.  Compared to the usual. And I will tell you why here in a moment. I can't keep everything to myself!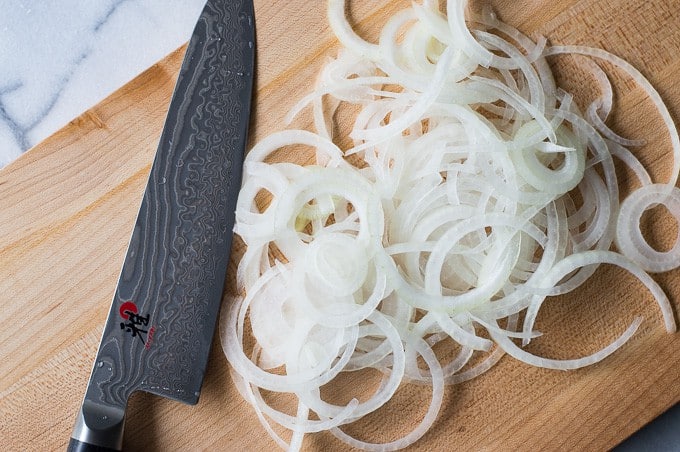 Even though the meal seemed super easy to prepare and cook, I feel like it was still impressive.  I mean, just look at the pictures!  To start let's talk about the crispy fried onions.  Very easy to make.  But there are some very important tips you need to know when making them.  The three commandments of crispy fried onions according to the Pioneer Woman.  First.  Cut the onions super thin.  Lucky for me I have an amazing father-in-law who loves to spoil me and sent me that gorgeous knife in the picture.
It's an Asian blade, which means that it has a super thin blade and it's sharp.  Very sharp.  To be honest I never even knew there was a difference between Asian blades and European blades until Papa Kruz let me in on this last week.  My point..use a sharp knife to cut the onions super thin!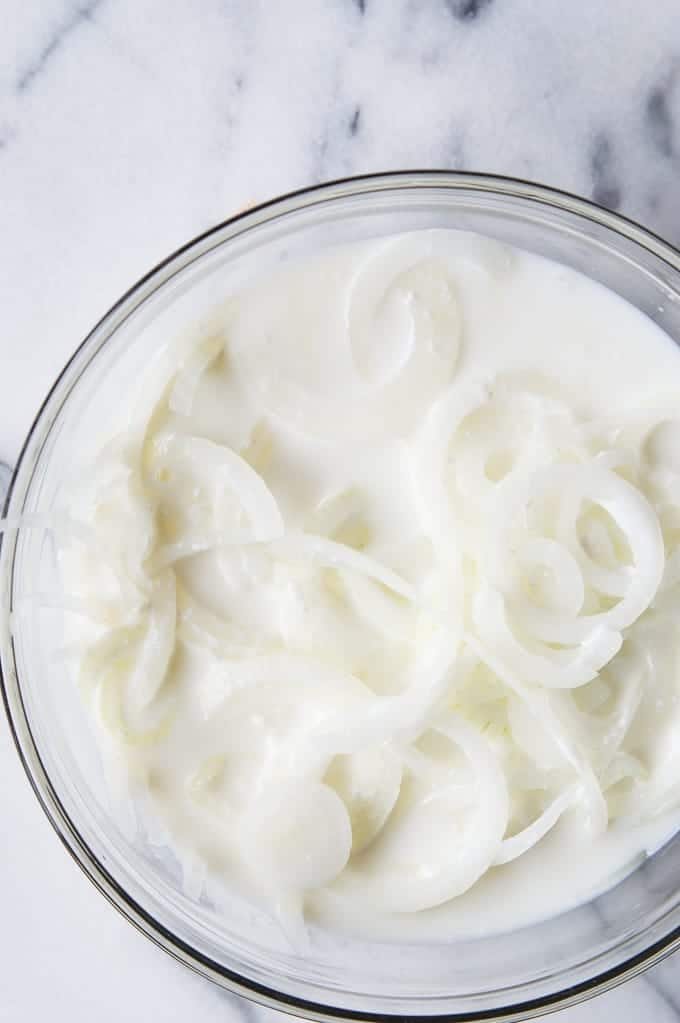 Second. Give them a soak in buttermilk for at least an hour.  This is going to make the onions tender.
Third.  The oil needs to be heated to 375 degrees when frying them up.  Again, according to Pioneer Woman, it's a must.  So I just go with it.  I'm scared to try anything else…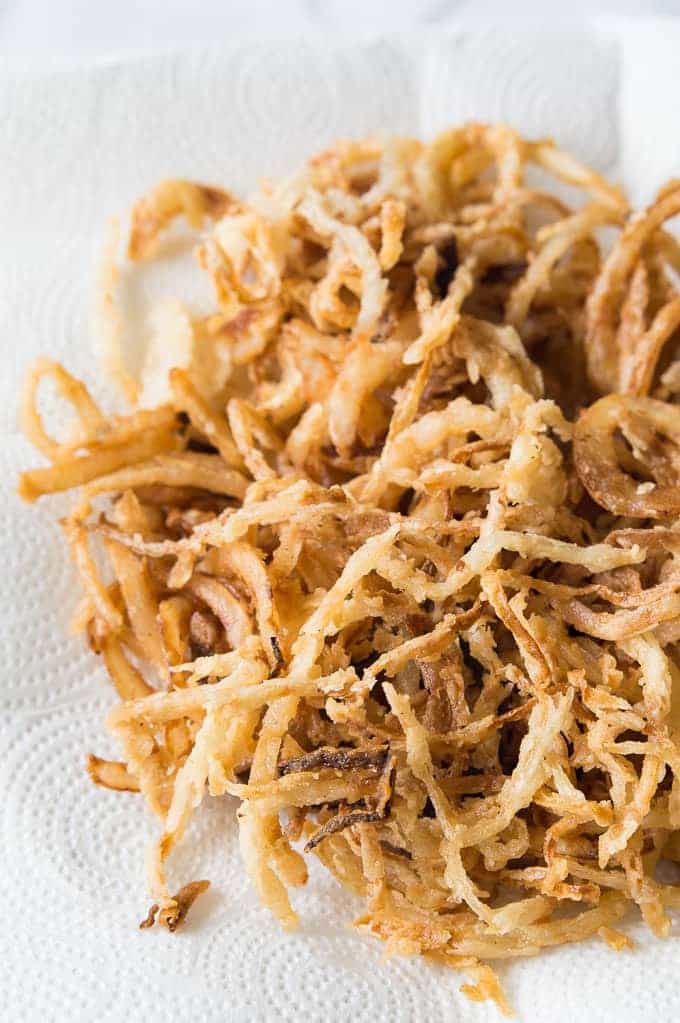 And there you have it.  Crispy fried onion strings. Frying things in the house isn't so bad.  I find the easiest way to do it is in my largest pot or dutch oven.  Heat the oil, and since we want to know how hot the oil is a thermometer definitely comes in handy.  Candy thermometers come with a clip that attaches to the edge of the pot.  Easy peasy.  Then just make sure you're doing the frying in batches, don't put everything in all at once.  And use heat resistant tools!!!  It's possible I've melted some plastic tools before… Shhh…
The other important ingredient to this burger is the swiss cheese sauce.  Do you remember that from the Cuban Fries??  Umm..yea!  I know you do.  If not, go take a peek.  You can't miss out on that one!
Now. I promised you the reason why this meal was so easy to put together.  We didn't have to make the patties ourselves!!  We used Johnsonville Grillers! A sausage spin on your typical burger.  A great alternative for any BBQ.  These patties pack huge flavor including: Mushroom Swiss, Cheddar Bacon, and Original Bratwurst.  We went with the Mushroom Swiss Grillers.  Which paired perfectly with my swiss cheese sauce and crispy fried onions.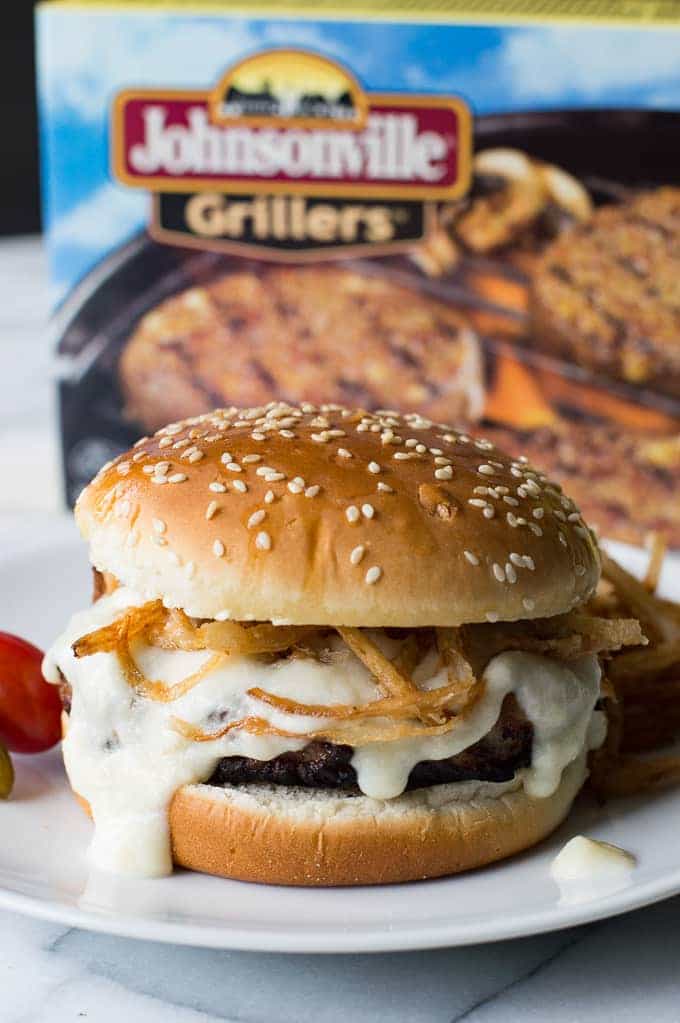 These Johnsonville Grillers made for a delicious, and easy meal that everyone was able to enjoy.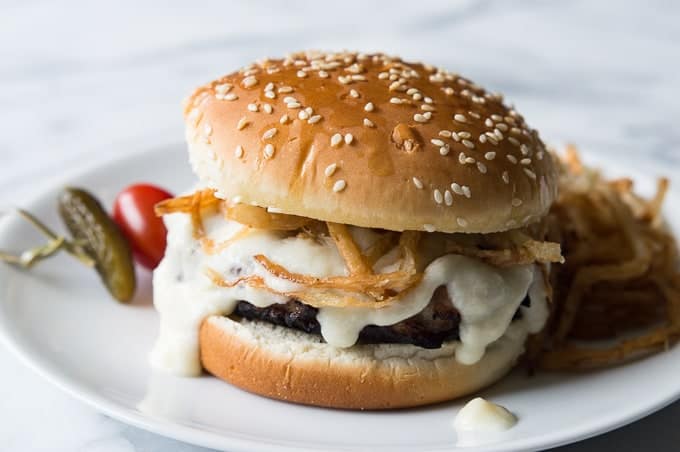 I hope you enjoy the recipe!  You can follow along with me and never miss a recipe by signing up for my newsletter.  Follow me on Instagram and tag #houseofyumm so I can see all the recipes you make 💜
Serene @ House of Yumm
Crispy Fried Onion Swiss Burger
Crispy Fried Onion Swiss Burgers! A creamy swiss cheese sauce and crispy fried onion strings are the perfect complement for any juicy burger this grilling season!
1 hr, 15 Prep Time
20 minCook Time
1 hr, 35 Total Time
Ingredients
Crispy Fried Onions

1 large yellow onion
1 cups buttermilk or 1 scant cups milk (1 cup minus 1 tablespoon) and 1 tablespoon vinegar-let sit for about 5 minutes.
1 cup flour
1 teaspoon salt
1/4 teaspoon cayenne pepper
1/4 teaspoon black pepper
1 quart canola oil

Swiss Cheese Sauce

3 tablespoons butter
3 tablespoons all purpose flour
2 cups milk (I used 2%, can use whole or heavy cream for a creamier sauce)
8 ounces chopped swiss cheese

Burgers

Johnsonville Grillers
Buns
Instructions
Crispy Fried Onions

Slice the onions thinly. Separate. Place into a bowl and pour the buttermilk over the top. Press the onions down into the buttermilk so that they are mostly submerged. Allow them to sit and soak for at least an hour.
In a medium bowl combine the flour, salt, cayenne, and black pepper. Stir with a fork.
Heat the canola oil in a large pot or dutch oven to 375 degrees. Using metal tongs remove a small amount onions from the buttermilk, place in the bowl with the flour mixture stir to coat, then using the tongs carefully place the onions into the oil. Stir around until golden brown, about 1-2 minutes. Then remove and place on a plate lined with paper towels. Repeat this process until all onions are fried.

Swiss Cheese Sauce

Melt the butter in a medium size saucepan over medium heat. Once the butter is melted whisk in the flour. It will be thick. Pour in the milk and stir to combine, as it heats this will thicken slightly. Add in the cheese and continue to stir as the cheese melts. Once the cheese is completely melted continue to stir. The sauce will thicken. Once sauce is smooth and creamy remove from heat and use. If the sauce sits it will thicken even more, just reheat to smooth it back out.

Burgers

Prepare the Johnsonville Grillers according to the directions on the packaging.
Assemble the burger by placing the patty on the bun, topped with swiss cheese sauce and then the crispy fried onions.
Notes
Prep time includes 1 hour soaking time for the onions.
7.6.4
500
https://houseofyumm.com/swiss-cheese-sauce/
Products I recommend for this recipe:
**This post may contain affiliate links, but I only recommend products that I actually use and <3. Thanks for supporting House of Yumm!
This is a sponsored conversation written by me on behalf of Johnsonville . The opinions and text are all mine.