Sweet and Spicy Pecans
Sweet and Spicy Pecans are the perfect snack!  The combination of brown sugar and cayenne pepper make these little pecans a crowdpleaser!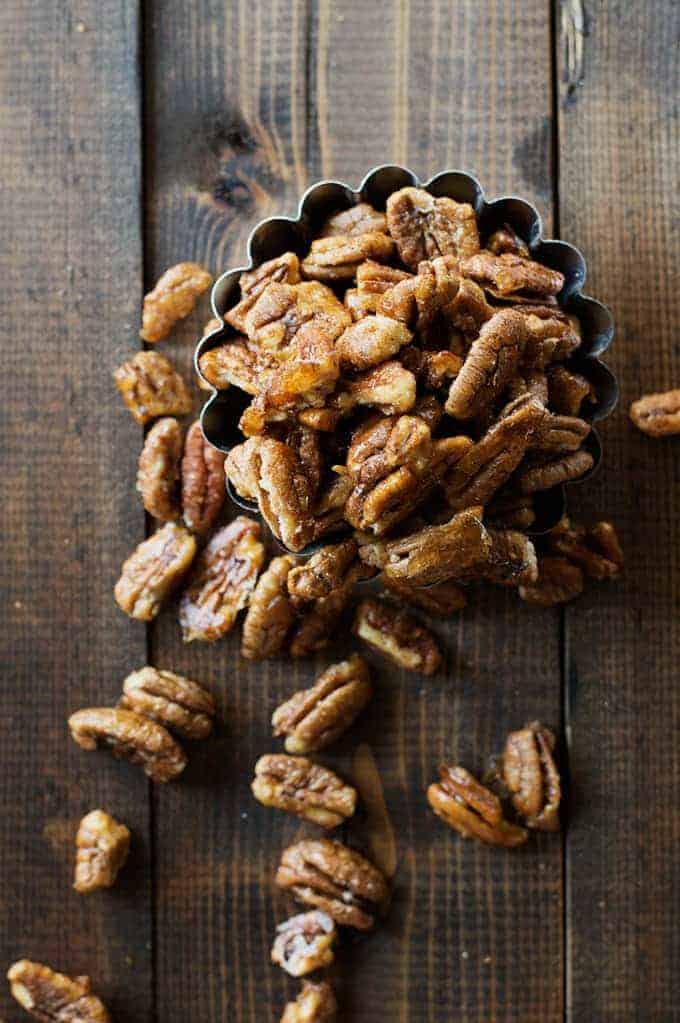 Another pecan recipe??  Seriously?  I know. I thought the same thing.  But it would be a tragedy if I didn't share this recipe with you.  C'non.  You're down for some sweet and spicy pecans right?  For one, it's the perfect snack.  Two, it's quick and easy to make.  And three, it's sweet and spicy.  These sweet and spicy pecans are the best of both worlds.  You know me, I'm a fan of a little spice in my food.  These aren't sweaty face give me a glass of water spicy.  But they have a little heat to them.  You can definitely decrease the amount of cayenne pepper in your batch if you're nervous.  Personally I think you can handle it though.
Today's post is going to be short and sweet.  Kind of like these sweet and spicy pecans.  It's the holidays and we all want to spend time with our families.  Of course, we have a full day ahead of us.  Santa's cookies need to be made, we'll be making my Sugar Cookie recipe.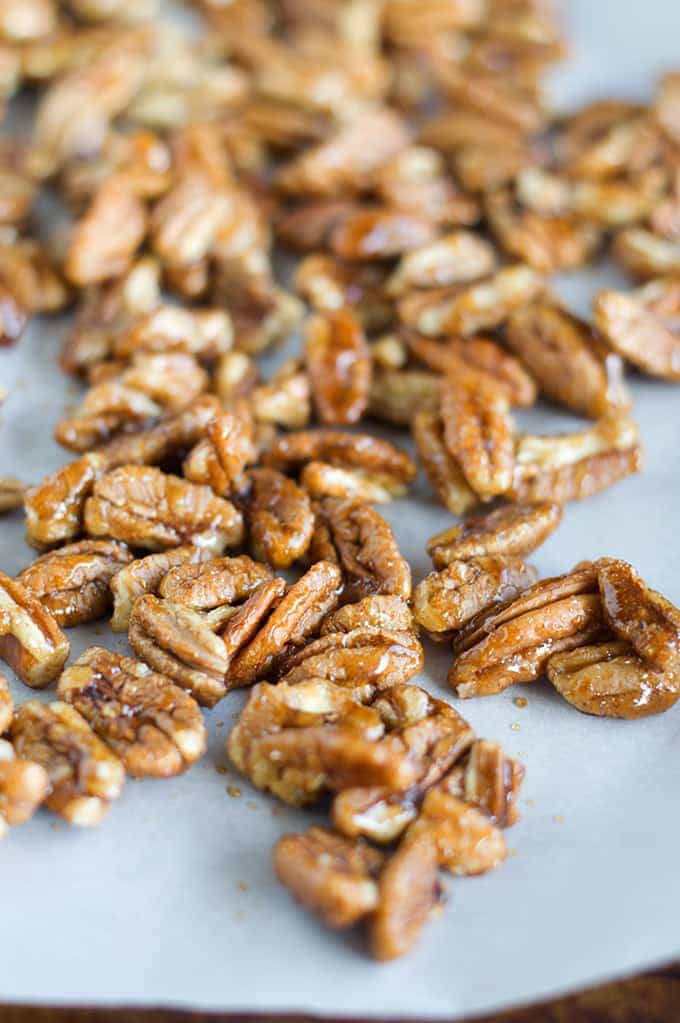 I also have a lot of prep for our big feast we'll be enjoying on Friday.  I have a huge brisket in the fridge that is just begging to be cooked low and slow.  Saying prayers that it turns out.  I'm attempting to recreate a Texas smoked brisket in my oven.  Wish me luck.  If it turns out I of course will be sharing that recipe with you.  We also have some mashed potatoes on the menu.  Green bean casserole, and this here is possibly the best green bean casserole recipe ever!  I made it last year for Thanksgiving and Christmas, and it made the menu again this year.  Make sure you check it out.  And the hubs has a $50 mac and cheese that is most definitely the king of all mac and cheeses EVER.  Follow along on snapchat if you're curious how all of this turns out.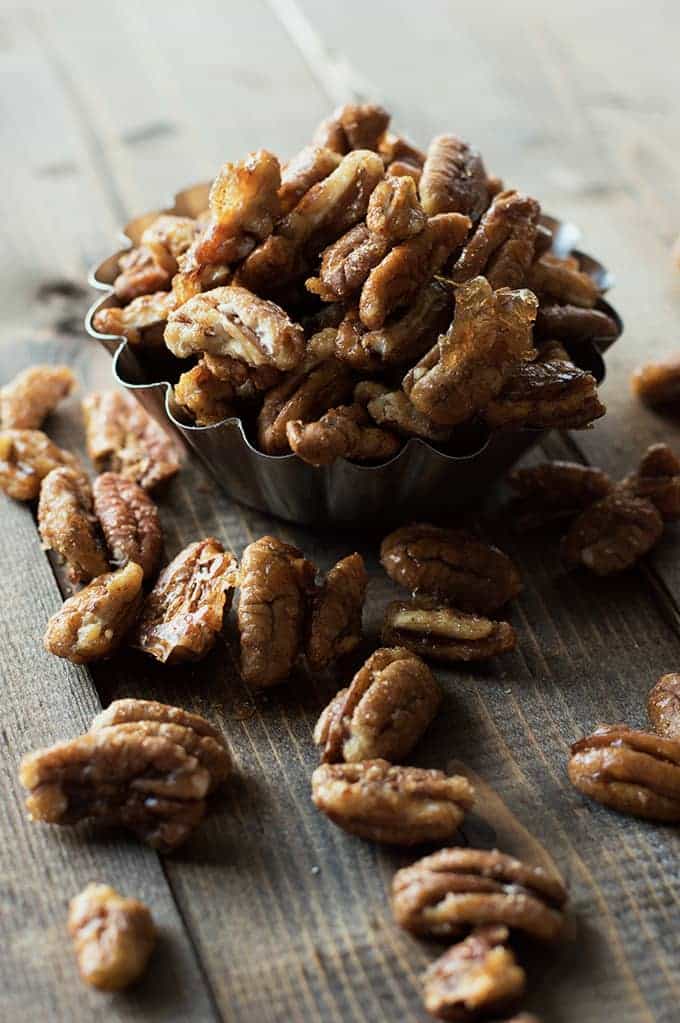 As for snacks, these Sweet & Spicy Pecans will be out all day, and I'm thinking some mini sticky buns for breakfast.  So apparently I had more to talk to you about than I thought today.  I hope you have a wonderful day planned and enjoy a Merry Christmas tomorrow.  No recipe will be popping up here for you since I plan on taking a day off.  We shall see how that goes 😉
I hope you enjoy the recipe!  You can follow along with me and never miss a recipe by signing up for my newsletter.  Follow me on Instagram and tag #houseofyumm so I can see all the recipes you make 💜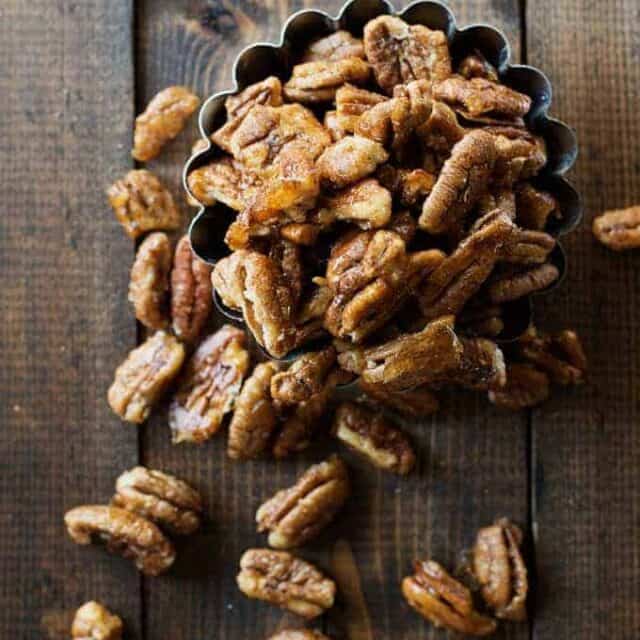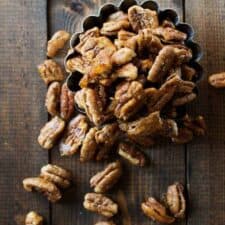 Sweet & Spicy Pecans
Sweet & Spicy Pecans are the perfect snack! The combination of brown sugar and cayenne pepper make these little pecans a crowdpleaser!
Ingredients
2 cups pecan, halved
3 tbsp light corn syrup
1½ tbsp dark brown sugar
½ tsp salt
¼ tsp cayenne pepper
Instructions
Preheat the oven to 325°F. Line a cookie sheet with parchment paper or foil.

Pour the pecans into a medium size bowl. Drizzle with the corn syrup.

Add in the brown sugar, salt, and cayenne pepper. Stir gently to mix it all up and have the pecans completely coated in the mixture.

Spread out the pecans onto the prepared baking sheet.

Bake for 5 minutes, then stir the pecans around. Continue baking for another 10 minutes.

Remove the pecans from the oven and using a fork or spatula, break the pecans apart while they are still hot.

Allow the pecans to cool completely prior to serving.
Notes
Can be stored in a closed container at room temperature for 3-4 days.
Nutrition
Calories: 406kcal, Carbohydrates: 24g, Protein: 5g, Fat: 36g, Saturated Fat: 3g, Sodium: 302mg, Potassium: 203mg, Fiber: 5g, Sugar: 19g, Vitamin A: 75IU, Vitamin C: 1mg, Calcium: 38mg, Iron: 1mg
House of Yumm is a participant in the Amazon Services LLC Associates Program, an affiliate advertising program designed to provide a means for us to earn fees by linking to Amazon.com and affiliated sites.