Cool and refreshing Strawberry Cucumber Lime Agua Fresca. This fruit infused water is free of refined sugars and perfect for sipping on hot summer days!
Strawberry Cucumber Lime Agua Fresca. Have you ever had fruit infused water? Well, this is kind of like that, but better! Instead of just adding the chunks of fruit to water and letting it sit, we're going to blend the fruits all up. Which really makes this drink refreshing and truly take on the flavors of the fruits involved. I chose to make a strawberry cucumber lime flavored water. Really, you can use whatever fruits you want to! Cucumber lime is such a renewing blend of flavors and strawberries are my favorite, so this was the perfect combination for me. Plus it was a fun way for me to try out my new Blendtec Designer Series Blender
. If you follow me on snapchat I'm sure you saw it. It's blue. I'm in love. ?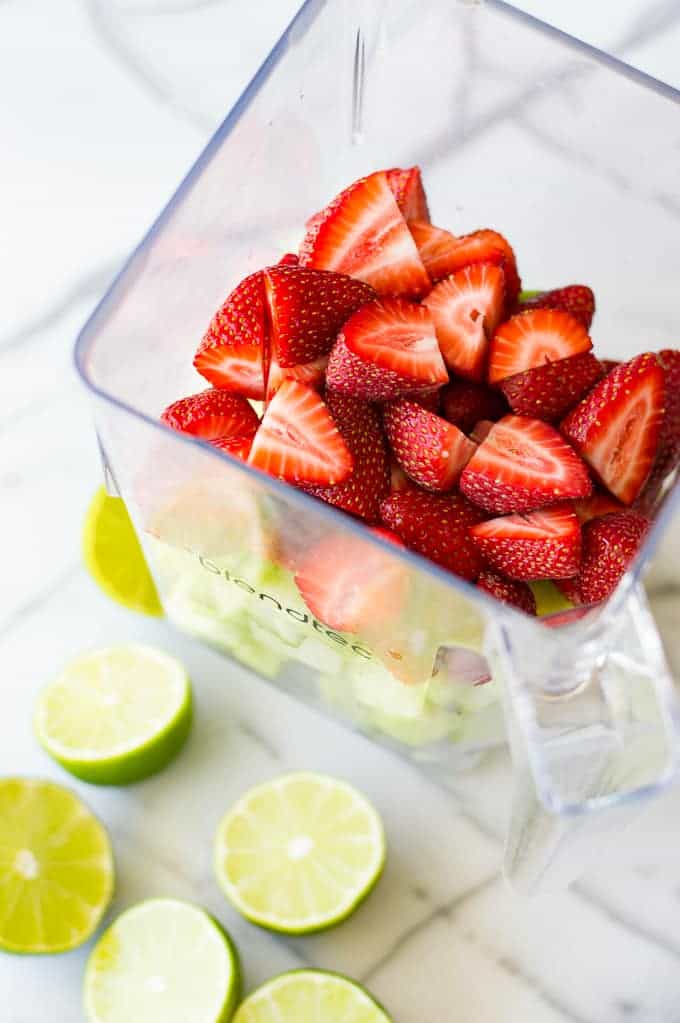 So this is really as easy as adding the fruit to the blender. Add in the lime juice, the water. And press that magic button that blends it all up. Now of course there will be a fruit puree, the tiny bits of fruit left in the water. Passing the water through a fine mesh strainer will make sure that we are only getting the water and not the puree. You could skip this step if you wanted, but you will probably find this to be a slightly thick drink. Straining it makes it just like water. Hence the name. Agua Fresca.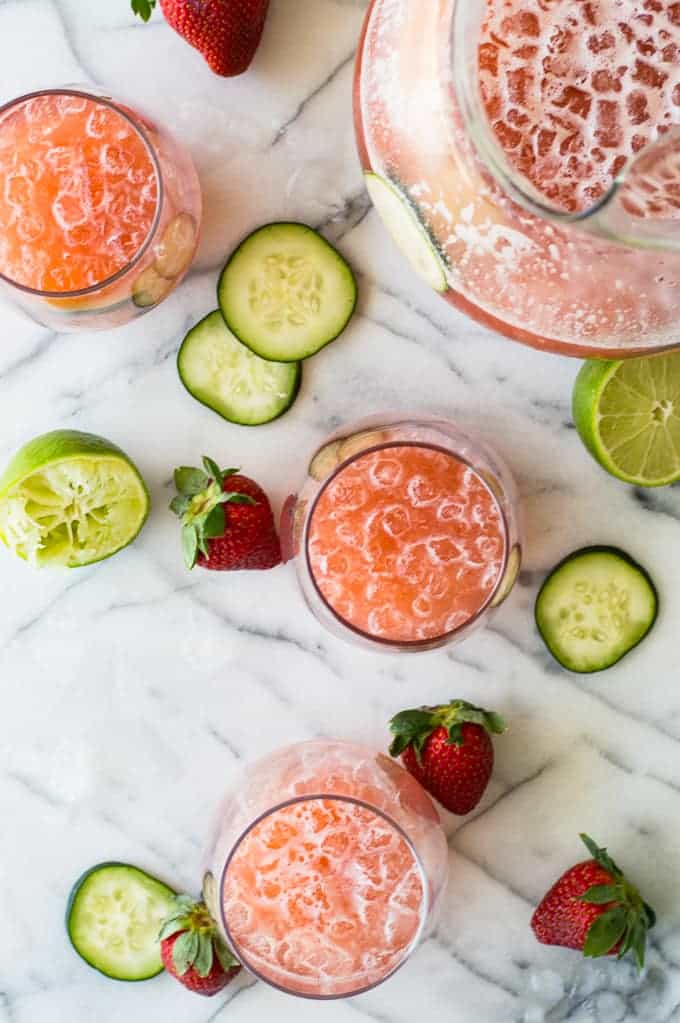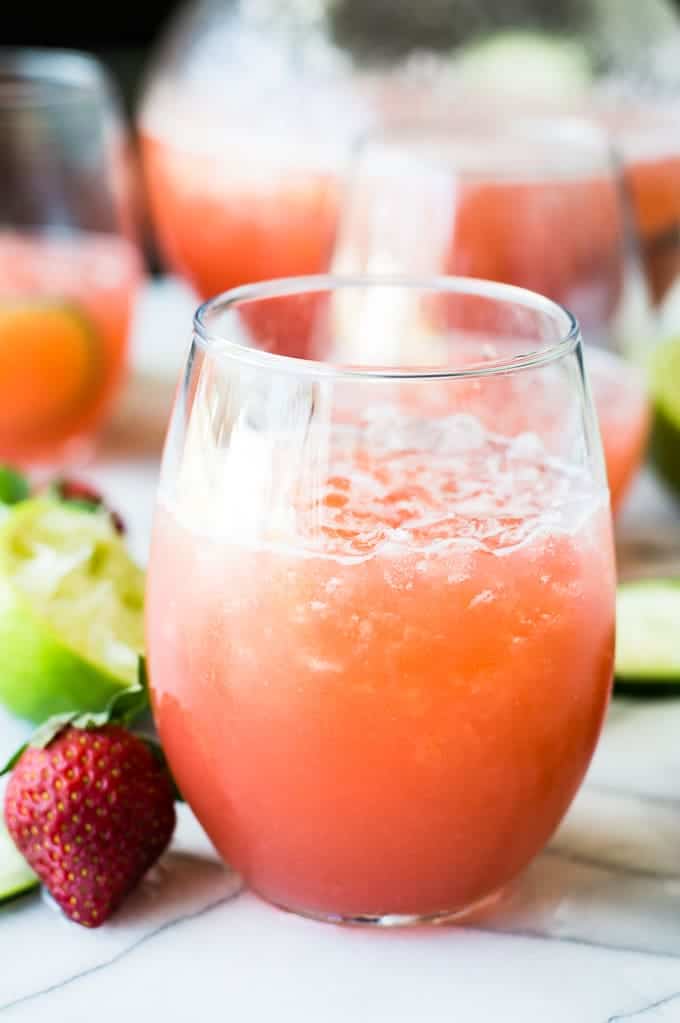 You can of course garnish the drinks with some fresh fruit. Add some cucumber slices or chunks of strawberry. I did add some agave to this. Typically you will see sugar being added to agua fresca recipes. However, I wanted to stay away from adding refined sugars. Agave, or honey, make a nice substitute. Plus they blend right into the water really easily with no grittiness or sugar settling to the bottom of your cup.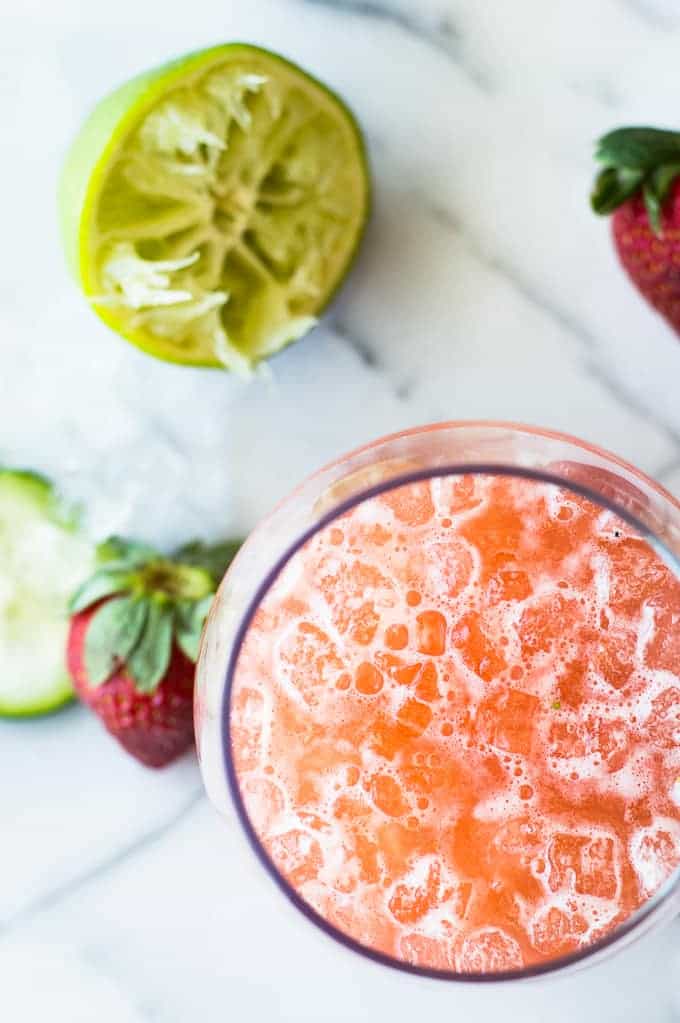 I hope you enjoy the recipe! You can follow along with me and never miss a recipe by signing up for my newsletter. Follow me on Instagram and tag #houseofyumm so I can see all the recipes you make. Plus follow me on snapchat! @houseofyumm ?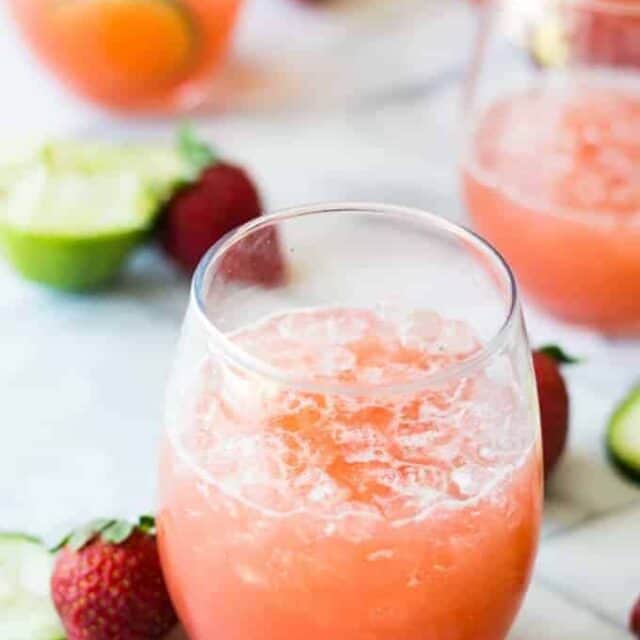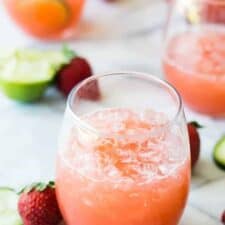 Strawberry Cucumber Lime Agua Fresca
Cool and refreshing Strawberry Cucumber Lime Agua Fresca. This fruit infused water is free of refined sugars and perfect for sipping on hot summer days!
Ingredients
2 cucumbers, approximately 20 ounces
12 ounces strawberries
¼ cup fresh lime juice
4 cups cold water
¼ cup agave
Instructions
Peel the cucumbers, chop off the ends and discard and roughly chop the cucumber.

Clean and remove the green leaves from the strawberries.

Add the cucumbers, strawberries, lime juice and water to a blender. Blend until all fruits are completely blended, no large chunks.

Pour the contents of the blender through a fine mesh strainer over a water jug. Using a rubber spatula or a spoon press the pureed fruit into the strainer to get all of the liquid out and into the jug. Throw away the pureed fruit. Continue this until the blender is emptied.

Pour in the agave and whisk to combine. Add in ice to keep the drink cool.

Serve over ice and enjoy!
Nutrition
Calories: 92kcal, Carbohydrates: 22g, Protein: 2g, Fat: 1g, Saturated Fat: 1g, Sodium: 5mg, Potassium: 352mg, Fiber: 3g, Sugar: 16g, Vitamin A: 108IU, Vitamin C: 59mg, Calcium: 35mg, Iron: 1mg
House of Yumm is a participant in the Amazon Services LLC Associates Program, an affiliate advertising program designed to provide a means for us to earn fees by linking to Amazon.com and affiliated sites.