Blogging can be a confusing business when you're just getting going.  Shoot..it can be confusing even after you've been doing it for a while.  There are however, some tools that can make things a little easier.  This is just going to be a place for you to come and reference and see what things I use to run my business.  Everything from photography, to plugins, to educational materials!  There are some affiliate links included, which just means that if you click through my link and make a purchase the company will kick some money back my way, no extra cost to you.  Which means I get to continue buying food to try out recipes to share!! So thanks 😘 My plan is to keep this as an ever evolving list of things.  So it's possible I will add things that I find useful in the hopes that maybe you might find them useful too!
---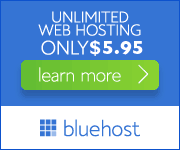 Bluehost is the host that I used when I first started my website.  It's so easy to set up, a representative will call you shortly after you sign up and will walk you through additional steps.  I only ever switched from using Bluehost when the traffic coming to my site became too much for a shared server.  If you need some more information on what exactly hosting is and how to set this up check out the post here on How to Start a Blog.
---
Nikon D3200
This was the first camera I purchased!  It has done me well.  It's not too expensive and is a great starter camera.  I will probably upgrade sometime in the future.  But honestly I love this camera, it's easy to use, and I feel that I get a quality of pictures that makes me happy.  It also takes great HD video!
---
 Nikon AF-S FX NIKKOR 50mm f/1.8G Lens

I purchased this lens and started using it towards the end of December 2015.  Up until that point I was using the lens that came with the camera.  I wish I had made the jump to get this lens WAY before then!!  I wish I had gotten it when I first got my camera.  The lens makes all the difference in the world when taking pictures.  This lens lets me control so much more than the kit lens.  This is a fixed lens, so it doesn't zoom in or out, you have to move to get the shot you want.  But with food it's perfect since it's not moving!
---
58mm Vivitar Professional UV CPL FLD Lens Filter and Close-Up Macro Accessory Kit This fun little kit lets me just twist these filters onto the lens on my camera and can give me closer up shots of the food.  There's even a Macro filter, which means super up close and personal.  And this set is a fraction of the cost of an actual macro lens.  I love how easy this is to use!
---
Sunpak Tripod with Pistol Grip Ball Head
This is the first tripod that I purchased to use.  I will admit that I don't always use a tripod when taking my pictures.  But it is helpful when doing pour shots, or pictures that would basically require me to have three hands.  Also, when doing shots in low light or with a close up filter, it's handy to use this to reduce shaking which can blur the images.  This is a basic, easy to use tripod.
---

Wireless Remote
 This is another basic tool that I use sometimes when doing photography.  When using the tripod to reduce blurring from possible shaking of the camera, even pressing the button to snap the picture can move the camera too much.  Which is where this little remote comes in.  It's a very inexpensive and handy tool to have.
---

SanDisk Extreme PRO Memory Card
 There is nothing worse than getting going on a photoshoot and then running out of room on your memory card.  Trust me.  Been there.  Many times.  Until I finally purchased a large memory card.  This one here to be exact.  It has made my life of taking pictures so much more convenient.  I don't have to stress about clearing out my camera and deleting pictures while my food is sitting there with the perfect drip coming off the side that I can't take a picture of!!
---
 Tasty Food Photography is one of the best food photography books I have read.  It's so easy to follow.  Lots of examples.  And honestly, Lindsay's photography is absolutely gorgeous! She gives all of her tips and tricks here in this book.  I had no photography experience prior to starting this blog, and this book is where I learned all the basics and everything else! I reference this book all of the time when taking pictures for my blog.
---
The Food Photography Book is another book full of how to's and tips and tricks for creating beautiful food pictures.  There's even a whole section on how to make weird looking, brown food look beautiful and appetizing!  This is another must have book that I reference many times during photo shoots.
---