Always think about starting a blog and creating  your own brand and business?!  But have no idea where to start??  This How to Start a Blog post is written just for you!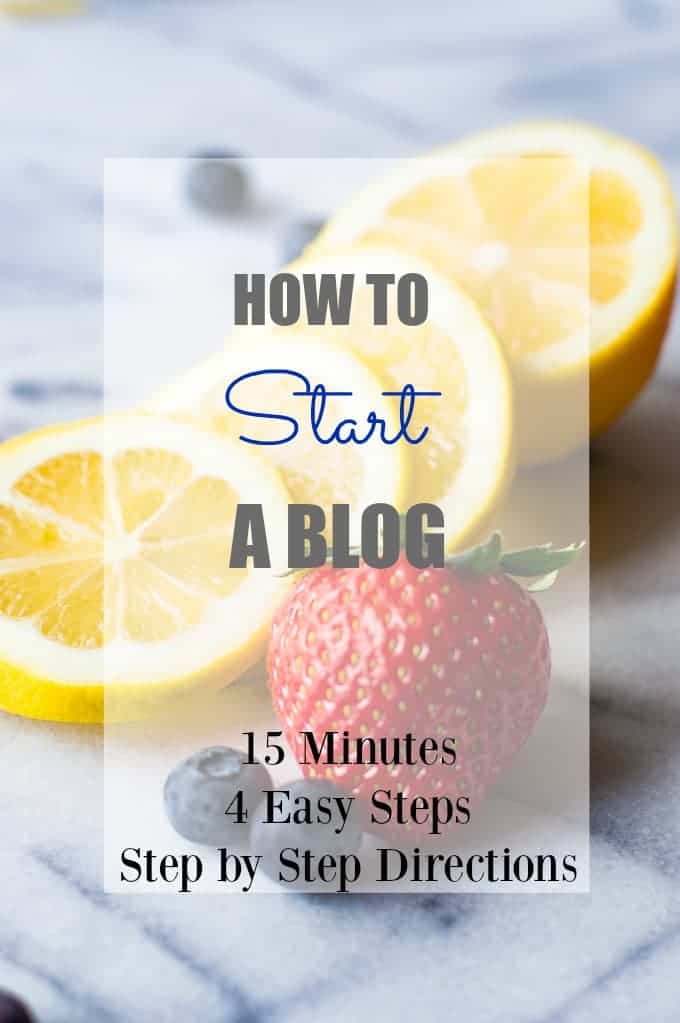 You clicked on the How to Start a Blog page!
Whoop whoop!!  I'm so excited!  I absolutely love blogging.  I love everything about it.  This career has allowed me to stay at home with my children and bring in an income that is more than I ever made working full time outside of the home.  Plus..I get to make margaritas, tacos, and mini pies for a living.  How cool is that?! Now, you may not be wanting to write about food, which I totally get.  Trust me.  This life isn't for everyone.  My skinny jeans definitely wish I had chosen a different field.  But the steps to setting up a website or blog are the same for whatever topic you choose.  Please let me know if you have any questions!  But I think you will find the following tutorial pretty thorough!
HOW TO START A BLOG
Let's divide this into four easy steps!
1. Domain (Your address)
2. Hosting (Your building)
3. WordPress (Your home)
4. Theme (Your decorations)
 

1. Domain Name
This is the most fun! Naming your site.  Just as important and sometimes as much work as naming your babies. Actually it IS more work, because unlike babies, there can only be one domain with that name.  My domain is https://houseofyumm.com .  You'll notice there are two m's.  That would be because house of yum wasn't available.  Take your time, think about it.  Come up with several ideas, and once you have your list ready follow me to BlueHost and we will see if your name is available!
Lets click on that green get started now button.
 Type in the domain name you want.  Make sure the .com is selected in the box as pictured above.  Then click on the next button.
Enter in your account information.  Make sure that you use a valid email because this is where they will be sending your log in information.
2. Purchase Hosting
Now that you have a domain, you will need a host.  Imagine that your domain, or your website, is an apartment.  That is your little space on the world wide web.  Your home.  The host is who you are renting from.
Fortunately purchasing the hosting is A LOT cheaper than renting an apartment!  Bluehost has great rates, they give you the domain name FREE if you do decide to host with them.  And in my experience they have amazing service, you will actually be contacted by a representative very soon after you make your purchase!  Nothing I love more than great customer service!
Below is a screenshot of how I set up my package when I purchased my hosting.
You don't need to set yours to 36 months, I did because that was the best deal at the time when I signed up.  The other check mark you see is for Domain Whois Privacy.  This will protect your personal information from being displayed to the public.  This is  highly recommended! If you don't add this then people will be able to pull up your personal information when they search your domain name. Nobody wants that!! Note that this option will only show up if you are registering a new domain.  If you already have an existing domain then it will not show up.
Fill in your billing information and click next.
  The next page may list additional upgrades.  Those will be up to you, no additional upgrades are necessary at this point.  Continue through and complete your purchase! WAHOOO!!!
3. Download WordPress
WordPress is an easy to use blogging software.  This is what I use for House of Yumm.  I highly recommend getting started with WordPress, a lot of bloggers I know started with another software and eventually ended up having to pay someone to help with the transfer to WordPress when they made the decision to switch.
So to save time and money, I recommend starting with them from the beginning!
Let's walk through how to upload WordPress to BlueHost. First step, let's log in to your BlueHost account.
You should have received an email to the address you gave that will contain your log in information. You will then be taken to the control panel for BlueHost.  Scroll down to Website and click on Install WordPress.
You will be taken to the following screen, simply click the green Install button.
Your domain will automatically show in the box on the next screen, just leave it as is and click the Check Domain box.
After this you will be taken to a screen to select Show Advanced Options.  Make sure you select that box and you will be able to set your user name, mine is my email address, your password, and the email address you want to receive information at.  Note: Make sure you save your information in a safe place!
Check the boxes saying to automatically create a new database for this installation and that you read the terms and conditions.  There will be a green box saying to Install Now.  Click that and you're set!!
Easy peasy lemon squeezy right?!?
At this point you have a website!!
4. Theme  
Now you have your website!  However, before you start telling us all about your favorite insanely chocolatey triple fudge m&m brownie delight oreo truffle bites (I'm already drooling in anticipation of that post!) let's make sure your website is beautiful and easy for all your future followers to navigate!
If your website is your home, the theme is the decorations that you have up. This is what will make your website pretty and functional.
WordPress has a lot of free themes to start with that you can find here.
If you're looking for something that you can customize and make more your own I would recommend the Genesis Framework.  This is a premium theme meaning that you make a one time purchase for it.
This is what House of Yumm currently runs on.
In the case that you are not a professional graphic designer (which if you are, that is AWESOME!!) With the Genesis Framework you can purchase what is known as a Child Theme, there is a listing of them on StudioPress.  This will give you the basic look for your website.  House of Yumm uses the Foodie Theme.
Once you pick your theme you can consult the respective company in regards to set up instructions or assistance.
CONGRATULATIONS! 
To log on to your site's admin page go to:
http://yourdomain.com/wp-admin
For example: https://houseofyumm.com/wp-admin
Enter your user ID and password.Then get that first post up there!  Send me a message or comment below to let me know when it's up so I can stop by and check it out!
Welcome to the Blogosphere!!!
Disclaimer: Please note that some of the links below are affiliate links.  I will earn a commission if you purchase through those links. All of the affiliate links mentioned are products or services that I am recommending because I believe in them, use them, and think they are helpful.  Not because I may earn a commission.